We all know why we're here...to prioritize our pleasure with the best of the best and the most beloved of sex toys and accessories. And you're in luck, because we have got more toys in this one post than you could try in a lifetime, so scroll carefully.
Promising review: "I love this thing. It could be quieter, but dang is it strong! I really like that it's completely waterproof, but I wish the battery lasted a little longer per charge. Update: I accidentally ran this thing through an industrial-strength washer and dryer, and it's still going strong! I thought for sure it would be dead after that, but nothing has gone wrong so far!" —Skyelynn Turner
Get it from Amazon for $10.28.
This bullet vibrator earned a spot in "28 Clit-Erally Amazing Sex Toys That Are Truly OrgasmWorthy."
2.
A palm-sized vibrator boasting a "tongue" with nine vibrations and nine licking motions, meaning it can l-l-l-lick you from your head to your toes, but no really, this little sex toy might just deliver the best head of your life.
Promising reviews: "After my first use (shoutout for arriving in the mail charged) I came like NO OTHER! I didn't know how I was going to feel about the tongue but it reminded me of the best head I've received so obviously I was in love. I mean it when I say my first immediate thought was, I will no longer need a man because I have this toy. 😂 So if you wanna ditch your man, woman, person, and whoever else, this toy will keep you satisfied probably better than they can. 12/10" —TJ
"With the price of this I didn't expect much...but WOW. I am shocked at how awesome this little gadget is; so awesome in fact I don't even get two minutes in using before it's game over for me (in a really good way). It's easy to use alone or during intercourse for extra intensity (good lordy), waterproof, soft/smooth and easy to clean, charged fast and holds the charge for a shockingly long time. It has more speed/intensity options than I need but having the option to go up is nice. Overall very very happy I stumbled across this little gem." —Kieley Sue
Get it from Amazon for $35.99 (available in four colors).
This unique vibrator got a shoutout in "28 Sex Toys Designed To Lick And Suck You Up, Down, And All Around."

3.
The Sweet Vibrations Pixie, a compact clitoral massager with flexible arms to really hit the spot, making it one of the best sex toys on Amazon.
It's waterproof and USB rechargeable, it has 10 settings, and it even comes with a lifetime warranty to always keep you ~satisfied~.
Promising review: "This toy is really beautiful and really easy to use in so many ways for external stimulation. I love that the whole toy rumbles (this is KEY, I am not here for buzzy vibrations) and so you can use all the edges of the toy for different feels. Amazing in particular for clits, nipples, lips, ears, and toes! This toy is just the right shape and size to offer external sensations that are exciting and powerful. This allows for really fun partner play and solo play! It feels like there's contact with all the right places, but without any numbing — the vibes are an appropriate level for those who like a lot of sensation, but they can also be adjusted way down for folks that are new to toys. This toy feels like the perfect size for all genders and bodies. It's so easy to hold, and I didn't feel my hand vibrating or cramping like it does with other toys. It's clear this is made of quality silicone. This toy is super easy to clean and charge, and it has an easy-to-use button on the front to turn on/off and change levels. There aren't 50,000 unnecessary modes, just a few really good ones to cycle through. The sound is actually super quiet — I was really surprised with the intensity of vibes and how quiet the sounds are! This could definitely be a toy used in your room with roommates in the apartment :). It felt expensive, even though it was under $50." —FeministTherapist
Get it from Amazon for $37.49+ (available in three colors)
This vibrator earned a spot on "23 Of The Best Sex Toys You Can Get On Amazon."

4.
A powerful mini wand vibrator that is basically magic with 11,000 5-🌟 ratings by Amazon reviewers. This sex toy is created with supple silicone for a soft-touch feel and 20 functions to take you right to that blissful, blurry edge.
Promising reviews: "I thought the reviews were all hype. I was so wrong. I was in space after 40 seconds on just the default settings." —Rebekah Byrd
"Prior to this, I had a beginner vibrator, one with the little butterfly thing to stimulate the 'spot.' I didn't really use it often, and it didn't yield results. I just figured handling business wasn't my thing. THEN, I CAME ACROSS this Shibari mini halo. Y'ALL. IT'S SO POWERFUL, pure ecstasy. I'm having orgasms after orgasms in minutes. This thing is the real deal, so much so that I can't wait to come home from work to it. I HIGHLY recommend to all ladies. I myself will be gifting this to all of my girlfriends for Christmas this year. It's life-changing, I'm literally so shook. This is the best purchase I've ever made for myself!!!! Do yourself a favor and buy one of these. Ladies, thanks to this magical tool, we are no longer entertaining mediocre men for the potential of a nut. This magic stick will 100% do the trick. 😏" —GABZ
Get it from Amazon for $18.95+ (available in eight colors).
This popular mini wand vibrator is included in "24 Wand Vibrators So Good, They'll Leave You Weak In The Knees."
5.
A sleek and powerful bullet vibrator you can wear as a discreet, but kinky accessory with your favorite V-neck or button-down. A luxe metal design and four powerful speeds make this one of the best sex toys on Amazon.
It detaches from the chain and can be charged via USB.
Promising review: "I bought this for my lady for her b-day. When she opened it, we were surprised by the size. It was a bit bigger than we'd anticipated. Despite the size, she wore it that night with little notice from other people. We brought it into the bedroom that night and WOW! She absolutely loved it. It warms up as you use it, its different settings are great, and it lasted about two and a half hours. Based on our experience, I would highly recommend this product." —Boom4real
Get it from Amazon for $69+ (available in three metals).
This vibrator earned a spot on "23 Of The Best Sex Toys You Can Get On Amazon."
6.
The Pom vibrator by Dame, which'll blow your clit — I mean mind — because it delivers broad or targeted stimulation with its flexible design that fits effortlessly into the palm of your hand.
A waterproof design plus five vibration modes and five intensities, make this luxury toy great for bath time or introducing into couples' play.
Promising reviews: "This really gave me the 'deathless death.' I loved the intensity and settings. I loved that I could use it on my clitoris or turn it upside down and use it on my actual vaginal opening for stimulation there. I tried it in the shower and when I orgasmed with my mouth hanging open under the shower head, I wouldn't have cared if I drowned or slipped. It was heaven." —Brittney
"Perfect for clitoris stimulation — different sensation than I have ever felt before. Easy to use with a partner too!!" —Victoria B.
Get it from Dame (available in jade and plum) or from Amazon, both for $95 (currently available in plum).
We gave this vibe a shoutout in "28 Clit-Erally Amazing Sex Toys That Are Truly Orgasm-Worthy."
7.
The Zip vibe by Unbound, which is a small and mighty bullet vibe you can easily toss in your purse when you get that 3 a.m. "you up?" text.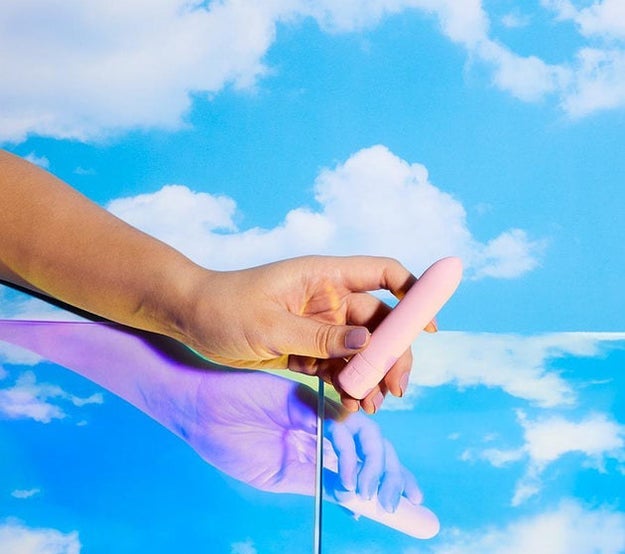 Promising review: "This was the first vibrator I've ever purchased. I tend to have trouble with reaching orgasm, and so I wanted to buy something cheaper just to see if it'd be pleasurable for me. Long story short: the Zip was great! I definitely recommend this if you want something cute and quality." –Selina F.
Get it from Unbound for $20.
This bullet vibe has a shoutout in "26 Of The Best Sex Toys Under $30 You Can Buy Online."

8.
A bullet vibrator that's sleek, compact, and so affordable you'll definitely get your bang for your buck and want to take it with you everywhere you go (and tbh, there's no reason you shouldn't).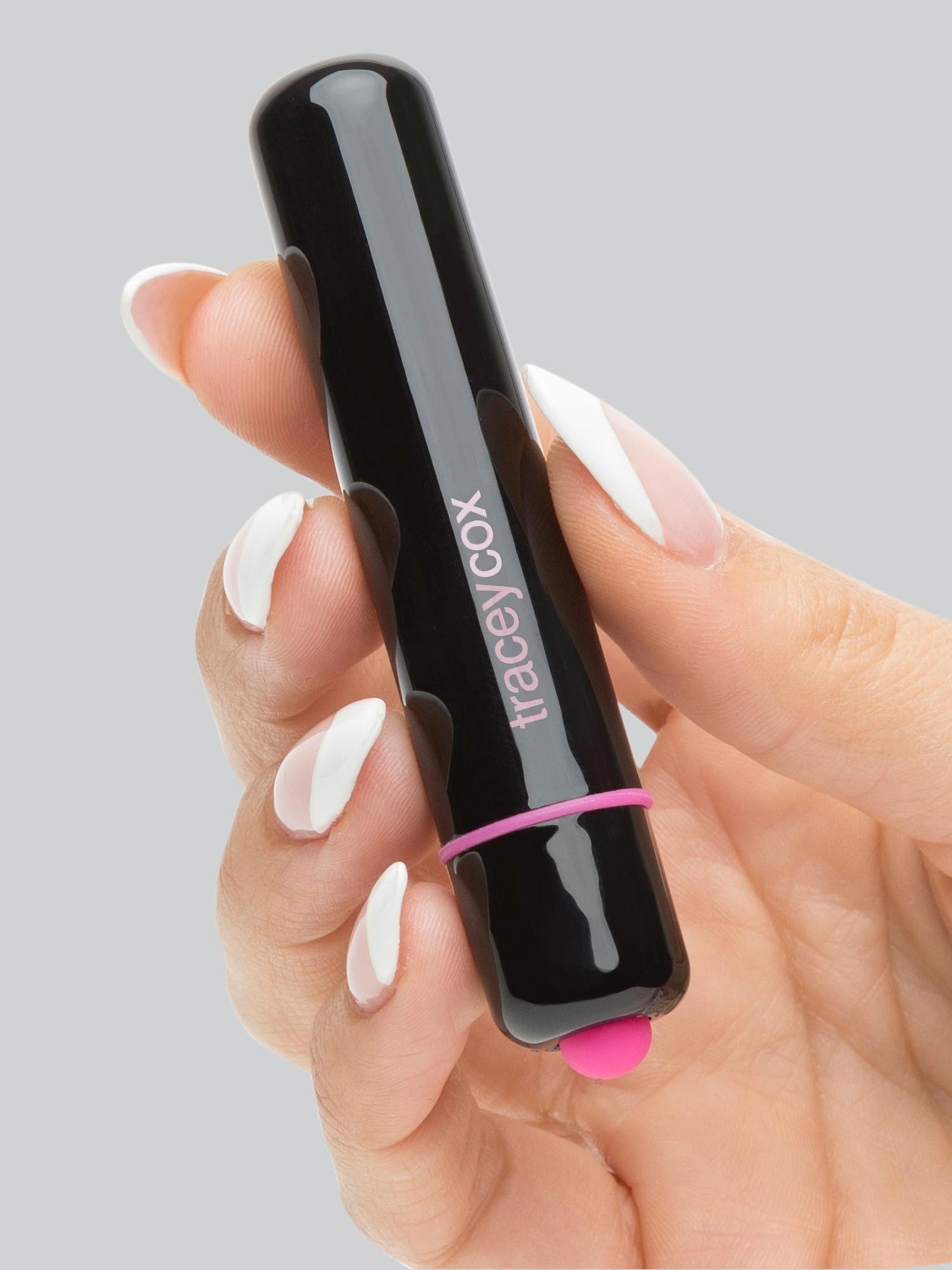 Promising review: "I have a ridiculously extensive collection of sex toys, from cheaper right the way through to fancy expensive ones. None of them match up to this simple bullet. It's the one I always return to, and the one that I am guaranteed to orgasm with. It's powerful and the vibrations are concentrated in the right spot. I never have a night away from home without taking it with me, and it's a rare day where it doesn't get at least one use." —LaVolonte
Get it from Lovehoney for $19.99 (available in black and silver).
This bullet vibe has a shoutout in "26 Of The Best Sex Toys Under $30 You Can Buy Online."
AIR PULSE VIBRATORS (AKA SUCTION TOYS)
9.
The Inya rose boasts 10 powerful vibration functions to stimulate your clit and a splash-proof silicone design, just in case things get a little...wet. 💦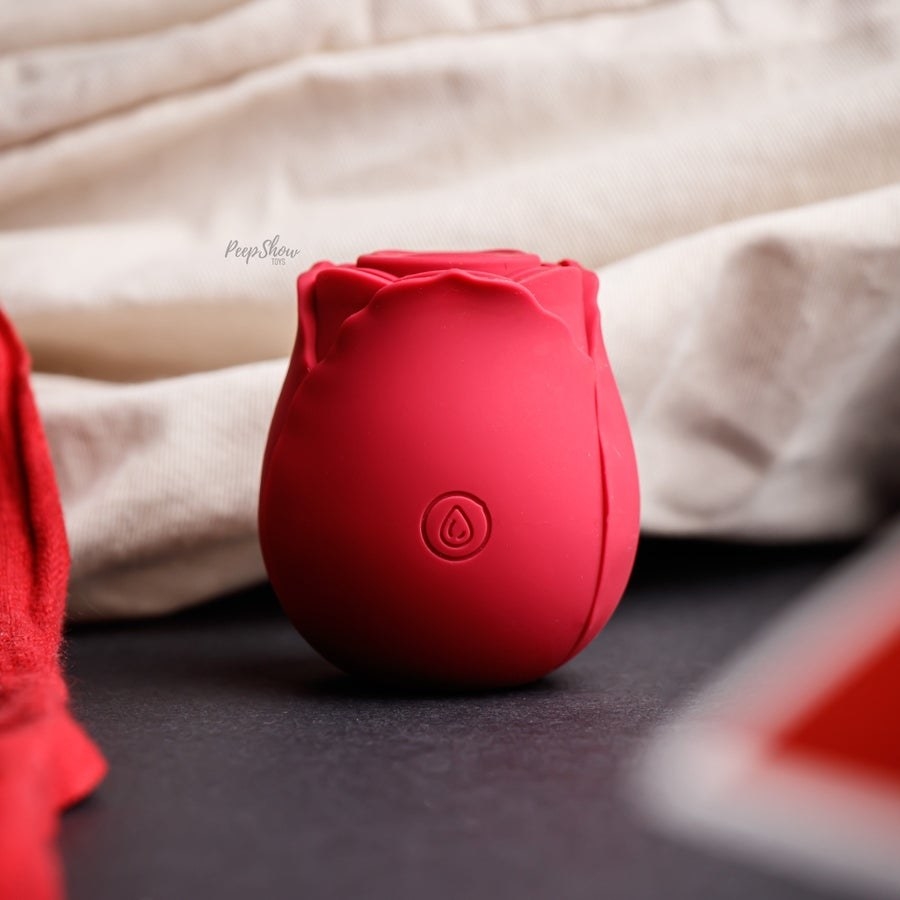 Enough people asked me, a sex toy writer, about the Rose that I finally decided to try it. Um, this thing is POWERFUL. The Rose is very easy to hold in the palm of your hand or place in your panties if you wanted. I really enjoyed it, and it definitely delivers a lot of squirm for its size...10 functions is more than enough. 😅 I would encourage using a water-based lube liberally around the opening of the toy, which is what I did, so the pulsation intensities aren't too much for the sensitive clit. Also, clean it thoroughly with a toy cleaner or antibacterial soap — those little petals can be difficult. 
Promising reviews: "This is the first and only toy that has made me squirt! I didn't know it was possible!! Gift yourself, and all of your girlfriends. It's a must-have." —Flowerchild
"I never write reviews… But this truly got the job done!!! When I tell you it took less than five minutes! I definitely underestimated this toy. You really need this; it's a game changer!" —Emily B.
Get it from Peepshow Toys for $29.99+ (originally $59.99; available in two colors).
Peepshow Toys is an immigrant-owned sex toy boutique that promotes sex-positivity and education by only selling products created with body-safe and non-toxic materials.
We gave this vibe a shoutout in "28 Clit-Erally Amazing Sex Toys That Are Truly Orgasm-Worthy."

10.
A luxury clitoral stimulator equipped with Pleasure Air Technology and an autopilot function to deliver some back-arching cunnilingus without having to bother with pillow talk.
This new and improved suction vibrator by Womanizer boasts 14 intensity levels, an autopilot function that makes sure things never get too predictable during use, Smart Silence technology to make sure it's only making noise when touching the body and it's waterproof. *exhale* So yeah, just click *add to cart*.
Promising reviews: "This is my first clitoral toy and it did not disappoint! I achieved orgasm in less than five minutes and it was the best sensation. A bit pricey but definitely worth it!" —Charlotte Martin
"I've used knock-off versions of Womanizer's Pleasure Air technology, seduced by the lower price tag, but nothing compares to the real thing. And PREMIUM 2 is the best of them all. It has more intensity levels than any other toy (14!) and also has this amazing autopilot feature where the toy takes control of how powerful the vibrations are so you can just sit back and relax... brilliant!" —S Müller
Get it from Womanizer (available in five colors) or Amazon (available in one color), both for $199.
This air pulse vibrator got a shoutout in "28 Sex Toys Designed To Lick And Suck You Up, Down, And All Around."
11.
A wonderfully whimsical penguin-inspired air pulse toy who may be dressed fancy but is ready for some nautical nonsense — and he doesn't mind if he gets squirted on in the process. This unique sex toy is perfect for anyone who wants to get a lil' weird and stimulate their clit.
It's USB-rechargeable and waterproof with 11 different settings!
Promising reviews: "This toy is AMAZING. It really does the job. Over & over & over (if you get what I mean). It lasts long while using it, charges super fast and is super quiet. I only gave it 5 stars because I couldn't give it 10." —ChristyT
" Ladies... I've waited months and months to write this review because I wanted to test it as much as possible before I recommend it. I feel my soul leave my body... The blood gets sucked from my arms and legs and goes right to my hoohaw. It's crazy, it starts all nice and slow right, just kind of gets you in the mood. Then, seemingly out of nowhere, this little man will suddenly have you singing in octaves you didn't know you could hit and keeps it coming. I. Am. Shook. It happened the first time I used it and every time since. I know typically cheap toys aren't the best move, but this one is worth it. It's good... It's so good." —AsherLee
Get it from Amazon for $42.95.
This luxury air pulse toy has a shoutout in "23 Sex Toys That Are Just Plain Made To Suck Your Clit."

12.
A Sila sonic wave massager by Lelo, which boasts both luxury and power with eight non-contact modes of clitoral stimulation and a waterproof design, so you can enjoy rumbles under all those bubbles.
Promising review: "The Sila is a great addition to my toy box. Its shape is great for solo and partnered play. It has a lot of variation in speeds and patterns. It is also very easy to clean which is a major plus for me. Very happy with my purchase." —D.
Get it from Spectrum Boutique or Lelo for $169 (available in three colors).
Spectrum Boutique is a sex-positive retailer run by self-proclaimed "Dildo Duchess" Zoe Ligon to provide customers with curated collections and resources.

We gave this vibe a shoutout in "28 Clit-Erally Amazing Sex Toys That Are Truly OrgasmWorthy."

13.
The We-Vibe Melt, which offers versatile clitoral play whether partnered or solo because it can be paired with the We-Connect app for remote-control from anywhere with Wi-Fi. Buh-bye, long-distance blues.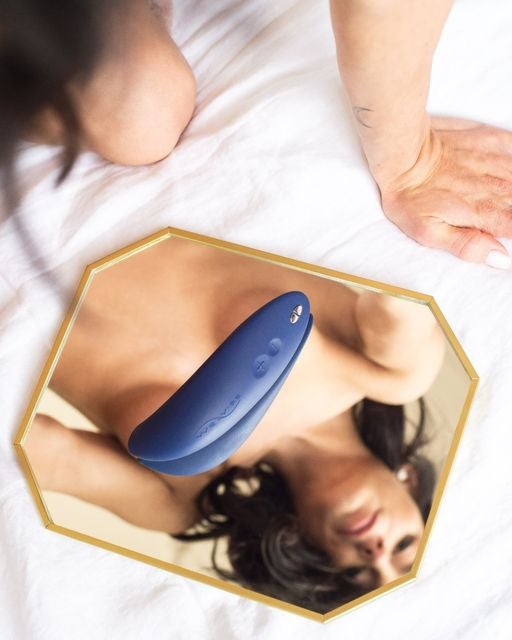 It has 12 settings and is USB-rechargeable!
Promising review: "This thing is amazing. It is worth every penny. Easy to use, relatively quiet for a toy, and waterproof. Charges fast. Has a bunch of different levels of suction (I can't imagine using the highest ones, but to each their own). Unless your partner somehow has vibrating lips and unending stamina, this is better than anything a human can do. I give it all the stars." —Happy Camper
Get it from Amazon for $149 (available in coral and blue).
This luxury air pulse toy has a shoutout in "23 Sex Toys That Are Just Plain Made To Suck Your Clit."
14.
The Poet by Smile Makers, which is unique clitoral stimulator by Smile Makers that's shaped like a rose and makes YOU bloom with five pulsation intensities and innovative squeeze sensor technology.
I'm a writer, so of course I tried out a sex toy called The Poet when I had the chance. And lemme tell you, it rocked my world. Here's the thing, most suction vibrators just increase in intensity and then you cycle back through until you find your favorite one. But not this one. Yes, there are five pulsation modes (all of which are delectable), but the real selling point is the sensor squeeze technology, which allows you to adjust the intensity of the suction based on grip...and you can even lock it once you've found the perfect one! It's a little loud (especially when not against the body) and there's a bit of a learning curve with the squeezing, but it's lovely, trust me. Finally — this sex toy includes three interchangeable tips (which makes cleaning a breeze), so you can find the size that feels right and fits best for you!
Promising review: "I was excited to try it out and it did not disappoint! This isn't the first clit suction toy I've used, but I honestly loved how unique it looked and felt on me. The sensors on the sides were a really cool feature and the mouth shape felt oh so lovely. I don't know how else to describe it but I really love this toy. It's easily one of my favorites!" —Gillian P.
Get it from Smile Makers or Ulta for $129.
We gave this vibe a shoutout in "28 Clit-Erally Amazing Sex Toys That Are Truly OrgasmWorthy."