IMO, the best sex toys to travel with should be two things: discreet and compact. TSA allows sex toys in carry-ons and checked baggage — this doesn't mean they won't be nosy, and it doesn't guarantee that your destination is sex-toy friendly.
1.
An open vibrating sleeve created with premium silicone for a soft and supple sensation and flexible wings that wrap around your shaft, so you can feel each speed and vibration setting at your preferred grip.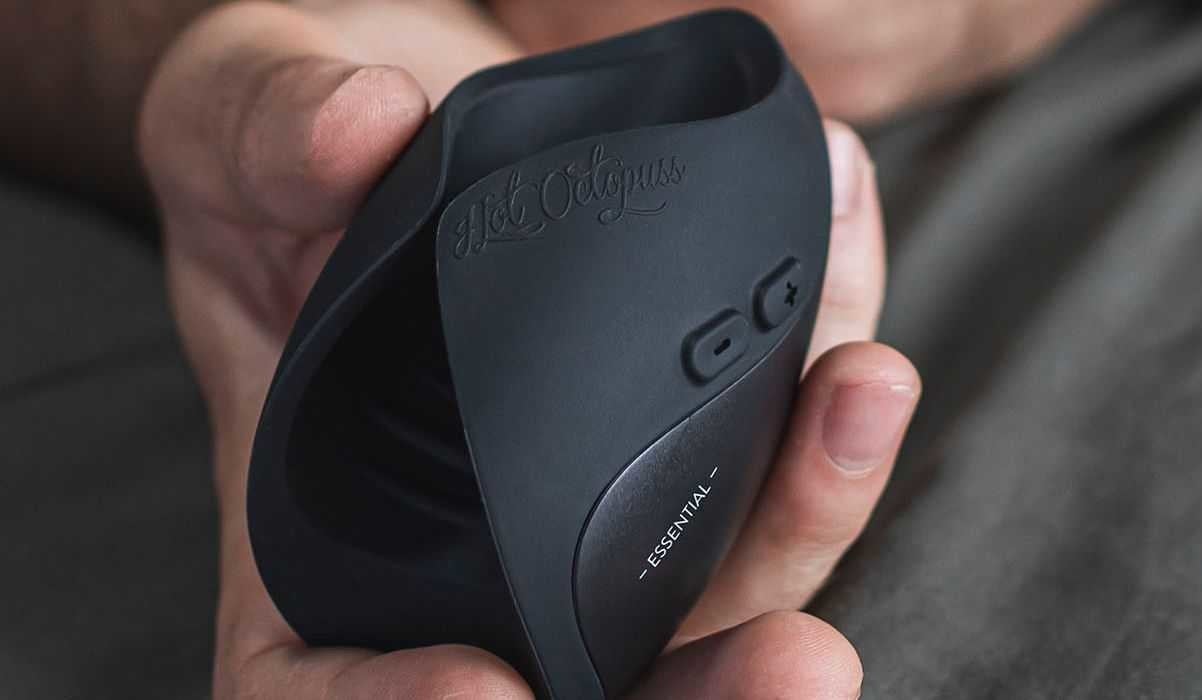 Promising review: "This is a fantastic vibrating male toy. It is very easy to use and gives great sensations. It is very versatile as it can be used wet or dry, with a partner or solo, and it can be used without an erection. 
"For me, it's my new favorite toy. Since the Pulse can be used with or without lube, I first tried it dry. I found that unit stayed in place so I was able to watch porn and stay at the height of arousal for any length of time. When using it dry and with a slight movement it rubs the frenulum and gently pulls the skin on the shaft, creating a very pleasurable experience for me. Not to mention that the cleanup was very easy. When using it with lube the sensations are much more varied and The Pulse can create a wide array of sensations. It is very easy to hold on to even with lube everywhere. 
"I tested it with a partner, where I was lying on my back with The Pulse on my shaft and had my partner straddle me. She felt the vibrations and was able to enjoy the vibrator for as long as she wanted, all the time I was hard and happy. 
"One nice feature is that you can use The Pulse without an erection. Since the unit wraps around the shaft, you don't have to insert it like a traditional masturbation sleeve. The crescendo to orgasm is different when I use a vibrating toy. A feeling I hope all penises get to experience. The overall size is very small and the charger uses a simple USB power supply so it is very easy to chart and no bulky charging plugs." —Jack
Get it from Early to Bed or Amazon for $99.
2.
An Eva vibrator by Dame designed with flexible wings to tuck under the labia and nest on the vulva, stimulating them with three vibration intensities. *hint* Introduce it into couples' play for extra good vibes, and your annual beach trip will be MORE memorable than ever.
Many reviewers love this toy, but it's not a perfect fit for everyone, so be sure to check the reviews for extra info on if this toy would work for you.

Promising reviews: "Easy to use, great for travel, and highly effective. Strong recommend." —Jake C.
"Great product. Using this model for years. Eva always goes on vacation with us, everywhere we go. The perfect addition to our sex life." —Heidy V.
"OK, the Eva II is a game changer. It's insanely comfortable and easy to use. The three levels of vibration are perfection (level three is...life changing). I bought this to use with my husband but have only used it solo so far. Eva is the second toy I've ever purchased! I honestly had the most intense orgasm I've ever had with the first use. I highly recommend this and can't wait to use it with my husband. It does take a bit of moving around at first to figure out how it fits best for you!" —Kelsey R.
Get it from Dame for $135 or Amazon for $118.50+ (available in quartz or fir).
3.
A high-tech oral simulator with Airflow technology for stroking and sucking sensations at 10 different intensities. It's like a real mouth, minus all of the blah blah blah. Plus, it comes with a sleek case, to keep it safe in your weekender when you're on the go.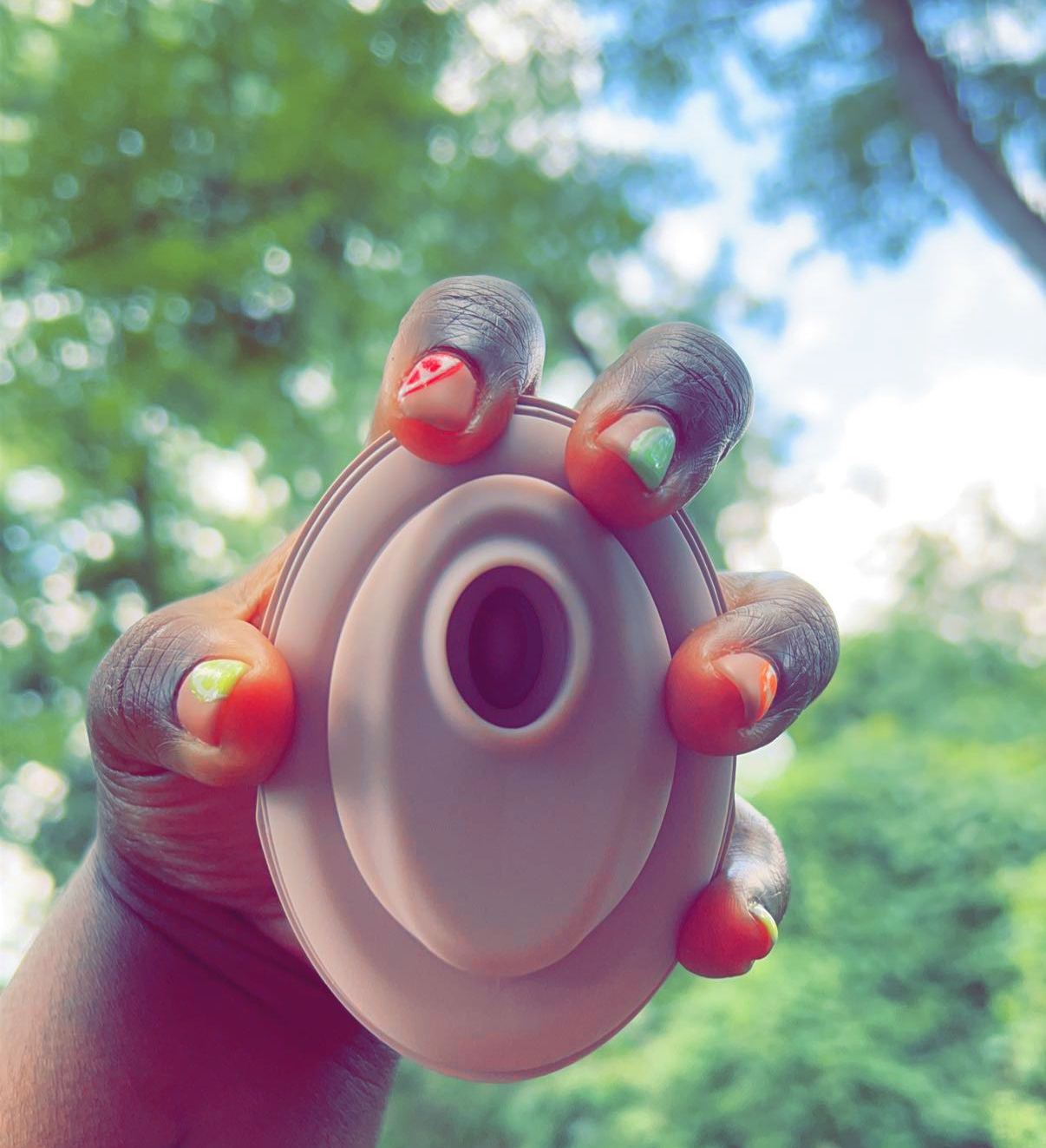 BTW, it's waterproof!
Promising review: "I love this toy. It's extremely intense. I'm on T therapy and have experienced a lot of clitoral growth and size over the past two years. So when I saw how big the opening was I couldn't wait to try it. I enjoy my clit being highly stimulated. Which the Baci does well. I could actually use a few more higher settings. Maybe a turbo in the controls. I'm looking forward to my nights alone." —Miguel R.
Get it from Lora DiCarlo for $160.
4.
A powerful bullet vibrator designed for pin-pointed pleasure — and it's waterproof in case you feel your best ~good vibes~ in the tub.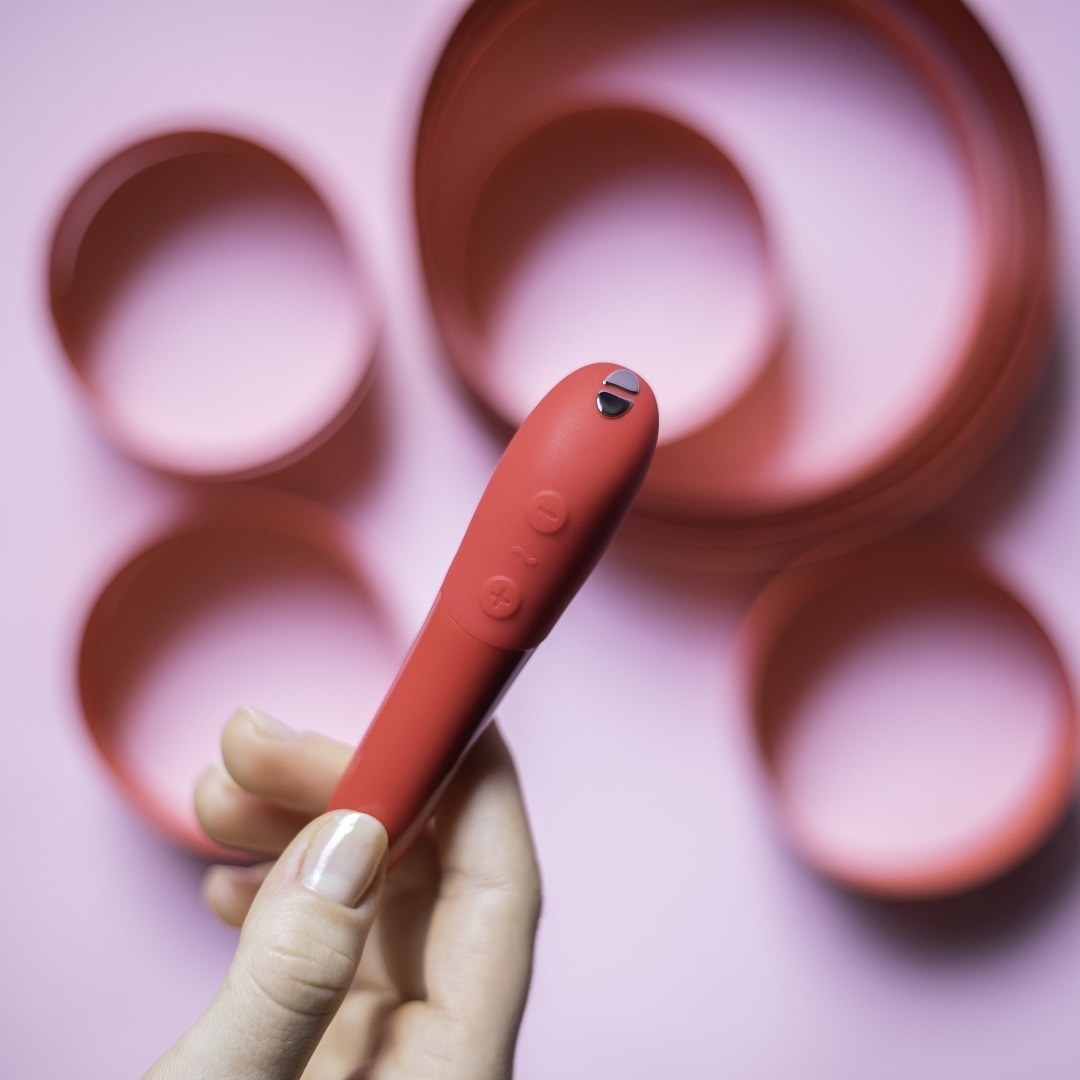 This powerful miniature boasts eight intensities and seven vibration modes.
Promising reviews: "Well fuck me if this isn't an absolute must-have in everyone's toy box. It's so strong for a clit vibe that I never want to go back to anything that's even the slightest bit weaker." —Nicki Mouse
"I want to congratulate whoever created this bullet because it's crazy and magical. You wouldn't believe the vibrations this gives. How is this even possible?" —Jane T.
Get it from We-Vibe or Amazon for $79 (available in cherry red or midnight blue).
5.
The sleek Arc G-spot vibrator by Dame designed with a clit-stimulating ridge and curved handle to help you reach bliss. Those solo getaways will take on a whole new meaning when you bring along this toy.
This waterproof vibrator has a runtime of 1.5 hours with five intensities and five patterns to keep you buzzing.
Promising reviews: "This product is easy to handle, and the variable settings are a delight. The material is smooth and easily cleaned. I charged mine once about a month ago, and I have not had to charge it since! Battery lasts a while. And I love the little pouch it comes in so I can travel without it going noticed." —Marah A.
"Super easy to use! It has multiple settings and speeds, which is great! The easy grip handle is very convenient, and the size of it is perfect since it is small enough to conceal if you are traveling with it. It is also very simple to control and doesn't slip while in use!" —Stephanie L.
Get it from Dame or Amazon for $115 (available in ice and berry).
6.
A minimalist vibrator that has three speeds and a tapered tip for targeted stimulation. This vibe includes a convenient canvas carrying bag for when you eventually decide to take it on the go.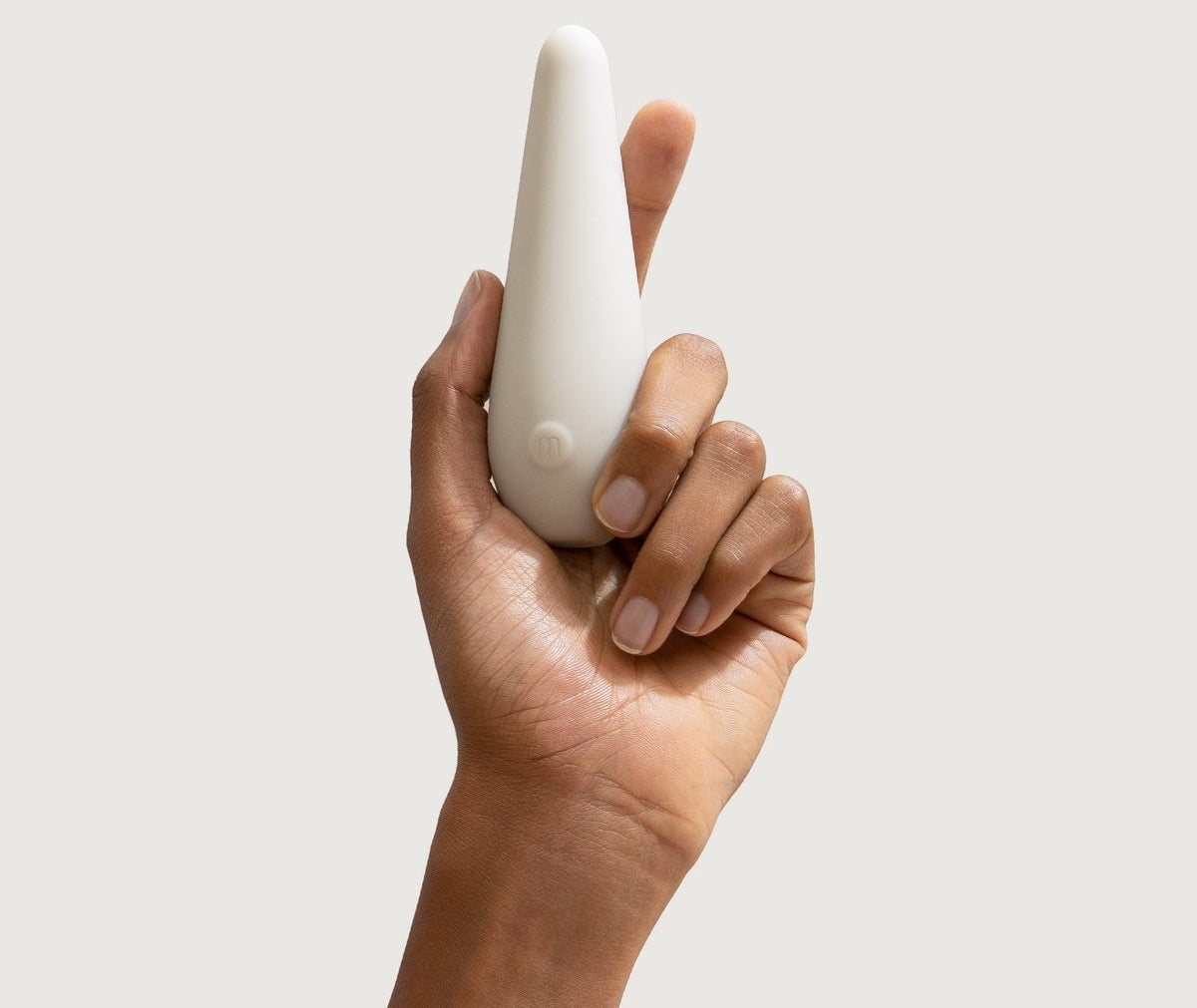 When you first get Vibe, it will be in travel mode, but you only have to hold the power button for three seconds until you feel two quick pulses. To put it back in travel mode, hold the button and wait for the two quick pulses again. Nothing to worry about and easy as pie.
Promising reviews: "Great for travel and discreet play. This vibe is sleek and whisper quiet with a decent vibration strength. The packaging is discreet and understated. I absolutely recommend it." —SirenSelene
"I love how discreet the vibe is. Travel was super easy as well with the case and travel mode." —Rachel M.
Get it from Maude for $49 (available in four colors).
7.
The Puff compact suction vibrator — it's beloved by beginners and more experienced 'bators who enjoy riding the five intensities to climax over and over again. You don't need any sea legs to go on this pleasure cruise...in fact, stay on land if you wish.
Listen to me. If I am packing a bag for a trip that is more than 3 days and I'm not sharing a room with someone, you can bet the first thing on my list is Puff and its charger. I wish it had a case, but it fits easily into my carry-on or my checked luggage, and nothing has happened to it so far! I've been traveling back to back for almost three months now, and Puff has come with me (no pun intended) on every single trip just in case there's time (and there usually is) for some solo exploration at the end of a long day. It's been three months, and I haven't even had to charge it yet 🤷‍♀️. And when I pack Puff, I always make sure to pack a travel-sized water-based lube! If you need to know more about this sex toy and why I personally love it, make sure to read my Unbound Puff review on why it's my favorite sex toy.
Promising reviews: "Was hesitant to try this since I wasn't sure about the whole suction aspect, but I do not regret going for it at all! Such an incredible price for an equally amazing toy! If you're on the edge about getting this, just buy it — you'll love it. <3" —jillian
"I'm new to the all of this. My friends literally raved about Puff for a year before I finally decided to get one. I did not know…I could feel like that. It is amazing. It took me some time to fully utilize the suction feature in the Puff, but the vibration itself is *chefs kiss*. I also used it once during sex with my boyfriend and phew!!! I don't even know if I have any words. Great for beginners!" —B.
Get it from Unbound for $48 (available in quartz and mint).
8.
A unique anal plug that simulates the feeling of rimming with rotating anal beads in the shaft and a vibrating tip that hits your favorite spots.
This 1.5-inch diameter plug has seven rotation patterns and six intensities to explore and stimulate your P-spot as you start (or continue) your journey into anal play. Also, it's splash-proof!

Looking for something a little larger? Check out the Rimming Plug 2 and Rimming Plug XL, that have all the same features but a little more length.
Promising reviews: "I've been selling this toy at my shop for the past 2 years and recently invested in it and I found myself asking one huge question: why oh why did I wait so long to get it? Out of all my anal toys this is my favorite by far!" —Melissa
"I used this toy on myself and was thrilled by the strong vibrations and the rimming sensation of the stem. The larger rimming toy seemed intimidating, but this toy comes in a size that I can use casually without having to do a ton of serious warm up every time I want to use it. I wasn't sure if I would like the rimming aspect but found that it was an exciting new addition to an already great butt toy. Overall, I'm very excited about this toy and would recommend it." —Rimming Lover
Get it from B-Vibe for $159.99 (available in three colors).
B-Vibe is a premium collection of tech-forward anal play products founded by certified sex educator Alicia Sinclair.

9.
A novelty Emojibator vibrator that's as hilarious as it is functional, so you can go fuck yourself, literally. It's also battery-operated, meaning you can rely on it whenever you forget to charge your go-to vibes.
Whether you choose the chili pepper, banana, pickle, or OG eggplant vibe, each one has 10 vibration settings, a waterproof design, and is battery-operated. Is that a banana in your pocket? 👀 And don't forget the convenient Go Fuck Yourself, Literally travel case!
Promising reviews: "Love this little pepper. Small, cute, and most importantly — efficient. ;)" —Deanna D.
"First toy ever. I'm OBSESSED!!!!! Really good material, super quiet, and strong vibration." —Christina
Get it from Emojibator for $34 (available in eggplant, chili pepper, banana, or pickle) or Amazon for $29 (available in eggplant, chili pepper, banana, or pickle).
Emojibator products are designed with love in Philadelphia and include novelty sex toys inspired by fruits and emojis.

10.
A dual cock ring designed with stretchy silicone to help your penis-packing partner stay harder for longer, so you both get yours. Its small stature and non-vibrating design means it can be carried in your luggage, backpack, purse — even your pocket, tbh.
This versatile ring can be worn in several ways: solely on your dick, one ring wrapped around the D and the other around the balls, or wrap them both around your balls! Pick your poison, it's your pleasure!
Promising reviews: "Just buy it now! This item has increased everything! Made this guy feel like a like a 20-year-old bull again! It was stretchy yet tight, and the rubber material is soft to the touch — not like a rubber washer, which I was expecting. Very easy to clean and no weird rubber smell some toys have. I can say this left a lasting impression on my wife." —JohnH
"I loved the product! Works amazing and is comfortable to use but after a while it becomes bothersome. I would put some lube around the area where it will be on to help with that. It was sort of too tight for me at first but then it let up somewhat. It is very soft and easy to use. I can definitely tell the difference when I use it and creates more sensation." —BDogg
Get it from Amazon for $8.99.
If you're only interested in putting a ring on *it*, then definitely check out this round-up of cock rings to introduce into your play.
11.
An app-controlled masturbator sleeve that'll effortlessly get you off with a 360-degree rotation and multiple sensations on the interior of the sleeve. The Max 2 offers three different levels of "contractions," adjustable suction intensity, and seven vibration modes for an extra-stimulating experience.
Reviewers say that heterosexual couples should pair this toy with the Nora Rabbit Vibrator for a reciprocal long-distance session.

Promising reviews: "My boyfriend and I are stationed across the country from each other and, thanks to the pandemic, haven't seen each other since October with no end in sight. I bought this and Nora. They work well together and he said it was incredible when we tried them out the first time yesterday. It definitely made us feel a little bit closer for a bit, since they mimic each other's movement." —Anonymous
"This is the most realistic toy I've ever used. The suction is excellent even though the air pump is on the loud side. The vibrations are a nice touch and make the experience even more pleasurable. The app works really well with easy control and a whole lot of patterns made by other people to try. Long-distance play works well, especially paired with the Nora. It's perfect for long-distance relationships but also amazing for solo enjoyment too." —Matt
Get it from Amazon for $119.
12.
An anal-safe vibrator from Cute Little Fuckers, which has a curved, bulbous tip at the end of the shaft that's perfect for P- (or G-) spot stimulation. This fantastical design also has flared fins to help keep it from getting lost inside your orifices.

In true Cute Little Fuckers style, this toy is also waterproof and includes a removable bullet vibrator for versatility.
Promising review: "I love this toy. It's wide enough to make me feel full yet narrow enough that as an anal beginner I need very little warming up to get going with it. The curve at the end hits some really nice places, and the ears make it really easy to hold on to while going, and make it possible to spin the toy inside of me too which I found I really liked. Plus it's so dang cute! Maybe the cutest CLF in my opinion." —Fizzle
Get it from Cute Little Fuckers for $74 (available in yellow and purple).

Cute Little Fuckers is a queer-owned small business that features (some very adorable) creature-inspired sex toys, making them less intimidating and more versatile to everyone's needs.

If you want more toys that aren't too phallic or realistic, check out this round-up of gender-affirming sex toys and sex toys beloved by LGBTQ+ reviewers!
13.
The XO chrome vibe by Le Wand, a unique internal massager designed for dual stimulation with dual motors in the tip and and tapered base to stimulate your prostate, A-, or G-spot. Besides having the reach — this versatile toy is shower-friendly for when you want to get a little wet.

This vibrator has six intensity levels with 15 vibration modes that rumble through both the tip and base to simultaneously stimulate the clit *and* G-spot or *perineum* and prostate (or A-spot!). It also has a travel lock for when you want to take it on the go!

Get it from Le Wand for $159.99 (available in three colors).
And definitely peruse this post for more sex toys that'll reach your G- or P-spot!
14.
A stainless-steel bullet vibrator with four vibration modes that can also be worn as a necklace...and goes perfectly with that plunging V-neck top sitting in your closet.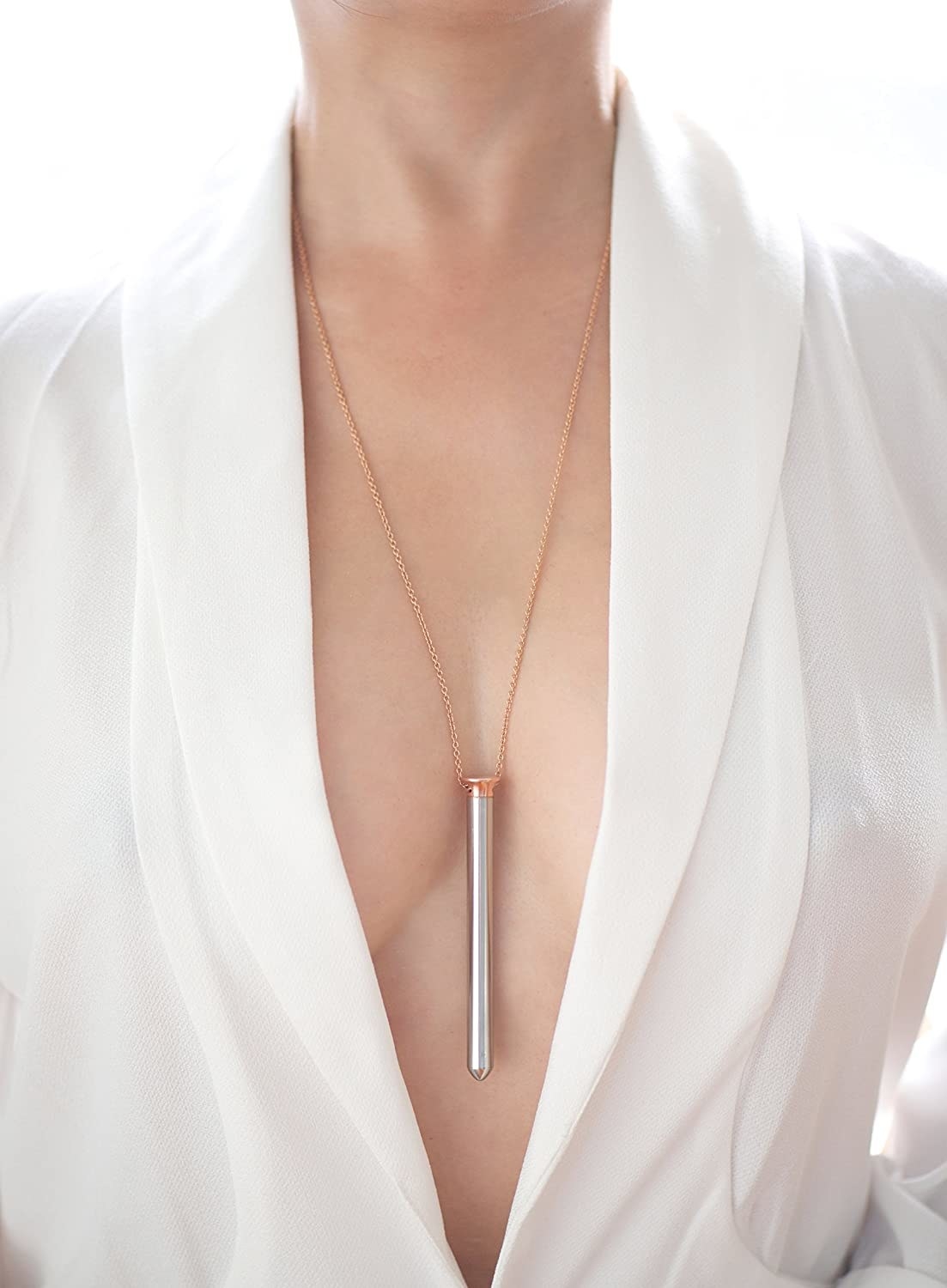 Yes, this is made of metal. But it's small enough that you shouldn't have any issues. In fact, it will probably register like the rest of your jewelry in TSA.
Promising reviews: "Best smallest vibrator I've ever had the pleasure of using. It warms up when you use it, so it's not cold metal. The settings all pack a punch. It has four of them. Also a cute statement looking necklace." —Rebecca
"This product is so easy to travel with. The charger is tiny, the vibrator is tiny. Even if you don't wear it as a necklace, it takes up no space in your bag. As a mental addition, it's pretty and non-threatening, and the look doesn't scream sex toy. So it's very easy to introduce people to, even if they're not used to sex toys, and nobody feels threatened. This is a very useful product for me, and I'm very happy to own it. Make more like this! I want more pretty little toys. I'll add that I've had this maybe nine months, and it's continued working nicely throughout." —Firebird
Get it from Amazon for $69+ (available in three colors).
Don't have a bullet? Check out this round-up of the best bullet vibrators!