1.
The Zee bullet vibrator, from the makers of the popular Arc and Eva vibrators, boasts three speeds and a water-resistant design if you want to take it with you in the shower.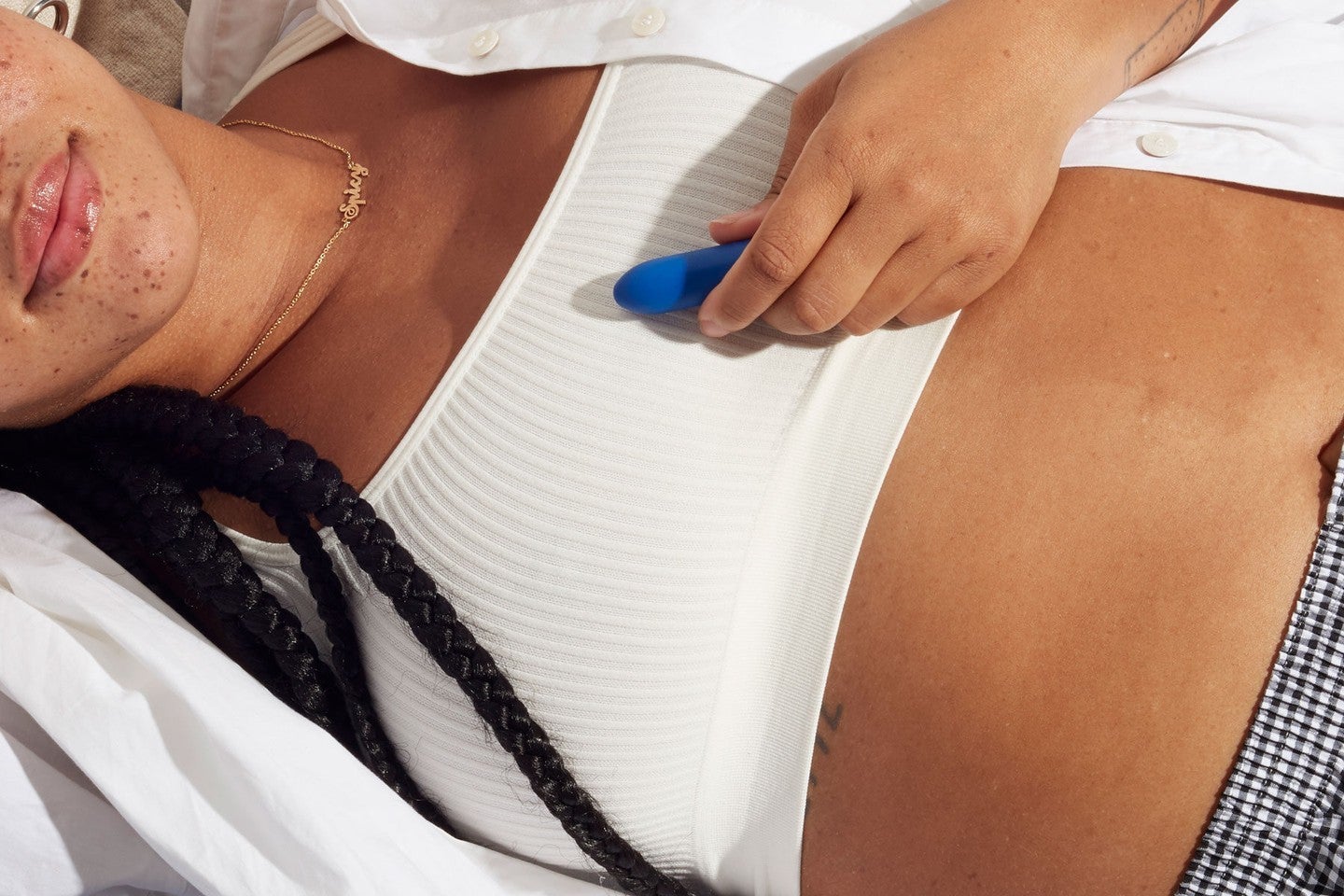 Just FYI, bullet vibrators (for the most part) are intended for external play. When a bullet-shaped vibe *can* also be used internally, assume that it means vaginal. Bullet vibes are small (travel-friendly) and typically do not have a flared base in the design, making it unsafe for anal play.
Promising reviews: "Love this little guy! I like a vibe that is more buzzy than rumbly. The perfect introductory vibe for those new to toys. It's small, easy to hide from prying eyes, pretty quiet, super smooth and gets you there fast on the third setting. Love the precision Zee gives too. Mine gave out but the warranty process was easy and I'm currently awaiting a replacement, so Dame has you covered if there proves to be a defect so you have nothing to lose." —Jasmene R.
Get it from Dame for $30.

2.
A discreet bullet vibrator boasting an angled precision tip, so you can directly stimulate your clit with its 10 powerful vibration modes.
Oh, and this petit prince is waterproof, too.
Promising reviews: "I got it and it is so good. The vibration strength is extremely strong and it makes moderate noise but if you turn on a fan or a TV it isn't too much of a bother. I'd highly recommend it. Has a lot of settings and is simple to charge. Make sure you have a charger block to charge it because it doesn't come with one. 10/10 Worth the money." —Kaylee
"Seriously, buy this. You won't be disappointed. 0 to 60 in 10 seconds flat! Super easy to charge, low noise, and compact enough to discreetly store. It used to take me 20 minutes to get the job done but now it takes only a few seconds. I cannot recommend this product enough!" —AP
Get it from Amazon for $10.99.
3.
A classic lipstick bullet vibrator for when discretion is what you *need* but ultimately good vibes are what you *want*. This travel-friendly vibe offers a single-speed function, making it perfect for teasing and pleasing, whether solo or with a partner.

Promising reviews: "I was so surprised by how strong this little thing was. It is actually more powerful than my bullet!" —Majestic
"I'd been looking to buy this vibrator for a long time, and then, on a whim, I did! And let me tell you... it was the best impulse buy I've ever ordered! The strong and powerful vibrations get me going within seconds and the tapered tip is fab for targeting my clit! It's also very discreet so good as a 1st time toy. This toy is amazing for solo play as well as partner play! The only small thing is that it is quite noisy, however I just put on some music and under the covers I go...! It will get you to climax within seconds, 10/10 buy!" —Bunnyboo123
Get it from Lovehoney for $16.99.

4.
The Poco vibrator by Mystery Vibe, which is ingeniously designed for G-spot stimulation with a flexible body shaped to resemble fingers and dual motors, so you can feel all 16 intensities no matter where it's placed.
Promising reviews: "You will not be disappointed! Using Poco is like having an ultra-thick, dual-motor-controlled finger pleasure you, that unlike most human fingers, won't get tired. It's pretty perfect." —Laura
"I had never used a vibrator before, but this thing is amazing!!!! It is really easy to control, really easy to charge and it feels great when holding it. What I like most is the bendable feature. It just makes the experience so much more fun." —Jess
Get it from Mystery Vibe for $119 (originally $149).
Got an urge to splurge? Check out this round-up of sex toys that offer just as much bang for their buck.
5.
A petite precision bullet boasting silky silicone and seven vibration modes to tickle your fancy all over.
Promising review: "Exciting! Nice, soft, flexible massager. I used it for the first time and it exceeded my expectations. The vibration patterns are variable and the charging experience was easy and fast. I'm obsessed with how soft and brightly colored this device is. Thank you! I was going to wait to write a review after I had tried it a few times but this couldn't wait. This product is amazing for the price. At first I was skeptical because I'm used to higher end massagers but I was completely wrong, this massager is literally a game changer for me. Its light weight, powerful and easy to use. This massager is going to live in its clean velvet case in my bedside table for a long time. Thank you for a great product!! P.s. the massager has many different settings so it's easy to find your rhythm." —Patrese
Get it from Amazon for $13.99 (available in four colors).
New to sex toys? Check out this post of tips, tricks and toys for anyone new to masturbation or looking to explore their body further!
6.
A biodegradable bullet vibrator that can be displayed with the rest of your crystals and will help you save the planet one orgasm at a time...kind of.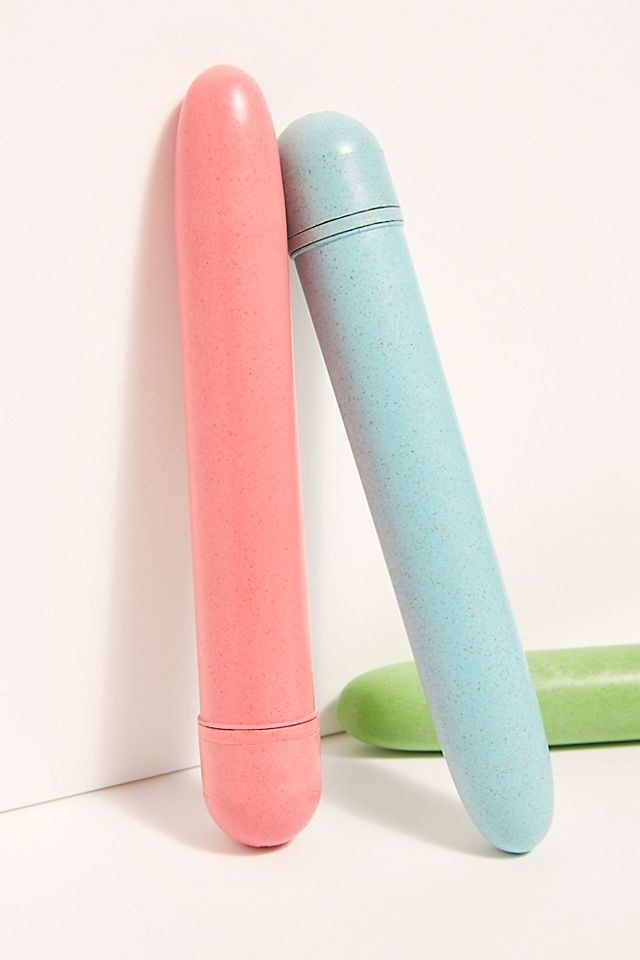 This unique battery-powered multispeed vibrator boasts a slim, body-safe design for internal and external stimulation.
Promising reviews: "This is my first vibe so I didn't know what to expect. but, I like it & it gets the job done! It is a little loud but like a previous review said if you wrap a little Scotch tape over the batteries it cuts down on the rattling/sound :)." —_nicole
Get it from Amazon for $15.71 or Free People for $14 (available in three colors).
7.
A bullet vibrator that's 4/20-friendly and delivers a different kind of high with 10 vibration speeds and a waterproof coating for bath time play.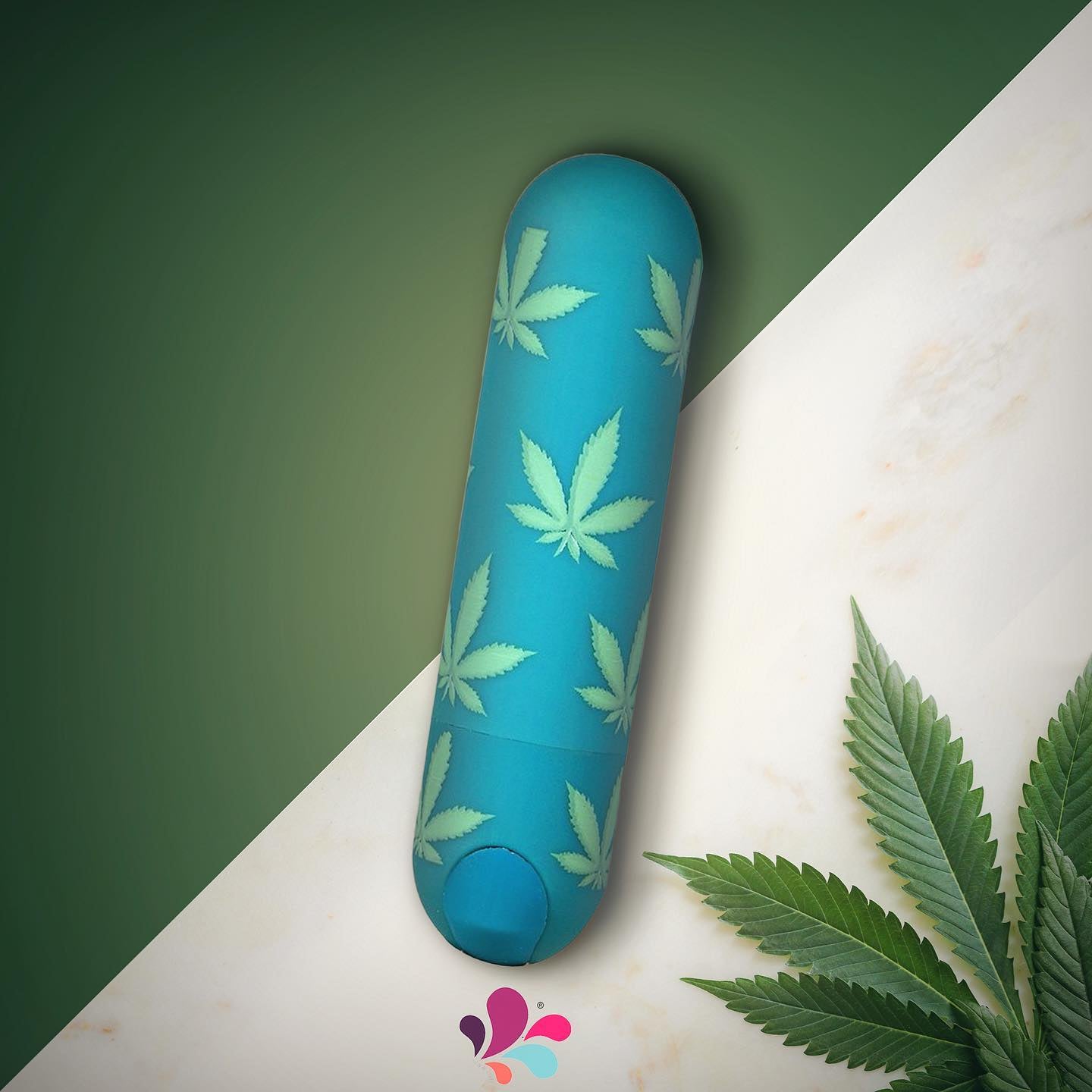 Promising review: "Incredibly strong for the price! Despite owning a few vibes I've never tried a bullet and was very pleased with this purchase. Nice smooth matte finish, simple one-button use, and very cute. Would recommend!" —Mick
Get it from Early to Bed for $22 or Amazon for $15.45.
Early to Bed is a Chicago-based, queer- and woman-run retail sex boutique committed to providing an inclusive shopping experience.

Here's a list of more cannabis-inspired sex toys, if you're interested in keeping things 4/20-friendly.
8.
A precision bullet vibrator by Vush that's both pretty and powerful with 25 vibrating combinations and a gently flexible design.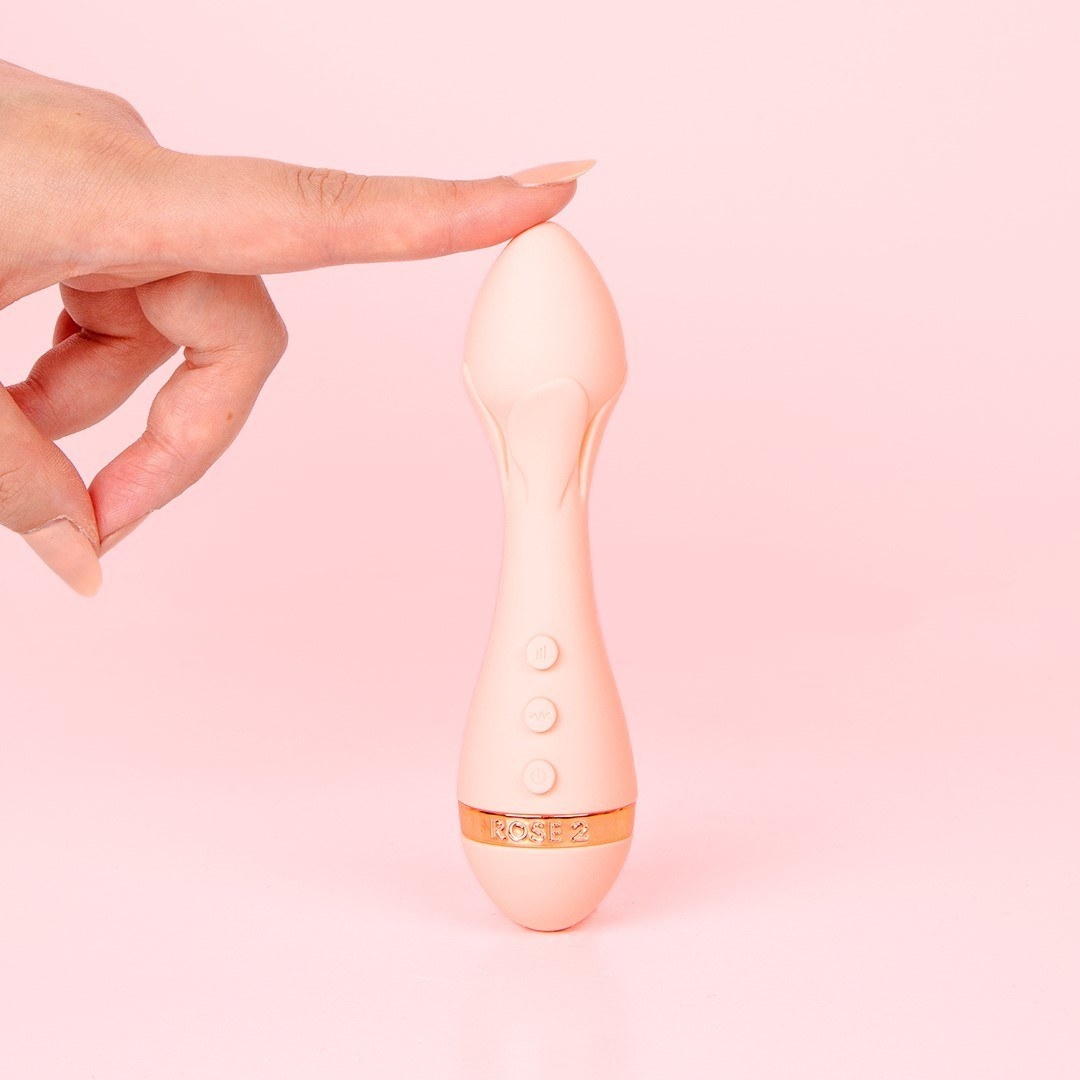 @vushofficial / https://www.instagram.com/p/CMtBY-_CO5z/?utm_source=ig_web_copy_link
What, like it's hard?
Promising reviews: "Amazing upgrade from original Rose. Shipping was fast and discreet. Battery is much longer as well. I have been raving about it so much one of my best friends just purchased her own. It has served me multiple orgasms I would definitely recommend to anyone!!!!! Beginner or expert!!!" —Maggie Z.
"Easy to charge, doesn't need batteries and lasts a long time. 5 different speeds and 5 frequencies. I really liked this new sex toy. Super recommend." —Mia
Get it from Vush for $90.
9.
A bullet vibrator that combines the best of both worlds in clit stimulation: rabbit ears and targeted stimulation to enjoy its three powerful speeds and nine patterns.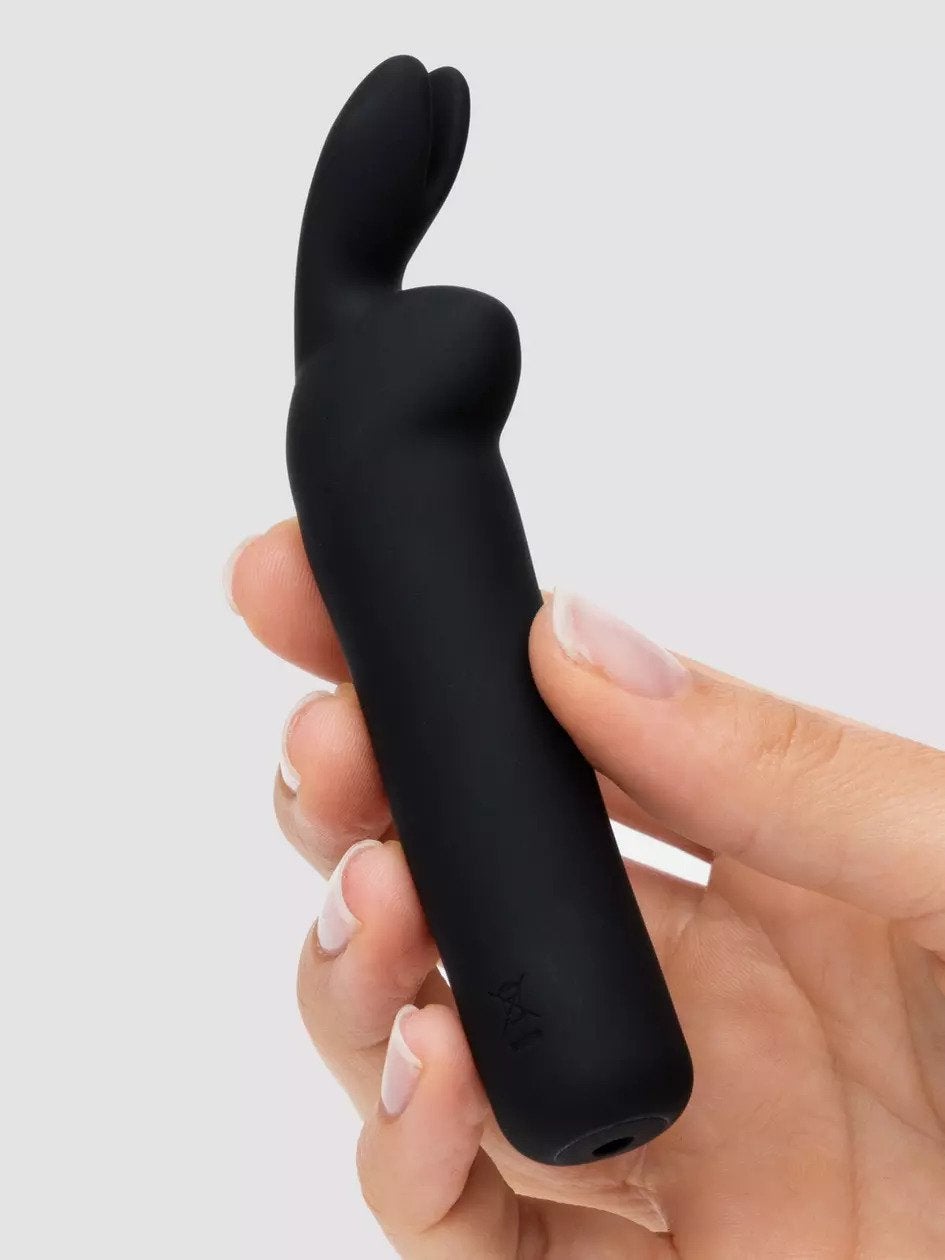 Promising review: "Add this in to the fun and I'm a squirter. OK so I'm not a natural at squirting, but twice now I have managed to squirt (yes I am proud): once solo and once with a guy, and this little rabbit has tipped me over the edge. It was that much of a surprise that both times beds were ruined! It is great for a cheeky little play in the bath or shower and easy to use. Sometimes turning it off is a bit of a pain but that's a small sacrifice considering!" —StillSmiling
Get it from Lovehoney for $39.99.

10.
An adorable (and waterproof) bullet vibrator with 10 settings and a discreet design, in case you like to take your ~O~ on the go.
Promising reviews: "This little thing sure has a lot of 'umph' power for something that's no bigger than a lipstick tube! Other reviewers all say it will die a sudden and inexplicable death but this lipstick is cheap, and forewarned is forearmed so I bought two. I'll just keep replacing the spare. 😂" —Kaye
"I got this vibrator less than a week ago and it is everything I wanted. First of all, super cute, perfect 'pocket' size, and the material is nice to the touch. The most important part is that the vibration speeds are powerful for such a tiny vibrator. This is perfect for clitoral/nipple stimulation. I've used it with a partner to much success, but already have plans to take it with me when I travel for a "quickie" and to be discreet. If clitoral orgasms are a thing for you, get it. I've had other bullets in the past that look, feel, and 'act' CHEAP! This definitely NOT one of them. I can't believe I got it for this price." —Ashleigh N.
Get it from Amazon for $10.28.
11.
A powerful bullet vibrator designed for pin-pointed pleasure — and it's waterproof in case you feel your best ~good vibes~ in the tub.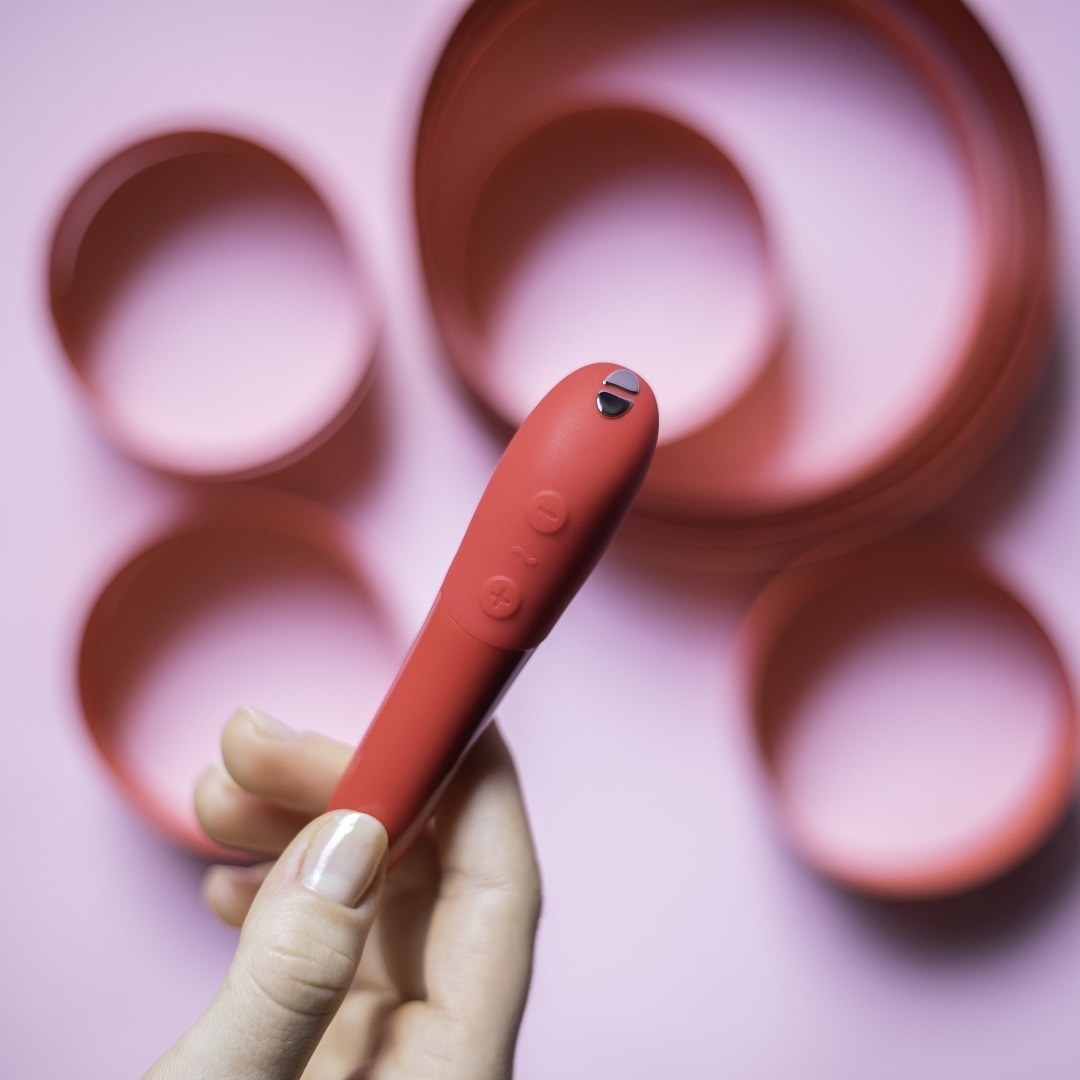 This powerful miniature boasts eight intensities and seven vibration modes.
Promising review: "Well fuck me if this isn't an absolute must-have in everyone's toy box. It's so strong for a clit vibe that I never want to go back to anything that's even the slightest bit weaker." —Nicki Mouse
Get it from We-Vibe for $79 or Amazon for $75.05+ (available in cherry red or midnight blue).
12.
A stainless-steel bullet vibrator with four vibration modes that can also be worn as a necklace...and goes perfectly with that plunging V-neck top sitting in your closet.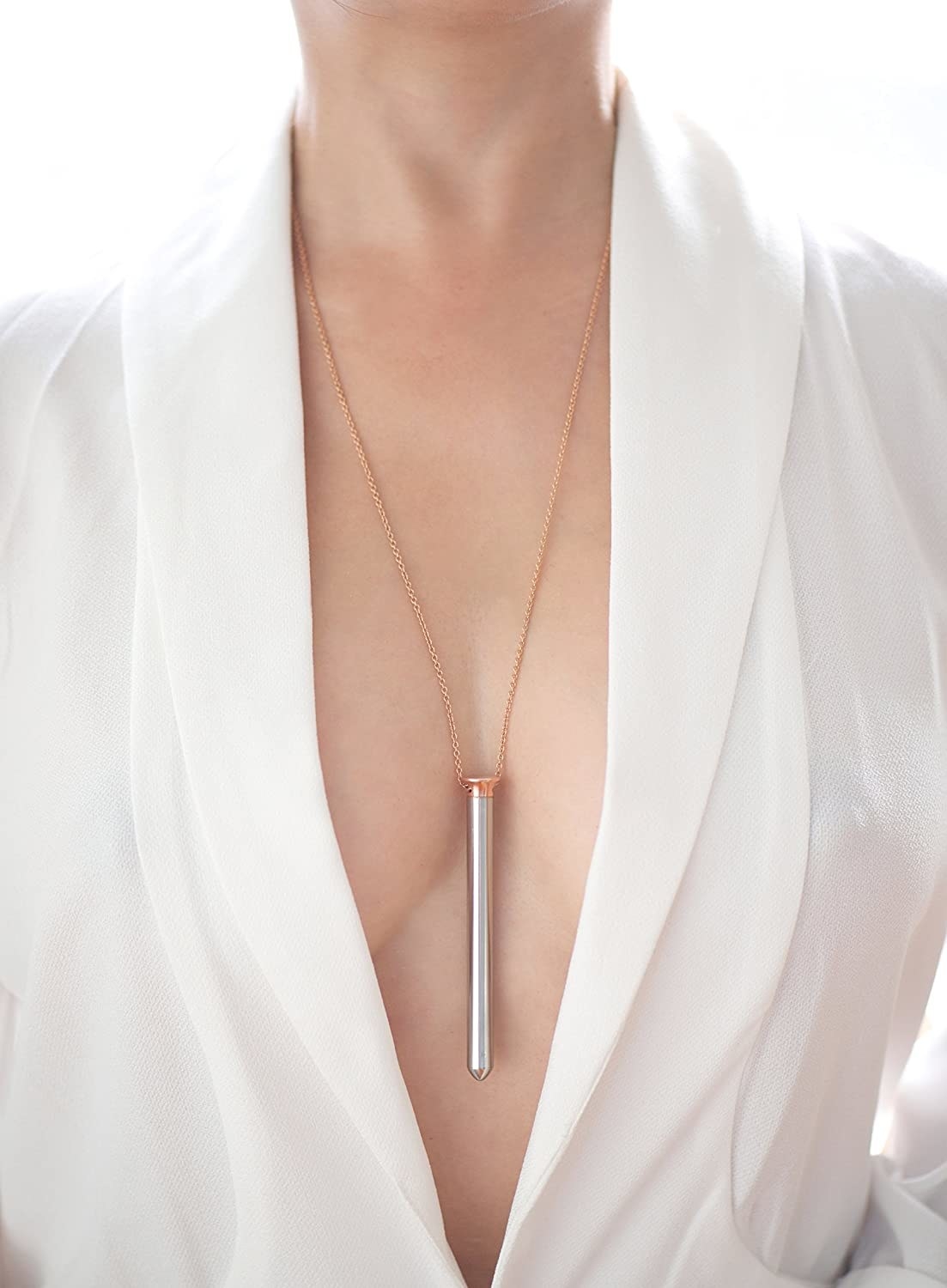 Promising reviews: "Best smallest vibrator I've ever had the pleasure of using. It warms up when you use it, so it's not cold metal. The settings all pack a punch. It has four of them. Also a cute statement looking necklace." —Rebecca
"This product is so easy to travel with. The charger is tiny, the vibrator is tiny. Even if you don't wear it as a necklace, it takes up no space in your bag. As a mental addition, it's pretty and non-threatening, and the look doesn't scream sex toy. So it's very easy to introduce people to, even if they're not used to sex toys, and nobody feels threatened. This is a very useful product for me, and I'm very happy to own it. Make more like this! I want more pretty little toys. I'll add that I've had this maybe nine months, and it's continued working nicely throughout." —Firebird
Get it from Amazon for $69+ (available in three colors).
13.
The Le Wand Grand bullet vibrator, which takes things up a notch with an extended design for versatility, a powerful combo of 11 vibration modes and four intensities to explore, *and* a body-safe metal design that's perfect for temperature play.

Because this vibe is made of metal and rechargeable, it has a waterproof design in case you decide to take it in the bath, shower, or other aquatic trysts. Each vibrator also includes two removable textured silicone attachments: one ring and one classic bullet sleeve to help heighten sensations.
The Le Wand Grand bullet vibrator is beginner-friendly, but if you think it might be too much, there's also the Le Wand Bullet (but just FYI the Grand is 40% more powerful and bigger). 
The Grand bullet is part of Le Wand's Chrome collection.

Get it from Le Wand for $104.99 (available in three colors).

14.
The extra sleek and ergonomic Kip lipstick vibrator by Dame designed with waterproof silicone and five powerful speeds, so you can enjoy pin-pointed clitoral stimulation.
Promising reviews: "Kip is like a little magic wand that makes my clit happy. This was the best gift I have bought myself in a long time." —Erin J.
"One of the best vibes I've ever bought! It surrounds my clit in the best way and has so much adjustability that it is so so wonderful. It also easy to clean which is awesome! My new fave toy!" —Joyce K.
Get it from Dame for $75 or Amazon for $94.61+ (available in lavender and lemon).
15.
A novelty Emojibator vibrator that's as hilarious as it is functional, making it a perfect, cheeky purchase so you can go fuck yourself, literally. It's battery-operated, so you can rely on it whenever you forget to charge your go-to vibes.
Whether you choose the chili pepper, banana, pickle or OG eggplant vibe, each one has 10 vibration settings, a waterproof design and is battery-operated. Is that a banana in your pocket? 👀
Promising reviews: "Love this little pepper. Small, cute and most importantly — efficient ;)" —Deanna D.
"First toy ever, Im OBSESSED!!!!! really good material, super quiet, strong vibration." —Christina
Get it from Emojibator for $34 (available in eggplant, chili pepper, banana, or pickle) or Amazon for $23.41+ (available in eggplant, chili pepper, banana, or pickle).
Emojibator products are designed with love in Philadelphia and include novelty sex toys inspired by fruits and emojis.