1.
A transparent masturbator boasting a tight, convex, textured interior that you can twist, stroke, and watch through its case until you're finished.
Yes, it's waterproof, so go ahead and play with it in the shower.
Promising reviews: "I bought this as a way to spice things up in the bedroom with my partner. I was skeptical at first, as this was my first stroker toy. Well I was pleasantly delighted upon first use! I would recommend for anyone!" —Harry
"Your hand has had your back for a long time. It's been with you through break ups and dry spells. Never wavering, never faltering, despite your repeated attempts at carpal tunnel. Don't you think it's time you gave that guy a break? It's not a betrayal. It's a tag team partner. Spend the money. It won't just be your hand that's grateful." —anissa thompson
Get it from Amazon for $29.99 (available in four colors).
Want to enjoy those good vibes in the tub? Here's a list of even more sex toys to use in the bath or shower.
2.
An open vibrating sleeve created with premium silicone for a soft and supple sensation and flexible wings that wrap around your shaft, so you can feel each speed and vibration setting at your preferred grip.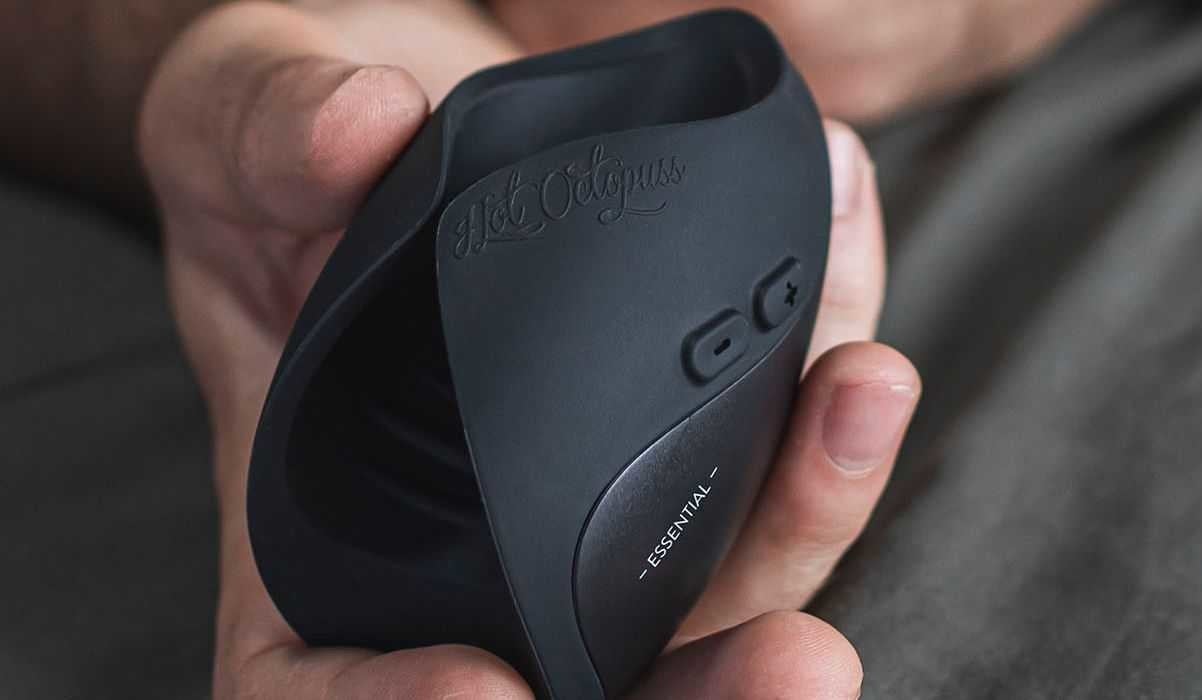 Promising review: "This is a fantastic vibrating male toy. It is very easy to use and gives great sensations. It is very versatile as it can be used wet or dry, with a partner or solo, and it can be used without an erection. 
"For me, it's my new favorite toy. Since the Pulse can be used with or without lube, I first tried it dry. I found that unit stayed in place so I was able to watch porn and stay at the height of arousal for any length of time. When using it dry and with a slight movement it rubs the frenulum and gently pulls the skin on the shaft, creating a very pleasurable experience for me. Not to mention that the cleanup was very easy. When using it with lube the sensations are much more varied and The Pulse can create a wide array of sensations. It is very easy to hold on to even with lube everywhere. 
"I tested it with a partner, where I was lying on my back with The Pulse on my shaft and had my partner straddle me. She felt the vibrations and was able to enjoy the vibrator for as long as she wanted, all the time I was hard and happy. 
"One nice feature is that you can use The Pulse without an erection. Since the unit wraps around the shaft, you don't have to insert it like a traditional masturbation sleeve. The crescendo to orgasm is different when I use a vibrating toy. A feeling I hope all penises get to experience. The overall size is very small and the charger uses a simple USB power supply so it is very easy to chart and no bulky charging plugs." —Jack
Get it from Early to Bed or Amazon for $99.
Early to Bed is a Chicago-based, queer- and woman-run retail sex boutique committed to providing an inclusive shopping experience.

3.
A closed 3-inch masturbator designed with 46 waves on the inside for a stimulating texture to help deliver a good solo (or partnered) time — plus you can call it a dick pill!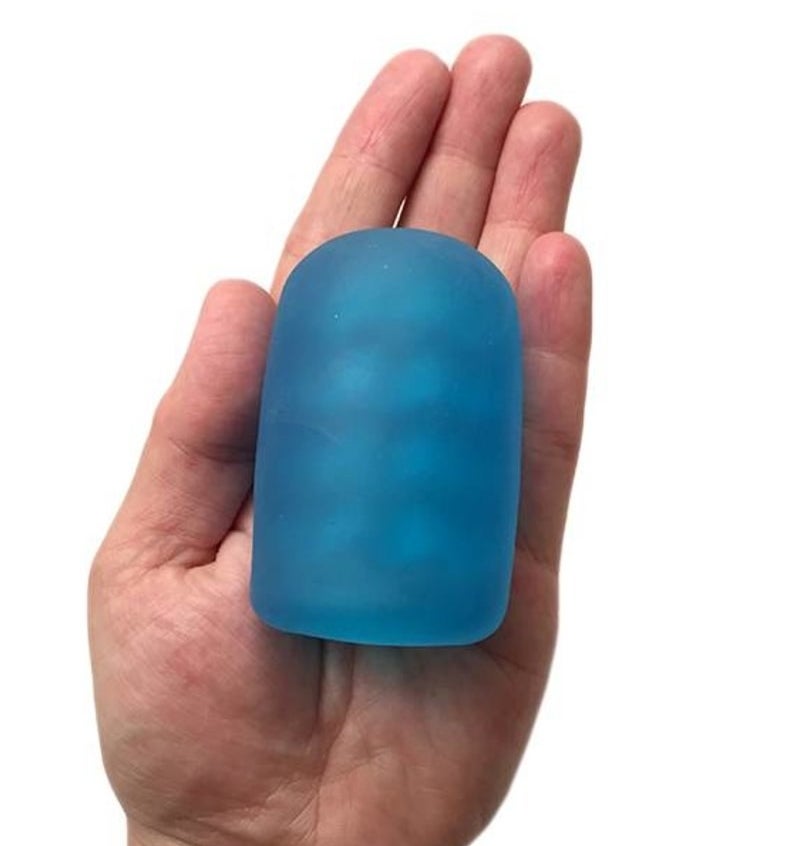 Promising review: "This is my go-to sex toy when I'm going solo. I have used the Bro Sleeve, KissX, and Buck Off. This stroker works the best for me and I will recommend this to anyone. I am about 4.5 years on T and have had average growth. I am able to manipulate this sleeve to get good suction along with lube. It's magical. 100% MAGICAL. Highly recommend and it's only $12!" —Elliot
"Works wonderful only a few months on T and it has great suction. Very gender affirming to use. 10/10 would recommend to my friends. If I could rate higher definitely would. Also has a nice container to put it in and very easy to clean." —Bear
Get it from Early to Bed for $12.
4.
The Tenga Flip Zero boasting an innovative design with internal texture and a five vibration settings. Turn up your pleasure by squeezing the pressure pad on the exterior for increased and focused sensation.
An easy-open flip design offers thorough cleaning after use and the arms of the stroker act as a drying stand.
Promising reviews: "OK, I let me tell you I have been around the block when it comes to strokers. I have tried and really liked quite a few. That being said I continually come back to the Tenga Flip Zero. I mean, this thing is on another level. I know the price is on the higher end of the spectrum but it is worth it. The design and pleasure to be had make it well worth the price. I especially love this stroker because it is one of the few options that is actually a cleanable design because it has the ability to split open. Trust me there is no need to look any further this is the one you want." —Steven
"I've had a lot of mind-blowing orgasms with this! It's just generally made solo play more fun and intimate for me. And, the 'flip' design makes this better than the Fleshlight, because it's more hygienic. You won't be disappointed." —Richard
5.
An FTM fantasy stroker, which is 4 inches long and has an opening just under an inch wide, offering a tight, but stimulating sensation that can be controlled with a simple stroking motion.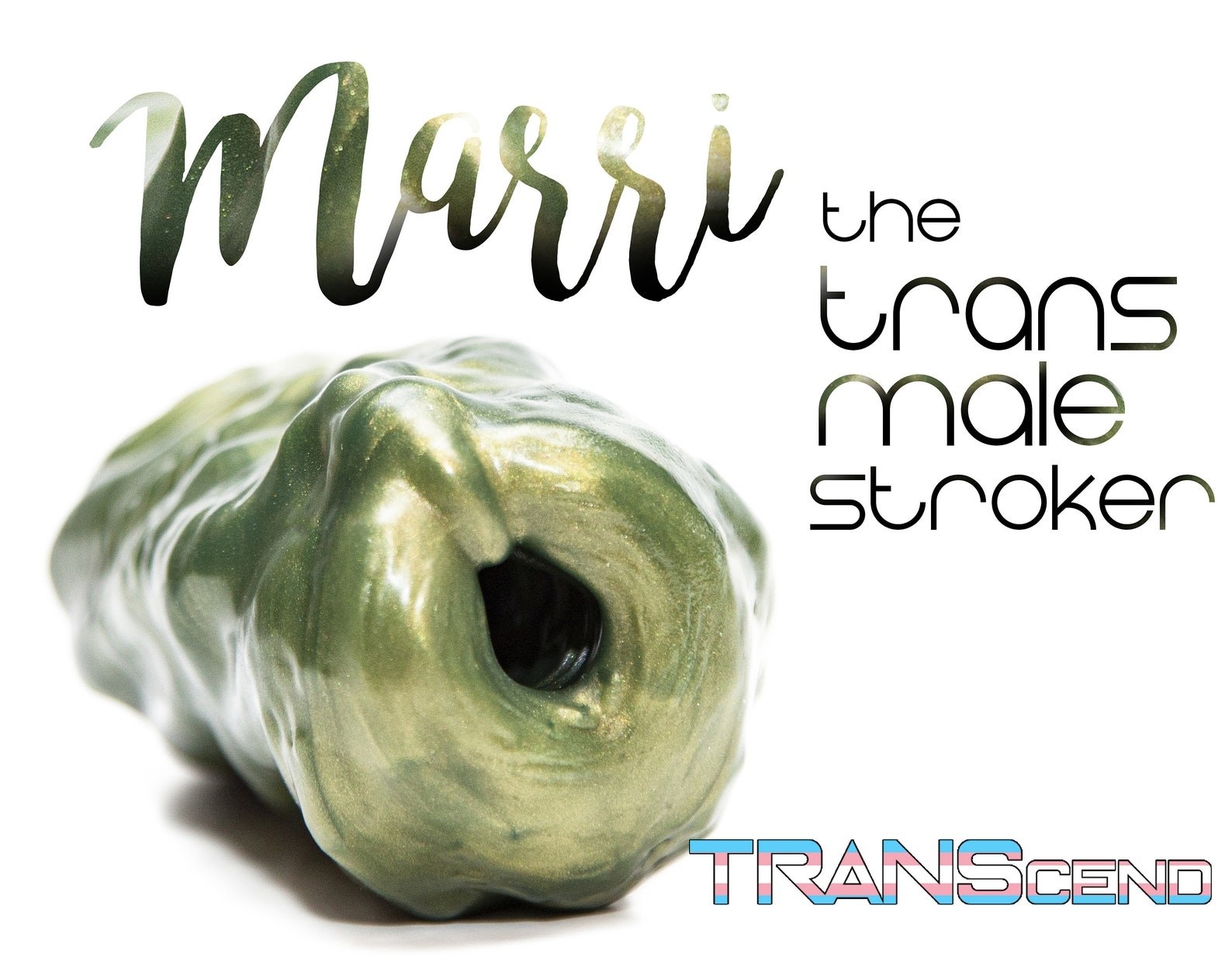 If you want to up the ante, because the opening goes all the way through, you can insert a bullet vibrator at the opposite end to create suction and add some rumbly pleasure.
Promising reviews: "(I'm a returning customer.) Aesthetic? Beautiful! Love the way the colors are balanced and swirled. Design? Inclusive, new, fun. The internal texture is so THOUGHTFUL! It's what initially drew me in compared to other transgender-friendly strokers. Use? Everyone has a unique body. I have been on testosterone for about 2+ years so far, some bottom growth, and I'm a very heavy guy. I used a "pump" beforehand. (I recommend reading more reviews for tips to improve your experience!) It's pretty intense and gender-affirming for me. My favorite part is the open back. Not necessary, but it's a perfect fit for my bullet vibe. So awesome. It works for me. It's custom, affordable, and you can tell that there is love that goes into the production of this store's body-safe toys. From aesthetic appeal, function, and customer service: Perfect!" —Christopher Wilcox
"I'm a (recently) post-op bottom surgery (simple meta) trans man, and this toy is PERFECT. I don't know if I would have had the same amount of success pre-op, but maybe. Anyway, this toy is amazing. I have a couple strokers from my pre-op days, and they simply don't compare to this one at all. This one is super soft, has such lovely textures on the inside, and honestly is gorgeous. The only learning curve for me was learning how to hold it down and go at it, since I've not really been able to do that before. But that feels just as amazing as using it purely as a stroker. Highly recommend, 10/10, but you definitely need substantial bottom growth to get the full effect." —deCoverly
Get it from Fantasticocks on Etsy for $44 (available in custom color combinations).

Fantasticocks is a woman- and queer-owned sex boutique based in Ohio, creating premium-quality silicone sex toys designed for all bodies and desires.

And definitely check out this list of gender-affirming sex toys and sex toys that LGBTQ+ reviewers love!
6.
The Arcwave Ion, a one-of-a-kind masturbator by the makers of the Womanizer clitoral vibrators that uses the same famous Pleasure Air technology to deliver pulsating stimulation to the tip of your penis. Your dick will be like "Wow" after a couple rounds with this one.

This masturbator is designed with waterproof silicone, which offers effortless cleaning before and after. It also includes a convenient charging station that also quick dries your toy between uses. FYI, the website states it takes at least 5 uses to get the hang of the Arcwave Ion, so make sure you test it thoroughly.
Promising reviews: "If I wrote this review a week ago I would have given it 1 star. It takes a few sessions and practice to find that sweet spot but once you do… I thought my brain was going to explode. Now I just let myself go and let Ion do its thing and it's a long-lasting orgasm every time." —Ron_88
"Love blowjobs? Then this is the toy for you. No toy comes close to the Ion in terms of delivering that singular feeling of someone sucking/licking the head of your cock and it's a great use of the air pressure tech you're seeing in more and more sex toys. Really hoping that they make more versions of this and improving on the premise. BTW use a lot of lube." —NickyDubs
"Perfect for me…but understandable if it's not for everyone. For me, I love being stimulated on the head of my penis, and that's where Arcwave focuses the pleasure. It's also not designed for traditional pulling-on-your-penis stimulation a la masturbating and if you prefer that, then you're likely better off sticking with your trusty ol' hand. With enough lube for easy and comfortable insertion, the Arcwave will feel just like there's someone sucking and licking on the head of your penis — and who doesn't like that?" —DJ
7.
A vibrating stroker, which allows all penis-packing pleasure enthusiasts to up the ante on their stroke game with 12 vibration modes to explore and a waterproof design.
This sleek vibrating stroker is inspired by the appearance and power of an actual manta ray. It's designed with waterproof silicone, six speeds and six vibrating patterns to turn oral sex, masturbation and couples' play into a mind-blowing time for anyone with a penis.

Promising review: "I have tried several male toys in my life and this one is my favorite to date. The highlights are ease of use, quietness, easy cleanup / maintenance, focused stimulation. It really allows the user to decide the length of use. In a hurry, turn up the speed and point to the direct spot. Have time, try slower motors all over. It's highly recommended." —Steven H.
"Replaces the old Rub and Tug any day of the week. If you're looking for a special night in for yourself this is the toy you need. Lube on up, get in the mood, and power up. Moreover this toy is great for couple's use as well. During penetration the toy allows you to easily move it up and down the shaft rubbing against the vulva and clitoris or just keep it on the shaft to make yourself the vibrator she/he loves. If you're looking for some extra fun oral sensations with your lady or guy friend you might want to bring some water-based flavorful lubricant as the toy really shines when you can move it up and down the shaft. I would highly recommend to everyone with a penis." —Thomas H.
Get it from Amazon for $139.98+ or Fun Factory for $139.99 (available in three colors).
8.
The Flight Fleshlight masturbators designed with Real-Feel SuperSkin for a lifelike feel and a turbulence-inspired array of textures on the inside for truly snug and satisfying suction sensations (say that three times fast).
What makes the Flight line different from other Fleshlights is its lightweight design and discreet storage case, so it's easier to take on the go or store. These travel-ready masturbators put you in the cockpit for manual stimulation customized to your grip and speed. This is one airplane mode you won't want to turn off.
Promising review: "I was a bit skeptical because I saw the other reviews saying it came in an odd box or damaged or used but mine came in brand new with the original Fleshlight-branded box. The suction is amazing, it really does add so much to it. Just bummed that you can't really feel all the different ridges as I expected, but that doesn't take away from how great it feels at maximum suction. Easy to clean, too, just run under warm water then set out to dry. First time trying it my legs went numb. This is definitely a good buy." —Armando (on Pilot)
Get it from Amazon for $54.95 (available in black and white).
9.
A unique faux-leather pillow for Fleshlight enthusiasts looking to unlock a different kind of hands-free pleasure.
No, the Fleshlight is not included. But this positioning pillow is specifically designed for Fleshlight users who want to explore missionary position solo. If you're into doggy style, don't worry because there's a pillow for that! The faux-leather design offers a sleek look and easy cleanup afterward.

One reviewer recommends using a Fleshlight Flight toy with this pillow, if you don't have one already.
Promising reviews: "Was worried about buying this at first, comes in a brown box unmarked, I will say that this is a great investment. Thought about it for a while but man this thing beats normal masturbation with a flesh light by far. It will stick a little bit out the front but not enough to really bother you. Make sure you wash it after every use, Lysol wipes will work fine for temp, but put it in the wash every now and again so it doesn't smell. This thing is worth it, and whenever I have a dorm inspection everyone just thinks it's a pillow with a drink holder in it." —Ziphen
"Amazing, not worth buying a Fleshlight without it. I shoot seven bags into this thing on a daily basis... s*** is so cash." —Alex
Get it from Amazon for $139.99.
Check out this round-up for more sex furniture!
10.
The Shotpocket pleasure sleeve, which can be used by people with smaller penises, but was designed specifically for trans folks who have experienced bottom growth due to T. It's a perfect squishy, silicone addition to your solo or couple's play.
This sleeve has a ribbed interior that creates a suction sensation during use that will blow your mind.
Promising review: "Honestly this was the perfect toy for my changes in sexuality after starting testosterone. There are so many different ways to use it, and it is very, very soft silicone which is pretty great since things get sensitive after starting T — I can go to town longer and explore more. It was perfect size and can stretch a little if needed, but for me it was just right. The ridges are soft but effective. It's worth the price and someone did a good job making it." —md
Get it from FtM Essentials for $24.
FtM Essentials is a subsidiary of the Chicago-based feminist sex shop Early to Bed, specifically designed as a safe space online for folks looking for gender expression gear.
11.
A wand vibrator specifically designed for penises with a C-shaped sleeve that can be used as a stroker or held in place to stimulate the frenulum and tip. Body-safe silicone means its water-resistant and an eight-speed motor offers 20 vibration settings for you to explode — I mean, explore.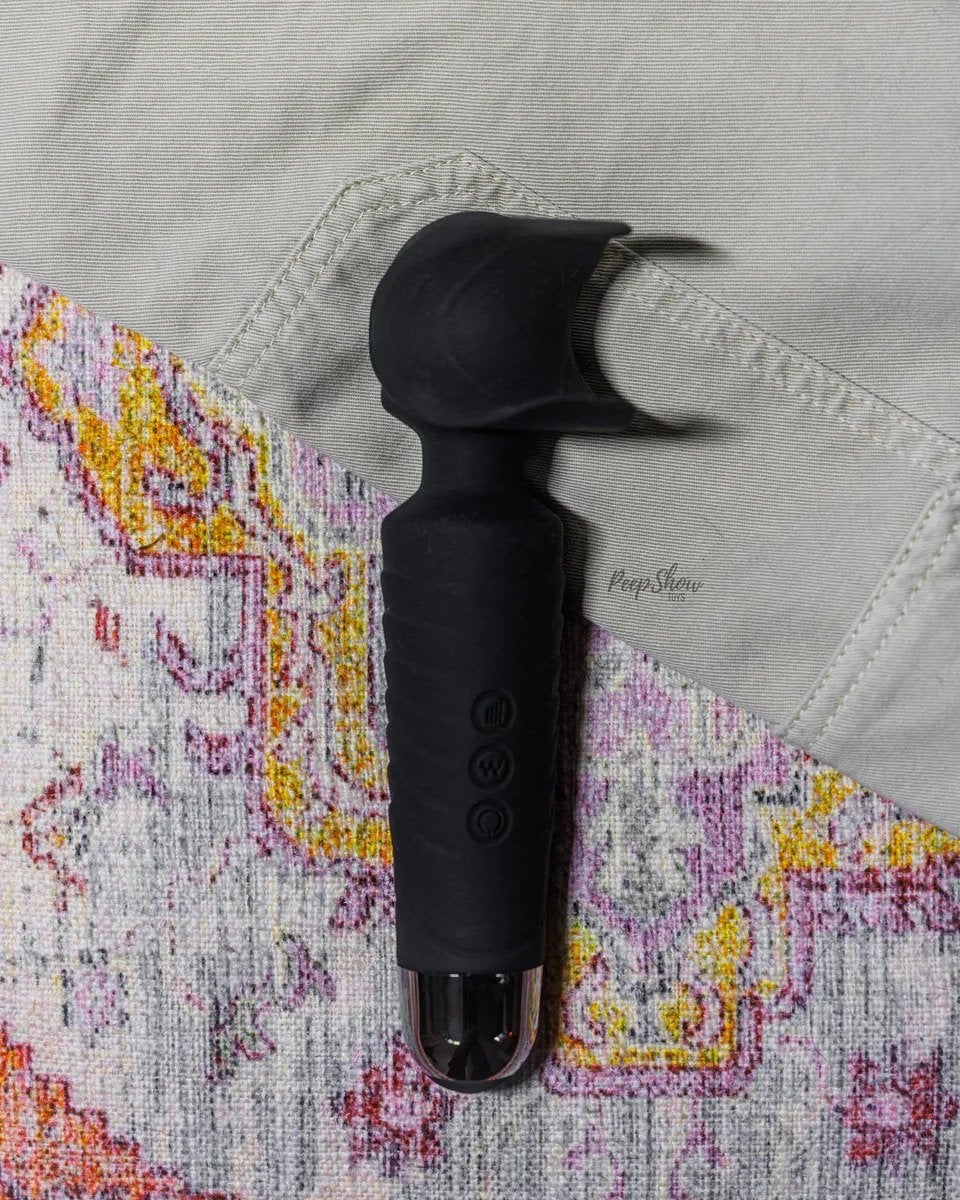 Promising review: "I always wanted to try a wand massager for penis stimulation, so the Man Wand was a good first introduction. Not only can users enjoy the rounded head like a traditional wand, but the back end of it has a silicone attachment designed to cradle and stimulate a penis — flaccid or erect. The vibrations are very powerful; surprising, since the wand itself is fairly compact. If you like strong vibrations, the Man Wand really packs a punch. It's easily recharged with an included USB-style charging cord, and the entire thing is coated in soft smooth silicone. While the curved attachment is great for cock stimulation, users of either sex can enjoy the intense vibrations that this thing provides. Whether you're looking to warm yourself up, or get yourself off, this vibrating toy really delivers." —Mike
12.
A reusable Tenga Spinner masturbator, which comes in an assortment of styles, each with its own unique internal texture that spins around your shaft as you stroke for a lifelike squeeze. Having the house to yourself on Sunday morning just got a lot...more...interesting.
Promising reviews: "Better than your hand! Dead serious, this thing has SUCTION and does the job well. Very happy with this product and looks completely inconspicuous. Will get more!" —Micah M.
"This feels amazing! Granted, it isn't as good as the real thing but it still feels great. The key is to push out all the air. That way you get the spiral feel and suction. I don't think you can find a better stroker for the money. I plan on buying the other styles." —AS
Get it from Amazon for $24.30+ (available in six styles).
13.
A fantasy masturbator by Fantasticocks: For anyone looking to get off with something truly out of this world, Axa is it. This stroker boasts a customizable galactic design and 8 inches of spiralized interior for you to thrust, stroke, and explore. Houston? We're going to need a few more minutes.

It's 8 inches long (fully usable) and has 1.25 inches of girth on the interior, plus the squish of the premium silicone offers a little give to help fit your dick.
Promising reviews: "This toy feels great. It's got an intense spiral pattern containing innumerable smaller textured ridges. Was totally different from anything I used before, but is already my #1 go-to toy. It is extremely easy to clean and dry. The overall quality is great: it feels weighty, substantial, and durable. The colors and pour were absolutely stunning as well! I couldn't be more pleased with the product, and I'm looking forward to any new, similar toys they design." —Michael G.

"The first thing that comes to mind with this toy: Intense! I have a far-too-large collection of penetrable toys, at least 30 of them across several popular brands (Such as BD!). And this toy is the only one that I own with such an intense internal texture, and the only one that has really made me say "WOW" upon first use! I don't have a camera with a high enough resolution to capture the texture, but I am not kidding you: this thing is unique compared to most other toys. If you're after an intensely textured toy? this is it. This has blown most of my other toys out of the water: easily placing itself within my top 5. The product itself is made of platinum silicone, so it is non-porous and very easy to clean. If you're on the fence, and you're not too sensitive, I would highly recommend this toy!" —JustAnotherFurry
Get it from Fantasticocks on Etsy for $86 (available in 45+ color combinations).
14.
A set of three strokers that are beginner and travel friendly, so perfect for pleasuring penises when on the go.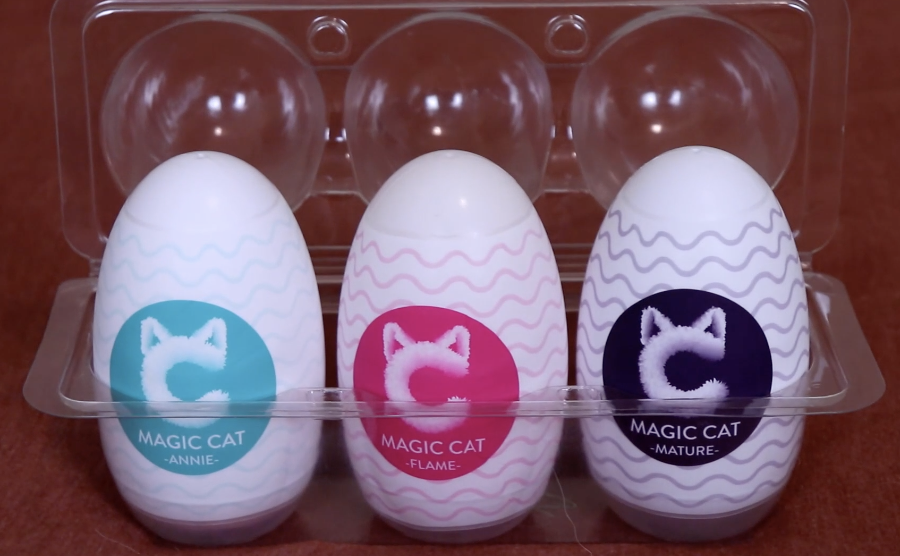 These strokers are disposable, but with a thorough rinse and wash they could be used more than once. Each stroker has an entry designed as a different orifice: mouth, anus, and vulva. Just don't forget to use lube!
Promising reviews: "I have tried other products in the past...I like this delicate cute sets...The grooves and bumps they add make it feel really enjoyable...it is very easy to clean..." —G.v.d.M.
"Its soft material and internal textures felt great! It can travel a surprisingly long way down your shaft and the sensation is nicely textured." —Paul B.
Get it from Honey Play Box for $23.99.
Honey Play Box is a sexual wellness company in California run by a group of sex educators and self-proclaimed lesbian meme queens who are passionate about all things pleasure being positive, inclusive, and accessible.