1.
The Le Wand Feel My Power 2022 wand, a limited edition vibe that includes universal chargers, lots of swag, and also quite possibly be the most powerful rechargeable wand you've ever encountered.
This is quite literally my favorite wand because of how powerful it is! The patterns and the vibration intensities have a wide range and you can enjoy them individually rather than having to scroll through all 10 vibration intensities and then 20 patterns. Also, it's so fucking cute. Be careful, it has a bit of weight to it, which I don't mind very much, but it definitely comes into play depending on what position you want to use (ex. sitting, grinding, lying back, etc.). This is one of my go-to sex toys for when I want something quick and powerful or I'll put it on the low settings for some edging.
This limited edition wand includes branded stickers, a keychain, an iron-on patch, an embroidery kit, a limited edition storage bag, postcards, and a pleasure guide.
Get it from Le Wand for $99 (originally $225).

2.
A powerful miniature wand vibrator created with supple silicone for a soft-touch feel and 20 functions to take you right to that blissful, blurry edge.
Promising reviews: "I thought the reviews were all hype. I was so wrong. I was in space after 40 seconds on just the default settings." —Rebekah Byrd
"Prior to this, I had a beginner vibrator, one with the little butterfly thing to stimulate the 'spot.' I didn't really use it often, and it didn't yield results. I just figured handling business wasn't my thing. THEN, I CAME ACROSS this Shibari mini halo. Y'ALL. IT'S SO POWERFUL, pure ecstasy. I'm having orgasms after orgasms in minutes. This thing is the real deal, so much so that I can't wait to come home from work to it. I HIGHLY recommend to all ladies. I myself will be gifting this to all of my girlfriends for Christmas this year. It's life-changing, I'm literally so shook. This is the best purchase I've ever made for myself!!!! Do yourself a favor and buy one of these. Ladies, thanks to this magical tool, we are no longer entertaining mediocre men for the potential of a nut. This magic stick will 100% do the trick. 😏" —GABZ
Get it from Amazon for $19.10+ (available in seven colors).
Check out this round-up for more sex toys under $25!
3.
A Bluetooth-enabled wand vibrator for cozy lovers who want to add a little warmth to their long-distance trysts with a partner.
This wand offers three vibration speeds and up to 10 rumbly patterns for you to program and explore solo or with a partner. Or pair it with the Lovense app to sync the vibrations to your favorite music and create unlimited patterns. Elevate your wand with a compatible P-spot attachment or a G-spot attachment for $27.
Get it from Amazon for $119.
4.
A glow-in-the-dark mini wand vibrator with seven patterns and 10 intensity levels, so you can whip up a cup full of orgasms and find your wand buried in the sheets.
Promising reviews: "Feels great, good patterns, glow-in-the-dark stars are cute." —Anonymous
"You will not be disappointed! This mini wand is perfect in every way, its overall size makes it perfect to travel with or to use in partner play for a little extra stimulation. Delivers mind-blowing climaxes using surprisingly strong vibrations. It's a must-have to add to the toy box!" —Katie J.
Get it from Lovehoney for $49.99.
5.
A wand vibrator specifically designed for penises with a C-shaped sleeve that can be used as a stroker or held in place to stimulate the frenulum and tip. Body-safe silicone means it's water-resistant and an eight-speed motor offers 20 vibration settings for you to explode — I mean, explore.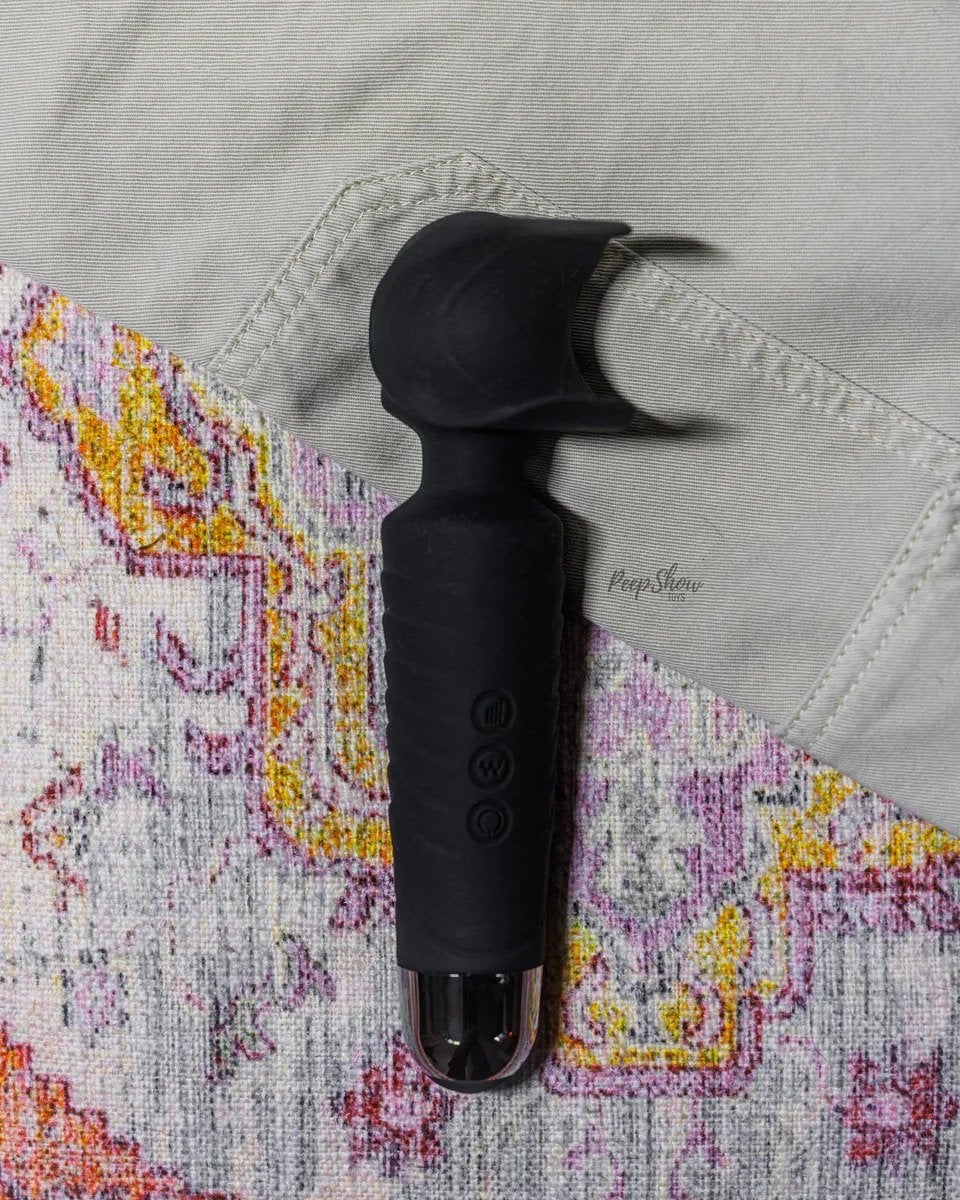 Promising review: "I always wanted to try a wand massager for penis stimulation, so the Man Wand was a good first introduction. Not only can users enjoy the rounded head like a traditional wand, but the back end of it has a silicone attachment designed to cradle and stimulate a penis — flaccid or erect. The vibrations are very powerful; surprising, since the wand itself is fairly compact. If you like strong vibrations, the Man Wand really packs a punch. It's easily recharged with an included USB-style charging cord, and the entire thing is coated in soft smooth silicone. While the curved attachment is great for cock stimulation, users of either sex can enjoy the intense vibrations that this thing provides. Whether you're looking to warm yourself up, or get yourself off, this vibrating toy really delivers." —Mike
Get it from Peepshow Toys for $87.99 or Amazon for $89.98.
Peepshow Toys is an immigrant-owned sex toy boutique that promotes sex-positivity and education by only selling products created with body-safe and non-toxic materials.

And if you're looking for even more strokers and sleeves, we've got you covered!
6.
A luxury wand vibrator boasting a flexible head and eight vibration modes — not to mention, it preheats to 107 degrees F because there's no such thing as being too warm.
This warming vibrator boasts a gold-tone handle studded with a Swarovski crystal to add a little more glitz to your glam.
Get it from Zalo for $74 (also available in fantasy violet) or Amazon for $68.99 (also available in fantasy violet).
7.
A petite and powerful textured wand created for the masturbator who loves external vibes and really wants to ~feel~ the power in their hand.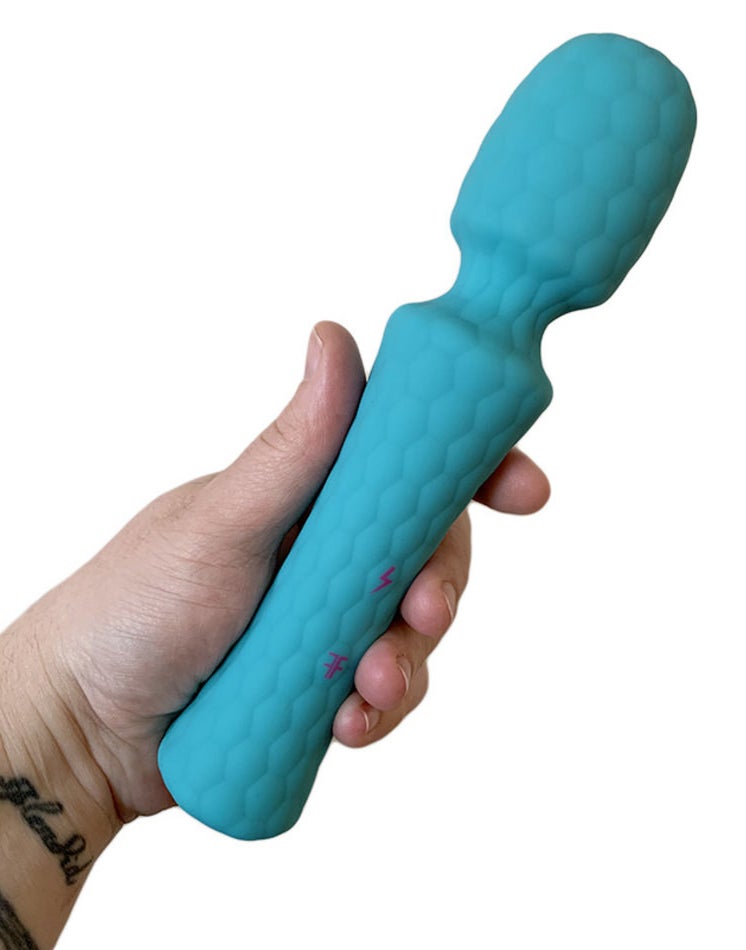 This waterproof wand boasts a flexible head and boost button that'll automatically take the toy to its highest setting and you to your edge.
Promising review: "I love how this toy vibrates and looks. It feels as powerful as the Magic Wand but is lighter and easier to maneuver. My ONLY complaint is that the buttons do not feel physically different than the texture of the rest of the toy. When I'm using it with my eyes closed, I couldn't find and navigate the buttons. I literally had to stop and open my eyes in order to find the button and figure out how to use it. Ultimately, that wasn't much of a problem but was a little annoying in the moment." —Mariam
Get it from Early to Bed (only available in blue) or Amazon (only available in pink) for $74.99.
Early to Bed is a Chicago-based, queer- and woman-run retail sex boutique committed to providing an inclusive shopping experience.

8.
The OG Magic Wand that's been delivering *relief* to loyal users for decades with two rumbly speeds and a simple single switch.
The OG Magic Wand is also formerly known as the Hitachi, just to avoid confusion. The same beloved classic is now available in Plus (an upgraded, corded version with multiple speeds), Rechargeable (cordless version with multiple speeds) and Mini (a travel-friendly, cordless version).
Promising reviews: "I had the original magic wand for a long time but was sad that it only had two speeds. I bought this because I liked the idea of a magic wand without a cord and with different settings. I was worried it wouldn't be as powerful as the original wand. It's actually better! With the different speeds and settings you can pick how powerful it is, even as powerful as the original. And so far the battery life has been pretty great." —A. Stott (on Rechargeable)
"I broke my vibrator two weeks ago. I've had that vibrator for many years. It was very sad. So, I decided to try the Hitachi out because of the reviews. It came today...and so did I. Oh....my....goodness. This thing is better than my last vibrator. Actually, I didn't realize I had started it out on the lower setting. Nothing was 'happening' and I was getting a little worried. Turned the switch to the high setting and . . . hello! It is a bit noisy but nothing like my last vibrator. Ladies, I would never recommend a battery operated device. They just don't cut it. And guys, my husband always says, the best gift a man can give his lady is a corded vibrator. He even rigged a nice little outlet in my 'naughty' drawer so it will always be ready. Now the attachments. I've never been one for attachments usually because they are just too small and don't do anything for me. However, the attachments for the Hitachi are substantial. I'll be using those from now on. I love my Hitachi!!" —D. Novak (on Original)
Get it from Amazon $60.79+ (available in four styles).
Only want the best? Here are more top-rated sex toys for you to choose from!
BTW it's really easy to upgrade your OG Magic Wand, no need to wait — just check out one of these attachments.
9.
A simple wand vibrator crafted for anyone who doesn't need to be bothered by expensive luxury items and wants to hunker down with this powerful battery-operated toy.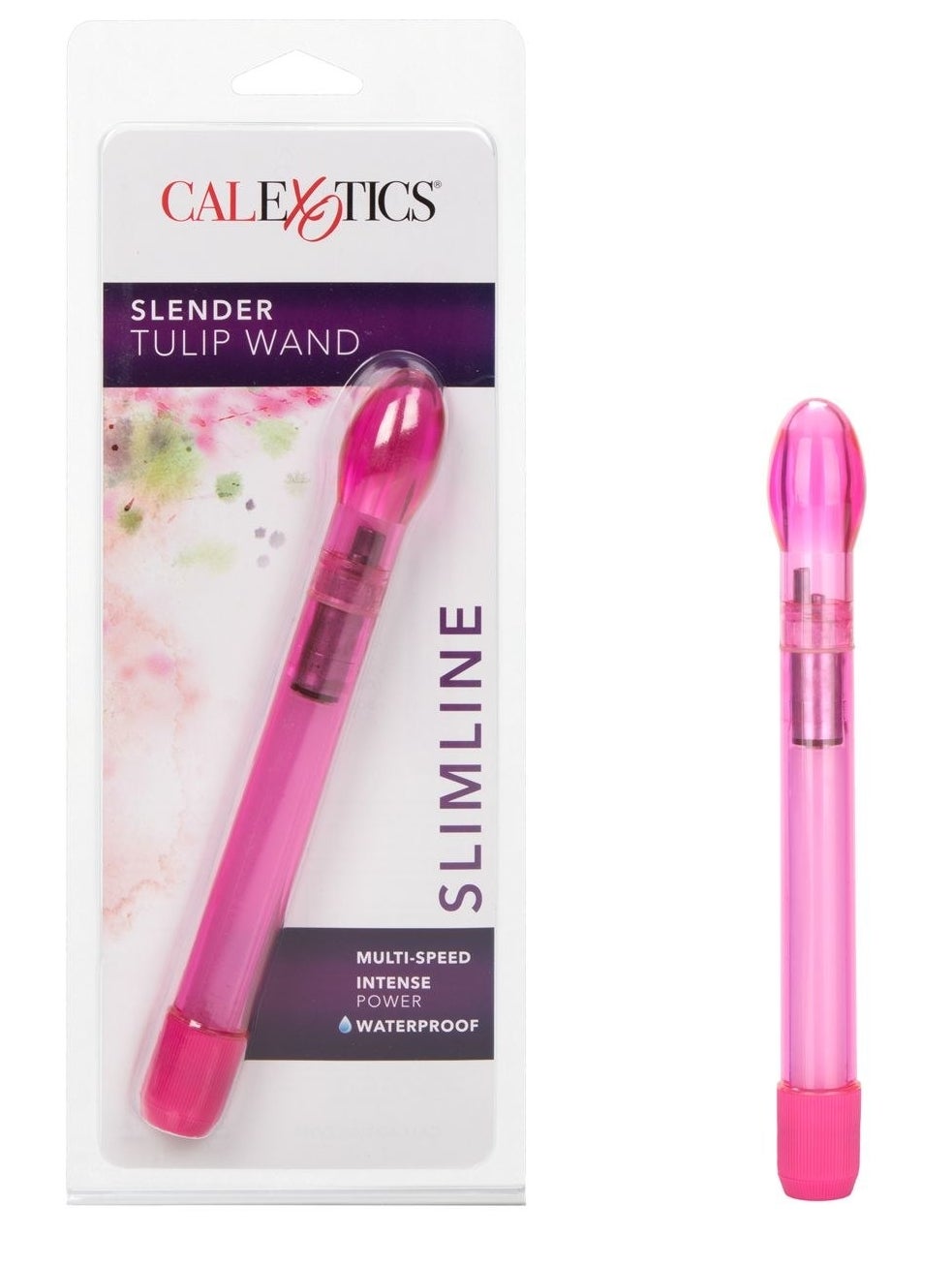 This battery-operated vibrator is 7" long and has multiple speeds that can be explored using the dial.
Promising review: "Great for external use. Very strong and surprisingly quiet." —Hannah
"I got it as a gift and I was amazed by the power it had. Highly recommend for a first-time toy and it's pretty quiet." —Shanan Bentley
Get it from Amazon for $11.44 (available in three colors).
10.
The powerful Ollie wand vibrator that boasts eight vibrating speeds and patterns for you to explore through its flexible, waterproof silicone head. Important to note that this vibe is rumbly, not buzzy.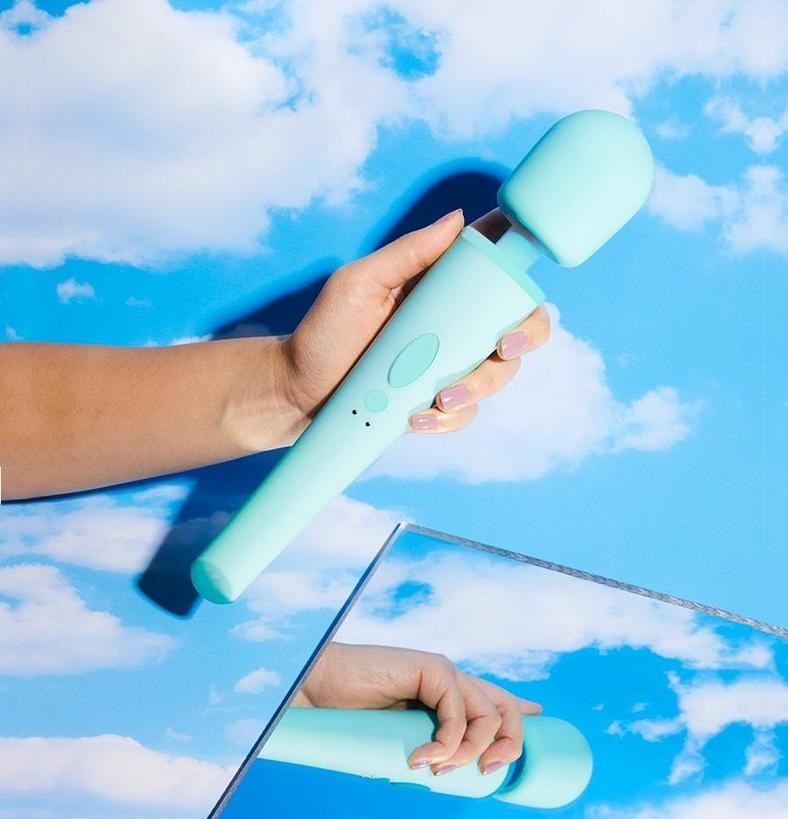 There's also a glow-in-the-dark version of this wand, in case you like to do it with lights off.
Promising reviews: "Y'all, this thing is the TRUTH. If you are looking for a quiet or small vibe, Ollie is NOT the one, but dear god, it's worth the noise and foot-long stature. It has (from what I've experienced so far) fairly powerful vibrations, which is great if you're like me and need the bean jackhammered. One feature I really like is how big the 'head' is—it covers a lot of area, which diffuses the vibrations and takes things from overwhelmingly intense to pleasant and comfortable. The battery life is also really good — I can get a good few uses out of it before I charge it again. The only thing I don't like is the volume level, because I have roommates, but that's necessary given the level of vibration/product quality. If you're a fiend for a good wand, i'd absolutely buy this. It slayed 100%." —Evelyn
"My partner and I both love Ollie so much, we consider them a part of our polycule. We are trans/enby and have trauma where sex is concerned, but with a little (a lot of) communication and this toy, we have had some of the best sex either of us have EVER had." —L.L.
Get it from Unbound for $76 or Amazon for $68.40 (also available in glow-in-the-dark).
11.
A curvy 2-in-1 wand vibrator, for self-proclaimed size queens craving girthy internal stimulation with the slender end or a sensual massage with the larger end. Oh, did I mention this toy is just over 10 inches long? Yuh.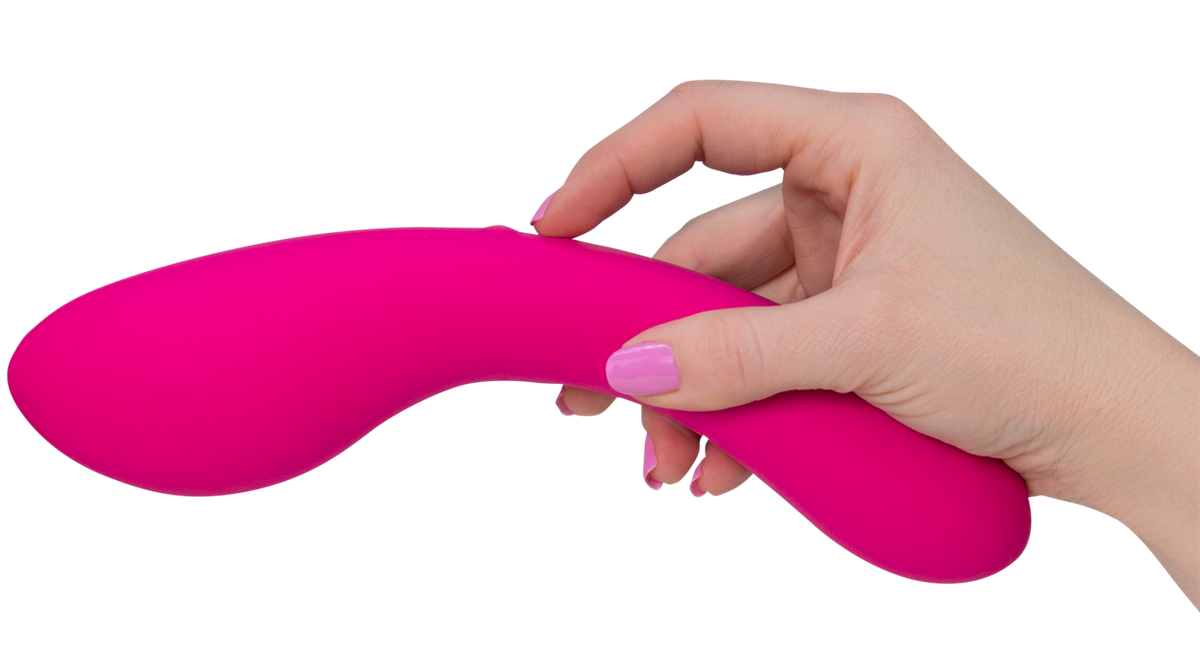 This vibrator has three speeds and four patterns for you to enjoy with either end that'll stimulate you internally or externally. The larger end is 1.96 inches wide and the smaller end is 1.49 inches wide.
Promising reviews: "I have the classic and wow do I fucking LOVE this thing. If I was only allowed to have one vibe, THIS would be it. This rocks my world. I love how powerful it is, the vibration is wild. The larger end is too much for me (I'm small and it's a tad uncomfortable), but no problem because it is a KICK-ASS back massager. This is amazing internally and externally. This toy is basically essential. Feels great for me, and feels great and comfortable for my bf during DP. Only minor drawback is a bit of button mashing lol. 10/10 buy this." —JAI
"I've been saving for the classic for a minute. I've had my eye on it since it was released on the site. I was drawn to its shape, design, girth, and color. I'm the type of person who loves outer stimulation with the option of penetration so this hit the nail on the head. The thinner side is very buzzy and powerful. The thicker side (my favorite) is deep and rumbly. The charge lasts a long time if left to fully charge! So no need to rush. I love it so much." —Storm
Get it from Spectrum Boutique for $99 or Amazon for $69.95.
Spectrum Boutique is a sex-positive retailer run by self-proclaimed "Dildo Duchess" Zoe Ligon to provide customers with curated collections and resources.
12.
A glimmering, rainbow ombre Le Wand Petite massager, so you can take your O on the go in style! This powerful vibrator has six patterns and 10 intensities to enjoy them all for a mind-blowing session that'll take you somewhere over the rainbow, get it?

This limited edition wand also includes hella swag, like a coiled metallic pink charging cord, a sparkly travel case, rainbow glimmer nail polish, rainbow glimmer body gel, and a set of metallic temporary tattoos.

In true Le Wand fashion, this vibe is travel-friendly and splash-proof, in case you want to have some shower fun.
Too much color for your taste? Check out the original Le Wand Petite vibrators or the rest of the All That Glimmers collection for more colors!
Get it from Le Wand for $150.
13.
A luxury wand vibrator inspired by the scepters of the Egyptian pharaohs and probably just as powerful thanks to the five vibration modes and six speed intensities that deliver direct stimulation to your favorite spots.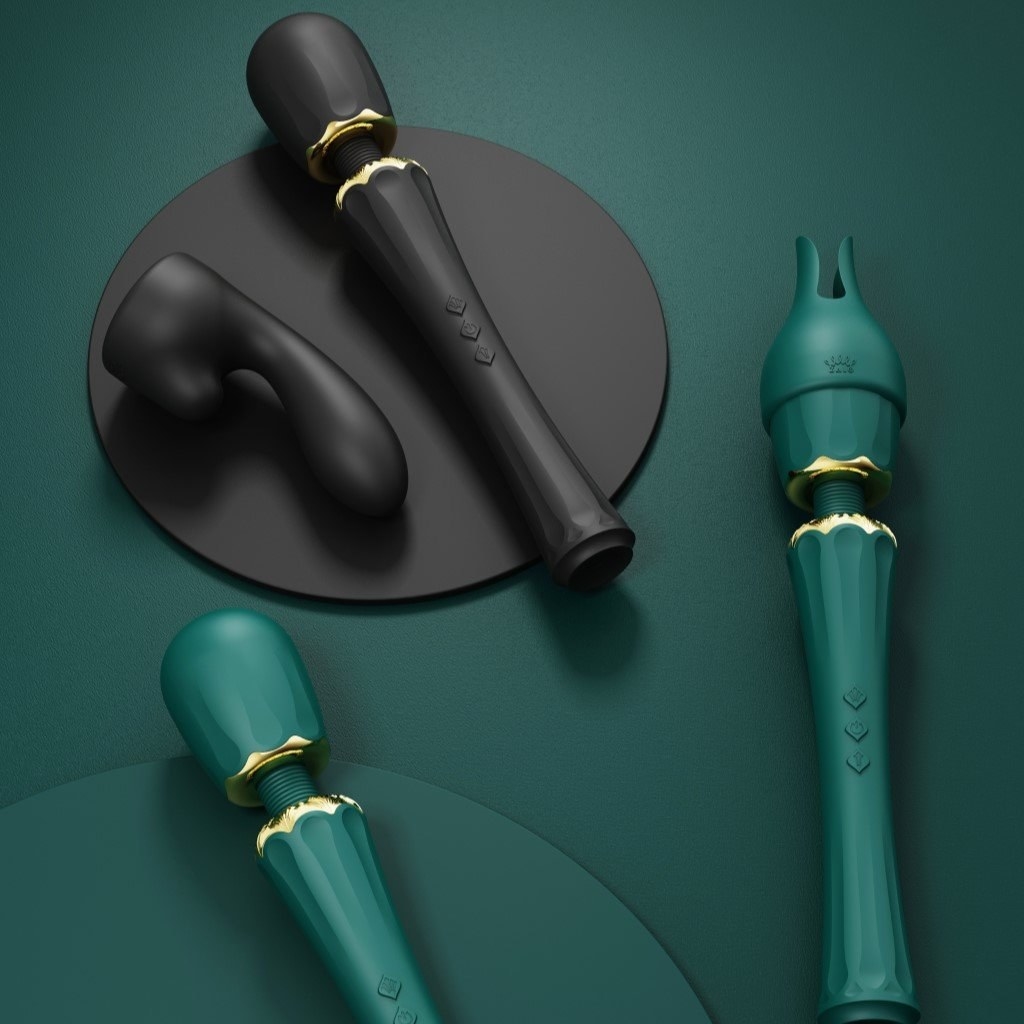 Besides power, you get way more bang for your buck with the two multifunctional silicone attachment heads that offer clitoral and G-spot stimulation. This is it. This is the wand for me.
Promising review: "Packaging: amazing. Came wrapped in plastic. Unwrap it, and the toy is placed in a box with velvet cutouts which made it feel really special! Love the color, too. It comes with the charging cable and a bag to pack it away in. There are two attachments that fit over the head of the toy, which stayed in nicely and still produced great vibrations. The vibrations!! There's a plus and minus setting. You can change the vibrations by pressing the power button. Hold it down to power it on and off. I've had vibrators in the past that I thought did some good. But this one is amazing. Hands down the best I have ever had. I had to stop myself because I wanted to keep going. It was so good it made me cry. Holy crap." —Shannen G.
Get it from Zalo for $129 (also available in turquoise green).
14.
The Koi mini wand vibrator by Love Not War created with recycled materials for an eco-friendly and supple design that still packs a punch with four vibration speeds and six patterns.

Besides being sustainable, this little wand is also rechargeable and waterproof!
Promising reviews: "I love this little wand! The eco-friendliness is a natural winner and very forward-thinking. The product design is a thing of contemporary beauty and looks very high-end, and the packaging is both beautiful, minimalist, and eco-friendly. A most pleasing unboxing experience! Could make a perfect anniversary, birthday, or valentine's gift? The performance of the wand is great, too — it's easy to use, enough variety of function and speed, and powerful without being tooo powerful. Ideal actually for couple massage play — and of course, it's waterproof, too, so nice for the bath or shower." —lovehoney_onwednesdayswewearpink
"Beautifully gift boxed and also comes with a lovely drawstring travel pouch — very handy. I was overly impressed with this wand as to charge you simply unscrew it and charge the bottom part...looks so unsuspecting. A great plus for anyone with children or prying eyes about whilst charging. Very, very easy to use, just press the button at the bottom until you find your desired pattern. There are 6 patterns each with 4 speeds. I like the constant rumbly one on full speed. It's quiet, and for its compact size, certainly delivers and then some. Its cool aluminum handle is easy to hold. The soft high quality silicone is lovely against the skin and very pleasurable. It's fully waterproof. I tried it in the bath with fantastic results. For travel and bath use, this wand more than fits the bill. For everyday use, I do however prefer the full-sized wand...think I just prefer a more weighty piece in my hand." —CurvyJilly
Get it from Lovehoney for $76.99 (originally $109.99).