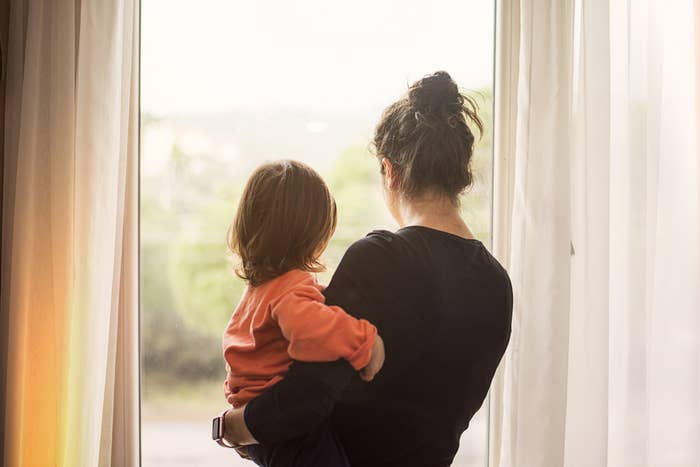 BuzzFeed News has reporters across five continents bringing you trustworthy stories about the impact of the coronavirus. To help keep this news free, become a member and sign up for our newsletter, Outbreak Today.
Fiona had just survived a brutal bushfire season and moved into a small tin shed with her two toddlers and partner while they built their family home when the coronavirus outbreak hit.

"Then I found out I was pregnant," Fiona — a pseudonym to protect her privacy — told BuzzFeed News. "That was a surprise."
The last thing the 26-year-old Adelaide Hills mother needed was an unplanned pregnancy in the only Australian state where you can't legally access medical abortion drugs over the phone.
The couple discussed their options and decided they wouldn't continue the pregnancy. Fiona had no idea how or where to get an abortion in South Australia, but a friend of a friend told her about the Pregnancy Advisory Centre (PAC), the only facility in the state to provide consultations for abortion full-time.
She decided not to have a medical termination, for which she would have to travel to one of just a handful of hospitals in the state to see two doctors and get the two pills, because she was worried about recovering while living in the shed.
"I was told there could be quite a bit of bleeding and we don't have a good bathroom, we're in a shed with a portaloo and a portashower."
She booked in for a surgical abortion last week.
South Australia's tardiness in updating its abortion law — it was last updated 50 years ago, before the abortion drug mifepristone had been invented — means if Fiona had wanted to terminate her pregnancy with RU486, she would have had to travel to one of a few approved hospitals to take two pills, unlike in every other Australian jurisdiction where telehealth referrals are available.
Other states have different problems. Right now, if Fiona had been in Launceston, Tasmania, she would have to travel 200km south to terminate her pregnancy because the local hospital doesn't provide abortion. If she lived in Rockhampton, Queensland, she would have relied on a private abortion provider chartering a private flight for a doctor to fly in and see her. If she was a migrant without a healthcare card she would have to pay an enormous premium to terminate her pregnancy.
Two major barriers to abortion access exist in Australia: its patchwork of laws and the lack of public provisions in hospitals. Both force women to leave their city — and in some cases, their state — to access a termination at a private provider. And both are being impacted by the coronavirus pandemic.
Although Tasmania decriminalised abortion before other states (2013), it has struggled with access issues. In 2018, a single surgical abortion provider closed after 17 years, severely limiting options for women and sparking a national conversation about abortion access. Patients were forced to travel interstate, sometimes at a personal cost of thousands of dollars, to terminate a pregnancy. Women can now access surgical abortions in Hobart, but for women in the state's north, that means travelling in a pandemic.
Family Planning Tasmania chief executive Cedric Manen said the lack of local provision outside of Hobart is disadvantaging patients, especially in the state's northwest, where a higher number of COVID-19 cases prompted hospital closures and tighter restrictions.
"The lack of regional access is an ongoing issue," Manen told BuzzFeed News. "With the closure of the northwest coast, essential travel to Hobart to access this important health right is putting communities and individuals at greater risk of infection."
The solution is something reproductive healthcare experts and advocates have long campaigned for: widespread public provision of abortion in Australia.
"We need to open up better access through the Launceston General Hospital for women particularly in the north," Manen said. "It would need consistent government policy around access to termination services throughout the hospital system."
The Labor party promised it in the last Federal election but lost, and the prime minister refuses to talk about it at all. The reality is that even with the recent decriminalisation of abortion in NSW and Queensland (where the government is working with hospitals to map out referral pathways into the public system), a patient's ability to access an abortion through a public hospital or clinic at little to no cost completely depends on their postcode.
In South Australia women can have surgical abortions for free through the public system and have been able to do so for decades; in much of the rest of the country women still fork out hundreds or thousands of dollars to pay a private provider to terminate a pregnancy.
Manen said there had been an increase in demand for medical abortion drugs (over surgical) before the pandemic and it had only increased over the past few months. Offering medical termination of pregnancy is costly and the rebates offer providers little incentive to continue. Manen wants to pass on as little cost as he can to the patient.
"We have one of the lowest socioeconomic demographic populations in the country and I think any form of cost is a barrier," he said. "At the end of the day, we still need to have a robust service that is sustainable. It is not presently sustainable."
Meanwhile in Queensland, Australia's biggest abortion provider, Marie Stopes Australia, has been chartering private flights from Brisbane to Rockhampton and Townsville for the past fortnight to provide terminations amid a drop in commercial airline flights due to travel restrictions.
"A lot of the issues that we have seen during the pandemic are issues that existed before COVID-19," MSA's chief executive Jamal Hakim told BuzzFeed News. "However travel restrictions have magnified access issues."
Hakim said that as Australia recovered the government needs to focus on the access gaps that existed before the pandemic.
"Increasing access to medical abortion to 70 days [currently you can only legally access it up to 63 days], [and] access to nurse-led services and telehealth services will continue to play an important part post the COVID-19 pandemic."
Last month BuzzFeed News revealed MSA only had two weeks until its supply of face masks and hand sanitiser for carrying out surgical abortions would dry up. A number of MSA's orders from private personal protective equipment (PPE) providers were cancelled or refused in the coronavirus pandemic, and the Australian government has also refused to supply MSA with PPE. Things have since improved and the organisation now has PPE, Hakim said.
Fiona could have had a telehealth consultation for a medical abortion in other jurisdictions. This typically involves a referral for an ultrasound and blood test, a prescription for abortion drug RU486 and any follow-up consultations by phone or video call.

South Australia's law has remained unchanged as the pandemic has played out, despite indications the government was considering temporarily allowing telehealth abortions after emergency legislation passed allowing tweaks to the law during the pandemic.
The man who ultimately has the power to make this change is not the health minister or the chief medical officer, but the police commissioner.
Fiona had to go through her referral and abortion alone due to the coronavirus: "I assumed I would be able to take my partner or a friend but I was told 'you can't bring a support person because of coronavirus'. For the first appointment, my partner and my kids dropped me off."
The clinic was taking social distancing and hygiene very seriously. The other women — "12 different girls all different ages and different ethnicities" — sitting in the waiting room didn't make eye contact with Fiona.
"Everyone was looking down and the feeling I got was shame and guilt that we were all even there, and I don't think we should have felt that at all," she said.
The next day she came in to the associated hospital for the abortion.
"As soon as I woke up, I knew it was the right choice," she said.
Fiona experienced mental health issues during her second pregnancy and she has recently gone on medication, which is helping. The entire experience has changed her views on abortion.
"If I had had to go off [the medication] and try to juggle a third pregnancy and a third child, I would have gone downhill," she said. "I've always been such a pro-life person, and my partner and I were only dating for four months when I was pregnant with my first; we planned the second one, but this time I knew it in my heart it wasn't the right thing."