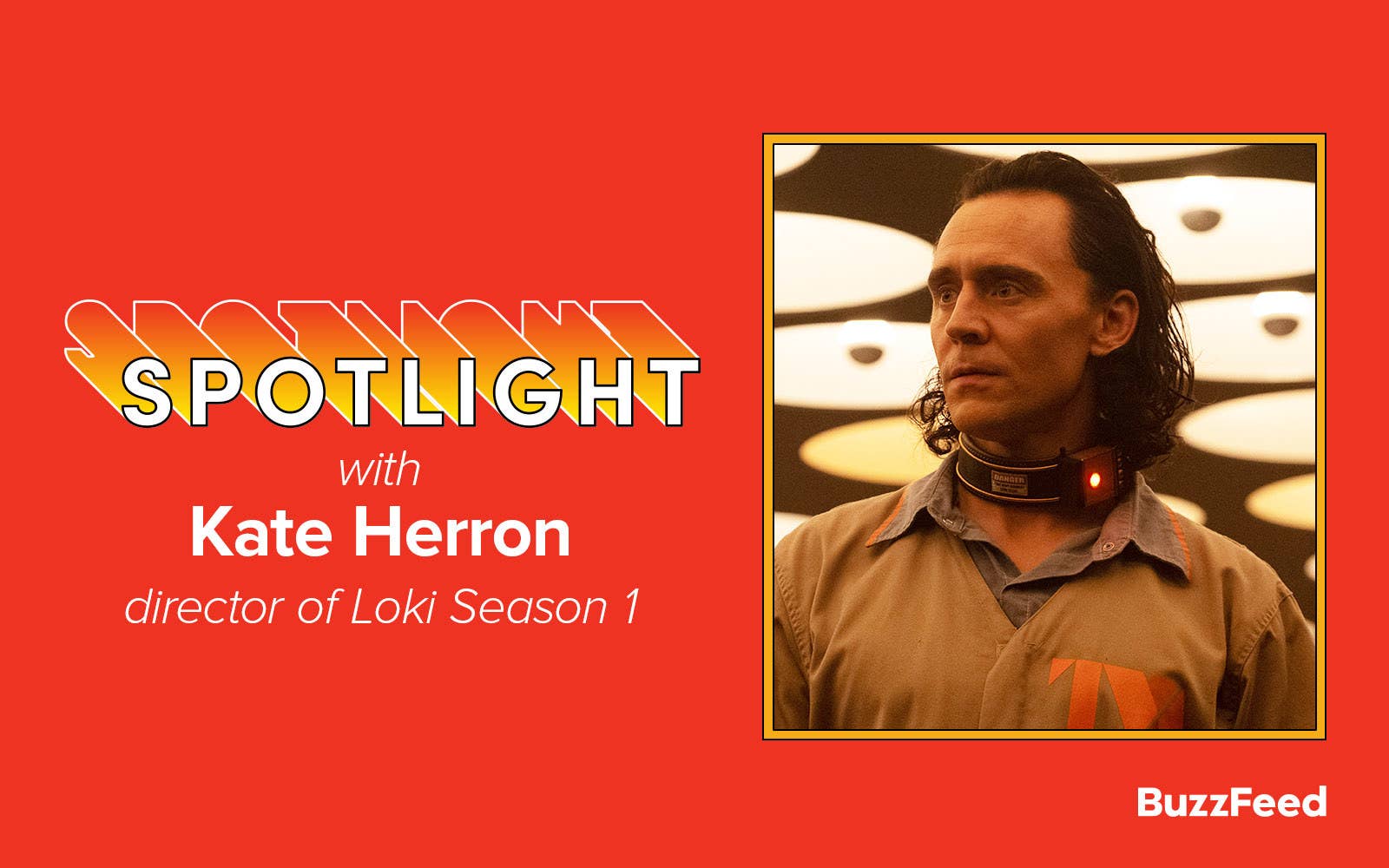 Warning: There are MASSIVE spoilers ahead for Season 1 of Loki!

Welp, Loki Season 1 just came to an end and I think it's safe to say that the Marvel Cinematic Universe will never be the same. Following the Season 1 finale, we sat down with director Kate Herron to talk about everything — like how it felt introducing the multiverse and Jonathan Majors to the MCU, casting this incredible ensemble cast, Loki's bisexuality, and so much more. Here's everything we learned:
1. First, Kate has always loved Loki, so she knew she wanted to be involved in the "character's next step" in some way.
"Basically, I love Loki, and I found out they were making a show about him. As a fan, I was like, 'I need to know where he's gone.' Then, I just wanted to know what the story was going to be. I loved the character. I think Tom Hiddleston's performance is amazing. I really wanted to be part of whatever this character's next step was because I think Loki's had one of the best arcs in the MCU."
2. Directing all six episodes of the first season felt like filming a six-hour movie.
"Directing all six episodes was a really unique experience, right? Because normally TV is run through the showrunner system, and Marvel didn't do that on Loki. It was incredible. It was quite an undertaking to do six hours and run it like a giant film. I'm so grateful for the opportunity, and I'm really proud of what we made."
3. When Kate signed on to Loki, only the first few scripts had been written, the "rough shape of the show" was in place, and they knew Loki would be arrested by the TVA.
"When I started, Michael [Waldron] had written the pilot. Then, there was a second episode written by Elissa [Karasik], and Bisha's [Ali] episode was written. So, there was a rough shape of the show. It was already fixed in that Loki was gonna be arrested by the TVA and then it had this twist that he was going to try and solve the mystery of who this other Loki was, but then it pivots and becomes this love story about him falling in love with himself. I just thought that was so inspired and the message that had about self-love. I just really wanted to be part of that."
4. And they always knew the show would end at The Citadel at the End of Time and the multiverse would be born.
"As we dug into it with Kevin Wright, our producer, the studio, Michael, Tom, and also our whole team, I think it was always thinking like what was the best story, in particular during the second half of the show. We always knew they were going to The Citadel, something would happen, and the multiverse would be born, but we didn't necessarily know it would come out of Loki and Sylvie fighting. That idea came out of discussions with me, the writers, and the studio."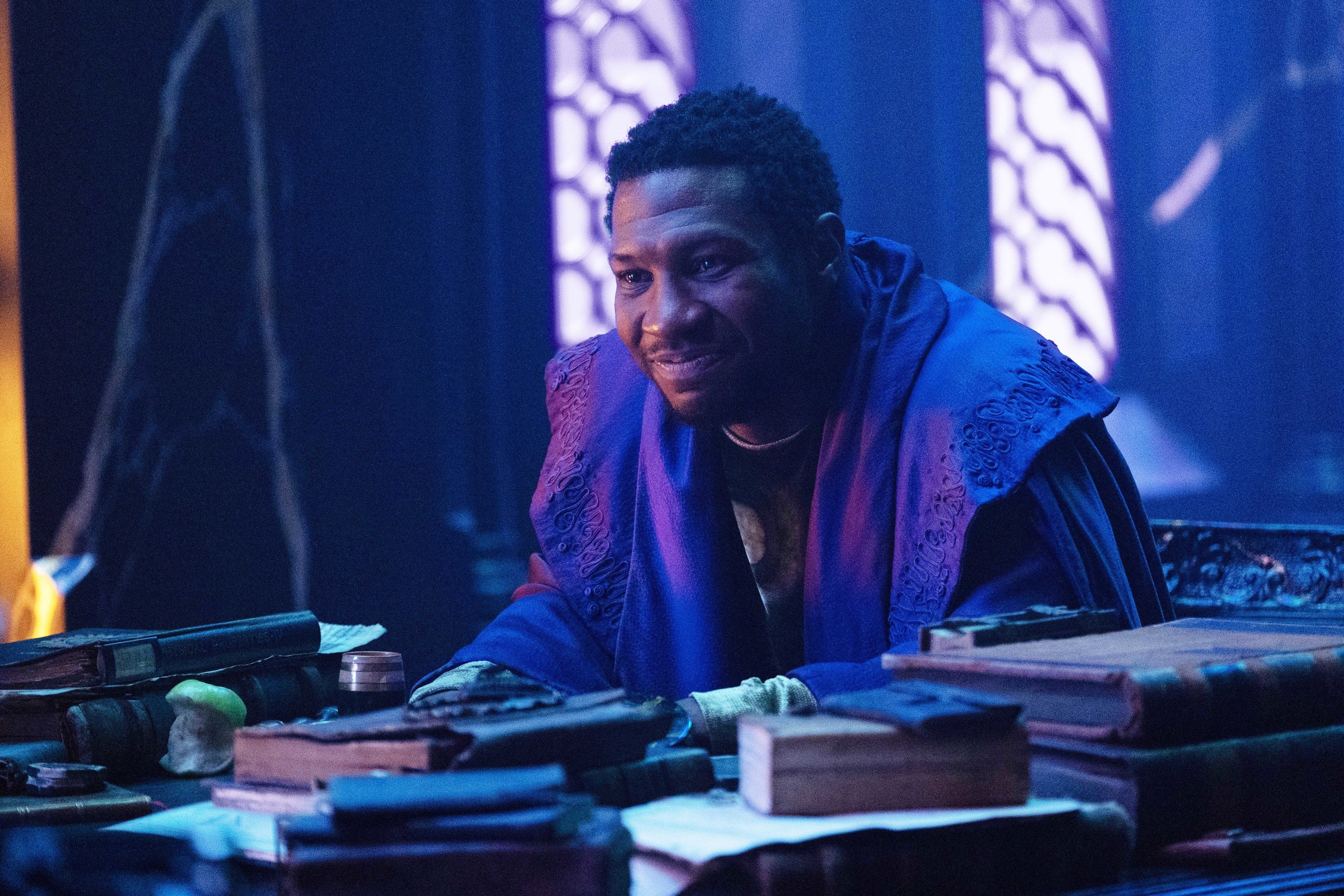 5. It was "always the plan" to introduce Jonathan Majors to the MCU during the Loki Season 1 finale.
"I think me and the writers were just like, 'Well, they haven't told us we can't introduce that character. I guess we're doing it.' It was really exciting and I felt really honored that I got to be part of it."
6. Kate was involved with Jonathan's casting for He Who Remains/Kang alongside Peyton Reed, who will direct Ant-Man: Quantumania, and Marvel Studios.
"Being part of the casting discussion with Marvel and Peyton was amazing. It was massive. I was just like, 'Wow, I can't believe I get to be part of this conversation.' Everyone was just so excited about Jonathan. He's one of the best actors. I just couldn't believe we got him."
7. Jonathan brought a lot of "cool ideas to the table" once he was cast, and Kate gave him "space to play."
"He just brought so many cool ideas to the table. I think when you're working with an actor like Jonathan, it's really just about giving him space to play, and let him find the character and give him a cool way to do that. I really enjoyed working with him. We finished the shoot filming in The Citadel, so it was really interesting that we finished filming with Jonathan. I just felt very lucky I got to direct him."
8. Jonathan actually voiced the Time-Keepers in Episode 4, which added to the Wizard of Oz homage.
"Obviously, the Time-Keepers were being made in post, and we hadn't cast anyone [for the voices] yet, and I thought, 'Well, Wizard of Oz. Like it should be the wizard, right?' So I thought it would be cool if it was Jonathan, and I think the key thing then was just working with him in a way that we could disguise his voice. I think the fun thing was, Jonathan is an amazing character actor. So we just sent him the art and he was sending audio clips to me and Kevin Wright and being like, 'What about this voice?' It was just so much fun to do that with him. I think that was just joyful."
9. Kate's favorite Easter egg from Episode 5 was Throg — in fact, Chris Hemsworth recorded new lines and sounds for that small part.
"That one I was very proud of and it was very fun. I had that shot designed for a while. I think I'd seen it in Futurama, and a lot of animation does it, but I love the idea of going through the dirt and it reveals something. I always felt like that shot would be the place to insert an Easter egg. When we had Throg in there, it was so much fun and it was perfect. We also recorded Chris [Hemsworth] for that. It was just so much fun."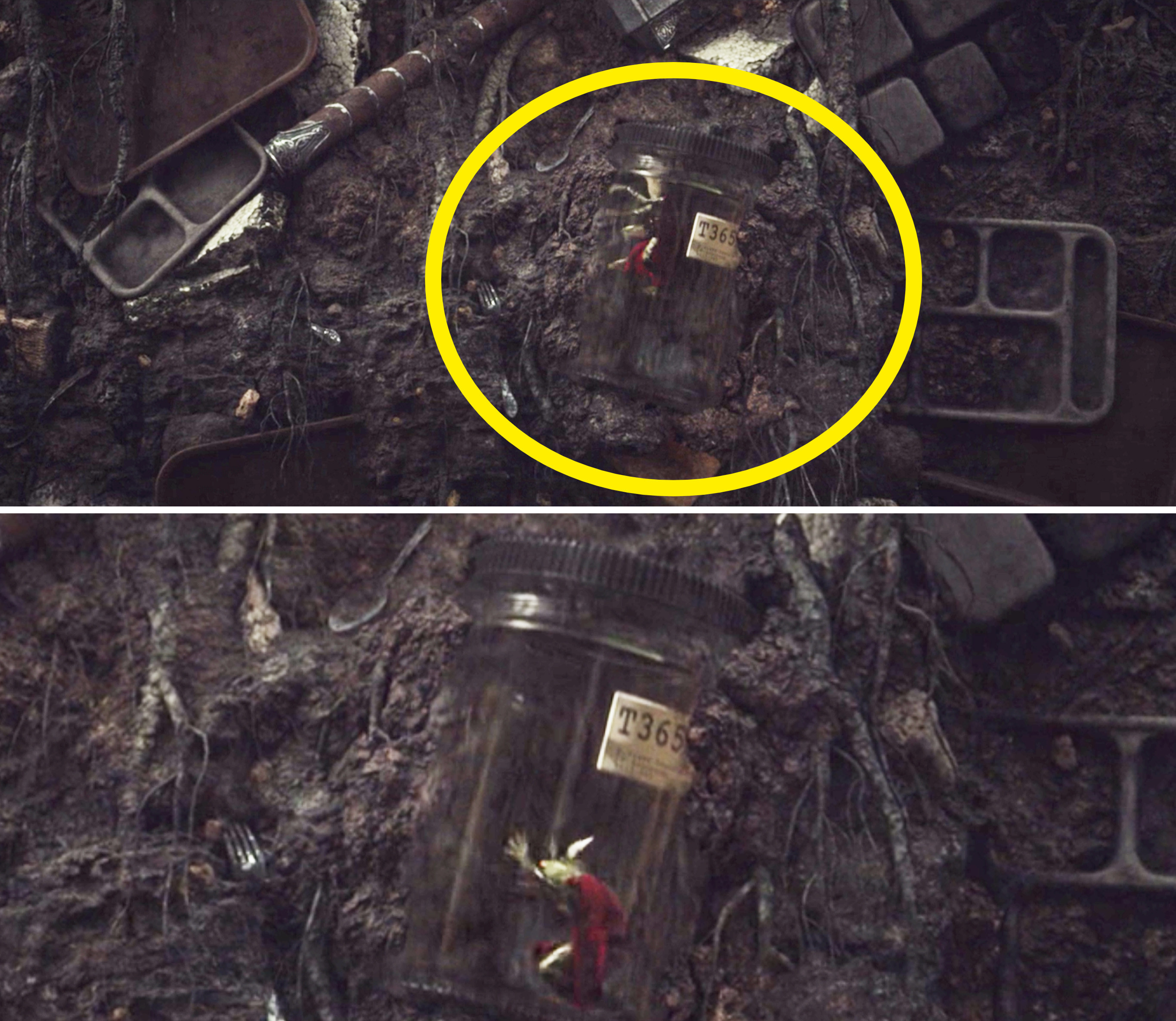 10. She also loved the Thanos Copter and said it was a "funny" detail the producers loved from the comics, so they had to include it.
"The Thanos Copter was great. Kevin Wright, our executive producer, was really obsessed with that copter, I was like, 'We have to put the helicopter,' and it was so funny. Episode 5 is our best Easter egg episode. There's so much deliberately because of the nature of The Void as a place where deleted things are sent."
11. There's one Easter egg/detail Kate hasn't seen fans catch onto yet, and it involves a "familiar" voice at the very end of the Season 1 finale.
"The one I would say is — it's less Easter egg and more cool story-wise. So, at the very end of the finale, when Loki is in this alternate TVA, there's a character that runs behind him and is going to the armory and people should listen to the voice. It's very quick, but it's someone familiar."
12. Loki was inspired by numerous iconic sci-fi movies, like Children of Men, Alien, Hitchhiker's Guide to the Galaxy, Metropolis, Starship Troopers, and more.
"Bisha, in the episode [she wrote], she spoke about Children of Men and also Before Sunrise as a reference, so I was really inspired by that and the idea of bringing these sci-fi things together. Across all the TVA, I wanted it to just be a big love letter to sci-fi movies, like Metropolis, Brazil, Hitchhiker's Guide to the Galaxy, [and] Alien. A reference I could never talk about early was Starship Troopers just because, obviously, the TVA are bad guys and in that movie they also use a lot of propaganda film and we had our Miss Minutes film. So, that movie played a hand. There was so much across the show. We had references from everywhere."
13. And the inspiration for how The Void would look in Episode 5 actually came from Teletubbies.
"I never really spoke much about it, but basically in Episode 5, The Void was originally written like a desert, but when I pitched, I said I thought it would be cool if rather than like a Mad Max desert apocalypse, it's more like an overgrown garden. Like, this is the place where the TVA throw their rubbish in. I just loved the idea of that. I think I realized as it started to unravel that I'd basically pitched the British countryside. As we were building it, I was like, 'Am I just homesick?' I remember trying to explain it to the visual effects artists who were making it, and I was like, 'You know, it's like the Teletubbies. You know, rolling hills just one after another.' So, yeah, the Teletubbies became a useful reference when describing The Void. So, that's how they played a hand in it."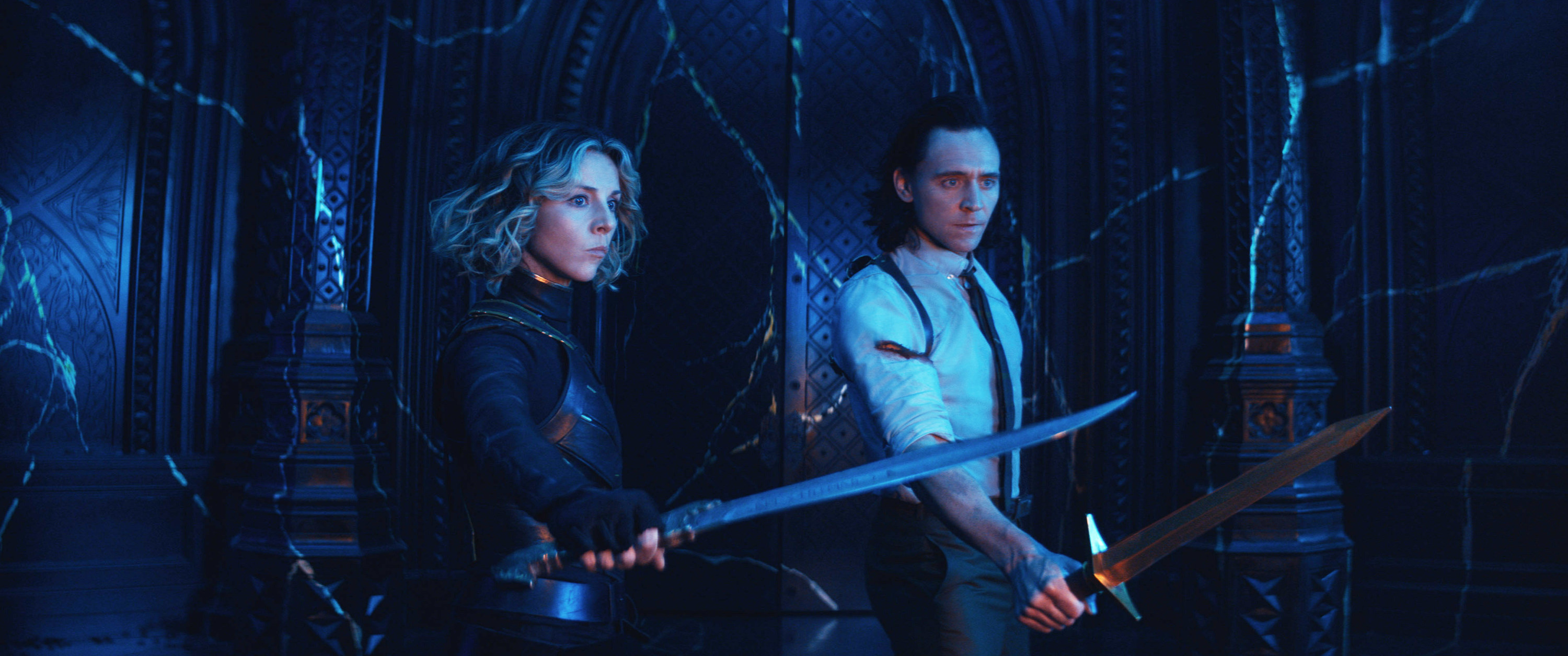 14. Kate was the one who suggested Sophia Di Martino audition for the role of Sylvie.
"Sophia was in a short film of mine called Smear. I was very happy to pay her, finally, for her talent. When we were reading for the role, I was like, 'There's this actor I know and I think we should ask if she wants to read.' Everyone was like, 'Yeah, sure.' So, she read in these audition tapes, and we were all watching the tapes back and I remember everyone at the studio was like, 'Wait, who's that?' And I was like, 'Oh, that's my friend Sophia.' They thought she was amazing."
15. Sophia's audition tape was so good that she was immediately cast.
"Basically, everyone was really excited by her tape and I think she got cast in the room, which is incredible. I was excited because I got to bring my friend along. She's such a good actor. She's fantastic in Flowers and I was just so happy that she was coming along for the ride. I think she's done such a beautiful job with Sylvie."
16. One of the most important things when crafting Sylvie and the other Loki Variants was making sure they were their own characters, and not just Loki copies.
"I think the most important thing, minus just tiny little gestures, was really making it important that Sylvie was her own character and that all the Lokis weren't just 'faded photocopies.' They were all their own Loki. It wasn't even that they stood in a similar way or looked similar, but what in their soul made them a Loki. I love that line, 'Lokis always survive.' That idea goes across all our characters who are Lokis."
17. Casting Sylvie was one of the hardest things, and Sophia was able to bring her own spin to the character and she was the perfect "sparring partner" for Tom.
"Sophia has this talent — and I think Tom has it as well — where she's so funny and naturally so witty and charismatic that you can't take your eyes off her. She's also really good at playing characters with a lot of anger, pain, and vulnerability. I just felt that those qualities were so Loki to me. She brought her own spin on it too. Tom's performance is so iconic, so Sylvie was a tough role to cast because you need to give him a good sparring partner, but also, it's another Loki and people love Loki. So, it was really making sure that she felt distinctive enough that she was different, but also that we gave Tom a really fun actor to play alongside. It was really fun watching them. It was really fun seeing their chemistry grow."
18. Sylvie's fighting style was actually crafted to have similar movements to Loki's, thus showing that they are basically two sides of the same coin.
"I know Tom and Sophia spent a lot of time together. I think the fun thing with Sophia was the little things, like the fighting styles. She has a very different life to our Loki. Loki is very balletic in his fighting style, because he grew up in the palace, whereas Sylvie grew up in apocalypses. So, she was going to fight a bit more like a feral cat. I thought that was fun to play with. We worked with Mo [Ganderton], our stunt coordinator, and it was really fun to find little mirror image stuff they would do when they fight. We did a little bit of that on Lamentis and there's little bits here and there where we've done that. There's also little gestures that they do that are quite similar."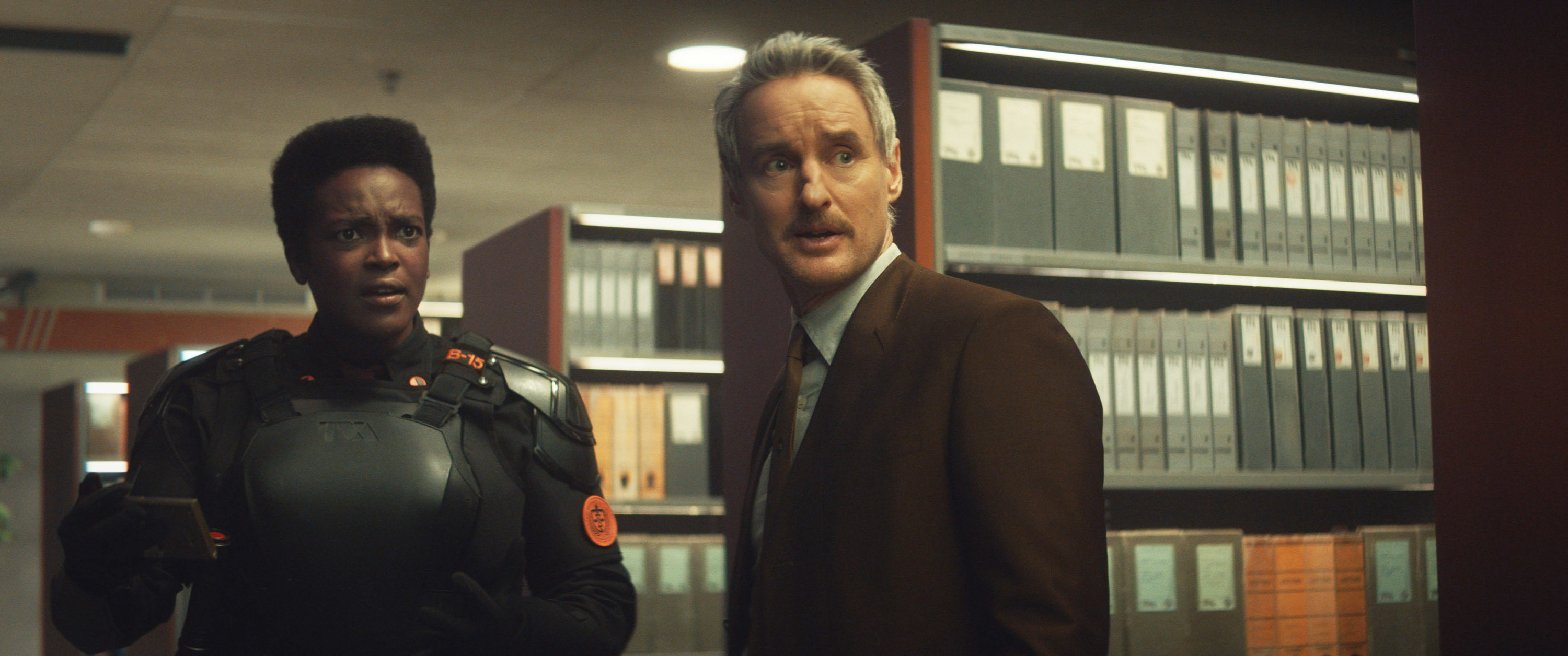 19. Kate had a "four hour" phone call with Owen Wilson before he was cast. They talked about Marvel, Mobius, and Loki.
"Everyone was so excited to cast him. I remember, they were like, 'Kate, just call him and see if he's up for it.' That was a lot of pressure. But then, I spoke to him on the phone and we spoke about Marvel and Loki in Marvel. Also, we talked about what our show was doing, who Mobius was, and then just getting his take on it. It was a very detailed conversation. I think we spoke for like four hours. At the end, he was like, 'I'm in.'"
20. Wunmi Mosaku's role was originally supposed to be a male character, but Kate suggested having an "open casting" because she thought Hunter B-15 would be really great as a female character.
"When I spoke to the studio, I was like, 'This character is cool, but I just think it could be really interesting if this was a female character. So, could we do open casting? We'll have men and women read, and we'll just see who's the best person for the role.' So, Wunmi read for it and just blew everyone away. We were like, 'We have to cast this person!' So, we kind of remade the role, really, around her."
21. Kate loves the idea that Hunter B-15 joins this club of sci-fi female characters who were originally supposed to be men.
"It was cool because I love Ripley in Alien and I love Kara Thrace in Battlestar Galactica. In the original Battlestar, Kara Thrace's character was played by a man, and Ripley in Alien was originally written as a man, so I liked that Hunter B-15 was joining these badass women in sci-fi. That was really cool to me."
22. When Kate pitched her ideas to the studio, she include Gugu Mbatha-Raw as the actor she wanted to play Ravonna.
"Gugu was in my pitch when I spoke to the studio. I was like, 'I think she'll be really great.' I love her work as an actor. From Belle to the episode of Black Mirror she's in, everything she's in is so different. I think that's so interesting with Ravonna because in the comics, Ravonna's been good and bad, and she's such a big character. I was like, 'I'd love to see Gugu's take on that character.' The studio was really excited by that and so was Gugu."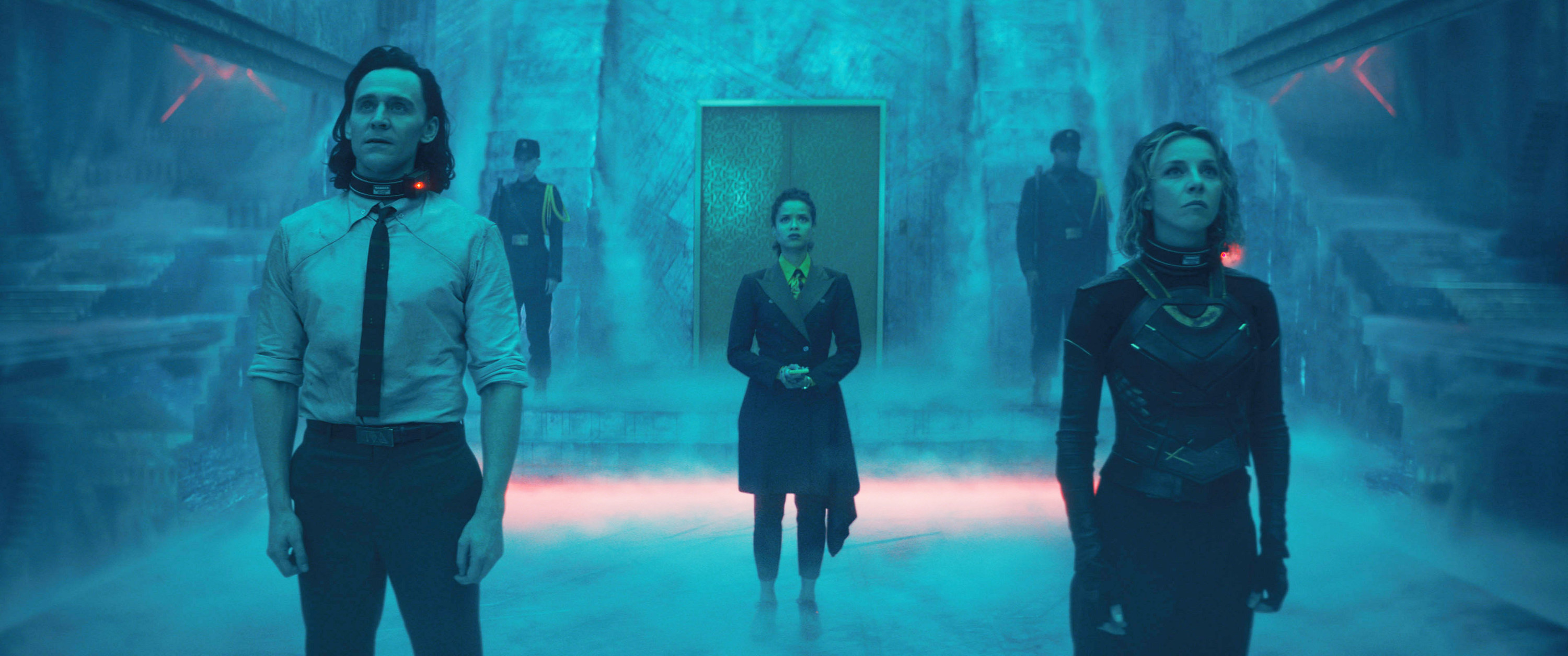 23. Kate said it was "important" to recognize Loki's bisexuality in the show, and she loved how it was naturally worked into a conversation between him and Sylvie.
"It was just important for us to do it in a way that made it canon, acknowledged it, and also done in a way where like, if someone asked me, I would just be matter of fact about it, like, 'Yeah, I'm bi.' I think that was the important thing for it and building it into the conversation. It was important to the whole team and the way that it was written was really beautiful. It felt like the right place to do it because these two characters are starting to open up to each other and are being a bit more honest about who they are. So it felt like the right place to have that moment."
24. The TVA weren't always going to be Variants/humans. That idea was born out of conversations with Kate, the writers, and the rest of the Loki team.
"When I started, I think it was a bit more up in the air with like, who are the Variants who work for the TVA? Are they Variants? They actually weren't Variants when I first joined. Casey was an alien, for example. I think something we all locked onto was it was more effective to make them more human. It was already in there that the Time-Keepers wouldn't be real and that would be a big Wizard of Oz rug pull. But the extra rug pull we added was that, on top of all of that, the TVA don't realize that they're actually Variants."
25. One of the things Kate enjoyed the most was figuring out the "inner workings of the TVA," like how the Minutemen would operate.
"I think it was really fun, in terms of the bigger structural stuff, to work with everyone. Also, figuring out the inner workings of the TVA, like every squad of Minutemen would have a hunter and they'll be little details sprinkled across all the world building in the show. Generally, we always looked at the characters and what was the best story and how to get to the end goal in the most effective way."
26. The season finale intro — which included seeing space, the sacred timeline, and hearing quotes from the MCU and history — was an homage to Contact.

"Basically, Eric Martin, our writer, he'd written in this amazing idea that for the opening we do an homage to Contact, and kind of move through space to the end of time. Then, we'd see the physical timeline, and then we see The Citadel. I love Contact, and I was like, 'Oh, that's so cool.' We took that idea to Darrin [Denlinger], our storyboard artist, and me and him just nerded out about space and about how we wanted to pay homage to Contact but not be completely the same.
So we played with the idea of time and he was bringing in so many cool ideas. But then, the amazing pitch he had as well was like, 'What if when we pull out at the very end, the timeline isn't a straight line like how you guys have been showing it in the show? What if it's actually circular?' I thought it was such a good idea."
27. Kevin Feige helped come up with the idea to include Marvel quotes over the Marvel logo because it was something the MCU had never done before.
"I had this weird idea where I remember saying to my editor, Emma McCleave, I was like, 'Oh, can we add a baby crying or the sounds of the city? And it's like we just hear life.' So her, me, and Kevin Wright got really into that. So we were adding all of these different sounds into the timeline. We also had quotes from just life, not Marvel. Then, we showed that cut to Kevin Feige and the rest of the team.
They all thought it was cool, and then Kevin Feige was like, 'Oh, do you know what? We've never done quotes on the Marvel logo before.' So, we thought that was cool and we added the quotes to the Marvel logo intro. Then, me, Kevin Wright, Emma, and Sara Bennett, Emma's assistant, decided to just put the MCU quotes across the whole thing."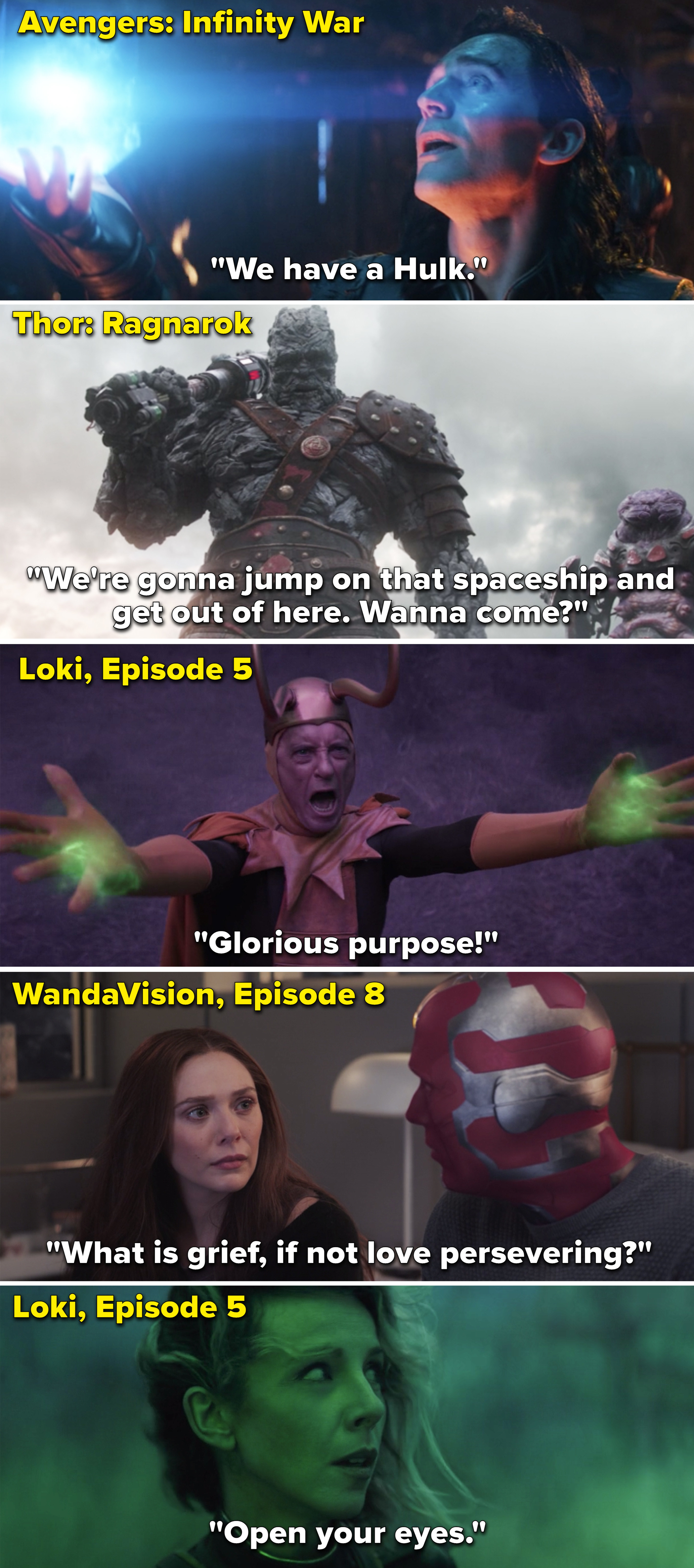 28. Going from hearing all of the voices in the season finale opening to utter silence in The Citadel was also a way of learning something about He Who Remains.
"I loved the idea of all the noise and this Greek chorus building because when you finally pull out and see The Citadel and how isolated it is, it tells you so much about He Who Remains' psychology because he's surrounded by all this brimming life, but he's completely isolated and alone. I thought it tells you a little bit about his character and who he might be before we see him."

29. Kate loves that the season finale opening is a "beautiful handover" from the previous phase of the Marvel Cinematic Universe into this one with the multiverse.
"It was a real group effort, and we were just really excited at the idea of it being this really beautiful handover from the previous phase of Marvel. Also, we get to encapsulate a little bit of our world as well, which was really fun. The editing team put so much time into that. I really want to watch it in a planetarium or something."
30. And finally, even though Loki sets up a lot of upcoming MCU projects — namely, Spider-Man: No Way Home, Doctor Strange in the Multiverse of Madness, and Ant-Man: Quantumania — Kate didn't have a lot of conversations with other MCU directors and writers.
"Kevin Wright and Stephen Broussard from Marvel were our producers on Loki, and they worked with Kevin Feige, Louis [D'Esposito], and Victoria [Alonso]. They always steered us in terms of the Marvel big picture and let us know if anything was off base. It's so secretive at Marvel, so I only spoke to Peyton just because our timelines crossed [with Jonathan]. Generally, Marvel manages everything internally and keeps us all in check."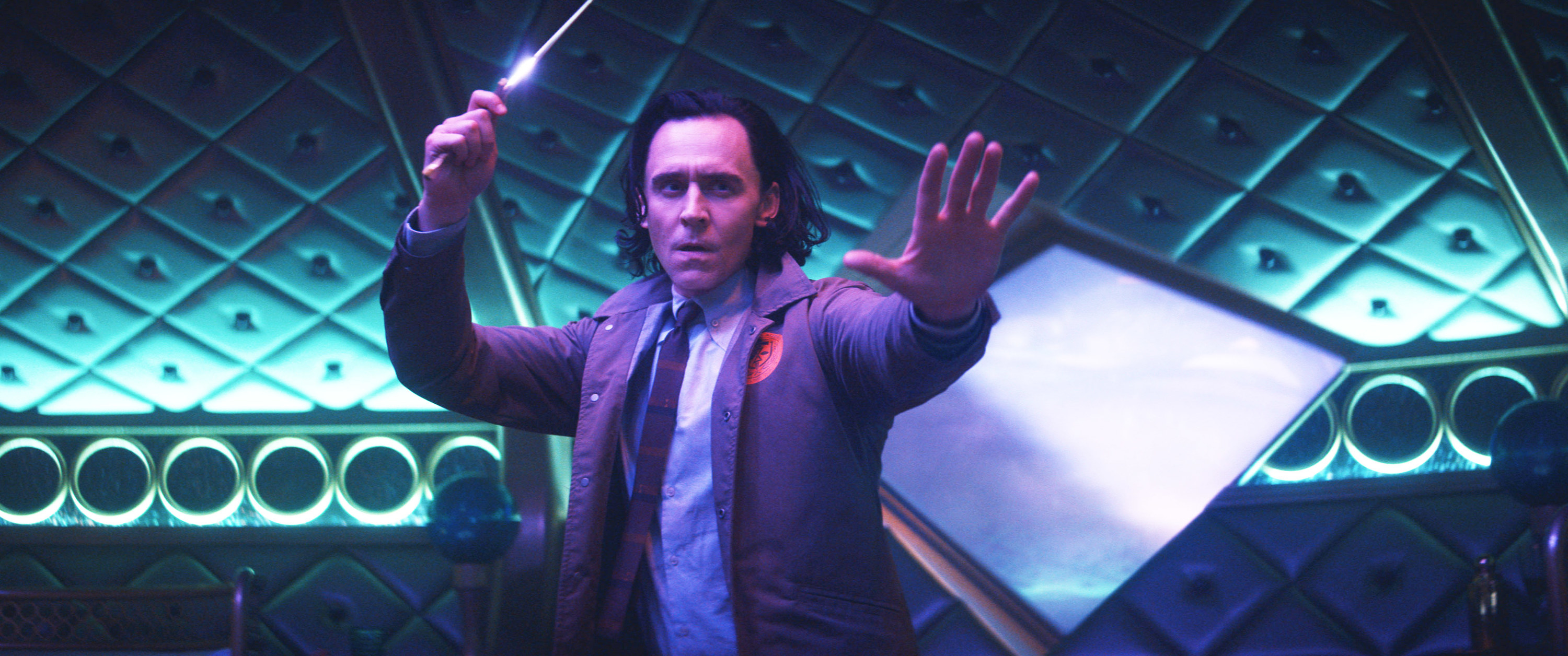 Loki Season 1 is streaming now on Disney+.