Stop Whatever You're Doing And Watch Tom Hiddleston Watch His Own "Thor" Audition Tape
God of mischief and also blonde wigs.
Still, it appears that Tom himself wasn't always aware of his destiny, as he discussed this week on The Tonight Show Starring Jimmy Fallon, where he opened up about his original audition for the Thor franchise:
First, Tom and Jimmy touched on the highly-anticipated Loki spin-off series coming to Disney+ and, while we have a second, let me just say this turtleneck and blazer combo Tom's rocking is an entire LOOK, if I do say so myself!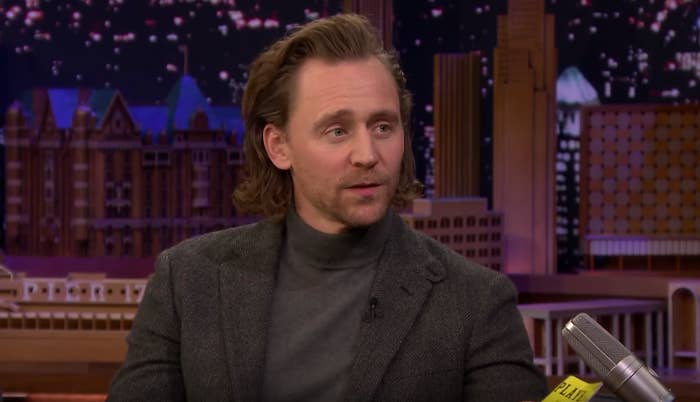 Anyway, then Tom went into his disbelief that the MCU movies have blown up in the way they have, admitting that he thoroughly didn't know what he was getting himself into.
Tom couldn't reveal too much (or anything) about the series, just that they begin production next year and that Marvel Studios has the whole thing TIGHTLY under wraps.
They they discussed Tom's relationship to Loki and, while it's been a widely-known fact in the MCU fandom that Tom originally auditioned for the titular role of Thor, he opened up about the fact that he never actually auditioned for Loki at all.
Which was when Jimmy pulled out the big guns in the form of Tom's official Thor audition tape* and, whew buddy, it's amazing:
Like, tell me this doesn't look like a prank Loki would pull where he just pretends to be Thor:
Anyway, the audience lost it, but Tom was pretty embarrassed, which is wild because this is the best thing and he should be proud of it. Like, Is it possible to have GIFs framed and mounted above my mantle?
Which lead him to compliment his onscreen brother, Chris Hemsworth, in a way that is somehow simultaneously the most Loki thing and the least Loki thing all at once:
So uh, yeah...there ya have it. If you need me, I'll be at my desk rewatching this audition video until the end of whatever dimension we're in.