1. Yes! Confirmation that Charles' is actually Jason and Ali's brother.
2. WAIT.
3. OMG.
4. WHAT?!
5. DID WE JUST GET SOME MOTHER FUCKING ANSWERS?!
6. WE JUST GOT SOME MOTHER FUCKING ANSWERS!!!
7. "When you were 11 months old" - Charles did fucked up stuff to Alison didn't he.
8. I bet he blamed her for being sent away from his family.
9. That's why he's so obsessed with her.
10. He grew up in Radley? This is some Phantom of the Opera bullshit.
11. Wait that means HE KNEW BETHANY.
12. AND MRS CAVANAUGH.
13. I bet he made Bethany dress up like Ali.
14. BETHANY WAS CHARLES' FIRST DOLL.
15. Also I bet Charles is the one who killed Mrs Cavanaugh tbh that is the only way to justify spending an ENTIRE SEASON ON THAT PLOT.
16. STOP BELIEVING MR DILAURENTIS OMFG.
17. OF COURSE Mr DiLaurentis is still lying.
18. Literally last episode: "Ali, your dad is a liar!"
19. Well, he MAY be telling the truth. Mrs DiLaurentis could have been the liar.
20. Like, how convenient Charles dies while Mr D is away and Mrs D gets him cremated so THERE'S NO BODY.
21. "No grave, no body." Hanna is learning, girl is talking sense.
22. And Spencer is talking sense too but that's nothing new.
23. Speaking of no grave, no body, WHERE IS MAYA AT?
24. Tbh tho like we had a body for Mona and that didn't stop her from being alive.
25. Also…
26. Wait for it...
27. WHERE IS MONA LITERALLY BRING HER BACK WE NEED HER SHE'S A SMART ONE?!
28. Maybe she's also A?
29. Where's the fucking button jar when you need it.
30. But seriously omg there were more answers in that scene than there have been on the entire past two seasons.
31. I literally feel like a weight has been lifted off my shoulders.
32. SUMMER OF ANSWERS IS FINALLY DELIVERING.
33. Caleb is so dreamy.
34. Ashley Marin is like, "Yes Caleb, stay over, and continue healing my daughter with your magical peen. Please."
35. These two never have any answers. Dum dums.
36. They have a cute relationship tho.
37. Sara's hair actually looks great. Congrats Sara you don't look feral anymore.
38. Pam did a great job on the haircut, go Pam!
39. Is Pam Charles?
40. This is the most parenting she's done in years.
41. Also Sara might not look ~feral~ anymore but she has the craziest eyes I've ever seen.
42. "Search: Charles DiLaurentis death record" GREAT SLEUTHING ARIA.
43. Aria on her photography: "It feels good to focus on something other than myself." Aria you took a selfie in the last episode.
44. Literally this is all just a set up for the time jump though, right? Like we're gonna come in on season 7 and Aria's gonna be some glam AF photographer in Paris living her best life, right?
45. ...unless she's A.
46. (And she is.)
47. Her dad is such a fucking creep.
48. They're all creeps.
49. This show should be called Creepy Little Liars.
50. Ezra: "How are you doing?" Spencer: "I'm fine I guess… no one's offered me a haircut in ~weeks~."
51. Ezra: "That's our new baker. She smells like weed." Geddit as in BAKED.
52. Why is Ezra still on this show?
53. And why does he own a coffee shop?
54. Is he still a ~writer~? Or a teacher???
55. That Spencer flashback is creepy AF.
56. Poor Spence that's some bullshit to deal with I'd want the pills too tbh.
57. When Aria says that she chucked out her pills you can read all the emotions on Spencer's face.
58. "Omg bitch, you should have given them to me"
59. "Hang on..."
60. "Imma get them from her bin..."
61. "Yes, Spencer, good plan."
62. No Spencer.
63. No.
64. SPENCER NO, YOU'RE BETTER THAN THIS!
65. Side note: why is there compost in their general bin?
66. Do the Montgomerys even recycle?
67. Spencer why don't you just go buy more drugs off of the guy you got them from before.
68. Get out of the trash.
69. She's going to end up as a smack head after the time jump I s2g.
70. Why is the DiLaurentis family so fucking creepy they're just sitting around their parlour in high-backed chairs reading hardcover books in complete silence.
71. LIKE MANNEQUINS.
72. NO WONDER CHARLES IS FUCKED UP.
73. And Ali.
74. How is Jason not more fucked up tbh?
75. Well I guess the whole alcoholism thing is pretty fucked up.
76. Papa DiLaurentis totally owns that "investment firm" that bought Radley.
77. I bet Mrs DiLaurentis helped Charles escape and covered it up.
78. I think Charles is either Ezra or Wren.
79. AT LEAST WE KNOW HE'S NOT JASON.
80. Or is he?
81. Could've still done the whole switcheroo I guess.
82. Ugh this show.
83. How convenient, the delivery dude left the door open so they can stroll right in and access these confidential medical records.
84. Oh they're all wearing black and white. Except Spencer.
85. BECAUSE SHE'S A.
86. Probably.
87. Probably not.
88. But maybe.
89. OK I get that Caleb is worried about Hanna but tracking her car is some creepy A shit to do.
90. Omg maybe he's A.
91. He's A.
92. This fucking show.
93. Pam is making sense, Sara should NOT be staying with them.
94. Oh hey Sara is wearing make-up now. Decidedly less feral.
95. Except that feral look in her eyes.
96. OMG Spencer's trying to score actual drugzzz.
97. "Ah, this bitch is wearing a headscarf and has feather earrings. 100% a pot dealer."
98. Spencer is definitely gonna be a drug addict after the time jump isn't she. Sigh.
99. "Sara is gone!" - Emily, chill the fuck out she probably just went for a nice morning walk.
100. Also like, good, because really who GAF about Sara, honestly.
101. The DiLaurentis house is 100% one of those houses where you feel like you can't touch anything in.
102. They definitely call their lounge room their "sitting room". And you can't actually sit on any of the furniture in there.
103. Jason and Ali are so Flowers in the Attic rn.
104. I'm into it.
105. Oooooo Mrs DiLaurentis was up to something in Aunt Carol's house.
106. Jason could have heard screams, yells, a car smashing through the house, and he still would have been dumb enough to walk away when Mrs D was all "It's only the wind".
107. Aaand the Liars are visiting Aunt Carol's house, which looks like it's been abandoned for 20 years.
108. They really lowered the colour saturation for this scene, something shady AF must be about to happen.
109. Aria, did you really think going into a pitch black room was a good idea rn?
110. Although literally she's going to be fine, she is always fine because she's A.
111. The worst thing that's happened to her is that she got a damn haircut. Spencer was sleep deprived and woke up covered in blood. Let's keep some perspective, people.
112. Fuck. A new character.
113. Who is dis guy?
114. UGH ANOTHER LOVE INTEREST??!
115. He's a guy and Aria is straight (and single for once) he must be.
116. Yep he just got a name he's a new love interest.
117. Ugh, honestly, for every answer we get, we get three new characters.
118. If Clark isn't incredibly fucking essential to this story I am going to scream.
119. I mean that, I. Marlene King.
120. Lol Hanna's way of making Spencer feel better about her flashbacks is literally telling her that she's crazy and she made it all up.
121. Good job, Hanna.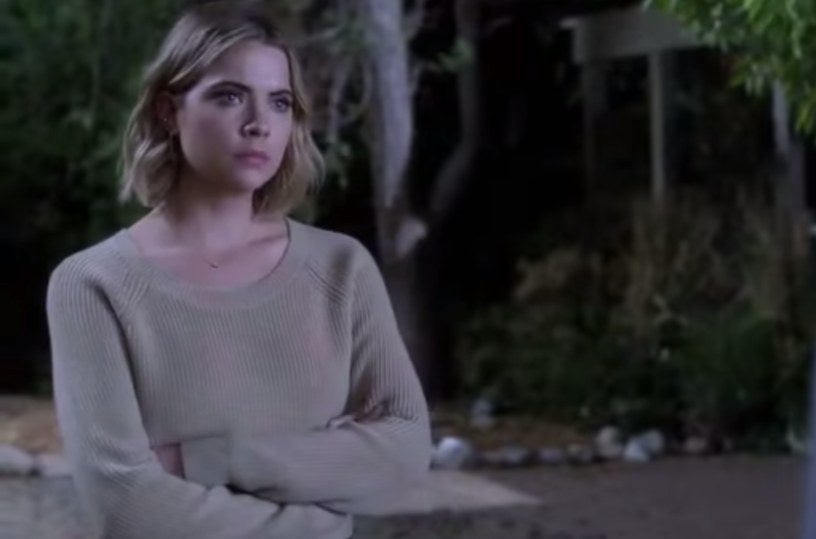 122. PS WHY ARE YOU AT AUNT CAROL'S CREEPY HOUSE AT NIGHT THIS WAS NOT A GOOD IDEA.
123. Meanwhile Emily and Sara walking through a park in the dark, also not a good idea.
124. "We're safe because we're together" LOLOLOLOLOLOLOL OK, have you learned NOTHING, Emily??!
125. If this were the real world they'd be dead a hundred times over coz they all so dumb.
126. Tbh I just want Sara to say the word "feral" one more time then exit this show.
127. What exactly is she adding?
128. OTHER THAN ANOTHER EFFING LOVE INTEREST?!
129. She's probably A.
130. She's probably going to fuck Emily up
131. ...or just fuck her.
132. They are the only two possible options.
133. Fuck her up by fucking her.
134. Ali style tbh.
135. CHARLES HAS A HEADSTONE.
136. What about the "cremation" tho.
137. Also guys there have been plenty of graves with no dead bodies.
138. Thank God there is a shovel right there in case anyone decided to dig this grave up!
139. YAAAAASSSSSSS HANNA DIG IT UP.
140. DIG IT UP.
141. DIG IT UP.
142. UGH just because the headstone is old doesn't mean there's a person is in it.
143. Like vines can grow over an empty headstone too, guys.
144. FFS JUST DIG IT UP!
145. DIG IT UP, DIG IT UP, DIG IT UPPPPPPPPPP.
146. Literally the shovel is right there.
147.... I would've dug it up.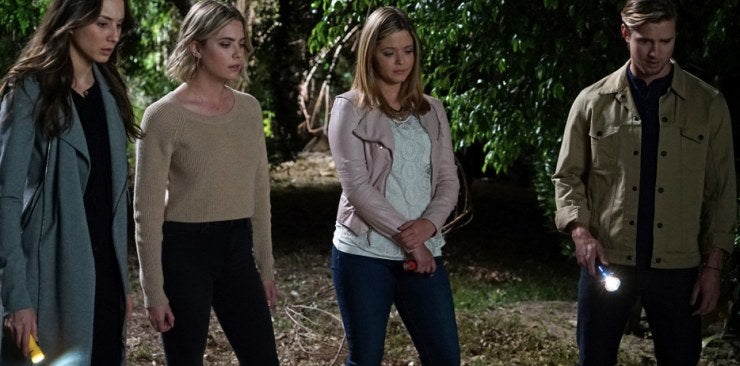 148. They're all so STUPID I CAN'T HANDLE THISIUWDGHIUG.
149. Emily is swimming again, sigh.
150. Here's to 20 more episodes of Emily in swimming clothes!
151. Literally thought Sara said "Do you weight lift" instead of "I feel weightless".
152. That would not have been a good pick up line.
153. Ugh fuck I am so not on board with this relationship.
154. Honestly do they really need everyone they meet to be a new love interest?
155. Oh they're going underwater.
156. Sara is gonna drown her.
157. Because she's A.
158. Or because she's trying to pick her up.
159. Because that's what Emily is into TBH.
160. Remember when Paige tried to drown her?
161. Yeah.
162. I love Hanna so much.
163. Hanna is killing it in this episode.
164. Like I love Haleb but yaasss to Hanna setting boundaries and standing up for herself.
165. I hope they sort it out soon.
166. Look at Caleb he's so damn dreamy.
167. Spence needs to get her shit together.
168. Or the other three dum dums will die in the next episode without her.
169. I mean, Aria won't be dead.
170. Because she's A.
171. Hey, where's Mona tho.
172. If Spencer's a drug addict again we really, really need Mona back.
173. Someone needs to make Spencer a chamomile tea tbh.
174. That "say no to drugs" speech was the most teacher-like Ezra has ever acted and he's not even a teacher anymore.
175. I don't think??
176. Did Ali literally just cut off her father when he was giving us ANSWERS?
177. "Let him rest in peace" what the fuck Ali, let your father talk, for once he's saying something important.
178. Also why do you want him to rest in peace he's literally been torturing you for years?!
179. You don't think he's actually dead, right?
180. Coz he ain't ded.
181. OHHH A IS BACK!!
182. Of course A is tracking them.
183. Tracking them while eating candy.
184. Classic A.
185. Did A insert trackers in them that time in the Saw house when they all woke up naked and inspected their boobs?
186. Wow.
187. THERE WERE SO MANY ANSWERS IN THAT EPISODE.
188. Best one in awhile tbh.
189. BRING. ON. NEXT. WEEK.