Even though 2017 has been almost universally shitty for everything else, it's been a great year for queer movies.
Back in February — following the Oscars flub of the century — we celebrated the Best Picture triumph of Moonlight, Barry Jenkins' gorgeous three-part tale of of a young black man growing up in Miami and discovering his sexuality. Following the critical and commercial success of Todd Haynes' sumptuous lesbian romance Carol, which in 2015 had signaled what looked like a sea change for LGBT films, Moonlight's win seemed poised to usher in a new era in which deserving queer films could finally make it big.
Unlike the few LGBT Oscar contenders and winners of years past (those helmed by straight heroes whose emotional development relies upon queer tragedy-cases who are more props than people) Carol and Moonlight were tenderly crafted stories about self-discovery and queer love. Even if they did have what could be considered blind spots, they were widely beloved and widely recognized by queer and straight audiences alike. Both movies felt like victories.
This year, we were promised some big "exclusively gay" moments in blockbusters, like the new live-action remakes of Beauty and the Beast and Power Rangers in March, which ended up failing to deliver. We were also helplessly queer-baited by superheroes in the franchise giants Wonder Woman and Thor: Ragnarok. It seems the world is not yet ready for LGBT characters headlining our biggest budget films (though it was nice to see a happy queer ending in a mainstream comedy like Rough Night, despite the film's general mediocrity.)
Still, it was a good year. Instead of waiting months to see the One Big Queer Movie, which might not be all that big or all that great, we were instead blessed with what felt like an unprecedented number of options: some movies that were terrible, some that were iffy, and some that were spectacular. Granted, many of the best offerings were small indies in limited release, so only those of us living in a few select cities have been able to see them right away. Also, mirroring mainstream media at large, queer stories by and about cisgender men, white people, or both have gained most of the attention and clout — and are still the most likely to get made.
The LGBT sea change we've been hoping for still hasn't dramatically shaken up Hollywood, at a time when Hollywood's been grappling with some other major reckonings. But during a year when I haven't felt hopeful about much, I do feel hopeful about the future of queer cinema.
Here are the 2017 films about LGBT characters I think are worth seeing, generally categorized, but in no particular order. It's by no means a comprehensive list, and for the sake of space I only included narrative features (but do check out Chavela, On Top, and The Death and Life of Marsha P. Johnson, plus all its backlash). I only included films that explicitly dealt with overarching queer themes, but LGBT people working behind the camera are just as notable and just as significant, so you really need to see, for example, Dee Rees' remarkable Mudbound (while you're at it, check out her 2011 film Pariah, about a 17-year-old black girl coming to terms with her sexuality, one of the best lesbian films ever made). And please — avoid The Assignment at all costs.
Earnest, crowd-pleasing biopics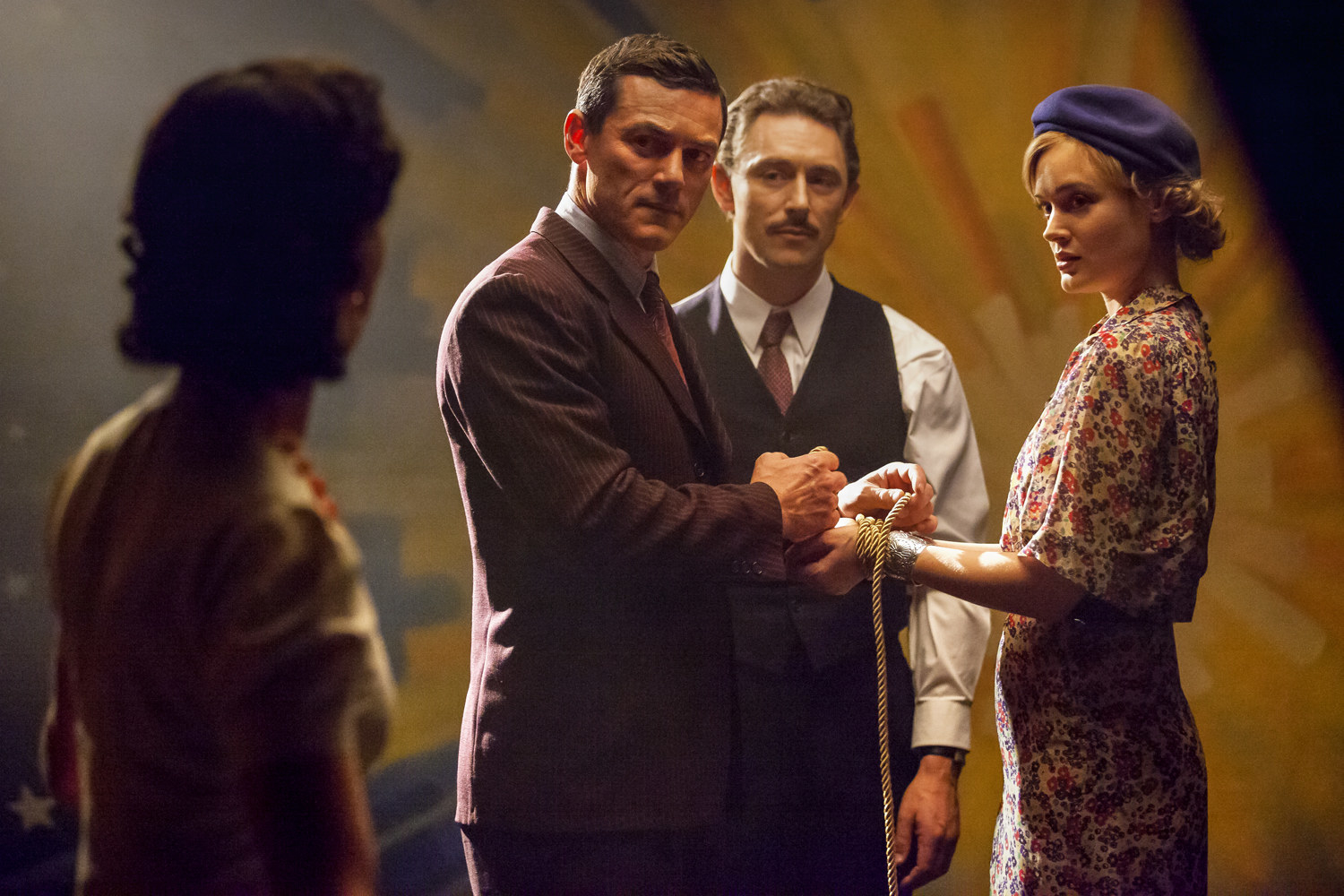 Professor Marston and the Wonder Women
If you, like me, were a little disappointed that Patty Jenkins' Wonder Woman didn't include any explicitly queer characters, take comfort in the fact that at least Wonder Woman's origin story is really, really queer. Angela Robinson's biographical drama is based on the life of the psychologist William Marston, who helped invent the lie detector and later created the character of Wonder Woman. Marston (Luke Evans) and his wife, Elizabeth (Rebecca Hall) both fall in love with their research assistant, Olive (Bella Heathcote), and their yearslong romantic relationship serves as the foundation upon which Wonder Woman is built. For a film about radical feminist ideals, Professor Marston and the Wonder Women is told in quite conventional ways, including an awkwardly forced framing device. Even the sex scenes feel rather chaste and goofy — despite the frequent deployment of role-playing outfits — but Robinson treats this relationship with such tenderness and a refreshing lack of sensationalism that it's worth watching.
Find out how to watch it here.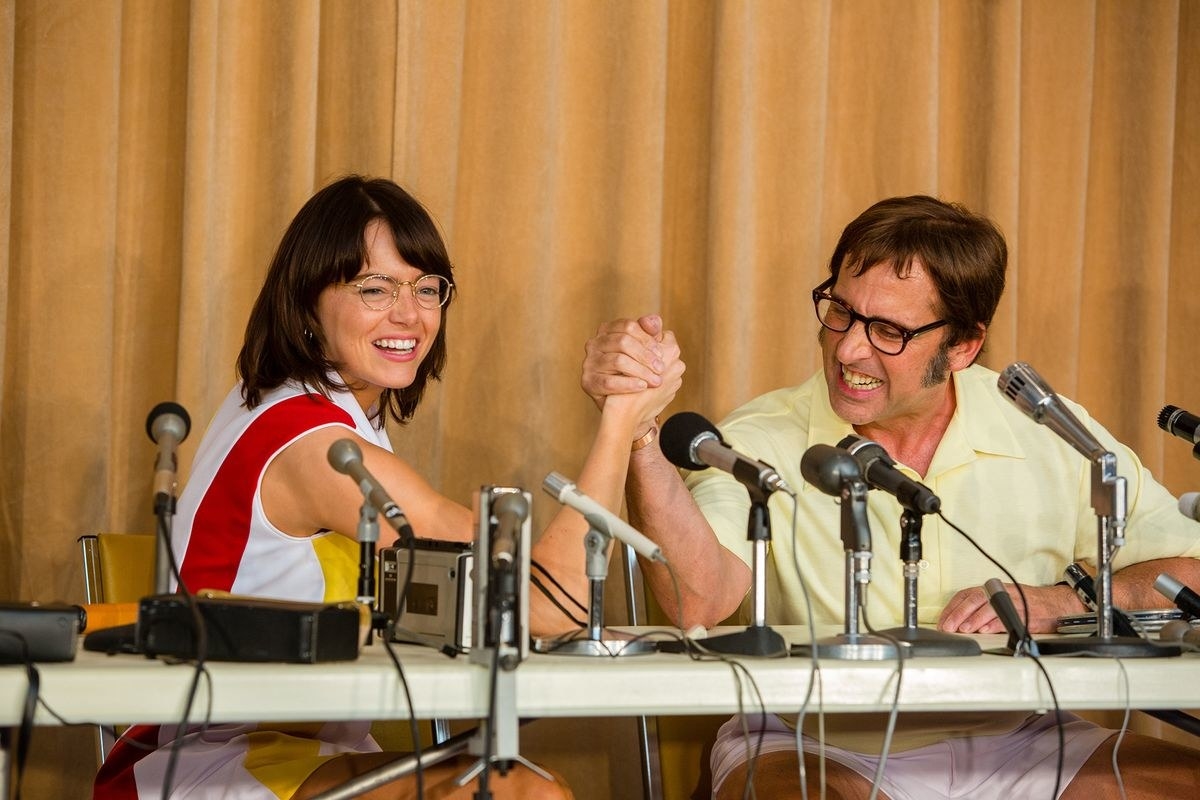 Battle of the Sexes
Lesbian feminist icon and tennis champion Billie Jean King goes to battle with the self-described male chauvinist Bobby Riggs in Battle of the Sexes, Jonathan Dayton and Valerie Faris's film that's loosely based on a major turning point for women's tennis. Steve Carell's is wonderfully wacky and charismatic as Bobby Riggs, and Emma Stone as Billie Jean is charming and easy to root for, especially as she starts grappling with her sexuality. She begins having an extramarital affair with her hairdresser, Marilyn Barnett (Andrea Riseborough), while on the road. Her relationship with Marilyn involves some lovely scenes, from bookended erotic haircuts to the requisite 1970s "driving in a cool car in California" moment, but Marilyn mostly serves as an inconvenience Billie Jean needs to wrestle with on her road to victory rather than a fully fleshed-out love interest. But, like Professor Marston and the Wonder Women, Battle of the Sexes is a sweet, earnest, easy-to-root-for film, one that highlights an important part of LGBT history with gusto. They're both a little corny and a lot predictable, but they're also uplifting stories of triumph — still rare for queer films — and I'm glad they exist.

Find out how to watch it here.

Men fighting internalized homophobia and coming out of the masculine closet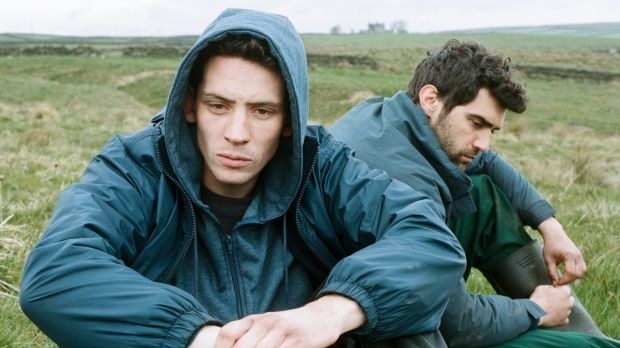 God's Own Country
Francis Lee's God's Own Country is basically Brokeback Mountain if it were set in modern-day Yorkshire on a farm (if it had more explicit sex and didn't end in murder and tragedy). Johnny (Josh O'Connor), a surly and thoroughly unlikable young man who's been charged with taking on the responsibilities of his family's farm after his father has a stroke, ends up having an affair with Gheorghe (Alec Secareanu), a Romanian migrant worker who lends a hand during lambing season. Johnny is a gruff guy of few words who uses racist and anti-gay slurs to avoid dealing with his internalized homophobia, but Gheorghe, who can bring nearly dead lambs back to life, teaches Johnny how to be more tender. Though God's Own Country participates in what my colleague Pier Dominguez recently called "'masc-centrism': a perspective in which same-sex desire is largely separated from any kind of gender nonconformity, while centralizing conventional masculinity," the film's gorgeous, moody shots of the English countryside, paired with a (sorta unbelievable but welcome) happy ending, make up for its basic, masc-heavy politics.

Find out how to watch it here.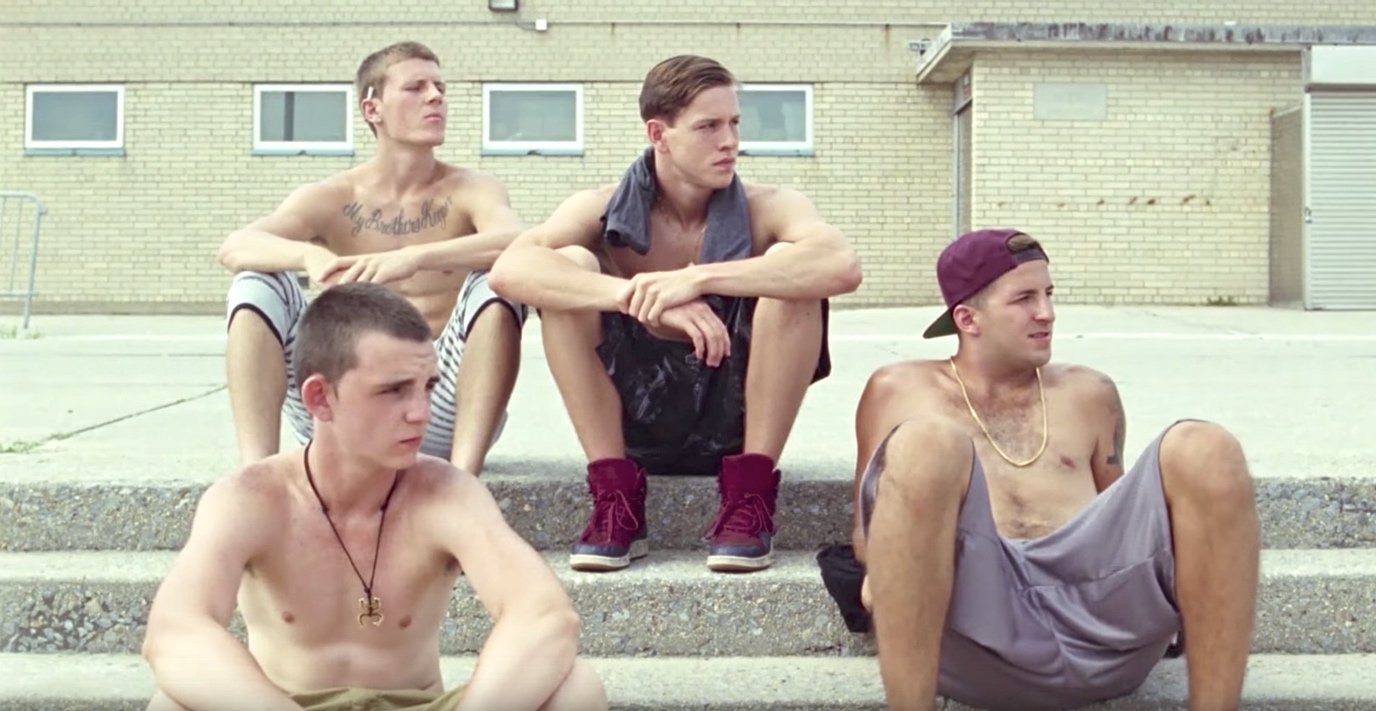 Beach Rats
In Eliza Hittman's Beach Rats, the naturalistic setting isn't a rugged Wyoming mountainside or English pasture, but the beaches of Coney Island. Frankie (Harris Dickinson) is a deadbeat young Brooklynite dealing with the death of his father and his newfound sexual interest in men. Late at night, he chats with older guys online, eventually meeting up with some of them to have sex under the cover of darkness in the brush alongside the cruising beach. Frankie's attempts to keep these activities secret from his friends, coupled with his insistence that he isn't gay or bisexual, but just someone who happens to sleep with men, forces him into evermore precarious situations. The film's final act is one of startling and uncomfortable violence — which feels, ultimately, like a cop-out. Dickinson's performance, however, keeps Frankie from sliding into a purely stereotypical tortured closet case; his realistically brusque dialogue is belied by flickers of hurt or fear across his face. And the world through which he roams is captured in gorgeous 16-millimeter grit, the aching neons of Coney Island's boardwalk dancing across the boys' exposed bodies.

Find out how to watch it here.

Queer women doing cool and/or bad shit in action and horror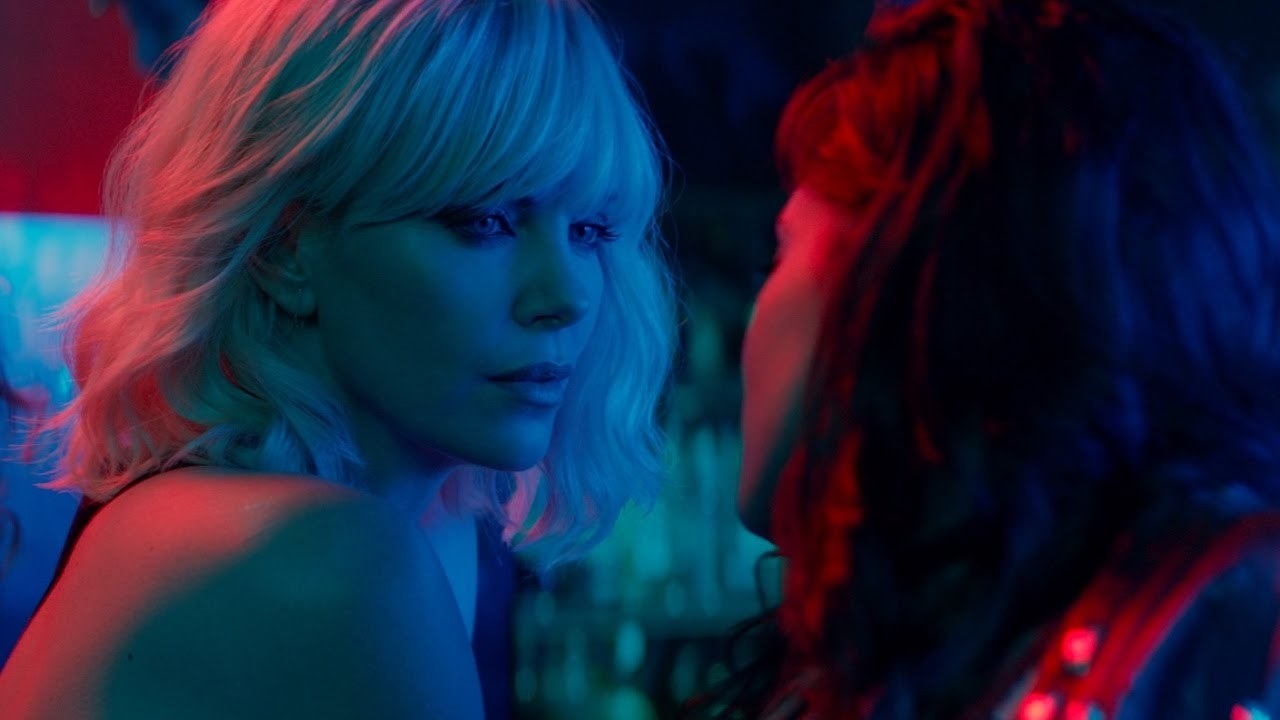 Atomic Blonde
The convoluted plot of David Leitch's Atomic Blonde, a Cold War–era spy thriller, barely makes any sense, but it's such a good time you'll (mostly) forgive that. Charlize Theron is Lorraine, a special agent who's sent on a mission to Berlin to recover The List, a crucial collection of Stasi-assembled intelligence. Throughout the course of her mission, Lorraine runs into a French agent, Delphine (Sofia Boutella) and their eventual sex scene is, well, sexy — without being too unrealistic or male-gazey. There are plenty of twisty-turny identity reveals, but far more enjoyable than the overarching political drama are the incredible fight scenes (including one memorable long take on a set of stairs), all the fabulous outfits Lorraine wears, and a romantic relationship between women that actually feels both organic and believable.

Find out how to watch it here.

Women Who Kill

Ingrid Jungermann's horror-comedy perfectly captures multiple subcultures — chiefly, cranky Park Slope lesbians with too much free time and people obsessed with murder podcasts. Morgan (Jungermann) and Jean (Ann Carr) are ex-girlfriends who host the titular podcast together, for which they interview famous murderesses and pontificate about which female serial killer was the hottest. Morgan and Jean's sad ex-girlfriend dance is interrupted when Morgan starts dating a new girl in town, Simone (Sheila Vand), who may or may not be a serial killer herself.

Those already familiar with Jungermann's dry, morbid humor will find plenty of it here. The trope of lesbians who break up but continue to spend all their time together —bickering one minute and seeming to be on the verge of getting back together the next — is a painfully relatable one. And Morgan and Jean's engaged friends, played by Shannon O'Neill and Grace Rex, capture the queer-specific anxieties around their impending matrimony with cringey, hilarious results. A collection of great performances and a sharp script buoy this small indie film, Jungermann's first as a writer, director, and star. The final act undergoes a rather abrupt tonal shift that leaves the film in a strange place: We're not totally sure how much moral weight we should place on the actions of these droll New York hipsters. But, especially up until that point, it's a thoroughly enjoyable, pitch-perfect satire.
Find out how to watch it here.

Coming-of-age movies that manage to feel different than the millions of other LGBT coming-of-age movies
Call Me by Your Name
And now we come to what's easily been the most talked-about queer film of the year. Luca Guadagnino's stunning coming-of-age romance, based on André Aciman's novel of the same name, has been making audiences cry since its acclaimed premiere at Sundance.

The movie is set in the anonymous lushness of Italian countryside in the '80s. Elio (Timothée Chalamet), a 17-year-old living on an estate with his parents for the summer, becomes infatuated with Oliver (Armie Hammer), a 24-year-old student who's come to work with Elio's archaeologist professor father (Michael Stuhlbarg). He eventually learns that Oliver reciprocates his affections, but it's the lead up that makes their coupling so deeply, soul-affirmingly satisfying, even more so than their actual brief relationship — not least because, as has been thoroughly dissected elsewhere, Guadagnino decided not to include more explicit sex scenes to "create this powerful universality" (which sounds suspiciously like making the film more palatable to straight people). Before they get together, Elio shoving his face into Oliver's shorts and smelling them, as we worry for him that Oliver could walk in at any moment, is one of the most remarkable scenes in a film filled with so many other strange, sensual moments. Plus, duh: original Sufjan Stevens songs.
Find out how to watch it here.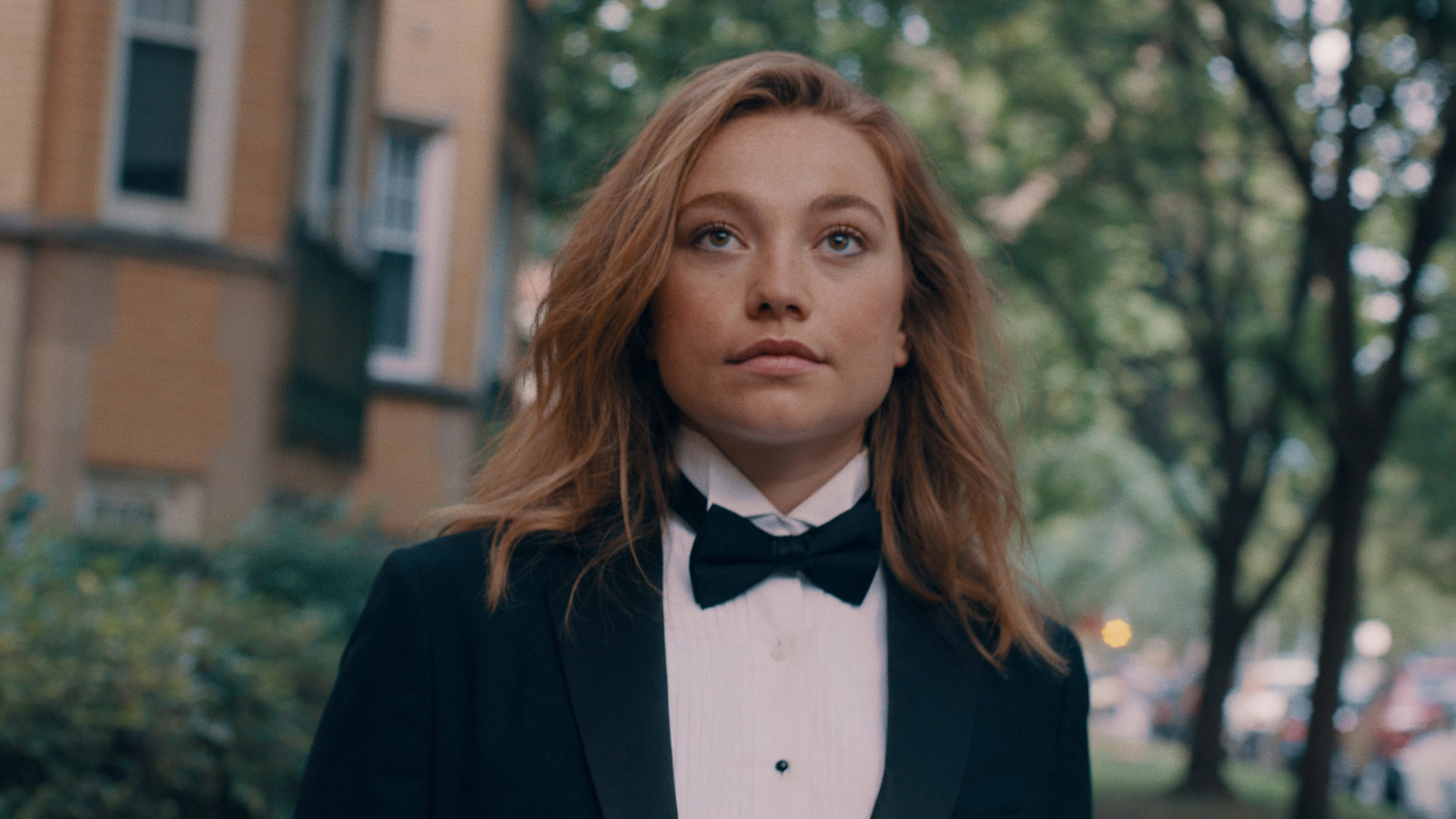 Princess Cyd
Like his excellent 2015 film Henry Gamble's Birthday Party, Stephen Cone's Princess Cyd is another film about teenagehood, sexuality, queerness, and religion — all common themes in LGBT coming-of-age narratives that Cone handles with such specificity, warmth, and generosity that they manage to feel quietly groundbreaking. Sixteen-year-old Cyd (Jessie Pinnick) goes to stay with her aunt Miranda (Rebecca Spence) in Chicago for a summer, getting away from her depressed single father. Miranda, a well-known novelist, hasn't seen Cyd in a long time, and the two get to know each other again across the gulf of generational, religious, familial, and sexual differences. The film amounts to a gorgeous portrait of both women, who are complicated and funny and smart and different.

So much of Princess Cyd's quiet magic is in the details. I so loved Cyd and her love interest Katie (Malic White)'s height difference — having myself been the taller, more femme person in a relationship with smaller, more masculine women — which means Katie's at the exact right height to kiss Cyd between her shoulder blades. I loved Cyd's questions for the two older women in a relationship who come to a party at Miranda's house, because meeting queer people who have been in this boat much longer than you have is such a special part of learning who you are and who you someday might be. I loved that Miranda, an older single woman, has such a rich and rewarding personal and professional life. And I loved that Cyd shows up to Miranda's party in a tux she borrows from Katie, to many compliments from Miranda's friends.
There are conflicts in Princess Cyd, but how refreshing that they aren't intrinsically tied to shame around queer sexuality or gender nonconformity. Cyd is given the space to figure these things out with the help of the women around her she's beginning to love.
Find out how to watch it here.

Fantastic, genre-busting foreign language films (okay, I said I wasn't ranking, but these three were the best LGBT films of the year, IMO)
Thelma
In this Norwegian art-horror psychodrama, the familiar themes of coming of age, queerness, religion, and battling repression crop up in the unique context of a formalist Scandinavian thriller. Thelma, played by incredible newcomer Eili Harboe, is a first-year college student who starts having seizures soon after she starts noticing another student named Anja (Kaya Wilkins). Strange things begin to happen, seemingly connected to the seizures — people, including Anja, disappear.

Thelma takes the tired trope of the Evil Queer Who Deserves To Be Punished and turns it on its head. Her powers eventually go off the rails because she's denying something fundamental, and she'll only be healed when she embraces the part of herself she tries desperately to bury and deny.
Not quite Lynchian and not quite Hitchcockian, but borrowing elements from both filmmakers, director Joachim Trier plays with body horror, visions of wild creatures, and biblical and folkloric doom. But there's also a warm kind of intimacy woven through the formal, highly stylized scenes and dramatic wide shots. Ultimately, Thelma is a love story in which Thelma is learning to love both herself and another woman. Constantly afraid of losing control, she starts to harness the power of her body — sexually, physically, metaphysically — until the oppressions of religion and her parents' desperate hold on it can't hold her down any longer.
Find out how to watch it here.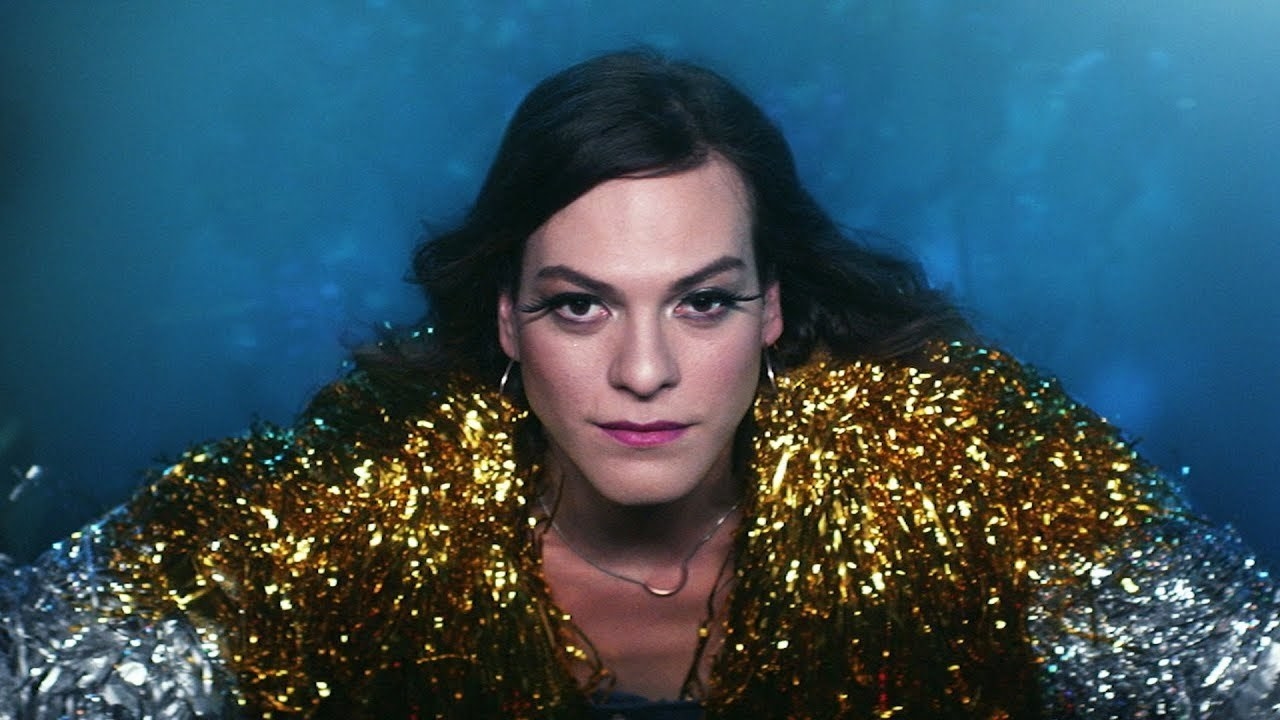 A Fantastic Woman (Una mujer fantástica)
When nearly all of the few transgender characters in mainstream media are played by cisgender actors, it's worth celebrating that, in this Chilean drama by Sebastián Lelio, our protagonist is a trans woman played by a trans woman — and the incredible Daniela Vega's performance as Marina Vidal is nothing short of breathtaking. A singer and waitress, Marina is in love with her older boyfriend, Orlando (Francisco Reyes), who at the beginning of the film finds her singing at a salsa bar before he takes her out to dinner for her birthday. They drink, they dance, they go home and have sex — they exist, even if only for a short while, in a world that seems unmarred by bigotry or prejudice. But then Orlando wakes up in the middle of the night complaining of pains, and Marina rushes him to the emergency room after he takes a violent tumble down their apartment stairs. Before the night's over, he'll have died of an aneurysm in the hospital.
Suddenly, the future Marina and Orlando had planned together is gone. And that's when trouble starts for Marina, who's questioned by the police in the first of a series of painful investigations into whether or not she played a role in Orlando's death.
A Fantastic Woman becomes a story about a trans person overcoming transphobia, which is a daily reality for many trans people, but also one that feels overly prioritized in media about trans lives. Yes, there's discrimination, but what about the full, complicated lives trans people lead between those instances of abuse? To its credit, A Fantastic Woman shows us so much more of Marina than her abuses: We see, in intimate moments, her relationships with her friends, her dog, her burgeoning singing career, and herself.
As A Fantastic Woman goes on, the hyper-realistic film grows slowly and sparingly more fantastical — a wonderfully dreamy dance sequence; an incredible windblown sidewalk scene. And by the film's end, Marina is far from reduced to a hapless victim without depth or purpose. This is, yes, another queer tragedy (at least at the film's outset), but it's about how transphobia can color and complicate another tragedy — grief — and indirectly, it's about how trans people are so much more than the burdens of intolerance and hatred they're forced to bear.
Find out how to watch it here.

BPM (Beats Per Minute) / (120 battements par minute)
Like A Fantastic Woman, BPM is specific in its portrayal of queer struggle and both individual and institutional queerphobia, but not at the expense of queer humanity. The result is a tremendous, specific portrait of a diverse and fully realized ensemble cast, with all their strengths and joys and messy imperfections.

Robin Campillo's film about AIDS activism in Paris in the early 1990s, based on his own personal history with ACT UP, is part procedural, part grand historical drama, part love story. BPM delves into the nitty-gritty of ACT UP's activist organizing, complete with warring factions: the more conventional leaders vs. the radicals who want to be louder, angrier, harsher, queerer. One HIV-positive radical, Sean (Nahuel Pérez Biscayart), falls into a relationship with the HIV-negative Nathan (Arnaud Valois), a handsomely rugged newcomer to activism and through whose eyes we see most of the film. But it's Sean who's our true protagonist.
Sean and Nathan's first sex scene leaves nothing to the imagination, from conversations about and the putting on/taking off of condoms, swapping positions, and breaks to talk about family histories and past lovers. As they're talking, their bodies transform into their younger selves, and we see, almost seamlessly, the scene turn into both men's first times with other men. It is the greatest gay sex scene you'll see this year (or, perhaps, ever?) because of everything it manages to do —drive the plot forward and deepen Sean and Nathan's new connection — and, quite frankly, it's incredibly hot. In a later sex scene, when Sean's gotten sick enough to be hospitalized, we see Nathan reaching into Sean's pants, touching and kissing him, despite the Kaposi's sarcoma lesions visible on Sean's torso, or perhaps even because of them, or some complicated blend of both. It's sex as caregiving, a loving gesture that raises Sean up as he's dying but also acknowledges that he's still very much alive.
As my friend John Sherman recently wrote, BPM amounts "to a rich portrait of HIV/AIDS as a disease not of the dying, but of those fighting to survive." Nathan and Sean are our central lovers, but their comrades include those who are both HIV-positive and -negative, teenagers and their mothers, men and women. And even as we see some of them die, slowly and devastatingly, we also see them dancing. Celebrating. Living.
Find out how to watch it here.