If you've seen Wonder Woman already, then you know that Gal Gadot as Diana Prince/Amazon/Daughter of Queen Hippolyta/Wonder Woman is basically the best thing that has happened to 2017.
BUT...that's not who I'm here to talk about right now. I'm just here to bask in the glory that is Robin Wright as General Antiope. Because, honestly, we should all want to be her when we grow up.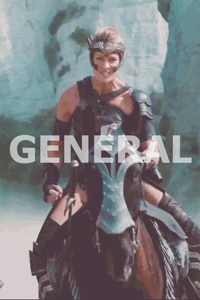 And, everyone, I'm not alone in my love for Antiope. WE ARE ALL HERE FOR HER:
1.
BECAUSE JUST LOOK HOW FIERCE SHE IS:
2.
LOOK AT HER RIDING THIS HORSE INTO BATTLE:
3.
She's not a princess anymore:
4.
She's no one's captive:
5.
She's a MF-ing general:
6.
JUST LOOK AT HER SOARING IN THE AIR:
7.
We are all fanning ourselves over her badassery right now:
8.
I mean, she even has her own action figure:
9.
Which means she pretty much needs to be the star of every action movie ever:
10.
I mean, that warrior face, though:
11.
And her battle smirk:
12.
She even passed that smirk onto Diana:
13.
She was so great that we all desperately need more of her:
14.
TBH, she deserves her own movie so we can find out everything about her life:
15.
Basically, at the end of the day, she's the woman we all want to be: