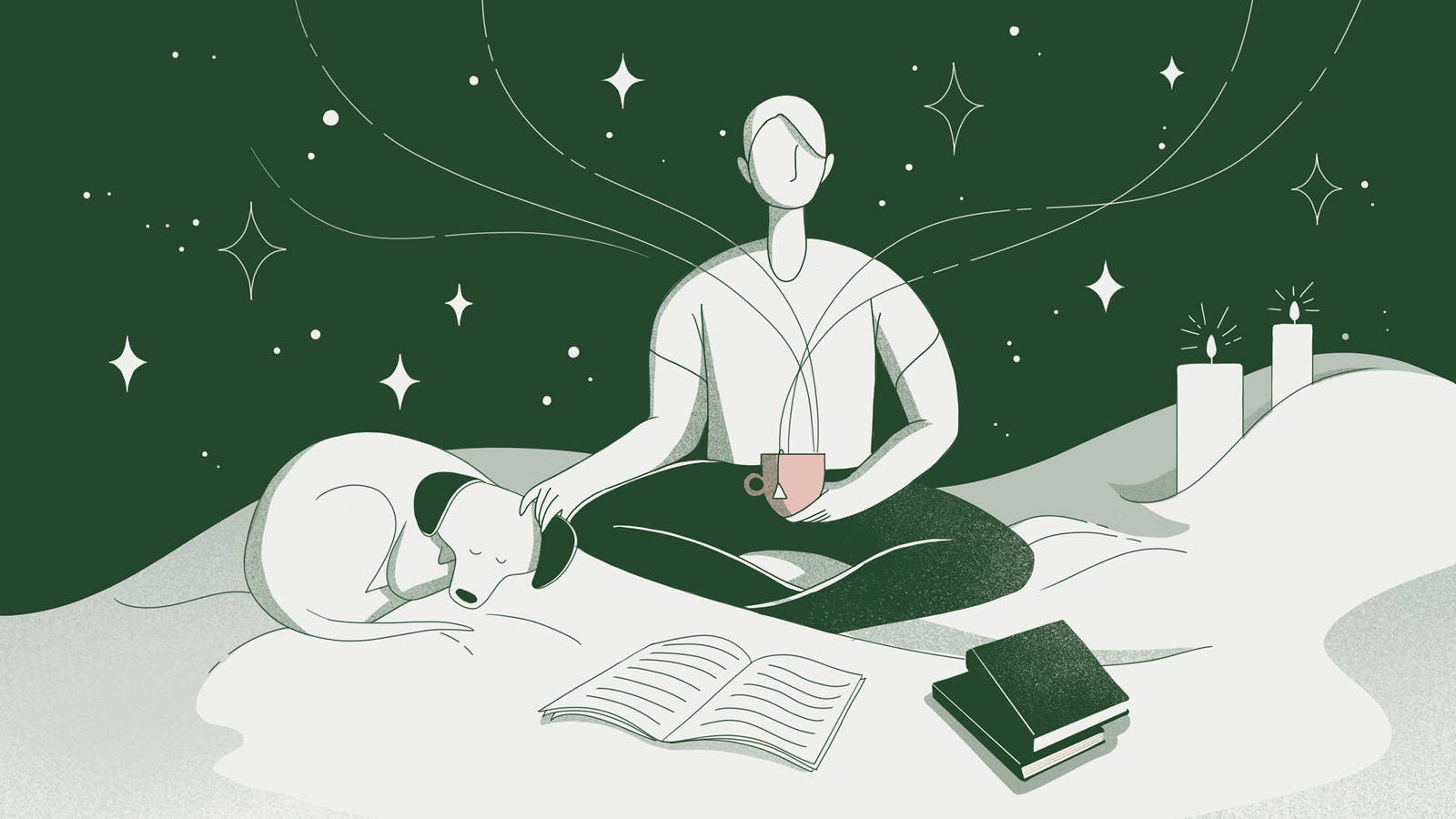 We take self-care seriously, and believe it can take many forms. It could be a HIIT class or a nap; a night out with friends or a night at home alone; a 90-minute massage or a day spent volunteering; saying yes or saying no. At its core, we believe that self-care requires spending time getting to know yourself, and a willingness to be vulnerable — because if you don't know what you need or are uncomfortable admitting that you need it, it's pretty difficult to take care of yourself or be cared for.
There's no "right" way to practice self-care, but we hope these Goodful posts will help you build a self-care kit filled with tools that serve you and help you feel a tiny bit better:

While there's no shortage of information on self-care out there, we wanted to create a more or less definitive guide to what self-care means to us and how you can apply it to your own life and health — a kind of one stop shop for your mind, body, and soul when you need it.
This is my go-to routine when my brain feels like it's on fire (which is...sort of often these days).
Bullet journals are amazing for tracking tasks, thoughts, activities, and life events, so they lend themselves really well to recording info about your physical and mental health. We worked with clinical psychologist Andrea Bonior, PhD, to put together this mega-list with spread ideas.
If you are physically incapable of not smashing "next episode" — and then often find yourself awake at 4 am questioning your life choices — this list is for you.
A heartsong journal is basically an "encyclopedia of you." It's a special notebook, separate from your day-to-day journal/diary, where you can write the meaningful things that are really close to your heart, and that you want to reference again and again.
~Being happier~ is a complicated thing, and much easier said than done, but there are things you can do and tweaks you can make to improve how you feel day to day.
"I have a lot of bad days, but on my good days, I quilt." This post, crowdsourced from the BuzzFeed community, will inspire you and give you practical ways to feel a little better during tough times.
You can't truly take care of yourself if you don't know what your needs are, and knowing how you tend to react to certain situations and perceive the world is at the core of understanding those needs. So this post has tons of ideas that'll help you get to know yourself better in the service of self-care.
When you're having a bad moment/day/week, this can serve as a kind of "break glass in case of emergency" kit to help you feel a tiny bit better.
A few years ago, a coworker got me into puzzles, and I've been hooked ever since. And I don't think it's an accident that I got into puzzles during a personal low period. When your life is falling apart, literally putting something back together is powerful.
"People often think of makeup as a kind of mask, used to cover up or hide, embellish or enhance," Goodful editor Gyan Yankovich writes. "But for me, my makeup routine is a process that allows me to start my day with a clear mind. Even the simplest of makeup routines take time, and no matter how haphazardly you swipe on your daily BB cream, that process will always come with a moment of concentration followed by a moment of reflection."
For a lot of people, self-care involves relaxing or distracting rituals that make life feel just a little better. This is a round-up of products, sourced from the BuzzFeed Community, that are supremely satisfying and soothing.
Sometimes, self-care is as simple as having an app remind you to drink some water. So whether you need something for habit-tracking to anxiety management, here's a list of our favorites.