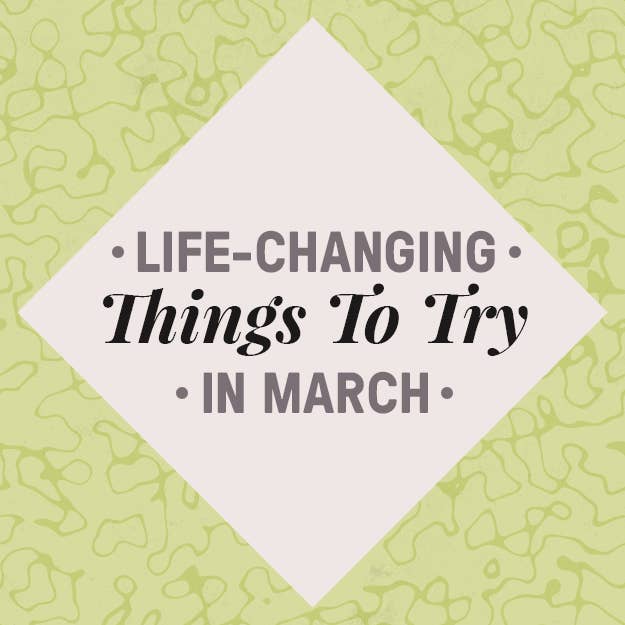 The BuzzFeed staff is always trying new products, apps, hacks, and DIY projects, and we decided it was time to start sharing the best of them with you. Each month, we post our recommendations for what's actually worth it. For the sake of transparency, items under "Things We Bought" and "Tricks We Learned" were purchased with our own money and/or were not the result of a PR pitch. Those under "Things We Tried" are items that were provided to us at no cost for the sake of review. (But! We're under no obligation to write a review of those things, let alone a positive review.)

Let us know in the comments what sorts of things you'd like us to review next month!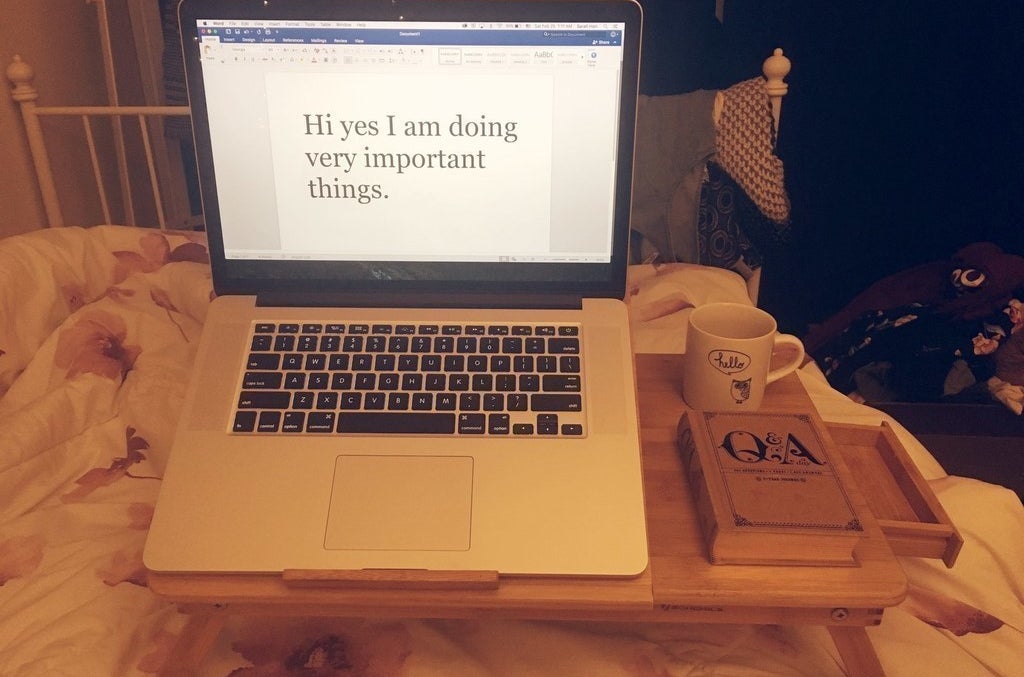 Sometimes friends just get you as a person, and what I mean by that is they buy you a birthday present from one of your BuzzFeed posts. As much as I try to fight my sloth-ness, sometimes it can't be helped, and I'll shout it from the rooftops — I fucking love my bed!!! Not just for sleeping of course; anything is better in bed — eating (crumbs...are just a part of life, ok), doing work, watching TV, pondering life's deepest questions, etc. Enter this laptop desk.
First of all, anytime I put my laptop on my lap, I immediately hear my mom scolding me about the radiation, heat, or this-and-that. So with that, since I hate leaving my bed and I *need* to have a sturdy surface to work (or watch YouTube) on, this desk solves everything. Better yet, I can snuggle underneath my blanket and wiggle my legs around whenever they start to fall asleep. I usually use it flat, but you can also elevate the desk (there are different notches for your preferred angle and a removable wooden ledge to prevent your laptop from avalanching onto your chest). There's also carved-out patterning to provide ventilation, which helps *to an extent* (but I usually have ~223 tabs open, so I'm doubtful).
There's also enough room on the desk next to the adjustable portion for snacks and a little round indent for a cup of water (or wine, in my case). And last but not least, there's a little drawer that slides out on the side. When I'm not using the desk, I just pop it underneath my bed. I could literally wake up and scoop up my desk in seconds, and thus live my best life. Writer-recommended, sloth-person-tested-and-approved. —Sarah Han
Get it from Amazon for $29.99.
Are you consumed with stress about the current state of our nation? Spiritually exhausted from waking up every day to a torrent of push notifications starring today's fresh terrors? Feeling helpless to fight back against the tide of constitutional flotsam and jetsam? You should donate to worthy organizations, of course, and take real life political action in whatever your preferred form, yes. But, reader: I ask you also to consider the cheap catharsis of sliding a pin into a plush doll wearing a Velveeta-colored toupee. I'm breathing easier already. —Jessica Misener
Get it from Donald Trump Voodoo on Etsy for $9.95.
3.
Hubble Contacts, a Warby Parker–esque service that will save you big bucks on daily contact lenses.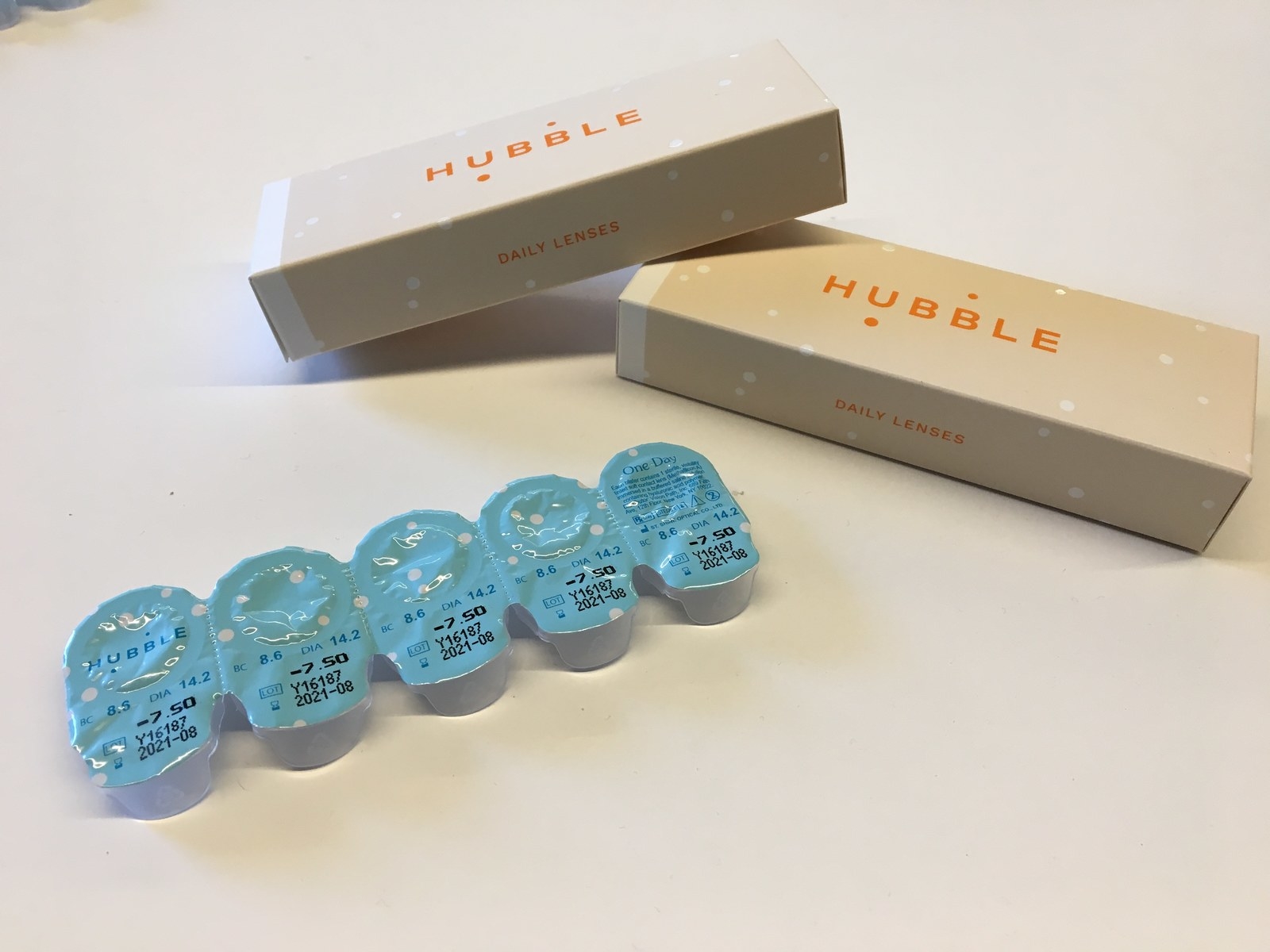 4.
There Is No Good Card for This, an illustrated and relatable guide that'll help you empathize with others and learn what to say when there's just nothing good to say.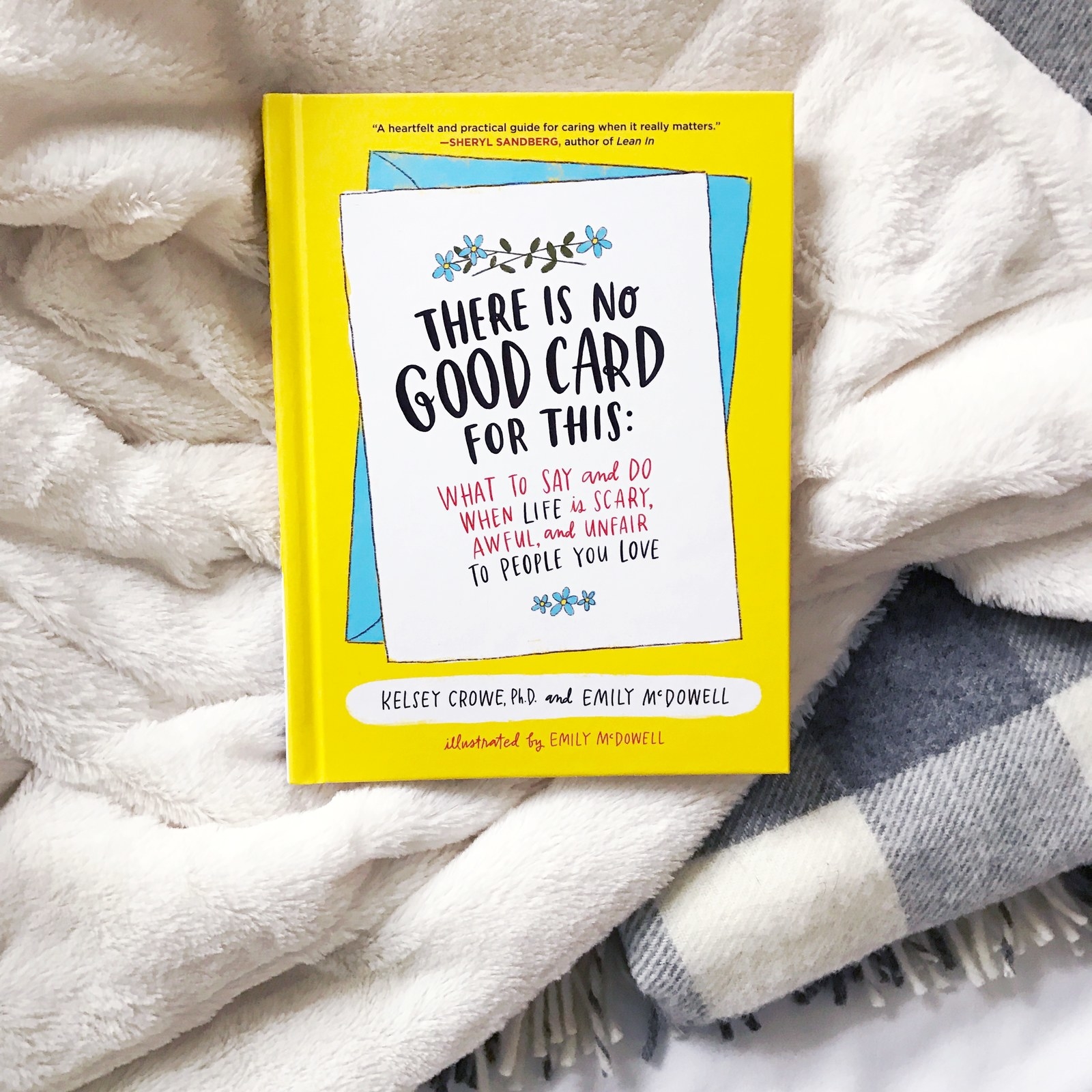 5.
Roomba 650, a robotic vacuum that will keep your floors spotless while entertaining you (and frightening your cat) for hours.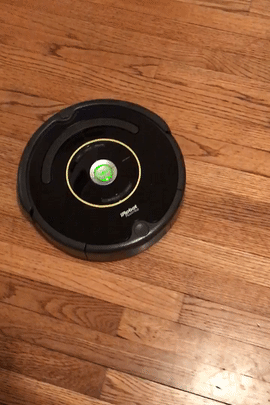 I'm just going to admit it — vacuuming has never been my forte. I like to think of myself as a relatively clean and organized person, despite my general ambivalence toward the actual act of cleaning. But when my roommate got a cat, the situation changed. Suddenly, there were little bits of cat litter and clumps of kitty fur strewn about our apartment. Somewhat jokingly, my roommate had asked her family for a Roomba as a birthday gift — and lo and behold, she got it. Here was our solution.
My only experience with Roombas up until then had been watching GIFs of animals riding them (which are terrific, to be fair). Naturally, I wanted to see if we could get the cat to ride it. Alas, she was not a fan. But despite my inability to turn the Roomba into a feline ferry, it has become one of the coolest cleaning tools I've ever used. It might be that I am overly excited by technology, but the fact that you can tell the Roomba to go back to its charging station by pressing a little button felt life-changing.
In terms of actual cleaning power, the Roomba has a solid edge over my old technique of "just Swiffer for a little and it will all be fine." The tiny pebbles of cat litter are easily removed, and the little bits of fur get sucked right up. Is the Roomba the most efficient cleaner? Maybe not, although that is likely due to the random pieces of furniture and cat toys that get in its way and make it reroute. And it could definitely be a little quieter, although you can solve that issue by scheduling a cleaning for a time when you're out of the house.
On the whole, though, I'd recommend a Roomba if you can afford it (or can guilt friends and/or family into gifting you one). And if you can get your pet to ride on top, please send me a video. —Adam Davis
Get it from Amazon for $324.99.

A few years back I decided to paint my living room, and even though I knew better because I worked at a home improvement magazine at the time, I opted out of using primer to save some cash. But that wasn't my only mistake. I also tried to copy some friends' ~very tasteful~ light-mint living room by guessing at color swatches in the store without taking samples home. My roommate and I decided that we didn't want to go "too subtle," which is how we ended up with Key lime pie–green walls. But we made do with our "don't" and toned it down with cool gray wall art and decor pieces.
So when I signed my lease yet again, I decided that the green must go. I asked Benjamin Moore to let me try their primer + paint product Regal Select in Interior Eggshell in White Dove OC-17. I moved my furniture, put down drop cloths, and went through all the other paint-prep motions before taking a break from Sunday social obligations to give my living room a new look. The paint went on thick, which did wonders for masking the green during the first go-around. But that also meant I had to reload paint onto my roller quite often and use more of this primer/paint formula than I did when I painted my living room a few years ago with just paint. (I had to do three coats of paint then. This is why you use primer, people!) This time, it was like the walls just soaked up the stuff.
Overall, I used two coats and then my roommate and I touched up a few spots that didn't look as bright white as we finished different parts of the room. The zero-VOC paint also had a lot less of an odor than other interior paints I've used in the past. It resulted in a smooth, even finish that brightens up the room in a way that makes me feel like I'm living in a minimalist Scandinavian home tour. (I am most definitely not a minimalist.) I used 1.5 gallons, which means that if Benjamin Moore hadn't sent me the paint to test, I probably would've paid around $100 for the two gallon cans. My living room is completely transformed. Now I just have to make some tough decisions about wall art. —Elizabeth Lilly
Get it from Benjamin Moore for $47.99 per gallon.
7.
Hello Fresh, a meal delivery service that'll help trick people into thinking you're a chef.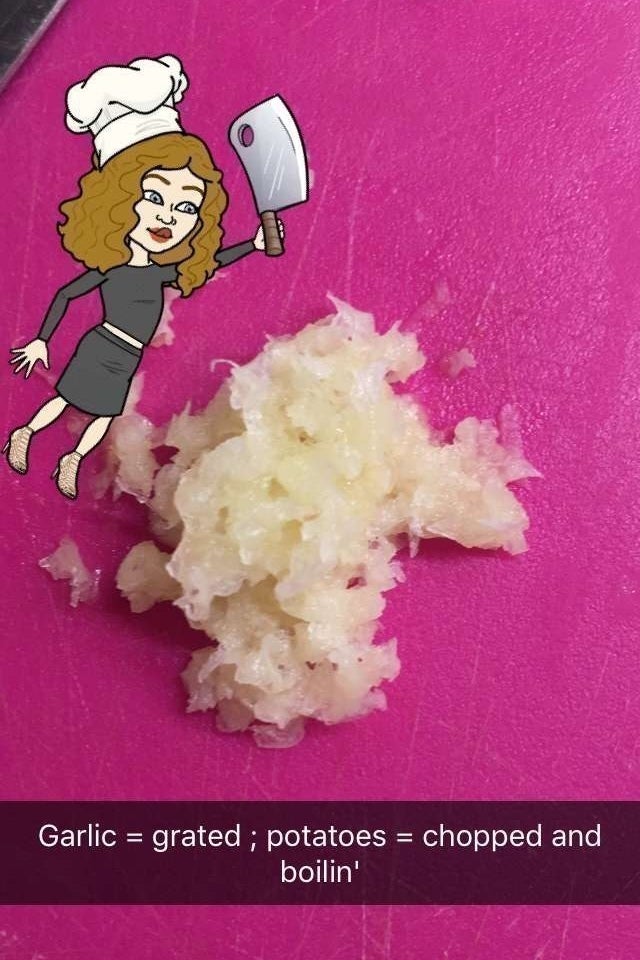 I am quite a good baker (ask me to make a cake for you sometime), but only a fair-to-average cook. There are a handful of things I can make pretty damn well, but honestly, I'm lazy and I live alone, so dinner is more often than not takeout, a Trader Joe's frozen item (looking at you, Mandarin Orange Chicken), or just a series of never-ending snacks masquerading as a meal.
Enter Hello Fresh, a meal delivery service that sends you all the ingredients you need to prepare dinner. I was sent three sets of recipe cards and ingredents — panko-crusted cod with herbed potatoes and carrots, sesame peanut noodles, and beef and poblano chili. The ingredients arrived, perfectly packed and perfectly chilled on a giant block of ice.
I must say — forking the velvety potatoes, chopping the crunchy peppers, and whisking together the sesame sauce reminded me how much I like to cook, especially when I don't have to worry about forgetting an ingredient at the grocery store. And I loved trying recipes and ingredients that are not in my repertoire. Yes, the packaging is wasteful compared to buying full-size ingredients, but also look how cute that little fish bottle is (see below)!
What Hello Fresh is best for is trying new techniques described in a foolproof manner that you can use again and again. I'd never poached chicken before; it seemed weird and/or difficult. But the result was moist, tender, and perfectly shreddable chicken — I will absolutely use the same technique to make BBQ pulled chicken. And my faaavorite recipe of the three was the chili. It tasted like it had been simmering all day — the cumin added lots of good flavor, and the beans and meat made for a very hearty meal. Never had I ever made chili before. 10/10 will make a similar recipe again.
My only complaint is that some of the recipes were on the bland side (except for the chili). I understand why — lots of people like plain food, and it's easier to bump up the flavor and spice level than to take it down a notch. But when I accidentally put all the spicy oil into my sesame noodles (having my BFF Jill over to watch me cook was quite a distraction), I expected them to be spicy AF. They weren't spicy at all. So if you like lots of spice, herbs, or other flavors, just add whatever you have on hand.
Moral of the story: If you feel like you're in a cooking rut and want to try new recipes or master new techniques, Hello Fresh is a great option. —Maitland Quitmeyer
Try Hello Fresh for $8.74 per meal.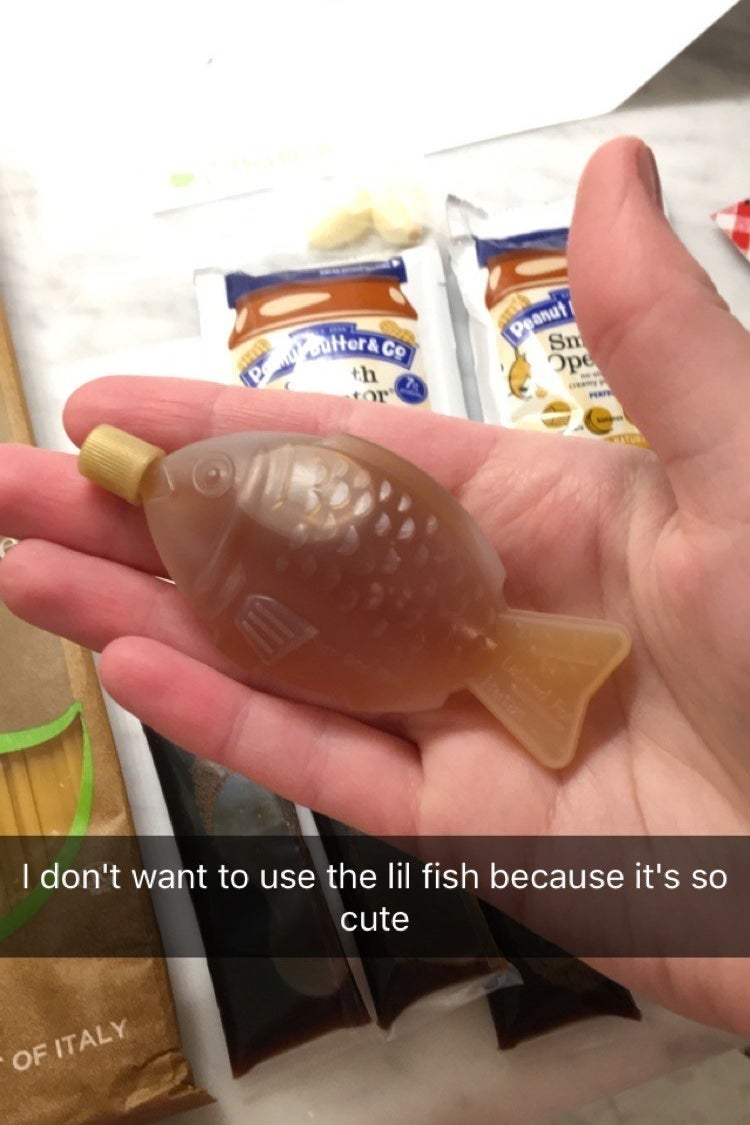 Want even more great product suggestions? Sign up for BuzzFeed's Gift Guide Newsletter!
If you can't see the signup box above, just go here to sign up for the BuzzFeed Gift Guide newsletter!