If you're like me, you haven't been able to think about any TV show other than Bridgerton since you watched it — and you're specifically replaying every single Kate and Anthony moment in your head.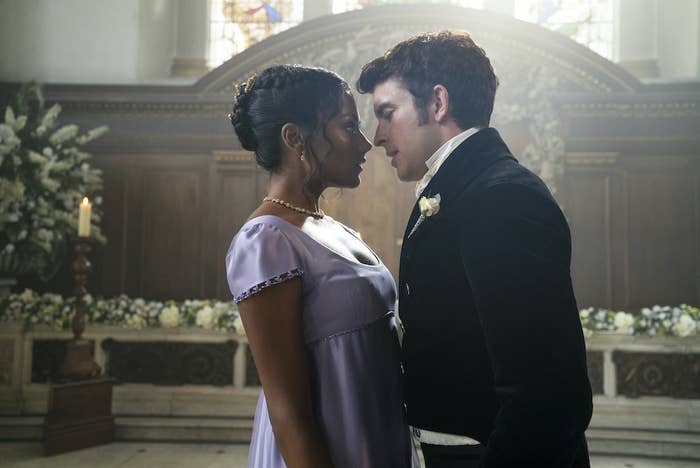 Well, in case you weren't obsessed enough, I rounded up every adorable behind-the-scenes photo of the cast that I could find. Warning: These will make you want to watch all over again. Enjoy!
1.
First, here's Simone Ashley and Jonathan Bailey looking absolutely adorable while eating cake:
2.
And, um, here's a photo that simply is THE BANE OF MY EXISTENCE AND THE OBJECT OF ALL MY DESIRES:
3.
Here they are again practicing their dance moves as Kate and Anthony:
4.
And here's a look at the perfect on-screen couple posing for a photo: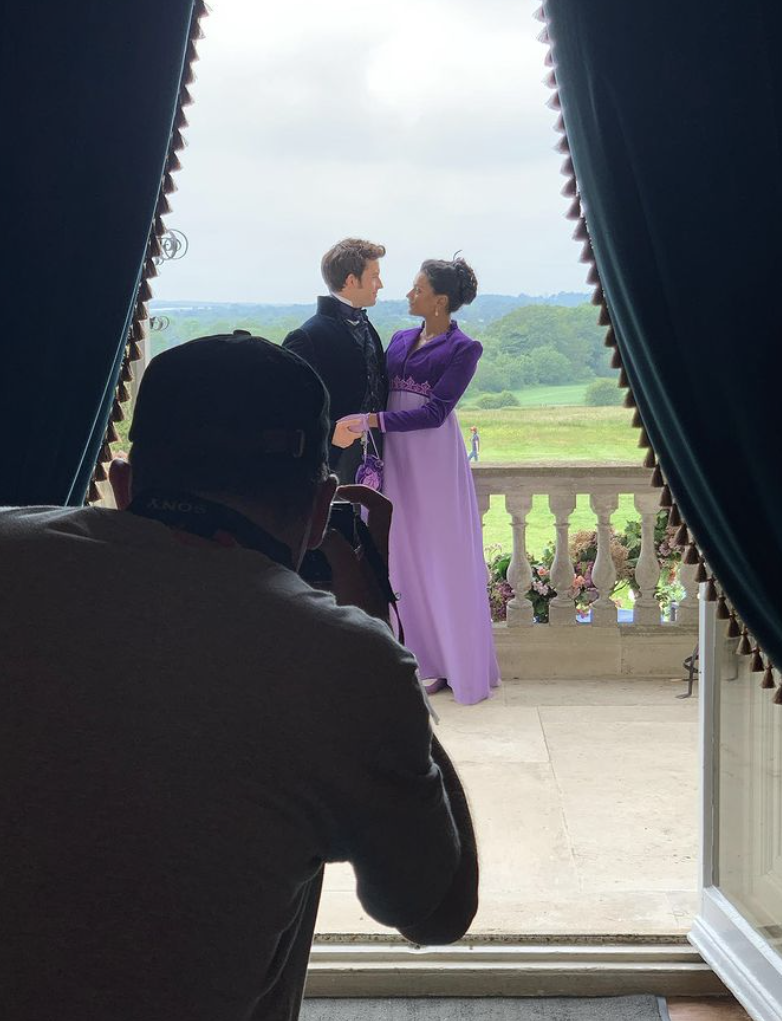 5.
Nicola Coughlan shared this simply adorable photo of her and Claudia Jessie, breaking my Peneloise heart:
6.
Phoebe Dynevor shared this adorable Bridgerton family selfie, complete with baby Augie:
7.
Nicola Coughlan shared a wealth of fun BTS shots in one carousel. Like this one that makes the Featheringtons look like a way more functional family than they are...
8.
This stunning photo of Adjoa Andoh, Golda Rosheuvel, and Shelley Conn: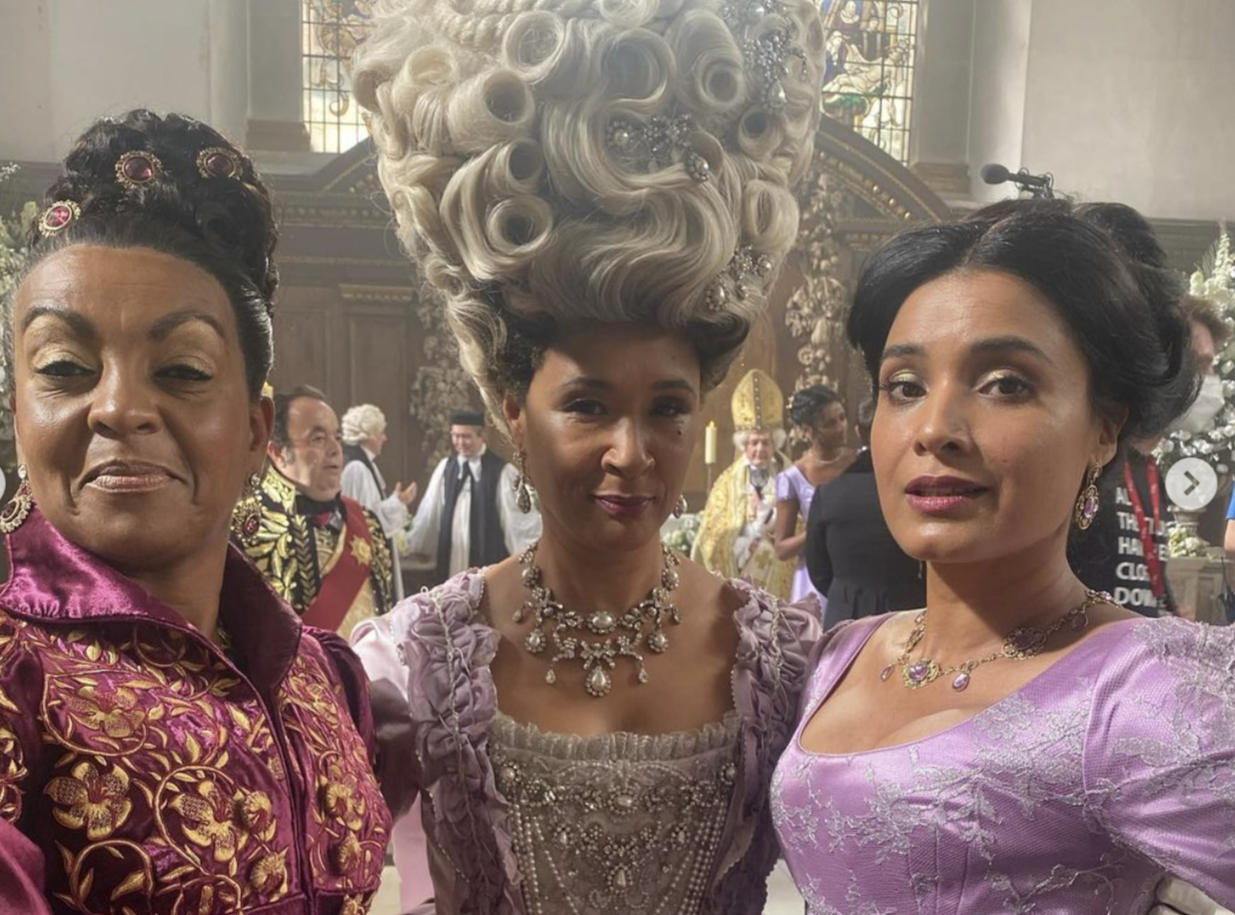 9.
This adorable Featherington/Sharma selfie: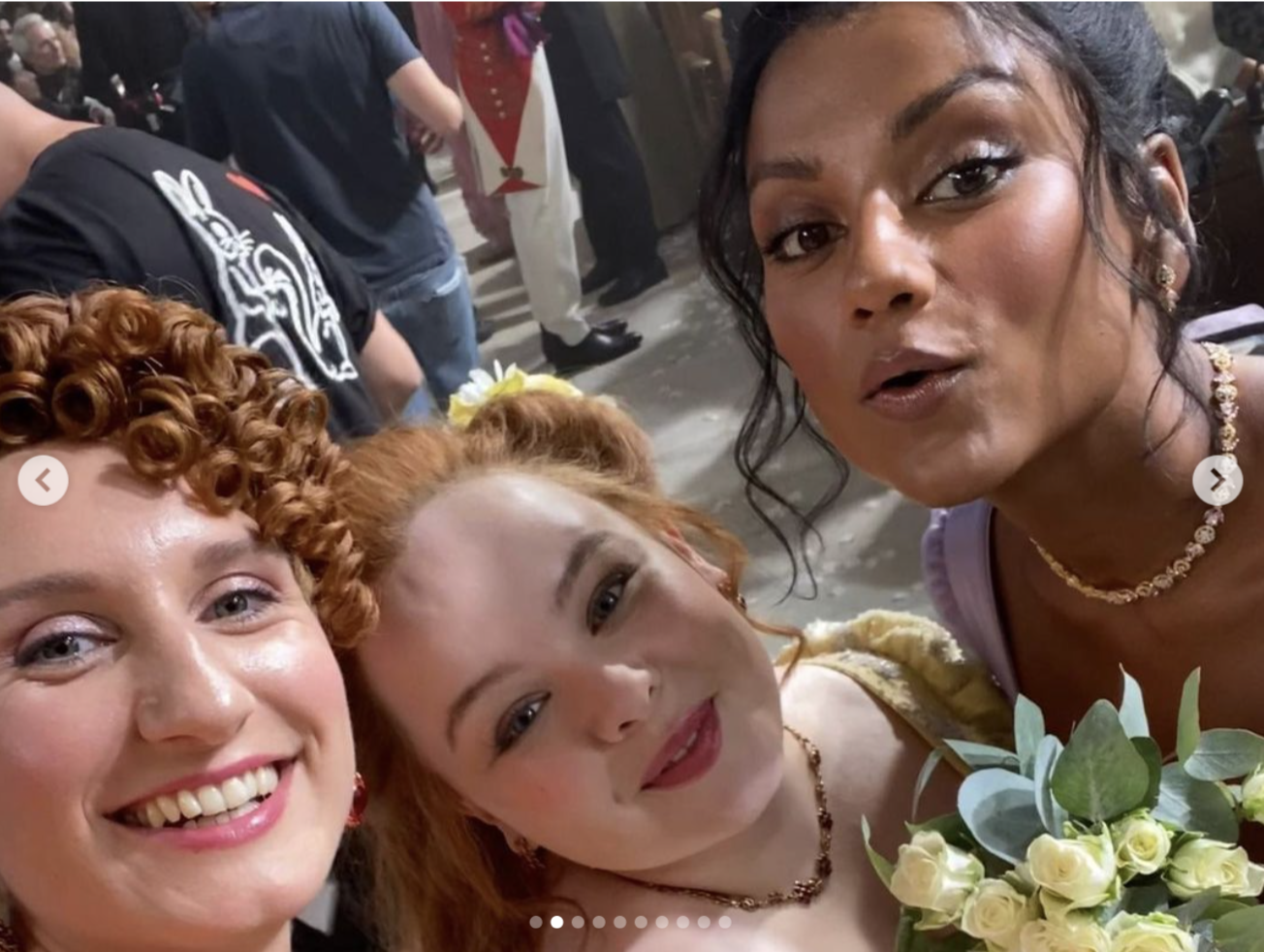 10.
This epic mirror selfie: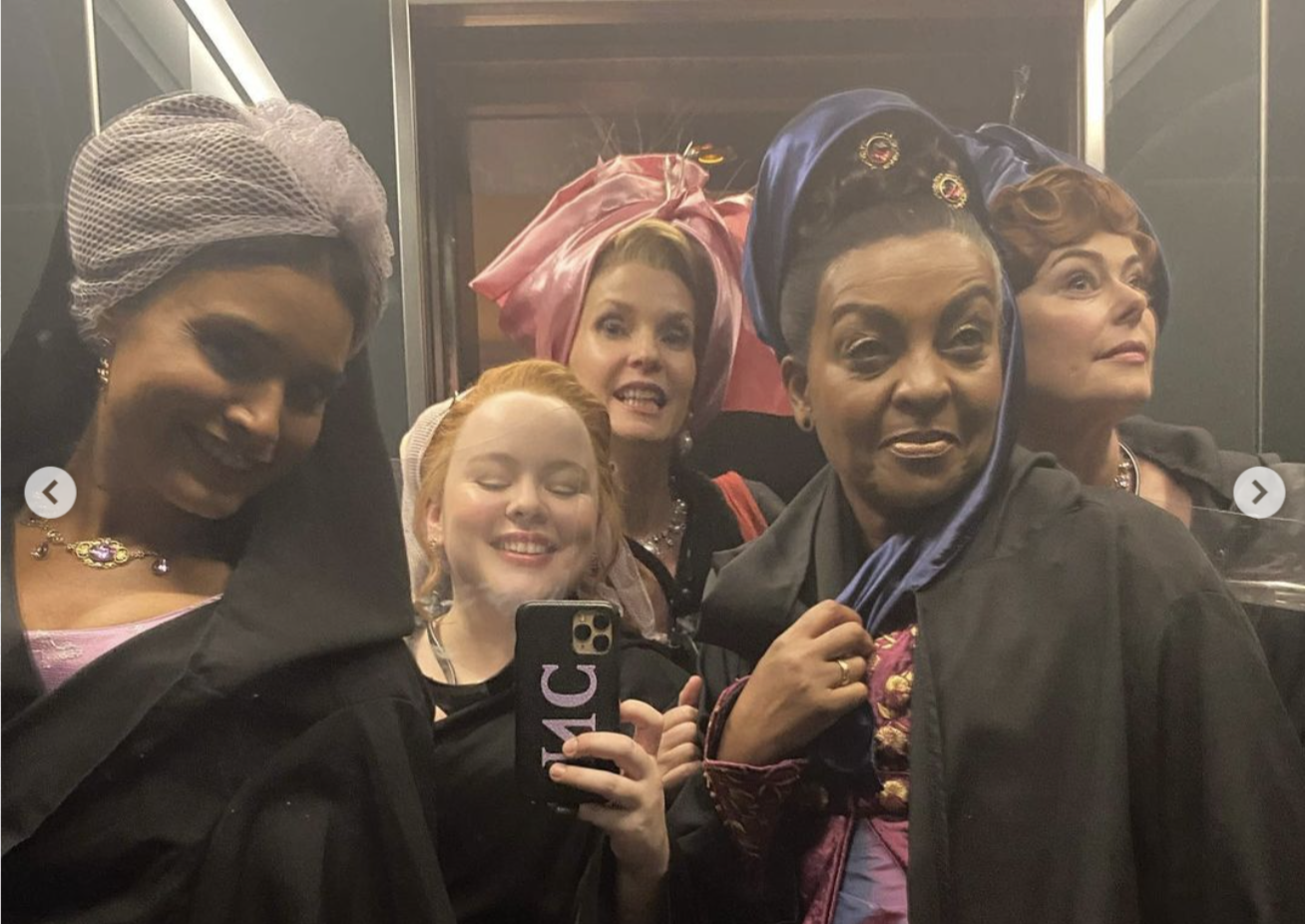 11.
And this anachronistic umbrella shot: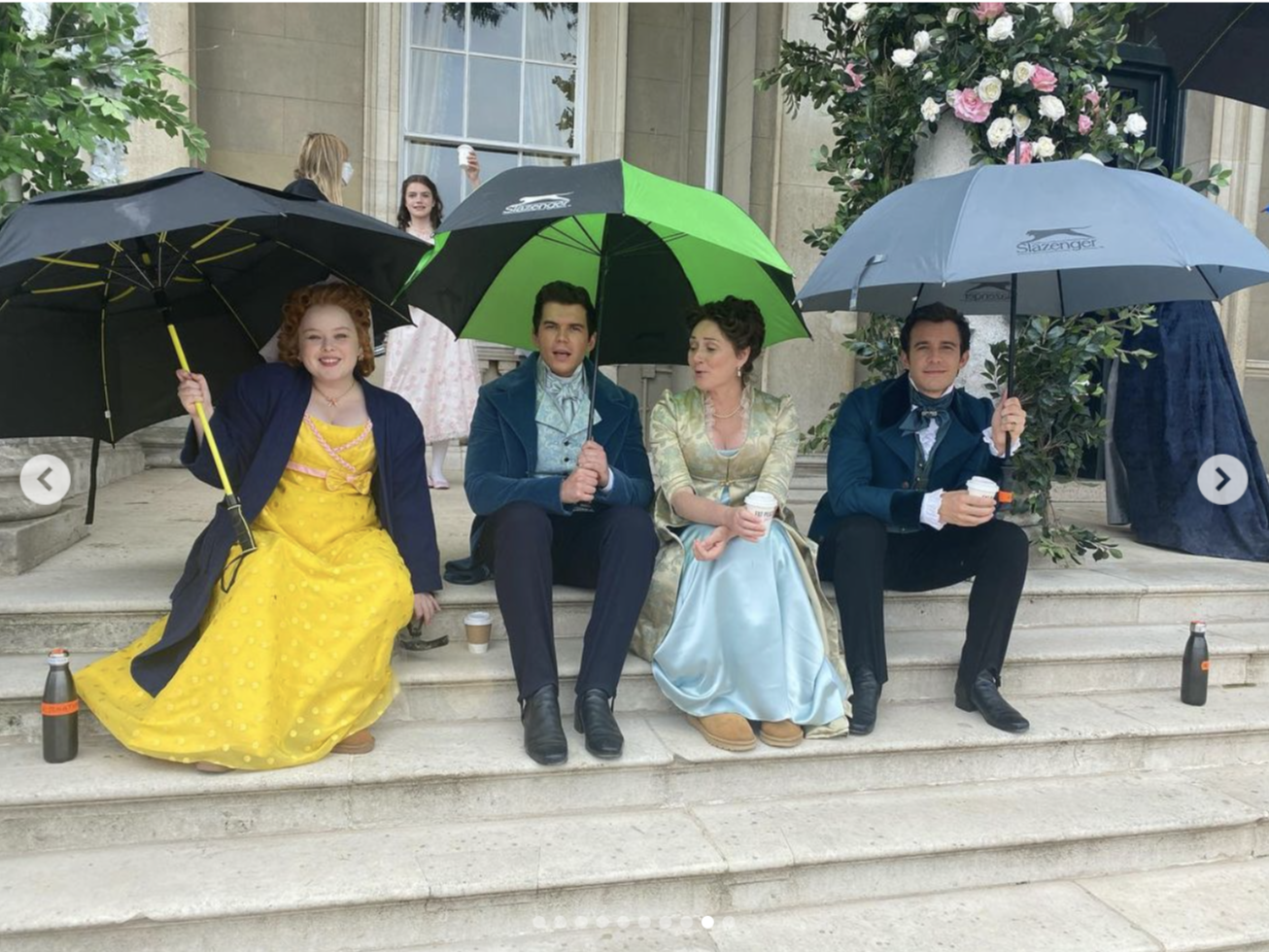 12.
Bessie Carter shared this very artsy shot of her and Martins Imhangbe, taken by Luke Newton — aka Colin Bridgerton himself:
13.
And here's a group shot along with #Polin:
14.
Meanwhile, Martins shared this pic of himself sipping on a slushie while in full period garb:
15.
Bessie also shared this delightful photo of herself, Rupert Young, and an orange:
16.
Nicola shared yet another amazing carousel of photos — you just need to take a scroll through for all the BTS fun:
17.
But I particularly love this look at Charithra Chandran and Simone Ashley rehearsing a Sharma sister scene: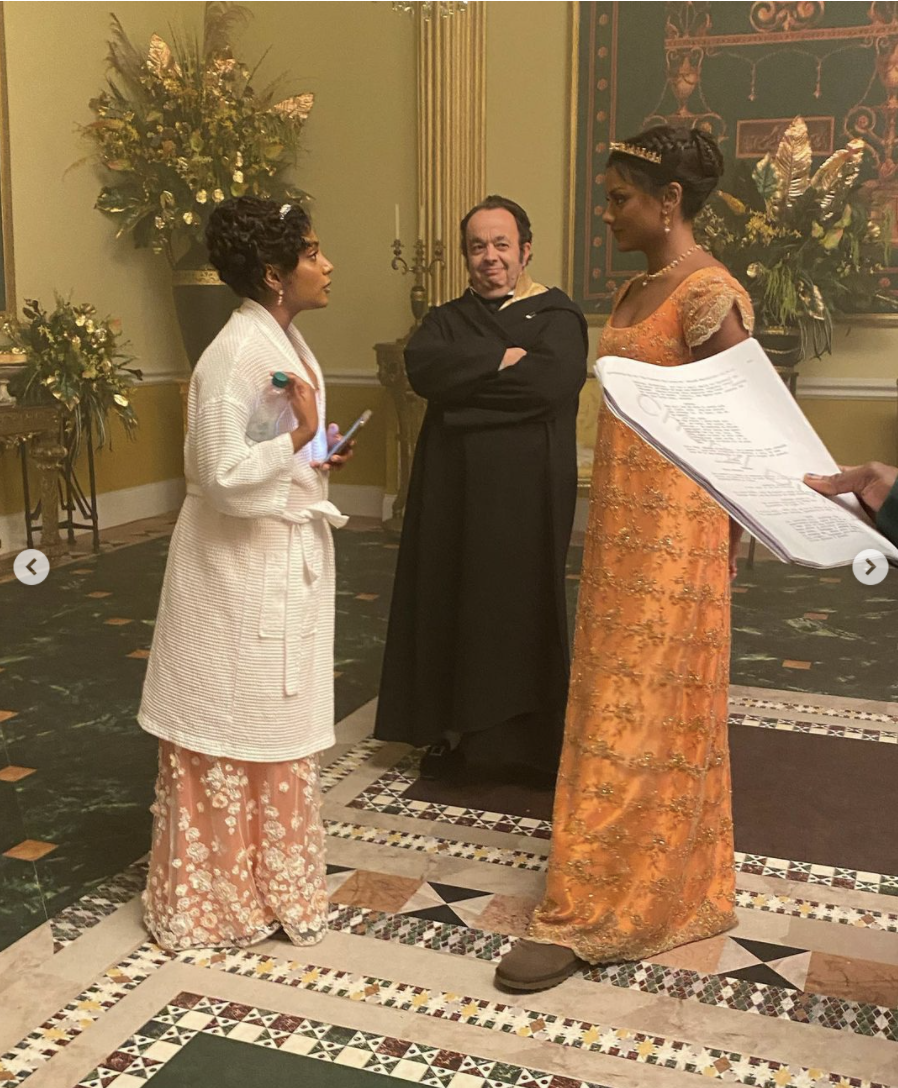 18.
Luke Newton shared a pic of himself in Bridgerton Manor:
19.
He also shared a throwback of the very first time the Featheringtons met the Bridgertons:
20.
Calam Lynch (aka Theo) gave us a glimpse of him and Claudia Jessie behind the scenes:
21.
Adjoa Andoh shared this Charlie's Angels pic of this absolutely iconic trio:
22.
Polly Walker gave us a look at everything it takes to turn her into Portia Featherington:
23.
Will Tilston gave us a look BTS of Eloise and Gregory's dance:
24.
He also shared a selfie in costume:
25.
Florence Hunt provided us with possibly the greatest TikTok of all time:
26.
She also shared this sweet Bridgerton family pic:
27.
Kathryn Drysdale (aka Madame Delacroix) shared this cute photo of her and Claudia Jessie:
28.
And a photo of herself out and about in town:
29.
Martins Imhangbe shared a selfie — and a sweet set of BTS pics:
30.
I particularly love this shot from the "wedding of the century":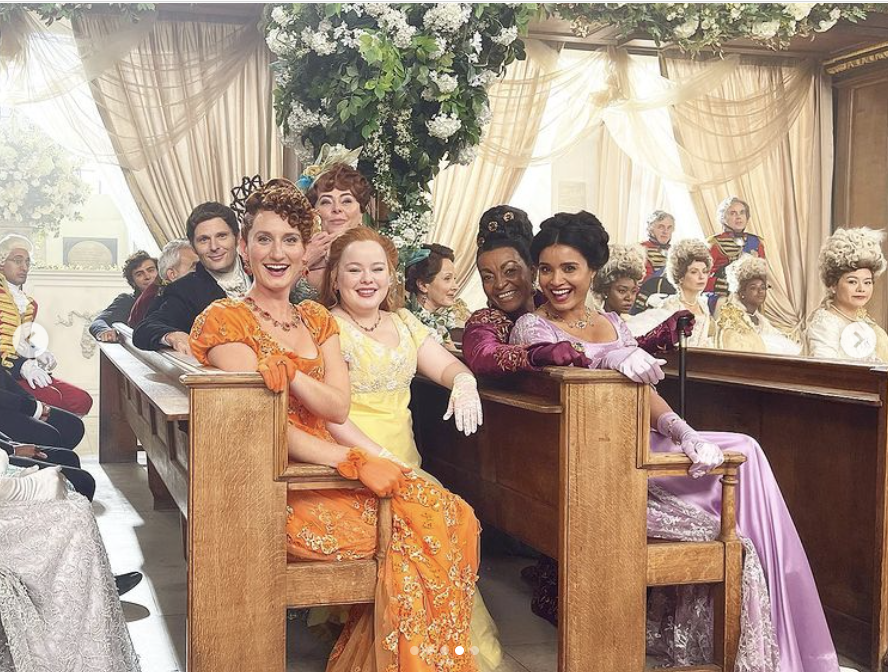 31.
Emma Naomi (aka Alice Mondrich) shared an adorable photo with Adjoa Andoh:
32.
Here's Simone and Jonathan with showrunner Chris Van Dusen (I'd honestly give anything to take his place!):
33.
Chris Van Dusen shared this adorable cast photo off set, when they all watched the first episode of Season 2 together:
34.
And finally, Nicola Coughlan shared this large cast photo on set — I miss them all already!