163 Thoughts We Had Watching The "Pretty Little Liars" Season Premiere
"Literally stop with the yellow top. Please."
by
,
,
,
,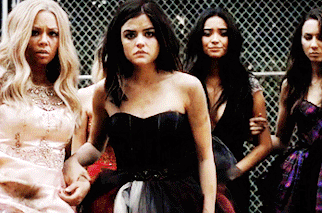 1. OMG yes here we go.
2. FINALLY SOME ANSWERS.
3. OMG WHO IS THAT BLONDE BITCH IN THE DOLL HOUSE??!
4. NOW IS YOUR CHANCE TO ESCAPE LADIES WHY AREN'T YOU MOVING??
5. Lol thanks Spencer for saving everyone's lives as per usual.
6. Handy that those signs were there to warn them. It's almost like Charles doesn't want to kill them.
7. He has had about 1066 chances by now.
8. Hanna being all "we're still trapped" like well yes, technically Hanna you've been trapped for six fucking seasons now.
9. "There's no way out" UM excuse me you looked at like one section of the fence how about you try a little harder before giving up?
10. Alternatively, "there's no way out" is a great way to describe EVERY PLL FANS' FEELINGS RN.
11. HANNA STOP ANTAGONISING CHARLES.
12. I kind of love it though.
13. Spencer has no time for Hanna's shit.
14. "Facetiously" oh look at Hanna learning new words.
15. Did the stress from being trapped in the Saw house dissolve the blonde streaks in Aria's hair tho????
16. Why don't they try to dig a hole under the fence or something?
17. Goddamit I feel like they're not even trying to escape.
18. When you're trapped outside in a damn ballgown so you all lie down elegantly like it's a damn Vogue spread.
19. "This is our life now" - the PLL girls as they lay around in the dirt, without looking for another way to escape or, I don't know, screaming for help.
20. I get laying in the dirt and trying to sleep while it's dark, but it's just kind of weird in the daytime?
21. "How long can a person live without food?" Longer than the three hours you've been without it, honey.
22. DO SOMETHING GIRLS.
23. Other than destroy your pretty dresses, that is.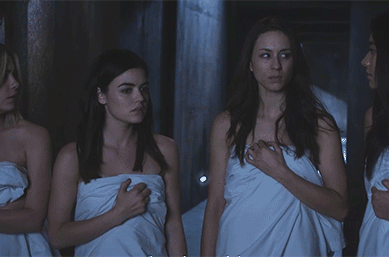 24. WHO THE FUCK BUILT THIS HOUSE and all its electronic doors and secret passageways and air vents like how much time and money did that take? Surely you had better things to do, like embed notes in Hanna's gums or something.
25. A could use their money for so much more tbh.
26. Like to buy a new fucking top for example and get rid of that yellow one.
27. A also still couldn't figure out a way to have the generator not fuck up EVERY DAY THO.
28. Oh THE GAS MASK, it did have a purpose. It was so Mona didn't get gassed? But she's still a prisoner?
29. Also why give her the gas mask in the first place if Charles ended up using it on Mona himself?
30. Now they're naked on metal slabs. Charles undressed them while they were unconscious from the gas? Charles is such a creeper! Well, more so than usual.
31. Is this where the four of them finally hook up and ease that sexual tension?
32. OK, nope.
33. OMG what are they screaming about?!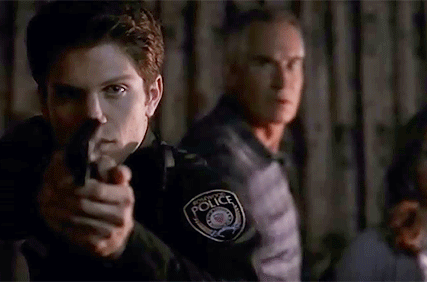 34. THREE WEEKS LATER WHAT? WHAT? WHAT?
35. Holy shit they've been in the Saw house like a month?
36. When did Alison start dressing like a soccer mom?
37. Her hair is very "mom" too.
38. These cops. So hopeless.
39. OH HELLO JASON.
40. Jason is so pretty.
41. ALI IS GETTING A CALL FROM CHARLES WHILE JASON IS IN THE ROOM IS THIS A SET UP SO IT DOESN'T LOOK LIKE HE'S CHARLES WHEN REALLY HE IS?!
42. Especially since Charles is just playing some old music and not talking.
43. THE CALLER IS IN THE HOUSE WHAAAT.
44. This is just like Scream.
45. OMG Jason is definitely Charles.
46. Jason is dead and Charles murdered him and took his place.
47. Charles is hot.
48. BUT EVIL.
49. I don't even know who I am anymore.
50. PIG MASK! ON A MANNEQUIN! So scary.
51. A's mask collection probably cost more than my entire wardrobe.
52. Pig theme runnin' strong in this episode.
53. What is the connection between the pig/cop theme that A has going and Aria's love for her childhood pig toy????
54. Does that dead pig in the trunk in season four have anything to do with it?
55. ~Everything in PLL is significant~ - I, Marlene King.
56. Toby is like "my mother use to play this song on the piano" IS THIS SIGNIFICANT?
57. His mother is connected somehow?!!!
58. Oh and it's tied back to the apple farm, didn't they already explore that last season?
59. Where are Spencer's parents btw?
60. Olivia Benson is supposed to be ON THIS CASE.
61. EZRA plz shave, you're starting to look like a paedophile.
62. Oh, wait...
63. Literally Ali, Ezra and Caleb in a car; why do any of these people trust each other?
64. Tbh though I wouldn't mind being stuck in a car with Ezra and Caleb so Ali's the real winner here.
65. Maybe Ali's tryna win Ezra back.
66. I wouldn't be surprised tbh.
67. MAYBE THE WHOLE THING IS A PLOT TO GET EZRA BACK.
68. OMG.
69. Wait, wait, wait, so these bitches set up that Charles call? And the mannequin? WHERE DID THEY GET AN A MANNEQUIN AND HOODIE AND PIG MASK FROM?!?!
70. HOW CONVENIENT.
71. Everyone acting worried about Ali's safety but it's like, even if she's not A, she's still a FUCKING AWFUL PERSON SO REMIND ME WHY I SHOULD GIVE A FUCK WHAT HAPPENS TO HER THO.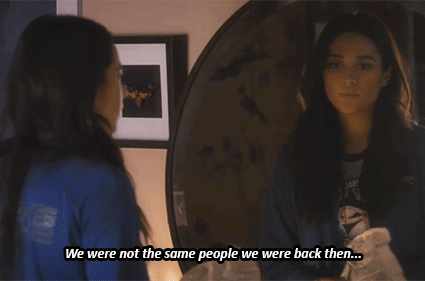 72. Oh here are the girls.
73. They're in season one clothes!
74. That is the true torture.
75. That's what they were screaming about, isn't it. They saw those outfits in their rooms and were like PLEASE GOD NO NOT THESE CLOTHES AGAIN.
76. Emily was like NOOOO I'LL DO ANYTHING JUST DON'T PUT ME IN ANOTHER HOODIE. I GOT THROUGH MY ~SPORTY~ LESBIAN PHASE.
77. Aria's got those pink streaks back though. Iconic.
78. These bitches be screamin' when they're basically trapped in a day spa gettin' makeovers.
79. Charles DiLaurentis: Trap Lord.
80. When you're trapped in a vault but still look better than every goddamn human out there because your freaky kidnapper cuts your hair for you.
81. Has Charles considered perhaps becoming a hairdresser?
82. MAYBE CHARLES IS A HAIRDRESSER.
83. THE WARDROBE IS FULL OF YELLOW SHIRTS DOES CHARLES JUST HAVE AN ENDLESS SUPPLY?!
84. Back in season one did the costume designer think, "oh, 1000 versions of this outfit are gonna show up over six seasons, so I better make it a good one. A YELLOW RUFFLE TOP IT IS."
85. Or is the costume designer now like, "you could have given me some warning bitches I would have chosen something other than a YELLOW RUFFLE TOP."
86. *A calls Target* "Hey, I'm looking for a yellow women's shirt? Around size 10? Great, can I have 1000?" Target: "Uh, sir.. that'll cost abo-" A: "I DON'T CARE I NEED THEM NOW"
87. FUCKING A.
88. Spencer Hastings, Etch A Sketch extraordinaire.
89. Spencer can't even make up an escape plan without being a total narcissist.
90. Oh she has finally figured out the DiLaurentis part.
91. Honestly I can't keep track of what these girls do and don't know.
92. I don't even know what I know anymore.
93. Is any of this even real?
94. Am I real?
95. A should have more security cameras so there aren't so many damn blind spots in the dungeon that HE DESIGNED.
96. He probably didn't have any money left over after spending it all on UGLY YELLOW TOPS though.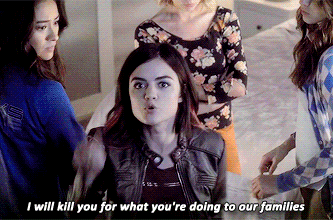 97. Toby's blank expression when Tanner asked him where Ali was is literally all of us watching PLL six years in.
98. This is a terrible plan, Alison.
99. Caleb and Ezra what are you doing.
100. TOBY. You're a cop you're supposed to know better.
101. Or at least, you know, TRUST THE POLICE.
102. Toby has insider knowledge on how incompetent these cops are.
103. "I'm not trusting the police to find my girlfriend they can't even find a yellow top and this town is literally a sea of them."
104. OMG Mona is in some Silence of the Lambs situation.
105. Is this her punishment for saying "no" to Charles?
106. IT PUTS THE LOTION ON ITS SKIN OR ELSE IT GETS THE HOSE AGAIN.
107. Ugh how is I. Marlene King really gonna redeem him and make us feel sorry for him?
108. WHAT POSSIBLE REASON COULD JUSTIFY ANY OF THIS?!!
109. Literally why don't these girls get a gun?
110. If I were them I would have a gun.
111. I would shoot A.
112. A would be dead.
113. No more A.
114. No worries mate.
115. Apart from the time Aria shot the wrong person because she's a dum dum.
116. Was it the wrong person tho.
117. Shana was a bad gal.
118. She was briefly A right??
119. Everyone was A at some point I guess
120. Maybe I'm A.
121. You're not A, I'm A.
122. NO YOU'RE A.
123. WE'RE ALL A.
124. It all suddenly makes sense.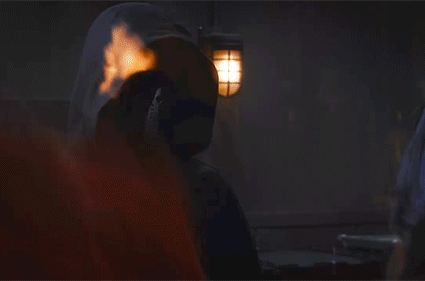 125. Oh hey they got through to the vault!!
126. Oh they're playing ~the video~ again.
127. Are we gonna get more info now?!?!
128. Oop no Spencer is gonna set it on fire.
129. Spencer: "We want Mona back!" Also like to escape maybe….?
130. I understand starting small and working up but GURL.
131. Starting a fire when you're trapped in a Saw house is definitely a smart thing to do.
132. SAID NO ONE EVER.
133. Guys YOU HAVE NO WAY OUT STOP LIGHTING THINGS ON FIRE.
134. Oooh Alison is here.
135. WHO IS CHARLES GONNA CHOOSE.
136. HOLY SHIT HE'S RIGHT THERE.
137. THIS IS SO FUCKING SCARY.
138. It would have been better if he was wearing the Scream mask that would make my life.
139. It's clear Toby only got like a week of police training, he's such a dum dum cop.
140. Ezra: "Call the cops!" Toby: ~blankly staring at ringing phone~
141. Also if it was THAT easy to escape why did they not do it like three weeks ago?
142. WAIT WHAT HAPPENED TO THE FENCE?
143. You know, the electric one that was holding them in at the beginning of the episode?
144. It's just disappeared now.
145. I guess it would have obstructed all these romantic reunion hugs.
146. When you escape and run to bae and Mona's like oh lol, is there a tree or something I can go hug.
147. Spencer sees Toby and is like BAI MONA.
148. Emily is hugging Alison?
149. I DON'T GET THE EMISON SHIP.
150. Alison literally manipulated and basically abused her.
151. Nope, nope, nope.
152. WHO THE HELL IS SARA HARVEY?!
153. I have no memory of that plotline.
154. NONE AT ALL.
155. IT'S GONE.
156. IS SHE SUPPOSED TO BE SIGNIFICANT?
157. OR IS THIS ANOTHER DISTRACTION?!!
158. Wait, so she's been in the Saw house for like… two years? Three? How long have these events even been happening? I've lost all sense of time.
159. WHAT IS GOING ON.
160. I NEED MORE NOW.
161. That was such a roller coaster.
162. I'm exhausted. Mentally, physically, emotionally.
163. BRING ON EPISODE 2.