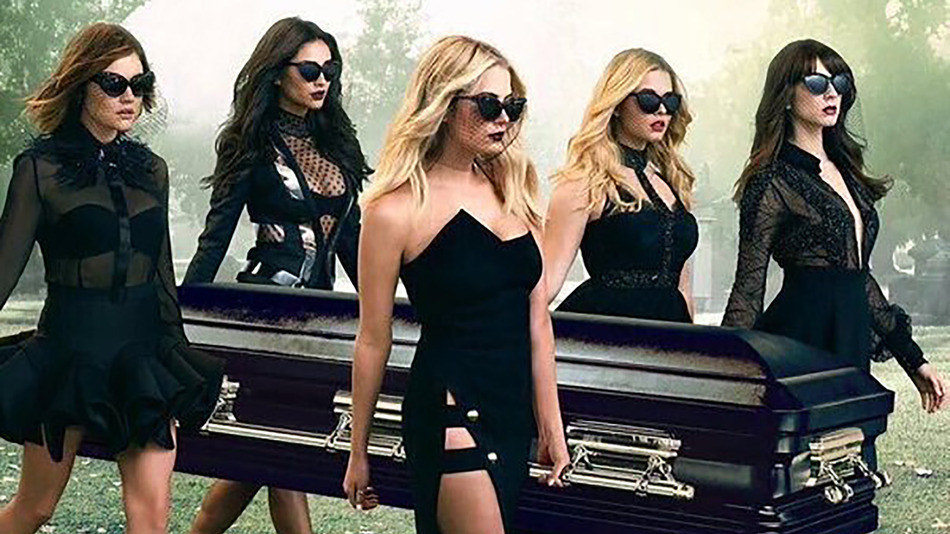 1. OMG THIS IS HAPPENING.
2. I'm so nervous.
3. It feels like it's been five years IRL.
4. Love how it opens with "BITCH CAN SEE!" #NeverForget.
5. OK but honestly who let Ali be a teacher?
6. She missed like a thousand years of school.
7. They're trying way too hard to make her look older. I don't know any teachers who wear that much makeup and false eyelashes.
8. What is she reading to the class? I'm sure it's something very symbolic of a subplot.
9. Creepy doctor in a high school classroom, not suss or anything.
10. Something something, Charlotte's getting a hearing, Ali's really happy. I'm not into this.
11. "It was either four days or six months." Mhmm that's exactly how the legal system works Dr Rollins.
12. "Oh we don't have much time? Here let me hand-write a letter that will definitely get to them in time."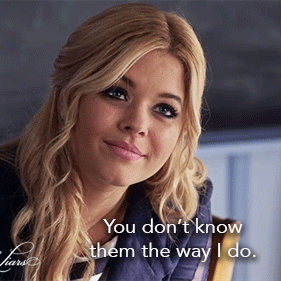 13. "We've done things no one else has experienced." Like being threatened with murder for years, and being trapped in an underground dollhouse. You know, the usual.
14. "If you just give me five minutes to explain." Bitch it's been five YEARS and I still don't get it.
15. "Five minutes that can change the world." This isn't a Ted Talk Ali.
16. We've seen all this in the preview, plz move on to the juicy shit ASAP.
17. OH THEY CHANGED THE TERRIBLE BACKDROP FOR SPENCER.
18. That backdrop was still more believable than the whole "let's forgive Charlotte" business we're heading into.
19. "Do you think they're still upset with me?" Oh I don't know Charlotte, I mean, you only tried to kill them and their loved ones, and stalked and harassed them for years, but don't worry girl, it's all cool now.
20. No, Pretty Little Liars, zooming in on a teddy on the bed is not going to make me feel bad for psycho Charlotte.
21. OMG NEW CREDITS.
22. Lol they're exactly the same.
23. Except for Ali. Hi Ali, nice to see ya.
24. I think my favourite addition to the cast this season is Spencer's bangs.
25. Lol at Spencer staring wistfully at the store where Hanna was forced to eat all those cupcakes.
26. Such fond memories in Rosewood.
27. Oh. Is Emily a pillhead now or…?
28. AW THE GANG IS BACK TOGETHER.
29. This photo montage is literally Instagrams from the four actresses.
30. Fascinating content.
31. But also like I've been living through their Instagrams for the past five months just GET ON WITH IT.
32. Where's Mona though?
33. Em is lying about college. Why is she lying? What happened?
34. None of them are with their high school baes anymore. All my OTPs are dead.
35. AND WHO IS LIAM? WHO IS JORDAN?
36. Spencer should always talk in the third person imo.
37. But as if she doesn't have time to have a boyfriend.
38. When all these girls were literally being stalked every day and still going to school and they all still had time to get it on.
39. Like, they were never ever single.
40. I guess this is character growth?
41. Literally why are you even discussing letting A out. Guys. Don't let A out.
42. These dummies.
43. I feel like I've been more emotionally affected by A than these girls.
44. It feels weird to think of them having A-free lives though.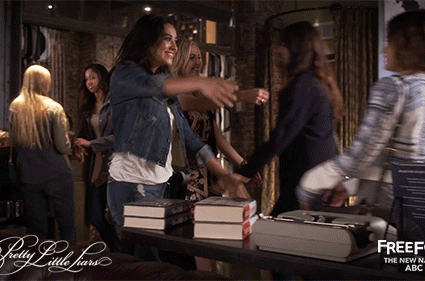 45. YAAASSSS Pam.
46. Looks like the wine moms got out of the basement.
47. God even the moms have new men to keep up with.
48. Emily's dad though. :(
49. OMG how is Radley now a bar???!!
50. They didn't even change the sign outside.
51. That's weird.
52. And in poor taste? Idk.
53. And Ashley runs it?
54. Like, the place where her daughter nearly died like 10 times I swear?
55. These fucking parents.
56. This fucking town honestly.
57. BYRON?! Is Ella still in the basement??
58. Seriously where the fuck is our wine moms spin-off?!
59. GIVE THE PEOPLE WHAT THEY WANT, I. MARLENE!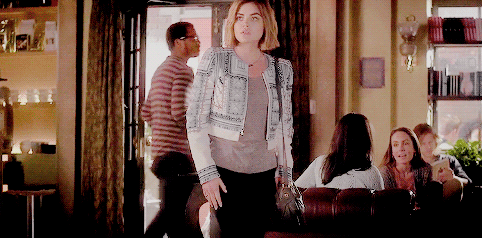 60. OLIVIA BENSON IS RUNNING FOR OFFICE YES SLAY.
61. FIRST SERGEANT, NOW STATE SENATE, DO IT GIRL.
62. But is she a Republican or a Democrat? Or an Independent?
63. Four parents in this episode. I wonder if the parent budget is bigger or smaller this season seeing as the girls are all actually adults now.
64. Wait, is Spencer a journalist?
65. Oh. A lobbyist? Still cool.
66. It's nice to see Spencer connecting with her mother.
67. OMG EZRIAAAAA.
68. This is way too dramatic.
69. Of course he walks down the stairs just as she walks in.
70. You know Ezra's going through a tough time because he now has stubble.
71. Wait. Who is Nicole?
72. Whoever she is, she's dead?
73. Ohhhhh yeah she was Rebecca Breeds. Ah. It's coming back to me now.
74. Poor Rebecca Breeds.
75. Poor Ezra. He just keeps dating girls who attract drama.
76. Although tbh his spiel about being sad has given me my first eyeroll of the season.
77. Old mate needs to move to a cabin somewhere and be celibate.
78. TOBY.
79. Toby looks different.
80. Well, it's been five years. Heh.
81. Has his butt chin gotten bigger?
82. Surely that's not a thing.
83. Has Toby gone back to building things rather than being Rosewood's dumbest cop?
84. "I swear a lot, it's very theraputic." - Me, at this show.
85. Brotherhood of Ex-Boyfriends. 10/10 would watch that spin-off.
86. OK Spencer I'mma let you finish but who is he building the house for?
87. This is definitely the most annoying unanswered question in this episode.
88. FOR YOU SPENCER. HE'S BUILDING THE HOUSE FOR YOU.
89. Who does Toby think he is, Ryan Gosling? "I WROTE YOU 365 LETTERS SPENCER."
90. "EXCEPT THEN I ATE YOUR DRUGGED JELLY BEANS AND GOT HIGH AF SO I FORGOT TO POST THEM."
91. Lol Ali's still a teacher? We're still sticking with that storyline?
92. Alison sounds about as delusional as Charlotte.
93. "There's no reason to be afraid". Sure Jan.
94. Victim statements and statements of support are two very different things.
95. Like, we are on literal different planets here.
96. "You know her!" Yeah, Ali, they know that she STALKED AND TORTURED AND ALMOST MURDERED THEM.
97. "You're asking us… to LIE." LOL coz they've never done that.
98. It's right there in the show's NAME.
99. ALi is being SO FUCKING SELFISH.
100. It sounds like Jason is the only one with any sense around here.
101. Where is he though I want to see his beautiful face.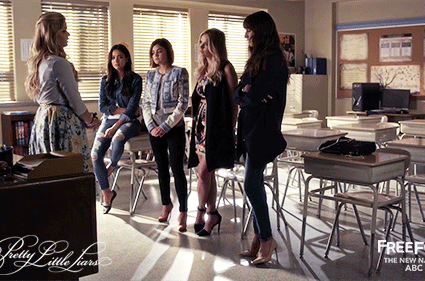 102. MONAAAAAAA YES YOU'RE BACK!!!!
103. Why is Spencer being so mean to Mona? Didn't Mona help them CATCH A??
104. How are they both working in the same field lmao.
105. Wait, what policy does Mona do?
106. Why was that conversation so weird?
107. Are they on opposite sides of politics?
108. Also, can somebody *please* clarify the political leanings of Veronica Hastings.
109. It's really important that we know.
110. Oh Mona gets straight to the heart of shit.
111. I missed her.
112. YAS FINALLY THE WRITERS REMEMBERED THE BEAUTIFUL FRIENDSHIP OF EMILY AND TOBY.
113. They all enjoy a good drink now that they're legal.
114. "What difference does five years make?" "Alcohol. A lot more alcohol." - I. Marlene, probably.
115. Good to see they're still dressing Emily in stereotypically lesbian clothes.
116. In case we forgot.
117. Good old Gay Emily.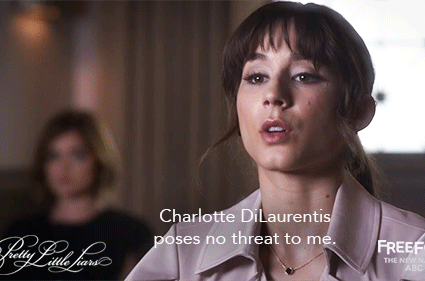 118. This is all BS, so freakin' stupid they're like "Oh lol, Charlotte, yeah she cool now."
119. *Why you always lyin' meme plays on loop.*
120. Alcoholic Ezra just stumbles through the door like it's no biggie.
121. Literally go away Ezra. Leave this planet.
122. What a legit, legal setting.
123. YAAAS ARIA, BE HONEST GIRL.
124. OK Aria just officially became my fave person.
125. That's quite a twist.
126. Unlike the other Liars she's clearly learnt her lesson.
127. Honestly fuck off Ali.
128. Mona's statement seems suss, but I'm here for it.
129. Mona doesn't cry, Mona doesn't break down. Bitch is up to something.
130. Like, remember when she was A? Lol.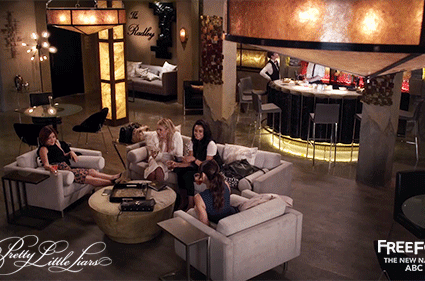 131. Ali sending them a group message saying "great news" is crueler than most A messages they received tbh.
132. "I can't turn my phone all the way off." Same Spencer, same.
133. "The coven of the sacred cocktails." Can they cast spells though? Alcoholic spells?
134. But also why didn't Mona get an invite to this?
135. #JusticeForMona.
136. Lmao Spencer "drunk".
137. Actually Spencer as an emotional drunk is kind of nice.
138. We've all been there, Spence.
139. Sorry but it's still SO WEIRD that Radley is a bar now.
140. What were they THINKING?
141. Fucking Rosewood I am five hundred million percent done with this town.
142. Why u toasting Charlotte???
143. I want to see them get revenge.
144. Can the next two seasons be THEM as A, getting justice for all the wrongs they've faced?
145. OK, just a regular security camera, nothing to see here!
146. LOL jk, it's obviously set up by A. A new A. AN UBER A.
147. OK watching them be hungover is kind of funny.
148. SUCH ADULTING.
149. Is Emily addicted to drugs? Or is she seriously ill? WHAT'S HAPPENING I.MARLENE?
150. A hangover and a missing Charlotte, worst day ever.
151. But side note, if I woke up looking like that when I was hungover, I'd be drunk every night.
152. OF COURSE CHARLOTTE IS MISSING.
153. PLOT TWIST.
154. FUCK YOU ALI.
155. YOU FUCKED UP
156. YOU FUCKED UP BIG TIME.
157. "Don't wait. Call the police." Literally you should have said this six seasons ago.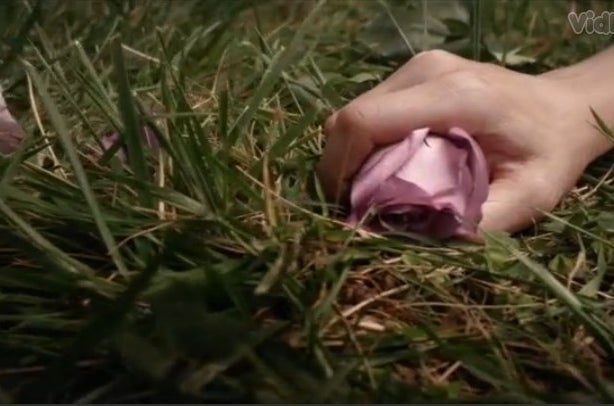 158. CHARLOTTE'S DEAD????????
159. DING DONG THE BITCH IS DEAD.
160. Won't believe it until I see the body tbh.
161. Is that… Lorenzo?
162. Of all the characters I thought we'd see after the time jump, Lorenzo was the bottom of the list.
163. There needs to be a sitcom about Toby and Lorenzo, Rosewood's two dumbest cops.
164. Accidentally taking drugs and ruining investigations.
165. Though that sprinkler observation was a sign of improvement.
166. Keep at it, Tobes!
167. Ugh the bell tower AGAIN?
168. I. Marlene needs to get a bit more creative.
169. Why is she holding a rose? What does that MEAN?
170. ROSEwood?
171. Did she kill herself or was she murdered?
172. Lol jk she was definitely murdered.
173. I reckon it was Mona.
174. Dr Rollins really really fucked up.
175. He's as incompetent as the Rosewood Police Department.
176. EMISON ALERT EMISON ALERT BEEEP BEEEP BEEEEEEEP.
177. What a time to be alive.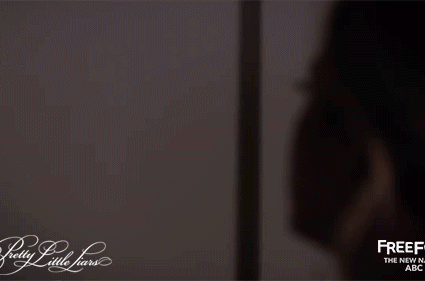 178. OMG CALLEEEEBBBBB HELLO BOO.
179. Lol he looked older in high school though.
180. HANNA IS JEALOUS OF SPENCER AND CALEB YAS GIRL CLAIM HIM BACK.
181. MY PRECIOUS BBS WHY DID YOU BREAK UP.
182. Hanna stop shutting him down, HE LOVES YOU.
183. I think.
184. OOOOOOH she looked at her engagement ring THAT MEANS SOMETHING.
185. I swear to god though Spaleb better not be a thing.
186. Also I just realised Hanna is literally staying in Radley this is so fucked up.
187. I feel… weirdly disconnected from all these characters now tbh.
188. Like, they feel disconnected from each other and I'm not as invested.
189. Oh dear...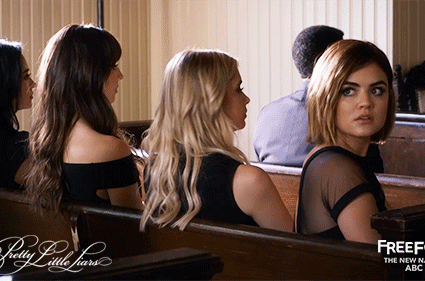 190. Another funeral, another chance for the girls to wear inappropriate black dresses.
191. OK, so… why are they holding her funeral in the exact same place Charlotte "killed herself"???
192. And why are Ezra and Caleb there?
193. Like they give AF.
194. Actually, why are the girls there?!
195. There is a limit to friendship, and going to the funeral of someone who tortured you for years is that limit.
196. Sorry but it's true.
197. And why isn't Jason, her brother, here?
198. (Her brother who made out with her that time, just saying.)
199. Charlotte's photo on display is very similar to the missing one of Ali.
200. When did they even take this photo though?
201. When she was in Radley?
202. "Hey Charlotte. Just getting your hospital headshot incase you die or go missing."
203. OMG IT'S SARA HARVEY.
204. BLACK WIDOW.
205. BLACK FUCKING WIDOW.
206. This is wild.
207. What a time to be alive.
208. That eye roll from Em. What. A. Queen.
209. Wait so Shower Harvey couldn't go to the hearing or whatever but she can attend the funeral?
210. Why isn't this bitch in jail?
211. Do they hate her more than Charlotte, like what?
212. I'm so confused.
213. Is the dude helping her walk because she's the new Jenna. AKA blind?
214. OMG THOSE SHADY LOOKS FROM THE GIRLS THOUGH.
215. She's still feral af.
216. And has the same hairdo five years later?
217. Literally who are all these people filing out of the church?
218. HOW DID THEY EVEN KNOW CHARLOTTE, SHE WAS IN HOSPITAL ALL HER LIFE?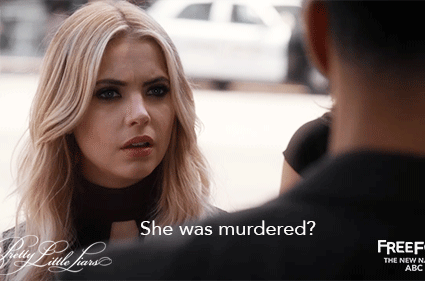 219. Charlotte was murdered dun dun dunnn.
220. WHAT. A. PLOT. TWIST. I. NEVER. SAW. COMING.
221. Ohhh now they're all suspects.
222. And ~conveniently~ have to stay in Rosewood.
223. I guess the shooting budget won't cover anymore fake Washington, D.C. backgrounds.
224. I bet it was Mona.
225. Or Jason.
226. Or Emily.
227. OR ALI.
228. Nah it was definitely Ian. He's just been lurkin' in that bell tower the whole time.
229. WELL. What an episode.
Looks like there are no comments yet.
Be the first to comment!