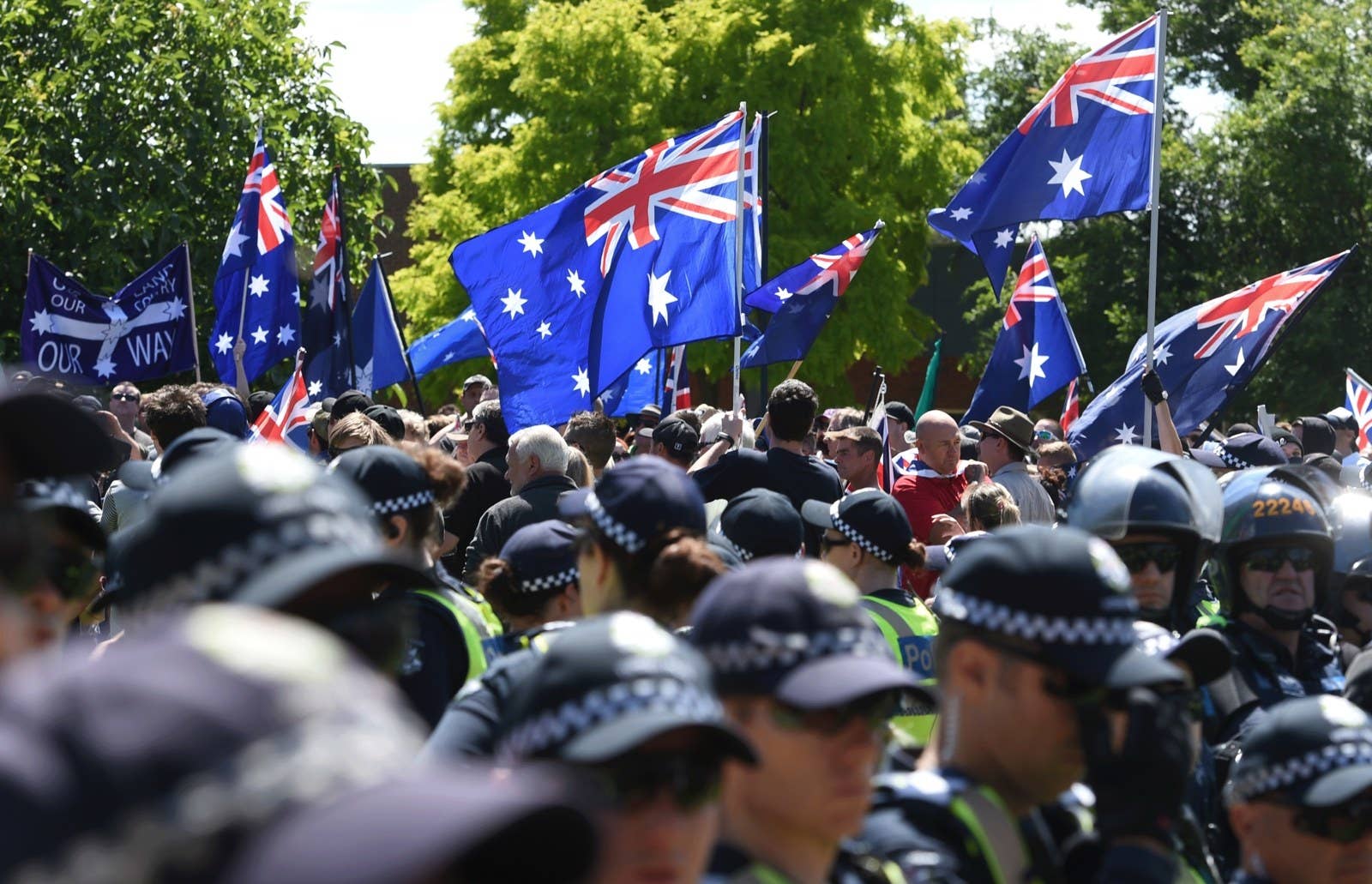 Australia's far right nationalist movement is a fractured network of rabidly racist and obsessively Islamophobic white men who use Facebook, YouTube, Twitter and message forums to connect with those who share their unrelenting disgust for multiculturalism, immigration and feminism.
BuzzFeed News spoke to high profile Muslim women in Australia who have been targeted by these groups, including the nation's first ever Muslim senator Mehreen Faruqi, who says these men spread an "absolutely inter-related" mix of misogyny and racism.
"Very often racism and sexism come together because they're both part of a worldview that believes in white male supremacy," she says.
The Australian man accused of mass shootings in Christchurch on March 15 live streamed part of the terror attacks on two mosques on Facebook hours after his manifesto was published on 8chan, a troll forum best known for its prominent role in #GamerGate, a targeted harassment campaign against female game developers.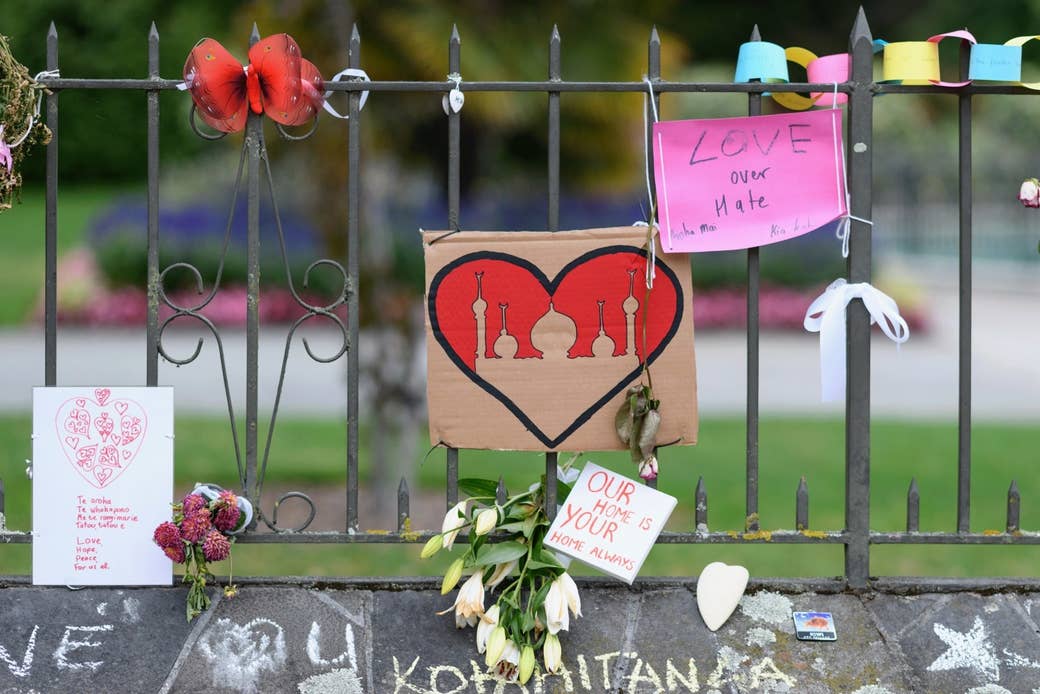 "Well lads it's time to stop shitposting and time to make a real effort post," the post read, praising other men in the forum as "top blokes" and the "best bunch of cobbers a man could ask for".

The ABC revealed on Saturday the 28-year-old alleged Christchurch shooter had posted on the now deleted Facebook pages of Australian far-right nationalist groups the United Patriots Front (UPF) and the True Blue Crew (TBC).
In the posts, the accused murderer referred to UPF's former leader and one of Australia's most high-profile far right nationalists Blair Cottrell as "emperor".

Cottrell was convicted in 2017 of inciting serious contempt of Muslims over a staged mock beheading and has condoned domestic violence.
"Women have manipulated me using sex and emotion; demoralization … and I have manipulated them using violence and terror," he once wrote in a comment on a YouTube video.
"We use what we have got to get what we want."
Cottrell was sentenced to four months in prison in May 2012 after being convicted of 13 charges, including seven counts of intentionally damaging property after he chased his ex-girlfriend's new partner with a tomahawk and torched his garage.
He has written that women are "attracted to strength", and to keep them faithful men should "care less about them and even crack them around the ear every once in a while".
"But beware the modern 'careerist' woman who doesn't want kids and thinks she is equal to men, these women are delusional and extremely hard to handle," Cottrell, who believes Jewish people "fund feminism", wrote.
Last year Cottrell was invited on Sky News for an interview.
A number of Sky News journalists condemned Cottrell's appearance on their station, but Cottrell targeted host Laura Jayes, tweeting that he "might as well have raped" her on air because "not only would she have been happier with that but the reaction would've been the same".

While the victims' bodies were still being counted in Christchurch, an Australian senator blamed Muslim immigration for the terror attack.

A bevy of far-right nationalists gathered to show support for the senator at a now infamous press conference on March 16, during which the senator was egged by a teenage boy.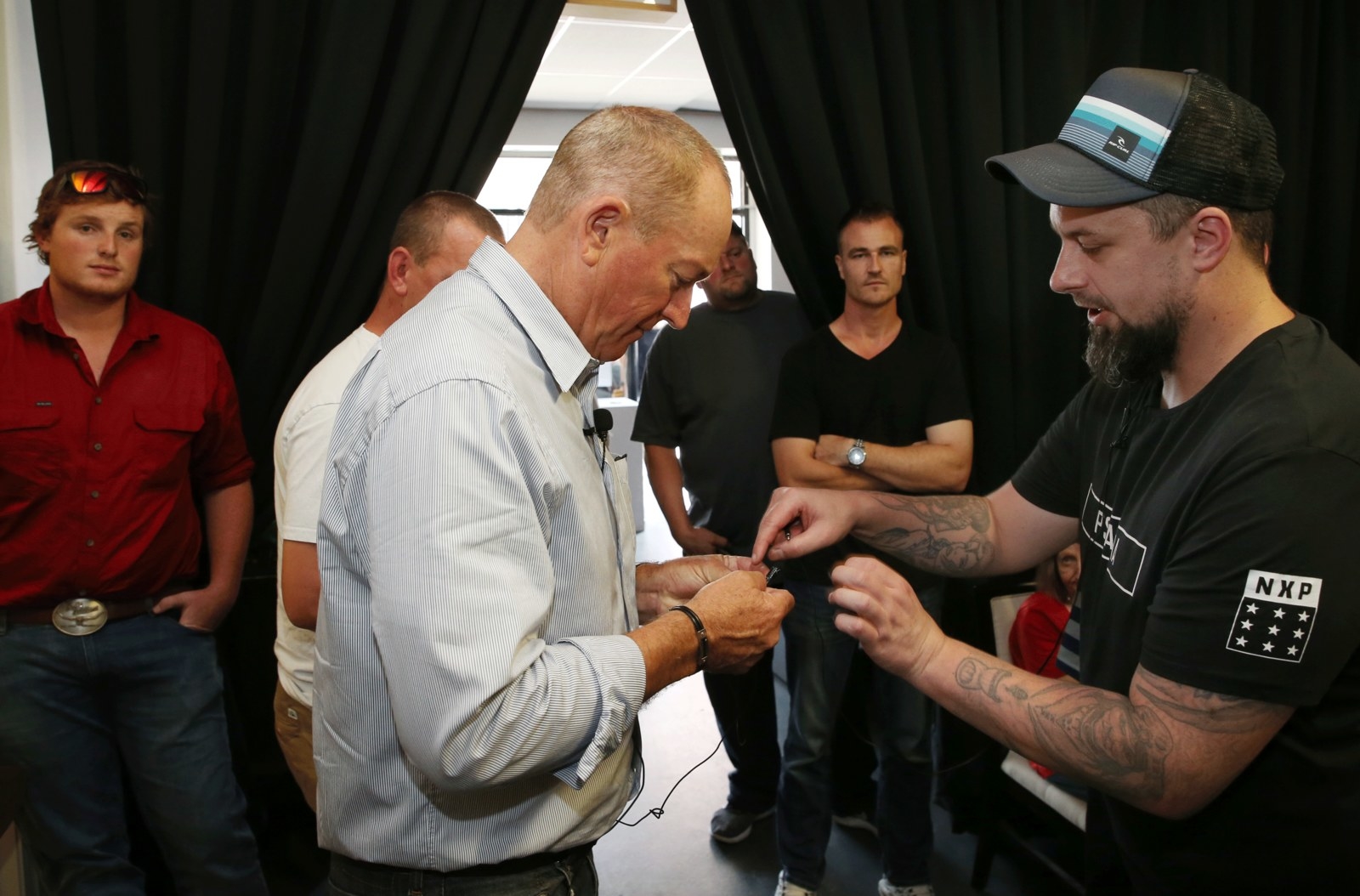 Neil Erikson, who was convicted alongside Cottrell of inciting serious contempt against Muslims, held down the 17-year-old who threw the egg.
Erikson, a founding member of the UPF, has said he didn't condone what happened in Christchurch but that it was "karma".

He was arrested in 2018 for filming women at SlutWalk, a global movement calling for an end to rape culture and victim blaming, in which women walk down the street wearing whatever they want to.

Next to Erikson at the senator's press conference stood Andrew Nolch, the man convicted of defacing a mural for raped and murdered Melbourne comedian Eurydice Dixon.
Nolch, 29, has said his decision to graffiti a 25-metre-long lewd image on the grass in the park where her body was found was an "an attack on feminism".
In a YouTube video posted to the account Australian Meditations, Erikson explained why he defends Nolch, who he said defaced the murdered woman's memorial "because of the feminists" who"hijack" murders to "punish men as a collective".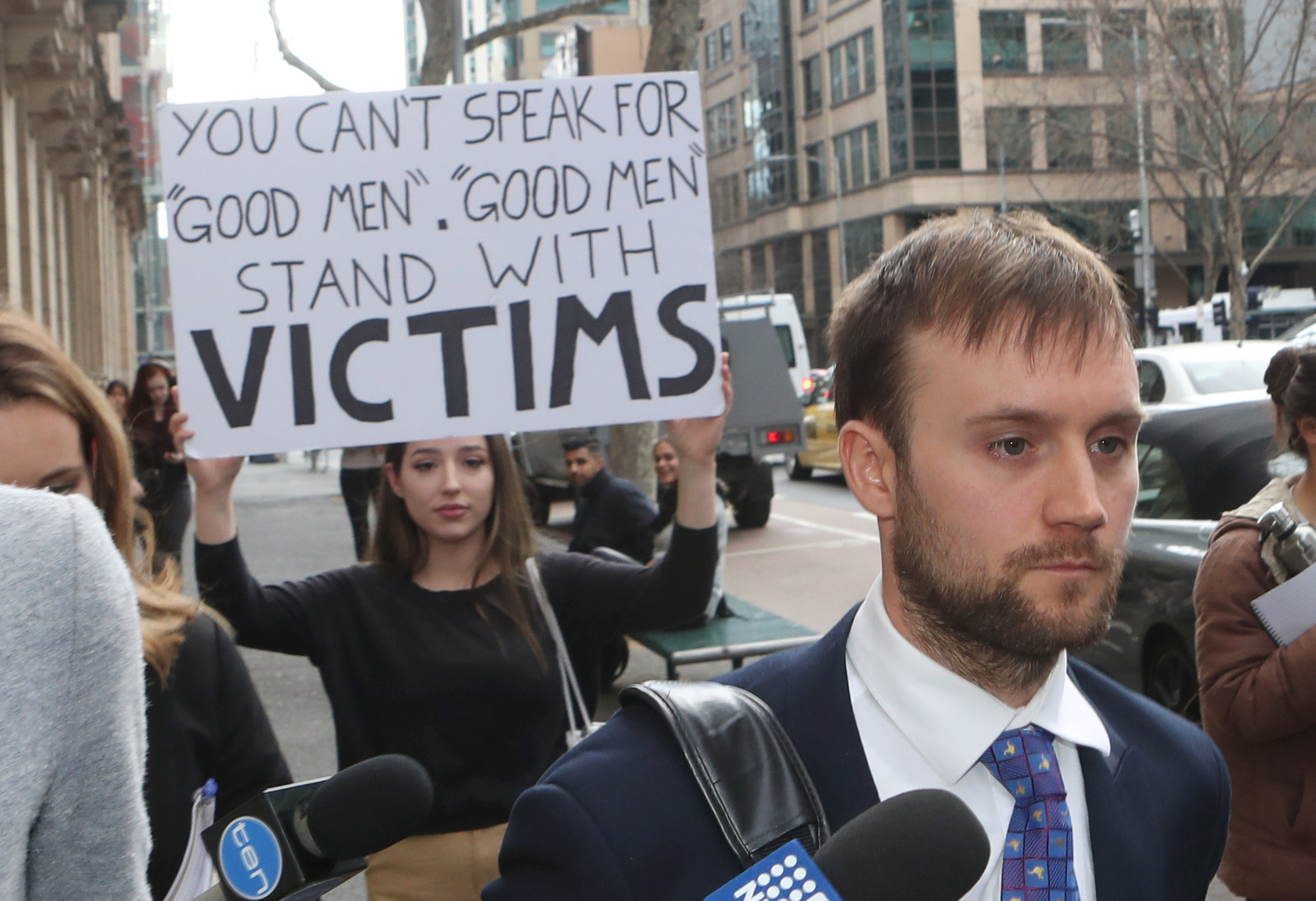 "I feel sorry for Andrew Nolch being treated so badly," Erikson says of Nolch's 18-month community service sentence and $19,500 in fines.
Nolch's Facebook page, on which he has claimed the January murder of international student Aiia Maasarwe was faked, has been shared by Erikson's Facebook page Cooks Convicts, which he runs with another ultra-nationalist, Ricky Turner (who held the egg teen around the neck).
"The sexism is racialised and the racism is sexualised," Sudanese-Australian writer, engineer and broadcaster Yassmin Abdel-Magied tells BuzzFeed News.
When Abdel-Magied was denied entry to the United States — where she was travelling to speak about the difficulties of being a young Muslim woman in the West — for having the wrong visa, Erikson's other Facebook page, Nationalist Uprising, celebrated: "Suck it Yassmin… Trumped!!!"
Abdel-Magied says when she explains the contents of her inbox to people they say: "It can't be that bad".
"When you're sent on a regular basis, videos of violent beheadings, female genital mutilation, shootings and other physical violence and told that is what you deserve, is that really just 'bad'?" she asks.
"When people detail how they'd like to rape you, how they'd like you to slice your wrists and bleed to death, how they'd like to violate your vagina, lynch you, run you over, gang rape you … how you and people like you deserve every awful possible thing under the sun, perhaps it isn't just bad.
"Perhaps it's downright inconceivable."
The teeming mess of Australia's online far right gave rise to a group of men who gathered on Twitter, Facebook and 4chan under the banner of The Dingoes. The memes shared by them, including variations of crude, racist caricatures of Australian men drinking Victoria Bitter, became their hallmark.
As first reported by the Sydney Morning Herald, the alleged Christchurch terrorist Brenton Tarrant posted in 8chan before the attack using an account with the profile picture of a meme used by the Dingoes – an Aussie man, with a wide brimmed hat, holding a VB bottle with the words "Hold still while I glass you". The same meme was used on Tarrant's now-deleted Twitter account @brentontarrant, and previously shared by The Dingoes.
The group's Twitter account @TheDingoes also appears to have been shut down.
As BuzzFeed News has reported previously, The Dingoes recorded many hours of podcasts called The Convict Report.
The full archive of the podcast, which was previously hosted on Soundcloud, has been deleted. BuzzFeed News kept notes and transcripts of several episodes.
It featured the men adopting online personas to spout virulently racist, anti-Semitic and homophobic statements, all coming under an umbrella term they referred to as "Dingo bants".
Central to the podcasts were degrading comments about women. They talked about "taking out the women" so they could focus on "political discussion". They wanted to get the phone number of Greens leader Richard Di Natale's wife so they could "empower" her by making her "independent". They repeatedly called former senator Jacqui Lambie a "meth Mum". They put on accents to mock Abdel-Magied. There were often "bants" about the Stolen Generation and men raping vulnerable Aboriginal women.
In one episode they say "being a male feminist is a really bad way to get laid", and that "women seem to have this obsession with their own carnality".
Another added: "Just remember boys, fash [meaning fascism] wins".
Despite all this, establishment right-wing politicians gave the podcast some type of legitimacy by allowing themselves to be interviewed by the group. On episode 51 former Labor leader and now One Nation politician Mark Latham appeared on the podcast. On episode 63 government MP George Christensen went on, proudly advertising the interview on his Facebook page by writing, "They asked me to join them for an interview into my background and beliefs and what I think of the new conservative populist movement sweeping the world. The interview goes for a while but here it is... enjoy!"
Newer episodes of the podcast are hosted on YouTube under the Australian Meditations account. Despite a YouTube warning that the content is "inappropriate or offensive", users are able to click through to listen.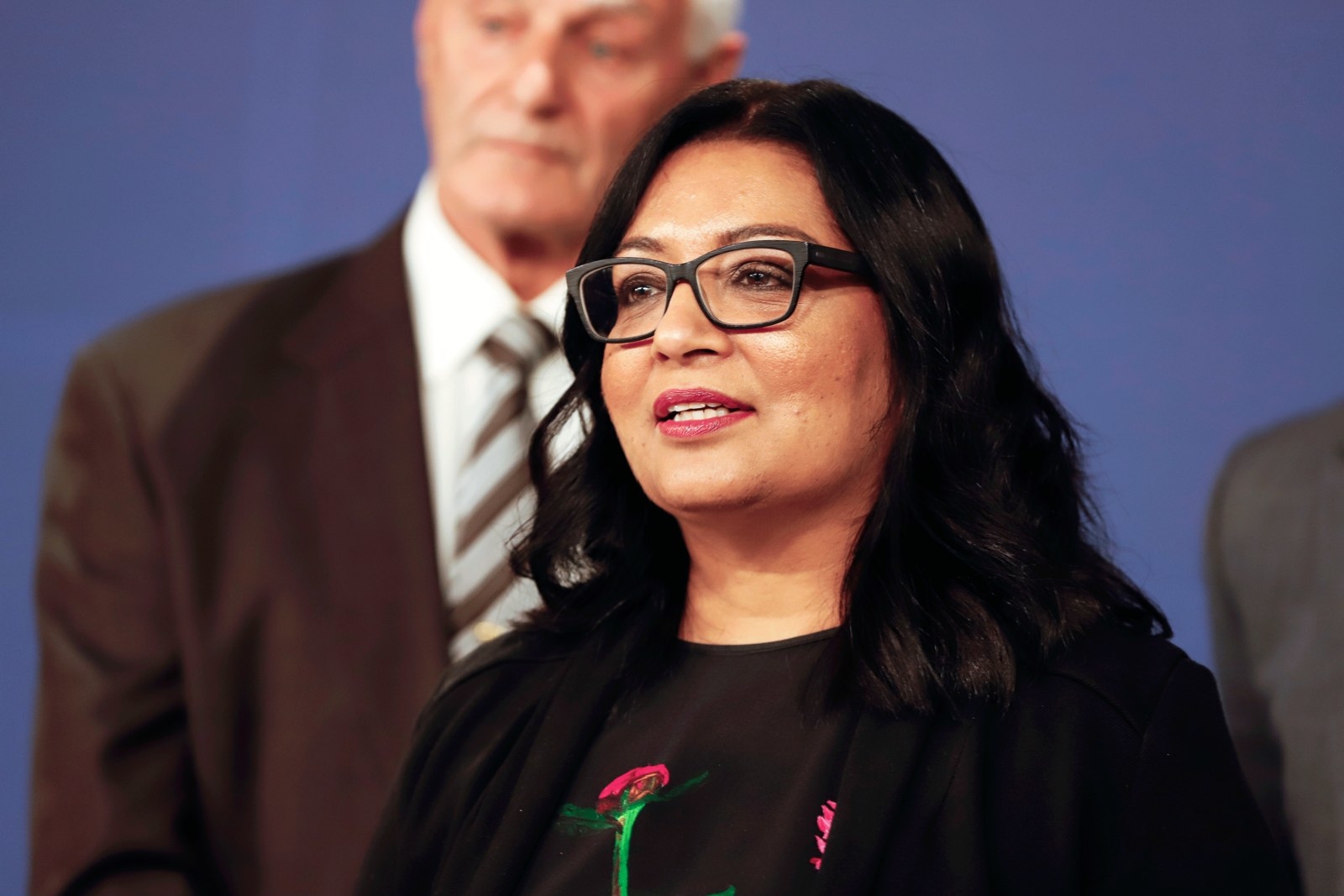 Mehreen Faruqi says she has received a "pretty much non-stop and ever-increasing torrent of racist and sexist abuse" via online comments, emails, handwritten letters and phone calls to her office since she entered politics in 2013.
"It is relentless and grinding," Faruqi says. "The very clear message I get is that as a brown migrant Muslim woman, I have no right to exist, let alone participate in public debate in Australia.
"The abuse ranges from racial and Islamophobic comments right through to death threats and threats of violence."
Faruqi says Australia's far-right nationalists and the politicians who support them are "merchants of hate".
"What is really scary is that while racist and neo-Nazi groups have existed for a long time in Australia, they have often been on the fringes," she says. "Now they have found a home in the Australian parliament."
These groups and politicians use "hateful and divisive" rhetoric to "prey on the anxieties of Australians".
"This is creating a dangerous environment for us all," she says. "In my experience, when Muslim Australians have received threats of death and violence over the years, they simply haven't been taken seriously."
Melbourne anti-fascism researcher Andy Fleming says while not all elements of Australia's far right "embrace the full range of misogynistic views embodied in and expressed by the more militant or radical", it is "very common".
"Misogyny is one of the enduring themes which animates fascism and the far right in Australia [and] obviously elsewhere," Fleming, who documents the country's far-right nationalists on his blog Slackbastard, tells BuzzFeed News. "When these men discuss Muslim women in particular, given that these persons occupy two positions or identities which are especially despised, the hate directed at them tends to be even more vicious than that directed at non-Muslim women."
Fleming says just as the role of white women in the reproduction of the white "race" was esteemed by far-right nationalists, the role of Muslim woman in the assumed reproduction of Muslim faith and culture was considered "especially threatening" to their worldview.
"Much of their ire is directed at Muslim women who dress in a 'modest' and recognisable fashion; a kind of mirror-image of the hostility they express towards so-called 'THOT's [That Ho Over There]."
Fleming says the "just" social order these men — "and they're overwhelmingly men"— advocate and agitate for is "not only a racialised but a gendered one" in which people of colour are understood to be "subordinate to Whites" and women are understood to be "subordinate to men".
He says challenges to this "order" are understood by these groups to be a "sign of political and cultural degeneracy" and that "nefarious, principally Jewish forces" were assigned responsibility for the emergence of various forms of feminist and/or queer politics.
Fleming says white women were "principally esteemed for their role in biological reproduction" and that these groups understood the role of women in society to be "mothers and homemakers".
"Various misogynistic US propagandists" had found an audience in Australia, Fleming says.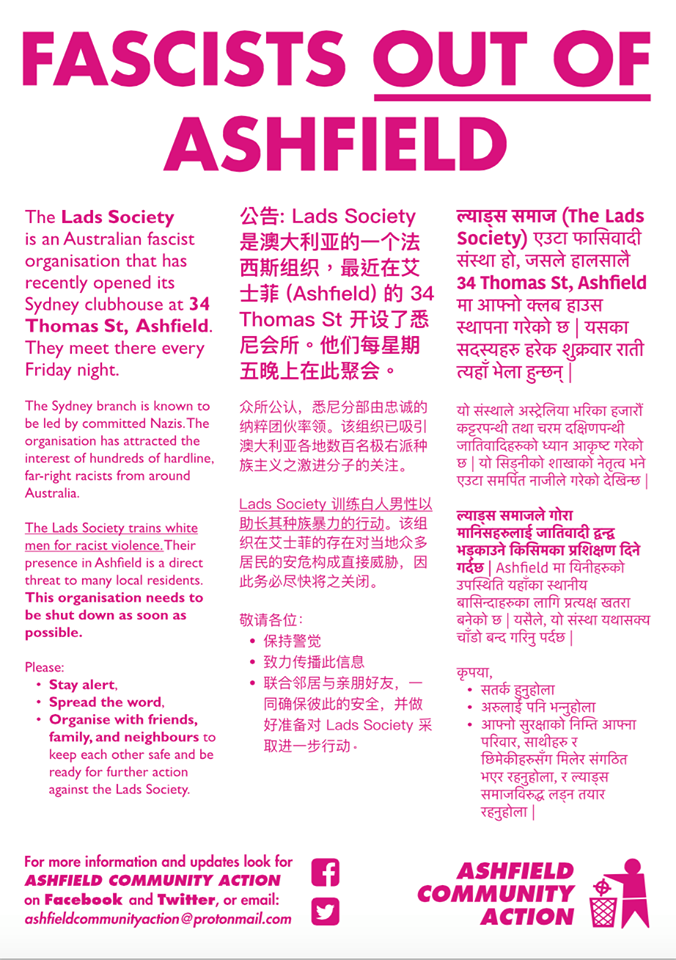 "When Milo 'Feminism is Cancer' Yiannopoulos toured, Australian audiences thrilled to his message at a time when his audience in the US had shrunk remarkably from the highs he enjoyed when the billionaire Mercers were bankrolling his propaganda campaign," Fleming says.
Fleming says a "men's rights" rally in Melbourne last year, March for Men, was organised by Sydney-based "AltLight personality Sydney Watson".
"Her march attracted both [men's rights activists] as well as members of the neo-Nazi group The Lads Society, who helped provide security for the march and intervened when some feminist activists attempted to disrupt it," Fleming said.
As Fleming has documented, The Lads Society, which holds weekly boxing and training nights in Sydney and Melbourne, was borne out of the now-defunct UPF.
Most of the abuse lawyer Mariam Veiszadeh receives is online, "But I've had abusive phone calls and text messages, I've had my former residential address published online when I was doxxed, which resulted in bacon being sent to my address and the bomb squad being called in to open this highly anticipated suspicious package which was addressed to me. I've seen it all."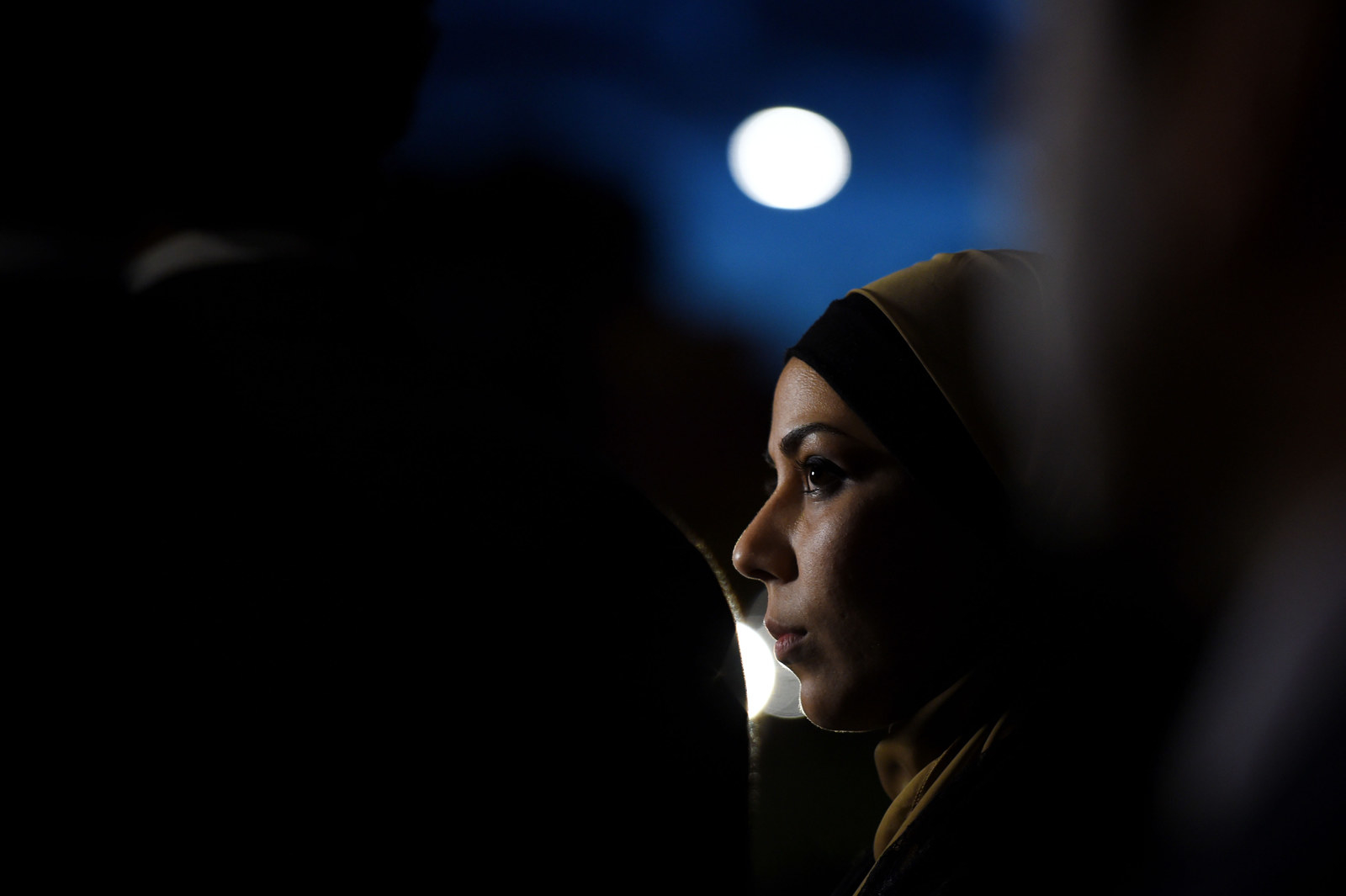 Trolls have photoshopped Veiszadeh's head onto pictures of women in bikinis.
"There is a sexualised nature to the abuse," Veiszadeh, who founded the Islamophobia Register Australia, tells BuzzFeed News. "I've had quite vile remarks made about me of a sexual nature and threats of rape."
Veiszadeh has been targeted by Joshua Goldberg, a Florida man who pretended to be an Australian jihadist online. He tried to smear Veiszadeh as an ISIS sympathiser.
Goldberg was arrested in 2015 after a joint FBI and Australian Federal Police investigation and has pleaded guilty to one charge of attempting to maliciously damage and destroy a building by means of an explosion, after he encouraged an individual — who was an undercover agent — to place a pressure cooker bomb at a 9/11 memorial event.
He was also behind a blog called "Philosophy of Rape" on which he wrote that "whores and feminazis need to be put in their place through rape".
"[Goldberg] used my name as his password," Veiszadeh said, adding that she only found this out via an online article.
Veiszadeh says she's been targeted by other "high profile white supremecist neo-Nazi extremists" including Australian Nathan Sykes.
Nine media reported on Friday that Sykes was arrested at his Sydney home and charged with at least eight offences, including using a carriage service to menace, and threats to harm, over allegations he made repeated and explicit violent threats to Melbourne journalist Luke McMahon.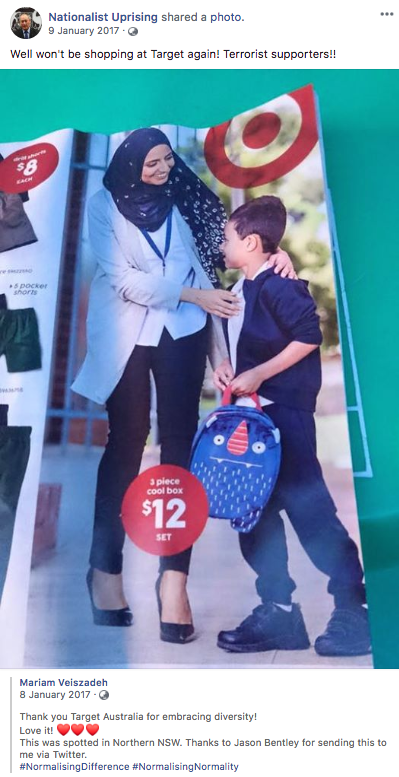 McMahon wrote in a 2017 article that Sykes published a story on the neo-Nazi website the Daily Stormer encouraging readers to abuse Veiszadeh to "drive her over the edge".
"These people are quite high profile and some have had criminal convictions laid against them," Veiszadeh says. "When there are discussions about threats from the far right not being serious, it hits me in a very personal way… in light of the hours and hours and tireless efforts that people like me and others have put in trying to foster an inclusive environment."
Reclaim Australia is arguably the biggest far-right anti-Islamic protest movement in Australia. In 2015, during one of its first street rallies in Melbourne against Islam, a Reclaim Australia protester harassed Sky News reporter Jayde Cotic during a live cross. He pushed Cotic and then yelled "fuck her right in the pussy!" into the camera.
The main Reclaim Australia Facebook page has more than 100,000 likes, while the half a dozen offshoot pages have tens of thousands each, all posting a daily mix of racism and Islamophobia.
The page is staunchly anti-feminist — one meme encourages Australian writers and feminists Clementine Ford and Van Badham to open a Subway franchise so they can "make men sandwiches all day long".
The page often posts content about how white Australian women are under threat from Sharia law, under which they would be forced to wear a burqa. "Stand up for our girls!" the page implores, alongside anti-Islamic memes.
The page regularly shares news stories of sexual assault perpetrated by immigrants or refugees. The content considers the welfare of women usually only when those women are white and when they are at a perceived risk from men who don't look like the administrators of these pages.
One of Reclaim Australia's organisers Shermon Burgess, who calls himself the "Great Aussie Patriot", recently posted a video on YouTube in support of the Men Go Their Own Way (MGTOW) movement, an online community of men who think feminism and gender equality has ruined relationships and choose not to have romantic (or any) involvement with women.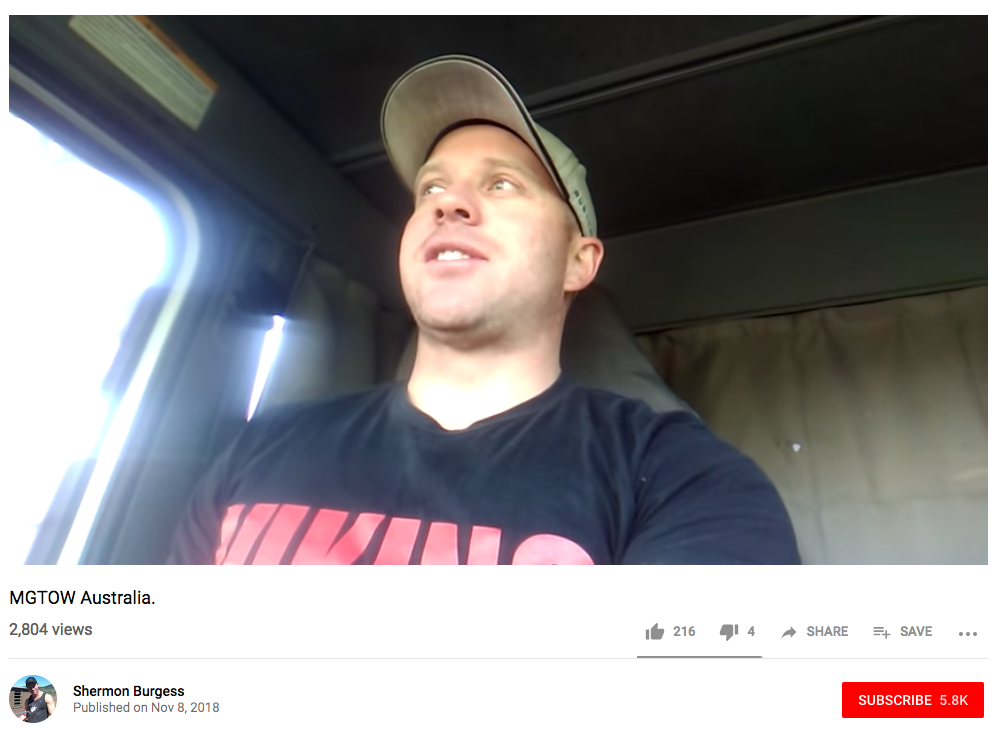 MGTOWs inhabit the same online space as incels (involuntary celibate) men who are upset women refuse to have sex with them.
Burgess says he understands why Australian men are migrating overseas, to places where women have "respect for their man" because "Western women" are "not focused on the family unit".
"When they get home they can relax, they can sit down and wind down without nagging and yelling and demanding," he says in one video. "These men have gone to an Asian country where the women aren't infected with this third wave feminism, this hatred of men."
Burgess, a founding member of the UPF, posted a video stating that "once inside the brain" feminism can turn a formerly happy and friendly woman "into an aggressive, self important bully bitch".
In another, "3 Aussie Nationalists" discuss what "pisses them off in society" and one says men aren't allowed to be masculine anymore.
"It is a society that is trying to make everyone 'nicer' but ultimately they're just feminising the men and letting the women be women," says a man named James.
On the YouTube account for the now defunct Party for Freedom, a video published in 2017 films two women wearing Grandmothers against Detention of Refugee Children t-shirts. "How much do you value your clitoris?" the man asks the pair, before telling them that female genital mutilation is part of Sharia law.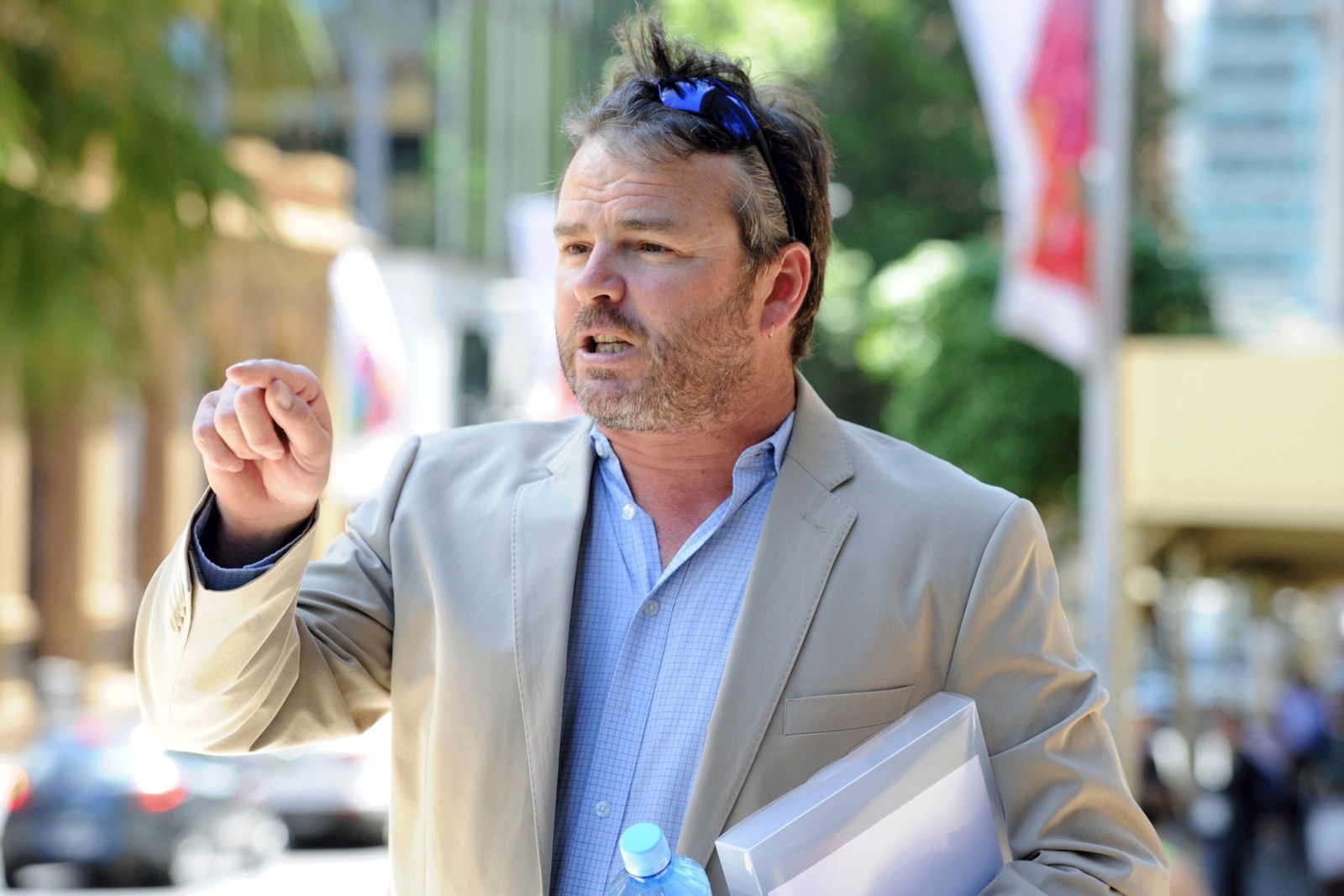 The party's leader Nick Folkes, who celebrates the Cronulla Riots and stormed Gosford Anglican Church in 2016 dressed as a Muslim extremist, features in most of the account's videos.
Before the party's collapse Folkes handed over leadership to Toby Cook, who tweeted a picture of mass murderer Anders Breivik performing a Nazi salute in court with the caption "Not all heroes wear capes". His cover photo was an Australian flag alongside a Swastika.
Cook has been banned from Twitter. Cottrell and Erikson were also banned from Twitter but the pair have just started using Gab, a social network widely seen as a haven for the far right on the internet.

The Cooks Convicts, Nationalist Uprising, Lads Society and the multiple Reclaim Australia Rally Facebook pages meanwhile remain functioning.
In the wake of the Christchurch attack, the chief censor in New Zealand said it was illegal to share the 17-minute video of the attacks live streamed by the Christchurch gunman, and the nation's prime minister Jacinda Ardern called on social media platforms to take responsibility for what is published on them.
"They are the publisher, not just the postman," she said. "There cannot be a case of all profit, no responsibility."
Australia's home affairs secretary Mike Pezzullo said on Friday that his department had "re-dedicated itself to standing resolutely against the extremist ideology of white supremacy and its adherence" in the wake of the Christchurch terror attack.
"You are on our radar and you will not be able to incite the racial strife that you seek," he said.
But Faruqi says there are still "really serious questions" over whether Australian governments at all levels are "taking right-wing extremism seriously".
"We must act now to protect the community from white supremacist and far-right extremism whether it's online, in the media or in politics," she says.
Abdel-Magied says Australians need to be "courageous" in the face of far-right extremism.
"We need you to stick up for a better society," she says. "We need to you see us as equals and use the gift of your privilege to help us build a better country.
"For someone like me, who sits at the intersection of various marginalised groups in society, what happens is that our experience is 'intersectional' — it's not only sexism and it's not only racism, and it's not only Islamophobia, but it's an amplification of all those phenomena."