1.
An eye cream that reduces those stubborn dark circles and puffy bags under your eyes that tend to pop up in the morning. Made with all-natural botanical ingredients, it's as gentle on your skin as it is on the environment.
Promising review: "I have been using this daily for about eight months now. I am 60 years old. It reduced the puffiness and bags under my eyes. I am Sicilian and had dark circles. It has brightened up my eye area. I am very surprised as I have paid much more for eye creams that have done so much less. I recently had pre-cancerous cells removed at the bridge of my nose. After healing, I was left with a dark scar. The dermatologist told me that it would heal over time. Since I began to apply this eye cream, the mark has almost disappeared entirely. I shop constantly from Amazon. This is the first time that I have taken the time to write a review. That's how impressed I am with this product. If you decide to purchase this, you won't be sorry." —Lynda M.
Get it from Amazon for $19.99.
2.
A Revlon hot air brush magically designed to dry and style hair with just a few passes. It'll create bouncy, shiny hair in about a quarter of the time it would take with a traditional blow-dryer and round brush.
Promising review: "First time review and it's because I'm so happy with this dryer/styler! My hair is about shoulder length, very fine with a slight curl, and now it has some gray to it. It's also frizzy, no matter what I use. I'm 61 years old so trust me, I've used a lot of products! Never have I been able to get my hair to look like it did after leaving the salon, EXCEPT after using this. I watched some YouTube videos first for some pointers, and then I gave it a try. It's easy to use, even though it's bigger than I thought it would be. My hair came out beautiful! Smooth, soft, no frizz and lots of volume. Hope this review helps you anyone out there that have similar hair!" —Anon anon

Get it from Amazon for $34.99+ (available in six colors).
3.
Essence Lash Princess Mascara that will make your lashes look so long, thick, and full, people will start asking you if you got eyelash extensions.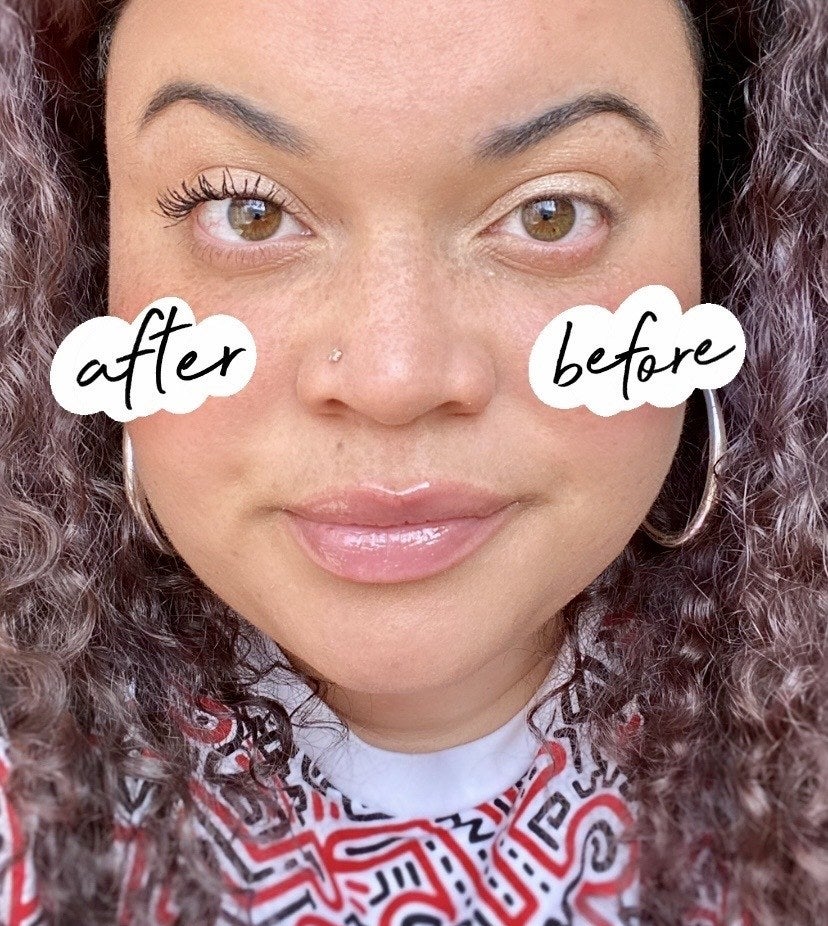 BuzzFeed Editor Kayla Boyd tried this out and raves: "As someone who isn't a big fan of false lashes (the glue irritates my eyes and I'm terrible at applying them) this budget-friendly holy grail does the trick for both lengthening and volumizing my lashes. After you've given it a minute to dry, it lasts all day long and doesn't smudge or fade. It seriously gives the effect of false lashes, without the discomfort."
Promising review: "After using Lights, Camera, Lashes by Tarte for the past year, I got tired of breaking the bank over mascara. My sister suggested Essence Lash Princess False Lash Effect and I IMMEDIATELY fell in love. It provides dramatic length and great volume. I can honestly say I can't stop looking at my eyelashes in the mirror every single day because of how awesome they look. Also, it is very long-wearing. I go from an eight-hour workday right to the gym and sweat like crazy...and this stuff doesn't budge! I love it!!" —Carrie E Miller
Get it from Amazon for $4.99.
For more info and review pics, check out Kayla's full Essence Lash Princess Mascara review! You can also check out her review of the mascara on TikTok!
4.
The Olaplex Hair Perfector No. 3 treatment to repair damaged hair and broken bonds, which helps transform your dry, frizzy hair into the smooth, silky, luxurious locks you know they can be. Reviewers have said it also works great on healing overprocessed, color-treated hair.
Make sure your hair is wet when you use this, and apply liberally from roots to ends. Use once a week or twice a week if you have severely damaged hair.
Promising review: "I had a botched hair color. The hairdresser over-bleached and processed my hair. I could hardly brush it because of the damage. I knew I needed to find something to repair my hair. This product has worked wonders. I did an overnight treatment and I could feel that my hair was more manageable. I love this product, I now use it once a week to help replenish my damaged hair. My hair is very thick so I only got two treatments out of one bottle. I will definitely be using this in the future. It smells good and is easy to apply." —Amazon Customer
Get it from Amazon for $28.
5.
Or this deep-conditioning hair mask if you can practically hear your hair whispering to you, "Help me! I'm dry and damaged!" Just put this super-hydrating mask on your hair for five to 10 minutes after shampooing, and you'll come out of the shower with smoother, healthier, and frizz-free locks.
Briogeo is a Black-owned, woman-owned small business that specializes in cruelty-free, gluten-free, mostly vegan hair products. Every product is also six-free, which means it has no harsh sulfates, silicones, phthalates, parabens, DEA, or artificial dyes.

Promising review: "MY HAIR HAS NEVER BEEN SOFTER! Seriously, this stuff is magic. My hair was so soft using this product and never felt greasy like a lot of other products will make my hair feel. I have straight, fine hair and it was awesome!" —mhopp
6.
A nail-and-cuticle oil for anyone who finds themselves with dry, damaged nails that tend to peel or break. Apply this daily on your nails, and you'll be amazed at how healthy they look after just a few months.
Promising review: "I had peeling, weak nails for years. I bought this in February. This size bottle lasted a bit more than a month as I religiously applying it two to three times a day. I was really seeing great improvement so I bought another bottle in late March. By May, all the peeling had grown out and my nails were getting stronger every day. I then bought the big 4-oz refill bottle because I never want to run out of it again! Cannot recommend this stuff enough!" —Diana
Get it from Amazon for $8.50.
7.
A L'Oreal *eight-second* lamellar water rinse-out treatment because you don't need to drop half your paycheck at the salon to get a treatment that will make your hair look shiny, moisturized, and strong.
And it's silicone-free!
Promising review: "I don't usually do reviews on products, but for this one I absolutely have to. I have 3c type hair and struggle with a lot a breakage, unmanageability, and moisture. When my mom mentioned this product to me I didn't take her seriously because of the simple fact that we have two completely different hair textures. I never would have thought this brand would work on my hair. I have always used ethnic hair products and stayed away from brands such as this one because of the alcohol consumption. I have never in my 22 years felt my hair like this. I feel like I have a completely different head of hair. This product is so amazing and I will FOREVER be using this product in my hair regimen. Thank you so much!! ♥️" —Theressa Hailey
Get it from Amazon for $8.97.
8.
A box of pore-tightening, skin-lifting face masks that might freak you out at first (they make your face look like a zombie!), but once you peel it off, you'll be nothing but pleased at how radiant your skin looks.
Promising review: "At 60 years old I have tried SO MANY products...anything short of surgery to lift and tighten my face. Around the age of 57 my pores became larger and larger. I tried product after product and spent hundreds trying to find that fountain of youth. There is nothing like going into a store with sales people younger than my grandchildren telling me what I'm doing 'wrong' with my skin care regime. They had never seen a wrinkle in their lives. I thought I would give this face mask a shot. I mean what did I have to lose? Immediate results! I couldn't believe it! My pores were small; my face was different...and in a good way..lol. I can't believe my skin looks so good. I'm so excited. I had to write a review. I don't think you'll be sorry if you decide to try this. I know I sure wasn't!" —Judi Bragg
Get a box of eight masks from Amazon for $30.99.
9.
A dandruff shampoo if you're sick and tired of finding little flakes of your scalp on your shoulders. Also, people with dandruff know how dang itchy the problem is, and this is formulated to keep those scalp scratchies at bay.
Promising review: "I have tried every natural thing for my dandruff-y, funky scalp. I did tea tree, neem, a couple Aveda systems, borax, just everything. For a couple YEARS. I'd see mild improvement, but it was always a struggle and if I let up, it was back with a vengeance. And then I used this twice and it's just all gone. I'm going to keep using it for a while to make sure this stuff is killed off completely, but I can already tell I'm not going to have gross lumps of dead skin in my hair ever again. I've had a lot of hair loss the last couple years too, and I have SO much hope that this will help reverse that! I'm still using my nice natural shampoo as my main shampoo. This stuff is kind of harsh. But as medicine it can't be beat and I'm so glad I bought it." —bright shiny things
Get it from Amazon for $13.
10.
Maybelline Instant Age Rewind concealer for anyone searching for an easy-to-apply option that can cover your dark circles, blends well, and stays put even during sweaty days. This concealer really does it all!

Promising review: "Best under-eye concealer ever. I wouldn't go out without applying this concealer. It blends nicely with my foundation and has never caked. The sponge applicator is soft and makes application quick and easy. I will continue to use this product and hope, like many products I've used over the years, that it doesn't get discontinued." —Morty
Get it from Amazon for $7.99 (available in 17 shades).
Check out my colleague's Maybelline's Instant Age Rewind Concealer review and learn why it's her favorite.
11.
The highly effective Bio-Oil that works wonders to help fade scars (both old and new ones) and moisturize your skin without clogging your pores. It's especially beneficial to anyone who lives in dry climates and needs a hydrating boost for your skin.
Psst! Bio-Oil contains retinol, which accelerates skin turnover but can make you more sensitive to the sun — so don't forget your sunscreen!
Promising review: "Bio-Oil is the BEST skin product on the market. I use it as a twice a day — morning and before I go to bed. Small lines have disappeared. My skin is very smooth and seems to glow. A doctor recommended this to one of my friends who told me about it. I have bought several bottles as gifts. Be patient. It will take a few months for you to see notice the changes. I am 71 years old. No one paid me to write this." —Amazon Customer

Get it from Amazon for $8.92+ (available in three sizes).
12.
An eye primer because you don't want to spend precious time perfecting your eyeshadow just for it to be faded and creased by lunchtime.
Promising review: "So let me start by saying I have used nearly every eyeshadow primer available. From high end to low...they don't hold a candle to Thank Me Later. I have very oily skin. Using this primer, shadow lasts a full eight hours or more. I could get maybe five or six out of the other brands if I was lucky. I got this as a sample in my Ipsy bag, and I had to buy the full-size product straight away! I couldn't be happier with my purchase. Thank you, Elizabeth Mott, for finally making a primer that lasts! I love this stuff!" —Melissa Mae
Get it from Amazon for $13.48.
13.
Lip Bar tinted skin conditioner for the most even, dewy, natural-looking make-up look ever. With SPF 11, it'll protect you from the sun as it moisturizes your skin thanks to the hyaluronic acid.
Lip Bar is a Black-owned, woman-owned business and all of its products are vegan and cruelty free (no unnecessary chemicals!!).

Promising review: "I have have only worn foundation on special occasions. I tried this tinted moisturizer and when I got it I tried it out and I was in LOVE!! I have found a simple and natural coverage I have been looking for so long. I don't feel like I have anything on, it's not a heavy weight like some foundations give. My skin looks great and the color is a perfect match for my skin tone. I just LOVE IT!" —La H.
Get it from Lip Bar for $17 (available in eight shades).
14.
A cruelty-free vitamin C serum designed to brighten up dark spots and help correct pigmentation issues. Reviewers rave about how even their skin looks and how soft their face feels after using the serum for just a few days.
Promising review: "I am 23 years old, a medical student, with very TIRED, acne-prone, and dull skin. I have struggled with acne throughout my entire adolescent and adult life. I have used many products all over the market. The years of heavy chemicals trying to treat my acne has definitely hurt the integrity of my skin. I have had new fine lines, wrinkles, HEAVY bags, and dark circles. I started doing research on skin care and decided to completely re-vamp my beauty routine. If you care about your skin, you should not hesitate in purchasing this serum. My skin is still not perfect. I do have a few blemishes that will pop up, but as for my skin overall... it has helped tremendously. DON'T HESITATE." —Allie Carter
Get it from Amazon for $19.99.