1.
An adorable octopus-shaped blackhead remover that is a whitehead and blackheads worst nightmare. Shaped like an octopus, it will suction out all the gunk in your pores, leaving your skin feeling refreshed and rejuvenated. You might be grossed out by what it extracts, but trust us, you'll be grateful for the results!
Promising reviews: "I saw this on TikTok, and it works great so far." —MarMar Manuel
"After just two days of use, this adorable little octopus has done wonders for me, smells great too. Here's how I used it: I wore down the stick just a little to where the texture from the salt is visible, scrubbed around on my face so there was plenty of product, then I used my fingers to gently massage all the gunk away. Rinse, pat dry, and enjoy the softness. Highly recommended for people with sensitive skin like me." —LuckLocust
Get it from Amazon for $12.50+ (available in four varieties). 
2.
A portable steam cleaner for breaking down stains in carpet and upholstery like you've never seen before. If you haven't made it to #CleanTok, this recommendation is one of the many reasons why you should visit and stay a while. 
Promising review: "This vacuum is amazing. I first heard of it on TikTok where people were using it to clean their stairs, mattresses, car seats, etc. and from the videos, it already looked amazing. But considering how dirty my dining chair cushions were, I was a little bit apprehensive and skeptical. I purchased the item and used it on my chairs for the first time and the results were SO AMAZING. Best vacuum I've ever used. I even bought a second one!" —Davina
Get it from Amazon for $123.59+ (available in three varieties). 
3.
A lazy person-approved shower cleaner —a weekly, bleach-free shower spray that does the hard work for you. Simply spritz it in your shower, leave it overnight, and rinse the next day. Voila! Your shower will be sparkling clean without any effort.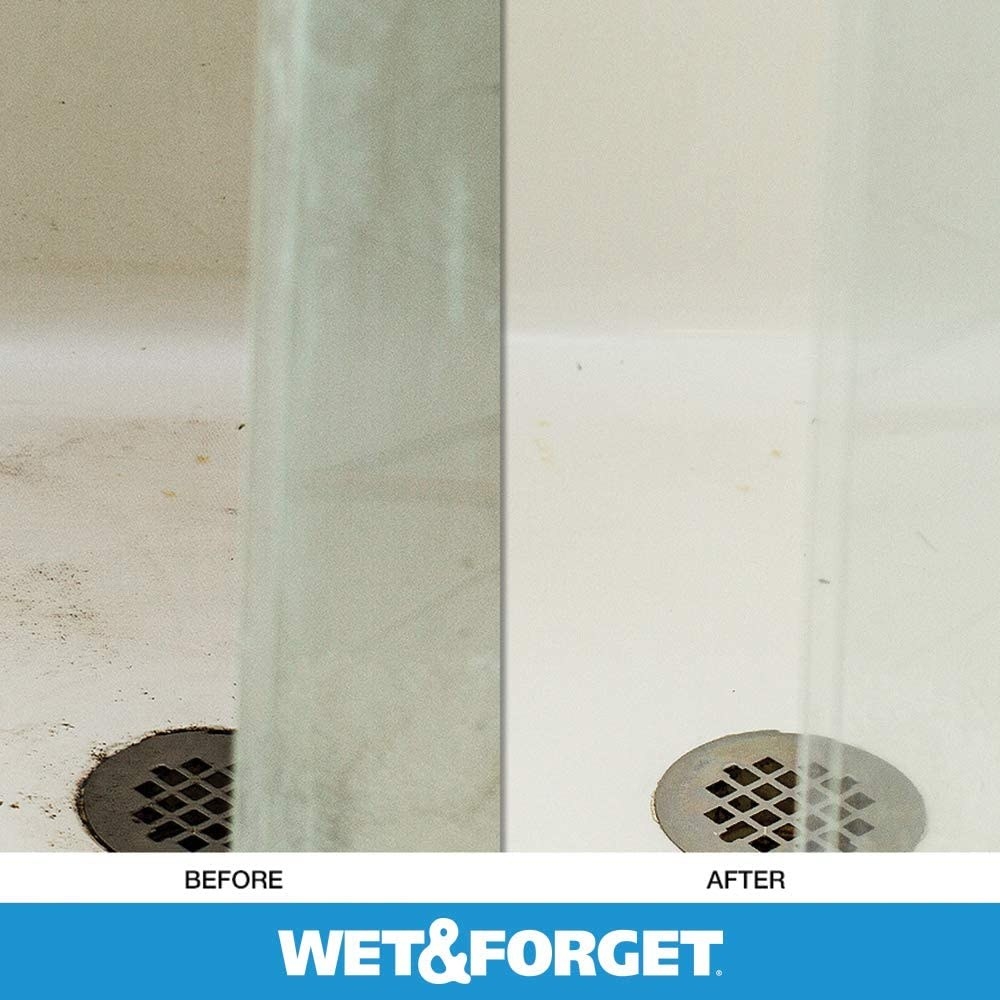 Promising review: "I have well water. Something in my well water reacts with copper plumbing and turns my shower tiles blue. Since my bathroom color scheme isn't on the blue spectrum, this is problematic. The well water also causes the shower glass to film up quickly. I've tried dozens and dozens of cleaners and scrubbed till my arms ached trying to get ahead of the blue and scumminess. My ambition in life is NOT to be a full time bathroom scrubber! I saw this stuff on a professional house cleaner's TikTok, and thought 'what the heck, might as well give it a try.' Oh my goodness, the first day after my shower, I sprayed this stuff all over and walked away. The next morning there was a NOTICEABLE reduction in the blue and the glass looked clearer too. Day two, sprayed again and walked away. The next morning the blue was gone except for a few spots on the floor tile and the glass looked amazing. Day three I spayed the remaining spots and the next morning the shower practically looked new. NO SCRUBBING AT ALL!!!! This is my new favorite shower cleaner. The ONLY con I have is that it makes me sneeze while I'm spraying from inside the shower, but I can live with that." —L. J. Petillo
Get it from Amazon for $20.52+ (available in two scents and in a pack of one or two).
4.
A popcorn salt so you can transform your at-home movie night into a mouth-watering movie theater experience. Just a sprinkle of this magical seasoning will transport you and your company to the cinema, attacking your nostrils and taste buds with that irresistible aroma that you love.
Promising review: "I am a person who will make myself sick eating buckets of popcorn (I have no self control). This has by far been my favorite 'TikTok made me buy' item. My at-home popcorn is now my favorite thing to make, and I don't need to go the theater for popcorn. Very much worth the purchase and this will last me such a long time." —S Martinez

Get it from Amazon for $9.60+ (also available in three other sizes/styles).
5.
An Essence Lash Princess mascara that will have people questioning how much time and money you spent getting an individual lash set. But shh, it's our little secret. All you need is a few swipes of mascara for long, voluminous lashes fit for royalty.

Promising review: "I saw this product on TikTok thought it would be expensive looking at the results they got. I am beyond amazed with how my lashes look after about two coats. For around $5, you couldn't ask for a better mascara! I will be buying this same one when I run out. I was not expecting to like it as much as I do! No complaints." —Kd
Get it from Amazon for $4.99.
6.
Elizavecca's CER-100 Collagen Coating Hair Protein just in case you're looking to revive your dry, damaged hair. Whether you're a heat styling addict or just need some TLC, this protein treatment is a game-changer for your hair care routine. Packed with ingredients like soy protein, allantoin, and ceramide 3, this miracle product works like a mask to give your strands the ultimate boost. 

It's recommended for use on damaged, over-processed hair of all textures.
Promising review: "TikTok made me buy this the first time. I liked it enough to buy it again. It leaves my hair super hydrated and soft. If you have issues with oily hair, maybe not for you. But those with dry or curly hair needing moisture — yes yes yes! Keep the box for directions because you can't read the ones on the bottle if you don't understand the language." —Kandyce D.
Get it from Amazon for $7.44.
And read our full review of Elizavecca's Hair Protein Treatment.
7.
A sleek LED alarm clock so stylish you'll want to display it as a decor piece! But it's not just a pretty face —this clock also serves a practical purpose. You can actually use the mirror to do your makeup. 

Plus, it has two USB outlets, which means you can use it to charge your phone (and AirPods) while you sleep.
Promising review: "I love this alarm clock. I saw it on TikTok and loved how sleek it looks with the mirror display. I've had mine since August, and it's great. I can adjust the brightness before bed. I've used the alarm feature a few times, though I still use my phone." —MD1991
Get it from Amazon for $23.95+ (available in 12 colors).
8.
A rapid egg cooker because no one wants to deal with the hassle of boiling water and guessing cooking times for the perfect boiled eggs. From meal prepping to getting a quick and easy protein fix, the rapid egg cooker will surely become one of your favorite kitchen gadgets. 

Plus, it comes with a recipe book to help you come up with a few new ideas to try.
Promising review: "I saw someone on TikTok with this and gasped! Ordered it right away. I had no idea these things existed. Super easy and convenient and the hard-boiled eggs came out perfectly. I'm testing a batch now without punching a hole in the eggs to see how they come out. Because why not make an easy process even easier?!?! LOL." —Gina

Get it from Amazon for $19.99+ (available in seven colors).
And read one BuzzFeed writer's full review of the Dash rapid egg cooker.
9.
A yuzu-scented hand soap that's a treat for your hands and your senses! Made with a hydrating formula, this soap also smells amazing thanks to the refreshing yuzu scent. And the best part? It dispenses as a foamy flower every time you use it, making hand-washing a delightful experience. 
BuzzFeed editor Emma Lord says: "I've *also* been using this soap, and not only is it super hydrating for my hands (LOL @ constantly handwashing now and forever!), the yuzu scent is just calming and lovely, and I'm obsessed with how light and frothy the foaming suds are from the soap. The best part is that the bottle is totally reusable; you buy the dispenser once, and then you can get refills of the foaming soap for $14.24 from then on out." Read more of her yuzu-scented hand soap review (it's #32).
Promising review: "I saw someone on TikTok with this and did an impulse buy and I love it. You do have to give it a few pumps at the beginning of the first use to get the soap up. But it does make a cute little flower on your hand. Super cute and I love the fact that you can get refills so it's not a one use kind of deal." —Christina Hansen
Get it from Amazon for $20.49+ (available in three styles).
10.
A set of scrubbing attachments since the last time you applied elbow grease, your arms were in pain for days. These game-changing attachments will revolutionize the way you clean, making everything so sparkling clean without you paying in aches later. From dirty dishes to grimey bathroom tiles, these attachments will tackle any mess with ease.

11.
An exfoliating foot peel for tired, neglected feet that need a little love! This foot peel is a must-have for anyone who wants to revive their feet in time for the summer, especially after a long winter of being cooped up in boots. You'll be a little grossed out watching your feet peel for 5-7 days but having smooth soles in time for sandal season will be ultimately worth it. 

Promising review: "Yes, TikTok made me buy it. But let me tell you...I've bought it again and again. Every few months I use this and there's no substitute. I tried a different brand once I found at DSW and the results were not the same. Anyway, if there's any chance I'll be in sandals or barefoot or going to get a massage, I will use this to be sure no one has to see my nasty heels. The peeling process is kind of gross, yes, but it's got to go somewhere. Plus, be patient...let it peel naturally, with a little help each day by soaking your feet in water for a few minutes, as recommended, and then gently rubbing your feet. Absolutely love it." —Laurie
Get it from Amazon for $16.89+ (available in two sizes, 11 scents, and in packs of two, four, three or eight).
12.
An explosive Revlon oil-absorbing volcanic face roller that absorbs excess oil in a snap, leaving you with a fresh, matte complexion. Blotting papers who...?
Promising review: "First off, if you have extremely oily skin, this. is. it. I was so tired of getting blotting powder/wipes. It felt wasteful and always left residue on my face. I saw this on TikTok and NEEDED it. It was back ordered, but then I got an email saying it was in stock, and I was SO excited. Not only is it affordable, but it's washable, which helps you save money and be less wasteful. The packaging wasn't over the top exciting, but it provided you all the info you needed. (It felt like the holy grail had been delivered to my front doorstep.) After my first use, I was in love. Now, it doesn't pickup everything but it does make it more matte and gives you a natural look. I am so excited this product exists and I already feel more confident." —Kelsey B.
Get it from Amazon for $13.28+ (available in two varieties and in a bundle).