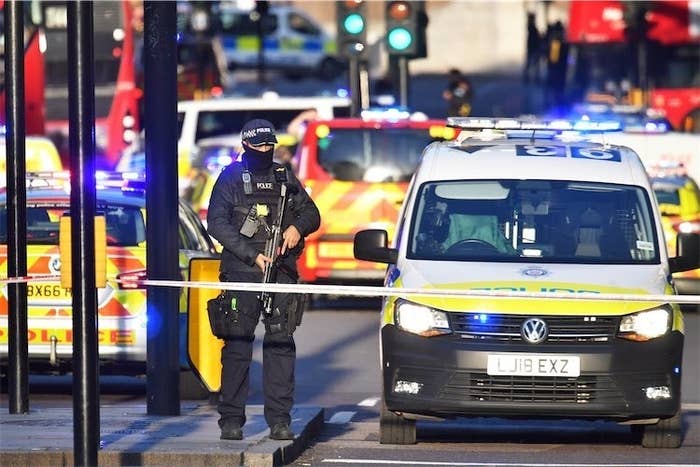 Two people were killed after a man wearing a "hoax explosive device" went on a stabbing spree at London Bridge in a terror attack Friday.
The suspect also died at the scene after being shot by police.
"It is with the heaviest of hearts that I must now inform you that, as well as the suspect who was shot dead by police, two of those injured in this attack in the London Bridge area have tragically lost their lives," Metropolitan police commissioner Cressida Dick said in a statement.
Dick said three other injured victims were being treated in the hospital.
"I am deeply saddened and angered that our city of London has again been targeted by terrorism," she said.
The attack started at Fishmongers' Hall in London, Dick said. Police officers were called at 1:58pm local time and "bravely" confronted the suspect just five minutes later, she said.
Cordons will remain in place around the London Bridge area while authorities determine what happened and whether anyone else was involved, Dick said.
BBC security correspondent Frank Gardner cited Whitehall officials who said the incident was "spontaneous and reactive, not intelligence-led".
Prime minister Boris Johnson said that to the "best of our knowledge the incident has been contained", suggesting that the individual was acting alone.
Government sources told BuzzFeed News the identity of the suspect was not yet known and it was not yet clear whether the incident was planned.
Metropolitan police assistant commissioner Neil Basu declared the attack a terrorist incident, adding that there would be an increased police presence in London over the weekend.
The investigation is now being led by officers from the Met's Counter Terrorism Command, who are working with the City of London police.
Speaking outside Scotland Yard, Basu said: "I can confirm that at approximately 2pm today, Friday, 29 Nov., police were called to a stabbing at a premises near to London Bridge.
"A male suspect was shot by specialist armed officers from City of London police, and I can confirm that this suspect died at the scene. A number of other people received injuries during this incident. As soon as we can provide further updates on their condition we will. And our heartfelt sympathies go out to everybody who's been involved in this and are anxiously waiting for information on their loved ones."
He continued: "I am now in a position to confirm that it has been declared a terrorist incident. We are working jointly with the City of London police as we continue to respond. Officers from the Met's Counter Terrorism Command are now leading this investigation. I must stress, however, that we retain an open mind as to any motive. It would not be appropriate to speculate further at this time."
Basu said officers were carrying out searches in the London Bridge area as a matter of public safety.
"Those extensive cordons will remain in place for a considerable time, and I would ask the public please continue to avoid the area," he added.
London mayor Sadiq Khan paid tribute to the emergency services and said his "heart goes out" to the victims of the attack. "It has been confirmed that people were injured in the attack. My heart goes out to them, their families and all affected," Khan said.
"Thank you to our brave emergency services who responded to today's horrific attack. Every day they put their lives on the line for us — running towards danger in order to keep London safe. We must — and we will — stay resolute in our determination to stand strong and united in the face of terror. Those who seek to attack us and divide us will never succeed."
News of the attack started spreading shortly after 2pm on Black Friday, one of the busiest shopping days of the year. Eyewitness videos posted to social media appeared to show a man being pinned to the pavement, with police officers and members of the public involved.
Another video appeared to show a man lying on the floor as another man, not wearing police clothing, retrieved a knife and ran away.
London Ambulance Service confirmed three people were taken to two hospitals but didn't provide details on their conditions. Ambulances were called at 2:02pm and arrived at the scene within seven minutes, the service added.
Mikael McKenzie, a sports reporter at the Daily Express, was at the scene when he saw people running towards him and heard gunfire. He said that "everyone was panicking".
He told BuzzFeed News that he was standing near the monument, and suddenly "everyone was running away, screaming about a man with a knife".
"Armed police turned up, and then there were gunshots," he said. "Uniformed police then arrived and put up a parameter and were shouting at everyone to get back. They kept pushing everyone further back as more officers arrived."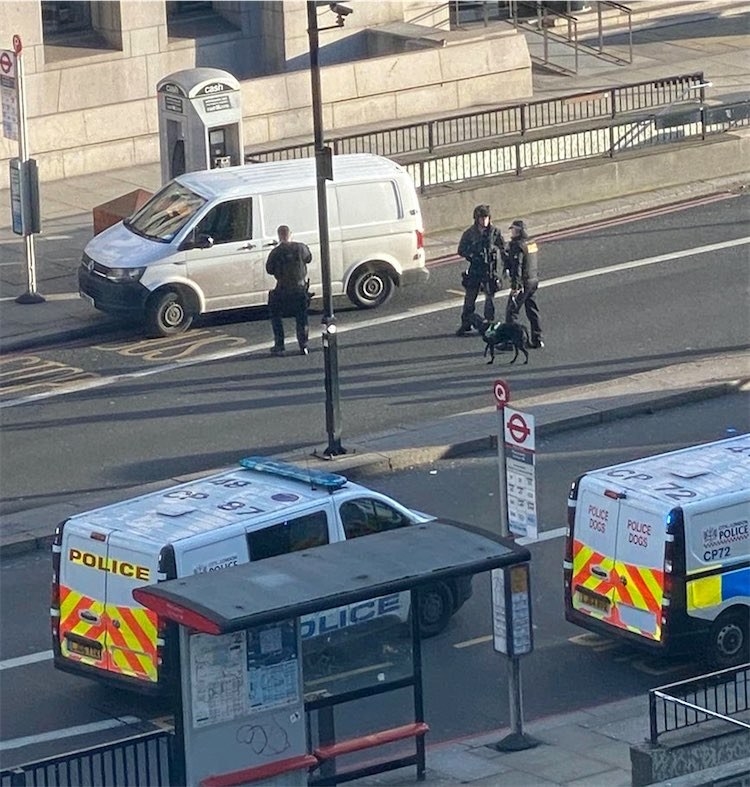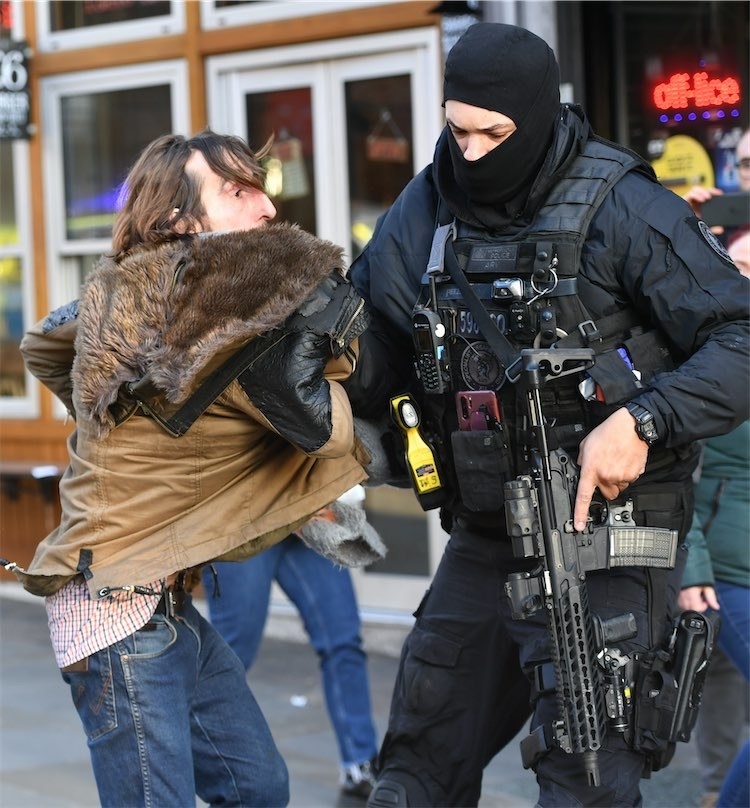 McKenzie said he "got away safely" from the incident, adding, "We continued moving away from the scene and kept getting pushed further and further away by the police."
BuzzFeed News reporter Mark Di Stefano was on the scene and said that bystanders were "very shaken".
Johnson cut short a campaign visit to his Uxbridge constituency to return to Downing Street for a security briefing.
On Twitter, he thanked the emergency services for their response, which was echoed by home secretary Priti Patel.
He said he has temporarily suspended campaigning for the upcoming general election on Dec. 12.
Labour leader Jeremy Corbyn tweeted, "My thoughts are with those caught up in the incident." He also thanked the emergency services for their response.
He later tweeted: "We must remain united across all our communities, and we cannot let our democratic process be derailed by acts of terror.
"We are suspending campaigning in London tonight as a mark of respect for those who suffered in this attack. We will not be cowed by those who threaten us. We must and we will stand together to reject hatred and division."
US President Donald Trump has also been briefed on the incident. The White House said: "The United States strongly condemns all horrific acts of violence on innocent people, and we pledge our full support to our Ally, the United Kingdom."
This is the second time in two years that London Bridge has been the scene of a terrorist attack. In June 2017, 8 people were killed and 48 others injured.