We Listened To Zayn Malik's "Mind Of Mine" And Had A Lot Of Feelings
An emotional journey through the former One Directioner's first solo album.
by
,
,
,
,
,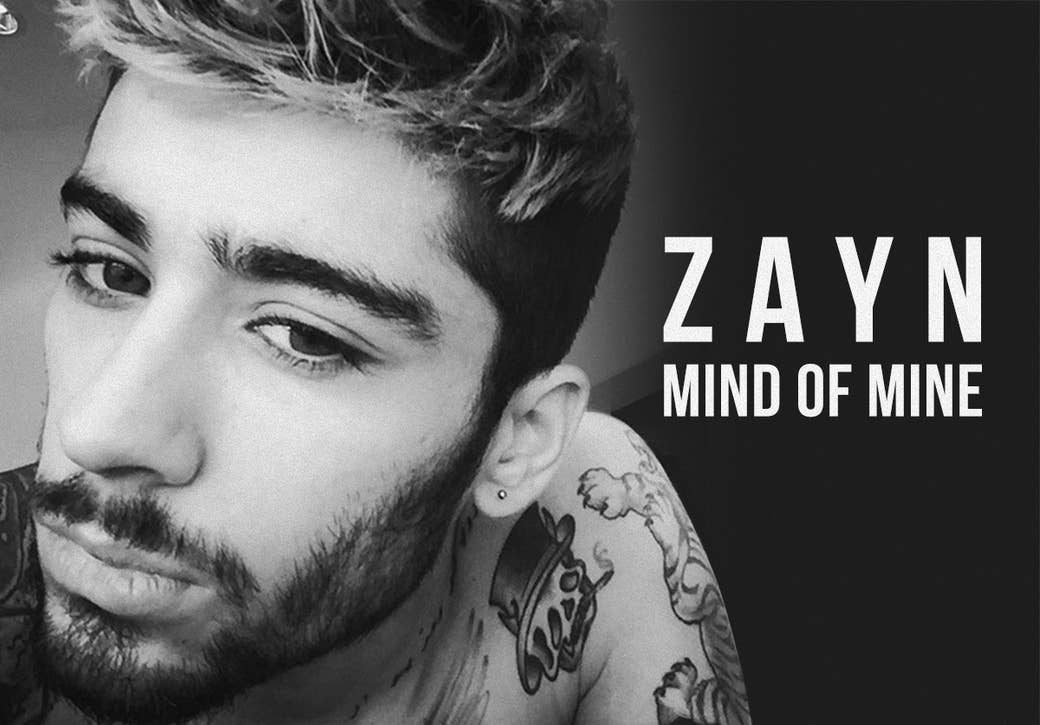 1. "MiNd Of MiNdd"
Lauren: I have no idea what he's saying. Actually I don't even know if it's English? But I like the slow/fast beat and the smoooooooth sound. That lasted three seconds. Oh wait, that was the intro. OK I'M READY FOR ZAYN. 1/10
Kevin: The intro is kinda weird; I feel like this is the beginning of some sort of house song that Calvin Harris would play in Vegas. When is the beat gonna drop?!?! What's happening? OMG OK LOL what just happened, I didn't even realize that it was over and then it kind of dropped. But OK, I wanted more ZAYN! I WANTED MORE! 4/10
Kristin: OK, Zayn. I'm INTRIGUED. Confused, but intrigued. 3/10
Michelle: Well, this is interesting and unexpected. It reminds me of Bon Iver a little bit in that I'm not sure what he's singing but it sounds spiritual and hypnotic. It seems unfair to rank this out of 10. But 5/10? I really don't know.
Whitney: My first thought is I'm so here for this. It's so soulful! It's like I can feel Zayn's emotions as he bellows each note. He sounds so pained — what happened, Zayn? Was it Perrie or was it the breakup of One Direction that burned you so bad? So yes, to answer the call of this introductory song: I'm VERY ready to be taken into Zayn's mind. 5/10
Matt: Zayn is the new Ariana Grande in that half the time I have no idea what he's saying. This reminds me of "Lotus Intro" from the critically de-claimed "Lotus" album. Christina Aguilera's impact is real. 2/10

2. "PILLOWTALK"
Lauren: I fucking love this song. It makes me want to have sex with someone immediately (sorry). It gets weird when I listen to it on the subway because of that feeling. RECK-AH-LESSS BE-HAY-VEYAHHHHHH. This is a jam. I was ready to hate Zayn for leaving 1D and releasing shit music, but then he dropped this and I was like, "OK, nvm." 9/10
Kevin: I've heard this song before for sure, and it hadn't really grown on me, but I'm starting to like it now. It's very sultry. I like the chorus. Better day, better days, better days. 8/10
Kristin: OK, this is sex jam perfection. After listening to it approximately 15,756 times every single day for the past two months I have reached peak obsession. I wanna listen to this every damn day — it's sexy and sultry as hell. 10/10
Michelle: I fckin love this song. This song is when I knew Zayn was fire. My only comment is I don't know what he's doing with his voice when he sings, "Bed all day." It sounds like "Buhetta Day." I'm not saying I hate it. I just don't get it. 10/10
Whitney: Obviously we've heard this song before and I can't help but think of Zayn and Gigi "fucking and fighting on" in their paradise/war zone. This is trite, but every time Zayn says "Wah Zone" and "Bedda Day," I giggle. 8/10
Matt: I recently learned he was saying "bed all day" and not "better day." Also I don't understand this song, so is he just mega anti-talking after having sex? Is this like a pump-and-dump anthem? Yeah, IDK, I still love this song. 10/10

3. "iTs YoU"
Lauren: I just keep thinking of the Lana del Rey song, "It's you, it's you, it's alll for youu, everything I do." Blah blah blah. I love LDR. But this is about Zayn. He goes high in this song. Real high. Idk, I'm bored. Next song please. 3/10
Kevin: OK we have an organ here… I'm in, but I'm not sure what I'm in for. I like the beat… the lyrics… eh, but let's give it a chance… Pretty slow tempo still… I'm trying to figure out what kind of occasion this song would be for… Sex, I guess? He's really stretching that register of his, but he sounds good. I wonder who wrote this song? It's youuuuuuuuuuuuuuuuuu, lol. It's a little too slow for my liking but I don't hate this song. 6/10
Kristin: The vocals got me feeling some type of waaaay. His voice is soothing and dreamy like being hugged by a big fluffy cloud, and I really wanna like it, but the pace is so slow that I can't ever really get into it. It does deliver on those insane, mega-high vocals though. 6/10
Michelle: His voice hits some real high notes in this one. It's all very angelic and intimate, like he's singing directly to your soul. 7/10
Whitney: At first I was like "snooze!" but by the end of the song I'm in awe of Zayn's range. It almost feels as thought this track is on the album for the sole reason of showing off Zayn's incredible high notes. (And that's fine!) Could this be the next big prom song of 2016? If I was a teen in high school I'd want to dance with my crush to this. That said, it kind of goes on for a while. While this song isn't a banger, it's definitely been stuck in my head since it dropped two weeks ago. ♬ It's youuuuuuuuuuuuuuu ♬ 8/10
Matt: He sounds like a ghoul. Haunt me. 5/10

4. "BeFoUr"
Lauren: I'm into this from the start. I like the drums and the feel. I like how the chorus builds and then it's kind of angelic for a minute. WOW HIGH NOTE. I *do* like this song, but it's missing something for me. I need more energy or just a better hook or bridge. NOT TOO SHABBY THOUGH. 6/10
Kevin: This is a party bob. I'm here for it. I can imagine listening to this on the beach or at a fun pregame in the summer. I like it. I like the sound and the trop-pop beat. Also the lyrics are good too. This is a fun song. 9/10
Kristin: I feel like this would be killer live. You can't listen to this without immediately wanting to dance. And when he hits the high note at the end <3333 9/10
Michelle: It's interesting??? There's just a lot going on, you know? It feels busy and I'm not really sure what to do with myself while listening to it. 5/10
Whitney: Digging the beat. It feels like we're learning a lot about Zayn in this track. He doesn't drink to get drunk. Wow. Prolific. 9/10
Matt: This sounds like a less problematic Robin Thicke song. Here for it. 8/10

5. "sHe"
Lauren: Good vibes hitting me only at the start. "Somebody to Love" is all over the chorus here. Literally because those are words that repeat frequently, and also because it kind of sounds like, "I just need somebody to loveee." I think Bieber has influenced him more than we know. Having said all that, I would definitely blast this from my car with the windows down and pump the bass. That is if I had a car. 7/10
Kevin: Another dance-y poppy song. I'm here for it. I like the lyrics. This is where the sound gets a little R&B-y. I'm liking this one a lot, it's definitely a chill song you put on when you're chillin' with a boo or just, like, smokin' in the house cleaning or something. I also would like to know who wrote this song as well. I'm into it. I typically always LOVE the breakdown of songs and I really like this breakdown IN THE RIGHT WAY IN THE IN THE RIGHT WAY!!! COME THROUGH, ZAYN! OK I'M HERE FOR THIS TRANSITION. I like how the song changes. I liked the outro. 9/10
Kristin: This song is a bop — I reaaaaallly wish there were more uptempo tracks like this on the album. Feeling some Timbaland/Justin Timberlake vibes at the end and I'm very much here for it. 8/10
Michelle: This is one of those songs that five seconds in, you know it's going to be good. It's definitely one of the catchier ones. 7/10
Whitney: Finally, a song I can bop to, though it feels like it could be a song by Nick Jonas ("Jealous 2.0, anyone?"). Who is she? And Zayn, why are you so damn judgmental? Maybe she DOESN'T need somebody to love her, maybe she's just fine on her own! #IndependentWomen2k16. Enjoying the outro also. 7/10
Matt: A little too cis for my taste. This gives me Nick Jonas "Jealous" feels. Actually I love this song. I changed my mind. This needs to be a single. 9/10.

6. "dRuNk"
Lauren: All of these songs sound familiar. With that kinda slow, but also kinda fast tempo feel. This sound is a little too "gonna bump n grindddd" (lol what?) for me. Now that I think about it I think all of these songs were made just for people to have sexy-sex to. The lyrics however pretty much resemble any other millennial's summer. DRUNK ALL SUMMER, YUP COOL. 6/10
Kevin: This one sounds kind of similar to "Pillowtalk" but just with a different, slower beat. I'm not complaining though. I like the beat as it picks up a bit too. This is much more R&B and I like it. I'm drunk a lot so I can relate to this song tbh. Drunk all summer. I can see this being a single. It's a sexy song but also a party-ish song too. I foresee the DJs having fun remixing this one if it become a hit. I like this one is all I keep thinking. Its v. v. relatable for me. I can't wait for the summer. 10/10
Kristin: Another track talking about getting drunk and having a hip, cool ~late night~. Real talk: The lyrics are corny as hell but I'm gonna forgive him because his voice is stellar. 6/10
Michelle: This is more low-key than I was expecting. Like this is not the fun kind of drunk. This is the "I got drunk alone and now it's 4 a.m. and I don't know what I've been doing for the last six hours" drunk. 6/10
Whitney: I definitely enjoy Zayn's honesty in this album thus far. This song is pretty good — and is obviously a party jam — but it doesn't get amped up enough to actually listen to at a party. The very '80s guitars in the background feel a little out of character but I'm glad it's at least experimental. 7/10
Matt: "Drunk all summer." —My summer mantra, 2016. This is boring, though. 3/10

7. "INTERMISSION: fLoWer"
Lauren: There's an intermission for the album!!!!! It's actually really nice and very cool to hear Zayn sing in a different language. 5/10 — it's like 30 seconds long. I can't rate it that high because there's not much of it.
Kevin: This sounds like i'm in a villa or something in Morocco. It's relaxing. I wish I knew what he was saying. I like when it picks up and the guitar comes in more. 6/10
Kristin: Sounds like the end of my yoga class, which is pretty much PEAK ZEN. Would like to wake up to this every morning. 7/10
Michelle: This is nice and tbh I would probably buy an entire album of songs like this. It feels kind of out of place on the album, but it's cool to hear Zayn sing in Urdu. It's a different side of him we haven't really heard. Not sure it's fair to rate, but I guess... 6/10
Whitney: It's beautiful, it's spiritual, and I would listen to an album full of this to be honest. Light some sage and mellow out or mediate... Into it, Zayn! 9/10
Matt: Pretty. 6/10

8. "rEaR vIeW"
Lauren: I like this song, but I can't figure out its purpose, other than just being a song. It's a fine song to have on at a party when people are mingling and not really paying attention to the music much. Or maybe a good song to smoke weed to. Or to play while on a road trip and maybe the sun is setting and life is just ~good~. 6/10
Kevin: This one kind of sounds like a Coldplay song… hmm… It also has a sexy vibe. Then it picks up — OK I like it more now. It's not Coldplay anymore. It's good. I like how it picks up and I also enjoy the background beat. This is pretty poppy but I'm not complaining. I like the chorus a lot. 6/10
Kristin: Getting a little bit of a Chris Martin vibe in the beginning of this song, which is confusing but also I'm into it? I listened to this while walking to work this morning and I can confidently say it improved my mood by roughly 45%. A+. Obsessed. 9/10
Michelle: This one is a good combination of mellow and upbeat. Zayn's voice comes through really clear in this one, so that you can really hear the lyrics. I'm not super impressed with the chorus but the verses are lit. 7/10
Whitney: Back at it with something a little more upbeat! Definitely feeling the synth on this track. But regarding the album, I'm so unclear why the track listing alternates between upbeat and slow… it's like, who is this for? 8/10
Matt: All of these songs are like in slow motion, which is not a bad thing, but I'm #justsaying. This doesn't work for me. This is filler. 4/10

9. "wRoNg" feat. Kehlani
Lauren: OK, all these songs really do sound the same. BUT WAIT THERE'S A GIRL ON THIS TRACK. She's good. I love duets. I love sexy duets. My favorite duet of all time is "No Air" with Jordin Sparks and Chris Brown. Back to this song though, it's good, but still kind of slow. Once again Zayn is making me picture people having sex. What's wrong with me? 6/10 — SORRY 6/10 IS MY COMFORT ZONE!!!
Kevin: OK I REALLY LIKE THIS ONE 40 seconds in. It's true pop. I love when the drum comes in. I like the lyrics too… Sexy. I like this one a lot. This one has a kind of hip-hop beat but it still feels poppy. I like the feature with Kehlani. She's on the come-up so this is a good feature for Zayn. I'm into it. It's a little slow, but still good. KEEP IT ON THE LOW. I like this one. I will admit it's a little slow, but, again, I DONT MIND. I'm into this one. I like it. I'd definitely be able to listen to this one over and over. 10/10
Kristin: This song is pretty hot. "Don't think because you're with me this is real" — it's like peak fuckboy Zayn and tbqh I'm here for all of it. 7/10
Michelle: This is a pretty decent slow jam that definitely makes you wanna slow grind. Kehlani's feature is refreshing. 7/10
Whitney: This song was only OK in my book until Kehlani started singing — then I was ALL IN. 9/10
Matt: This sounds like a not as good "Pillowtalk." It's OK. 5/10

10. "fOoL fOr YoU"
Lauren: Zayn has a lovely voice, it's true. He really can get all those notes and shit, but this is boring. This actually reminds me of "Hopelessly Devoted" from the iconic musical Grease. But that song is better than this one. Next song please. 4/10
Kevin: Now we have a ballad. Let's see how this goes…. I'm not typically a fan of ballads. So I don't really know how to feel of this one. I mean it isn't bad. It isn't that great. Jury's still out; I think I'd need to listen to this one again, but I don't know if I would voluntarily do that. 4/10
Kristin: His soothing, sexy voice + a piano is a very golden pairing. Not gonna lie I'm obsessed with this track. Zayn's probably not talking about me in this song but it feels nice to pretend like he is. 8/10
Michelle: Zayn sounds great on this song and the opening piano is really nice. I'm not really into love ballads but if that's your thing, you'll probably like it. 6/10
Whitney: Ah, finally: a relatable breakup song. A ballad, even! This song is going to be playing in every lovelorn and depressed person's apartment. It honestly seems like it was made for a rom-com montage in which the lead character has just walked in on their significant other cheating on them and their dramatic reaction as they walk home weeping. 6/10
Matt: Zayn is a good singer. That's about all I take away from this. 6/10

11. "BoRdErSz"
Lauren: Bored until the chorus to be honest. The chorus I like a lot. The bridge is also really good. Maybe we can just cut off the first part of the song and keep the rest. That might make me happy. 7/10
Kevin: OK before we get into the song can we talk about why the song is spelled this way? This reminds me of an old-school Maxwell song. It makes me wonder who wrote/produced this. I don't mind it. It's not bad. I like the beat. It's very chill. This is another at home smoking weed song or chillin' with your boo song. The lyrics are OK; I like his delivery on this one. It's pretty good. The chorus is good. This is a song I'd imagine listening to driving in a car down the Pacific Coast Highway or something, you know. Or driving on the highway. I like this song. 8/10
Kristin: I feel like I wanna be racing over the Brooklyn Bridge, windows down, wind blowing in my hair with Zayn's soothing vocals bringing me to peak bliss. His voice is making me ~feel things~. I feel like this is the 18th time I've heard him sing about "taking it off" and I want to be annoyed by it but I'm not. 8/10
Michelle: This is easily one of the better/catchier songs on the album. I like the beat, the vibe, and how Zayn plays with his voice. 7/10
Whitney: This has a good beat but it's kind of boring. Good chorus. Has that same chill-but-upbeat vibe that is confusing to me. 7/10
Matt: A low-key bop. 7/10

12. "tRuTh"
Lauren: Zayn's voice just went down like 100 octaves. But again, we have kind of a slow, mellow song. It's nice. Another song to smoke weed to, and then fall asleep immediately. 4/10
Kevin: This sounds like somebody else. That's not a bad thing — it just doesn't sound like Zayn. This one's a little slow. And at this point I'm getting a little bored listening to this consecutively. The other songs at least had unique things that made them interesting, but this one is a little flat. I'm not really into this one. I don't hate it but its a little too chill, lol. Definitely smoke a jay song tho. 4/10
Kristin: I'm into the soft-spoken, deeper vocals, but it's pretty slow for me. 4/10
Michelle: TRUTH be told, this song doesn't really sound like Zayn. He's definitely channeling Frank Ocean here, which I can appreciate, but I don't think it's a standout on the album. 6/10
Whitney: Truth time: This album is starting to make my eyes glaze over a little bit, I'm sorry. This track has Future Sex/Love Sounds vibes. This would be perfect to smoke weed to. 8/10
Matt: His voice sounds hot in this song but it's not quite enough for me to like it. 3/10

13. "lUcOzAdE"
Lauren: YES FINALLY. This is a beat I can get down with. Also wow, sorry for sounding like a total douche. But seriously, this is a good sound. At points it actually sounds exactly like "Pillowtalk," but I don't mind because I love that song. And I like when Zayn says "fucking." There's no real chorus in this song; it just goes and goes with the beat. In my completely unprofessional opinion, this song would have been A+++ if there had been a boppin' bridge or something, but there isn't. Either way, I was into it. 7/10
Kevin: Ok what's with the name of this song? But when the beat dropped, I'M IN. I like it a lot. It's very funky. But I hear a lot of better days in the delivery of this song, so I'm curious if the same person who produced that produced this. I like this song though and it would definitely make it on to one of my playlists. I like the lyrics too. As I'm listening I keep thinking how much I like this song. 10/10
Kristin: To be honest this is where they all sort of start melting together for me, but I'm really into the beat. 6/10
Michelle: Finally, something a little bit more upbeat. At this point in the album, this song is very welcomed. 8/10
Whitney: Yay, more of a banger! Still not quite upbeat enough to get up and dance to. We were so close, Zayn! 6/10
Matt: This is good but I can't understand anything he's saying. It's long. 6/10

14. "TiO"
Lauren: OK, I know I keep saying this but this song is literally for fucking. In every way, shape, and form. My head is moving side to side though, so that must mean I like it at least a little. 6/10
Kevin: Interesting… I'm waiting for the beat to drop... OK I'm in. I like this one. I like the beat a lot. It's more poppy, more house-y, more upbeat. The songs seem to have drifted away from a slower sound. LOL and Lauren just filled us in "TiO" means TAKE IT OFF, DUH, but I never would have guessed that — thanks, Lauren! — I like the chorus… 7/10
Kristin: Getting some major The Weeknd vibes, and I'm feelin' it. It's sensual and sexy as hell. I'm obsessed with the chorus. I feel like Zayn's talking to me singing "take it off" and I'm like, YES, OK!!! SURE! 9/10
Michelle: This song is GREAT. It's definitely catchy, and I can actually see myself singing along to this one, whereas the other ones are more, like, background music when I'm doing something else. The song is good enough to ignore that the title is lol. 10/10
Whitney: The lyrics are weird to start when you're assuming this song is about someone's UNCLE. Then I realized "TiO" isn't meant literally, but it stands for "take it off" instead. Cool. 7/10
Matt: This album makes me realize that Zayn is just like constantly having sex. Include me. 7/10

15. "Blue"
Lauren: This seems like a song that might play between other songs on this album just to kill time. Or also maybe might be played at a funeral. 5/10
Kevin: This is another track that sounds like a Coldplay song… Kristin said is he underwater, and I agree… it does sound like he's underwater singing... It also sounds a bit like a reject Justin Timberlake song… It's very slow; I kind of can't figure out what mood this song is for? 5/10
Kristin: So, it's really pretty. He sounds beautiful. I can respect it, but honestly I'm kind of falling asleep, I'M SORRY. 4/10
Michelle: Honestly guys, I'm running out of things to say here. "TiO" was so good, and now this song is just bringing me down. 5/10
Whitney: This song sounds like an interlude. Not really feeling it. 3/10

16. "Bright"
Lauren: I've all of a sudden changed my mind and I'm into this album. I really like how this song sounds. It makes me feel like I've walking down a street in some shiny material, and everyone is looking at me and I'm like, YEAH WHAT'S UP I'M COOL? 7.7/10
Kevin: Another ballad… Hmm… I like the beat change kind of funky but also poppy. It's still kind of interesting its a little too slow for a Vegas DJ, but I guess it could be like for a beach DJ or something? It's not terrible, it's just kind of…confusing I guess what the direction of this song is. As the song goes on it gets better for sure… I'm not sure if I'd add it to my pregame playlist, but I definitely don't hate it. 7/10
Kristin: Very ~futuristic~ kinda feel. It's different and I like it. 7/10
Michelle: There's a lot more going on in this one, in terms of variation with the beat and tempo. Another very Frank Ocean–sounding song. 7/10
Whitney: I think I've decided that I prefer the upbeat bangers on this album. Zzzz. 6/10

17. "Like I Would"
Lauren: FINALLY. This record is picking up steam again. I love this song. It's so good. GUYS, IT'S SO GOOD. Why is this on the deluxe version? Everyone should be able to listen to this bop. 9/10
Kevin: Cold-hearted…. I like the build-up in this song. I also could see hearing this in Vegas at the Cosmo or something while Martin Garax spun or something, I like that. Then it changes and its great. I'm a fan of this song. It's very poppy, upbeat, happy, and fun. OK this song definitely makes it onto the pregame playlist. 10/10
Kristin: OBSESSED!!! I wanna be out in the middle of the dance floor screaming this at the top of my lungs for the next five hours or forever. 9/10
Michelle: This is definitely more on the level of "Pillowtalk." It's catchy; it's something you want to dance and sing along to. They might actually play this one on the radio. 9/10
Whitney: YES! This is by far my favorite track off the album. It's high energy enough to work out to, dance to, or also just float around the city as you're doing ya business. It's been on repeat for me since it's been released, I just cannot fathom why this wouldn't be included on the main track listing. IT'S SO GOOD. 10/10

18. "She Don't Love Me"
Lauren: I don't have anything to say. 4/10
Kevin: This is a good dancey song. I like the beat a lot; I'm into it. I like the lyrics, I like the vibe. I could see myself listening to this song either at a pregame, or on the beach, or walking to work. I like the multipurposness of it. I could also definitely imagine hearing this on the radio or driving in a car. I really like the funkiness of it. 8/10
Kristin: "I think I know she don't love me, that's why I fuck her right," is a phrase I think I heard from a frat bro during my university's Freshman Week in 2007. 6/10
Michelle: Meh. This song sounds dated to me and I'm not really a fan of the lyrics. "I think I know she don't love me, that's why I fuck around." Like, cool, Zayn. 6/10
Whitney: I like this song, it's got a retro feel to it. Reminds me of riding around Los Angeles with the windows down. 8/10

Final Thoughts

Lauren: After really reflecting on this album and looking deep into my soul, I actually don't hate it at all. I know that my scores seem like I actually feel the opposite, but I'm just a tough grader. It's kind of a soothing album? Obviously I would prefer more upbeat songs that I can blast either out of a car or into my ears, but I appreciate Zayn being Zayn. Overall rating: 6.7/10
Kevin: Usually, when we expect a debut album from a solo artist there are typically high expectations, and I feel like those expectations are typically met because a debut album means the artist has something to prove. I definitely feel like Zayn has something to prove, but I think that he potentially went a little too experimental with this album. The thing about Zayn that separates him from other freshmen artists is that he's not new to this. He doesn't really have anything to prove musically, and he already has a built-in fanbase. So with those things already in his favor, I was expecting a blowout album that had jam after jam after jam, even if they all weren't in the same tempo. I think that Zayn definitely delivered with this album, but I guess I was hoping for something even more. He was definitely onto something with a few of the tracks, and the kind of lacklusterness from the others could have been the result of a lack of available producers.
I feel like the album could have been ordered better to give a cohesive vibe. Overall I think that it's a solid offering from Zayn, and I didn't really have any expectations. Overall there are a few tracks I would definitely play over and over again and to get a few of those in 2016, is a solid effort. I'm interested to see which of these tracks will actually make it into singles. Overall rating: 7/10
Kristin: I feel like the album is very specific for a certain place and time. Half of it makes me wanna chill and zen out while Zayn's angelic voice washes over me. The other half makes me wanna race down the streets of NYC at midnight in the back of the cab with someone I'm ~really into~. He obviously sounds insanely incredible, and I respect his overall vision, but l kind of expected a little more? All the songs sort of melt into each other. But I think it's a sexy album (like, literally, will make you want to have sex) and a solid start for his solo debut, proving he definitely knows what the hell he's doing. I can't say I'm OBSESSED with the entire album — which is what I was hoping and anticipating — but even after just listening to it a few times I'm already becoming addicted to most tracks, and have a feeling everyone else will too. After all, it's Zayn. I would honestly listen to him sing the phonebook on repeat for 17 hours. Overall rating: 7.8/10
Michelle: I went in expecting a more upbeat album. "Pillowtalk" gave me those expectations, so I think I was taken aback at the overall mellowness of it. There are definitely a few big hits on here, and ones that they'll play on the radio nonstop. But the majority of the songs are relaxing, slow jams. It's a good background music kind of album, something you could listen to while working or studying, perfect for a morning commute on a rainy day, or just a night in with some wine and sweatpants. 7/10
Whitney: This album was pretty confusing quite frankly. Such a random mix of chill-out songs, upbeat dance songs, some ~sexy~ songs, ...and songs I could fall asleep to. It's hard to think about where this album would fit into my life: a house party in LA, I guess? It would depend on the kind of night you're having. Personally, I think I will re-arrange the upbeat tracks and slow tracks and put them in my own order on a playlist. I very much liked the album, but it's not at all what I was expecting. 8/10
Matt: At first I was like meh and then I was like yay. He definitely comes from the Ariana Grande school of annunciation but whatever I can get down with that. It will be criminal if "sHe" isn't a single. The Myspace style writing is too much. Zayn is cool with me. 7.5/10