Pop sensation Ariana Grande's songs are known for melody and catchy lyrics. She just says what needs to be said without any sugarcoating.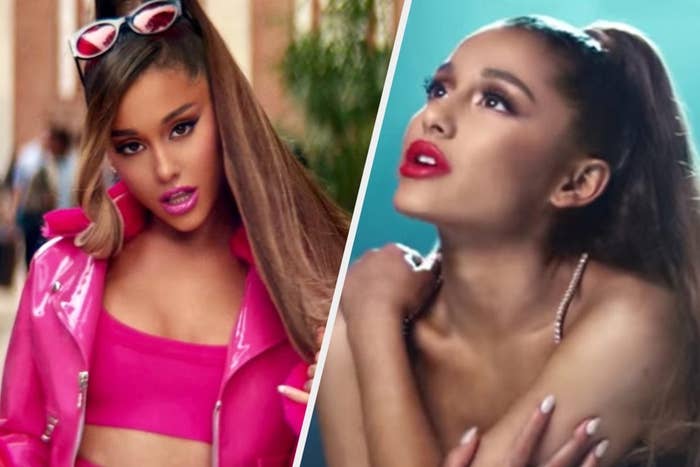 Here are some of her best lyrics that you can use as captions or quotes:
1. "Nothing to prove and I'm bulletproof and know what I'm doing."
2. "You know that I'm greedy for love."
3. "Don't need permission, made my decision to test my limits."

4. "The karma, my aesthetic / Keep my conscience clear, that's why I'm so magnetic."
5. "My presence sweet and my aura bright."
6. "No need to sugarcoat a lie."
7. "All girls wanna be like that, bad girls underneath like that."
8. "Summer days with my honey, worried 'bout nothing."
9. "You know I'm very delicious."
10. "Never thought you'd be so damn hard to replace."
11. "Losing friends left and right / But I just send them love and light."
12. "I get everything I want cause I attract it."
13. "Skirt off, keep the high heels on."
14. "This is one small step for woman, one giant leap for woman-kind."
15. "Don't you know I ain't fucking with them good boys?"
16. "Baby, you got lucky cause you're rocking with the best."
17. "It's gettin' hard for them to shock me."
18. "Highlight of my life, just like that Fenty Beauty kit."
19. "Your Gucci tennis shoes, runnin' from your issues."
20. "One taught me love / One taught me patience / And one taught me pain."
21. "All the drama, boy, it's overkill."
22. "Keep your hands on me, don't take them off until I say so."
23. "Ain't you ever seen a princess be a bad bitch?"
24. "I'll take the pleasure, take it with the pain."
25. "On a scale of one to ten I'm at 100."
26. "You need a bad girl to blow your mind."
27. "Breathe me in, breathe me out, fill me up."
28. "I wanna say we're going steady like it's 1954."
29. "Blew it out of scale, like my ponytail."
30. "If you don't want to do the things I need from you, goodbye, goodbye."
31. "Ain't no need to hold it back, go 'head and talk your shit."
32. "I'm no blow up doll, no free-for-all."
33. "Can't you forgive me? At least just temporarily."
34. "You treat me like gold / Now you wanna spoil me."
35. "And I don't normally say this but goddamn, you're the best, best, best."
36. "You could hold moonlight in your hands."
37. "I wanna savor, save it for later."
38. "Boy, you make me make bad decisions."
39. "I'm so into you, I can barely breathe."
40. "I'm just tryna give you something to remember through the summertime."
41. "All the drama, boy, it's overkill."
42. "I can see right through it / I can you love you harder than I did before."
43. "Redesign your brain, we gon' make some new habits."
44. "I was toxic, then I was toxic to someone else."
45. "I was a liar, I gave into the fire."
46. "Head in the clouds, got no weight on my shoulders."
47. "I came to peace with my path."
48. "So come here and give me some kisses."
49. "Drip-drip-dripped in gold."
50. "Kiss me and take off your clothes."
51. "This is the part where I break free."
52. "Just let me be in your life like that In your life like that."
53. "Can somebody walk me to my car?"
54. "No eyeliner on, but looking at you is the fix."
55. "Never been with a boy more than six months."
56. "I can tell you're curious, it's written on your lips."
57. "Don't want you in my bloodline / Just wanna have a good time."
58. "Say you could turn me on.
59. "No, it doesn't have to be forever, just as long as I'm the name on your tattooed heart."
60. "And I can be needy, way too damn needy."
61. "Lately, I've been on a roller coaster."
62. "You know I'm very impatient."
63. "Am I too cold? Am I not nice?"
64. "Thank you, next."
65. "Never let me run away."
66. "I've never been this scared before."
What's your favorite Ariana Grande lyric? Let us know in the comments.