Daniel Kaluuya, 28, and Letitia Wright, 24, are two of Britain's brightest homegrown talents making waves in Hollywood right now.
Kaluuya has a best actor nomination for his role in the award-winning film Get Out and Wright has played parts in the British TV series Humans and Drake-approved Top Boy.
The pair, who have both had leading roles in Charlie Brooker's Black Mirror, are now part of Black Panther's all-star cast. It's one of the most anticipated films of the year and is already breaking records.
BuzzFeed News sat down for a quick chat with them and spoke about repping the UK, memes, and their favourite British music.
How does it feel to feel to be the two black British actors representing in such an epic film?

Daniel Kaluuya: We're just calm. If you represent, you represent. It's about being an individual. I don't feel the pressure. I feel the love, but it's the fact we just got to do our job and hopefully other people will see that and they will come to us. When you try and represent a whole community, that's when you stop being yourself and people disengage.
Letitia Wright: We're just being ourselves, telling the truth, and happen to be from the UK and the UK happened to show love.
Are you worried Black Panther will be labelled a "black film" and not just a good film in its own right?

LW: I'm not worried. It's pretty much something that's new. It's pretty much a predominantly black cast, black director, set in Africa. That's not a worry, but if you just take it as just that, then that's closed-minded. Yes, its centred around an African king, but the themes are so universal to everybody and you can relate.
DK: Yeah, it's a black, good film. If people see it as a "black film" it says more about them than us. We're just trying to tell a good story… You wouldn't see another film and say it's a "white film".
You've both been in Black Mirror. What are your favourite episodes?

LW: "Nosedive" – because it's so real to what we are doing today. Everyone is just out for ratings and likes. Like, the one of the girl and she has her phone, and if you like something and she'll like it. If they don't like you enough it goes down and you can't even get a car or a mortgage or nothing. It's sad.
DK: "Playtest"… It was about fear. He feared his mum and and it was so deep. And all of his fears were a manifestation of not picking up his mother's calls.
Because we don't want to run the risk of **spoilers**: There is a meme reference in the film, but what are your favourite memes in real life?
LW: "What are thoooose?"
DK: The Black Panther meme, you know when they go, "Rolling up to the Black Panther premiere like, aye aye…"
Daniel, how do you keep up with memes if you're not on social media?

LW: Hmmm...
DK: I'm about. I'm everywhere but I'm never there.

LW: Should I tell you the sickest answer? "I download the app."
DK: Yeah, I download the app.
So you're not there, you're just preeing?

DK: I pree.
What do you think of the idea that black British actors have to go overseas to get the big, big movie roles?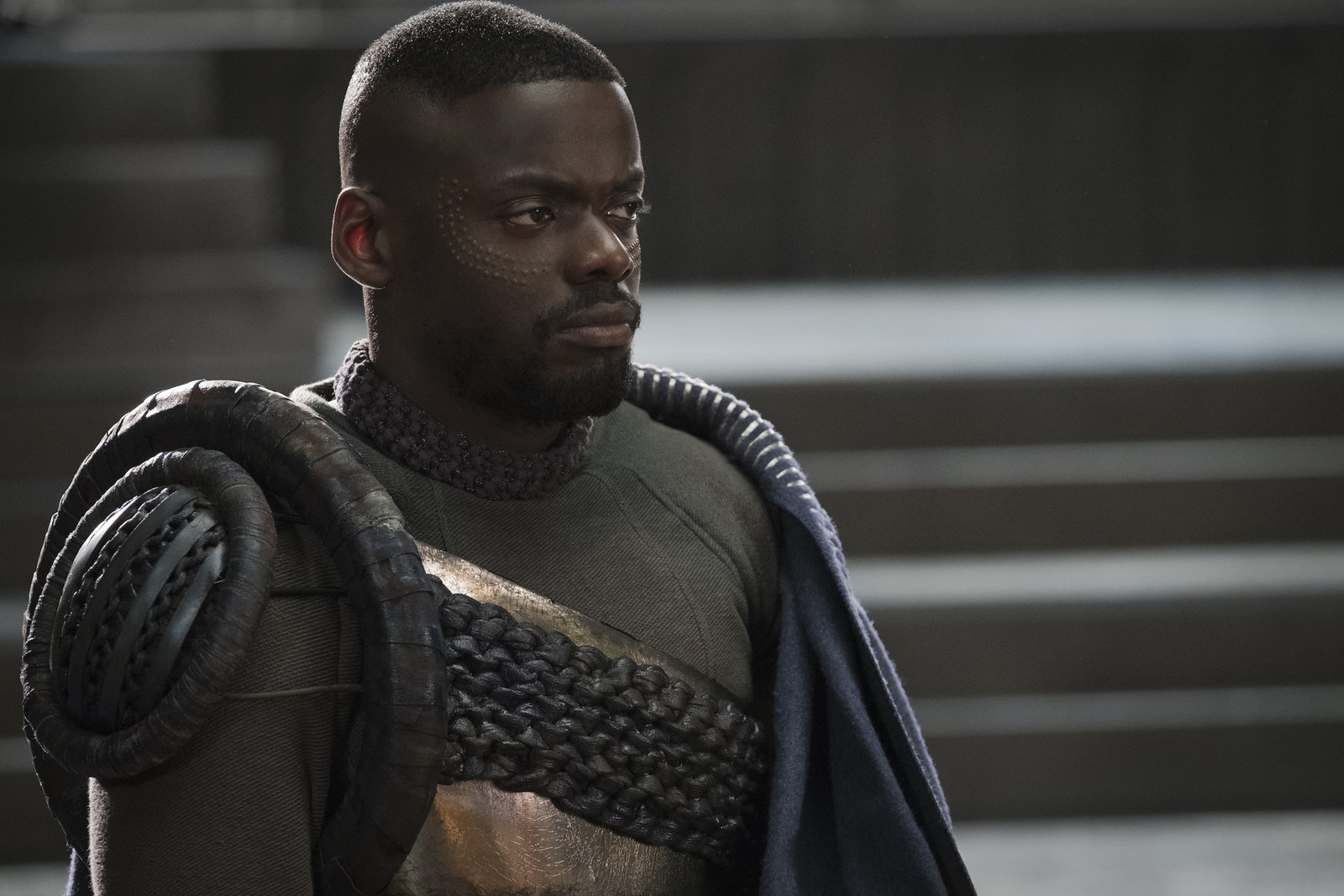 DK: I think everyone does, don't they? That's just the nature of the industry, in the sense that it depends on what your aspirations are, do you know what I'm saying? If you are wanting to do Shakespeare, then you are going to want to go Stratford-upon-Avon. If you want to do stuff that hits a wider audience and inspire people and empowers people, you are going to go to the biggest market in the West: That is LA, and that's the nature of the beast.
What's your favourite British song?
DK: Octavian, "Party Here".
LW: "Barking" by Ramz. It's so repetitive and it's always in my head.
You can watch Wright and Kaluuya in Black Panther, now in cinemas nationwide.