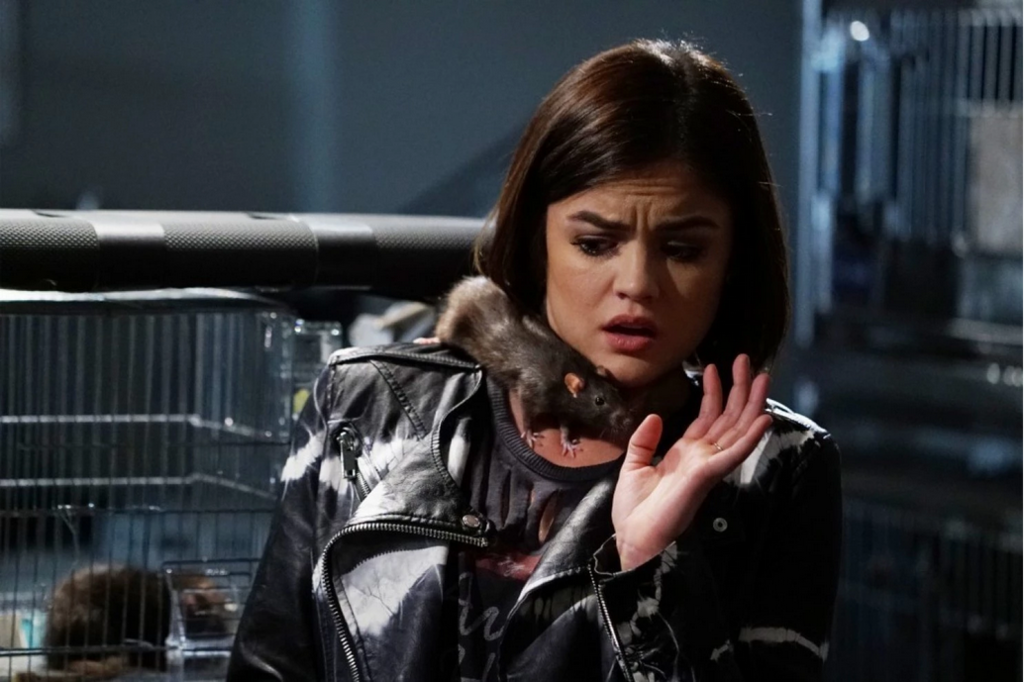 1. Ugh what is happening I can't remember anything from two weeks ago?
2. So, the girls don't actually think Lesli is A do they?
3. COME ON WE'VE BEEN THROUGH ALL OF THIS BEFORE.
4. Goddammit.
5. Emily is talking so much sense right now.
6. SHE KNOWS. THEY WERE WRONG ABOUT ANDREW.
7. Mona maintained perfect hair while she was A? Y'ALL MAINTAINED PERFECT HAIR IN THE FREAKING DOLLHOUSE, SPENCER.
8. Although at least someone is finally recognising how absolutely crazy but also brilliant Mona was for being A while also stylish AF and acing school.
9. WHY DO THESE PARENTS KEEP TRUSTING DR SULLIVAN?!
10. It's like they think she can fix all of their problems and have conveniently forgotten she's shady AF.
11. Emily's scared face gives me so much life.
12. Hanna is so mad at Emily for daring to go to a therapist. YOU ALL NEED TO BE IN THERAPY. Seriously, why aren't they getting more help here?
13. These girls care more about catching A than the police do.
14. Where are the police btw?
15. Rosewood is fucked.
16. Mr DiLaurentis is freaking the fuck out about that card.
17. The look on his face is 100% "someone remembered my birthday???"
18. Oh wait nope.
19. This is creepy.
20. Why would Emily have seen something, she is literally just riding up?
21. Unbelievably, Emily looks even more confused than usual when Mr DiLaurentis was questioning her.
22. Emily is just in a perpetual state of confusion.
23.Super sleuth Hanna on the case looking Lesli up.
24.WELL DONE HANNA FINALLY SOMEONE IS USING GOOGLE TO FIND SHIT OUT.
25."The lump under my skin is LINT Caleb, God, hop off my dick."
26.WAIT. Caleb only noticed now, but didn't they make out some episodes ago?
27.BuzzFeed Quiz idea: Is That A Lump Or Is That Just Lint?
28. Emily and Sara have the most awkward sexual tension ever.
29. Can we just not with these two.
30. Sara talks in the most unhinged way.
31. "Do you still like it?" - Sara on her tattoo. IDK maybe it's "feraaaallll."
32. Lol of course Emily suggests she wear check flannel.
33. ~The gay agenda~
34. Longjohns - the best way to keep the good china warm in winter.
35. This scene is the worst.
36. Stand up straight Sara.
37. NO STOP I MARLENE THESE TWO DO NOT NEED TO HOOK UP.
38. This is very "It puts the lotion on its skin."
39. I can't watch this.
40. What is with Spencer's drug buddy?
41. Why are all these old characters coming out of the woodwork? Seriously.
42. Don't. Care. About. These. People.
43. Omg Melissa is texting Spencer. They remembered that Melissa exists. She's definitely on the A team right.
44. Spencer has incompletes in every subject, poor Spencer, that must cut her deep.
45. But also like how is she actually graduating?
46. Or going to college?
47. Is she going to college?
48. Tbh I think not sleeping ever is probably WORSE than taking pills.
49. "Drug Free Dean" lol good one Hanna.
50. Hanna stalking Lesli like it's NBD.
51. Hanna's outfit and hair is on FLEEK today.
52. She might be creepily lurking behind a car but she's looking fiiiine.
53. Wait so why does Sara work with Caleb now?
54. Someone tell Sara about Kimye for god's sake.
55. She needs some Kimye.
56. Caleb, everyone needs Kimye in their lives.
57. But seriously, why wouldn't Caleb hire an assistant who hasn't been living literally underground for the last couple of years?? Why doesn't Sara just go get a job at Starbucks or something?
58. Wait, why doesn't Caleb go to school anymore?
59. Sarah looks like Megan Rapinoe, another important person she's probably never heard of.
60. It's OK Sara you can ask about Alison.
61. "I wouldn't ask… but I was LITERALLY TORTURED in relation to Alison so kinda wanna know who dis bitch is."
62. SARA EVERY TIME YOU TALK YOU'RE SO FARAL.
63. Why. Are. None. Of. These. Girls. Getting. Professional. Help.
64. Aw poor Caleb.
65. He just wants to be part of the squad.
66. His hair looks so great in this episode tho.
67. Hi, can we talk about how Hanna is literally stealing a car?
68. First shoplifting and now car theft, what's next Hanna?
69. Why do all the teens in Rosewood have enormous Range Rovers?
70. What happened to the classic beat-up sedan?
71. Also, this guy is the worst valet ever.
72. He is almost doing as bad a job as Hanna trying to be ~sexy~.
73. This flirting is really bad.
74. LOOK AT MY BRA STRAP OOOOOOOOOOH.
75. BOOBY POWERZ.
76. This would NEVER work in real life.
77. All of the men on this show are so dumb.
78. And predators.
79. DID SHE JUST TELL HIM SHE LOVES HIM?!
80. Omg I'm dead.
81. Oh! There's Rebecca Breeds! Another Home and Away alumni joins the PLL crew.
82. And she even has her Australian accent.
83. Or she's just terrible at an American accent?
84. And she's after Emily.
85. Is this another goddamn love interest.
86. I like her better than Sara already tbh.
87. Ezra just casually giving away personal information about Emily like it's no big deal.
88. Ezra is the worst.
89. It's not a proper episode if some of them aren't hunting around the junkyard.
90. "It's kinda hard to hunt for clues and make emojis at the same time." Life motto tbh.
91. EMILY GURL YOU NEED TO STFU ABOUT SARA.
92. OMG IT'S CLARK!
93. He's returning to the scene of the crime.
94. He's definitely A.
95. Also like ENOUGH WITH THE NEW CHARACTERS AND RETURNED OLD CHARACTERS.
96. Remember "Too Many Cooks"?
97. This show is "Too Many Cooks".
98. Smarf is A.
99. What do Spencer and Hanna realistically think they're going to find in Lesli's car?
100."My mom keeps letting him in," Hanna talking about Caleb like he's a stray dog.
101. Poor Caleb.
102.But also like YAS Hanna for standing up for her independence.
103.I'm so conflicted by this OTP.
104. Also how are they going to take the car back?
105.This is dumb.
106.Of course Caleb can duplicate the swipe card.
107.Yeah, he would totally have that knowledge and technology.
108.Seriously, if Caleb is so great at hacking how has he not figured out who A is?!
109.Why doesn't he start his own WikiLeaks or something?
110. PLL Leaks.
111. Would click.
112. The box of glasses is creepily similar to A's closet of yellow tops.
113. Please let them find a box of fake moustaches next.
114. So many damn glasses.
115. This is like the buttons all over again.
116. OMG THEY'RE FAKE.
117. Spencer: "This girl's fooling everyone!" …that she's a glasses wearer?
118. GUYS. SHE'S NOT A. YOU NEED BOXES OF GLOVES. OR HOODIES. OR DOLLS. OR MASKS. NOT GLASSES.
119. Definitive Proof Hanna Can't Read #997: The box is clearly labelled "Animal Cages".
120. CAGES FOR ANIMALS HANNA.
121. CAGES FOR FERAL ANIMALS.
122. Like Sara Harvey.
123. Aaand back to the junkyard.
124. This junkyard is creepy AF.
125. Clark is taking photos, A likes taking photos, THEY'RE ON THE SAME TEAM.
126. That's what I. Marlene King wants you to think anyway.
127. He'll probably be another random that dies and then you forget ever existed.
128. I don't care about Clark at all tbh.
129. HOLY SHIT SCARY DOLL.
130. IT'S ARIA.
131.TENNIS BALL HAS A FACE.
132. AND A KNIFE IN THE EYE.
133.How did Aria know to look under the doll's dress?!
134.Even I had more of a reaction just then.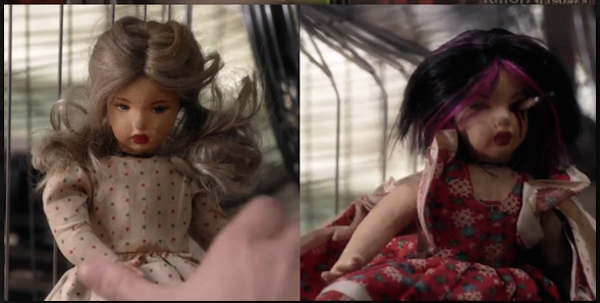 135. Man, Australian accents sound so bad when they're surrounded by Americans.
136. Aussie girl wants Emily to go to Thailand? This is like Shaycation meets PLL.
137. Honestly why don't they all just leave Rosewood.
138. EMILY NO. NO. STOP WITH THE SARA LOVE. GO ON WITHOUT HER.
139. Everything Sara says sounds so BLANK like there's just nothing behind her eyes.
140. Please let the question Spence has for Sara be why she is so feral.
141. Please.
142. Sara is not doing herself ANY FAVOURS goddamn.
143. Why's she so awkward?
144. Also she actually looks CRAZY.
145. I don't know why I hate Sara so much. But I do.
146. Look at Ashley Marin in this ep, the parent, actually parenting.
147. She's the best mom on the show.
148. And it's not just because of how much she loves wine.
149. Though watch out Hanna, your mum is eyeing off Caleb now.
150."She laughed at the sad parts and cried at the funny parts." Young Hanna sounds like a sociopath ngl.
151. Classic Hanna leaving the freezer open tho.
152. God Hanna - don't you remember when your family was living out of a lasagna box?
153. She's just used to free food from the Saw house, I guess.
154. Actually, I wonder what they ate in there.
155. Pity Hanna might never talk about it, because that is what I'd like to know.
156.Cuisine A La Charles.
157. Aria and Emily talking on the phone about A, as if A doesn't already know.
158. ARIA WHY ARE YOU CONFUSED THAT A KNOWS WHERE YOU ARE???
159. IT'S BEEN FIVE SEASONS.
160. JUST ACCEPT IT.
161. Oh and yep, there's Ezra.
162. As problematic as they are, I ship Ezria so hard.
163. Though Ezra is a liar.
164. So is Aria though.
165. Oh my god, Aria why are you lying to Ezra about the doll he KNOWS about A.
166. JUST TELL HIM THAT A IS BACK FAAAAARKK.
167.TELL HIM ARIA.
168.TELL HIM!!
169. TEEEEELLL HIIIIM!!
170. I wonder how Ezra signed off that reference for Aria…
171. Ex-teacher?
172. Ex-boyfriend?
173.Coffee shop owner?
174. Hopefully all three.
175. Why is Drug Free Dean just popping up freaking the fuck out?
176. Where's Toby?
177. This Dean is such a dick.
178. I hate him. Go away.
179. FFS Dean if Spencer is lying in a gutter anywhere it's because of "A" not because she had a hash brownie.
180. Get with it mate.
181. Seriously though, Toby??
182. I bet Toby's just stuck being the worst cop in Rosewood. Literally still trying to figure out how to switch on a computer.
183. Moving on…
184. Hanna's so feisty lately I LOVE IT.
185."I have a reason!" "I'm horny."
186. OOOOO REEOOOWWWW GET. IT. ON.
187. Here for this.
188. Yas yas yas.
189. I'm still a little conflicted but this is hot.
190. Once again, scene cuts to Sara looking freakin' deranged.
191. I DO NOT TRUST SARA.
192. Why does she have a cut on her head if the side mirror hit her elbow?
193. Why is there so much blood on that one spot on the carpet and not, like, a trail.
194. Sara is a FUCKING LUNATIC.
195. And a liar.
196. Emily get out. Get out now.
197. "Sara, I won't let anything happen to you" lol alright. Like you can control it.
198. Stop pretending you can't go to Thailand because your mum won't let you.
199. Don't you remember literally divorcing her so she has NO CONTROL OVER YOU.
200. Caleb was your lawyer, remember?
201. Ugh. Sara.
202. Hands up who didn't know why the fuck Aria, Spencer and Hanna were in a lab for a second?
203. But WAIT, it's Lesli's. Of course.
204. Lol Spencer you've straight up lost it.
205. "Why am I beeping I haven't stolen anything yet?" haha Hanna the klepto.
206. "Bitch chipped us!" Hate when that happens.
207. That is an iconic line.
208. Please Hanna tell the girls you thought it was lint.
209. "Bitch linted us!"
210. Doesn't sound the same I guess.
211. I love when these girls think they have it all figured out, and they're just so so wrong.
212. How can you be so dumb after so many years of A?!
213. Have the girls completely forgotten about Charles?
214. What about the Ring girl from Spencer's dream?
215. That girl literally had no relevance but a whole episode was about finding her.
216. Classic PLL storyline right there.
217. Now run and GET YOUR CHIPS OUT. Come on.
218."We still need something real to give to the police!" HOW ABOUT YOUR TRACKING CHIPS.
219. WHY DON'T YOU LET THE POLICE DO THEIR JOBS.
220. Oh right because they can't.
221.Omg but guys Lesli is not A.
222. I really don't get the point of this Aussie girl tbh.
223. "Is she capable of returning your feelings?" Does that question mean "Is Sara gay?" or "Is Sara a thinking functioning human?" because tbh both are relevant.
224. And we all know the answer to the second one.
225. I s2g Emily DO NOT GIVE UP THIS TRIP FOR SARA.
226. We've never really seen Emily and Sara having a happy, coupley moment together.
227. It's all about getting unhinged tattoos and getting hit by cars and getting followed by black hoodies.
228. Whatever floats your boat I guess.
229. Anyway, this lab is CREEPY.
230. But also what the hell do they think that they'll find at the place where she works.
231. If Lesli were up to no good, she wouldn't keep clues there.
232. They'd be in her lair.
233. Hanna is such an activist now.
234. That's a cute raccoon.
235. OH NO IT'S FERAL.
236. LIKE SARA.
237. Lol at these girls who have faced so many terrible things and they're scared shitless of a raccoon.
238. THE RACCOON IS A.
239. Also, what did Hanna think would happen when she opened the cage?
240. MONA! YAS!!!!!!!!!!
241."Lesli's not pretending to be Charles, she's pretending to be stable." Girl, the only thing she's pretending to do is have bad eyesight.
242. Mona's look right now is "these dumb bitches".
243. I honestly think that if all the liars and Mona just SAT DOWN and looked at the facts for an hour they would figure this shit out.
244. MONA TELL THEM EVERYTHING.
245. But omg Charles snuck out of Radley the night Bethany did?!
246. HE'S ALIVE.
247. I KNEW IT.
248. Mona knows so much. YAS MONA YAS.
249. I can never keep track of where these girls stand with Mona.
250. "Easy pickin's" sorry Mona since when are you a farmer??
251. Ermagerd we're getting ANSWERS!
252. Not a lot... but more than usual!
253. Why is Spencer carrying around Charles' file with her everywhere?
254. WE HAVE MORE ANSWERS BUT I AM MORE CONFUSED THAN EVER?!??
255. That security guard was pretty dumb. Just like all the cops in this town.
256. What's old mate Mr. D up too?
257. He actually looks genuinely sad/worried.
258. Still mega creepy though.
259. That note though can we talk about that?
260. HANNA KNEW CHARLES WAS ALIVE YAS GIRLS YOU SHOULD HAVE LISTENED TO HER.
261. YOU HAVE TRACKING CHIPS IN YOU. GO TO THE COPS.
262. Also now you know that Lesli isn't Charles, why are you just completely ignoring her and her weird glasses collection?
263. Oh no. Oh no. The scene we were all dreading. Emily is gonna kiss Sara. Oh no. ABORT. ABORT. ABORT. STOP. STOP.
264. Is there anyone actually out there who likes Sara? Anyone? At all? Other than dumb Emily?
265. And where are the DiLaurentis kids?
266. Is this the first time they've had an episode with the PARENT and not the children?
267. Oh look there's sleazy Ezra hitting on his customer.
268. A customer that flies across the world to have literally one conversation with someone she met three seasons ago.
269. FINALLY SOMEONE IS DIGGING UP THAT DAMN GRAVE, GO MR D THIS IS THE BEST THING YOU'VE EVER DONE!
270. Though he didn't know the grave existed… Remember he thought that Mrs Dilaurentis had Charles cremated?
271. But also SOMEONE SHOULD HAVE DONE THIS LIKE FIVE EPISODES AGO.
272. Omg Charles writes like a five-year-old.
273. Also like why wouldn't Mr D assume Ali or Jason wrote that note?
274. They know about Charles now.
275. And like. Ali does that shit all the time.
276. Where are Ali and Jason? DID THEY FIND CHARLES?!
277. I guess we'll find out next week.
278. I'm going to need a week to recover anyway.