This weekend, Taylor Swift kicked off her record-breaking Eras Tour. She did 16 costume changes, performed 44 songs, had some iconic viral moments, and ultimately slayed.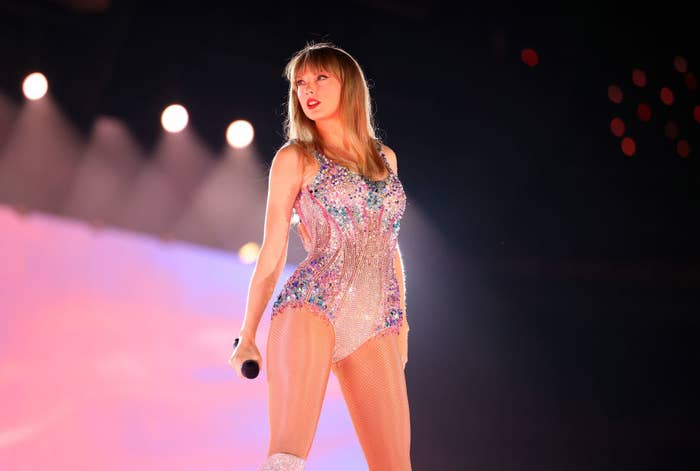 Because she's Taylor Swift, there were some super-impressive details and nods to her previous work. Here are 13 small but brilliant details:
1.
The first song on the setlist is "Miss Americana & the Heartbreak Prince," and the first line Taylor sings is "It's been a long time coming," an acknowledgement of the five-year gap since her previous Reputation stadium tour:
2.
Taylor re-created the iconic "Fearless" twirl, almost 14 years later!
3.
She ALSO re-created the crystallized guitar AND hand heart during "Fearless," immediately transporting us all back in time to the 2009 Fearless tour:
4.
During "22," Taylor quickly holds up a three, since she's 33 years old and closer to 32 years old!
5.
Taylor seemed to reference her song "It's Time to Go" during the Reputation era set:
6.
During "Anti-Hero," Taylor slightly changes the song and lets the crowd scream "Hi!" and then says "Hi!" back. It's a super-cute moment:
7.
During the Midnights era segment, Taylor sang "Midnight Rain" and her dress literally mimicked the lyrics of "He was sunshine, I was midnight rain," changing from light to dark:
8.
We've all seen the brilliant, viral stage dive — but one fan captured this setup, which shows when Taylor is queued to dive into the stage:
9.
This is a conspiracy theory, but a lot of people noticed that the tour ends with Taylor performing "Karma" and wearing orange, which references a theory that Taylor has a scrapped album called Karma:
10.
The final song on the pre-show playlist before Taylor takes the stage is "You Don't Own Me" by Lesley Gore, a nod to Taylor re-recording and owning her first six albums:
11.
During "Bejeweled," Taylor does the TikTok-famous strut:
12.
The cropped top, skirt, and boots Taylor wears during the 1989 part of the show are strikingly similar to the outfit she wore when she performed "Shake It Off" at the 1989 world tour.
13.
And last but not least, a lot of fans were shocked that Taylor included "Marjorie," a super-personal song about her late grandmother. But Taylor liked this TikTok that explains why it means so much:
Looking for tickets to Taylor Swift's The Eras Tour? Stay tuned to Ticketmaster for additional Verified Fan opportunities as well as SeatGeek and StubHub. You can also follow @ErasTourResell on Twitter — an account run by Swifties helping fans sell/buy tickets at face value!