Lindsay Lohan's story is well documented. After making her name as a child actor in The Parent Trap and in Mean Girls a few years later, she was propelled into the spotlight and became a teen idol around the world.
In the '00s, her name became synonymous with the Hollywood "party girl", and over the years, she has regularly been depicted by tabloids as a "troubled" star who's "out of control".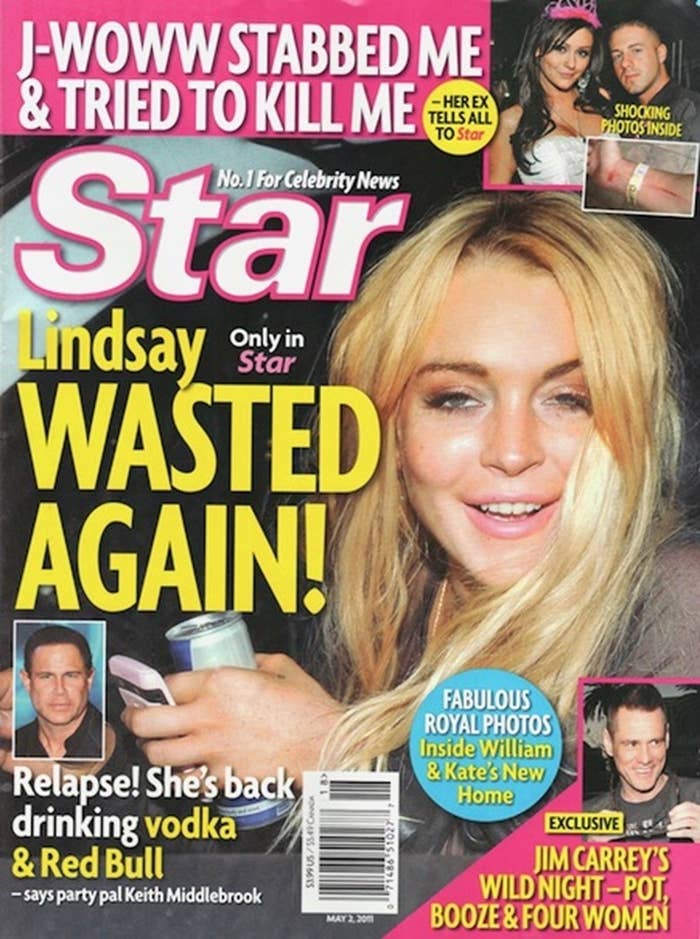 But over the past year, Lohan has been seen to be "partying" less, and there have been reports questioning whether she was "becoming a Muslim". The actor has also made waves for wading into British politics, which led to her being invited to turn on Christmas lights in a small corner of the UK.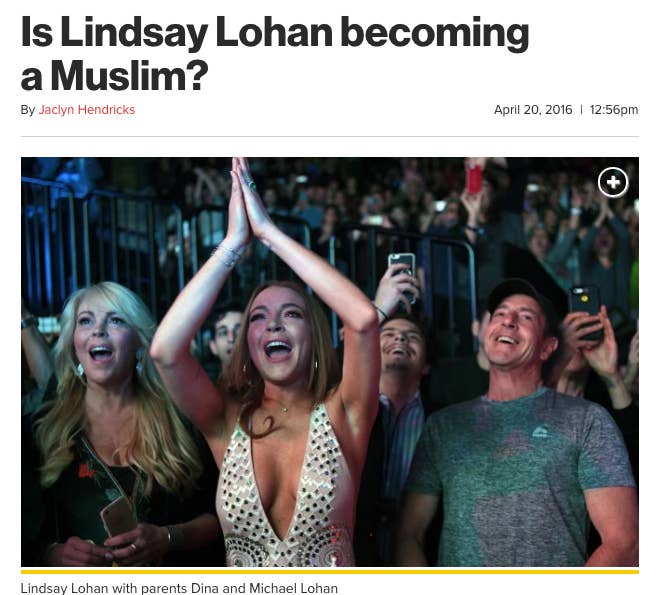 But perhaps fewer people are aware of her involvement in humanitarian causes. Lohan has become active in addressing the refugee crisis and the situation in Syria, paying particular attention to Syrian refugees living in Turkey. She has regularly visited the country and often shares photos of the refugees she's met.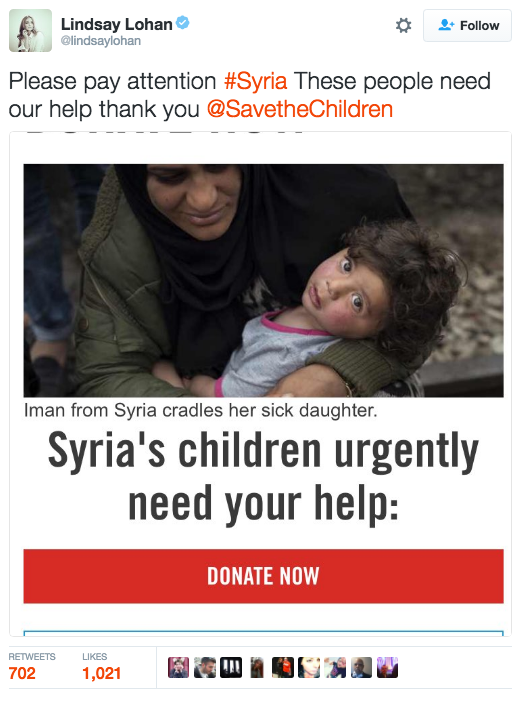 As is often the case with celebrity involvement in humanitarian causes, some people have been sceptical about Lohan's efforts. There is even speculation she is being paid by the Turkish government or president Recep Tayyip Erdogan to promote its ideas as part of a PR spin. BuzzFeed News has asked Lohan for a comment on these claims.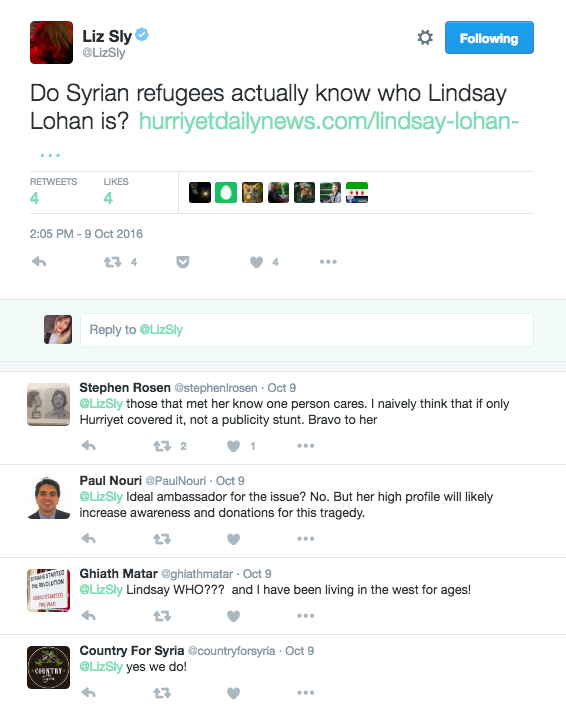 Yet at the same time, something curious has happened: Lohan has quietly built a popular fanbase through her humanitarian work and interest in Islam – particularly among Muslim communities online.
In the last month, a number of clips of Lohan working with refugees and talking about the Muslim community have gone viral. In one interview with Turkish media, Lohan discussed the negative reaction she received for wanting to read the Qur'an and study Islam. She defended her interest in the religion, and spoke up for the Muslim population in the US, saying: "I can't imagine how many people go through this all the time, and that made me feel like an outsider."
In other viral tweets, fans have been praising Lohan's new healthier lifestyle and involvement in the Syrian crisis, creating an image that is worlds away from her past depiction in the media.
Muslims in particular have been speaking out in support of their new advocate, celebrating her for choosing to use her platform to speak positively about refugees and Islam.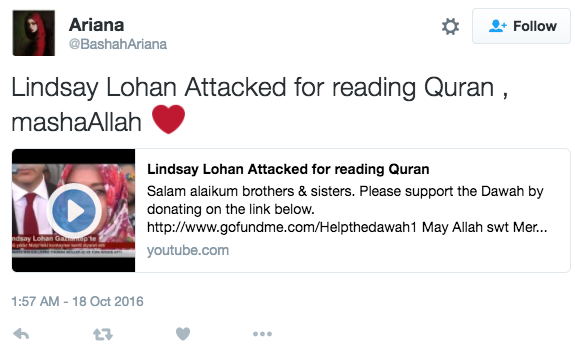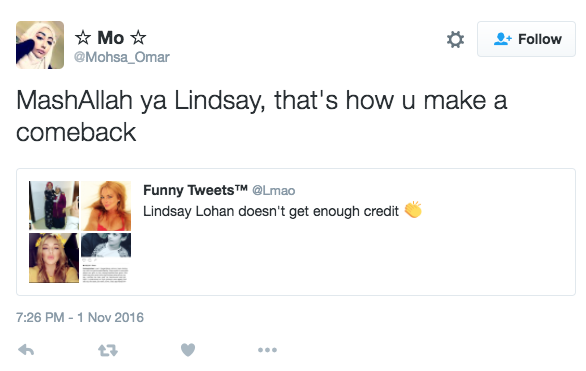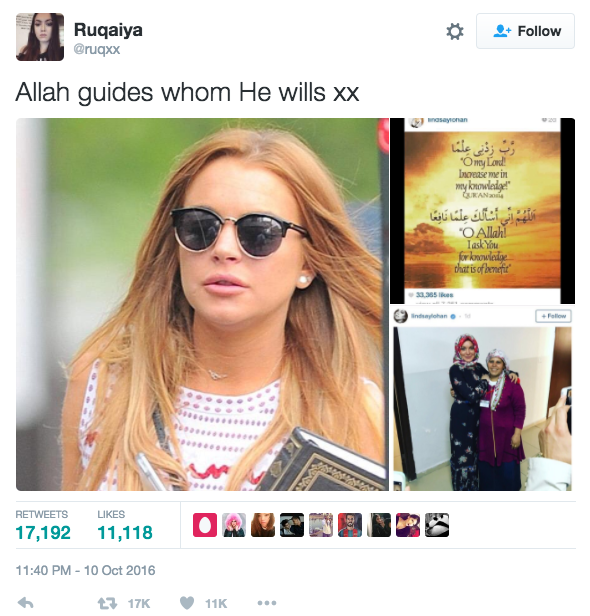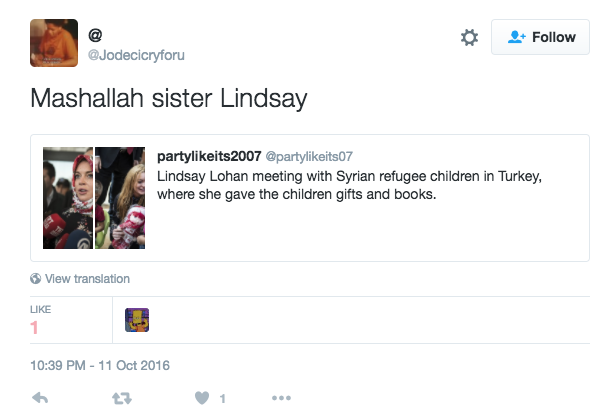 Photos of Lohan visiting refugee camps in Turkey have gone viral on pages such as Brotherhood in Islam, with many people noting how she has "changed for good".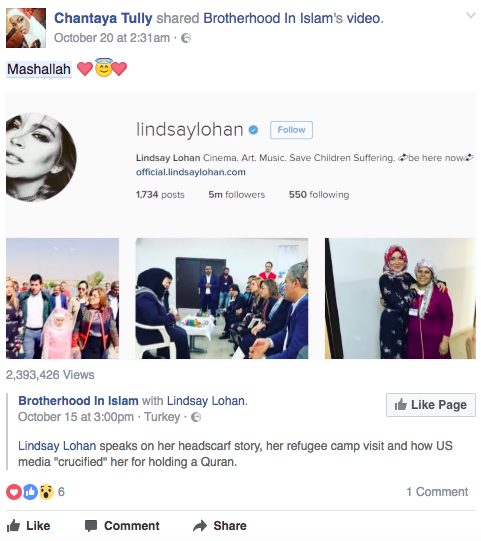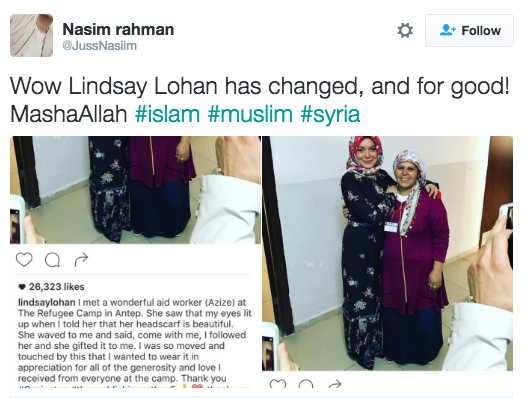 Lohan's supporters have expressed frustration that the public demands that celebrities use their fame for positive causes – yet when they do, they are sometimes mocked or criticised.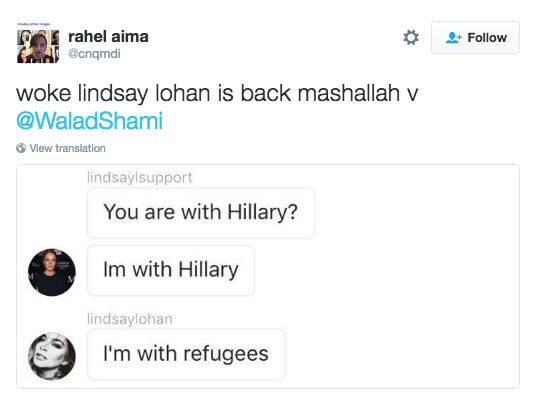 Lohan has even started using the "party girl" label to her advantage – just this week giving an interview opening up a nightclub of her own in Greece, where part of the proceeds will go to charities supporting refugees.
She also said that the refugee crisis was "bigger than me", but concluded: "There's more things I'm willing to do, and I will do it."

Coverage of the announcement focused on Lohan's changed accent (which she explained by saying it reflects a combination of the languages she speaks). Fans jumped to her defence, claiming commentators weren't giving the star enough credit for her work.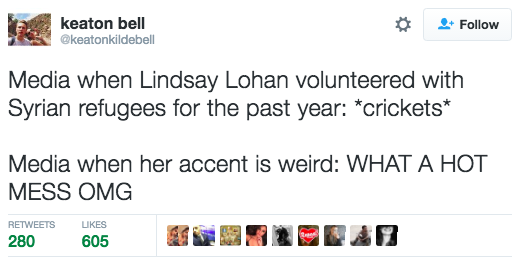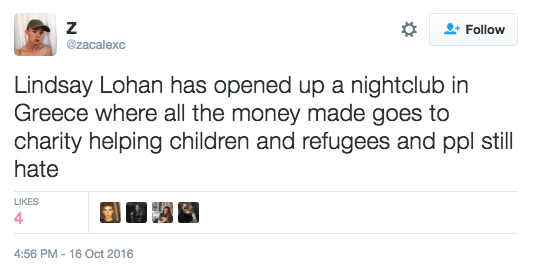 Lohan has addressed the media hostility that has greeted news of her following in Jolie's footsteps.
A consistent theme has underpinned many stories about her: the suggestion she should not be taken seriously. As a result, she is still often defined by her "troubled" past.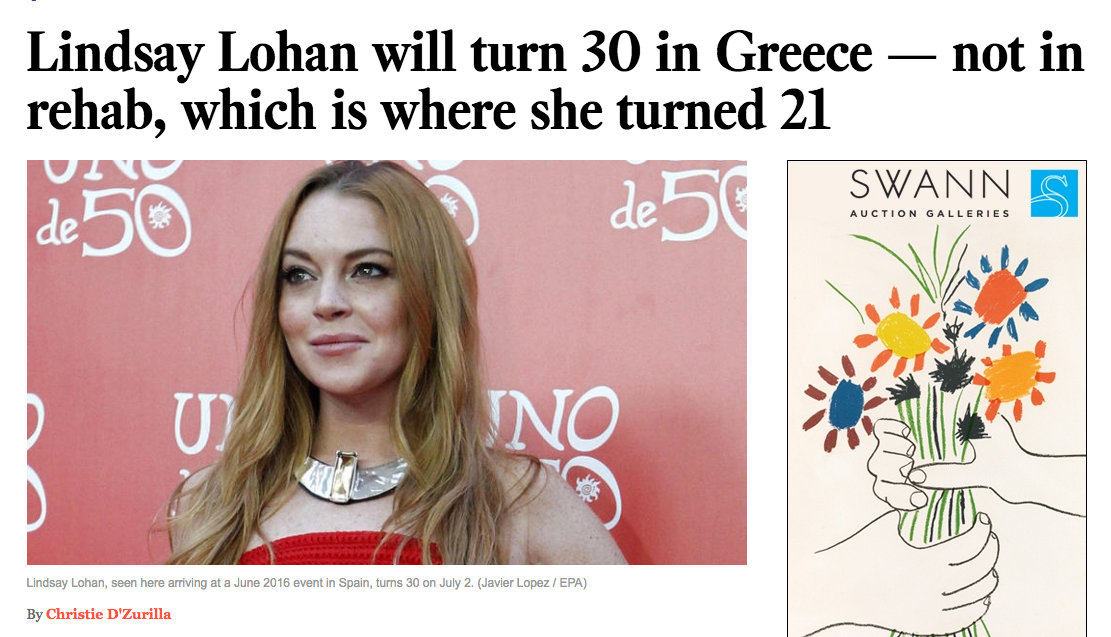 Her past problems with alcohol and drug abuse are still regularly used as a punchline in articles and used to undermine the changing lifestyle she appears to have embraced this year.
One of the biggest tabloid stories about Lohan this year came when she ended her relationship with her ex-fiancé Egor Tarabasov.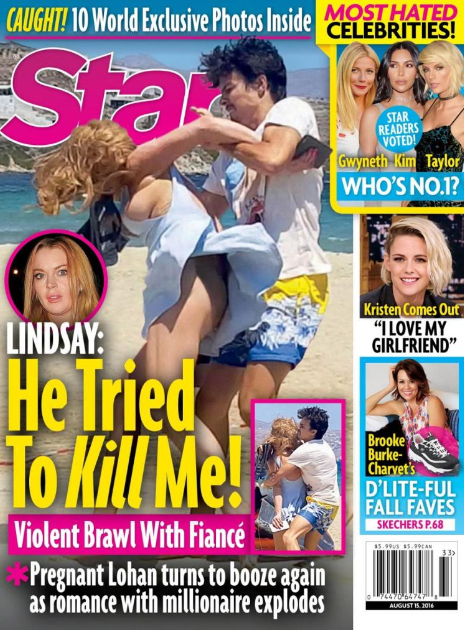 Lohan accused him of domestic violence, claiming that at times she had been forced to fight for her life.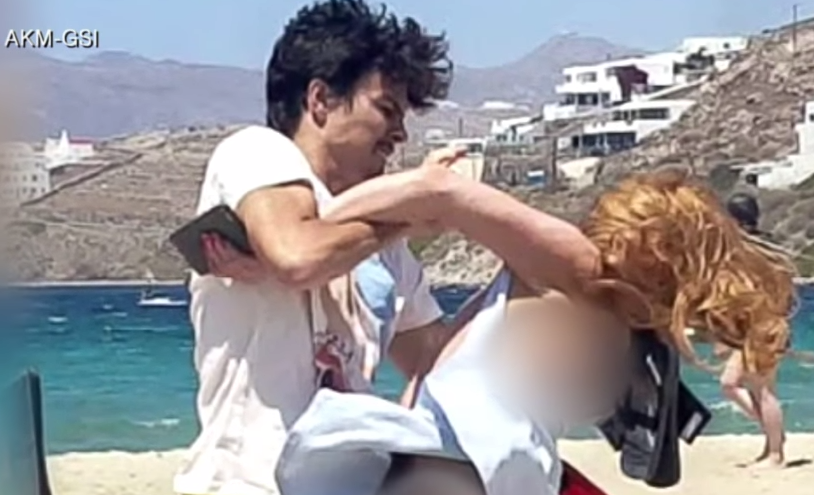 After video footage of Tarabasov violently attacking Lohan on a beach surfaced online, some felt the coverage of the moment suggested Lohan herself was to blame for the alleged abuse.

A piece in The Frisky addressed this issue: "For Lohan, who's already been made into a media target for her personal struggles, the stakes of respectability are even higher. The fact that Lohan felt the need to clarify that 'she's not an angel' during an interview about documented violence at the hands of a loved one proves just how pervasive the issue of victim blaming is," it said.
When an old interview surfaced of Donald Trump saying the then-18-year-old Lohan was "probably deeply troubled and therefore great in bed," her statement in response made it clear that her concern was with her humanitarian work.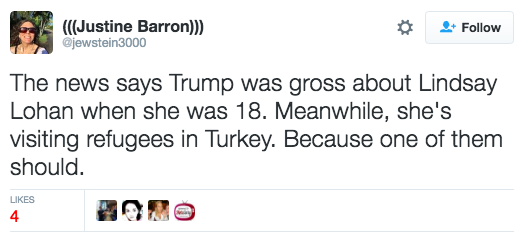 Lohan's manager said in a statement: "Right now, Lindsay is choosing to focus on the positive things happening in her life and has decided to disregard the comments made about her by the presidential nominee Donald Trump. She is focusing on helping children around the world in need and that's where her passion is."

Scepticism surrounding Lohan's new lifestyle will undoubtedly continue, as will tabloid splashes about her social and personal life. However, many of her supporters will be hoping that her humanitarian interests will one day be given the credit they feel they deserve.