If you want an image to sum up this week in Australian politics you don't need to go much further than this. Just look at it. So much going on. Incredible.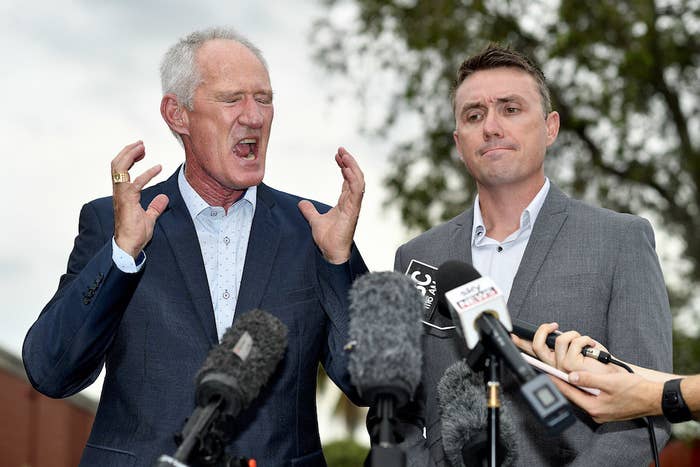 Anyway, welcome back to the now compulsory fortnightly wrap of the latest extraordinary events and drama in Australian politics.
You are about to learn a whole lot about those two gentlemen pictured above and why they're being so incredibly expressive and sombre at exactly the same time.
Everyone ready? Sitting comfortably? Got the necessary drink at hand? OK — let's do this!
This week we're here to talk about Australian far-right party One Nation and its dealings with America's National Rifle Association (NRA).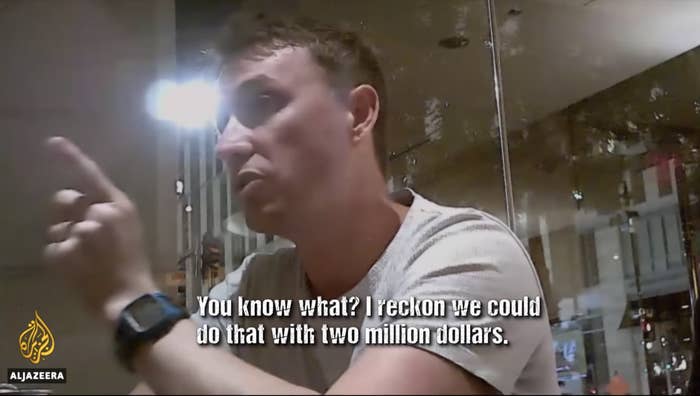 On Tuesday Al Jazeera published "How to sell a massacre", an investigation three years in the making.
The first instalment involved secret recordings of James Ashby — the chief of staff for One Nation's federal leader Pauline Hanson — and Queensland's One Nation leader Steve Dickson meeting with NRA representatives during a trip to Washington, D.C. in Sept. 2018.
During the trip the pair talked to the NRA about relaxing Australia's gun laws; how to deal with gun control advocates in the wake of a mass shooting; and exploiting a narrative around what Dickson said were "African gangs imported to Australia".
Al Jazeera also secretly recorded Ashby and Dickson talking with undercover reporter Rodger Muller about seeking millions of dollars of donations from the NRA.
To some — this was quite a big deal.
Ashby himself is shown at one point on camera exclaiming: "If it gets out, it'll fucking rock the boat."
And yes, it's fair to say it did indeed rather fucking rock the boat.
Here's Australia's prime minister giving his initial thoughts.
One Nation's immediate response was to refer Al Jazeera to the police and national intelligence agency.
Which left some people rather confused.
This was One Nation's official statement:
"Al Jazeera are a state owned propaganda arm of the Qatari government that supports Islamic extremist groups and are not a legitimate media organisation.
"One Nation was invited by Rodger Muller, who has now been outed as a foreign agent working for Al Jazeera to meet with the NRA, American business leaders and attend the Congressional Sportsman's Dinner.
"One Nation has asked Al Jazeera to show complete transparency and release the full context of conversations. The matter has been referred to ASIO and the Australian Federal Police due to concerns of foreign interference into Australian politics in the lead up to the imminent federal election."
All kind of intense, right? That's a lot to get your head around. BUT JUST YOU WAIT. On Tuesday afternoon we got one of the most incredible press conferences you're ever likely to see.
There were many standout moments from the lengthy conference with the media. It's hard to know where to start really.
One of the main defences was... alcohol.
Ashby told the media the conversations with the NRA were not about sourcing money.
In attempting to explain the conversations with Muller, which were recorded on camera, where donations of $10 million and $20 million were discussed, he declared: "I'll be the first to admit, we'd arrived in America, we got on the sauce, we had a few drinks and that's where those discussions took place — not with any potential donors."
Dickson said he wanted to apologise to the people of Australia for some of the things Muller had recorded him saying at the hotel bar.
"I don't talk like that publicly, we were three men talking together and we were having scotches for three or four hours and that is the truth of the matter," he offered up.
"This is the stuff you see in James Bond magazines," Dickson is reported to have said. "I would never expect you would see this for real in the real world."
They referred to Muller as a "spy" tasked with interfering in Australian politics.
Ashby, who has been banned from Australia's parliament following an altercation with a former One Nation senator, also gave this analysis on the timing of the investigation given Australia is holding a federal election in May — "nothing could be more damaging for a political party like One Nation as what we've seen today."
They maintained they did not get any money from any US lobby groups, "not a cent", and called for Al Jazeera to release the full footage.
It was quite the ride.
The prime minister wasn't impressed.
But where was Hanson while this press conference was happening? Recovering from a tick bite on the face, it was said.
And then part two of Al Jazeera's investigation, which was also being broadcast on the ABC, dropped.
In it, Hanson is recorded saying there are "a lot of questions" surrounding the Port Arthur Massacre in Tasmania in 1996.
"An MP said it would actually take a massacre in Tasmania to change the gun laws in Australia," Hanson is shown telling Muller. "Haven't you heard that? Have a look at it. It was said on the floor of parliament. Those shots, they were precision shots. Check the number out. I've read a lot, and I've read the book on it, on Port Arthur. A lot of questions there."
Which put significant pressure on Morrison to preference One Nation last in the federal election.
While he duly did, sort of.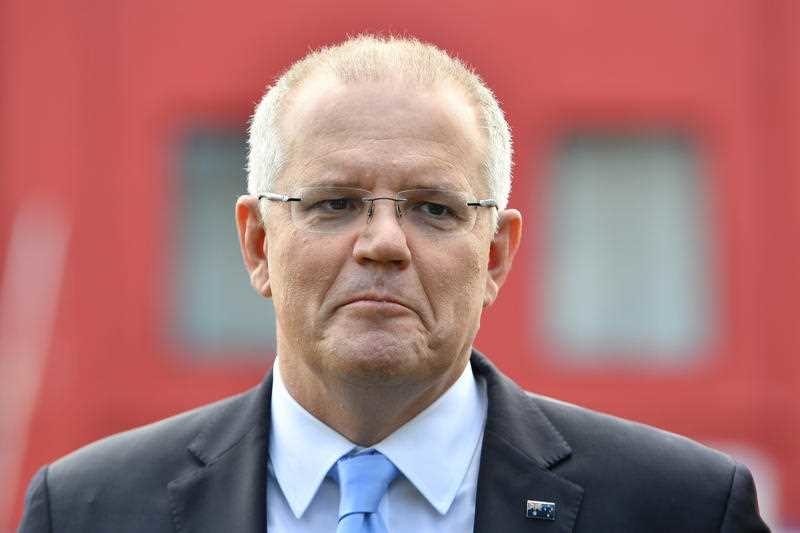 On Thursday Morrison announced the Liberal party will preference One Nation below Labor at the election.
"I was waiting to see what [One Nation's] reaction would be to those events earlier in the week and I'm disappointed by that reaction," the prime minister said.
"The comments particularly last night and the linkages to Port Arthur, I'm sure all Australians would be shocked about."
However, the prime minister did not commit to preferencing One Nation below the Greens.
"Frankly, I always found the Greens to be a real serious danger to Australia," he said. "The Greens have opposed us on almost every element of national security legislation we have put into this parliament. They have actively worked against the safety of Australians."
And so we arrived at yet another incredible press conference. This time Hanson was back.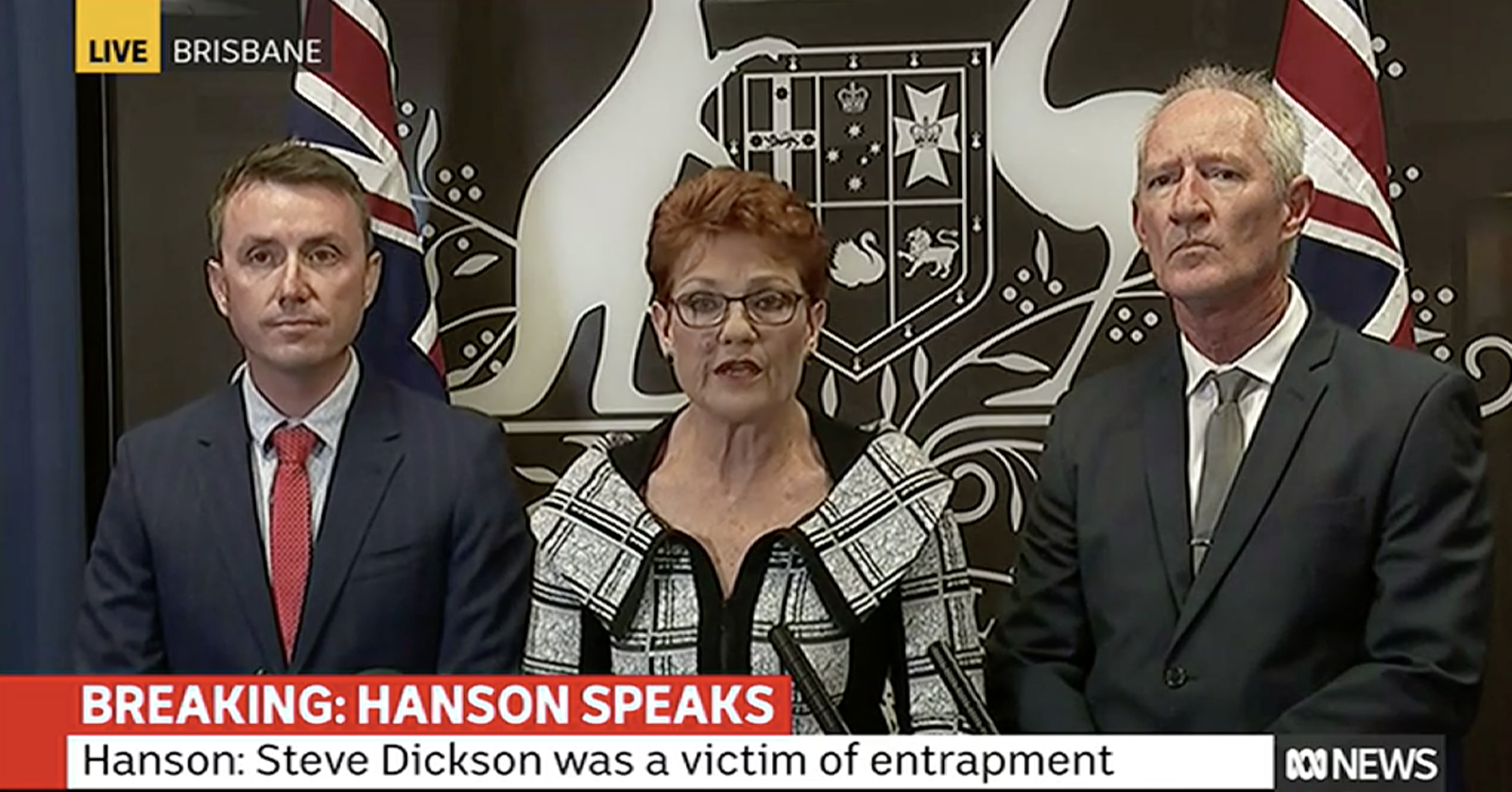 The One Nation leader said she was sticking by Ashby and Dickson.
She said her comments about the Port Arthur Massacre had been heavily edited and "dubbed" and called for Al Jazeera to release the unedited recordings.
She said Muller, who she described an "undercover operative for the Al Jazeera network", had arranged the meetings with the NRA.
In sticking by Ashby, she said he had "made some stupid remarks, as we all have" but his integrity was not in question.
On the prime minister's announcement about preferences, she called him "a fool" and said he had handed power to Labor, the Greens, and heavyweight union the CFMEU.
Hanson also attacked the media, which she said was blinded by its hatred and bias towards One Nation. She said the party had been the victim of a political attack.
"If the ABC had any ethical bone in their body, they would refuse to put this unfair and unbalanced story to air tonight," she said.
"To the media here today, you have come here baying for my blood and I will not give it to you."
And that's where we're at. Quite the week. There we all were thinking former Labor leader Michael Daley's announcement that he was staying on as leader, and then his announcement that he was not, would be the main talking point.
Or Liberal party vice president Teena McQueen.
Or George Christensen.
Or Greg Hunt.
Or Christopher Pyne. Actually — watch this — it's remarkable.
In conclusion: It's time for the pub.