The NRA Coached An Australian Anti-Immigration Party In Fighting Gun Control Laws
Party officials were caught on camera by Al Jazeera seeking help from the influential US gun lobby group.
Senior figures from far-right party One Nation have been filmed seeking donations from America's National Rifle Association (NRA) and discussing the watering down of Australia's gun laws.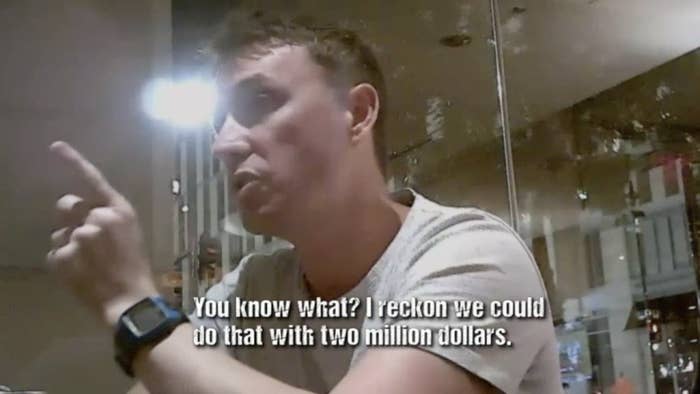 An Al Jazeera investigation recorded James Ashby — the chief of staff for One Nation's federal leader Pauline Hanson — and Queensland's One Nation leader Steve Dickson meeting with NRA representatives during a trip to Washington in Sept. 2018.
Reporter Rodger Muller posed as a gun lobbyist. He arranged and filmed meetings between One Nation and the NRA.
Before one of the meetings the One Nation pair talked to Muller about how donations of A$10 million would help the party pick up eight Senate (upper house) seats, which Dickson stated would grant the party the balance of power in parliament. "You'd have the whole government by the balls," he said.
In the recordings Ashby claims One Nation could win two seats in the federal House of Representatives (lower house) with A$2 million.
"If you had 20 (million dollars) you would own the lower house and the upper house," he adds.
The ABC, which is screening the investigation in Australia, reported that in one meeting with the NRA, Dickson says: "Guns, in the scheme of things, are still going to be the be-all and end-all".
One Nation is an anti-immigration, anti-Islam party that has courted controversy for more than two decades. Hanson was widely condemned for wearing a burqa into parliament in 2017 in a stunt calling for the garment to be banned. In October last year 27 senators, including 10 government ministers, voted for her motion declaring "It's OK to be white".
Ashby and Dickson hear from NRA officials in one recording on the best way to handle media inquiries, and how to deal with gun control advocates, in the wake of a shooting massacre.
"How dare you stand on the graves of those children to put forward your political agenda," the NRA's Lars Dalseide tells them. "Just shame them to the whole idea."
"Love that, thank you," Dickson replies.
"If your policy isn't good enough to stand on itself, how dare you use their deaths to push that forward," Dalseide adds.
"That's really good, very strong," Ashby replies.
Dalseide also said One Nation should look to engage with reporters who are sympathetic to their cause, and push stories about situations where people would have been helped if they had owned a gun. A similar policy was recommended for social media.
The NRA also tells the pair a relaxation of Australian gun laws would be beneficial to the pro-gun movement elsewhere, as Australia is always mentioned in the debate.
Australia tightened its gun laws significantly in the wake of the Port Arthur Massacre, in which Martin Bryant used semi automatic weapons to kill 35 people in Tasmania on April 28, 1996.
When Dickson claimed there were "African gangs imported to Australia" committing crime, Dalseide suggested using that subject to talk about a lack of self-defence.
One Nation staff also met with Koch Industries, which funds numerous US conservative causes, Al Jazeera reported. There is no evidence One Nation raised any funds as a result of any of the different meetings.
The meetings took place shortly before the Australian parliament banned foreign donations to political parties. Hanson spoke in favour of the changes when they passed through the Australian Senate.
Ashby reportedly expressed concern about the meetings becoming public. "If it gets out, it'll fucking rock the boat. This shit goes through my head every single minute of my day."
Prior to the meetings Ashby, who has been banned from Australia's parliament following an altercation with a former One Nation senator, says he would love to get access to the NRA's software.
"If they can help us with donations, super," he added.

Education minister Simon Birmingham told Sky News on Tuesday morning that Hanson had to answer questions about the US trip and whether she sanctioned a weakening of Australian gun laws.
Prime minister Scott Morrison called the reports "deeply concerning".
Morrison has come under pressure recently to preference One Nation last at the upcoming federal election.
A One Nation spokesman told The Australian it had referred Al Jazeera to the police and ASIO.

"Al Jazeera are a state owned propaganda arm of the Qatari government that supports Islamic extremist groups and are not a legitimate media organisation," they said.
"One Nation was invited by Rodger Muller, who has now been outed as a foreign agent working for Al Jazeera to meet with the NRA, American business leaders and attend the Congressional Sportsman's Dinner.
"One Nation has asked Al Jazeera to show complete transparency and release the full context of conversations. The matter has been referred to ASIO and the Australian Federal Police due to concerns of foreign interference into Australian politics in the lead up to the imminent federal election.
"It is understood One Nation were targeted because of its strong approach to reducing immigration numbers and a travel ban on countries with terrorism links."
The statement said the party "strongly supports the rights of lawful gun ownership within Australia", which it says is clearly outlined on its website, adding members "have always complied with the law".
One Nation and James Ashby have not responded to BuzzFeed News' request for comment.
Dickson and Ashby held a press conference on Tuesday afternoon:
"I'll be the first to admit, we arrived in America, we got on the sauce, we'd had a few drinks and that's where those discussion took place. Not with any potential donors – no-one bar Rodger Muller, Steve Dickson and myself," Ashby told journalists.