Here's What You Need To Know About The Fight In Parliament House Involving One Nation
A red substance on Hanson's door, a scuffle in Parliament House, sexual harassment allegations. Happy Valentine's Day!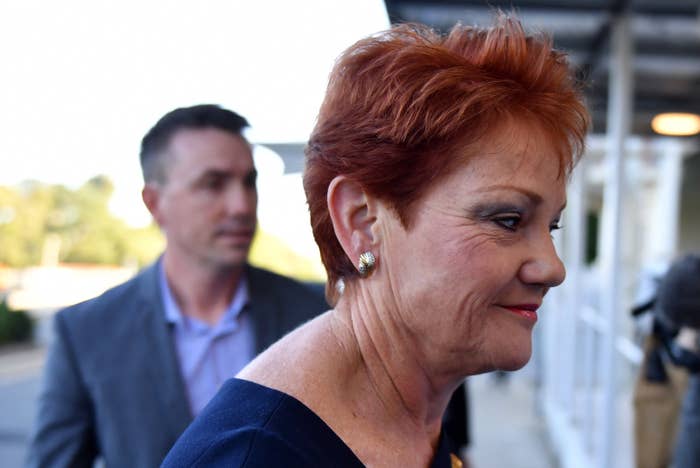 Pauline Hanson's chief of staff, James Ashby, got into a fight with former One Nation turned United Australia Party senator Brian Burston following allegations of sexual harassment.

On Tuesday, Hanson used parliamentary privilege in the Senate to allege an unnamed male senator had sexually harassed a staffer. Hanson has continued to refuse to say who she was referring to, but Burston said there was "no doubt" the allegations are about him.
He has denied the allegations.
Burston hit back alleging Hanson had sexually harassed him during their 20-year political partnership, including an allegation that Hanson had rubbed her hands up his spine at a Rooty Hill RSL event in 1998.

Footage obtained by various media outlets including The Australian on Wednesday night showed the fight between Ashby and Burston.
Hanson then shot back on Seven News, stating that the allegations were an "absolute joke" and "nothing happened".

"I might be 64 now but I tell you what, I'm not that desperate."
Hanson declined to confirm whether her comments in the Senate were referring to Burston because she said the investigation was still under way.

The clash between Ashby and Burston occurred in the foyer near the front of Parliament House following a dinner in the Great Hall.
The Daily Telegraph reported that Ashby allegedly approached Burston after the dinner and began filming.
Footage then shows Burston and Ashby pushing each other around out of the foyer and into one of the side hallways in Parliament House.
Burston told the paper he had reported the incident to the Australian Federal Police and would seek a restraining order. He released photos of his bloody hand after the fight, and when he appeared in the Senate chamber on Thursday morning, his hand was bandaged.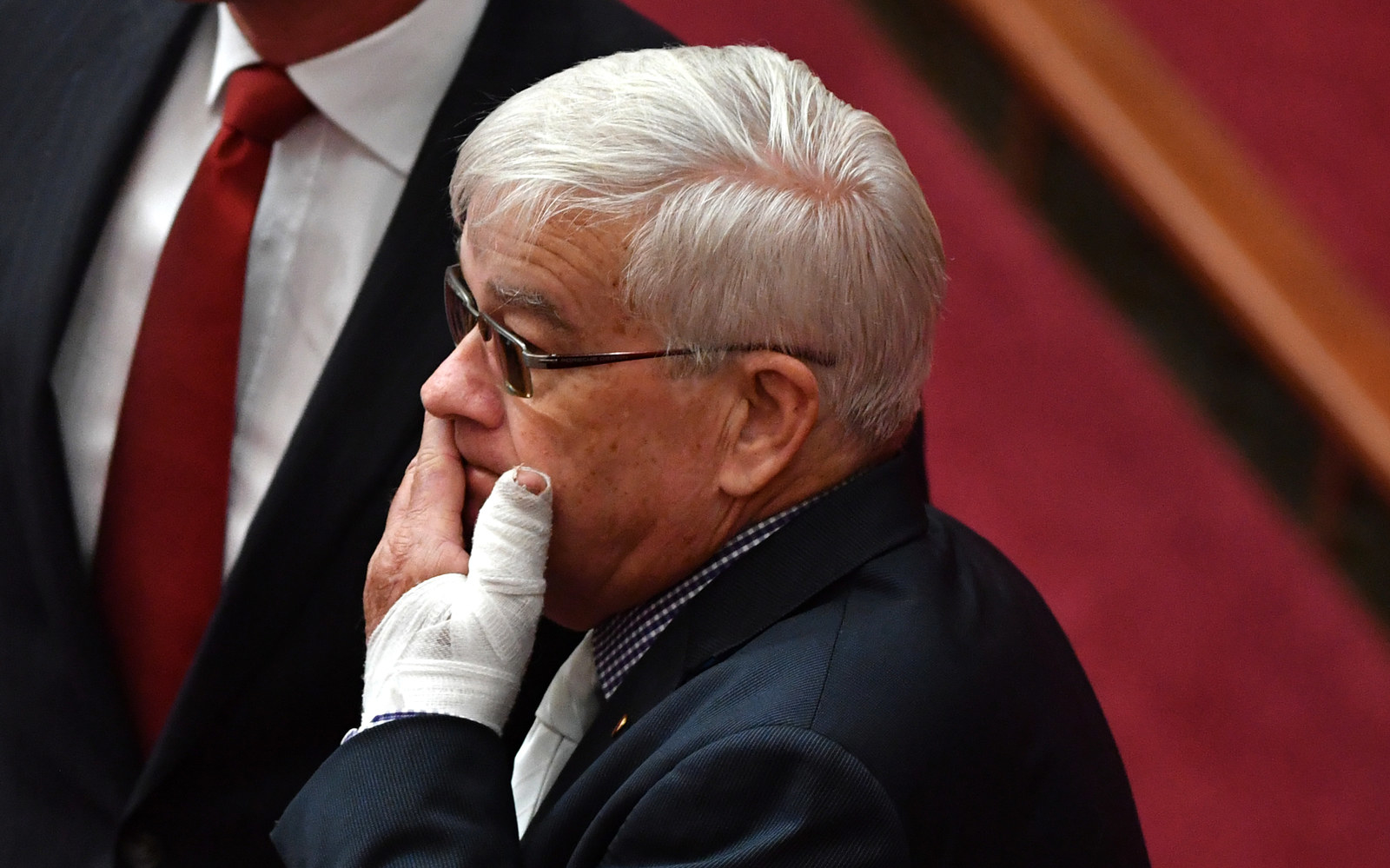 Ashby has denied Burston's version of events and has said the AFP can review the footage.
Hanson claimed that in the scuffle in Parliament House, Burston had attacked Ashby.
Hanson's door was also marked with a red substance after the fight. It is unclear if the two events are connected.
On Thursday morning Senate president Scott Ryan said that he was looking into the fight "as a matter of urgency" with speaker Tony Smith.
Burston left One Nation last year, eventually joining Clive Palmer's United Australia Party. Burston blamed his decision to leave the party on Hanson backing away from supporting the government on company tax cut legislation.

UPDATE
Brian Burston told the Senate on Thursday afternoon that he doesn't remember putting blood on Pauline Hanson's office door, but he has concluded it was in fact him.
"Whilst I do not recall the incident of blood on the door, I now have come to the conclusion that it was myself, and I sincerely apologise for that action," he told the Senate.
Burston's admission came after Senate president Scott Ryan announced he had revoked James Ashby's parliament house pass and banned him from the building while the incident was investigated.