A Politician Told His Colleagues To "Shut Up" And It Was Actually The Most Mature Thing Anyone Said Or Did
A guy who is not the deputy prime minister announced he was the elected deputy prime minister and then it all kicked off.
Hello! As you may be aware, there are some rather important political events happening in Australia very soon.
There is the state election in NSW next weekend, the federal Budget next month and we'll probably have the joy of a federal election in early May. What fun!
So you would think, with all of this going on, the nation's politicians would be focused on their jobs, staying out of trouble and not rocking the boat for their parties. Right? RIGHT??
Well, gather round, because once again we need to talk about Barnaby Joyce, who appeared to have very different ideas at the start of this week.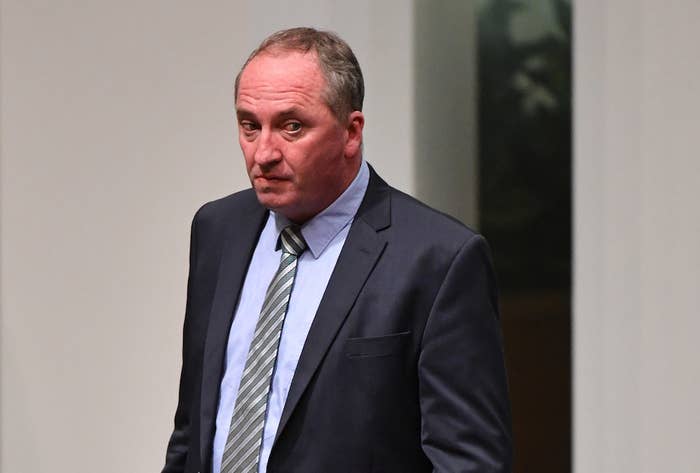 Joyce stood down as leader of the Nationals and Australia's deputy prime minister last year, and was replaced by Michael McCormack.
But at the start of the week it very much looked like Joyce wanted both those jobs back.
In an interview with Radio National on Monday morning, Joyce boldly declared himself the "elected deputy prime minister of Australia".
Which was a little odd.
Joyce was making the case that if there was ever to be a leadership spill within the Nationals, he would put his hand up once again.
(Reminder: Joyce stepped down as leader after facing sustained pressure on two issues: his relationship with a former staffer, and an allegation of sexual harassment. He denied the latter, and a party investigation was unable to make a finding.)
But WAIT, I hear you cry, why on earth are we talking about a new leader of the Nationals only a couple of months out from a federal election? Hasn't the Coalition caused enough damage to itself?
It would appear not. After weeks of chaos surrounding the Liberal party, it seemed like the Nats thought they'd have a go.
You see, there is a group of Queensland Nationals MPs who want McCormack to pressure the government into subsidising coal-fired power in the state ahead of the federal election.
Which led some to ask: "Sorry — who the hell is this Michael McCormack?"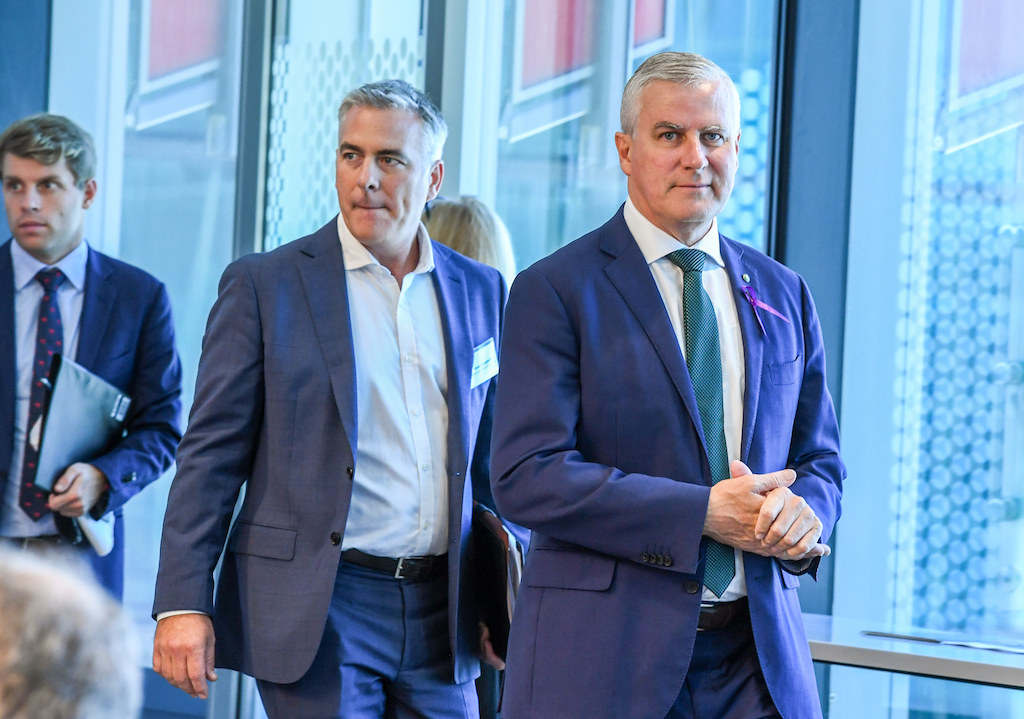 MickMack, Big Mac, Mac N' Cheese, Mack Attack has suffered something of a recognition problem since succeeding Joyce as leader.

(To be honest, the PM's not really helping much.)
Macklemore has resisted the calls from Joyce and others within his party to push for subsidised coal-fired power.
He has said the government would only look into building another coal-fired power station if the business case stacked up.
And the prime minister Scott Morrison seems to have his back, saying this week that the Queensland state government had no intention of approving any such projects, and so what exactly did you expect him to do about it? (Answer: Nothing!)
So that's where we were at: Some Nationals, including Joyce, wanted their leader to be doing more on coal. But Macca was sticking to the government line.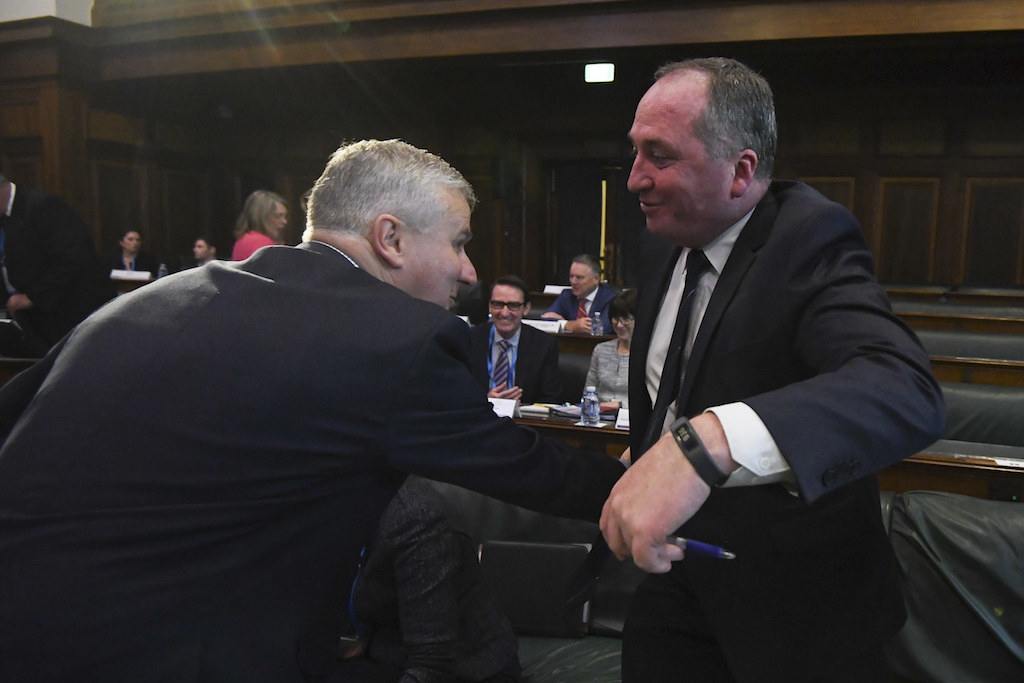 A lot of shouting basically.
And then it got REAL interesting.
Joyce said the Nationals should "pursue policies in our own right" and that the party was not married to its Coalition partners, the Liberals.
Which led to this response from Whatsisname:
"Well, when you have a marriage, I understand when you have a marriage that it's a two-way relationship, you don't always get what you want, but you have to work together to build better outcomes for your family. I understand that, I understand what it takes to have a successful marriage and to make sure that we work together to build a better Australia."
I know right! Unsurprisingly it led to quite a few headlines.
Joyce said he hoped people in politics would not revel in the personal issues of others and said he would take the remark as a "faux pas"...
Anyway, the mood everywhere within the Nationals wasn't great.
NSW Nationals leader John Barilaro, who is fighting to hold on to key seats in the state election, had a very stark message.
"My message to my federal colleagues is, you know, shut up. Simple. Stop navel-gazing. Stop talking about yourselves," he said.
"We've been through this journey for a long time. People are sick to death of governments that are only focussed on their internal ambitions and their internal issues."
Elsewhere, Nationals in WA were also fed up.
The state leader of the party, Mia Davies — who was one of the first to call for Barnaby Joyce to stand down last year — told the West Australian: "The Nationals WA made their views clear on Mr Joyce's leadership in March 2018."
Nationals deputy federal leader Bridget McKenzie also said the country was frustrated by all the in-fighting.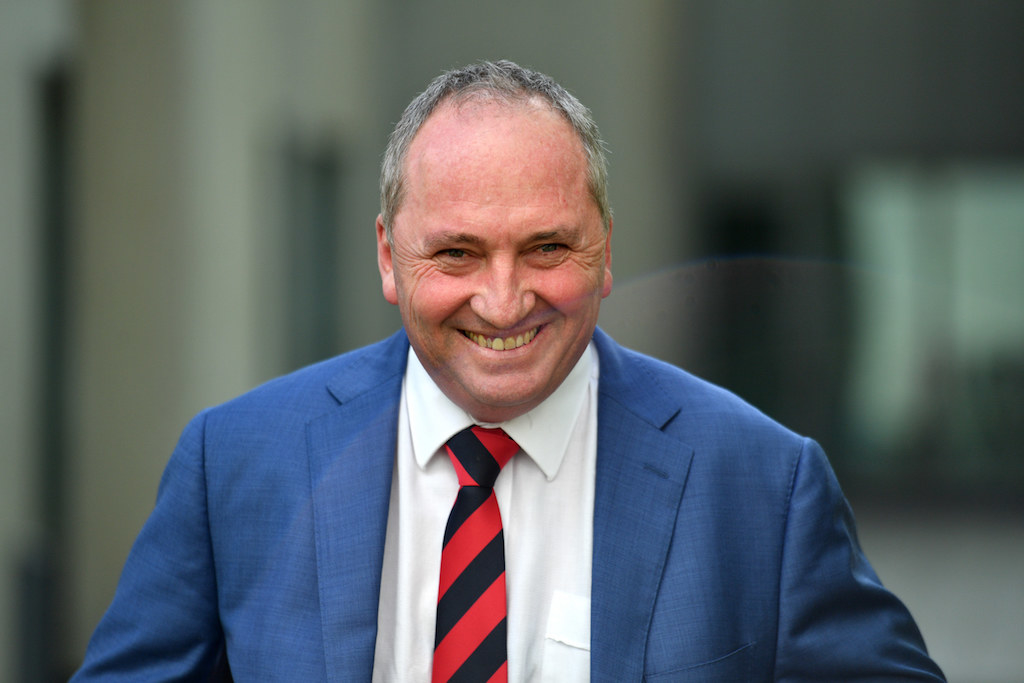 "What Barnaby Joyce is saying publicly is very different to what the party room is saying," she said. "I think Australia is frustrated that there is a politician out there who is not focused on their needs and issues."
And she said that she was backing her leader "to the hilt".
Which is something Nationals MP David Littleproud also tried to say — but seriously, I have absolutely no idea what the hell is going on here. Just watch it:
Look, it might have been a reference to this. I really don't know.
Or this. God I'm so tired.
All I do know is that there was an intense war of words. There was talk of the Coalition agreement being torn up. The stoush gained a title — the "coal wars" — and everyone just wanted everyone else to shut up.
And then, well, Barnaby decided that maybe he shouldn't have said some of the things he said.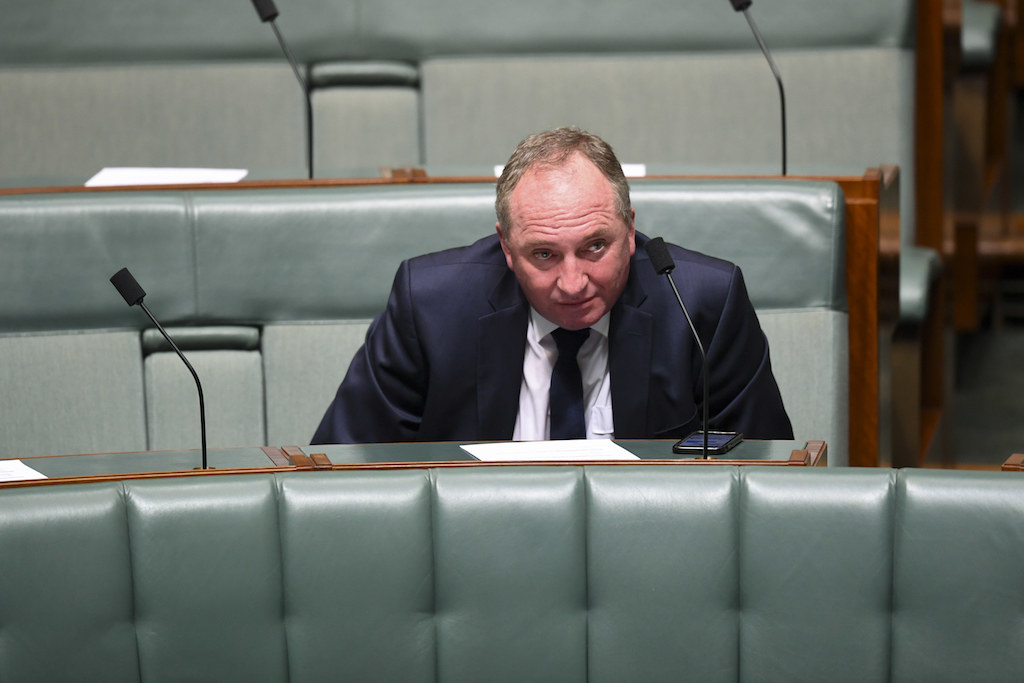 Speaking to Nine's Today on Wednesday, he said: "I have no intentions whatsoever, I don't know how many times I have to say this, to do anything but make sure Michael McCormack is the deputy prime minister.
"We are going to go to this election with Michael McCormack and Scott Morrison, and I hope that we do everything that we can to get them federally elected."
On his recent comments about being the "elected deputy prime minister of Australia", he admitted: "Maybe it was misstep by my behalf."
And on those leadership ambitions: "If any party has nobody in the leadership position by reason of a spill, lots of people will throw their hats in. It's a statement of the bleeding obvious."
So there we are. The great political drama of the week. All over by Wednesday (but actually definitely not). Tune in next week for latest instalment of "FOR THE LOVE OF EVERYTHING PLEASE MAKE IT STOP".