AusPol Had So Much Drama This Week It Felt Like Kris Jenner Was Orchestrating It
When will it stop?
Oh boy, what a week. WHAT. A. WEEK. (Was it really only a week? It seems like a lifetime…) Anyway, for those not paying attention at the back, or those who can't quite comprehend everything that went down in politics these last few days, here is a roundup of the most newsworthy events:
"Human error" involved in Hakeem al-Araibi's detention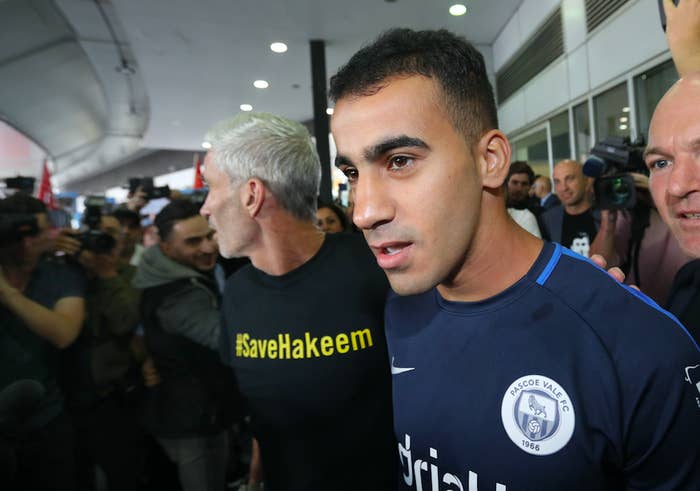 At Senate Estimates on Monday, Australian Border Force (ABF) commissioner Michael Outram admitted human error was a factor in the 80-day detention of refugee footballer Hakeem al-Araibi in Thailand.
Outram said an officer had forgotten to let the relevant authorities know about al-Araibi's protection visa.
"The officer in this case has simply forgotten to send an email, and it's as simple as that. And yes, the consequences can be quite significant," he said.
AFP commissioner Andrew Colvin also revealed the Department of Home Affairs had not informed police that al-Araibi was a refugee until after he was detained by Thai officials.
Al-Araibi was arrested in November after arriving in Thailand on his honeymoon.
An Interpol red notice for his arrest was issued by Bahrain. However, refugees are not meant to be subject to international arrest warrants by the country from which they sought refuge.
"Sophisticated state actor" targets Australia
At the start of the week, the prime minister updated parliament on a recent cyber attack on Parliament House's servers.
Scott Morrison revealed that as well as parliament, the networks of the Liberal, Labor and National parties were also affected.
"I do not propose to go into the details of these operational matters but our cyber experts believe that a sophisticated state actor is responsible for this malicious activity," Morrison said.
The PM maintained there was no evidence of electoral interference. So that's fine, then.
The Paladin Affair
The government was forced this week to defend the decision to award the little-known company Paladin $420 million of security contracts on Manus Island.
Secretary of the home affairs department Mike Pezzullo said the decision was made after the PNG government revealed it would not be able to deliver the security services.
"We were dealing with an urgent situation, but we were never desperate in doing so," he said.
Estimates was told there was not enough time for an open tender, so a "special measure" provision was applied.
Deputy secretary Cheryl-Anne Moy rejected it was limited tender, claiming: "It's an ability to go to an immediate individual and ask for a quote for the services."
Later in the week Paladin released a statement criticising "unsubstantiated" reports in the media.
Christmas Island is fine with Bill
Last week the government suffered a historic defeat after parliament voted in favour of changes that make it easier for refugees on Manus Island and Nauru to travel to Australia for medical treatment.
In response, Morrison announced that he would be reopening Christmas Island detention centre.
And then on Tuesday, estimates heard of the government's plans under the new law to transfer sick refugees and asylum seekers to the island.
Greens senator Nick McKim called the decision "outrageous" and a "clear denial of the clear intent of parliament".
Pezzullo replied that he wasn't going to comment, but added: "It goes without saying that if specialised treatment is only available in the mainland then the mainland will of course be utilised."
Labor leader Bill Shorten said that was OK by him.
"If the medical treatment is delivered and delivered on Christmas Island and it makes people well, that's fine."
The "Loophole"
We weren't quite done, though, with the fallout from the bill passing. On Thursday attorney-general Christian Porter said he had legal advice that showed a loophole in the bill that meant there would be no lawful authority to send those brought to Australia for medical treatment back to Manus Or Nauru.
However his office said it would not release the full legal advice. Labor rejected it was a loophole, but it was then pointed out that only 14 people who have been transferred to Australia have returned to Manus or Nauru since 2016.
Alan Jones says sorry to Malcolm
Radio host Alan Jones appeared on Sky News this week and issued an on-camera apology to former prime minister Malcolm Turnbull over comments about Julia Banks' decision to run against Greg Hunt in the seat of Flinders.
"I went too far in my criticism. I accused Mr Turnbull of being a traitor to the nation, I acknowledge that I had no justification in making that false statement, and I unreservedly apologise to Mr Turnbull for doing so."
Since 2013, 1,246 refugees and asylum seekers have been transferred to Australia from Nauru and Manus Island for medical treatment. Of those, 282 have returned, with only 14 returning in the past three years.
Marles and coal
Elsewhere on Sky News, Labor MP Richard Marles got some people worked up when he declared: "The global market for thermal coal has collapsed, and at one level that's a good thing because what that implies is that the world is acting in relation to climate change."
The government pounced on the comments for obvious reasons. But the main debate was over whether he had said "wonderful" or "one level".
You be the judge:
Mining company Glencore also this week announced it was capping its coal production…
Cash demands apology from Labor over AWU leaks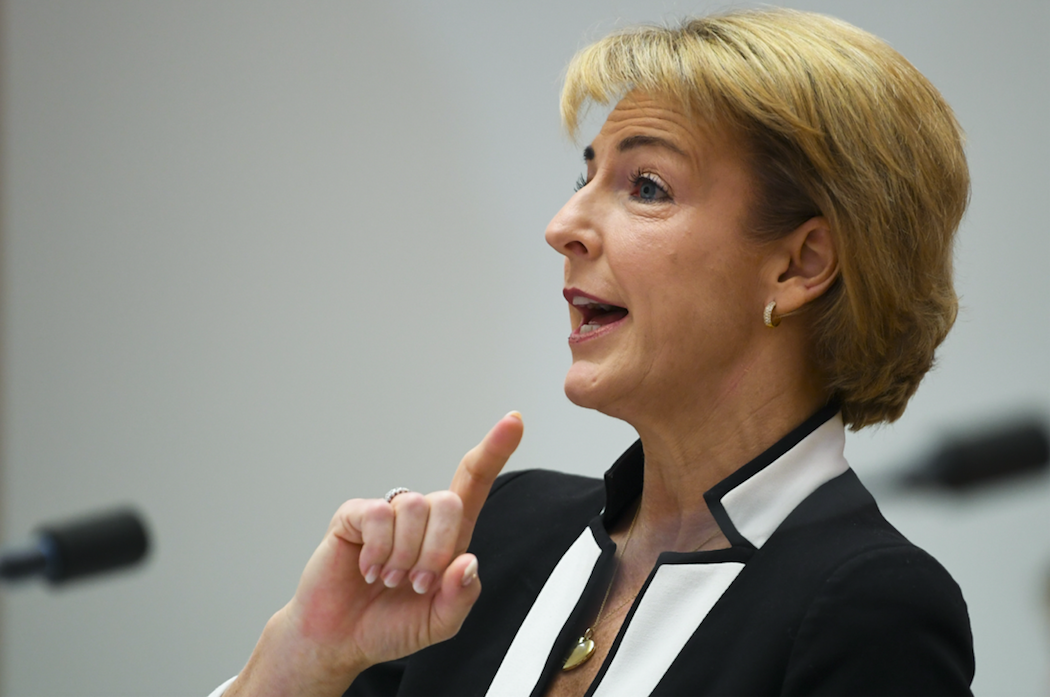 Small business minister Michaelia Cash fronted estimates days after appearing in the Federal Court as part of the Australian Workers' Union legal challenge over raids on its offices in 2017.
During a series of heated exchanges Cash asked Labor senators to apologise over their questioning.
It was fair to say, some weren't keen on the idea.
Estimates was told that Cash and then justice minister Michael Keenan twice declined to be interviewed over the raids.
Cash said she provided a copy of the Hansard account of a previous estimates hearing, as that was her best recollection.
AFP deputy commissioner Leanne Close said she would not classify that as a witness statement.
Cash said that if the AFP wasn't satisfied with the statement it could have asked for more information.
Also in estimates, the AFP said evidence "may have been destroyed" during the investigation and it was revealed that Cash's taxpayer-funded legal bill now stands at almost $300,000.
Julie Bishop quits politics
This week saw Wayne Swan and Kelly O'Dwyer deliver their planned valedictory speeches.
But one leaving speech we weren't expecting was from Julie Bishop – the former foreign minister and deputy leader of the Liberal party – who stood up on Thursday afternoon and announced she was quitting politics.
On the basis she believed the Coalition would win the upcoming federal election, Bishop said she would not be recontesting her seat.
"I have been contacted by a number of talented, indeed extraordinary, people, including women, who have indicated to me that should I not recontest the seat of Curtin, they would seek preselection ... accordingly, I will not recontest the seat of Curtin at the next election."
Six months is a long time in politics. It was only in August that Bishop entered the leadership contest to become Australia's 30th prime minister after the Liberal party decided to get rid of Malcolm Turnbull.
You say goodbye and I say... Helloworld
The week started with the revelation that finance minister Mathias Cormann's family holiday flights to Singapore were booked by Helloworld — a travel company controlled by Liberal party treasurer Andrew Burnes. The flights were booked around the time the company won a $1 billion contract with the finance department.
Cormann said he had no idea his credit card hadn't been charged.
During estimates on Thursday Labor senator Penny Wong tabled an email from former Helloworld executive Russell Carstensen alleging Burnes had told him he was able to organise a last-minute meeting with US ambassador Joe Hockey because "Hockey owes me". Hockey is a shareholder in Helloworld.
Burnes has emphatically denied the allegation.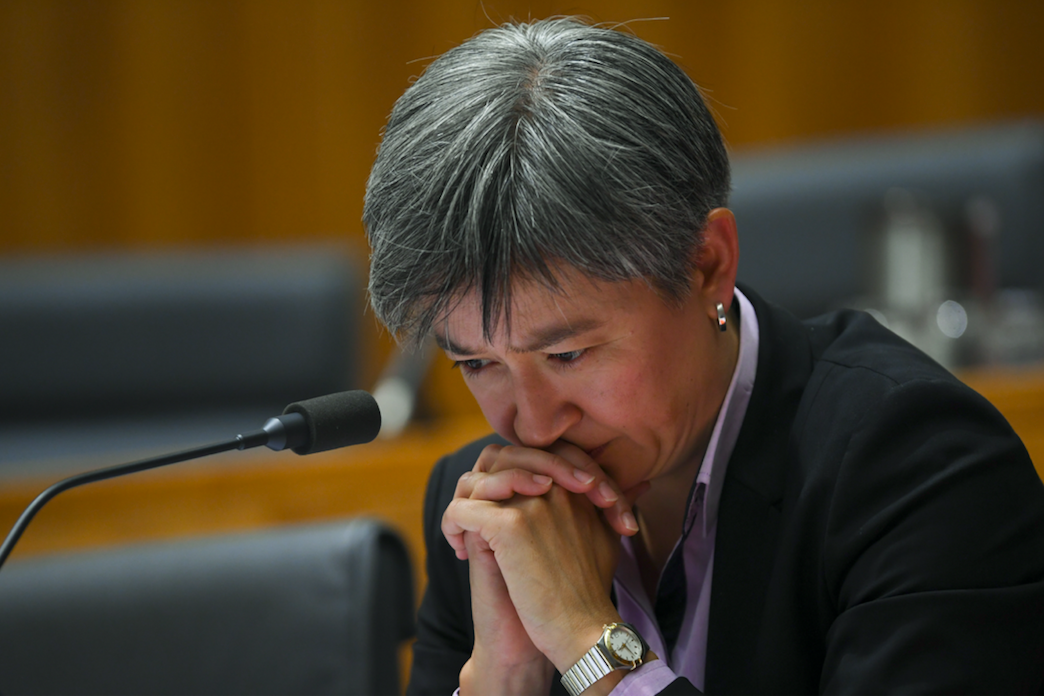 You're not helping David
Right. Basically. This is what happened. Nationals senator Barry O'Sullivan said this during an estimates session:
"Here's my question, there's a bigger chance of us having a biosecurity breach by us having a bloody old Chinaman who brings in his favourite sausage down the front of his undies."
Scott Morrison then went onto WeChat to say O'Sullivan's views don't represent those of the government.
Bill Shorten then went on HIS WeChat to say the remarks were offensive.
And then in strode agriculture minister David Littleproud, who thought he was being super helpful and declared: "Backbenchers from time to time go off reservation."
Labor's Brendan O'Connor responded to that, during a doorstop on Thursday, by exclaiming: "That really shows how out of touch this government really is – and that they're willing to slur a particular ethnicity and then defend that slur by making another slur towards another ethnicity."
New job, who dis?
Not quite done for the week yet, we got the news late on Thursday that the attorney-general had announced 34 new appointments to the Administrative Appeals Tribunal.
Among the appointments are several former Liberal MPs, including a part-time role for former Senate president Stephen Parry, who resigned from parliament after discovering he was a British dual citizen.
And that was the week that was. Time for a drink.