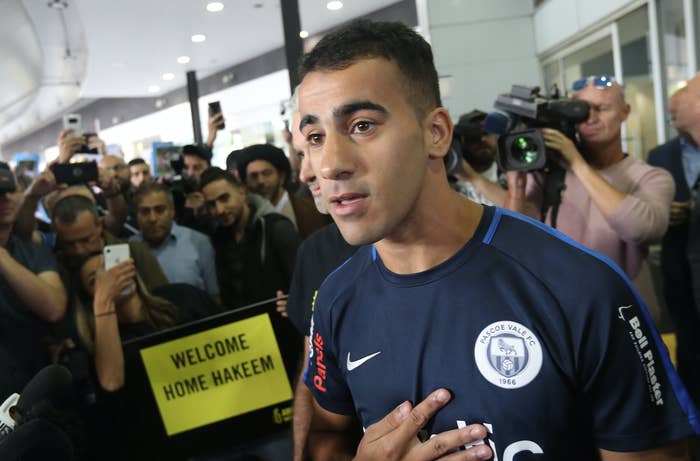 Refugee footballer Hakeem al-Araibi has returned to a massive crowd at Melbourne airport, after the Thai government decided to release him following more than 80 days in detention.

Al-Araibi had been held in detention in Thailand after an Interpol red notice was issued for his arrest by Bahrain. However refugees such as al-Araibi are not meant to be subject to international arrest warrants issued by the country from which they sought refuge.
After landing in Melbourne on Tuesday, al-Araibi told the crowd gathered to greet him that Australia is his home.
"I will be strong here, just for Australia," he said. "I don't have citizenship yet, but my country is Australia. I will die in Australia and I love Australia."
On Monday night Australian prime minister Scott Morrison and foreign minister Marise Payne thanked the Thai government for its decision to release al-Araibi, and the campaign to free him led by former Socceroos captain and football commentator Craig Foster.
"I look forward very much to seeing Hakeem al-Araibi back in Australia with his wife, with his friends, with his family, and acknowledge the work that has been done between Australia and Thailand to achieve this outcome," Payne said in a late-night press conference. "It has been a complex process and has taken a great deal of communication and engagement, but we have an outcome.
"I think for Hakeem al-Araibi and the many who have supported him, that is the most important thing this evening."
Foster tweeted a statement that thanked the Australian prime minister and foreign minister and called it a "win for humanity".
Foster also called for the government to extend the same care to other refugees.

"Now I'm calling on Scott and Marise to commit to more humane policies for all the 'Hakeems' who come into Australia's care," he said. "Our nation has a big heart. We saw just how big in the past few months, and we need to carry this compassion forward.
"Every person who we, Thailand or any other country, mistreat is one too many. Australia must do better than we have in recent years."
When al-Araibi arrived in Melbourne he was greeted by union members singing, and Australian Council of Trade Unions secretary Sally McManus told a press conference afterwards that the trade union movement had been working to get al-Araibi released.
"The trade union movements have been mobilising since late last year to bring Hakeem home. It's a great wonderful day for this to happen," she said.
"He's one of us. Not just an Australian but a union member. We wanted him to feel today that he never walks alone."
Al-Araibi had been convicted of a vandalism offence in Bahrain. He strongly denied the charge and has argued he was playing in a televised soccer match at the time it allegedly took place.

The Labor opposition has expressed support for the government's effort in getting al-Araibi back to Australia, while the Greens party has called for an inquiry into how the Interpol red notice was issued in the first place.
Shadow foreign affairs minister Penny Wong told ABC Radio National on Tuesday that Labor would seek to find out more in Senate Estimates next week.