1.
The Water Slyde, a unique sex toy alternative if you enjoy masturbating in the bath and want to make things a bit easier by bringing the water to you. No more needing to contort yourself in the tub for pleasure!
Make a night out of it with the Bringing Sexy Bath kit, which includes a Water Slyde, massage candle, arousal balm, hair towel wrap and privacy door hanger, so you can enjoy your me-time without interruption.
Promising reviews: "Know what, I was skeptical about it. But I really like how easy it is to use. Imagine being your very own pillow princess. You tell yourself to just relax and enjoy it. It's empowering and refreshing. You could have your hands free for whatever — for an additional stimulant, for a good book, for anything on your phone, to massage a hair mask into your hair — or you could literally just kick back, because it does the trick on its own too." —Anonymous
"I had been eyeing the Water Slyde for a few years and finally made the purchase! It did not disappoint. It's easy to use and I like how I can just comfortably lay down in the tub. Highly recommend!" —Anonymous
Get it from Lovability for $35 (available in three colors).
2.
A popular hand-sculpted Shilo dildo by New York Toy Collective designed with a poseable core, so you're always ready to pack and play with this toy. It also comes in fleshtone and whimsical hues, so you can make sure your dick is the perfect extension of your truest self.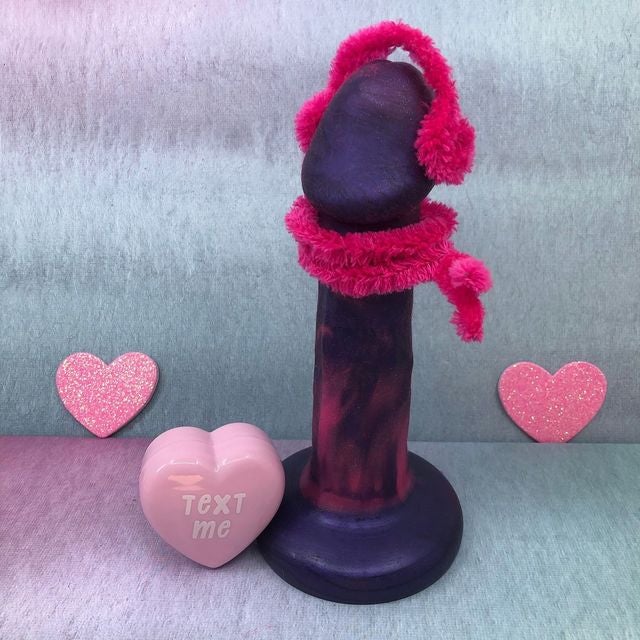 The Shilo dildo is harness-compatible and anal safe, and boasts an insertable length of 6.25 inches and 1.5 inches of girth. A prominent realistic tip offers targeted stimulation to G- or P-spots.
Promising review: "This dildo is seriously impressive. As a pack'n'play toy, it offers a wide range of value! It folds comfortably and discreetly into the pants (albeit with some effort initially) for longterm wear, feels soft between the legs when walking and sitting, pops out to an impressive length (and girth) when readying for play, looks and feels ultra-realistic to the touch (except bigger, according to my girlfriend), and gives an incredible orgasm, to me as well as my partner, surprisingly! The large base pressed right up against my clit through my Spareparts harness! Not as intense as a vibrator or double ended toy, for sure, but a pleasant sensation nonetheless, and my partner gets the benefit of the huge bulbous head rolling across the G and A spots, as well as the soft, almost skin-like texture massaging everything else, and the realistic veins add a nice touch as well! Altogether, a WONDERFUL experience, from start to finish. I definitely recommend this for people who like experimenting with gender expression, but it would be a delight for everyone else too!" —Anna
Get it from New York Toy Collective for $159 (available in four fleshtone and seven whimsical colors).
New York Toy Collective is a queer-owned retailer that creates high-quality, gender-affirming intimacy toys and products, ranging from packers and binders to dildos and accessories.

3.
The Manta, a vibrating stroker which allows all penis-packing pleasure enthusiasts to up the ante on their stroke game with 12 vibration modes to explore and a waterproof design.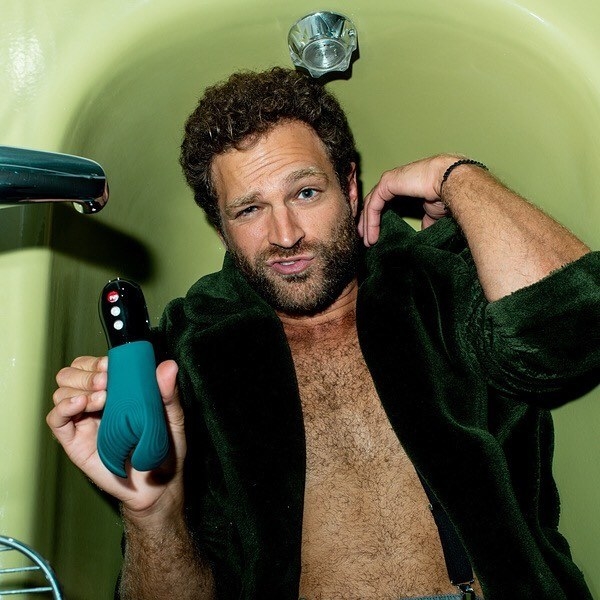 This sleek vibrating stroker is inspired by the appearance and power of an actual manta ray. It's designed with waterproof silicone, six speeds and six vibrating patterns turn oral sex, masturbation and couples' play into a mind-blowing time for anyone with a penis.

Promising reviews: "I have tried several male toys in my life and this one is my favorite to date. The highlights are ease of use, quietness, easy cleanup / maintenance, focused stimulation. It really allows the user to decide the length of use. In a hurry, turn up the speed and point to the direct spot. Have time, try slower motors all over. It's highly recommended." —Steven H.
"If you're looking for a special night in for yourself this is the toy you need. Lube on up, get in the mood, and power up. Moreover this toy is great for couple's use as well. During penetration the toy allows you to easily move it up and down the shaft rubbing against the vulva and clitoris or just keep it on the shaft to make yourself the vibrator they love. If you're looking for some extra fun oral sensations you might want to bring some water-based flavorful lubricant as the toy really shines when you can move it up and down the shaft. I would highly recommend to everyone with a penis." —Thomas H.
Get it from Fun Factory for $111.99 (available in green and black) or Amazon for $129.99+ (available in four colors).

4.
A curvy rabbit vibrator with a slender shaft and unique "rabbit" ears that's sure to gain a top-ranking spot in your sex toy collection after you experience the unique kneading function on your clitoris.
Good thing this dual stimulator is waterproof, or else those 10 vibration modes would create a problem.
Promising reviews: "I've used quite a few toys (electro stim, prostate massagers, pretty much every vibrator my wife has ever owned), and I can confidently say this is the best edging toy I've ever used! Easy to clean up and good length on the battery. Too much fun!" —bonifacio

"The color is lovely, and the toy is quite soft to the touch. The vibration and mode selections provide a variety of sensations, with something for everyone. This is one strong little rabbit. It comes with bunny ears shaped like pliers that focus on kneading and slipping clitoris stimulation for a double orgasmic experience. Experiment with various pressures and rhythms. The narrow and curved vibrator shaft, as well as the bulge on the base, allow it to effortlessly slip into your hidden garden and aim at your G-spot area, which is strongly pulsing with various vibration frequencies. The steady vibrating speed increase will hasten to a stunning climax. Using water-based lubricants will substantially improve the slick sliding." —@@@Bruins@@@
Get it from Amazon for $32.99 (available in teal and purple).
5.
A rose-shaped clitoral stimulator equipped with 10 powerful vibration functions and a splashproof silicone design, just in case things get a little...wet. A rose that never dies and delivers an orgasm? Yes please. 💦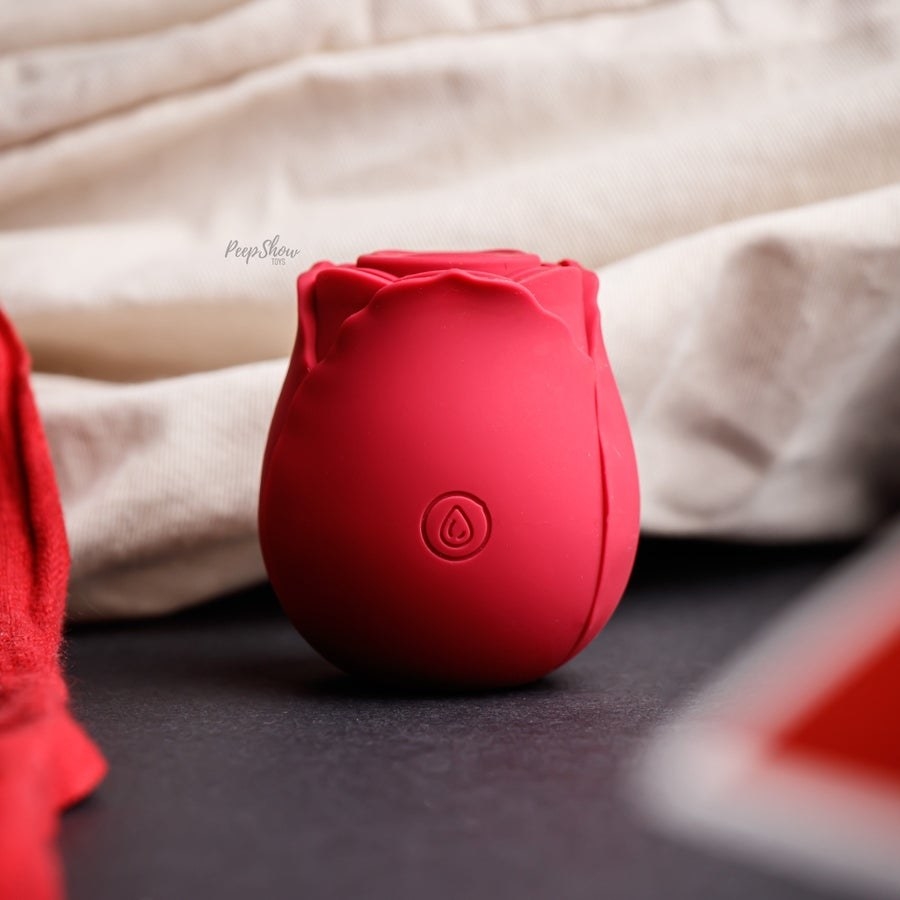 Enough people asked me, a sex toy writer, about the Rose that I finally decided to try it. Um, this thing is POWERFUL. The Rose is very easy to hold in the palm of your hand or place in your panties if you wanted. I really enjoyed it, and it definitely delivers a lot of squirm for its size...10 functions is more than enough. 😅 I would encourage using a water-based lube liberally around the opening of the toy, which is what I did, so the pulsation intensities aren't too much for the sensitive clit. Also, clean it thoroughly with a toy cleaner or antibacterial soap — those little petals can be difficult. 
Promising reviews: "This is the first and only toy that has made me squirt! I didn't know it was possible!! Gift yourself, and all of your girlfriends. It's a must-have." —Flowerchild
"I never write reviews… But this truly got the job done!!! When I tell you it took less than five minutes! I definitely underestimated this toy. You really need this; it's a game changer!" —Emily B.
Get it from Peepshow Toys for $41.99 (currently only available in red).
Peepshow Toys is an immigrant-owned sex toy boutique that promotes sex-positivity and education by only selling products created with body-safe and nontoxic materials.
6.
The G-Plume — a smooth silicone G-spot vibrator that'll reach your favorite spots, so you can enjoy each of its 10 vibration settings rumbling in your nether region. A curved shaft and bulbous tip offer effortless handling for internal and external stimulation.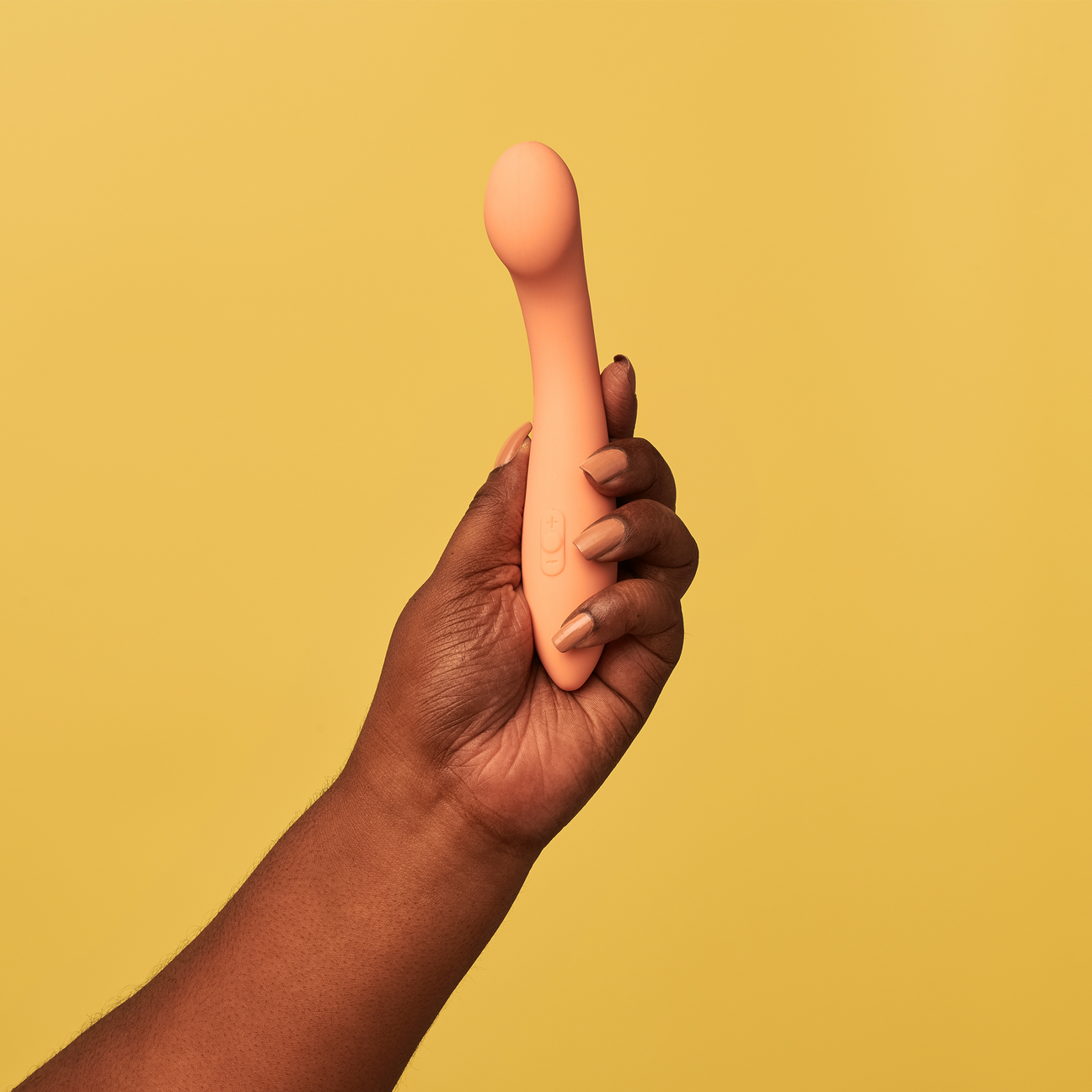 This internal vibe is waterproof and rechargeable.
Promising reviews: "I got this as surprise for my wife, and did it! We used this together and was great." —P.
"My girlfriend wasn't sure a vibrator could get her to the mountain top — but it did, and did and did." —BC
Get it from Hustler Hollywood or Goodful Wellness for $45.

7.
The Thruster Mini Teddy vibrator, which has six powerful vibrating speeds (up to 125 strokes per minute) and 2.5 inches of thrusting action. BTW, it may be called "mini," but it's 9 inches long with 5 inches of insertable length.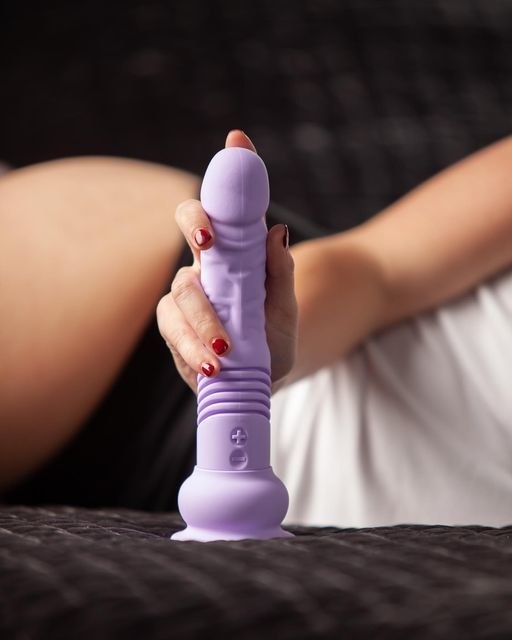 My bestie has this toy and her main takeaway is that it's not mini, so do what you will with that information. It's also designed with a suction cup base for hands-free play.
Promising review: "I'm very satisfied with this! I'm a man. Boyyy does it do wonders for the prostate. But I wish I really thought deeper about the size I was purchasing. The Mini is just that, mini. I prefer a bigger size for sure. It does do a good job though, I'm pleased." —Anonymous

"OMG this thruster was amazing! I loved how it pulsed and changing positions with it was even better! At first yeah some lube does help but inserting it in my pussy and ass was fucking amazing, pardon my French! The only thing I wish it had was a remote and that's it!" —Tori M. 
Get it from Velvet Co. Thruster for $182 (available in four colors).
8.
The Trio Plug by B-Vibe boasts a triple motor design with eight intensities and nine vibration patterns to deliver a *very* full sensation with pulsating thrusts. Not to mention, it includes a wireless remote effective up to 30 feet away for hands-free play.

Promising review: "I'm a big fan of the Trio. It's a slim anal plug, so it's great for folks who are new to anal play. The remote control is perfect for combining with other kinds of sex (or going out to dinner), and if a woman wears it during intercourse, her partner will definitely feel the buzz. Plus, it's rechargeable and made from body-safe silicone. It's an amazing toy." —Charles
"This is an amazing product! At first glance, the plug looks a little big but it is a perfect size. It is such a new feeling to me that it's hard to describe. Definitely going to have a lot of fun exploring the different settings." —Michael
Get it from B-Vibe for $129.99 (originally $145) or Amazon for $136.33+ (available in purple and black).

9.
The scintillating Satisfyer Pro 2, because Cupid is shuffling into town and giving you gift of air pulse technology, 11 intensities, and gratuitous orgasms.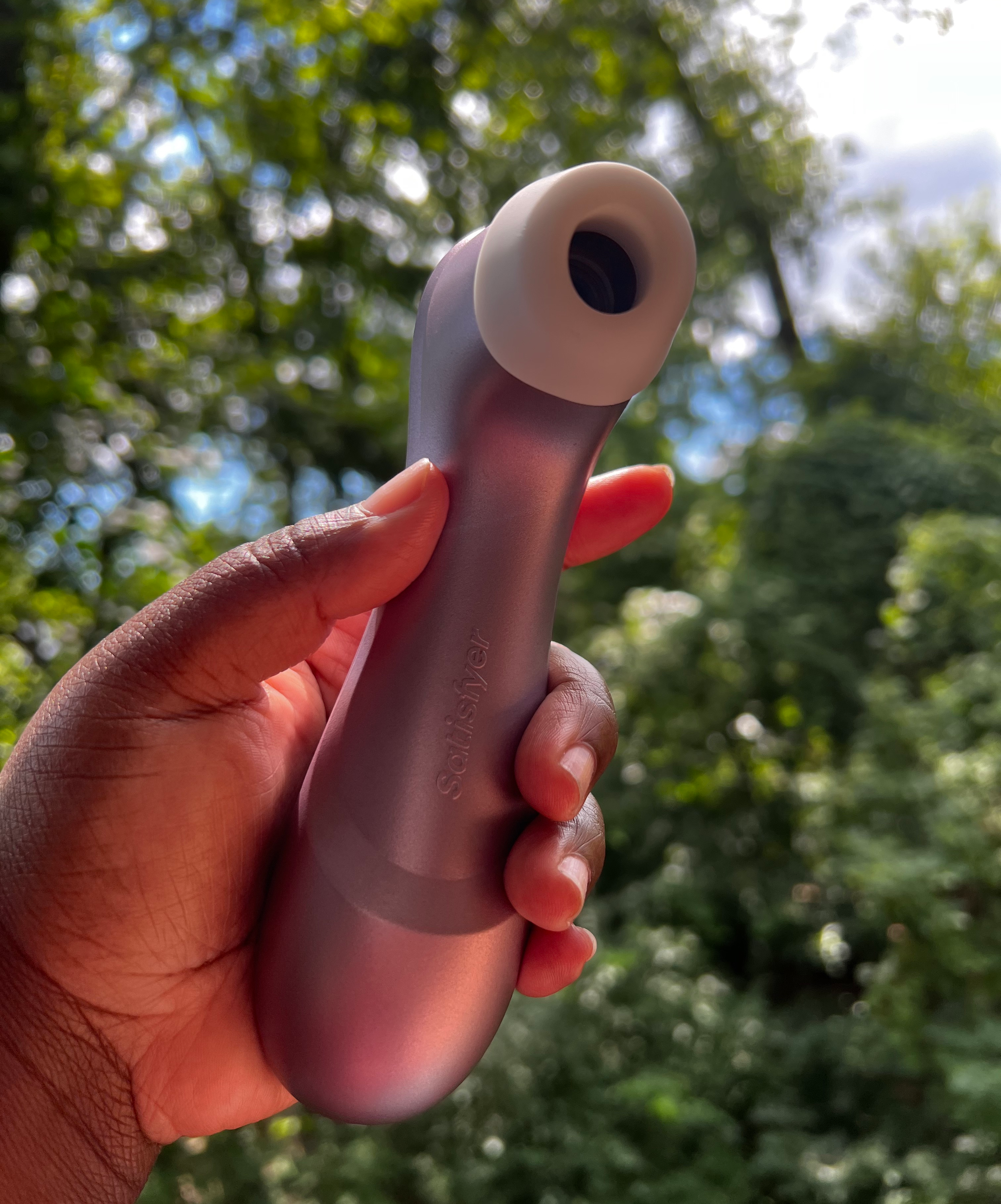 It's you, you're Cupid.
BTW — this Amazon favorite sex toy is a big hit with Trans users who've experienced bottom growth, and there's also a more in-depth review written by an Intersex Male person, if you're interested.
Promising reviews: "There aren't many reviews on here from trans men, so I thought I'd throw my opinion out there in case there are other guys out there looking for something to spice things up. This toy is heavenly. It works well on many different parts of the body, and I have had fun exploring different places to try it: clitoris, nipples, etc. I love the simplicity of the vibration settings. You can turn the vibration up one level at a time, making it easy to build up to a climax slowly, or you can jump up multiple levels and get things done quickly, if that's your thing. I am so glad I bought this toy, and when this one finally dies I will buy another one. I've had it for a couple of months and it's held up great. 12/10 seriously recommend this product for anybody with a clitoris. You will NOT regret it." —a. b.
"Before this toy aka bae, I was a hoe. I've taken the steps to admit it and do something about it. Today, I can proudly say bae has cured me of my hoe-ly ways. This is the equivalent of the best head you ever had from somebody and taking that person's mouth home with you. Idk about you but I related heavily when Drake said 'I just want sum head in a comfortable bed, it could all be so simple.' 😍🥰 Life Is Good." —Dominique
Get it from Amazon for $39.95 (available in three colors).
10.
A transparent Fleshlight boasting a realistic butthole and textured interior, so you can get your freak on regardless if you're solo or boo'ed up this V-Day. And if you are celebrating with your partner, I'm sure they'll want to watch and enjoy the show.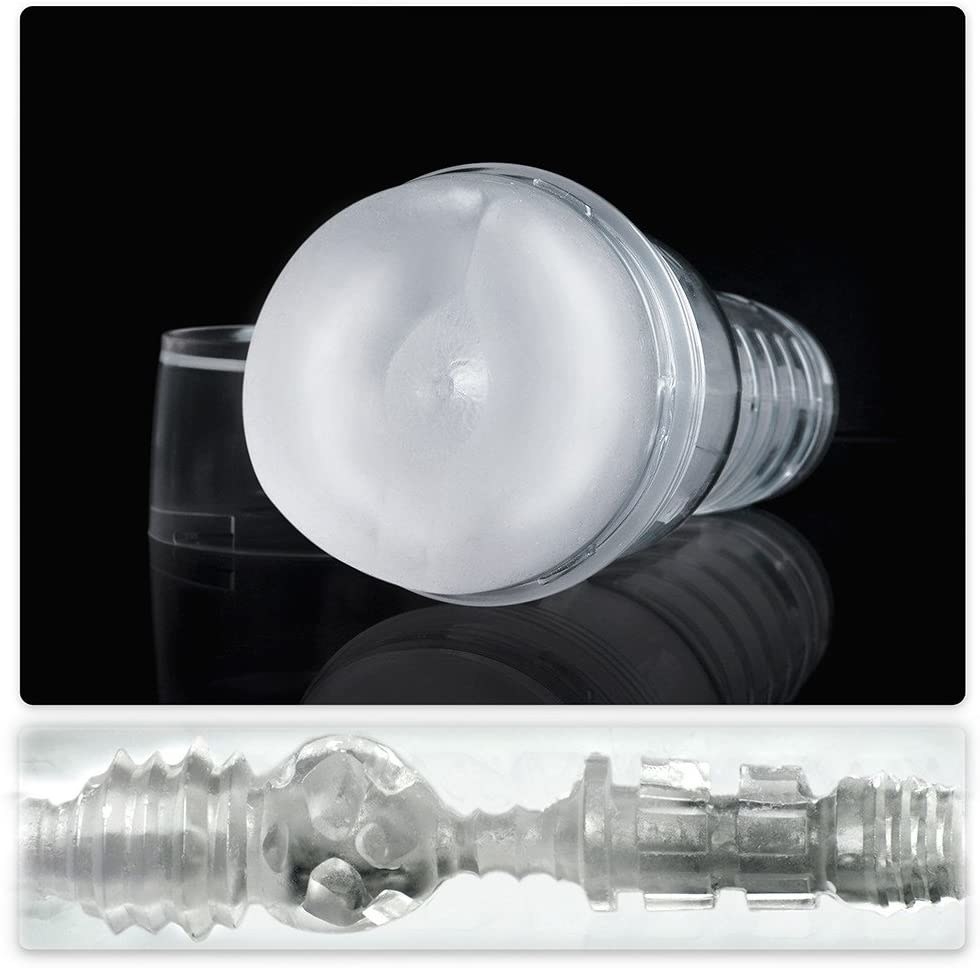 This is like...an ass-shaped ice sculpture...that you...stick your penis in. Anyways, have at it. Not to mention the transparency allows you or your lover to watch.
Promising reviews: "Feels amazing. I get hot with passion when I use this with a partner XD. That being said, it even almost fits two hung (+8 inch) inside if you're into that. I would recommend to make the shaft of this slightly thicker so that it's not so tight when it's used like this. Anyway, 5 stars for getting me to cum in half the time it normally takes!" —Andrew
"Best sex toy ever! Go at it for hours with this thing. It's always at my bedside. Even take it on vacations. Fun to DP and use with other guys, too." —Troy Boy
Get it from Amazon for $69.95.
11.
A classic lipstick bullet vibrator for when discretion is what you *need* but ultimately good vibes are what you *want*. This travel-friendly vibe offers a single-speed function, making it perfect for teasing and pleasing, whether solo or with a partner.

Promising reviews: "I was so surprised by how strong this little thing was. It is actually more powerful than my bullet!" —Majestic
"I'd been looking to buy this vibrator for a long time, and then, on a whim, I did! And let me tell you... it was the best impulse buy I've ever ordered! The strong and powerful vibrations get me going within seconds and the tapered tip is fab for targeting my clit! It's also very discreet so good as a first-time toy. This toy is amazing for solo play as well as partner play! The only small thing is that it is quite noisy, however I just put on some music and under the covers I go...! It will get you to climax within seconds, 10/10 buy!" —Bunnyboo123
Get it from Lovehoney for $16.99.

Looking for discretion? Here are even more quiet and discreet bullet vibrators to check out.
12.
The Bouncer is a unique 7-inch dildo designed with three rotating weighted balls in the shaft (hehe) that roll and bounce around during use for a sensation unlike any other. Plus, it has a suction-cup base in case you want to stick it and play hands-free.
Promising review: "This toy is absolutely incredible. I don't have much experience with toys because until now I never found the right thing. Vibrations are just distracting to me. I prefer exciting penetration, and this one... I've never seen anything like this. The width is a tad intimidating, but once my imagination has me all worked up, it's everything I could possibly want. I use it solo without the suction. The only thing that could possibly make this better would be to not be the one doing the work. It is large, so if I'm not at the right angle (or if I'm at too good of an angle), there's slight pain, but, like, the kind that makes you go cross-eyed. The sensation of the balls inside is really exhilarating. They give me a little something extra that helps me feel like someone else is doing the deed. I haven't orgasmed like this in years. I used it twice today, and I switched to a smaller, less interesting toy for round three. That got me started, but I anxiously came back to this for a successful, glorious experience. I think I might be obsessed." —Ashley

Get it from Fun Factory or Amazon for $99.99 (available in red and black).

13.
The Cherry — one of Emojibator's latest sex toys — boasts nine vibration modes and a waterproof design for external play in and out of the shower or bath. Not to mention, it's sleek, travel-friendly design offers discreet vibes whenever you ~pop~ your cherry.

Promising review: "I am OBSESSED with the cherry emoji vibrator. 🙌❣️️Incredible orgasms from this toy. First off, it is so freaking cute. 😍🍒 You would never realize it was a vibrator if you didn't already know. 😏 It's portable, discreet, and quiet, while giving the best vibrating pleasure (with multiple settings too!) I love that you can hold it from the stem or the cherry itself. 🍒" —Rachael
Get it from Emojibator or Amazon for $44.

If this one surprised you, don't miss this round-up of weird sex toys that work really well.

14.
Unbound's Clutch, a dual-stimulating vibrator designed with a wide ergonomic handle for effortless use and positioning, so you can find the perfect angle to enjoy it. Did I mention it has dual motors, so the internal and external arms can be controlled individually and offer up to 120 setting combinations? Well, it does.

The internal arm has a rumbly thrusting motion with five intensity and five speed settings. The external arm boasts seven vibration intensities and five speed settings. Each can be controlled by its own individual button. And of course, in true Unbound fashion, this vibe is waterproof.

I've never had a thrusting toy before, but one of my besties raves about hers. And of course, rabbit vibrators can be difficult to line up with your anatomy and are not a one-size-fits-all option. But Unbound is all about making sure their toys are accessible for both able-bodied and disabled users, so Clutch has a lot more flexibility to play with than other rabbits. Now, I love dual stimulation, but for me, the thrusting function is the best part of this toy. Chef's kiss, spot on stimulation — I definitely explore the different thrusting modes more than I do the external arm, they are that good. The clitoral stim is great too, typical vibrating settings, but I've found that it doesn't apply a lot of pressure without some manual help (because not all rabbits are perfect). But once I have it lined up, it's off to a whole new world for me. Make sure to pair it with lube, of course.
Promising review: "I have a few other rabbit-style vibrators and expected this to feel much the same. Well, I was wrong. It is a completely different feel and awesome addition to my collection! The vibrations and waves are unlike anything else that I have and great for switching things up!" —Taylor R.
Get it from Unbound or Amazon for $98 (available in mint/sea and quartz/coral).
15.
A glimmering, rainbow ombre Le Wand Petite massager, so you can take your O on the go in style! This powerful vibrator has six patterns and 10 intensities to enjoy them all for a mind-blowing session that'll take you somewhere over the rainbow, get it?

This limited edition wand also includes hella swag, like a coiled metallic pink charging cord, a sparkly travel case, rainbow glimmer nail polish, rainbow glimmer body gel, and a set of metallic temporary tattoos.

In true Le Wand fashion, this vibe is travel-friendly and splash-proof, in case you want to have some shower fun.
Too much color for your taste? Check out the original Le Wand Petite vibrators or the rest of the All That Glimmers collection for more colors!
Get it from Le Wand for $150.