1.
A glass "juicer" for your insides boasting a textured shaft and a unique crank, so you can *turn* things up a notch whether alone or with a lover.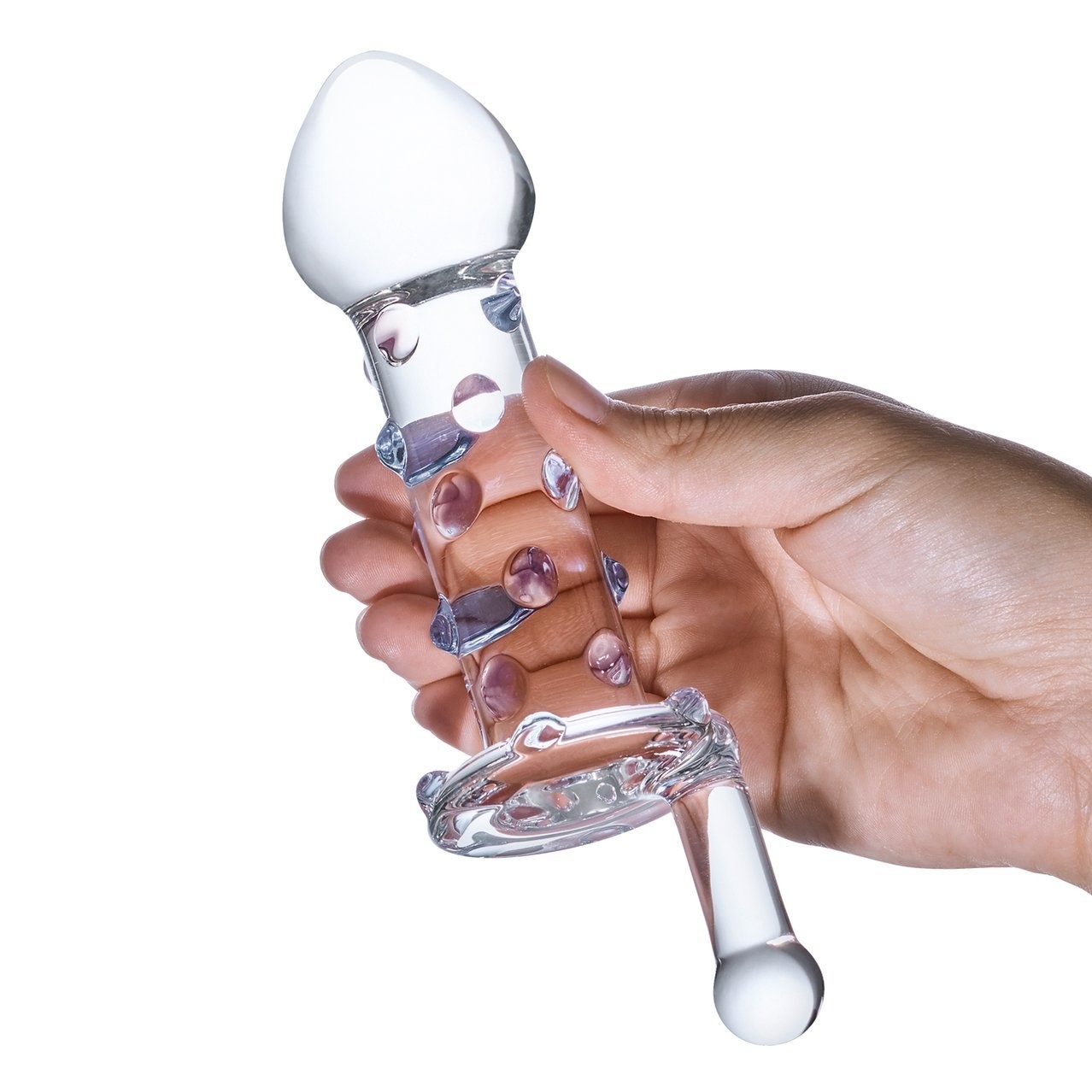 This unique toys is 4 inches long and 1.45 inches wide at the tip and 1.25 inches along the shaft.
Promising reviews: "This was great for foreplay really got the juices flowing loved that can warm it up or cool it down. Add on a bullet vibratory for the clit as you work it around multiple Os. Worked great for DP as well; we're looking forward to exploring additional anal play." —Texas 69
"I bought it because it seemed different with the raised bumps and handle that spins it. After using it during anal play it felt strange at first but after a time or two you get used to it and it feels pretty good. The spin is a bit tricky to use if you use lube. Overall it felt really good and perfect size." —MaryL
2.
An adorable air pulse vibrator because who wants to wait until pigs fly for an orgasm? This little piggie will make you squirm and squeal with its 10 pulsation frequencies and waterproof design.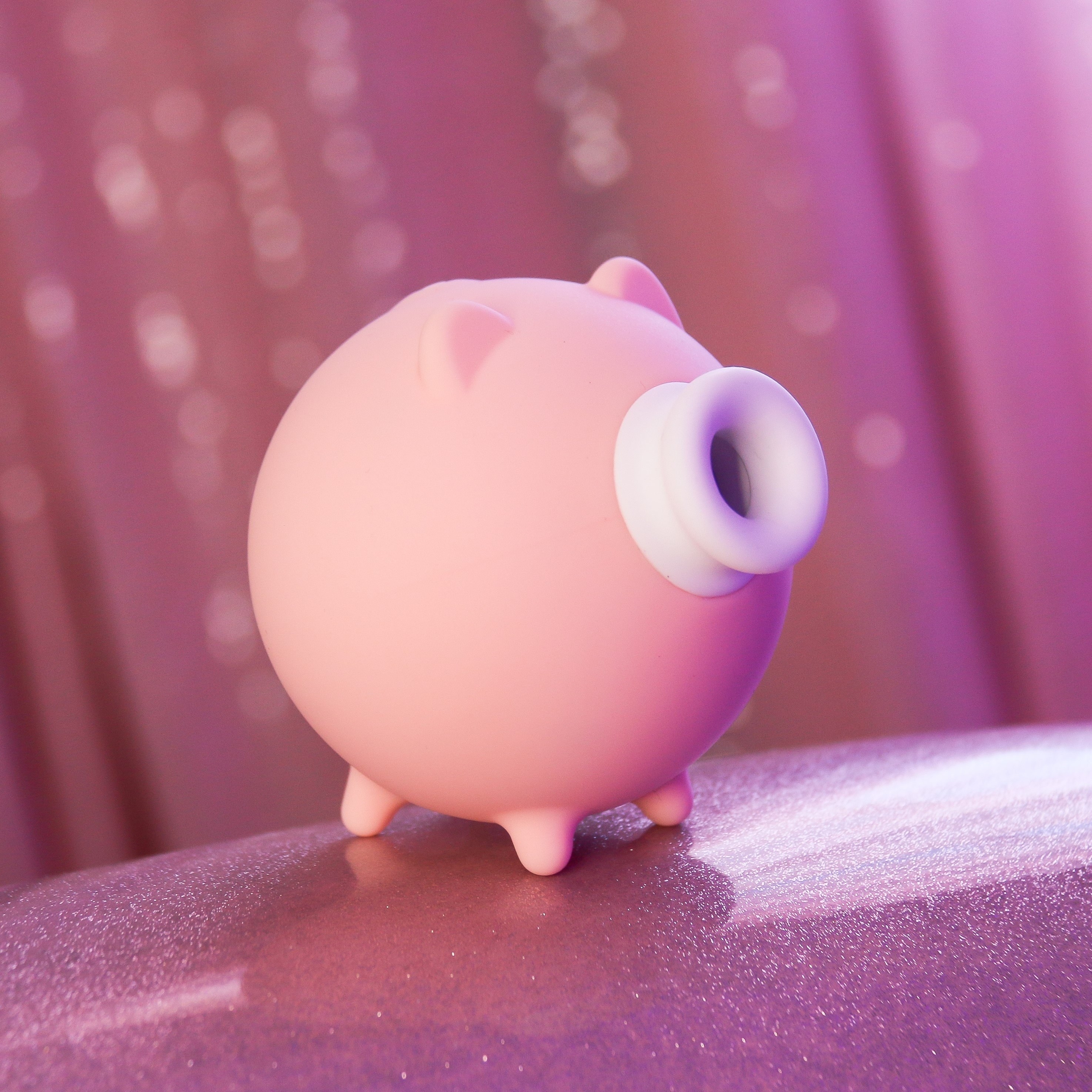 Perfect for anyone who's ever fancied living as glam as Miss Piggy herself.
Promising review: "This is my first time trying a toy like this. I didn't know whether it would be a comfortable fit but it worked out surprisingly well. Even though it is small, the vibrations get very intense. I was feeling aftershocks long after a spicy shower session. It's also fairly quiet. My favorite part by far though is the adorable design. Even the placement of the charger is cute. I had so much fun using this toy. Definitely recommend." —c.w.
Get it from Honey Play Box for $47.99.
Honey Play Box is a sexual wellness company in California run by a group of sex educators and self-proclaimed lesbian meme queens who are passionate about all things pleasure being positive, inclusive and accessible.

3.
An 11.5" body-safe fisting toy boasting a realistic size and shape, and only gets weird when you think about the fact that it's a dismembered arm...but like, it'll reach your sweet spot.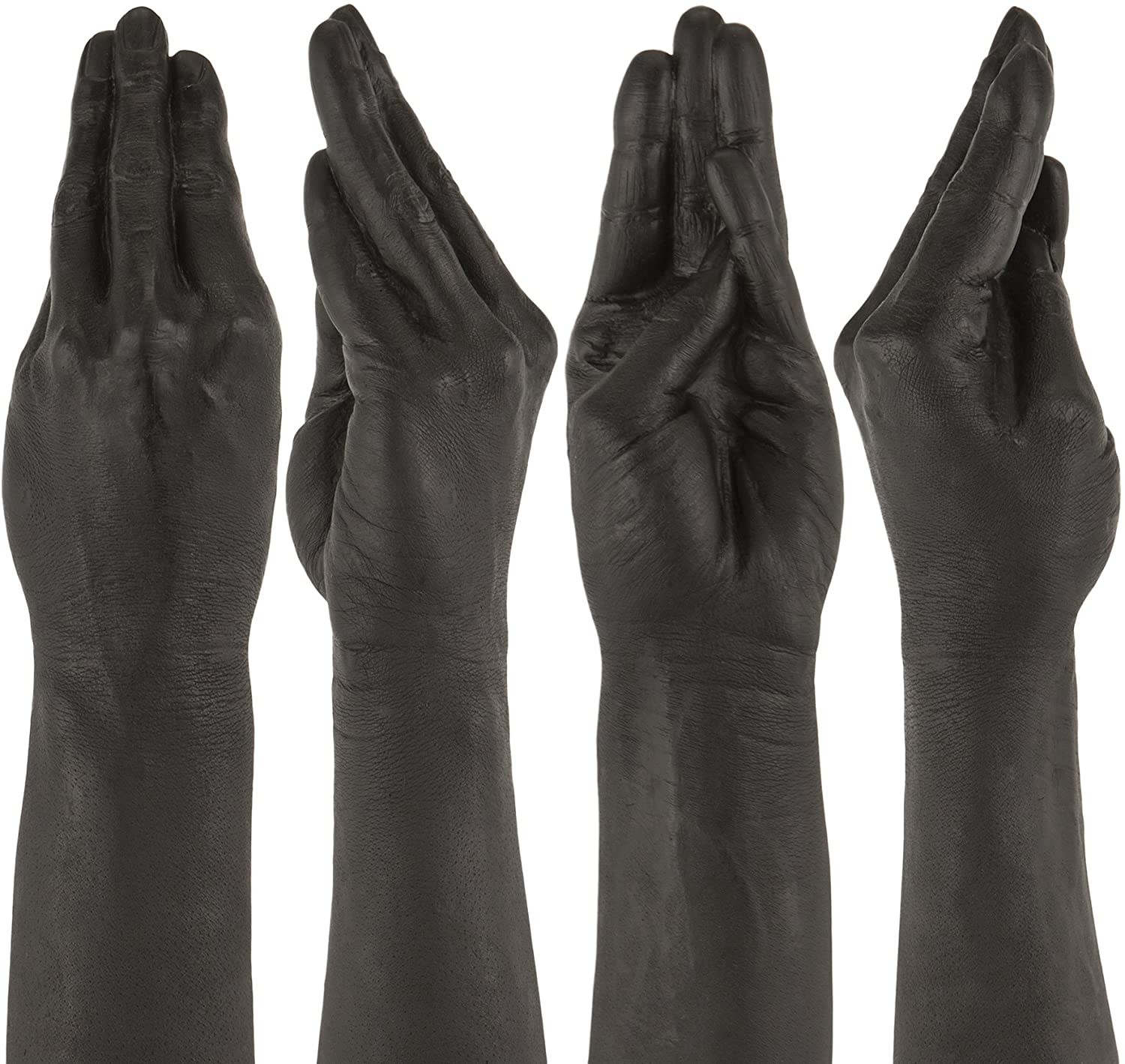 This massive hand measures at 2.7 inches wide at its maximum diameter, with a max girth of 8.48 inches.
Promising reviews: "Here let me give you a hand with that....Overall great quality soft, bendable, and gives you an incredible full feeling if you're into this kind of thing. It is pretty much a full-size woman's hand, definitely not for the beginner." —Matt162
"Perfect for a kinky experience that can, after practice, open new realms of pleasure and fantasy. Firm, but the fingers are flexible enough to be comfortable even during rough use. The 'duckbill' design is easier to tolerate than the closed fist models." —R. Adams
Get it from Amazon for $27.34+ (available in three colors).
4.
A corn on the cob dildo, which is definitely not for eating...but its realistic design with a rippling kernel exterior and squishy silicone is perfect for delivering a delectable internal massage.
This ear of corn is 7.9" long and 1.6" in diameter at its wider point, but don't worry, it has a larger counterpart that's 8.3" long and 2" in diameter. This dildo is also designed with thermochromatic pigments, so it changes from dark yellow to bright yellow as it warms up to your body temperature.
Promising reviews: "I bought this item because I was curious about what a 'vegetable' would be like. Let me tell you, it was absolutely amazing! I loved how it looks like uncooked corn before using and cooked after. And all the bumps and ridges from the kernels give the best massage. After using this I honestly don't want to use any of my other insertable toys! 10/10 highly recommend" —Kitty (Corn on the Cob)
"I ordered this when there was only one corn dildo option on Spectrum's website and I'm pretty sure the one I received was the 'big' version. This toy is a perfect amount of firmness, flexibility, and is really easy to clean (plus the color-changing feature is a nice touch!). The kernels are good for vaginal stimulation yes, but they're AMAZING FOR THE CLIT wow. Insanely intense orgasms with clit stimulation in my experience — I literally thought my nose was going to bleed (not sure if that's a thing or not?) after coming with this for the first time! Didn't know I could achieve this without a battery-operated device! The one thing that's difficult is the diameter — I can only fit a few inches of this in but if you're able to take wider toys then I'm sure this would be great! I just overestimated my size abilities. :)" —Dani (Big Corn on the Cob)
Get it from Spectrum Boutique for $109 (larger version for $119) or from Self Delve on Etsy for $93.88 (larger version for $101.61).
Self Delve is an artisan sex shop known for their line of realistic "Garden of Eden" inspired sex toys. All of their sex toys are created with premium silicone and thermochromatic pigments that change color when they reach body temperature.

5.
A novelty Emojibator vibrator that's as hilarious as it is functional, so you can go fuck yourself, literally. It's also battery-operated, meaning you can rely on it whenever you forget to charge your go-to vibes.
Whether you choose the chili pepper, banana, pickle, or OG eggplant vibe, each one has 10 vibration settings, a waterproof design and is battery-operated. Is that a banana in your pocket? 👀
Promising reviews: "Love this little pepper. Small, cute and most importantly — efficient ;)" —Deanna D.
"First toy ever, Im OBSESSED!!!!! really good material, super quiet, strong vibration." —Christina
Get it from Emojibator for $34 (available in eggplant, chili pepper, banana, or pickle) or Amazon for $23.41+ (available in eggplant, chili pepper, banana, or pickle).
Emojibator products are designed with love in Philadelphia and include novelty sex toys inspired by fruits and emojis.

6.
A vibrating stroker designed to look like a manta ray and is probably just as powerful. Six speeds and six patterns turn oral sex, masturbation, and couples' play into a mind-blowing time for anyone with a penis.
Promising reviews: "This toy is worth every penny and maybe double that. I have a ton of toys (I like trying new things) but this one is the one I always go back to. I like using it both dry and with lube as they are totally different experiences with this thing. Saw a review and was intrigued, but was a little hesitant given the price. I shouldn't have worried." —Anonymous
"I have been eyeing the Manta for a while and took the plunge. I have quite a few men's toys and WOW! It is my favorite by far! I am older and this gives me some rest for my hands — though men of all ages will LIKE this a lot! It is light and powerful and the shape, power and weight are perfect for playing with all of the contours of a penis: the base, shaft and tip. I love playing with it and enjoying the sensations. I have a Hitachi wand and I like this a lot better as it is easy to hold and the power is quite good (the Hitachi is just too much). The 'fit and finish' is excellent (thanks Fun Factory!). I have not tried this with a partner but that is one of the reasons I bought this as I think it would be fun in partner play. All around this is an excellent toy FOR MEN. I would recommend tweaking the pulse settings as I don't always know how to increase the speed without switching pulse modes. I would also recommend including a carrying pouch. Otherwise, holy smokes — worth the money!!!! This is a great addition to your man box!" —P.
Get it from Fun Factory for $139.99 or Amazon for $130.84+ (available in three colors).
7.
Zeep! because it's proof that Cute Little Fuckers never misses. This versatile cutie boasts a thin leaf design for pinpointed vibes or flip it over for broad, all-over stimulation. Its textured smiling design also offers even more sensation play whether solo or with a partner.
It's waterproof, versatile and comes with a bullet vibrator that has five patterns and speeds to explore.
Promising reviews: "Screams, moans, unbelieving gasps, and crotchal-to-crotchal vibrator sharing. Then there was a lot of lying back exhausted, breathing heavily, and saying of the word 'Wow.' Fantastic for couples without penii. (Probably fantastic in other contexts, as well, though I can't attest either way to that.)" —pretty squid
"I loved the Zeep vibrator! It felt great to place all over my vulva while the tip allowed for my sensation play along my clitoris. Also love using this hands-free while grinding on a pillow. It's so cute too, and a regular part of my solo sex routine." —bananas
Get it from Cute Little Fuckers for $69 (tee hee; available in emerald and mint).
Cute Little Fuckers is a queer-owned small business that features (some very adorable) creature-inspired sex toys, making them less intimidating and more versatile to everyone's needs. 
8.
A Love Hamma vibrator that'll take you to pound town with 10 thrusting functions, seven vibrations in the curved shaft, and three more independently controlled vibes in the hammer head.
While its 11-inch length may be intimidating, this versatile vibrator has a 6-inch insertable length on the textured handle and the hammer head can be used for broad or targeted external stimulation. Use this toy with water-based and hybrid lubricants, and pretty much however you want (just, please don't put the hammer head inside of your orifices.)
Promising review: "Perfect toy for solo or partner play. It's got something for everyone. Inside. Outside. It has so many options and different vibration/thrusting patterns. We'll be exploring it for month and months. High quality. Easy to clean." —Joe
Get it from Spectrum Boutique for $130 (available in four colors) or Amazon for $92 (also available in pink).
Spectrum Boutique is a sex-positive retailer run by self-proclaimed "Dildo Duchess" Zoe Ligon to provide customers with curated collections and resources.

9.
A best-selling hand-sculpted butt plug called the Knotty Elf boasting an "uncircumcised" tip and a girth of 8.25" (circumference) at its widest point — it'll make you start believing in elves if you don't already.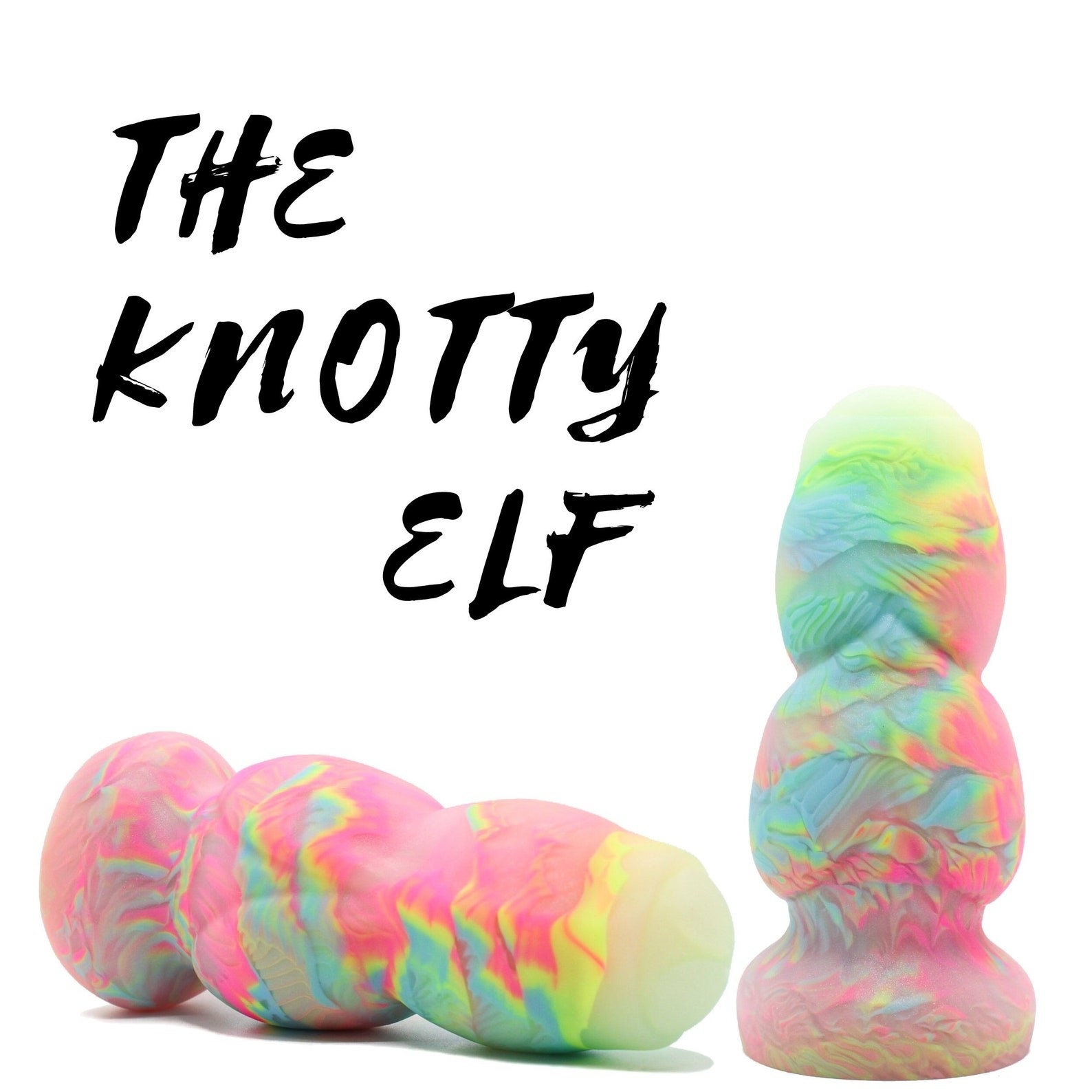 This 6.5" plug and its 5.5" insertable length couldn't possibly be what Legolas was packing in those tights...I refuse to believe it.
Promising reviews: "Phenomenal length, width, and texture. Not too soft or too rigid. Absolutely flawless and a joy to use. I couldn't be happier." —M K
"This thick boy surpassed my expectations, it's both beautifully poured, and gives an intense fullness sensation. Do not be fooled, this boi is very thick, if you're not used to having knotting toys or plugs, you'll probably need to work up to it a little 😉." —Carolina Bravo
Get it from Nawty Toy Box on Etsy for $59.95 (available in custom colors).
Nawty Toy Box is a Chicago-based sex toy boutique that specializes in creating premium fantasy dildos and plugs at a more affordable price.
10.
A palm-sized vibrator boasting a "tongue" with nine vibrations and nine licking motions, meaning it can l-l-l-lick you from your head to your toes, but no really.
Promising reviews: "After my first use (shoutout for arriving in the mail charged) I came like NO OTHER! I didn't know how I was going to feel about the tongue but it reminded me of the best head I've received so obviously I was in love. I mean it when I say my first immediate thought was, I will no longer need a man because I have this toy. 😂 So if you wanna ditch your man, woman, person, and whoever else, this toy will keep you satisfied probably better than they can. 12/10" —TJ
"With the price of this I didn't expect much...but WOW. I am shocked at how awesome this little gadget is; so awesome in fact I don't even get two minutes in using before it's game over for me (in a really good way). It's easy to use alone or during intercourse for extra intensity (good lordy), waterproof, soft/smooth and easy to clean, charged fast and holds the charge for a shockingly long time. It has more speed/intensity options than I need but having the option to go up is nice. Overall very very happy I stumbled across this little gem." —Kieley Sue
Get it from Amazon for $35.69+ (available in four colors).
11.
A girthy tentacle dildo with a length of 8.7 inches and a maximum diameter of 3.3 inches. Even if fantasy sex toys have never crossed your mind...this one is pretty enough and weird enough to pique your curiosity.
I'm sensing a theme here with sea monsters and sex toys, but this one has a suction base for hands-free play and a tapered design for easy insertion. Oh, can't neglect to mention that this dildo weights 1.1 pounds, so you're definitely going to feel it.
Promising reviews: "Bought this for the wife as the internet is full of people using similar ones on cam. Little did I know that I would become obsolete within minutes of opening the package. All I see now is a rainbow tentacle just hanging from her private part just like some sort of alien horror movie. She has good things to say all around about this thing, more so than my daily work efforts to provide food for the family." —R. Alpizar
"I am a straight guy and fly solo on stuff like this. Wow, what a rush! The suction cup is perfect, this thing won't fall off a good contact surface and you can keep coming back time and again. The 'user manual' says for your health please don't overuse this product. What? I'm going to wear the tentacles right off this baby, I assure you! Four thumbs up!" —Allan J.
Get it from Amazon for $32.99+ (available in four colors).
12.
A double-ended glass dildo designed for thrusting with one extra thick end and one slim, so you can pick your preference and go to town.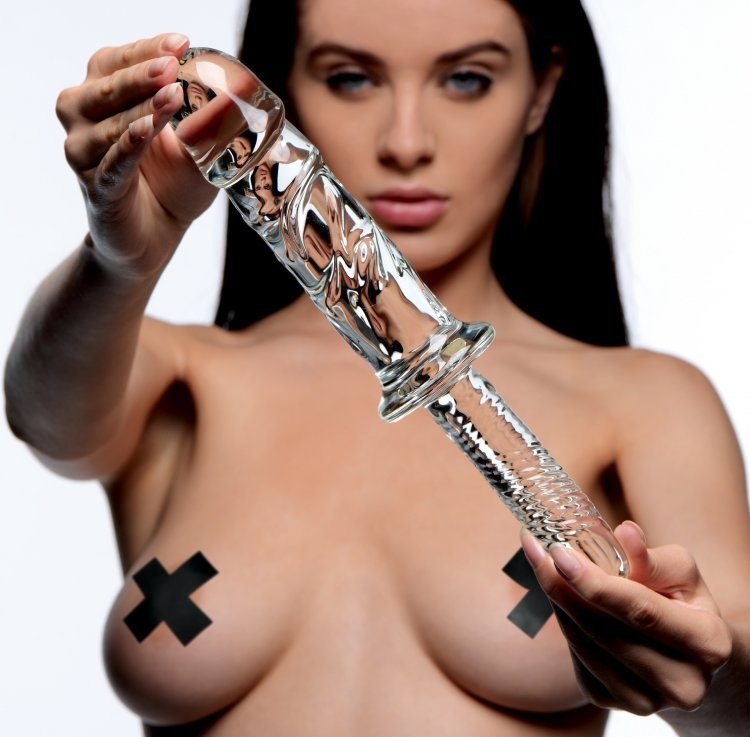 The larger end is 1.75 inches wide and the slimmer end is 1 inch wide. In total, the toy is 11.5 inches long. You ever fucked an icicle before? Now's your chance.
Promising reviews: "Wife wanted a glass dildo so we chose this one due to the variety of size. She loves being filled by the Brutus end and enjoyed the smaller end as well." —Pistol Pete
"I didn't think I'd get this inside me but it was easier than I thought because it's smooth glass and unlike anything I've ever tried. If you like girth, this is for you. It's heavy too, which adds to the amazing feeling. It retains heat while you're using it and feels like a warm hug. Longest orgasm ever with this one. Did not expect that. I would not recommend this for beginners. The smaller end would be suitable for beginners though. I'd definitely try this if I were you. :)" —FUW
Get it from Adam & Eve for $79.95 or Amazon for $41.82.
Make sure to check out this round up of the best glass sex toys for more!
13.
An ice cream cone vibrator that'll make you scream with pleasure when you explore its 10 vibration modes and waterproof silicone design that offers unlimited options for play whether at home or on the go.
I think the best part of this rechargeable dessert toy is that anyone can enjoy it, even if they're allergic to dairy.
Promising review: "Such a cute design, which initially drew me in. I love that it's rechargeable, rather than taking batteries. The three steady vibes transition to several different patterns that are really nice and can be felt from both ends which is just what I wanted. The cone tip gives the option to pinpoint the vibes, whereas the scoop gives a rumble to a broader area. Awesome toy, I'm very glad I made this purchase." —Alyssa B.
Get it from Emojibator for $78 (available in strawberry pink and vanilla white).