We hope you love the products we recommend! All of them were independently selected by our editors. Some may have been sent as samples, but all opinions and reviews are our own. Just so you know, BuzzFeed may collect a share of sales or other compensation from the links on this page if you decide to shop from them. Oh, and FYI — prices are accurate and items in stock as of time of publication.
Hello hello! If you're new here (or not) and wondering who's the face behind *a lot* of the sex toy content at BuzzFeed Shopping, it me. I'm Negesti and I'm pretty much obsessed with all things pleasurable and NSFW. I've recently proclaimed myself as the Smaug of Sex Toys...or Balthromaw from Rick and Morty.
Anyways, part of my job is hunting down the sex toys that people love and sometimes, that means trying them out for myself. I went from owning like five sex toys to now having *very* strong opinions about dozens of them, and telling my friends I have a "guarantee policy" on my recommendations (so far, so good!). So I wanted to shoutout the products that I literally cannot stop talking about to anyone who will listen, please read on if you're in the market.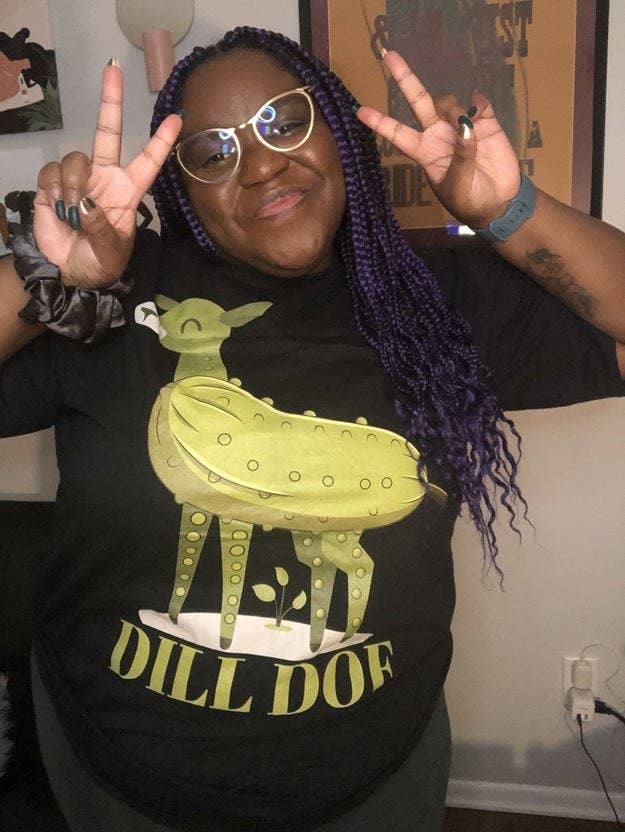 1.
The Sila Cruise by Lelo, which boasts a wide mouth to envelop your clit and target all of it with eight powerful sonic waves ranging from a gentle purr to a loud pulse. It's waterproof and designed with Cruise Control that'll keep the party going by building pressure when your grip loosens up and even after you come.

Whew boy...you already know that I'm a fan of suction vibrators, especially if you've read my Unbound Puff review. Here's the thing — since I picked up this expensive-ass vibrator, I have literally not been able to put it down. I mean, everything about it from the ergonomic shape and the wide clitoral mouth to the cruise control — everything about this toy is perfect. The cruise control is my favorite part, TBH, because (as you may know), the closer you get to orgasm you tend to let up on the control or pressure you're applying. Welp, cruise control takes care of that an automatically ups its power when it recognizes a change in pressure. Last session, I literally said "fuck in A" because of that damn magical automation. (BTW, I agree with the reviewer below about my only complaint: when it gets lubed up, the controls are kind of difficult to figure out without pulling it away from the body.)

One thing I'll point out (since there are a few suction toys in here), the Sila Cruise is less powerful than the Satisfyer Pro 2, mainly because the mouth is wider and the Cruise Control means the go-to power levels are less intense at first since they will increase automatically.
Promising review: "Definitely use lube with it. At first I doubted this toy, but it is oh-so-satisfying. I'm someone who loves clit stimulation and I am loyal to my bullet vibrator. The Sila gives a completely different type of orgasm. All encompassing and it really does feel like someone is sucking your clit. My main criticism is that it's hard to adjust the settings of the toy if you're using it and it's all lubey. I've changed the setting to higher or a different pattern unintentionally." —QueenLin
Get it from Lelo for $151 (originally $189; available in three colors) or Amazon for $156.67.
2.
A hand-crafted porcelain dildo designed with a bulbous dual-ended design, so you can pick your pleasure. The curves are designed for direct G- or P-spot stimulation and seven inches of length make sure it'll reach. Also — just how cute is this eggplant-and-peaches design!
It's lightweight, dual-ended, designed to reach your favorite spot and seven inches long. This one-of-a-kind beauty doesn't need to vibrate to show off it's elegance. See the rest of the design options here.
I'm going to be real with you, this is the lightest sex toy I own. It's so lightweight that I was honestly afraid to use it because I was like, "this porcelain will shatter inside of me" even though they literally address it in the FAQ, smh. We all know I got it because it's pretty, plus the design is right up my alley! SO. After months, I decided to try it. PEOPLE. Not only did this dildo not shatter inside my vagina, but it also applied the most delectable amount of pressure to my G-spot (I went with the larger end, btw). I also explored using it as a clitoral massager (because that's definitely a thing) and it was fantastic: girthy and smooth, while the design adds a minimal amount of texture. Of course, my pro-tip is that you pair it with a suction vibe for DIY dual stimulation.
Promising reviews: "The Dalia is, as we Americans say, THE BOMB. It is beautiful, excellently crafted and the little book that comes with it is a wonderful, unexpected primer on self-love! I broke mine but am buying another — it's very durable, but don't drop it on the floor in the heat of passion." —M.
"It reaches all kinds of spots that have needed love ❤️ different than any other toy I've ever used, so I'm excited to experiment more." —Jessy M.
Get it from Désirables for $141 (or get the original for $117).
3.
The Le Wand Feel My Power 2022 wand, a limited-edition vibe that includes universal chargers, lots of swag, and may also quite possibly be the most powerful rechargeable wand you've ever encountered.
This is quite literally my favorite wand because of how powerful it is! The patterns and the vibration intensities have a wide range and you can enjoy them individually rather than having to scroll through all 10 vibration intensities and then 20 patterns. Also, it's so fucking cute. Be careful, it has a bit of weight to it, which I don't mind very much, but it definitely comes into play depending on what position you want to use (ex. sitting, grinding, lying back, etc.). This is one of my go-to sex toys for when I want something quick and powerful or I'll put it on the low settings for some edging.
This limited edition wand includes branded stickers, a keychain, an iron-on patch, an embroidery kit, a limited edition storage bag, postcards, and a pleasure guide.
Get it from Le Wand for $99 (originally $225).

For more wand vibrator recommendations, check out this round-up.
4.
A rose-shaped clitoral stimulator equipped with 10 powerful vibration functions and a splash-proof silicone design, just in case things get a little...wet. 💦
Enough people asked me, a sex toy writer, about the Rose that I finally decided to try it. Um, this thing is POWERFUL. The Inya Rose is very easy to hold in the palm of your hand or place in your panties if you wanted. I really enjoyed it, and it definitely delivers a lot of squirm for its size...10 functions is more than enough. 😅 I would encourage using a water-based lube liberally around the opening of the toy, which is what I did, so the pulsation intensities aren't too much for the sensitive clit. Also, clean it thoroughly with a toy cleaner or antibacterial soap — those little petals can be difficult. 
But, if you're curious — The Inya Rose is runner-up in power when it comes to the Satisfyer Pro 2, which I talk about later 👀 ...
Promising reviews: "This is the first and only toy that has made me squirt! I didn't know it was possible!! Gift yourself, and all of your girlfriends. It's a must have." —Flowerchild
"I never write reviews… But this truly got the job done!!! When I tell you it took less than five minutes! I definitely underestimated this toy. You really need this; it's a game changer!" —Emily B.
Get it from Peepshow Toys for $39.99 (available in red and pink).
Peepshow Toys is an immigrant-owned sex toy boutique that promotes sex-positivity and education by only selling products created with body-safe and non-toxic materials.
5.
The Jix by Cute Little Fuckers — it's pretty damn adorable and unintimidating, without sacrificing function. It's an anal-friendly, dual-stimulating vibrator that's compatible with a five-speed vibrating bullet (included) and has a waterproof design.

NGL, the Jix is where it's at. This was my first Cute Little Fuckers toy I personally experimented with, and the reviewers aren't lying when they say that the removable bullet is powerful. I decided to explore how the Jix functioned as a "rabbit" vibrator, and it definitely reaches both spots (G-spot and clit, for me) with ease, and the vibrations go through both its shaft and head simultaneously. It's also hella flexible for repositioning, in case you have a higher G-spot or you want to target the vibrations *around* the clit, instead of directly onto it. I was pleasantly surprised by the power of this adorable little thing, and yes, it got me *there*.
Promising review: "If you like butt stuff, raise your hand! 🙋‍♀️ Then use it to click 'buy' because this guy is great! Note: It is also good for other 'stuff,' but butts are my fave." —Nyx
Get it from Cute Little Fuckers for $84 (available in periwinkle and lavender).

6.
The Avant D2 Purple Rain dildo, which is beautifully crafted with premium silicone, a delectable curve, and a bulbous head for targeted internal stimulation. This 7 1/2-inch dildo is aptly named for sexual icon Prince's classic hit and boasts a beginner-friendly width of 1 1/2 inches.
I'll keep this brief, and if you want to know more, you can read about it in my Purple Rain dildo review. Y'all, this is the one. It's beautiful, curvy, durable, high-quality, under $75, and everything anyone would want from a dildo. I'm practically in love with this dildo. It's also designed with a suction cup base, which means I can attach it to the shower wall, tub basin, headboard, etc. I tested the suction on my side table when I unboxed this dildo, and it *literally* picked up the whole table when I tried to remove it.
If purple is not your thing though, or you want something a little bit bigger (or smaller), this collection has five dildos for you to choose from.
Promising reviews: "This was my first toy and it blew my mind and changed my life. It's firm yet flexible, and the longer length is good if you for instance like a hand on it as you go at it. I've tried squishier and textured toys since but they don't do it for me like this. A+ would recommend for beginners or anyone." —KATIEPMANN
"I fell in love with first touch. I was looking for a dildo that would fit my strap on harness and that I could bond with as my dick. This one is so soft to the touch I cannot keep my hands off it. Plus the super strong suction on it is perfect if say you would like to ride the wall.. it will hold strong!" —NOODS
Get it from Amazon for $55.99 or Spectrum Boutique for $60.59.

Spectrum Boutique is a sex-positive retailer run by self-proclaimed "Dildo Duchess" Zoe Ligon to provide customers with curated collections and resources.

7.
The scintillating Satisfyer Pro 2, boasting 11 intensities of no-contact clitoral or T-growth stimulation, so you can ride wave after wave of pleasure. This Amazon favorite has over 41,000 5-star ratings, if you don't want to believe me.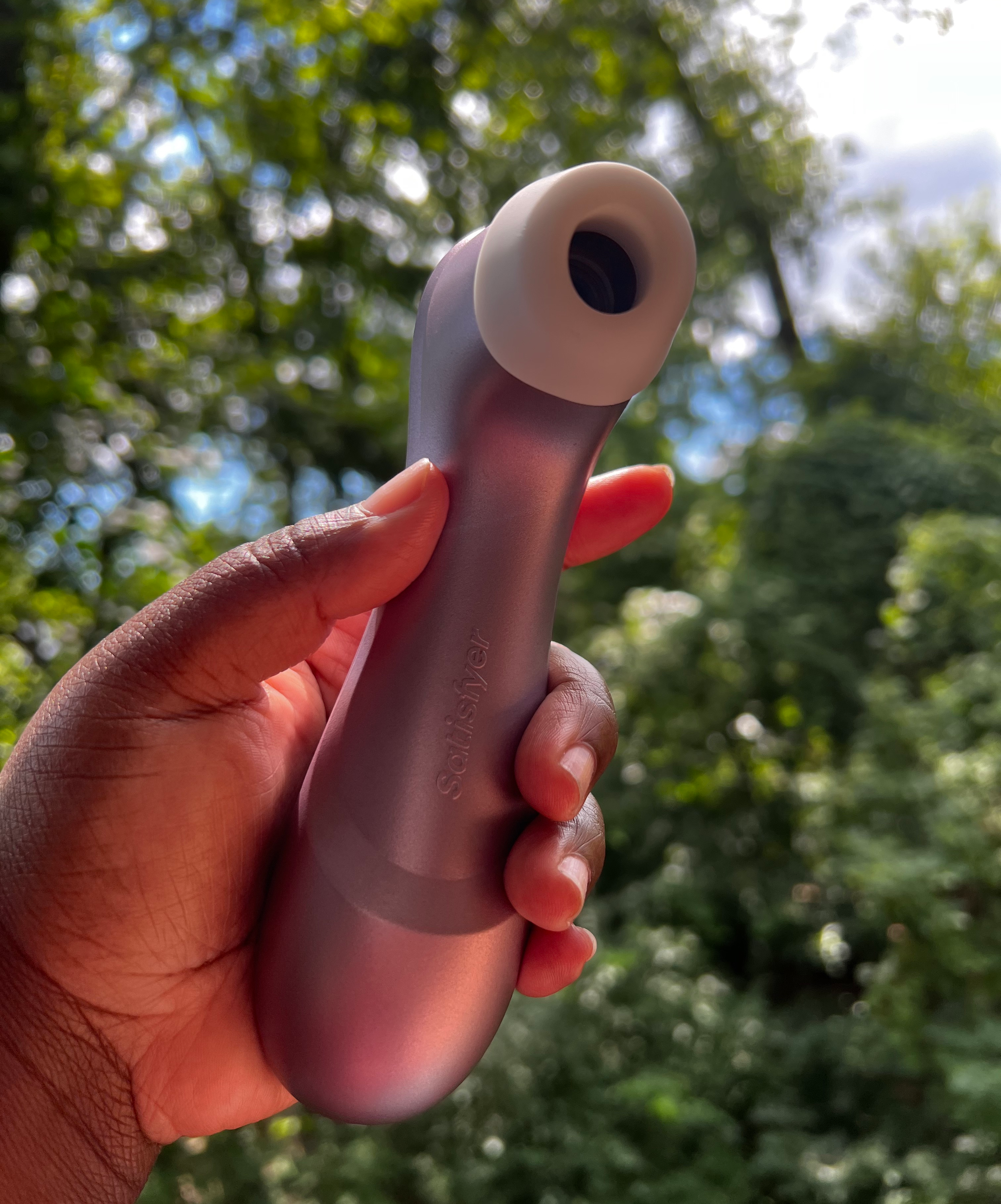 I'm on a quest to figure out the best suction vibrator, and I think this one is definitely where you get the most bang for your buck. I doubted the reviews (which I need to stop doing), but there's a reason people say this thing snatches souls and reviewers simply post photos of soaked-through sheets. But here's my take: the 11 intensities this toy offers are ridiculously powerful. Like, if you want to get off and go — this is the toy for you. If another of my suction vibes dies mid-session, I tag in my Satisfyer Pro 2. This is the toy I tell people who are on the hunt for a "suction toy" to get because A) it's on sale often and B) it's basically a guarantee if you're into high-powered clit stimulation. Honestly, this toy might work a little too well, so if you're like me and love edging or a slow crawl to orgasm...skip this one.
Of the suction toys in this post...Satisfyer Pro 2 is the most powerful, with a close follow by the Inya Rose, but it really doesn't hold back. AKA, unlike the Sila Cruise or Puff, there's no room for edging or teasing with this toy. It goes 0-100 real quick.
There's also an in-depth review written by an Intersex Male person, if you're interested.
Promising reviews: "There aren't many reviews on here from trans men, so I thought I'd throw my opinion out there in case there are other guys out there looking for something to spice things up. This toy is heavenly. It works well on many different parts of the body, and I have had fun exploring different places to try it: clitoris, nipples, etc. I love the simplicity of the vibration settings. You can turn the vibration up one level at a time, making it easy to build up to a climax slowly, or you can jump up multiple levels and get things done quickly, if that's your thing. I am so glad I bought this toy, and when this one finally dies I will buy another one. I've had it for a couple months and it's held up great. 12/10 seriously recommend this product for anybody with a clitoris. You will NOT regret it." —a. b.
"Took less than 10 seconds the first time I tried it. Interested to see what my wife thinks...this is unlike any toy we've ever used...and as lesbians, we think that's saying something! Such a great purchase! UPDATE****** wife LOVED it! Usually a one-hit wonder....she had three in less than 10 min." —Brittany
Get it from Amazon for $39.95 (available in three colors).
8.
Unbound's latest toy drop, Clutch, is a dual-stimulating vibrator designed with a wide ergonomic handle for effortless use and positioning, so you can find the perfect angle to enjoy it. Did I mention it has dual motors, so the internal and external arms can be controlled individually and offer up to 120 setting combinations? Well, now you know.

The internal arm has a rumbly thrusting motion with five intensity and five speed settings. The external arm boasts seven vibration intensities and five speed settings. Each can be controlled by its own individual button. And of course, in true Unbound fashion, this vibe is waterproof.

I've never had a thrusting toy before, but one of my besties raves about hers. And of course, rabbit vibrators can be difficult to line up with your anatomy and not a one-size-fits-all option. But Unbound is all about making sure their toys are accessible for both able-bodied and disabled users, so Clutch has a lot more flexibility to play with than other rabbits. Now, I love dual stimulation, but for me, the thrusting function is the best part of this toy. Chef's kiss, spot on stimulation — I definitely explore the different thrusting modes more than I do the external arm, they are that good. The clitoral stim is great too, typical vibrating settings, but I've found that it doesn't apply a lot of pressure without some manual help (because not all rabbits are perfect). But once I have it lined up, it's off to a whole new world for me. Make sure to pair it with lube, of course.
Promising reviews: "I have a few other rabbit-style vibrators and expected this to feel much the same. Well, I was wrong. It is a completely different feel and awesome addition to my collection! The vibrations and waves are unlike anything else that I have and great for switching things up!" —Taylor R.
Get it from Unbound for $98 (available in mint/sea and quartz/coral).
9.
A water-based lubricant perfect for your favorite everyday romps (tho maybe not anal) and using with condoms, sex toys, solo, or with a partner, thanks to its formula.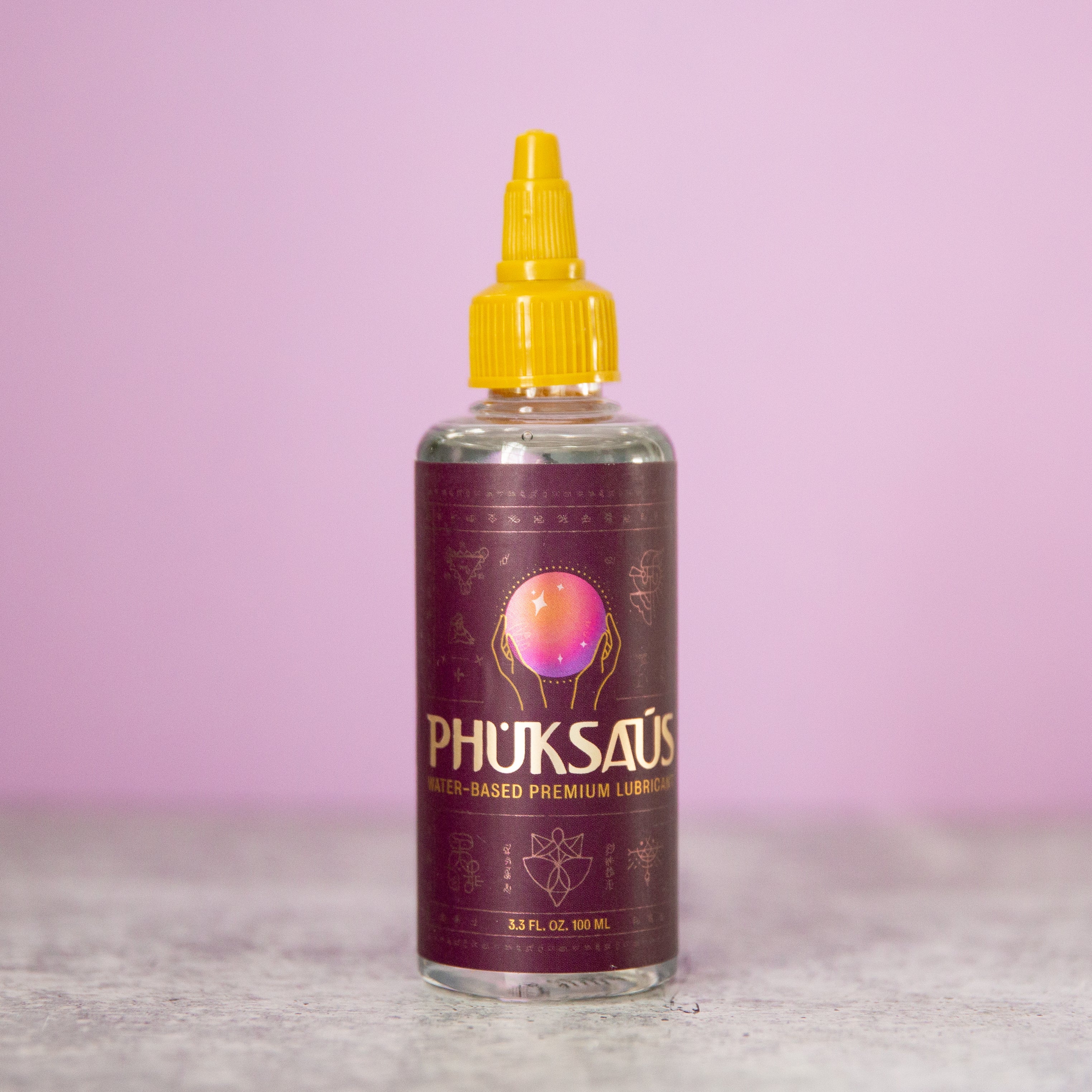 This is my latest go-to lubricant, and because it's water-based it's versatile enough for all sorts of play. I typically use it during solo sessions, and so it has a permanent place on my nightstand. It definitely doesn't stain, and lowkey has a moisturizing element to it, so it just absorbs into the skin without a problem. Anyways, I especially recommend it for suction toys to help create the "seal" around your clit for comfort, and of course, it's perfect for internal toys as well.
Get it from Emojibator or Amazon for $12.
Emojibator products are designed with love in Philadelphia and include novelty sex toys inspired by fruits and emojis.

10.
An all-natural arousal oil by Foria created with a blend of CBD and botanicals to help enhance sensation and pleasure.
Forreal, this is my favorite arousal serum. As a sex toy writer, obvi I have to try out lots of toys, and a few drops of this will definitely prolong a session. It works really quickly (and well), and since it can be applied anywhere it's also great for external massage. TMI, it definitely makes me feel more aroused and hypersensitive, but not in a swollen or throbbing way. Usually, I use it after already being turned on, so it just feels like an extension of my arousal. I use this product a lot, and so far it hasn't ruined any of my silicone toys even though it's oil-based. I also haven't had any issues down under after use, if you're worried about how it might affect your vulva. I'd avoid using this specific product internally (they have actual, oil-based lube for that) but for any sort of external play or foreplay — this is definitely the move.
Also, I have a friend who swears on this arousal oil. You can apply as much as a full dropper of the coconut oil-based oil to your inner labia and/or vagina, and of course, your clitoris. This oil is also oral-friendly and safe to ingest...y'know, just in case.
Promising reviews: "I was worried this would throw off my pH or feel weird to my partner because of the peppermint. Nope! And I'm pretty sensitive so I was surprised. If you're even thinking about it, just do it! Excellent!" —DSQ
"I have a very low libido. Highly abnormal for my age but there isn't any real reason for it. I got this beautiful oil as a Fab Fit Fun add-on and it's LIFE CHANGING! Absolutely does EXACTLY what it says/claims. I genuinely expected to be disappointed but in the very least it's moisturizing so it couldn't hurt right? Absolutely friggin' right and I highly recommend it for EVERYONE!! Also, it's not something to boost already low libido or to assist with low desire disorder but it WILL make time with your lover even BETTER on so many levels!" —Wifeynd
Get it from Nordstrom or Ulta for $48.
Want to heat things up? Check out this list of arousal serums and lubes.
Me to a different sex toy every month:
BTW, if you love this content and want to stay on top of what's happening in the sexual wellness world, make sure to follow BuzzFeed After Dark (@bfafterdark) on IG—a hub for the horniest of BuzzFeed shoppers. 😏