Jacquelyn Ogorchukwu Iyamah is a 26-year-old user experience designer based on the East Coast.
With a passion for wellness and degrees in both social welfare and user experience design, she uses her Instagram account @ogorchukwuu to create a safe space for Black, Indigenous, and People of Color (BIPOC) and to educate people on how racism and colonialism affect the well-being of BIPOC communities.
Jacquelyn promotes the importance of inclusive wellness and providing more education around racial trauma and mental health.
As a writer and designer, Jacquelyn sheds light on the multifaceted impact of racism and provides resources for BIPOC communities affected by it. Just last week, she made a post about identifying racial gaslighting — and it's being shared widely across the web.
"Gaslighting is when someone manipulates information to make the victim question their own experience, memory, or reality. People are able to recognize gaslighting when it comes to relationships, friendships, work settings, and issues like sexism. But when it comes to racial gaslighting, there is an immense disconnect," Jacquelyn said.
"I have noticed that in general, people are able to acknowledge abusive behaviors such as narcissism, manipulation, and gaslighting. However, it is difficult for people to see how these forms of abuse are ever-present in conversations about racism."
For many BIPOC, racial gaslighting has been a longtime reality, especially as they share their experiences with racism online and in real life. Instead of building understanding and allyship, racial gaslighting deflects important conversations about race and silences BIPOC voices that need to be heard.
"When BIPOC share their experience with racism or confront someone about their racist behavior, the immediate reaction of the perpetrator is to question the victim's experience, memory, or reality," Jacquelyn said.
In her post, Jacquelyn gives examples of what racial gaslighting sounds like. Comments can include dismissive phrases like "It was just a joke, calm down," "What I said/did is not racist," "Racism doesn't exist anymore," "Are you sure that's what happened?" among others.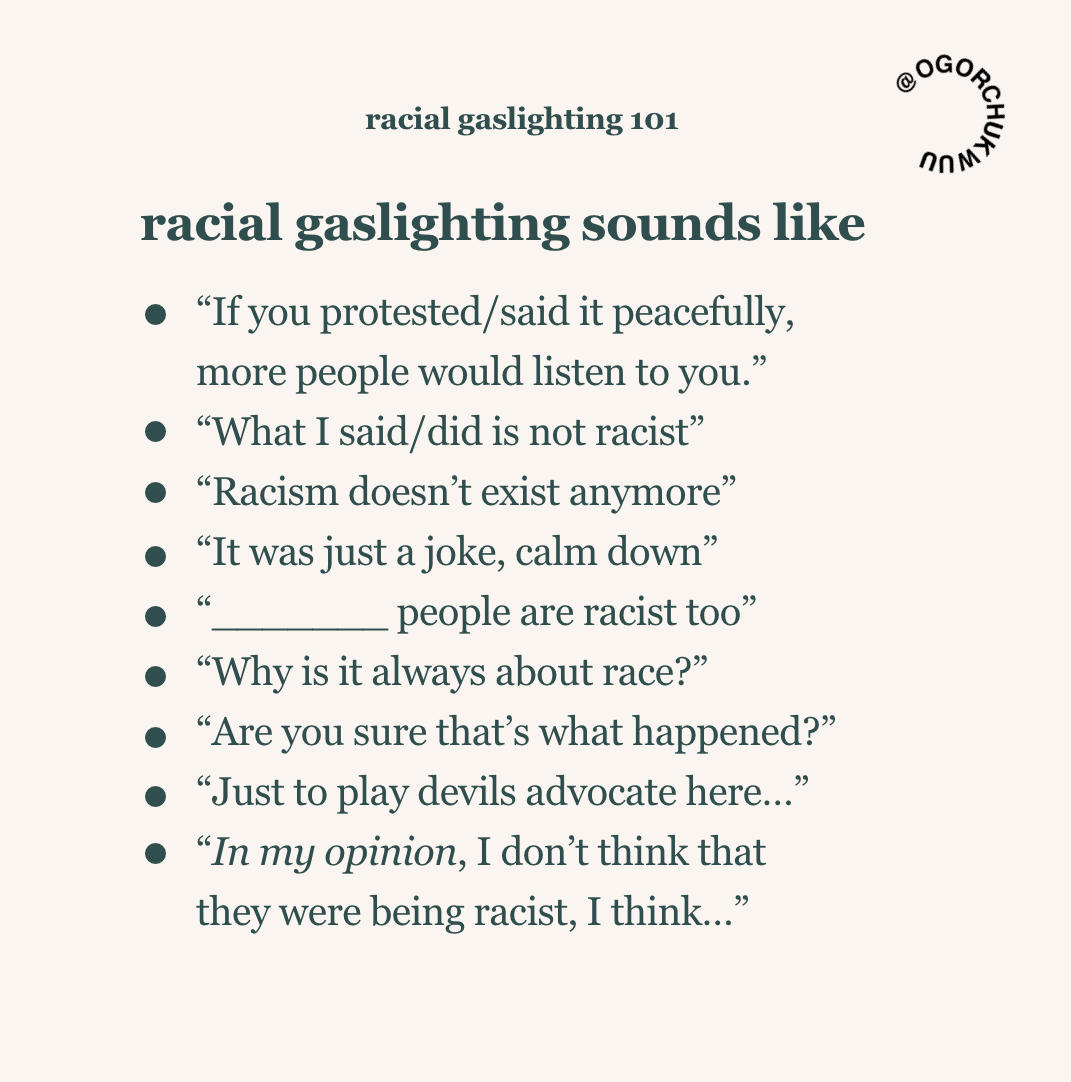 Jacquelyn also gives helpful reminders for BIPOC who have faced racial gaslighting as a response to their own experiences with racism: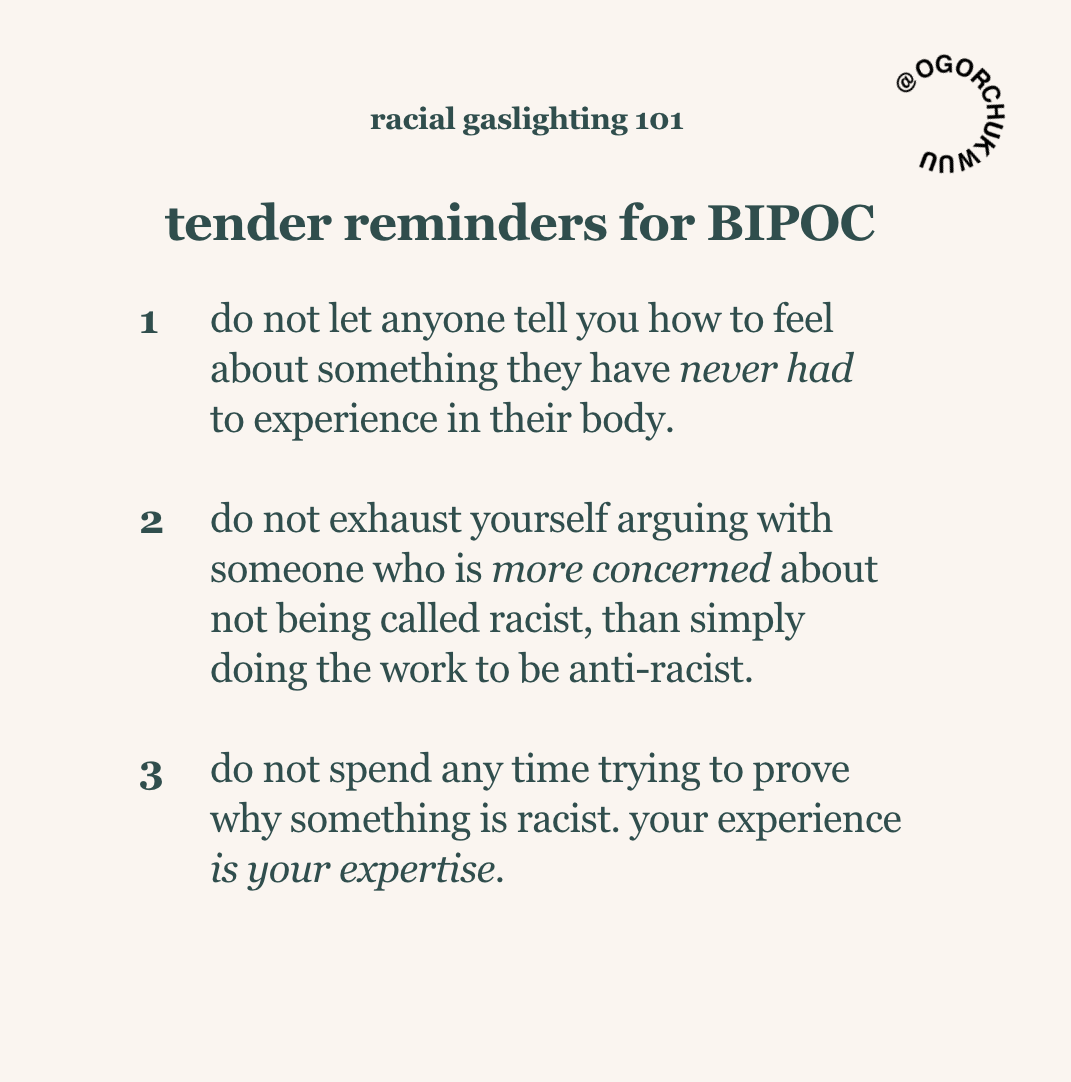 Jacquelyn's graphics have been circulating online as people speak out against racism and racial injustice. "It makes sense to me that so many people identified with it. In truth, people are dealing with this on a continuous basis," she said.
"I have received countless touching messages and comments from people telling me that they feel seen, heard, and understood. There is so much power in being validated in a society that aims to invalidate our communities."
Her post has also helped others learn, recognize, and correct ways they have engaged in racial gaslighting: "I received countless messages from people who stated that they have said some of those phrases in the past and will work to not do that in the future. This was powerful to hear."
In the midst of protests around the world advocating for racial justice and BIPOC speaking about their everyday experiences with racism, racial gaslighting is increasingly common — as it's a behavior that often gets ignored or normalized — but Jacquelyn hopes to help change that.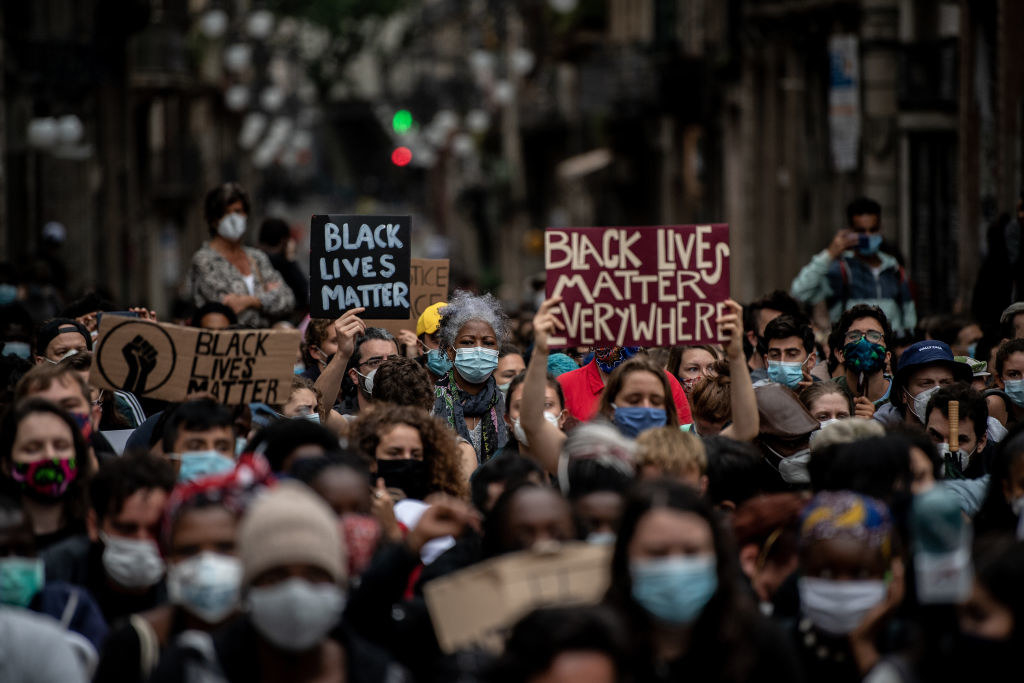 "Part of what I want to do in this space is highlight racism for what it is — a multifaceted abuser. I want to provide BIPOC communities with some tools to be able to identify, understand, and articulate what they are experiencing so as to not normalize this type of behavior. We cannot heal what is not acknowledged. Truth-telling is a healing intervention."
For more of Jacquelyn's work on racism, colonialism, and mental health and wellness, check out her Instagram page @ogorchukwuu.