13 Celeb Moms Who Proudly Showed Off Their Postpartum Bodies And Were Refreshingly Honest About It
We are 100% here for this!
1.
Singer Katy Perry recently announced that she gave birth to her and Orlando Bloom's daughter, Daisy. A few days later, Katy shared a very candid post-baby photo of what she looked like during this year's MTV VMAs: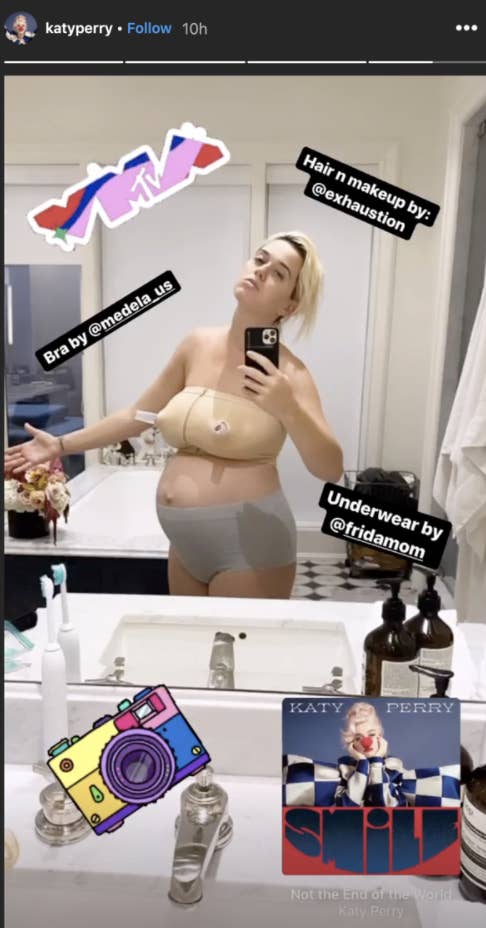 2.
A couple years ago, actor Tia Mowry shared her cute, seven-week postpartum bump after giving birth to her and Cory Hardrict's daughter, Cairo:
3.
Model Ashley Graham gave birth to her and Justin Ervin's first child, Isaac, in January of this year. Ashley shared this beautiful photo of what her body looked like after her son was born, captioning, "Same me. Few more stories."
4.
In 2018, model Chrissy Teigen (who recently announced she is pregnant with baby number three!) embraced her changing "mom bod" after giving birth to her and John Legend's son, Miles. In the video below, she says, "I guess these just aren't going to go away. This is my new body!"
5.
Former Bachelor winner Catherine Guidici — who married Sean Lowe from the show — shared a before and after pregnancy photo after she gave birth to their daughter, Mia, last December.
6.
After giving birth to her and Offset's daughter, Kulture, in 2018, rapper Cardi B showed off a dark line that was still on her stomach post-pregnancy. This line is called the linea nigra and it is very common during and after pregnancy. The line is likely related to changing hormones.
7.
Last year, comedian Amy Schumer gave birth to her and Chris Fischer's son, Gene. And, five weeks postpartum, she decided to go on a little walk with Gene — wearing just her bra and hospital undies! We stan.
8.
Beauty influencer Sadia Slayy had a son, Aydin, last year with her husband, Adil. Nine months after his birth, she decided to share an unedited photo of her stomach, captioning, "...Some might scroll by and think, 'Ugh that's so disgusting, why would she post that?' And that's OK. But, a lot of you will see it and feel a sense of relief..."
9.
Back in 2016, writer Hilaria Baldwin (who is currently pregnant with her and Alec Baldwin's fifth child!) shared this raw photo of what her body looked like 24 hours after giving birth to their son, Leonardo.
10.
Former Real Housewives of Atlanta star Kenya Moore shared this three-week postpartum photo after giving birth to her and husband Marc Daly's daughter, Brooklyn. She captioned, "I was cut twice during my three-hour C-section, but I made it! I've always been healthy and worked out my entire life...whatever my body will do, I'm not rushing it..."
11.
Former Bachelor contestant Bekah Martinez shared the below photo of herself two months after giving birth to her and Grayson Leonard's daughter, Ruthie. "Every mom bod is different. Some are thin and some are round. Some are wrinkly and some are hairy. Some are light and some are brown. No one's body is 🤢. If you think otherwise, kindly fuck off or unfollow," she captioned.
12.
Dancer Peta Murgatroyd shared this photo of herself eight days after giving birth to her and husband Maksim Chmerkovskiy's son, Shai. "I left the hospital looking five months pregnant. Many people think a woman should shrink right back to her pre-birth weight immediately. That is just not the truth for most..." she captioned.
13.
And, lastly, Pink took this 2017 photo of herself three months after giving birth to her and Carey Hart's son, Jameson. She captioned, "Would you believe I'm 160 pounds and 5'3"? By 'regular standards' that makes me obese. I know I'm not at my goal or anywhere near it after baby two, but, dammit, I don't feel obese. The only thing I'm feeling is myself. Stay off that scale ladies!"
Let's celebrate all the wonderful people who have housed babies and came out stronger on the other side!