1.
Mr. Clean Magic Erasers, because "magic" is right there in the name. I hate cleaning, but even I get a huge thrill out of running around the house removing every scuff and speck of grime with these fantastic little sponges. They can also clean up the occasional Really Big Mess.
Promising review: "Magic Erasers NEVER disappoint and are heaven for those who hate to clean the shower. The ribbed texture holds up better and gives a good scrub to stubborn soap scum and the footprints at the bottom of the tub from dirty 'summer feet,' as I call them! Marks on walls are gone in an instant. Seriously, bless whoever came up with this product." —Kayyy

Get a pack of 10 from Amazon for $13.24 (or $12.58 with the Subscribe & Save option).
2.
An incredible natural stain remover that refuses to half-ass its tasks. It won't settle for just preventing a stain from being noticeable — it'll make you question whether the stain was ever really there to begin with or if ~it was all an illusion~. Whether it's food, dirt, or bodily fluids, this stuff is up to the task.

Promising reviews: "My son came home from daycare with dark red/purple stains on his clothing. They had hours to set into the fabric. We sprayed Puracy on the stains (see picture of them soaking) and let it sit overnight. The next morning we washed the shirt as usual. The next picture is my son wearing the shirt…stains 100% gone. I am in disbelief. This product is amazing!" —Will 
"I don't normally write product reviews because there are always multiple products that do the same thing and it usually boils down to personal preference. This is different. This is one of a kind. I only wish I knew about this before I threw away the many pieces of clothing that got permanently stained with grease. This is hands down the best thing I've bought in the past 5 years. It's magic." —Dima Alghazzy
Get it from Amazon for $9.99.
3.
Wet & Forget shower spray, which'll revolutionize the way you clean your bathroom. True to its name, all you have to do is spray your shower or tub, let it sit overnight, and rinse it the next morning to reveal a cleaning miracle. It works so well, you only need to use it once a week!

Promising review: "This stuff is amazing! I had a horrible gray ring in the bottom of my shower that was impossible to remove. I had tried the Dawn dish soap method (with a lot of scrubbing) and had even used toilet bowl cleaner to try to remove the soap scum. My next step was to tear out and replace the shower pan and tile. I figured this was my last chance. I ordered the Wet & Forget spray and really coated the shower walls and floor pan and walked away. I CANNOT begin to tell you how happy I was to rinse down the walls sometime later and watch all that crud roll right down the drain!! This is the best product I have ever used in my life!! Works great and no toxic fumes!!" —Amazon Customer
Get it from Amazon for $19.54.
4.
A possibly magical wine stain remover capable of saving you from the effects of your clumsier moments. Pinot more clothing and carpeting casualties after a boozy night in (or out).
Promising reviews: "My husband spilled a whole glass of wine, a bowl of salsa, and a bowl of guacamole on me. I used Wine Away when I got home four hours later, washed my dress, and it's perfect now! I really thought my dress was ruined and it's in the exact same condition it was before I went to the winery!" —Amazon Customer
"This stuff really works. I had tried everything and had given up hope. My niece recommended this and I'm so happy that I took her word. It's like magic on the big wine stain in my carpet. Love, love, love it." —astounded1
Get it from Amazon for $11.
5.
A Pink Stuff combo pack including the magical, TikTok-beloved cleaner in both paste and spray form, so you can scrub anything from cookware to walls and bathroom fixtures to rubber shoes shiny clean. Just ~pink~ of all the icky, stained things in your home you can finally clean with this stuff!
Promising review: "WOW!!!! This stuff is amazing. I literally just have to spray it, let it sit for a few minutes, come back, and depending on what I'm using it for I either wipe it and it comes right off or I just use a scrubbing pad and it comes off. There's nothing out there that is anywhere in comparison to this product!!!! This stuff is the absolute best. I highly recommend purchasing this. I can tell you that half of my cleaning products are now going to be thrown out because all I need is The Pink Stuff 😀😀. Whoever invented this stuff is an absolute genius; if you're a clean freak like me this really is the way to go. Also it doesn't have that nasty chemical smell, it smells great. Just buy it; you won't regret it." —Twin33
Get it from Amazon for $19.99.
6.
Unbelievable stainless steel cleaning wipes for anyone whose appliances are so stained, they're considering buying new ones. Do yourself a favor and try these wonders out before you do.
Promising review: "If it was possible to give 10 stars, this product is definitely worth the 10 stars. I originally bought this in the store and was most impressed by how well it cleaned the refrigerator from all finger and water marks. But then I ran out and could not find it at the store and and bought expensive spray that was horrible. Got online and found my product of wipes again! My friend came over and said, 'what in the world did you clean your refrigerator with because it looks brand-new?!' It is the best product I have ever used on my refrigerator and stove! Just wipe down and let it sink in, then wipe over with a clean soft towel (etc.) for a polished shinny look! IT IS MARVELOUS! I SAY MARVELOUS! Don't bother with sprays! I bought two containers so that I will not run out for a long time!" —Roie
Get a two-pack from Amazon for $17.48.
7.
A game-changing automatic bleach toilet-cleaning system that'll actually *poof* make your regular toilet cleaning disappear from your to-do list. Once installed, it sends cleaner into the bowl every time you flush, so your toilet will basically clean itself!

It's super quick to install, and one cartridge can last up to three months!
Promising review: "I've installed these in all six toilets in my home and they are a great idea. I've been using this for about 4–5 years. This device circulates bleach product into the toilet bowl after every flush, where it is needed to prevent staining such as water lines from calcium buildup. The chlorine water is restricted to the bowl, not the tank. If chlorine is in the tank it will erode away the flapper and foam seal which separates the tank from the bowl, requiring more expensive repairs. This product solves that problem with no drawbacks and don't look unsightly like the clamp-on bars of chlorine that are permanently inside the bowl." —Dr. D123
Get it from Amazon for $10.77.
8.
Howard Feed-N-Wax Wood Polish and Conditioner, a beeswax and orange oil formula that's basically like a spa treatment for your long-abused wood surfaces. In addition to polishing, ~for its next trick~ it'll add a protective layer and help prevent the wood from drying out or fading — so it's time to cue a rom-com makeover montage for your cabinet doors.
Check out BuzzFeed's full write-up on this polish!
Promising review: "I read about this in a BuzzFeed article, read the reviews, and looked at the images posted by reviewers. I figured why not. Our house is about 20-years-old and things are starting to just look worn. Add kids and a dog to the house and you have plenty of scratched up or water-stained wood. This is magic in a bottle! The wood was trashed, but now it looks brand-new." —ByteMe
Get it from Amazon for $9.98.
9.
An unscented, all-natural, and vegan stain remover stick that'll work stain-removing sorcery even your go-to name-brand products can't.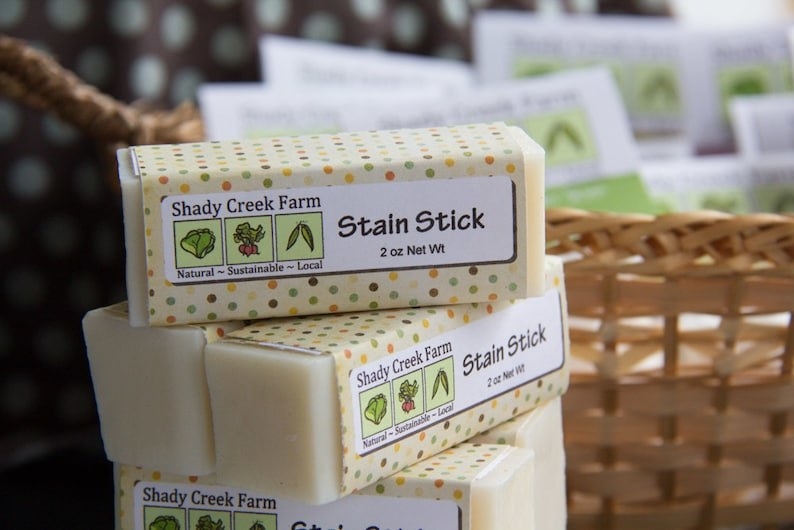 This North Carolina-based small business specializes in sustainable cleaning products and home goods.
Promising reviews: "Our kitty cat had an upset tummy, and on the first night we put out our brand-new white organic quilt, the cat threw up quite a bit on it. I had little faith on it working, but amazingly, my first try with it and IT WORKED 100%!!! I AM A CUSTOMER FOR LIFE! 😍" —michelemassoni
"I had a stain on my favorite white T-shirt. I used a name brand and washed it twice. Still stained. Got this in the mail and gave it a go. Stain gone! Highly recommend!" —Jennifer Ruef
Get it from Shady Creek Farm NC on Etsy for $8.
10.
An amazing stain remover for concrete sure to have oil and grease stains belting out the melancholy refrain of a truly underrated Miley Cyrus bop. ♫ "So I guess the drivewayyyyyyyyy will be the end of the road..." ♫

FOR [STAINS] IT'S TOOOOOO LAAAATEEEE, LET THE CREDITS START TO RO-OOLLLL!!!!
Promising review: "After looking at several products to remove oil stains from driveways, I decided to go with this 'Chomp Pull It Out' stuff. I was amazed and quite impressed with the results. You can see the spot area I tested the product on in the first photo. Then I applied the product to the rest of the stain and left it overnight. Swept it away the next day and then washed the surface and let dry. I did need to apply a second treatment to a few areas that were not completely cleaned, especially in between some of the pavers but, after that, the whole stain was magically gone. Looks like new! If you know the general size of pavers, you can tell this was a pretty good-sized stain. One bottle was enough to do this entire spot, with the second treatment, and I still have some left for a few small spots elsewhere on the driveway. Overall, an excellent product!" —Eric
Get it from Amazon for $17.97.
11.
An amazing leather- and suede-cleaning brush you'll be easily ~suede~ to buy once you peep pics of the results. No more ruining your beloved booties anytime you try to wear them in icky winter weather.
The brush actually has four parts — a soft bristle side and a hard bristle side, plus curved edges to tackle even the hard-to-reach parts of your suede goods.
Promising reviews: "BUY THIS THING! I got mud on my new suede boots and thought for sure they were ruined, but this brush completely restored them. I was shocked. I even used it on an old pair of boots from college that I have considered ruined for several years and it did wonders on getting rid of the filth on top of the suede. I was so impressed. It's absolutely worth getting and trying for yourself! Scuff marks take a bit more time to improve, but they do look better after brushing them." —Gaby Scott
"I rarely write reviews but I just received this and it's amazing. I had a grease stain on my new Uggs that I was so sad about. Corn starch almost ruined them. This brush minimized (if not totally removed) the stain. I love that no chemicals are involved and it's pure magic. I'll use this on all of my suede shoes moving forward. Get it!" —Jennifer
Get it from Amazon for $6.99.
12.
A super-affordable rust stain remover to miraculously banish even the nastiest, most impossible stains with zero scrubbing. Because, sing it with me, "I don't want no scrubbing!"
Check out BuzzFeed's full write-up on Iron Out rust stain remover spray.
Promising reviews: "It WORKS!! Since my husband and I moved into our home two years ago, the hard-water stains in our shower drove me bananas! I tried everything from bleach to all-natural remedies. Nothing worked. Stumbled upon some before and after photos for this product and had to try. Especially for the price! The photos I posted were with minimal scrubbing. The product does all the hard work!!" —Julie Dufour
"I rarely ever write reviews, but I had to for this product. I've had rust stains in my toilet and have tried countless things to remove them, with no success. This worked amazingly. Sprayed this on and the stains were gone as soon as the brush touched them. Magical!" —Jordan
Get it from Amazon for $4.97.
13.
A Cerama Bryte cooktop-cleaning kit, which has everything you need to ensure that even the most stubborn stains left on your smooth-top range by messy cooks will be, well, cooked.
It comes with a bottle of cleaner, a scraper, and a cleaning pad.
Promising review: "Works like magic! Straight-up Hogwarts-style magic! STOP READING REVIEWS AND ORDER THIS! I cannot believe how amazing this stuff is! I have a fairly new stove that I'd like to keep looking new...I used the razor, didn't do much, but my spots were just water boil overs mostly. I've been looking at my stovetop stains and spots for weeks. I've tried everything I had in my house...nothing worked. With very minimal scrubbing with the pad I stopped and wiped off the cleaner to see if it was doing anything. Ummm, ya, it was done! I kept wiping and buffing with a clean paper towel, then picked my chin up off the floor and ran to my iPad to leave this review! BUY IT! Totally amazing!" —Lori brooks
Get it from Amazon for $13.14.
14.
A natural scour paste you can use on all sorts of surfaces and that is probably the stuff gunk and grime's nightmares are made of. It's coming for them!!!!!
It's from a Denver-based Etsy shop specializing in plant-based cleaning products.
BuzzFeed Shopping writer Danielle Healy had major success with this stuff! She writes: "I recently moved into a new apartment, so lately I've been cleaning A LOT. Shortly after moving in, my partner and I went to store something on the top of the kitchen cabinets only to find them caked in a thick layer of grime. 🤢 After going at it with regular multipurpose cleaner (with little success) we broke out the scour paste as a last-ditch effort and OH BOY did this miracle product deliver (pics above). If it can handle that grossness, it's going to have no problem with day-to-day messes like soap scum and burnt-on food. Plus, it smells delightful and comes in minimal, low-waste packaging!"
Get it from Humble Suds on Etsy for $14.95+ (available in two sizes/packaging options).