Episode 7 left us with our jaws on the floor, when Ji-yeon finally decided to go to Paradise with Se-hoon.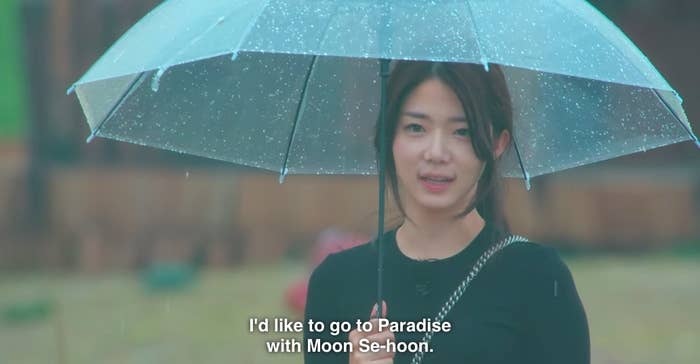 But it seems like they hit it off on their first trip to Paradise and are already getting comfortable with each other!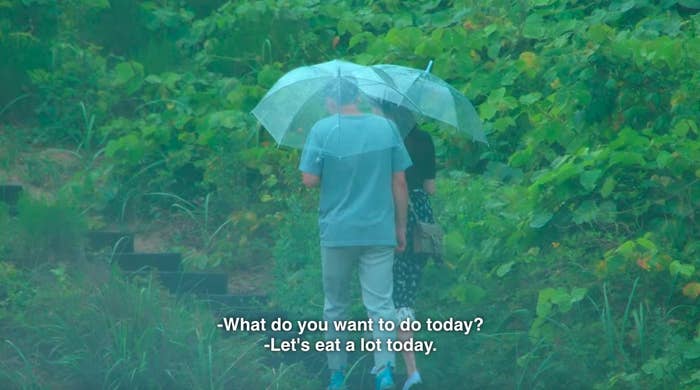 Se-hoon and Ji-yeon's happy coupling wasn't happy for everyone, though.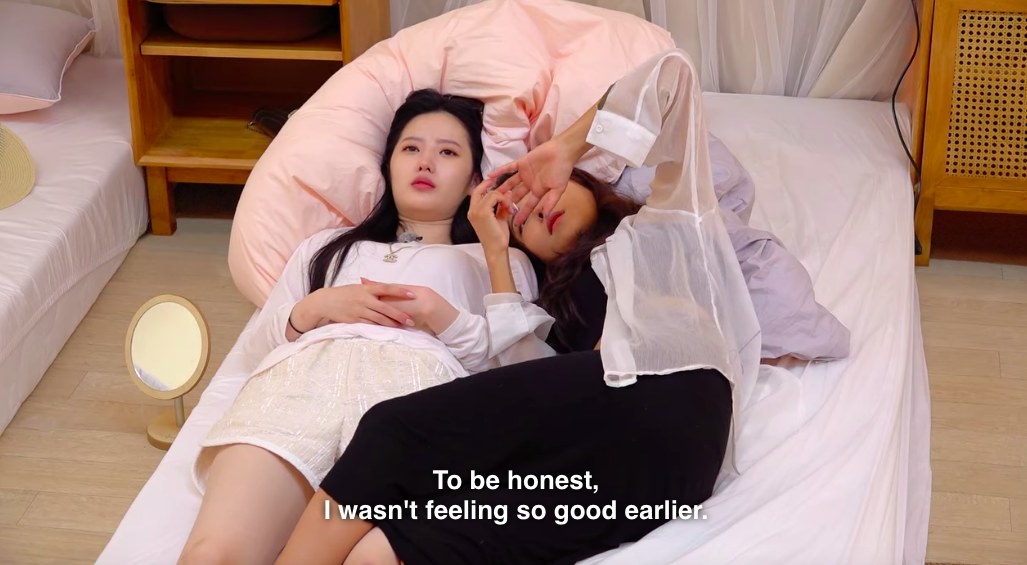 Since So-yeon was second runner up in the game last time, she got to choose next, and the boys seemed unclear on who she'd choose.
But So-yeon was just playing games to keep the boys on their toes!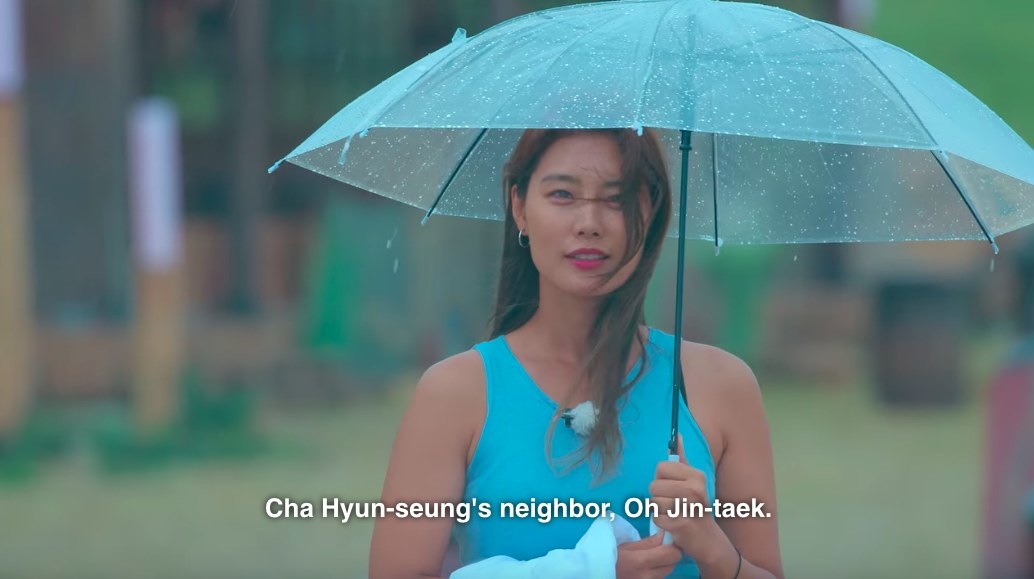 So that's three couples in Paradise for the last night: Su-min and Si-hun, Ji-yeon and Se-hoon, and So-yeon and Jin-taek. Si-hun is grateful to Su-min for choosing him to accompany her to Paradise because he was craving some good food.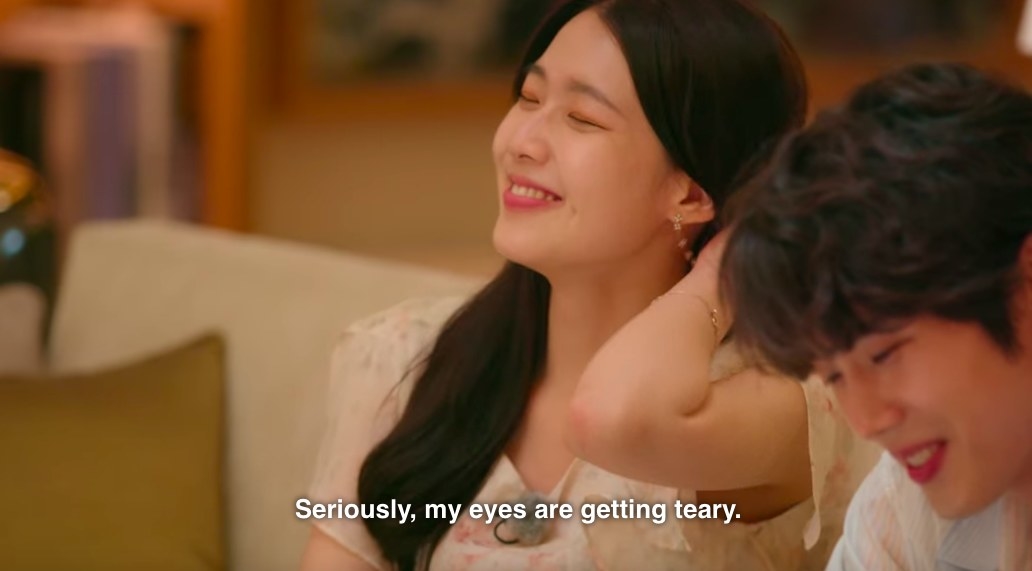 So cute, in fact, that she's – you guessed it – a model!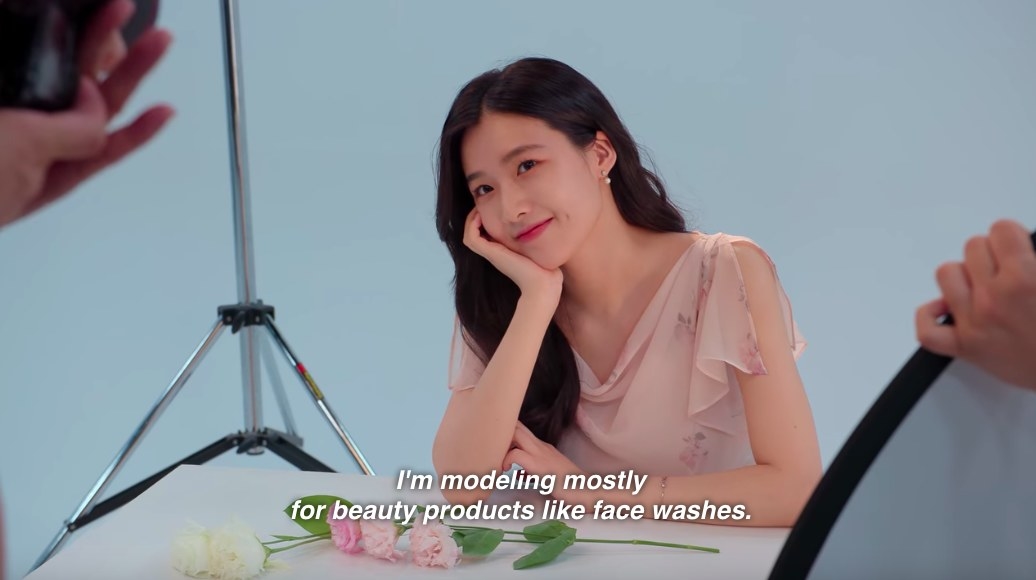 Si-hun questions Su-min as to why she asked him to come to Paradise, and her answer is simple.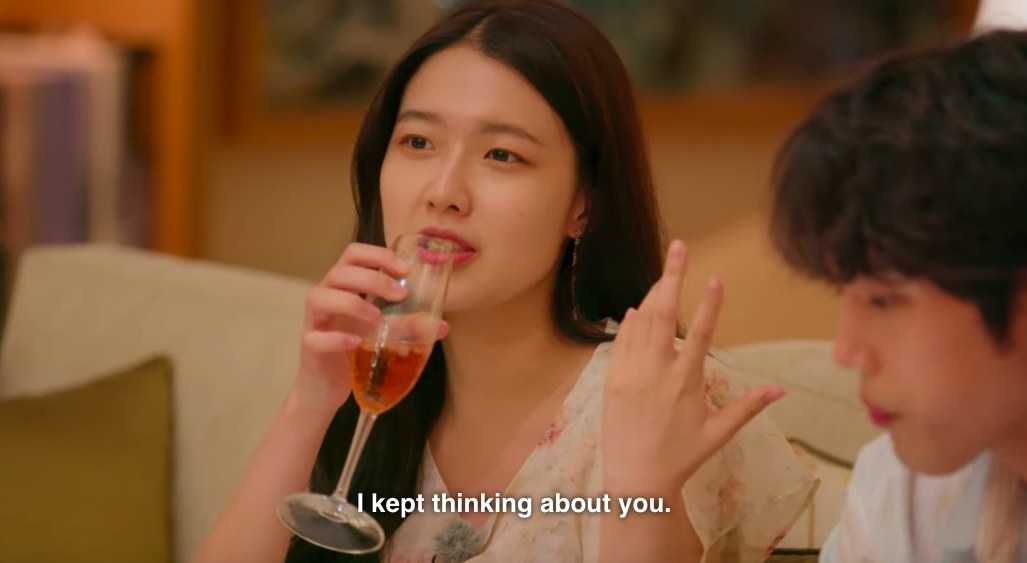 Elsewhere in Paradise, Jin-taek hasn't run out of pickup lines.
And So-yeon touches Jin-taek's beard for the first time.
But beard-touching isn't the only thing going down. Jin-taek won a game of bowling, and now he gets to make a wish. And he wants a kiss on the cheek.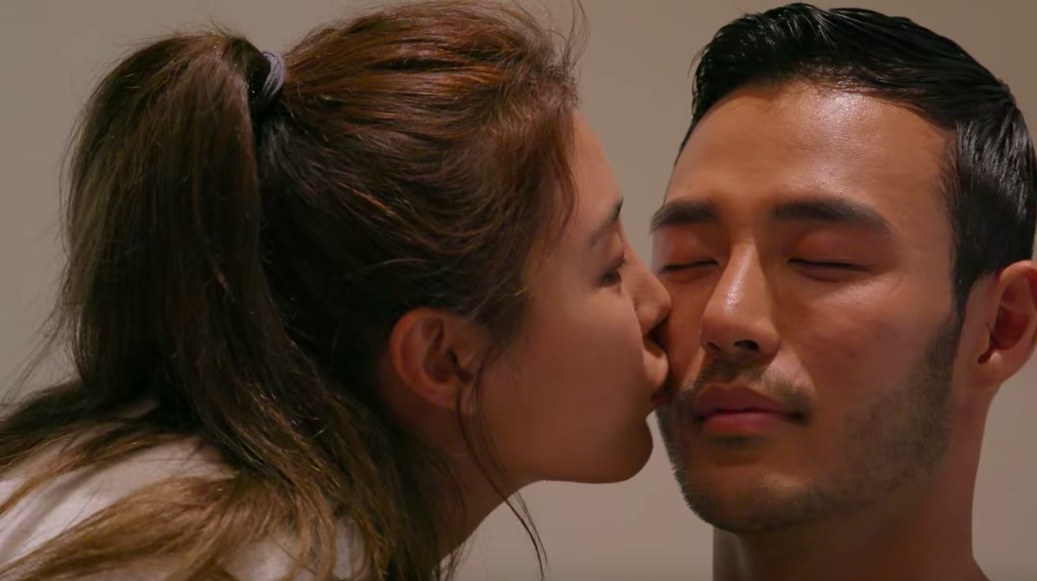 If you were hoping for something more risqué, maybe you appreciated the massages they gave each other.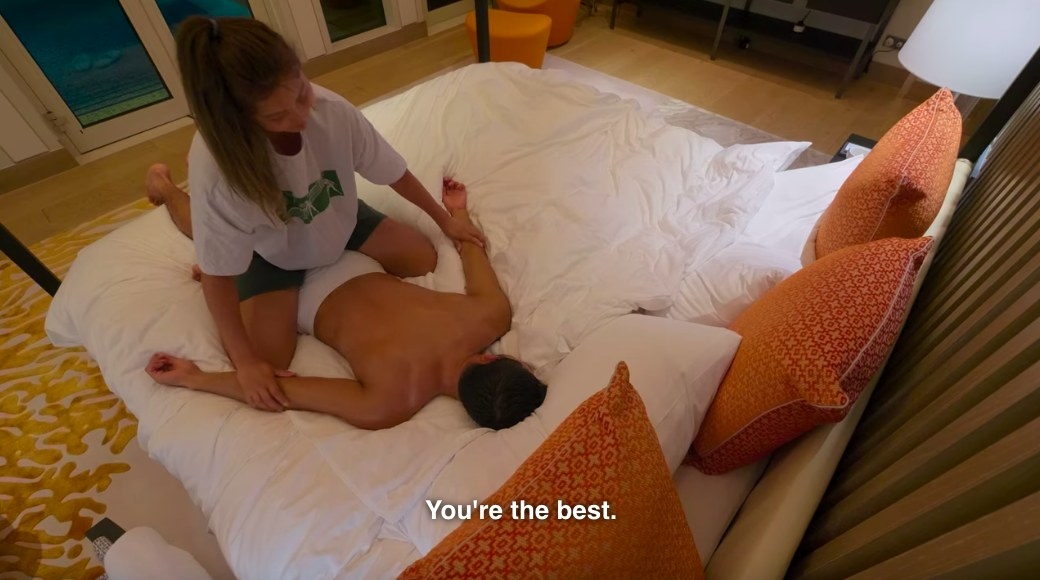 OK, fine. Here are some more screenshots for all the viewers with dirty minds!
They're honestly so cute. I can't even stay mad at Jin-taek for all his extracurricular flirting from earlier in the week.
Things are going differently for Se-hoon and Ji-yeon, who are having an emotional date.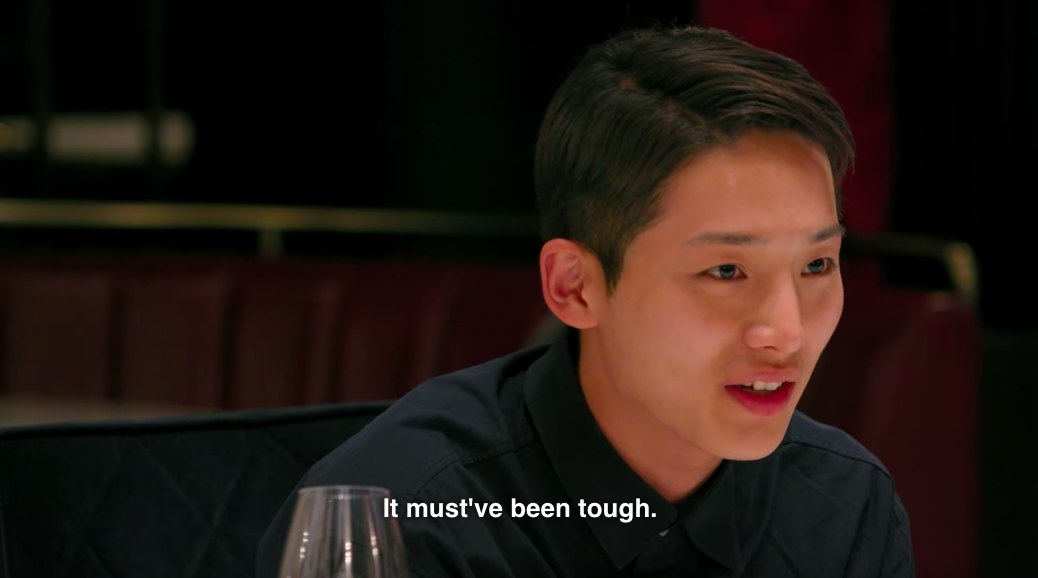 Ji-yeon ends up crying, but it's because she felt validated by Se-hoon recognizing that it wasn't easy for her.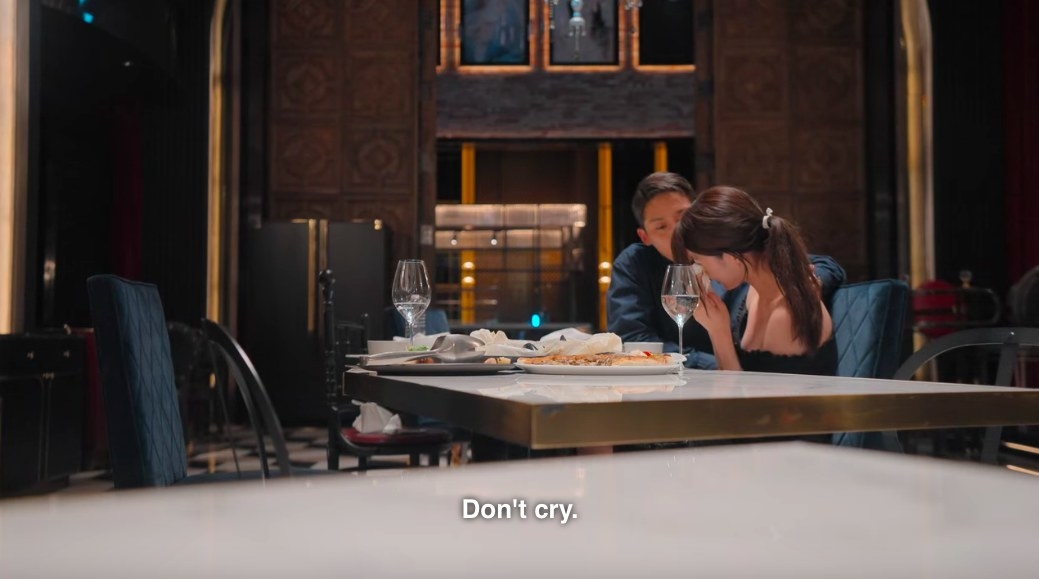 Ji-yeon needed time to come around to Se-hoon, but I think it's safe to say she's been charmed by him.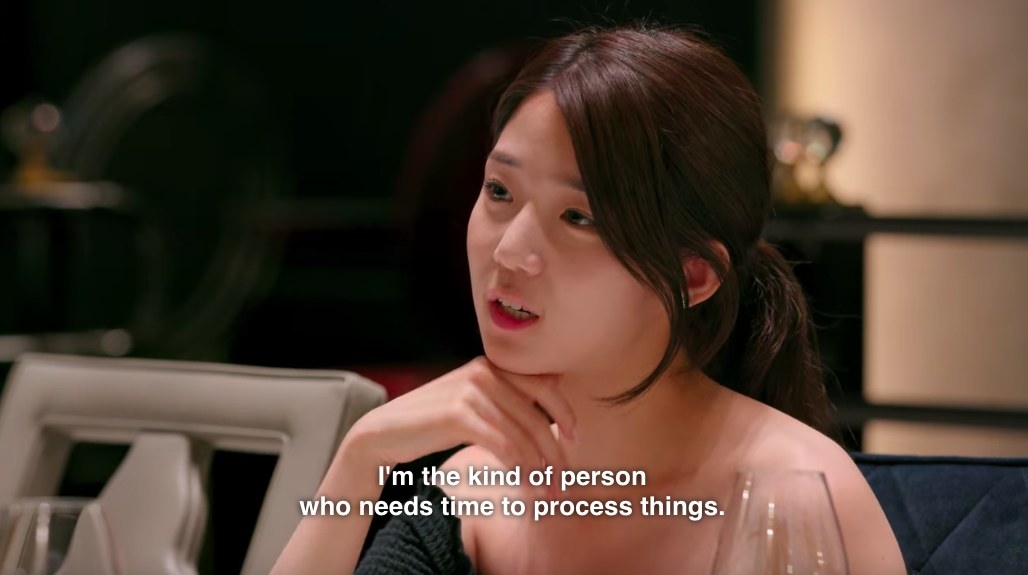 Back in Inferno, Yea-won and Jun-sik are appreciating the beauty of island and reflecting on the last week together.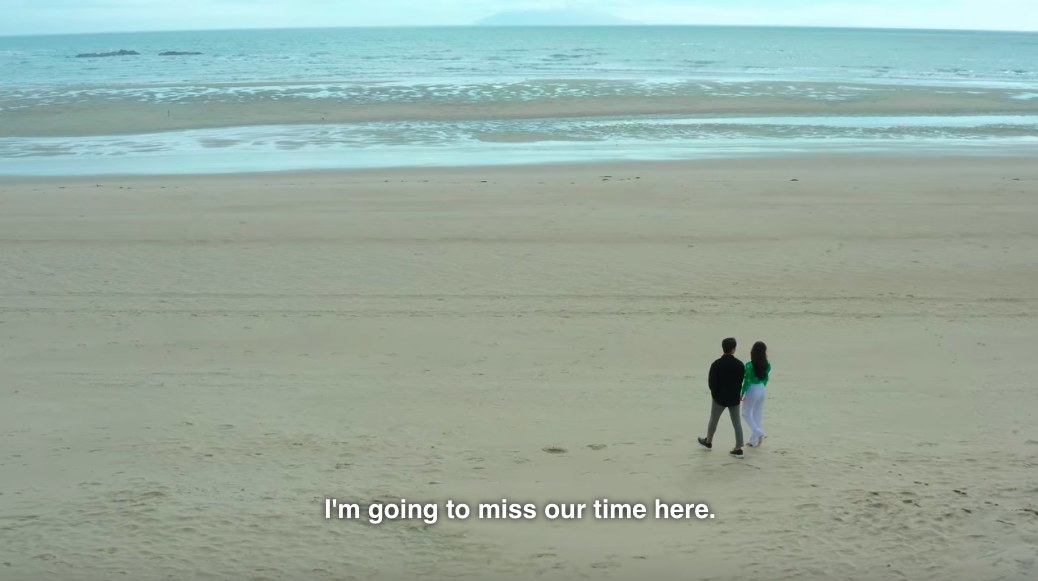 Hyun-seung seeks out Ji-a for a conversation in hopes of securing his place in her heart.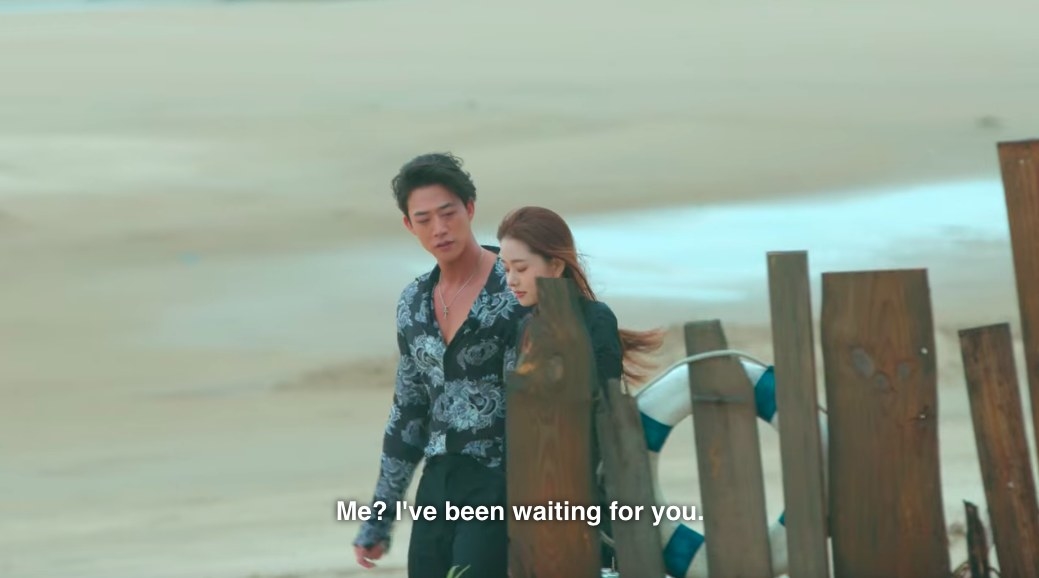 And they have a roller-coaster conversation that feels like neither a rejection nor confirmation that she'll choose him.
And what is Hyeon-joong doing? Waiting for her.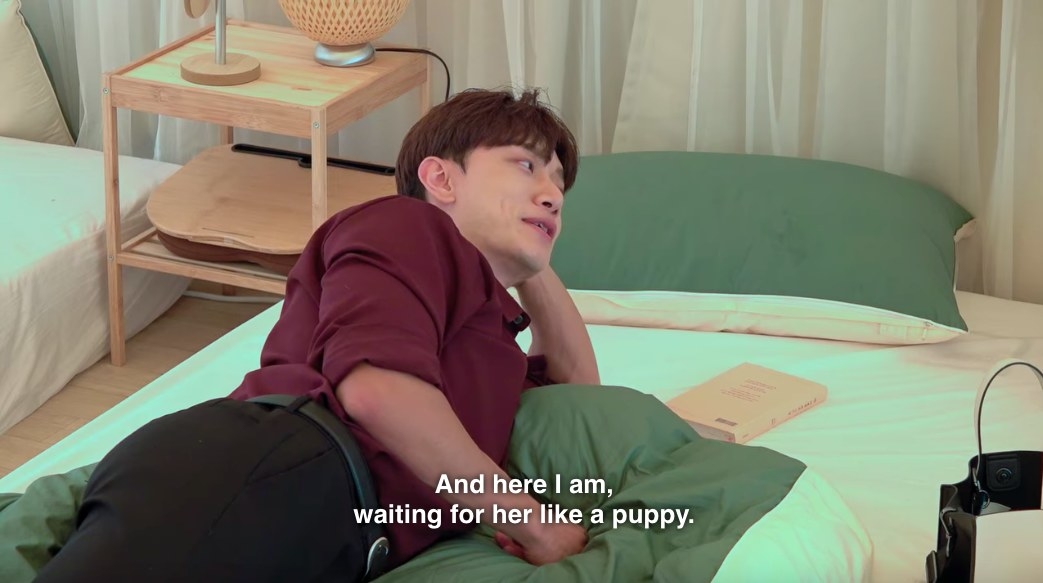 Everyone gets back from Paradise, and I can't help but notice an awkward vibe between Su-min and Si-hun.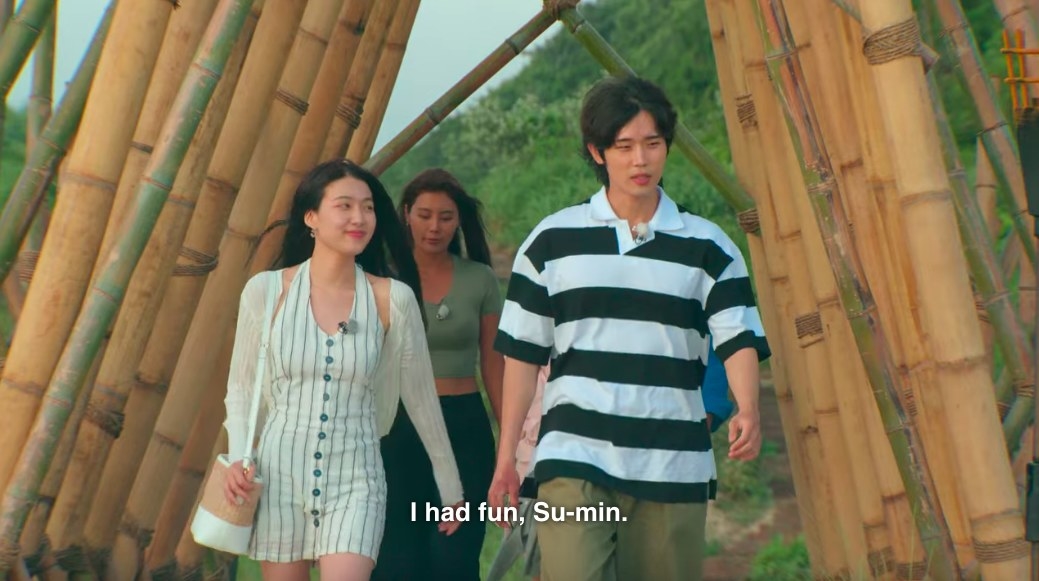 When night falls, everyone gathers around the fire pit. Hyeon-joong makes a bold move and tells Ji-a to come sit with him.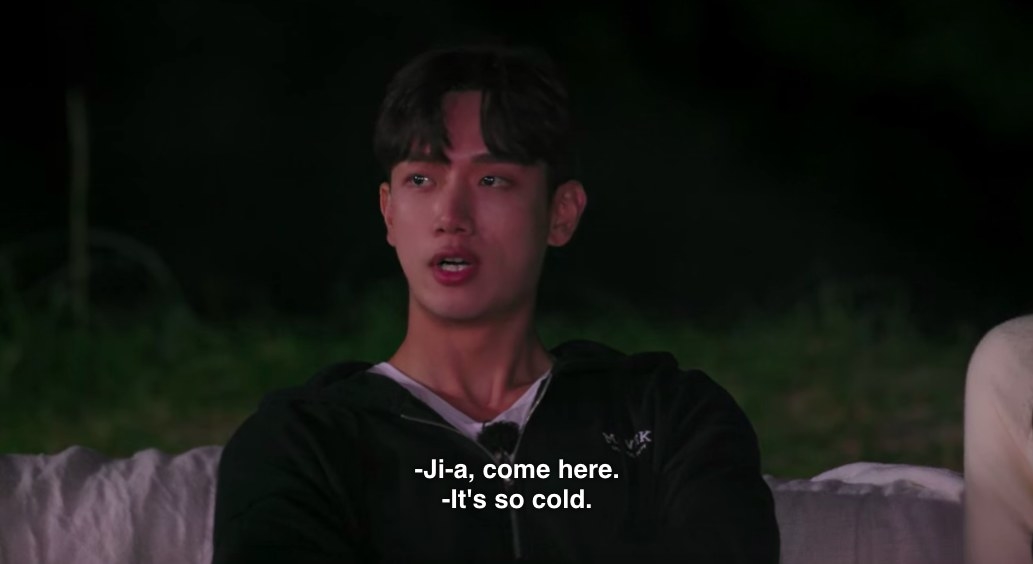 And she listens.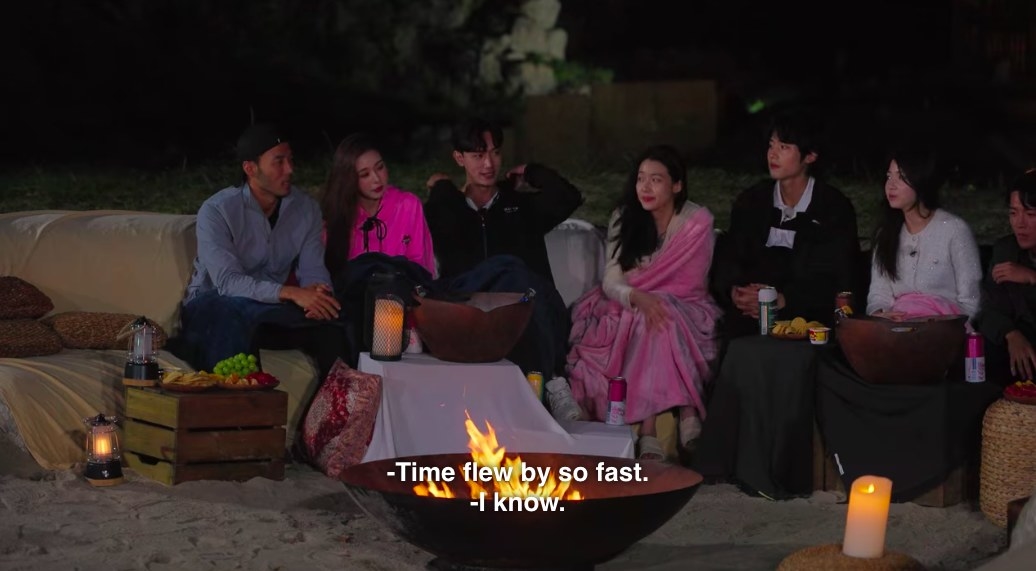 Well, at least Hyun-seung has his beer.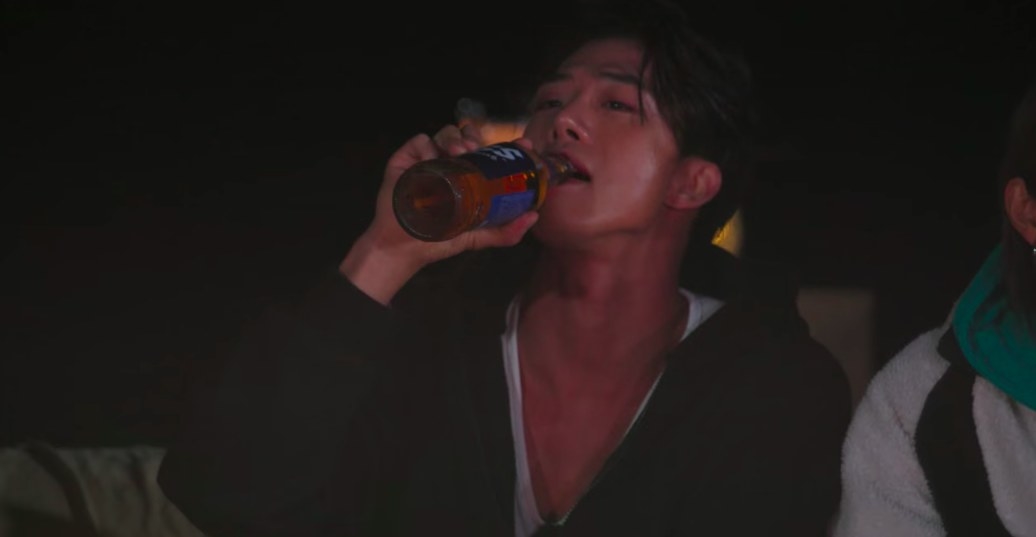 While Se-hoon and Ji-yeon don't sit together, they find each other's faces and exchange these adorable little smiles.
And Min-ji finally reveals her age and profession: 24, beauty model. Obviously.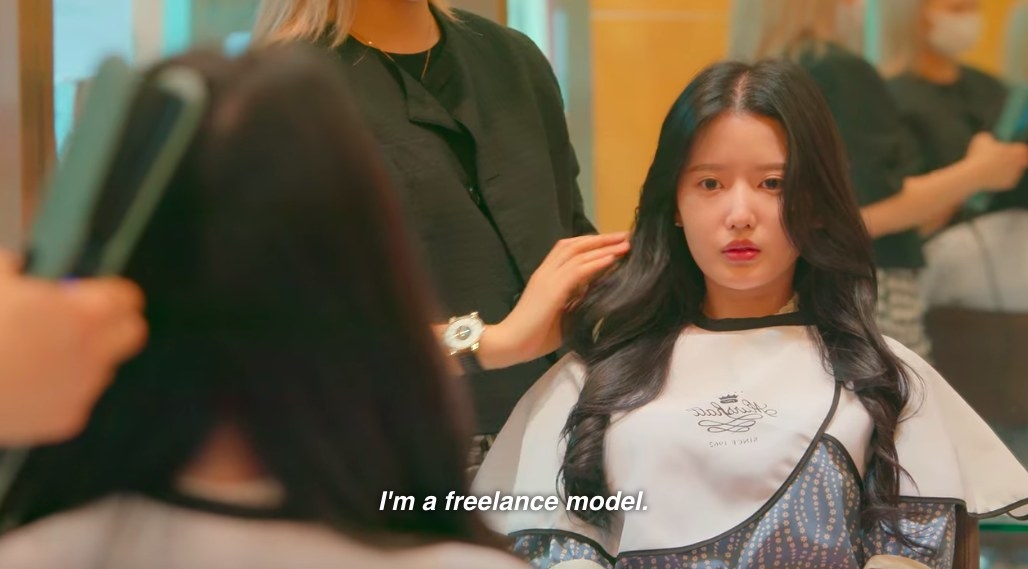 Since everyone's drinking, they're getting bold and asking tough questions.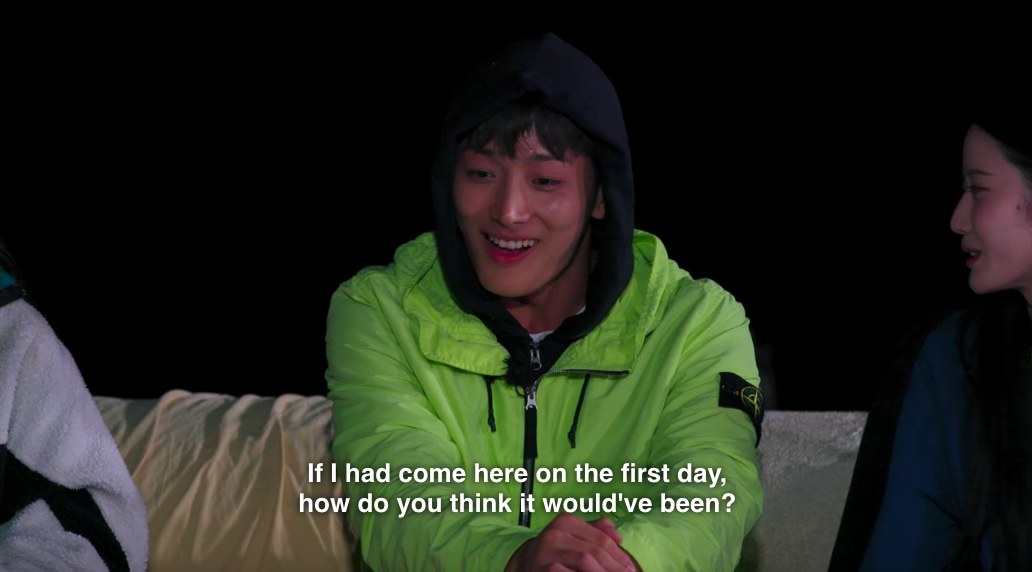 Everyone wants to know his answer. Even Ji-yeon, who plays it cool by munching on a tortilla chip.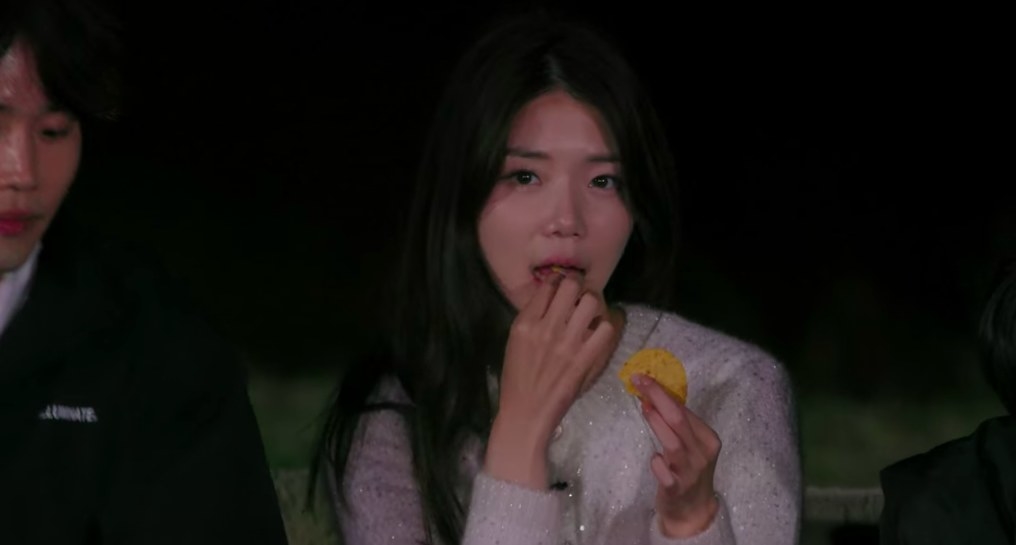 Yea-won is maybe the most intrigued. But Se-hoon says it wouldn't have been very different.
Si-hun says what everyone's thinking. And Min-ji nods in agreement.
Hyun-seung cuts the tension by changing the subject with another bold question, this time directed at Jin-taek.
But then he gets serious and says how glad he is that she chose him.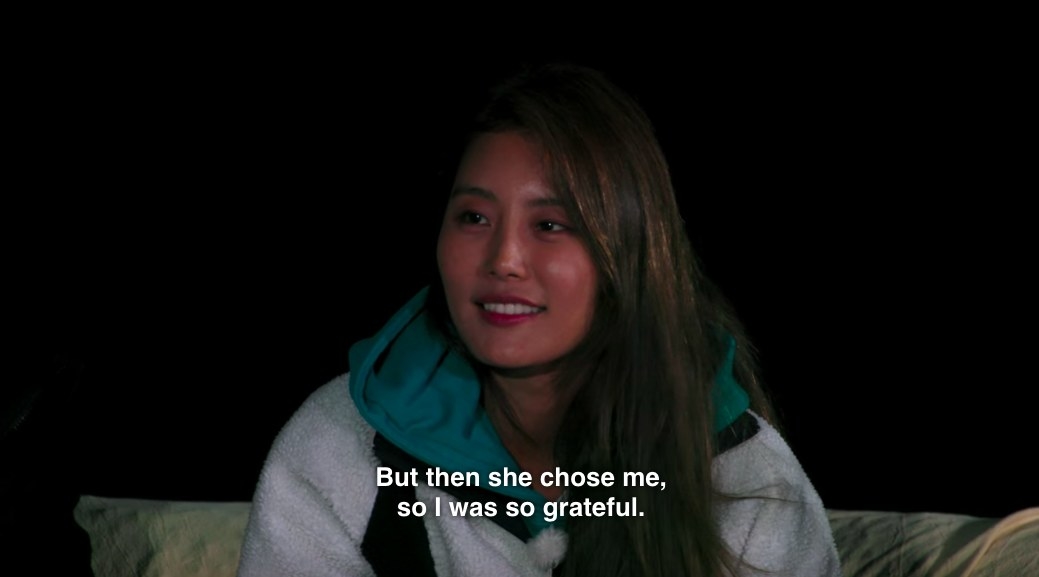 Before the touching moment can linger, Se-hoon makes things awkward.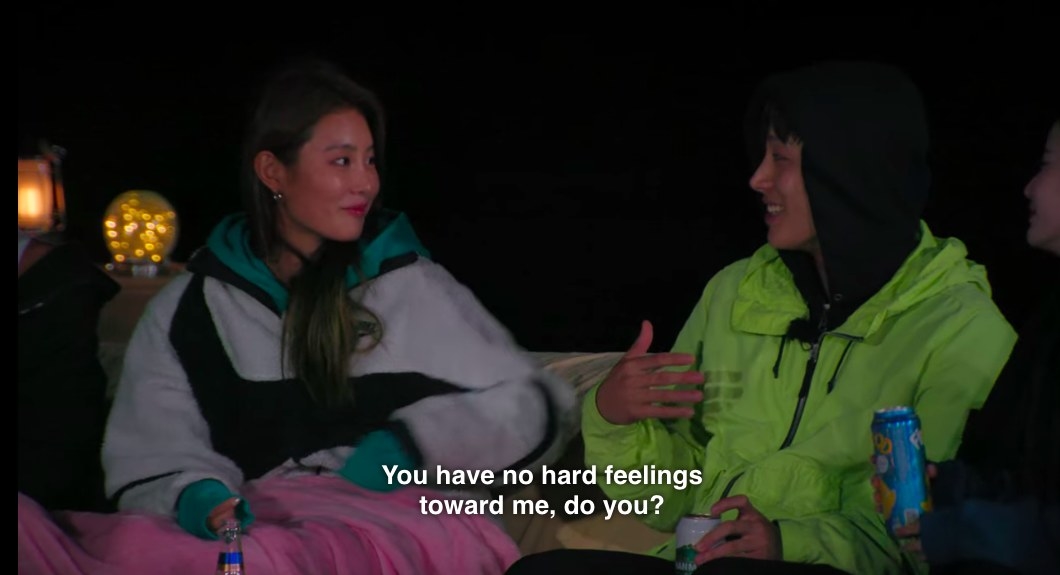 But So-yeon just says she's sorry about the conflict, and Se-hoon says he's grateful for it because he thinks it's what got him here.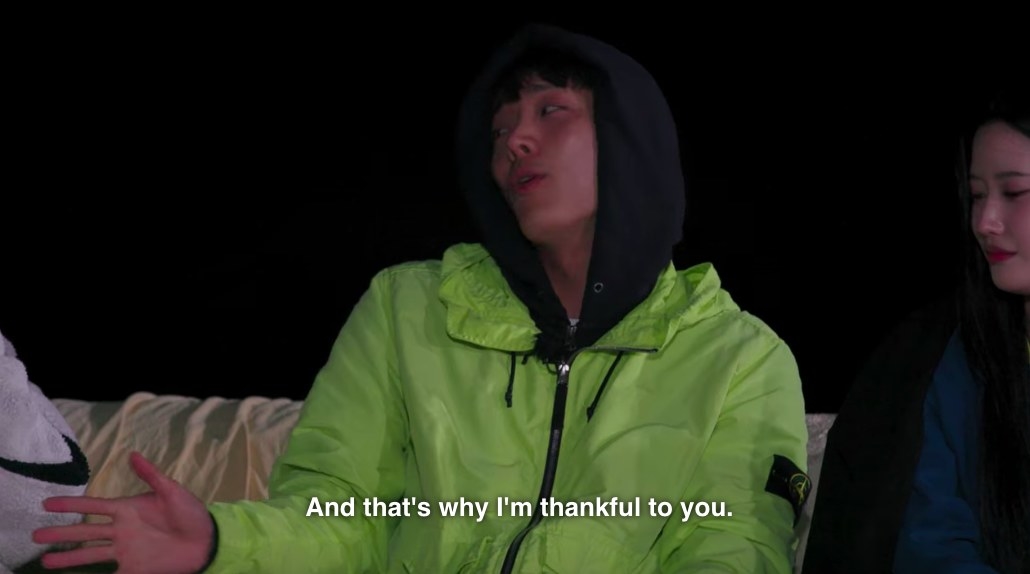 In their last confessionals, people get emotional.
Moment of truth time — the women wait on different parts of the island for the men who have chosen them to come find them for the last pairing.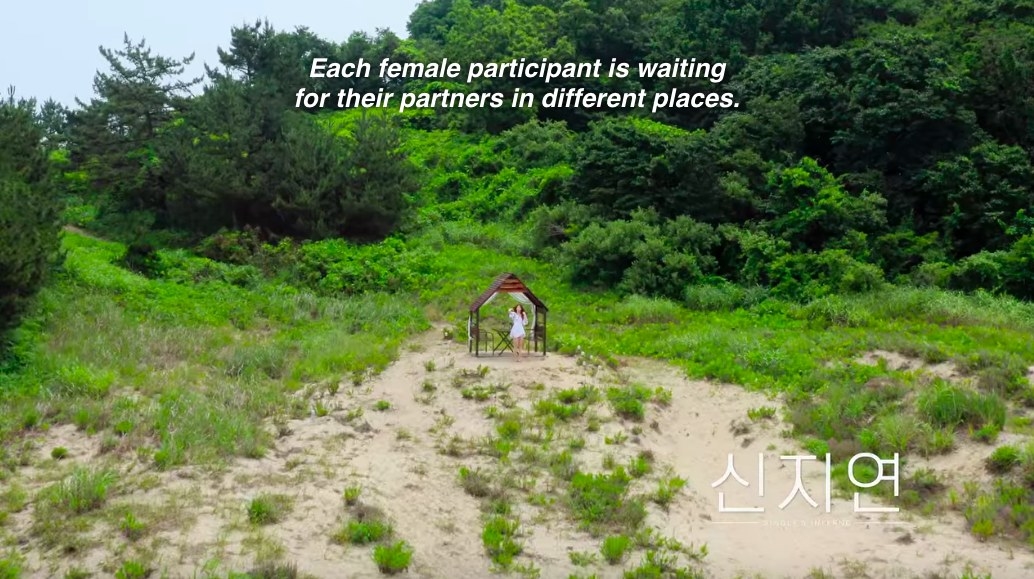 First to choose is Jun-sik, and of course, he goes to Yea-won.
Next is Hyeon-joong, who makes a show out of going over to So-yeon...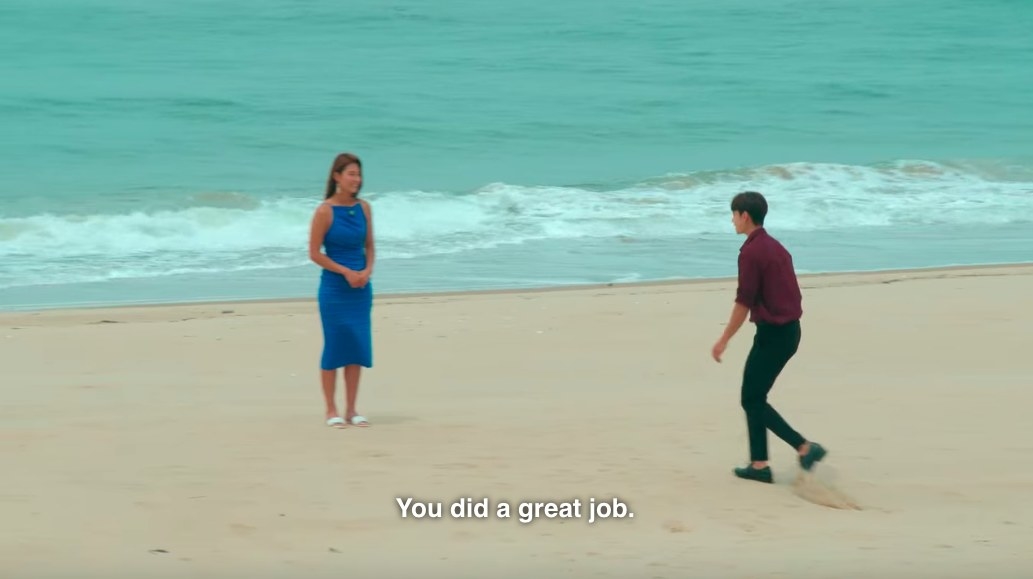 Because there was no way he wasn't going to Ji-a.
Then it's Se-hoon's turn, and he's headed for...Min-ji?!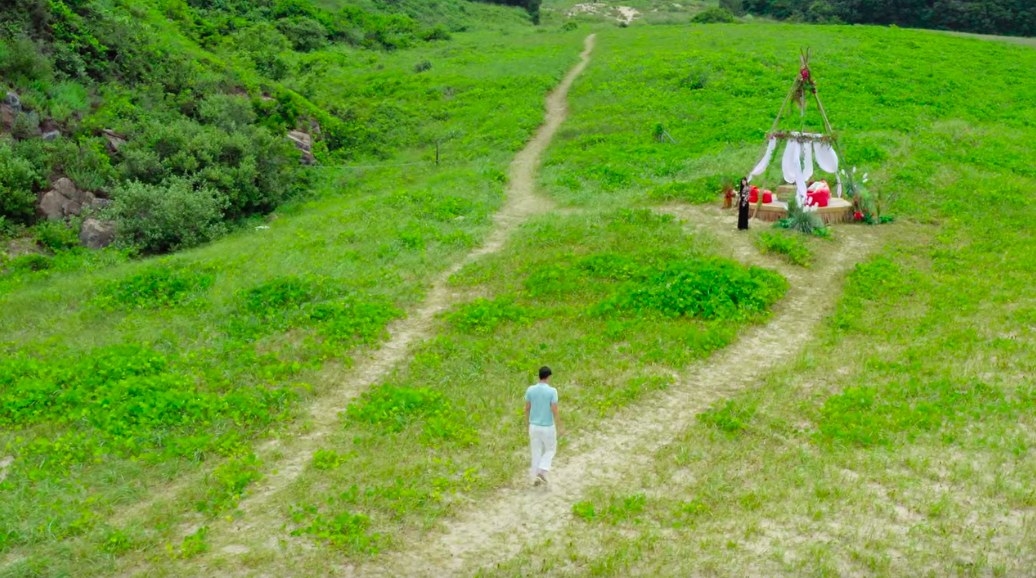 ...to tell her she did a great job. She looks like she might cry.
Because of course it's Ji-yeon. It's always been Ji-yeon.
Thankfully, Jin-taek knows better than to play games, heading straight for So-yeon.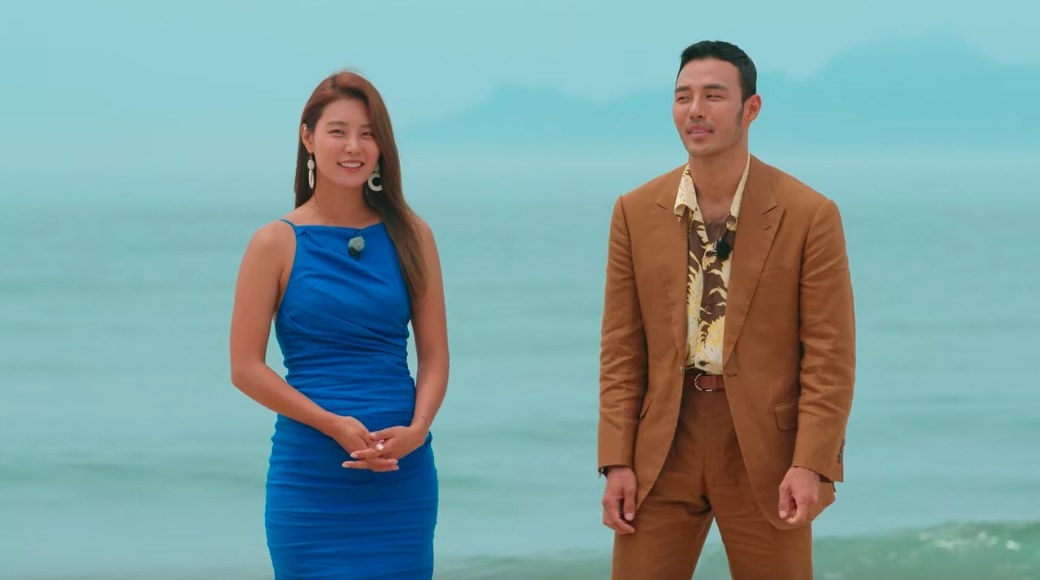 That leaves just Hyun-seung and Si-hun.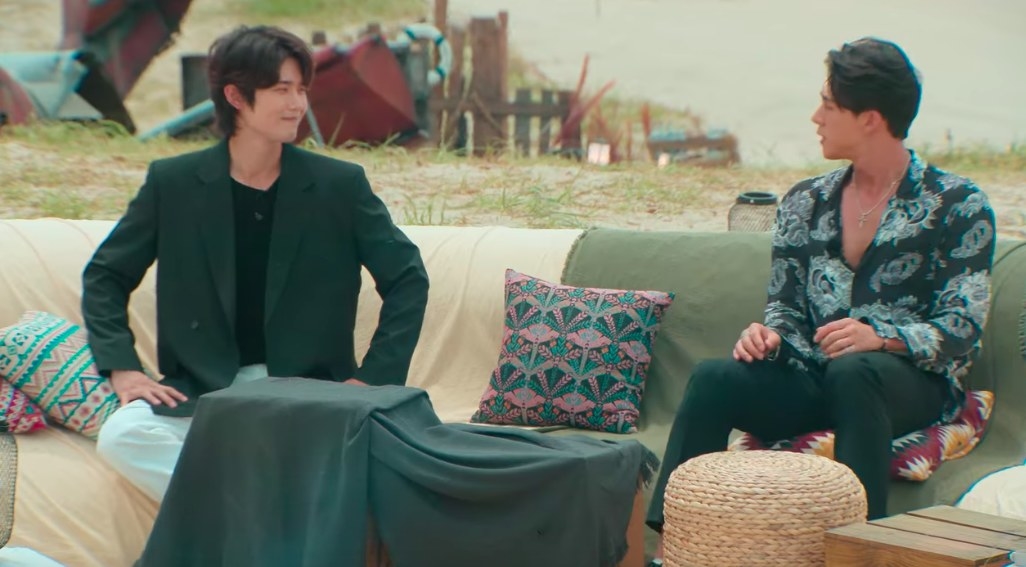 Hyun-seung goes first, moving with purpose toward Ji-a and her puppy.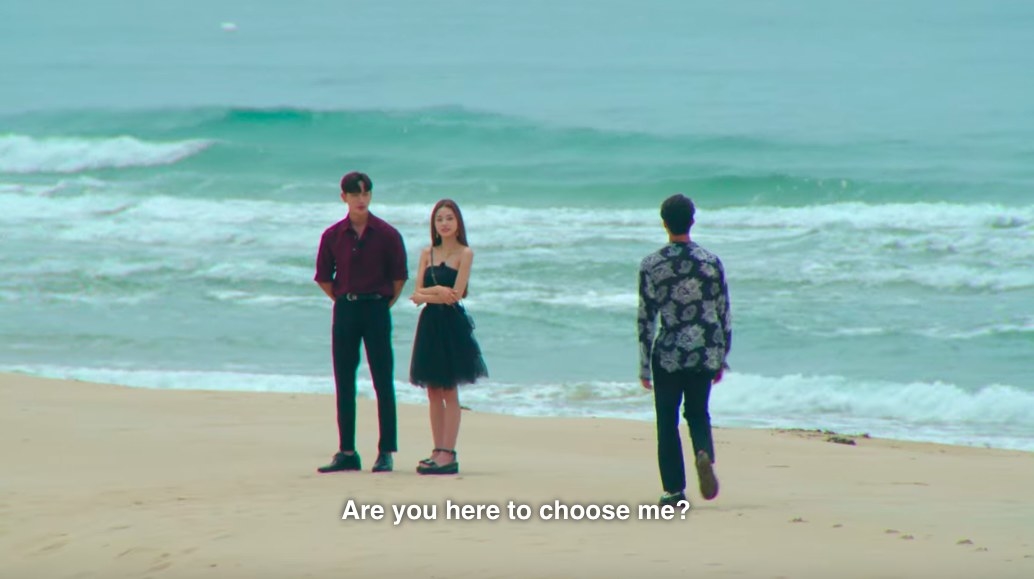 Well, this is an awkward family photo.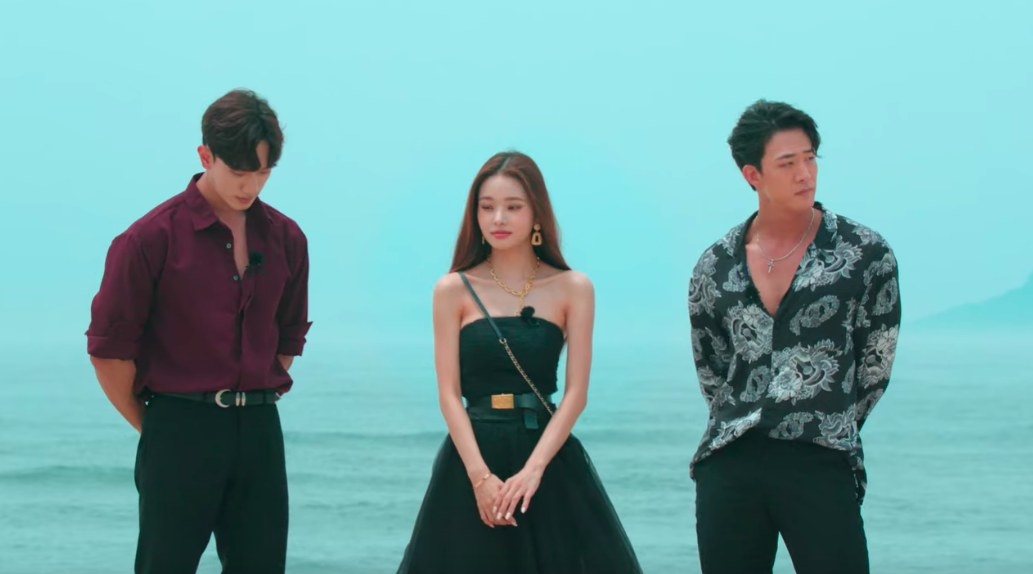 Now it's Si-hun's turn to make his final choice, and no one knows where he's gonna go.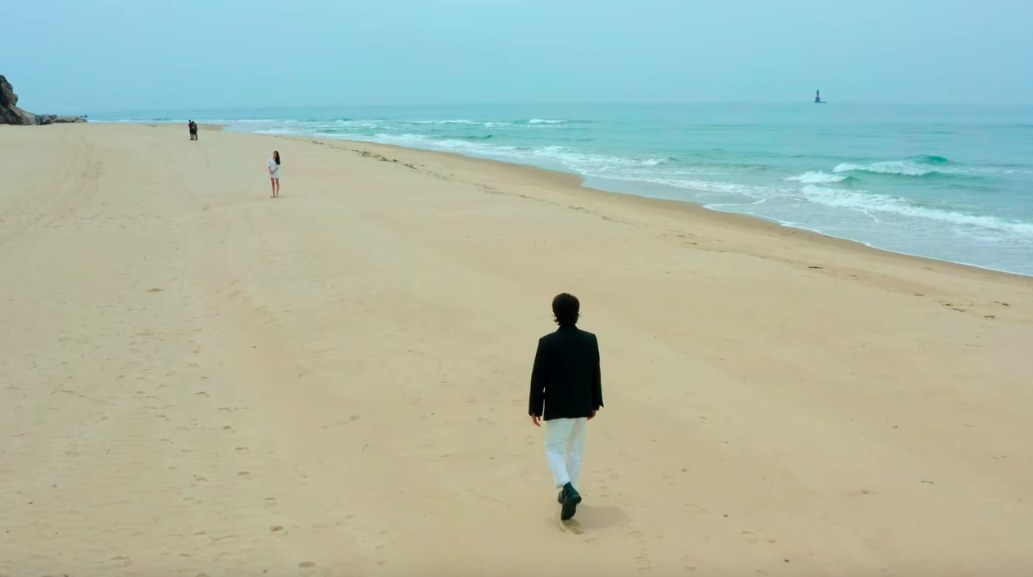 But he says a quick thank you to Su-min, and keeps it moving toward Ji-a.
He's greeted by Hyun-seung, since things are a little crowded around Ji-a now.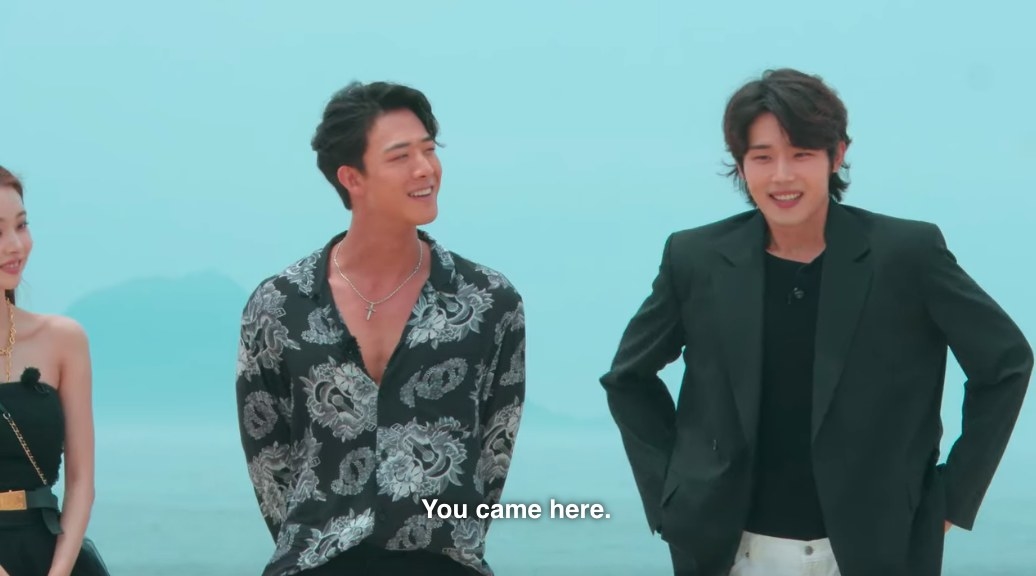 Now, it's up to the women to decide if they want to leave with the men who chose them, or leave alone. Some have harder decisions than others.
Ji-yeon gives a sweet speech and takes Se-hoon's hand.
And Yea-won leaves with Jun-sik, but not without having a little fun teasing him first.
And if you thought Jin-taek was leaving without cracking another corny line, you were wrong.
Since no one chose Su-min or Min-ji, it's down to Ji-a to make her decision.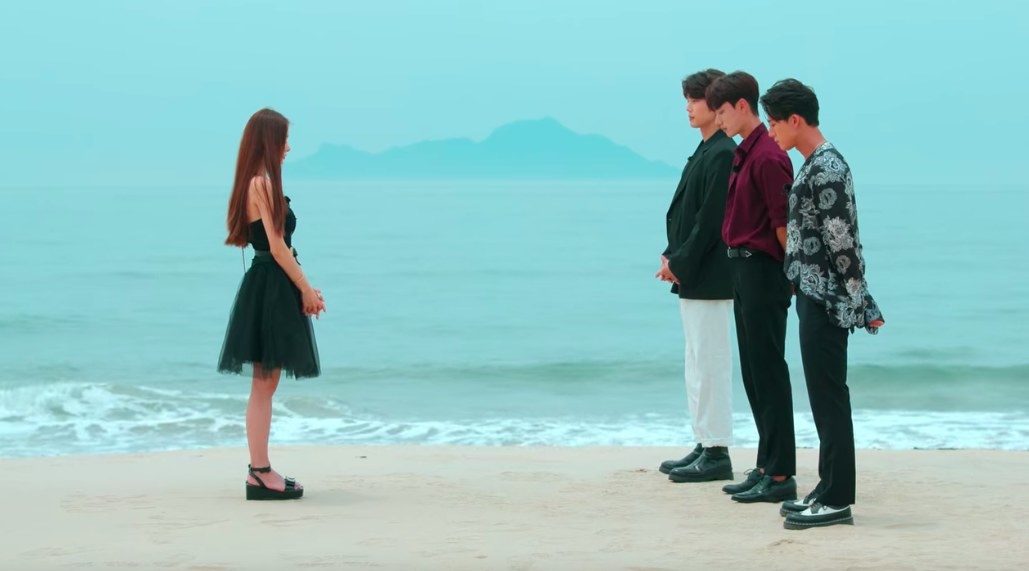 Hyeon-joong decides to plead his case one last time.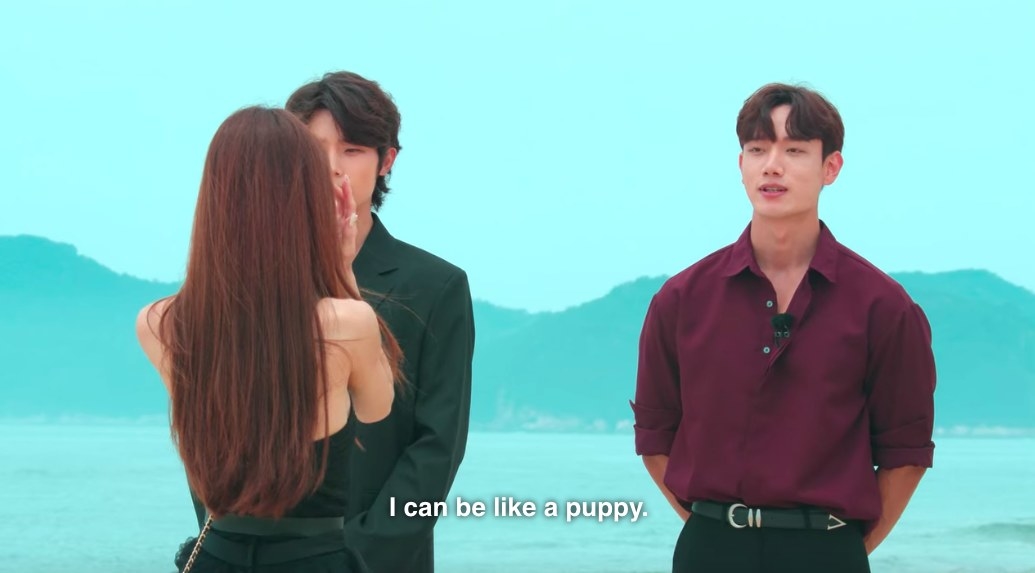 Hyun-seung follows suit, choosing to play the fate card.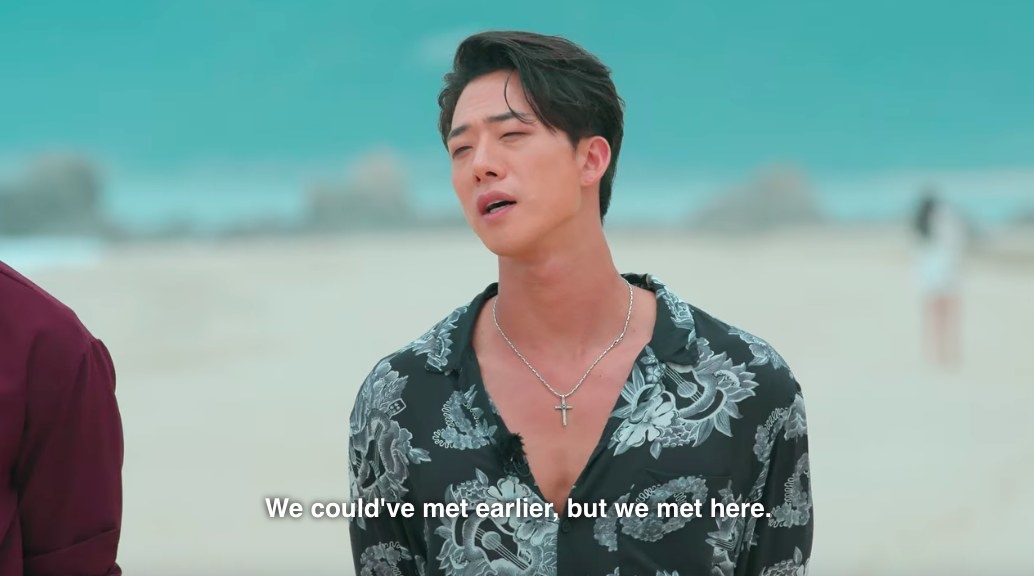 And Si-hun basically admits that he could tell Ji-a didn't like him and felt bad for him, but he still had to choose her.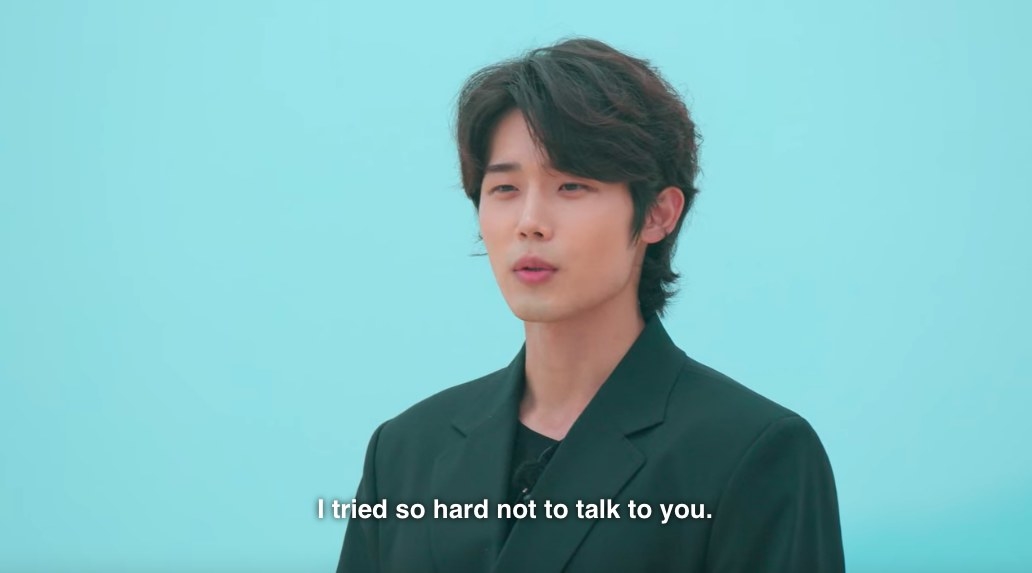 With all that in mind, Ji-a lets Si-hun down first.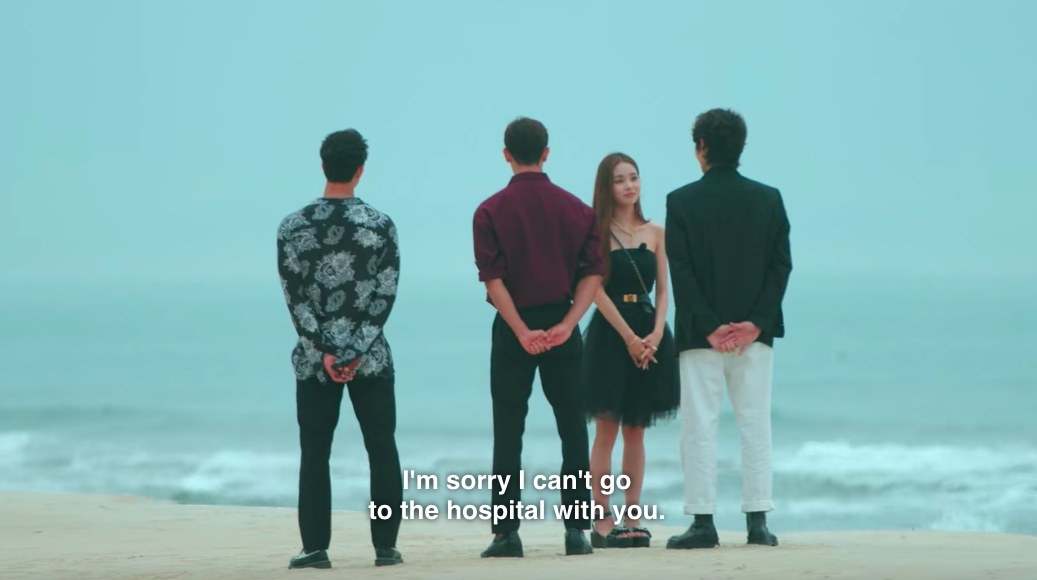 Then she tells Hyun-seung that she agrees they met for a reason.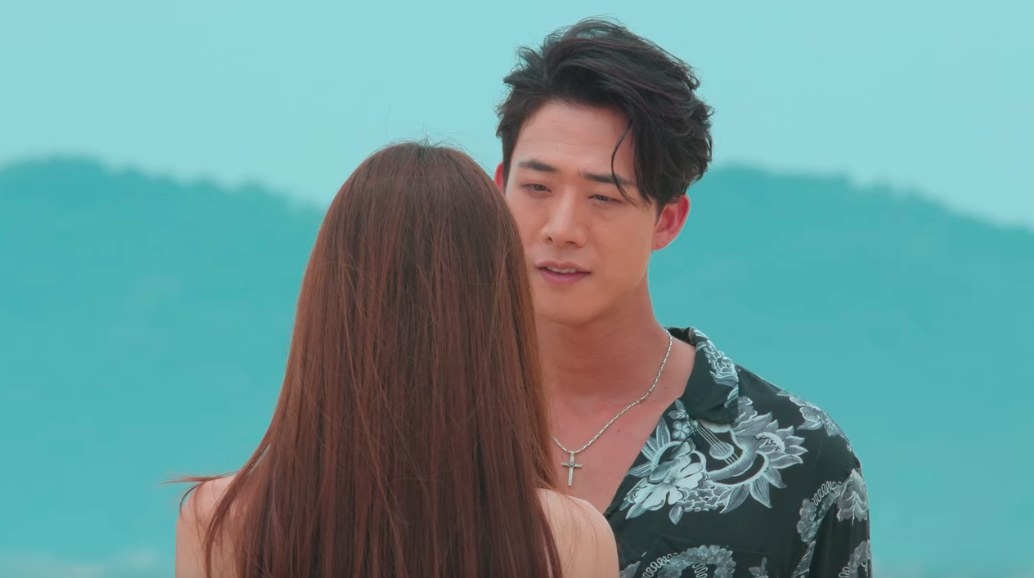 Hyeon-joong looks worried he's lost her.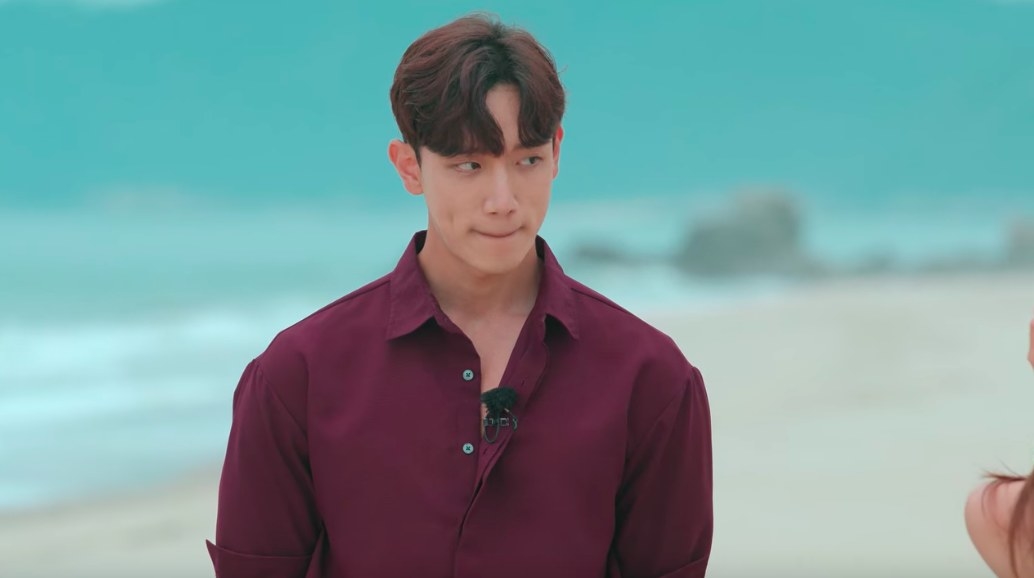 But in the end, she chooses her puppy, Hyeon-Joong.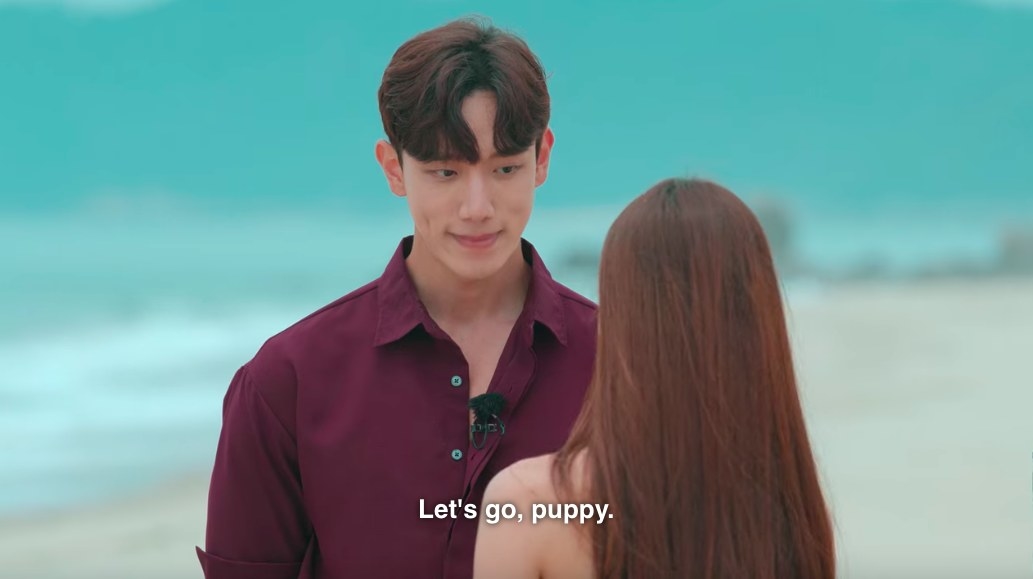 Well, Si-hun and Hyun-seung still have each other, I guess.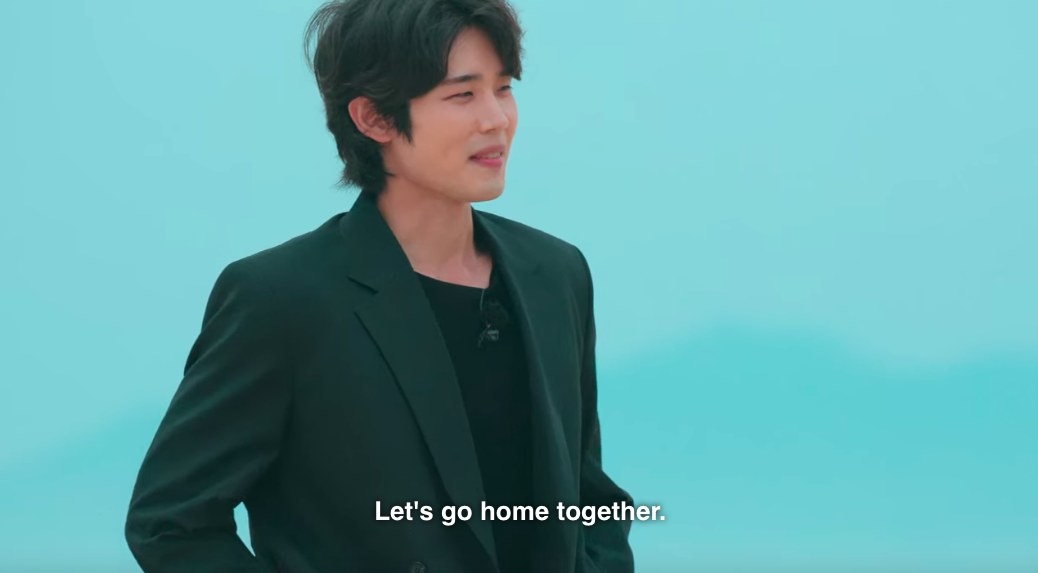 And Hyeon-joong carries his prized Ji-a off the island.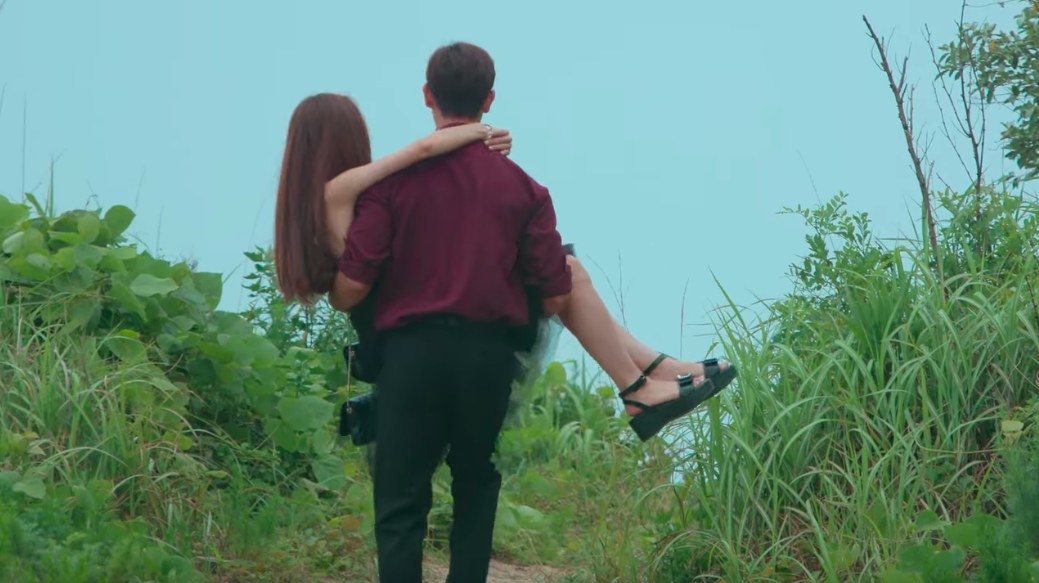 Well, that was quite the ride! Which couples did you see coming? Did any take you by surprise? Who do you ship? Tell us in the comments!