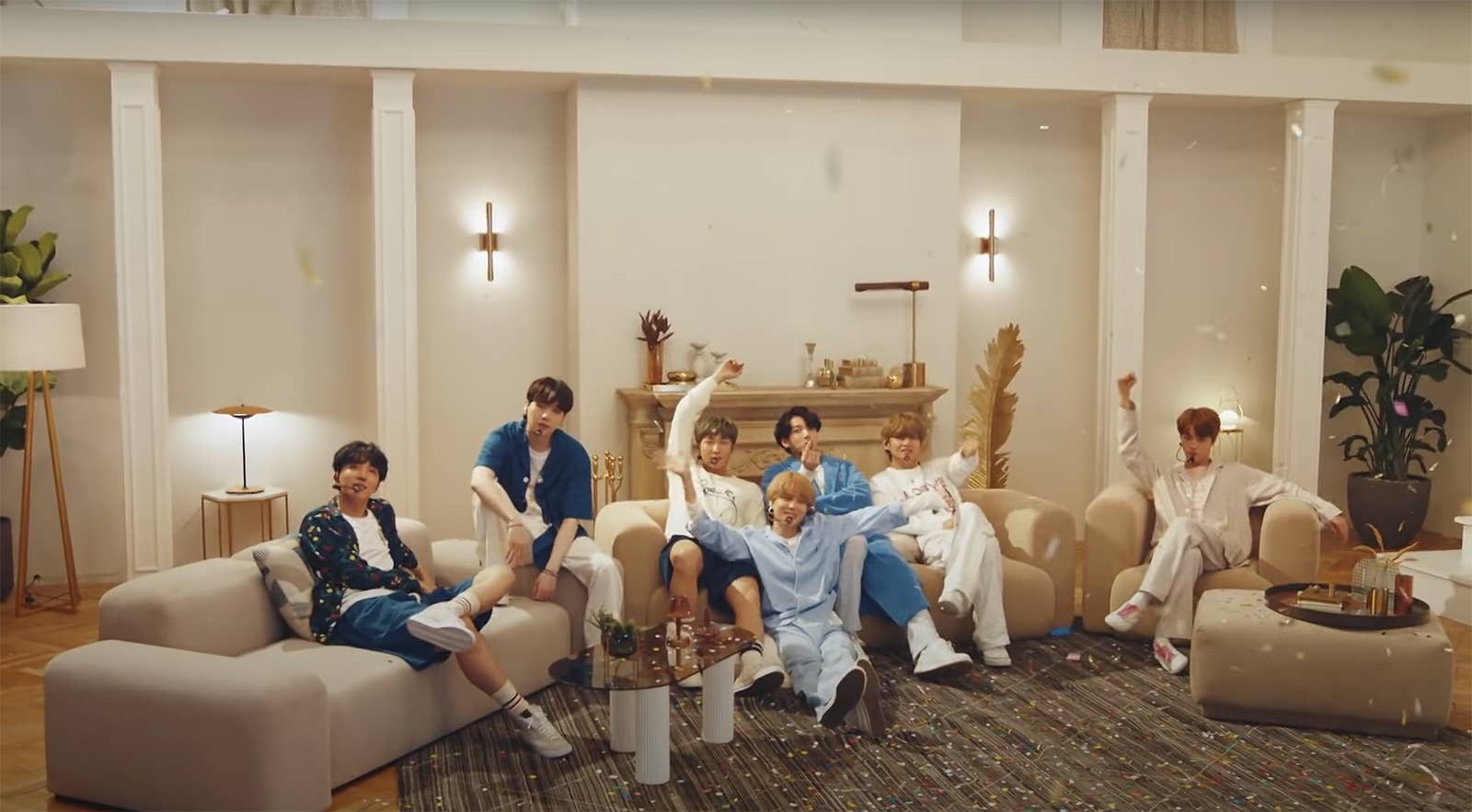 There's this meme currently making the rounds on BTS Stan Twitter depicting the Greeks leading their wooden horse into Troy. The meme goes like this: The Greeks are BTS and their fans, ARMY, the Trojans are the unsuspecting members of the Western general public, and the wooden horse is "Dynamite," the group's history-making single that is, for the first time in their career, sung entirely in English. Inside the meme-horse, however, hides the not-so-secret weapon that BTS and ARMY have known about all along: "a rich, varied, and top-tier discography in Korean."
The meme was first created when "Dynamite" was released in August, but it's now being used to describe BTS's weeklong residency on The Tonight Show Starring Jimmy Fallon, which kicked off on NBC on Monday to great excitement and high praise from the ARMY.
It's not an entirely new experience for the group: To celebrate the release of their album, Map of the Soul: 7, in February, BTS took over The Tonight Show for a special episode that took them on a tour of New York City and culminated with a monumental performance of "On" at Grand Central Station.
To be presented with a week-long residency on one of the most iconic late-night talk shows in America, though, is a testament to how far they've come since their 2013 debut, and over the last few days they've only proven exactly why that success is deserved.
Each night this week, The Tonight Show has ended with a performance from BTS, prerecorded at various locations in their home city of Seoul. The distance is, of course, unavoidable due to the coronavirus pandemic — but it's also ensured the group's performances are far more impressive than they likely would have been were they filmed in a TV studio at Rockefeller Plaza.
The week of shows has been a colorful, engaging, spectacular BTS fest from the very beginning, opening on Monday with an a cappella(–ish) performance of "Dynamite" in collaboration with Fallon and the Roots. It was a refreshing take on a song that's bound to have become familiar to even the most casual listener in recent weeks. "Dynamite" was BTS's first song — and the first ever by a Korean group — to reach the top of the Billboard Hot 100 chart. It stayed there for a second week and, after falling to No. 2 below Cardi B and Megan Thee Stallion's "WAP," reclaimed the No. 1 spot on Monday. Its music video smashed YouTube records, gaining more than 100 million views in its first 24 hours, and it's been BTS's biggest US radio hit to date by far.
It doesn't escape ARMY — or BTS themselves — that after seven years of singing and rapping in their native Korean, racking up major record sales and selling out stadiums worldwide along the way, they've achieved the biggest commercial success of their career in the US with an all-English track. That's in part due to the Billboard charts' emphasis on radio play, an area BTS have never dominated despite mammoth sales and relative chart success. "I think they play it on the radio because it's an English song," vocalist Jin said in a behind-the-scenes video of a recent interview on South Korea's MBC radio.
The group's leader, RM, agreed: "I think it's important that there's no language barrier."
In that sense, then, it's probably safe to say "Dynamite" has been a gateway for many into the "rich, varied, and top-tier discography" that is BTS's music — and this week's Tonight Show takeover has so far exhibited that richness and variation in a way that, as a professional writer, I can only describe as *chef's kiss*.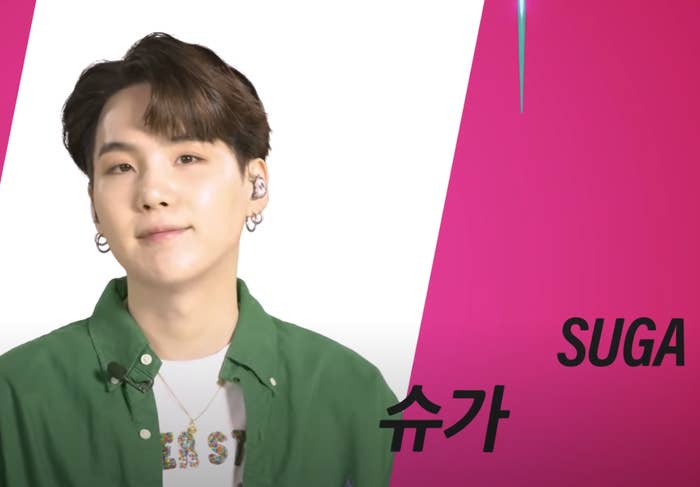 The a cappella "Dynamite" performance was lighthearted and rainbow-colored, thoroughly encapsulating the song's sense of joyful escapism which, as J-Hope explained in an interview, was an offering to its audience during a difficult year. It also included a seven-second segment, reminiscent of a sitcom's opening credits, introducing each member one by one with their names written in both English and the Korean alphabet, Hangul. In short, it was a perfectly packaged video version of the Trojan meme-horse that is "Dynamite".
But as soon as casual Tonight Show viewers allowed BTS past their city walls, the band members crashed back onto our screens at the conclusion of the show with a performance that literally couldn't have been more different.
"Idol" won't be unfamiliar to loyal viewers of The Tonight Show — after all, the group first performed it in the studio when it was originally released back in 2018 — but this week's iteration turned it up approximately seven-thousand notches. Standing on a stage in front of the 14th-century Gyeongbok Palace in Seoul, the members dressed in modernized versions of traditional Korean hanbok and carried out the formidable choreography of "Idol" with their usual expert precision. It was fiercely and unapologetically Korean, and fiercely and unapologetically them, a feeling reflected in the song's lyrics: "I know what I am / I know what I want," RM raps in its refrain. "I ain't never gonna change / I ain't never gonna trade."
Tuesday's unexpected performance showcased even more creative range. I can confidently say that very few fans predicted they'd sing "Home" — an album track and undisputed bop from last year's Map of the Soul: Persona that they've only performed live a handful of times — but the surprise was an incredibly pleasant one.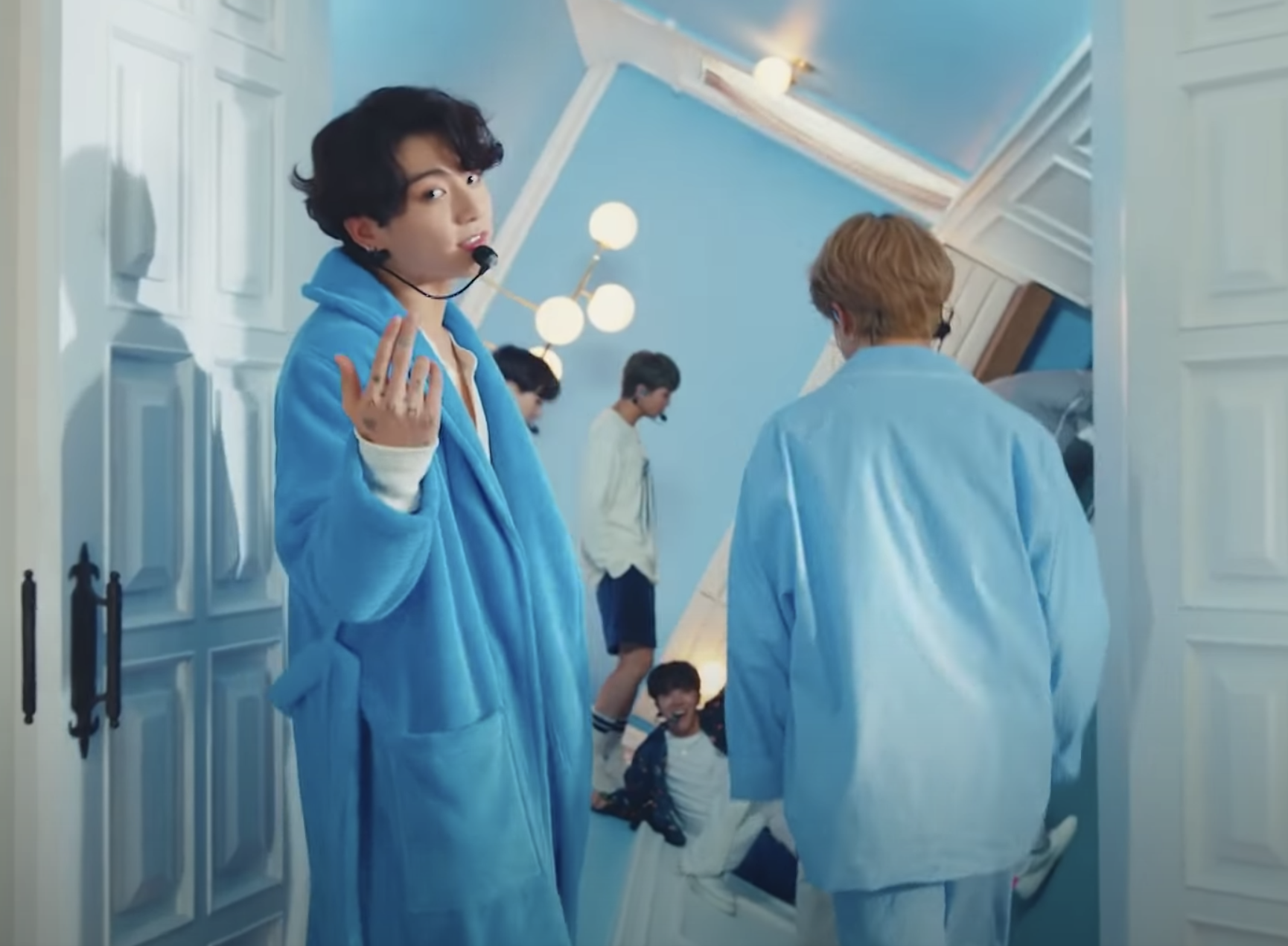 Dressed, like the vast majority of us these days, in pajamas, bathrobes, and comfy (if designer) jumpers, the group's seven members danced and played around in a highly elaborate set built to look like a cozy apartment, complete with a food fight in the kitchen and a rotating bedroom that, I assume, has left Christopher Nolan quaking. Where "Idol" highlighted BTS's always impressive choreography, "Home" showcased the members' familial bond, their fun spirits, and, let's face it, their exceptional attention to detail when it comes to performing.
And then came Wednesday's performance of their single "Black Swan," originally released in January this year as a precursor to their chart-topping album Map of the Soul: 7. The single's drop was accompanied by what was presented to the world as an "Art Film" — a stirring and intense modern dance piece performed by the MN Dance Company over an orchestral version of the track — and so it only made sense that this time, the focus was on the group's identity as artists.
Dressed in all black and performing a hypnotic rendition of the contemporary choreography of "Black Swan" before a backdrop of a crumbling church, the members sang and rapped about their attempts to come to terms with the artist's fear of losing passion for their craft. "The heart no longer races when hearing the music play," Suga raps in the first verse. "Seems like time has stopped / That would be my first death I was always afraid of."
Of course, most viewers probably couldn't understand the words they were hearing — I didn't when I first heard it either — but looking up the various fan translations of lyrics is part of the beauty of being an ARMY. To do so encourages a level of attention and analysis that only creates an even deeper personal connection to the music that yes, many of us don't actually understand the words to. (Following Wednesday's episode, the official Tonight Show Twitter account announced it was working on adding English subtitles to every BTS Week performance on YouTube.)
It's that deep personal connection between BTS, their music, and their ARMY that was celebrated during Thursday night's performance: "Mikrokosmos," the song that closed out every stop of last year's Love Yourself: Speak Yourself World Tour. It's a song written for and dedicated to their fans, honoring the mutual love and respect between BTS and ARMY that truly set the group apart from any other artist.
"You got me / Seeing you, I dream / I got you / In the pitch-black nights," Jin, Jimin, V, and Jungkook harmonize over the song's chorus. The Tonight Show performance — filmed at Gyeonghoeru, the royal pavilion at Gyeongbok Palace — ended with a re-creation of the drone show that lit up the sky at the band's last in-person concert in Seoul in October last year, flying over the pavilion to create, of course, the logos of BTS and ARMY. I won't lie: I was at that last concert. And yes, I cried. Both then and now.
Of course, this is The Tonight Show, and so the week wouldn't be complete without a couple of silly but undeniably amusing sketches and a charismatic interview. RM, Jin, Suga, J-Hope, Jimin, V, and Jungkook spoke about their contributions to charity, what they were like as kids at school, their upcoming album Be, and, of course, their desire for a Grammy nomination, which, the members believe, is the next step in their success story. Thanks to their extraordinary growth in the last year alone, it's looking likelier than ever.

"The Grammys is definitely the most honorable music award that evaluates the prominence and the musical odyssey of an artist," RM explained. "Winning a Grammy in such difficult times could give greater hope and dreams to a lot of people."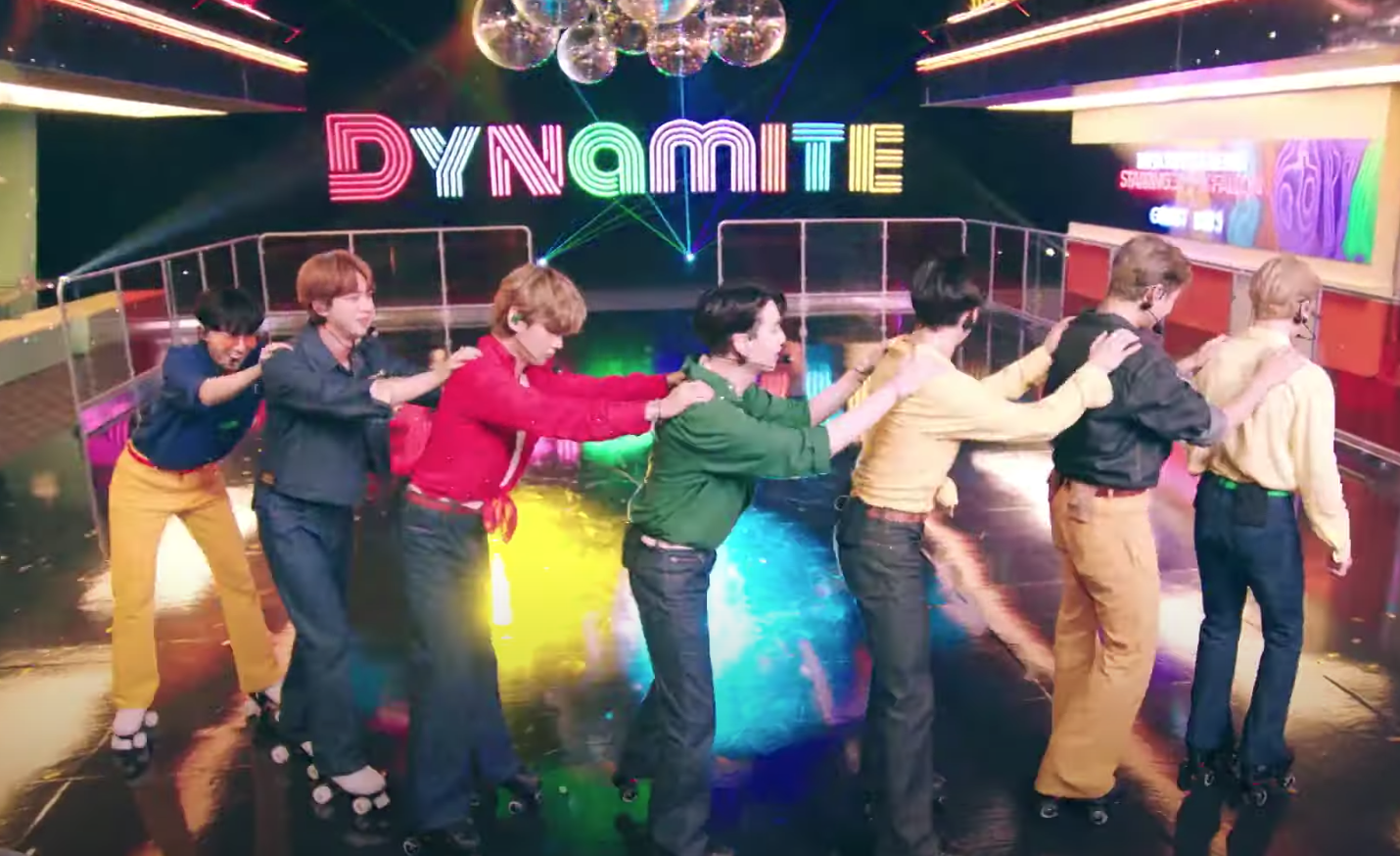 For Friday's performance, then, the group brought everything full circle, stepping into the roller rink for another, more high-production rendition of "Dynamite." Lit up in neon and surrounded by a flurry of golden confetti, the members revisited the disco pop track with live vocals and smoothly executed choreography.
It didn't end there, though: They closed out the final show of their residency by showing off their roller-skating prowess (or, in some cases, lack thereof). They spun in skillful circles and held each other up when they were struggling, and they also fell on their butts. It was simultaneously impressive and endearing and chaotic, and it couldn't have been a more fitting end to a week that made it clear why, exactly, BTS are so beloved.

With their Tonight Show takeover, BTS spent an entire week proving to even the most casual viewer what ARMY has known all along: They really do have, to put it simply, The Range.
What began with a performance of the group's most recognizable and arguably most English-friendly song became a weeklong celebration of their craft, their raw talent, and their artistry, as well as their connections with each other and with their fans. They've shown that, even within their own discography, they can cover a world of different genres and topics, and they're really damn good at doing it. And, if that doesn't get you, they've also proven they have an uncanny knack for dancing like their jacket just got trapped in a car door.
In short, the group's Tonight Show takeover became a perfectly packaged guide to why BTS are so fiercely loved by the people who know them best.
"That's why they're the biggest band," Fallon exclaimed following a behind-the-scenes story about the group's Grand Central performance. "They're putting the work in."