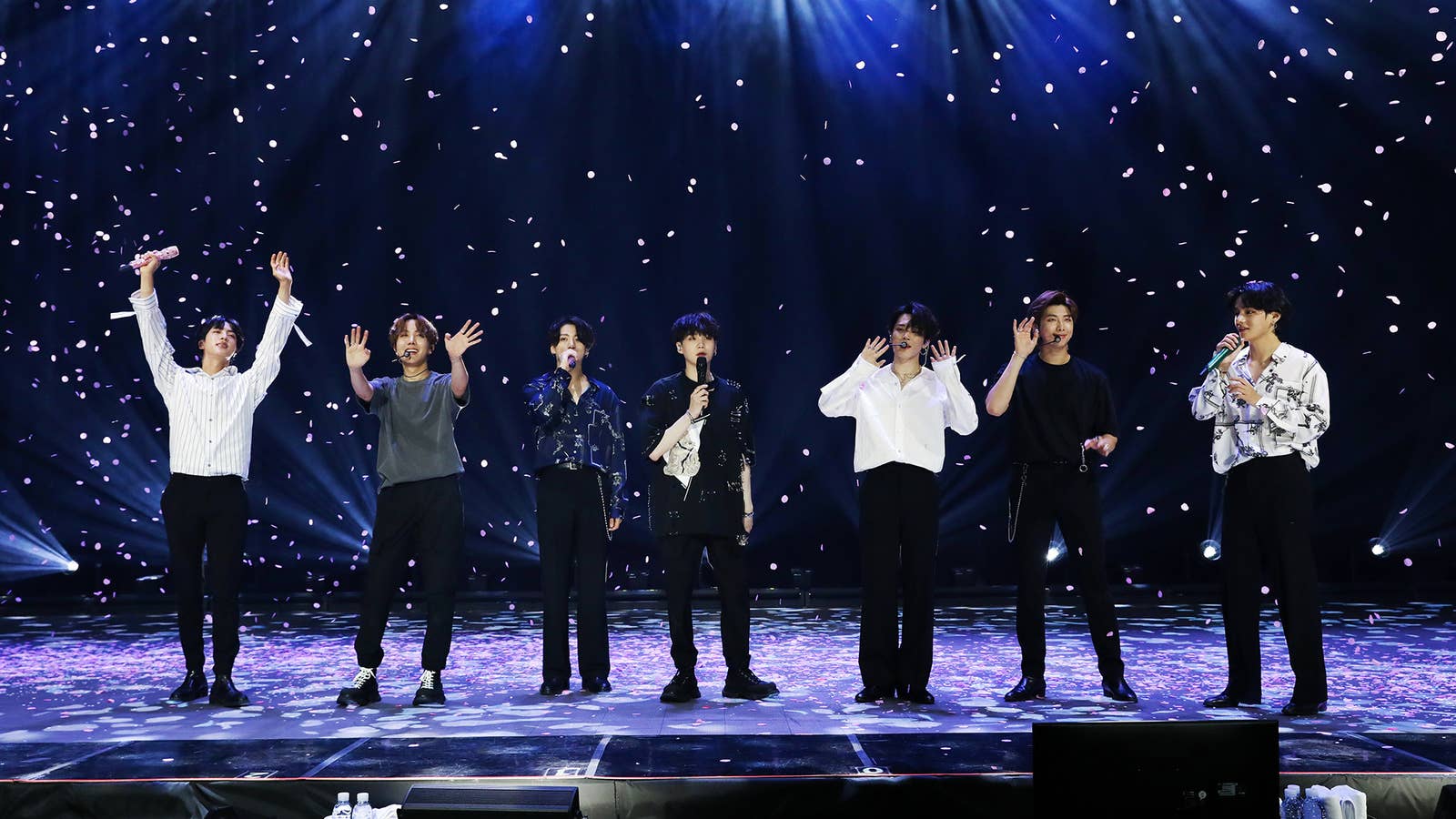 On Sunday, South Korean music sensations BTS became the latest artists to perform a live-streamed online concert after their 2020 worldwide stadium tour was indefinitely postponed due to the coronavirus.
A celebration of their seventh anniversary as a group, the live stream broke records. Bang Bang Con: The Live — a play on the Korean word "bang", meaning "room", and the group's Korean name, Bangtan Sonyeondan — attracted the largest ever audience for a paid virtual concert, with over 750,000 concurrent viewers. The audience was given the option to choose between six different camera angles, one of which displayed a live chat, a virtual light stick to cheer the members, and a map of the world showing exactly where fans watching were located. According to a press release from the group's label, Big Hit Entertainment, the stream reached BTS fans — known as the ARMY — in a total of 107 regions across the globe.
It would, perhaps, have been the obvious choice for the group to perform songs from their latest album, Map Of The Soul: 7. After all, they would have been touring the album this summer, and will undoubtedly have had to scrap months of rehearsals for performances and choreography that ARMY have never seen live before. Instead, the members took fans on a nostalgic journey through their extensive discography, opening the show with "Dope" and "Boyz With Fun" from their 2015 album series, The Most Beautiful Moment In Life, and including performances of "Like", from their 2013 debut album, and a classically choreographed version of 2014's "Just One Day".
Of course, they did keep things fresh with a few never-before-seen performances of the subunit songs from MOTS:7. Implementing a rotating stage, a soft, monochrome performance of Jin, J-Hope, and Jungkook's ballad "Jamais Vu" became a '70s rainbow disco-themed iteration of RM and Suga's "Respect". That, in turn, became a reproduction of a Seoul bus station, where Jimin and V dressed in uniforms and sang their duet, "Friends", about the journey of their close friendship since their school days.

We were also treated to a mini teaser for the Map of the Soul Tour, which included a remix of the group's record-breaking hit "Boy With Luv" and a modern dance-led performance of their 2020 single "Black Swan". However, in conversations with the audience between songs, the members made one thing very clear: they would, for the most part, be saving the new material for when they can be together, in person, with their ARMY.
"To tell you the truth, we wanted to perform [on the tour] so much," Suga said as the group wrapped up the show. "It was so strange to not have you all cheering us on in person. Though we can't physically see each other, we should trust in the fact that we'll meet soon."
I've thought about it a lot, and I think it's this level of honesty and sincerity that makes BTS so special. In interviews with Western outlets, the members are often asked why they, of all groups, have achieved such undeniable global success, and as a fan, I'm used to receiving similar questions. To the average person, I suppose the confusion surrounding my fandom is understandable: I know very little Korean (in fact, I could confidently say that I knew exactly zero words of the language when I became a fan), and BTS doesn't sing in English. The members' standard, sound bite-friendly answer is that music transcends language. They are, of course, absolutely right, but the reality is much more complex than that.
I have this working theory that BTS fandom comes into your life not only when you need it most, but also when you're ready to welcome it. Like many people, for me, it all started with a music video. A friend of mine was excited that her favourite band had released a new album, and on a whim — probably out of boredom, or some kind of uncharacteristic and unexplainable burst of curiosity — I decided to watch the video for the lead single. It was called "Boy With Luv", and it was all bright pinks and blues and yellows, bubblegum poppy sounds, and perfectly synchronised choreography. It was fun, and it didn't take itself too seriously. It was like nothing I had ever taken an interest in before. It was exactly what I needed at the time.
Less than a week later, their most recent EP, Map of the Soul: Persona, was on regular rotation on my Spotify. I had watched every performance of "Dionysus" in existence, the "Boy With Luv" dance practice video was permanently etched into my brain, and my YouTube recommendations were full of compilation videos introducing me to each member, their songs, and their pets. In less than a month, I had acquired tickets to both of the band's historic Wembley Stadium shows. By October, I was flying halfway across the world to Seoul to see them perform there too. It's been over a year now, and I've learned that this experience is a common one — it starts with one song, or one video, or one TV appearance, and before you know it, you're deep into dedicated standom.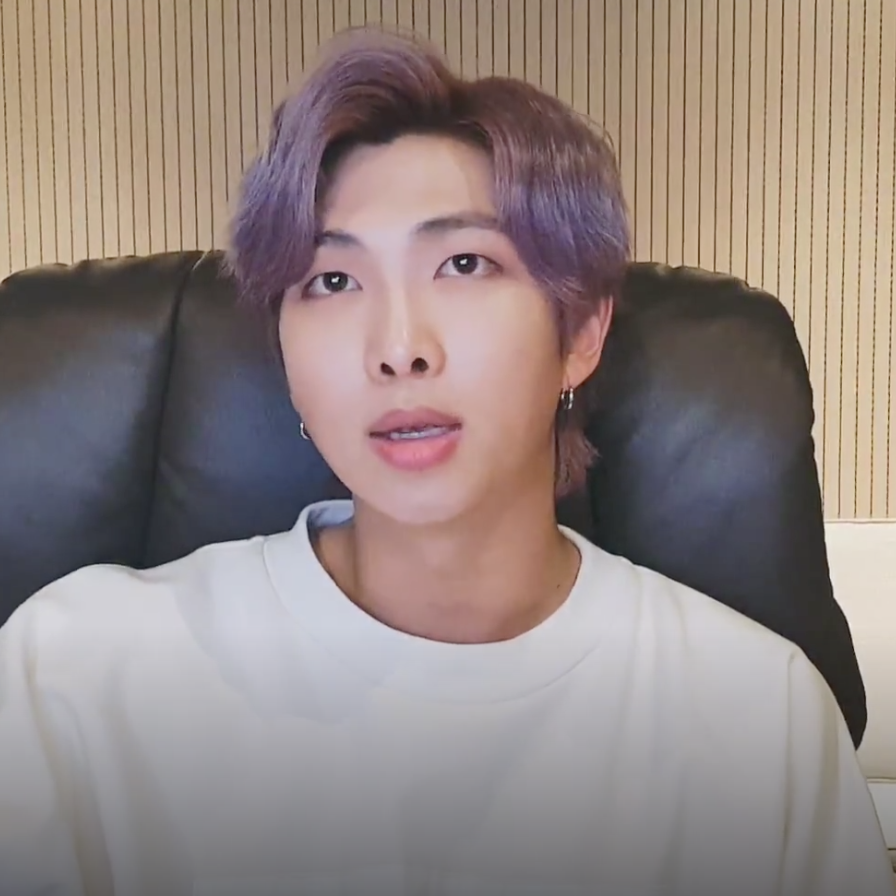 It may sound strange to say it, but the BTS you've probably heard of in passing is worlds apart from the BTS you experience as a fan. While it means some can't sing along in their bedrooms or at concerts, the language barrier actually works as a means to encourage fans to look deeper into the group's music and analyse translations of their lyrics. When you put in the effort to do so, you'll find songs that are unquestionably politically charged, songs that take issue with rampant consumerism, and songs that criticise the ever-increasing prevalence of online trolling and hatred. Go to the group's VLive profile, and you'll find leader RM explaining how each of their albums was made track-by-track in hours-long livestreams that are entertaining as a fan of their music and enlightening as someone fascinated by their artistry.
After the music, there comes all the rest. If you want goofy, light-hearted entertainment, there's the group's free variety show, Run BTS, which essentially sees the members compete in challenges from floristry to cookery to jumping on a trampoline and attempting to pose for photos while in the air. For comfort and familarity and the secondhand frustration of losing a passport, there's Bon Voyage, a travel series that sees the members go on vacation to various locations around the world — Northern Europe, Hawaii, Malta, New Zealand — and just... act normal. For openness, sincerity, and often hard-to-swallow truths about the realities of fame, there's their multiple docuseries, Burn The Stage, Bring The Soul, and Break The Silence, which delve deep into their lives as artists and performers.
And then, on top of all of that, there's BTS' famously astronomical social media presence. Their Twitter account, @BTS_twt, isn't even close to being the most followed on the platform, but they hold the Guinness World Record for the highest engagement as measured by average retweets (yes, that is a thing). A video of Jungkook covering Lauv's "Never Not" is the 6th most liked and 9th most retweeted post in Twitter history; at this point, their tweets average around 2 million likes each.
Then there's Weverse, Big Hit's own social media platform specifically created for artist-to-fan interactions, where the members will comment on fans' posts, talk about what they've been doing that day, or, in V's case, drop codes for fans to join forums where they can play video games together. It's a connection like no other, and thanks to a dedicated army of fan translators, who operate around the world and are ready to translate any piece of content the second it drops, fans who don't understand Korean are able to feel the connection too.
It's something that, for many, has been invaluable during a time of unprecedented uncertainty caused by the coronavirus pandemic. It's June now — two months after the Map of the Soul Tour was due to start — and many of us would have been travelling, meeting online friends, and attending concerts. Instead, the members have interacted with us through numerous streams on VLive, where they'll play video games, or try out a recipe for dalgona coffee, or make friendship bracelets for each other. They've been sharing the process of creating their upcoming album in a series of recorded meetings posted on their YouTube channel. This Sunday's Bang Bang Con: The Live was actually a follow-up from a weekend in April, where ARMY could watch a total of 24 hours of old BTS concerts streamed live on YouTube for free and, as usual, the group marked their anniversary on June 13 with a two-week long content-filled celebration known as Festa. We are all experiencing a period of unprecedented isolation, and yet, the connection between BTS and ARMY is stronger than ever.
"I am worried for everyone," Jimin said during a commencement speech for YouTube's global Class of 2020 graduation ceremony last week. "I think about your health, and whether you're doing OK. Whether you are holding on tight during a time when nothing seems to go as planned. Whether your body and mind are all safe and sound. I hope you are all doing well, but if things are not OK even in the slightest... remember there is a person here in Korea, in the city of Seoul, who understands you."
That connection and mutual understanding is precisely what has led to the unwavering dedication of the BTS ARMY, and it is precisely that dedication — alongside, of course, hard work, talent, and undeniably good music — that has led to the group's success. In the US especially, BTS' music is rarely played on mainstream radio, but they top the charts regardless thanks to huge physical album sales. Before it was postponed, the Map of the Soul Tour sold out multiple dates at several stadiums across the United States within days of tickets going on sale. Apparently, interviewers still struggle to comprehend how a group of seven 20-something musicians from South Korea managed to achieve such astronomical global success. But the ARMY already has the answer.
I recently asked fans on Twitter why they, specifically, love and stay with BTS. Predictably, no one reason was the same. In the last year, I have spoken to and made friends with ARMY of all ages, genders, ethnicities, nationalities, and backgrounds, and the replies I got reflected just that: their reasons ranged from appreciating positive representation of their Korean heritage to helping them through a tough time with their mental health to simply loving the music. But, despite the differences, there were a few words that kept popping up. Comfort, happiness, safety. Sincerity. Community. Home.
Standing in a row as Bang Bang Con: The Live came to an end, RM, Jin, Suga, J-Hope, Jimin, V, and Jungkook gave the usual emotional goodbyes to their audience. This time, however, was anything but typical: faced not with stadium crowds tens of thousands strong, but a screen showing live comments and virtual cheers, the members thanked fans for watching from home, and expressed the hope that we will get to see each other soon.
"I looked at a lot of videos of our concerts with you... I missed all that so much," Jungkook told the audience. "Though ARMYs aren't physically here with us, from all over the world, you gave us strength to perform. We're counting the moments 'til we meet you all again."
After a group hug — which, of course left one big space for ARMY — the members closed out the show with fan favourite "Spring Day", whose lyrics have been a comfort to many during uncertain times.
"The morning will come again, because no darkness or season can last forever," they sang. "If you wait a little bit, if you spend just a few sleepless nights, I'll come to meet you."