Here's What James Charles Had To Say After Being Accused Of Posting Photoshopped Text Messages
"Why would I risk editing a screenshot when the other party could come forward and prove me wrong?"
Just when you thought the drama was all but over, there's yet another branch to the James Charles and Tati Westbrook situation. Will it EVER end?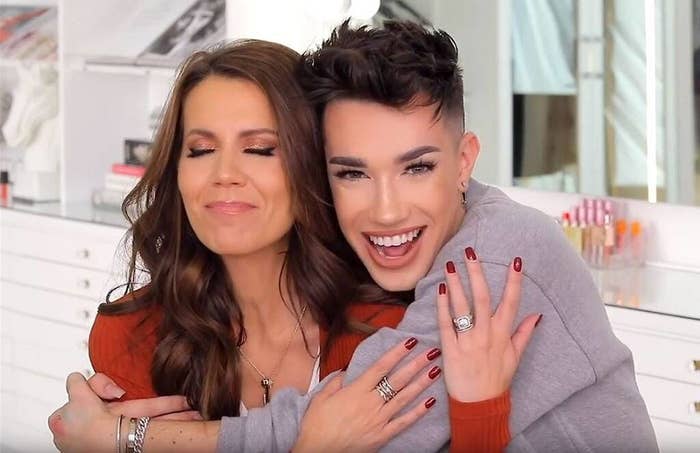 So, to catch you up to speed, you probably know by now that the two former friends had an almighty falling out when Charles promoted Westbrook's direct competitor in exchange for artist passes at Coachella. Westbrook, hurt by the decision, uploaded a now deleted 43-minute video to YouTube where she called Charles out on his behaviour.
Charles initially responded with an eight-minute apology to Westbrook, but this past weekend, he uploaded a full video responding to all the claims that had been put against him. Charles came backed with tons of receipts to try and prove his innocence, but a pair of screenshots caused even more controversy when people suggested they were photoshopped.
The screenshots showed text messages between Charles and a waiter called Sam Cooke, who Westbrook brought up in her original video. Westbrook alleged that Charles had tried to manipulate Cooke's sexuality, even after being told multiple times that he was actually straight. However, screenshots of the pair's Instagram messages, which Cooke posted himself in his own YouTube video, appear to prove that he messaged Charles first.
In an attempt to clear his name of any wrongdoing, Charles showed screenshots that he claimed were from Cooke. However, people were confused by the timestamps on the messages. The first was apparently sent on 2 May, followed by another on 3 May.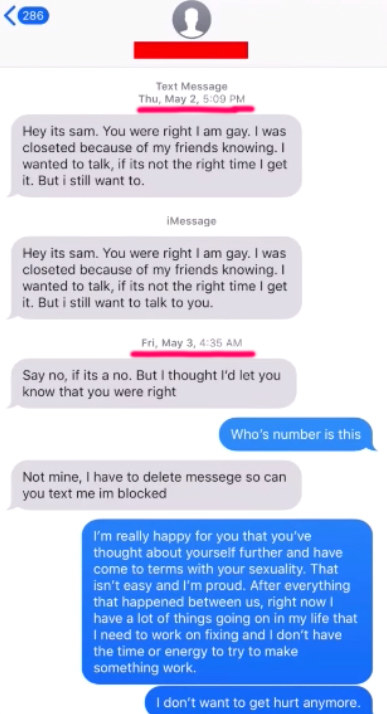 But the following messages after that go back to being sent on 2 May, which led people to believe Charles had photoshopped the text messages and made an error in the timestamps.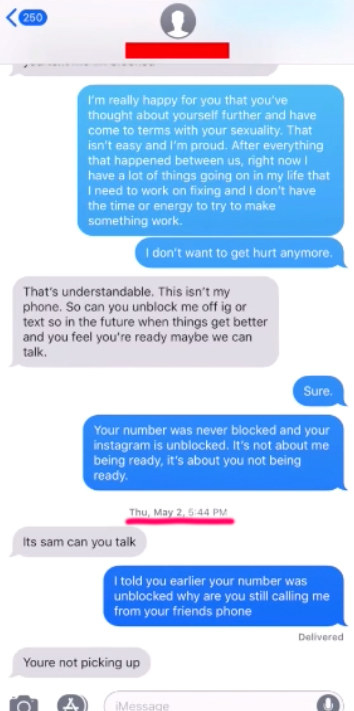 But, as soon as Charles caught wind of the accusations, he shut them down. In a YouTube comment, he explained:
I started taking screenshots of everything when I was in Australia, but I missed a few, and had take a few when I was back in LA. The time zones are 17 hours apart and I tried to make sure I noted every time there was a change but it looks like I missed a timestamp note in the convo with Sam. None of these screenshots are edited. Why would I risk editing a screenshot when the other party could come forward and prove me wrong? All screenshots are in chronological order.
A quick look at a timezone converter seems to support Charles' response — a message sent at 17:44 on 2 May in LA would be 10:44 on 3 May in Sydney. This puts the messages back in chronological order.

In the same YouTube comment, Charles answered some other questions that came to light following his video, including the fact that yes, it was planned, and no, it wasn't monetized.

Charles and Westbrook have since said that they want to move past the situation, and both have vowed to take a break from social media. Fellow YouTuber Jeffree Star, who involved himself in the spat, also said he'd be taking time away from the internet after posting a video where he apologised to Charles for the accusations he made.
Finally, at least for now, the drama appears to be over.