What's shakin', bacon?! I'm Allie, and — for better or worse — I'm one of BuzzFeed dot com the website's resident WWE fans. (This personal and potentially embarrassing information will become important in a second; stay with me.)
Anyway, last night, international superstar Bad Bunny performed on Saturday Night Live as the musical guest. He had one very steamy performance of his song "La Noche de Anoche" featuring Rosalía, which got fans all ~hot and bothered~...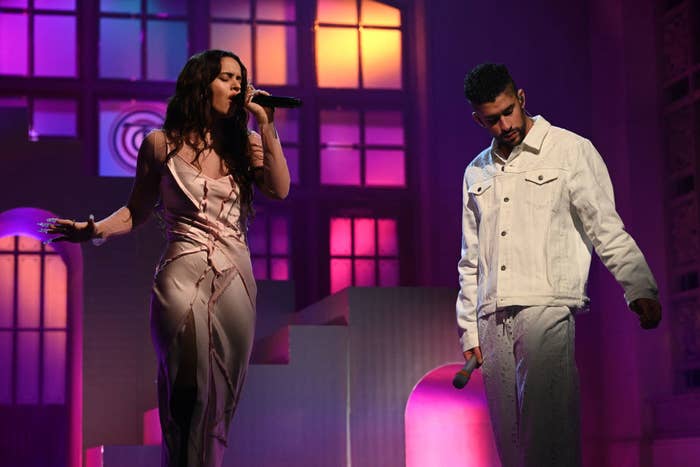 ...and he also performed "Te Deseo lo Mejor," which was when people noticed he had something that looked suspiciously like a wrestling championship belt draped over his knee for the entirety of the performance.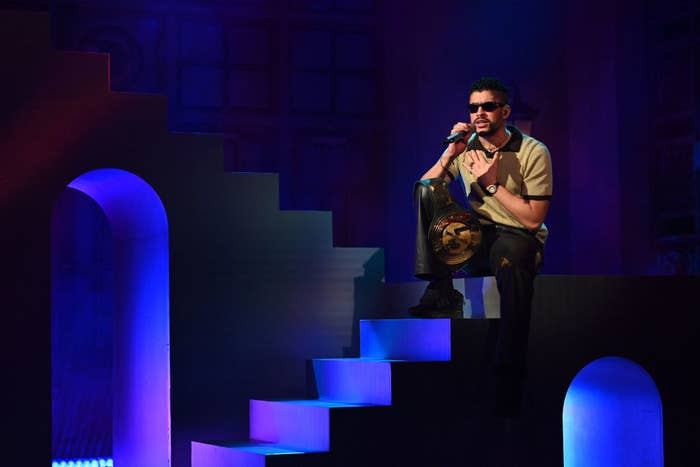 So why, you ask, did Bad Bunny — rapper, icon, all-around cool guy — have a wrestling belt? Well, because it's technically his. He earned it. He's currently the WWE 24/7 champion. Yes, really. But, to understand how we got here, we're going to have to back up a little bit:
OKAY, SO...on Jan. 2, 2021, Bad Bunny released "Booker T," an undeniable BOP of a tune. The song was named for former wrestler, current WWE commentator, and all-the-time badass Booker T — who even appeared in the music video. It's great. Please watch it:
Turns out this is because Bad Bunny — aka Benito Antonio Martínez Ocasio — is a genuine wrestling fan, with Booker T previously saying of the collaboration: "[He] was someone who watched me as a kid coming up, admired what I'd done for the business, for the sport in general. From somewhere across the water, he's watching Booker T and he's digging what I'm doing — it lets me know I did something right as far as going out there from a performance perspective."
Anyway, the success of this song* led to his performing it at the Royal Rumble — one of WWE's most important (and my personal favorite) pay-per-views of the year — in late January, with the song's namesake present.
And then, my dear readers, after his performance, Bad Bunny GOT INVOLVED IN THE ROYAL RUMBLE. He CAME OUT AND WAS PART OF THE MATCH. And, get this, HE WAS PRETTY GREAT!
After this appearance, he continued to show up for guest spots on Monday Night Raw, even having a bit of a storyline with his friend Damien Priest and Mr. Money in the Bank, the Miz.
But all of this culminated in this week's Raw, when Bad Bunny pinned Akira Tozawa and took the 24/7 Championship title* — the very title he had draped over his leg during his performance! See, it all came full circle. We love to see it.
So when you consider the fact that Bad Bunny — a super-cool musician who was a wrestling fan as a kid — went from writing a song referencing one of his favorite wrestlers to actually holding a wrestling title, it's a pretty darn delightful story! Live your dreams, everyone!!!