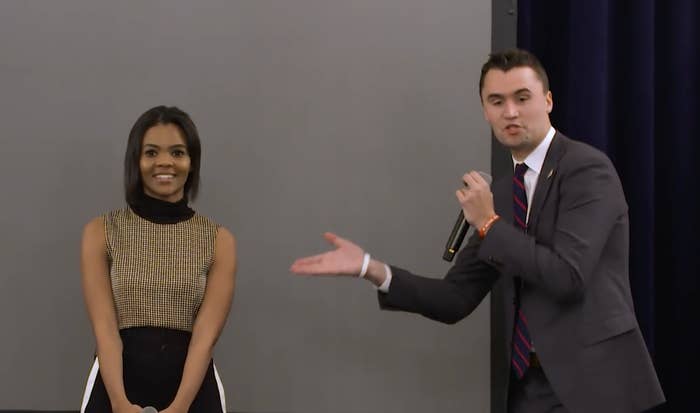 They were here to start a culture war, and Charlie Kirk was looking forward to the backlash.
"There will be retaliation, there will be protest," the 25-year-old founder of Turning Point USA, a right-wing student organisation with close links to Donald Trump, said in London recently as he described plans for an assault on British university campuses. "You will see that it takes individuals to go straight into the fire to start a movement."
But already some of the Tory activists Kirk recruited to launch Turning Point in the UK are having second thoughts about its war on "cultural marxism", according to several people familiar with their internal discussions. Within days of the launch, one of the "influencers" tapped to front the campaign has distanced himself from the group, BuzzFeed News has learned.
"There was a sense of people realising, 'Who are these cranks?'" one source said.
Kirk, with his business partner, Candace Owens, is a rising star on the American conservative scene — a smooth-talking, telegenic salesperson pitching Trump's "Make America Great Again" agenda to a young audience. Now he has radical ambitions to import its confrontational brand of activism to the UK.
This week, Turning Point announced the opening of its British offshoot with a flashy digital media campaign fronted by several youthful Westminster figures, including the Guido Fawkes writer Tom Harwood and Darren Grimes, the Brexit campaigner fined £20,000 by the Electoral Commission for breaking spending rules during the EU referendum campaign.
With a provocative pitch about liberating universities from the left, the launch attracted widespread publicity. Several prominent politicians on the British right endorsed the group, including Nigel Farage, Priti Patel, and Jacob Rees-Mogg. But there was also pushback: Labour MP David Lammy tweeted that Tories who were endorsing Turning Point were openly promoting "hard right, xenophobic bile". Conservative party headquarters sent an instruction to its members "not to work with them in any capacity".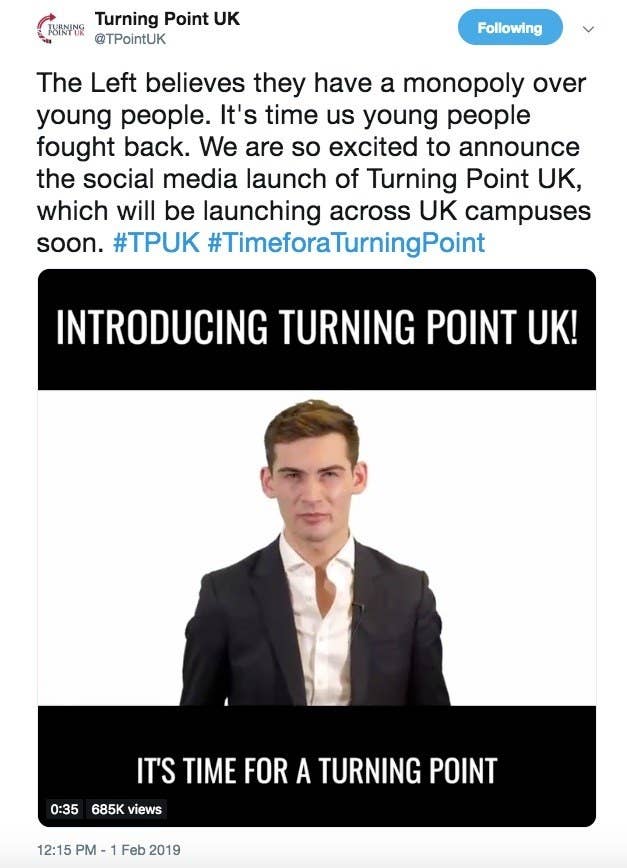 Within days of the launch, internal tensions emerged among those Kirk assembled to lead his campaign, according to several people familiar with the group's internal discussions. Harwood, who featured prominently in the launch video, told the organisers he no longer wanted to be one of Turning Point's public faces, BuzzFeed News has learned. On Thursday, images of Harwood and the other influencers were removed from the UK website.
On Friday, Harwood told BuzzFeed News: "I don't have a formal role as part of Turning Point UK."
According to the sources, some in the group were unnerved by the initial backlash. There were concerns over Farage's endorsement, which, it was feared, could discourage some students from joining. And there was disappointment that Turning Point's arrival hasn't been embraced by more of their colleagues on the Tory right.
Speaking on the phone on Friday, the chair of Turning Point UK George Farmer put some of the skittishness around Tory politics to the Conservative party being scared of losing its grip on right-wing politics in Britain.
"In the same way that momentum has grabbed hold of the left in the UK and that now controls the narrative, the Conservative party wants to control the narrative about right-wing politics in the UK," Farmer told BuzzFeed News.

"We're not going to let them be in control."
But it's not just the party leadership that is unwelcoming. One Conservative activist who isn't involved with the group told BuzzFeed News that while Turning Point shares some of the Tory right's political aims — lower taxes, less government, a hard Brexit — grassroots British conservatives are also wary of them.
In recent months, some of the Tories' most committed members have grown restless about the direction of the party — not just because of Brexit, but because they think Theresa May abandoned traditional conservative values of free enterprise and less government. Amid this agitation, conditions could be ripe for an insurgency on the right that takes over the party in the way that Trump did to the Republicans in the US.

Yet, those members also nervous that the Conservatives will repulse many voters if it is seen as drifting too far to the right, the activist said. They think Turning Point's wholehearted embrace of Trump and its campaigning style will be unpopular in Britain.

Turning Point is best known in the US for its "Professor Watchlist", set up to monitor academics it deems to have advanced left-wing propaganda, which critics have called a threat to academic freedom. It has also been criticised for inviting inflammatory speakers like Milo Yiannopoulos to speak at campuses. Such tactics, some young Tories feel, would be counterproductive to their political aims in Britain, and so they've warned their colleagues not to get involved.
"The associations they have in America are not people who'd be welcomed in the UK," one activist posted this week in one of the numerous closed groups that Tory activists use to coordinate their political activities.
Not everyone at Turning Point is worried about how it has been received. For some, there's a sense of genuine excitement that this could be a significant event in British politics. One view internally, the sources said, is that the backlash was inevitable, as Kirk said in London before Christmas, and that it shows the UK's political, media, and educational elites are unsettled by their arrival. In their thinking, the doubters are just being soft.
Turning Point USA claims to be the biggest student organisation in America, with a presence on 1,400 college and high school campuses, around 120 staff, and an annual budget of $15 million. In Kirk's telling, he started the group in his parents garage as a teenager in Chicago and grew it to be a powerful political force through sheer grit and hard work. As it rapidly expanded, Kirk himself was portrayed as a conservative "boy wonder"; he is a favourite of Fox News and is close to the Trump family.

Owens joined Turning Point as head of communications in November 2017 and is now its joint public face with Kirk. The 29-year-old had previously run an anti-Trump website called Degree 180 but went through a profound political transformation and became a passionate advocate for the president, publishing stridently conservative videos on a YouTube channel called "Red Pill Black".
Her fame went mainstream when Kanye West tweeted: "I love the way Candace Owens thinks." Owens argues that the left has done nothing to help ethnic minorities and launched a "Blexit" campaign aimed at convincing African Americans to join the Republican Party.

Unashamedly pro-Trump, Turning Point portrays itself as a grassroots response to a perceived left-wing bias on university campuses. At the meeting at the RAC in December, Owens told the audience that Turning Point sees itself as "in the midst of World War III".
"People say, 'You're so brave, you're so brave,'" Owens told the guests that night. "We're not brave. Brave was our boys who landed on the beaches of Normandy. They were brave with odds completely against them and they won a war and that's what we're doing."
Turning Point began discussing a move into the UK last year, seeing the turmoil around Brexit as an ideal moment to launch a fightback against Labour's dominance among young voters. (Brexit is "fundamental to the defence of Western society", Kirk told the audience at the RAC.) It has secured substantial financial backing from donors in the UK to roll out its campaign to British universities, several people told BuzzFeed News, although the identities of the donors is unclear.

The UK chief executive is Oliver Anisfeld, 24, whose family owns a salmon smokehouse in London, and it is chaired by George Farmer. Farmer is the 29-year-old son of a multimillionaire hedge fund trader and Tory peer. He is engaged to Owens. An ardent supporter of Trump and Brexit, Farmer tweeted this week after Turning Point's launch: "Plenty of snowflakes melting in London tonight."
Farmer's father, Lord Michael Farmer, is one of the Tories' most influential supporters. A devout Christian who made a fortune as a commodities trader, he is estimated to be worth £141 million, according to the Sunday Times Rich List. Lord Farmer has given more than £8 million to the Tories since 2001, according to Electoral Commission records, and was also a major donor to the Vote Leave campaign. He was made a life peer by David Cameron in 2014.

Another person who is involved with the group is John Mappin, a 54-year-old hotelier who has been one of Donald Trump's biggest boosters in the UK. Mappin, who owns the Camelot Castle hotel in Tintagel, Cornwall, wrote to Trump during the 2016 presidential election campaign awarding Trump an "honorary knighthood". He claims to have won £110,000 betting that Trump would be elected and to have been the third Briton to have a personal meeting with the new president behind Farage and Theresa May.
In a 2016 Facebook video, Mappin said he backed Trump because he worried that America would collapse under the weight of its debt and run out of food when citizens panicked. Trump, in his view, could handle such a crisis: "He is a competent businessman and a competent leader."
Mappin is a Scientologist who produces digital videos at his castle under the banner of the "Camelot TV Network." On social media, he posts about his admiration for Trump, the benefits of the "superpower technology" developed by Scientology's founder L. Ron Hubbard, and the dangers of socialism, the "fake" news media, vaccines, and psychiatry.
In one Facebook post last year, Mappin linked to a YouTube video which promoted a conspiracy theory that has taken hold on the most extreme fringes of the American right, known as QAnon. The video argued that presidents Barack Obama and Bill Clinton were part of a vast criminal cabal that has secretly taken control of the US government. He had just returned from a trip to Washington, Mappin told his Facebook followers, where he met contacts at the highest levels of the US military and government with one question in mind: "WHAT IS THE REAL VALIDITY OF Q."
"The answer that I received and and [sic] the subsequent data that I was given was among the most eye opening I have ever received and of course much of it I cannot get into here," Mappin wrote. "However you can know this:
"Q IS 100% VALID."
Speaking to BuzzFeed News about his involvement with Turning Point on Friday, Mappin wouldn't reveal who was funding the UK arm. "Well, the whole idea is to stay anonymous," he said. "That's how they do it in the United States. It actually doesn't matter who funds it because it's about the ideas."
Mappin introduced Kirk and Owens at the RAC event in December. Cohosting that night were businessman Peter Southall and Lord Tyrone Plunket. Among the guests were Rod Liddle, the Sunday Times columnist; Will Tanner, a former special adviser to Theresa May; Andy Wigmore, the former communications director of Nigel Farage's Leave.EU campaign; the businessman and former UKIP donor Robin Birley; the Spectator writer James Delingpole; and the Tory MP Andrew Rosindell. Not all were aware what Turning Point was before they attended.

Addressing the audience, Owens said: "We're here to fight a culture war and we feel that we can win."
Kirk told the gathering they would unashamedly stand up for "Western values" — "All men are created equal but not all cultures are created equal" — and indicated that Jeremy Corbyn would be a focus of their campaign. They aimed to explode the idea that the Labour leader is more in tune with the views of young voters, and in doing so won't pull any punches in describing Corbyn as anti-Semitic, Kirk told the audience.
"Every day, please, just say, 'Oh, you mean the anti-Semite Jeremy Corbyn?'" Kirk said. "Just say it in every single pattern of the language and sentence."
Owens suggested that Trump, if he were involved in British politics, would have demolished Corbyn as a political opponent by giving the Labour leader a nickname similar to those he gave Hillary Clinton ("Crooked Hillary") and Ted Cruz ("Lyin' Ted").
"Like 'Jew-hater Jeremy,'" Kirk interjected.
Owens laughed. "Jew-hater Jeremy."
Asked by a member of the audience about nationalism in Western politics, Owens brought up Adolf Hitler. "I actually don't have any problems at all with the word 'nationalism'," Owens said. "I think that the definition gets poisoned by elitists that actually want globalism. Globalism is what I don't want. … Whenever we say nationalism, the first thing people think about, at least in America, is Hitler."
"He was a national socialist," she continued. "But if Hitler just wanted to make Germany great and have things run well, OK, fine. The problem is that he wanted, he had dreams outside of Germany. He wanted to globalise. He wanted everybody to be German, everybody to be speaking German. Everybody to look a different way. To me, that's not nationalism. In thinking about how we could go bad down the line, I don't really have an issue with nationalism. I really don't."
A few weeks after the RAC event, some of Turning Point's young British recruits travelled to Florida for Kirk's annual student conference, where speakers included Farage and Jordan Peterson. There, they were introduced to Donald Trump Jr, Rush Limbaugh, and other prominent figures in the American conservative movement.
In the new year, back in the UK, preparations for the official launch progressed rapidly. Students were recruited at universities including Oxford to launch branches on those campuses. The influencers, several of whom were involved in the official Leave campaign during the 2016 EU referendum, coordinated their plans through a WhatsApp group.
It officially launched on Feb. 1 with a video attacking Corbyn's popularity among young voters and accusing the student left of stifling free speech on campuses. "They want to silence your voice," it declared. "But their time is up." On its website, Turning Point UK declared that it would promote free markets, limited government and personal responsibility, and liberate campuses from "snowflakes spouting nonsense".
The launch sparked a free-for-all on Twitter, with critics responding by setting up a series of parody accounts. Amid the confusion, a leading drug and alcohol rehabilitation charity which shared the same name put out a statement pointing out that it had no connection to the activist group.
The launch was welcomed by several Tories. Among them was Andrea Jenkyns, the MP for Morley and Outwood, an ardent Brexiteer, who appeared in a video clip endorsing their aims. Nick Ferrari, the LBC radio presenter, also filmed a video for the group. However, there was also significant resistance from Westminster.
Scott Grace, the Conservatives' student liaison manager, sent an email to Tory student associations saying they should not get involved. "We are aware that they have offered to partner with and potentially financially support your activity on campus," Grace wrote. "While this may seem like an attractive proposition, it's something we would ask you to be cautious of.
"Of course, Conservative University Societies/Associations are not officially affiliated to us as a party and as such we can't tell you not to engage. However, our advice would be not to work with them in any capacity."
Despite the controversy, Kirk and Owens are planning to return to the UK next month for events at campuses in London, Nottingham, and Brighton. One person familiar with Turning Point's internal discussions said that their visit could even be brought forward. The group is also recruiting five "field representatives" to expand its activities on campuses across the country.
At the RAC event, Kirk said there is a "silent majority" of conservatives whose views have been stifled and are waiting to be liberated. He and Owens have had "tremendous success" at pushing back against the left, and have no doubt they'll prevail on British campuses: "We will highlight, isolate, and debunk the radicalism in 30 seconds or less."