Trump: I'm Not A Racist, I Hired Arsenio Hall
He just wants to know where Obama was born.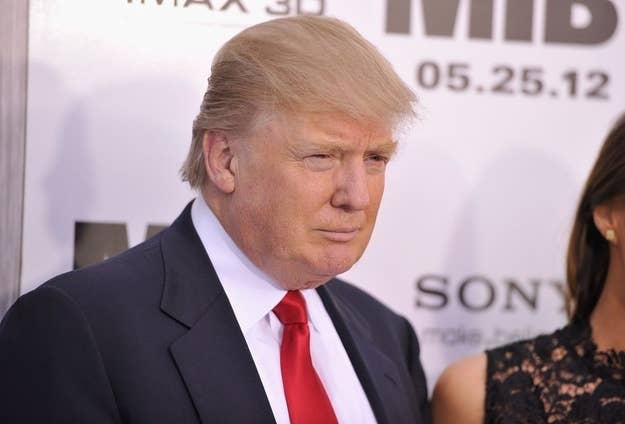 GREENSBORO, North Carolina — Donald Trump brushed off suggestions that he has been race-baiting in questioning President Barack Obama's birthplace. His rebuttal: he just hired a black entertainer on "The Apprentice."
"How can I be a racist, I just picked Arsenio Hall," Trump said.
Trump waved a copy of the erroneous publisher's blurb that said Obama was born in Kenya, saying all he wants to do is see Obama's college records to examine his place of birth.
"There is one line called place of birth, I'd like to see what he said," Trump added. "Perhaps it's going to say Hawaii, perhaps it's going to say Kenya."
Trump, who has said he does not bring up the birther issue himself but only responds to reporters' questions on the subject, addressed the issue entirely on his own.
"I'm sure I'll get in a lot of trouble for some of the things I've said here," Trump said, "but I don't care."
Trump took repeated blows at the media, saying "I see these guys — there's a lot of national press back there — they're thinking they're going to get Trump," adding that some reporters he's dealt with are "the most dishonest people ever."
But Trump called reporting a "great profession" and tried in vain to speak with Time reporter Joe Klein who was at the event, asking a state GOP aide to "call him over the loudspeaker."
Meeting with reporters after his speech, Trump said he'd rather be talking about jobs and China.
"But a lot of people want me to talk about place of birth," he said proudly. "You saw this audience — probably the biggest hand I got was when I mentioned place of birth which was just very quick."
Asked if Romney would need to distance himself from the extreme birther views, Trump said "I think he's very happy with me."
"We've done a great job together. I've helped him with many, many states," Trump continued. "I think he's very happy with me, and I'm very happy with him...Mitt will tell you he's very happy with the response. You've seen the standing ovation. I didn't stand for myself. They did."