I Need Beyoncé To Stop Playing And Tell Me If This Martini Photo Is A Clue That She'll Be Singing The New "Bond" Theme Song
"She's not gonna get away with it this time...BEYONCÉ JAMES BOND THEME CONFIRMED."
But the one pic that stood out to her loyal Beyhive was the shot of Queen Bey taking a sip of a martini. And well, well, well, what do we have here?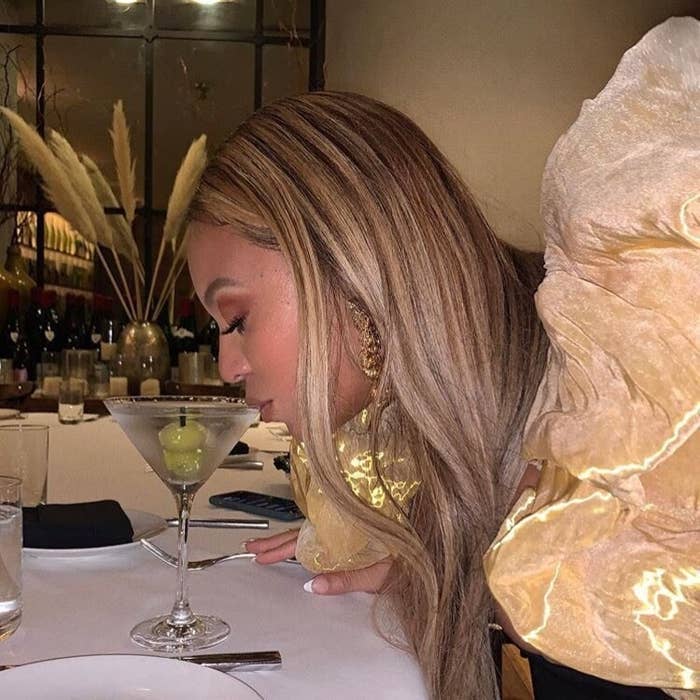 One fan noted how the photo reminded them of the time Bey posted a random pic of herself sniffing a lemon before dropping her critically acclaimed surprise album, Lemonade:
Another fan predicted Bey's next album would be called Martini:
Others were very convinced that Yoncé's martini snap was more than just a random pic, and instead a clue that she's singing the new Bond theme for 2020's No Time to Die:
This Twitter user declared he was not about to be tricked by Bey's clues this time!
Like, seriously, he's pulling out all of his best detective work:
He had people going, "Hummmmmmmmm."
Plenty of people thought he was on to something with his theory, which would make Beyoncé the next to sing the Bond theme, following the likes of Adele and Sam Smith:
Others pointed to this specific moment from Beyoncé's 2018 Coachella set, which featured a sample of the Bond theme during a performance of "Don't Hurt Yourself":
To be fair, there were some fans who didn't buy it. This person tweeted, "Can Beyoncé just enjoy her martini without us jumping to conclusions?"
Back in August 2017, a rep for the "Spirit" singer shut down talks that Bey would be singing the theme song, telling Billboard, "This is a rumor."
But now, considering the casting of Lashana Lynch as Nomi, a '00' agent in the upcoming film, it would be fitting to have a black woman sing the Bond theme, IMO.
Guess we will just have to wait and see. Would you be excited to hear Beyoncé on the Bond theme song? Tell us in the comments!