Tracy Morgan's Hilariously Inappropriate Quarantine Interviews Have Made My Week
"I took the mask off, that's our foreplay!"
Sure, the show wasn't perfect, but there are still so many great moments from the show that are hilarious and comforting.
Tina Fey recently told Vulture what a 30 Rock episode would look like in the midst of the pandemic, saying "Tracy has already contracted and survived the virus ('My snakes eat bats and then I use my snakes to practice French kissing, so it was inevitable, Liz Lemon!'), so he would declare himself an immune 'green person' and set out to help."
While we probably will never get that episode of 30 Rock, Tracy Morgan's giving us the next best thing. He's been promoting the new season of his show, The Last O.G., and is using the video interviews as an opportunity to act just like his 30 Rock persona.
"This is freaky deaky, man! I made love to my wife like this last night," said Tracy, pulling up his mask to cover his face.
Seth tried to steer the conversation in a different direction, but Tracy then pulled his mask back down and said, "This is our foreplay! I took the mask off, that's our foreplay!"
Of course, this isn't the only time Tracy has said something hilariously inappropriate in a recent interview. The next morning, he appeared on The Today Show with Hoda Kotb. Hoda was definitely not expecting what he answered when she asked what life is like being at home with his family.
"Me and my wife have been quarantining it for like three weeks, so she's pregnant three times. Every week, she got pregnant," he joked. "We also — we're role-playing a lot, we're role-playing now. She role-plays the young maiden whose grandfather was infected by coronavirus, and I'm the scientist who discovered the cure and she'd do anything to save her grandfather's life — and I mean ANYTHING."
Hoda's reaction is priceless and Tracy looks so pleased.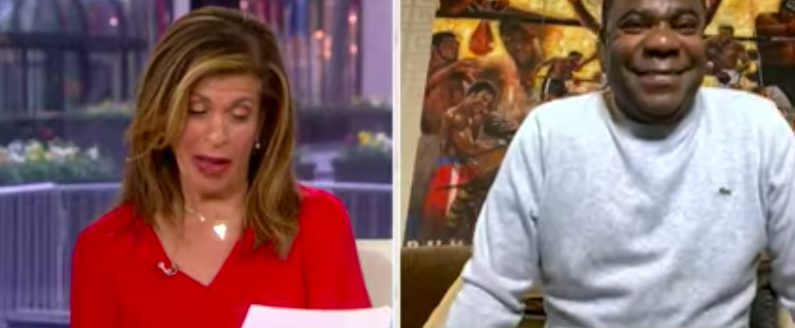 He kicked things off by casually deciding to do the interview in front of his massive fish tank. You know, as one does.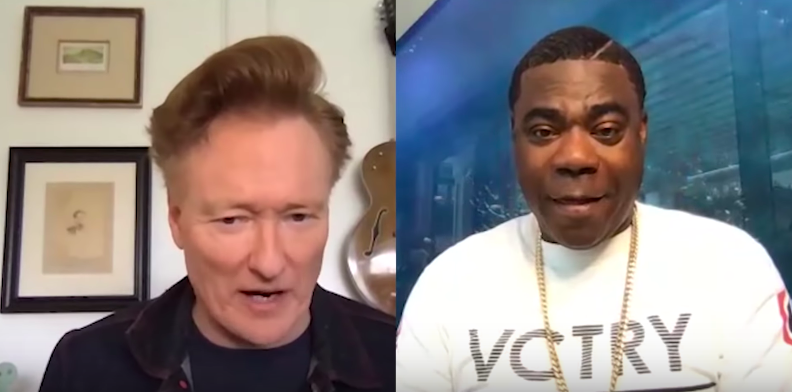 When Conan O'Brien asked about it, Tracy made an important clarification: "It's not a fish tank! Does this look like a fish tank?! A fish tank is a fish bowl. It's something you buy at Coney Island. This is an aquarium!"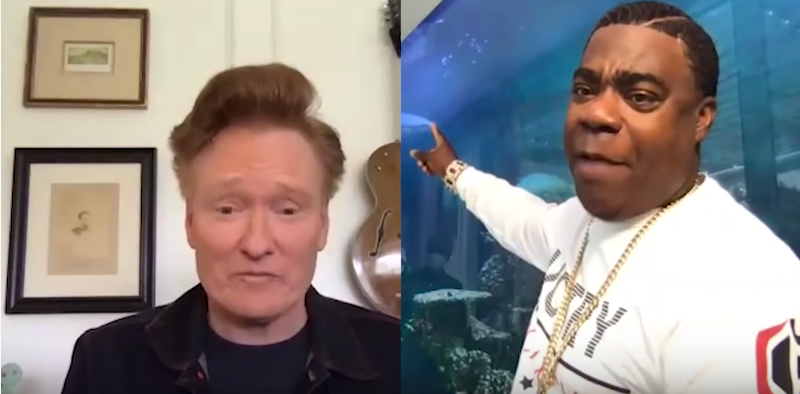 He also has sharks in his aquarium! SHARKS! He's definitely living every week like it's shark week.
It got wilder from there, with Tracy saying he could lose an arm if he stuck it inside, making pirate noises and mimicking having a hook. In case you were wondering, he'd rather have a hook than a robotic arm because he wants to "go to Brooklyn and bury some treasure."
Conan, like me, was absolutely losing it.
Of course, Tracy wasn't done talking about getting it on with his wife.
Conan asked him how he's passing the time in quarantine, and Tracy's response was just as expected: "Getting my wife pregnant." He also joked that they have two babies on the way. "I got a lot of [babies] because I don't pull out. I wear my mask, I wear my gloves, but I ain't wearing no condom. I don't get down like that!"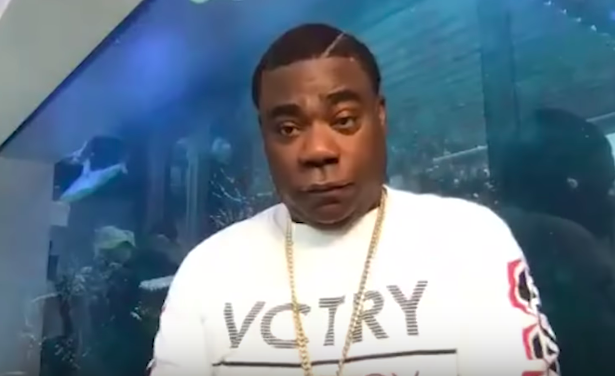 I almost peed myself laughing when he then said, "It's nice to know middle-aged men are still boning!" with a straight face.