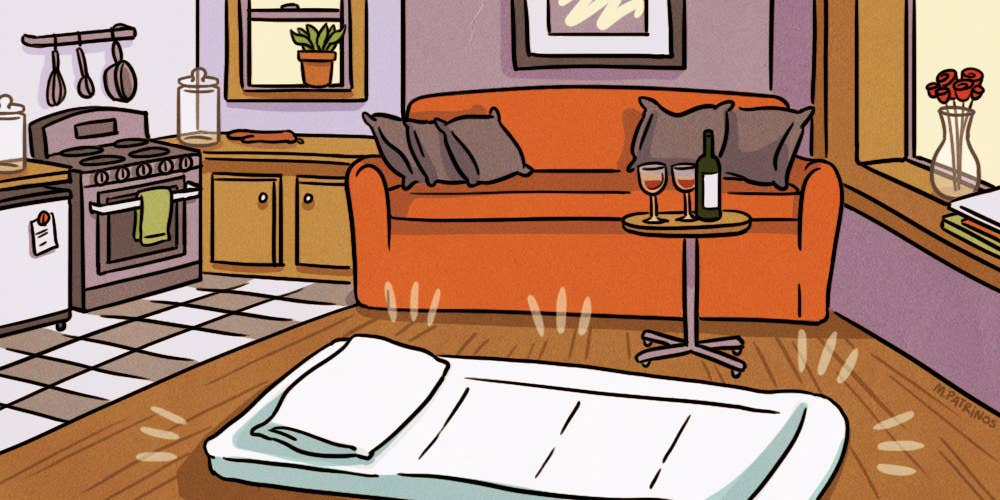 Here are some of the things I bought for my very first grown-up apartment: a glossy black enamel teakettle, an oven mitt from Anthropologie, a vintage dish towel with the 1970 calendar printed on it in German, and two large glass jars to keep cotton balls and tampons in, because I didn't have to share a bathroom anymore and could make my everyday things Pinterest-pretty.
Here is one thing I didn't buy: a bed, at least not in the sense that most people would recognize. But that was part of the plan.
After spending my post-college years living happily in D.C. row houses packed with roommates and hand-me-down furniture, at 28 I developed a sudden, acute craving for a space of my own. Finally, I could afford it: a 300-square-foot garden-level studio at the very edge of a gentrifying neighborhood, a brisk 17-minute walk from the nearest metro station. It was a shoebox, but it felt like one lined in fancy tissue paper, tied with a bow.
The apartment had just been renovated, and I would be its inaugural tenant. The soft mint paint in the bathroom was my favorite color. The miniature kitchen, with its shiny Ikea organization rail, filled me with the earnest belief that I could become a new person, someone who always did the dishes right after dinner, who had a place for everything and put everything in its place. The blonde faux hardwood floor tiles fit together seamlessly and looked almost real.
I would hide my bed by not having one in the first place.
I could have physically fit a bed frame into the place, sure, but then it wouldn't have been the sophisticated apartment of a young professional in her late twenties: It would have been a bedroom with a door to the outside, and a sink and an oven in the corner. With this Lilliputian floor plan, no creative curtain or carefully situated Expedit bookcase could camouflage that. So I decided on an extreme solution: I would hide my bed by not having one in the first place.
Two years earlier, I had visited my brother and his wife in their small apartment in Japan, where I'd slept on a thin traditional mattress called a shikibuton. At night we rolled it directly onto the straw tatami floor, which had never met a shoe, and in the morning we stowed it on a special shelf. Maybe it was the jet lag, but I remembered sleeping just fine on it. After many hours of googling, I determined that it would be unorthodox, but doable — even cosmopolitan — to implement this system in my D.C. apartment.
I signed the lease, ordered a cotton and wool shikibuton from the Soaring Heart Natural Bed Company, and got ready to move into my perfect grown-up apartment, where I would sleep on the floor.

In the weeks leading up to my move, I became obsessed with decorating. On weekends I rode my bike to Room & Board, where I bought nothing but methodically examined each item on display as if I were in a museum and not an upscale modern furniture store. I watched thirtysomething couples pick out sectional sofas for homes they actually owned. I considered the merits of Parsons tables made of Minnesota steel and perused boutiques where you could buy Italian-made spatulas that had won international design awards. Even the smallest purchases were grave decisions, opportunities to announce my good taste. I had a set of matching towels and natural hand soap that smelled like geraniums. I was obviously an adult.

My friends joked about how my new lifestyle would affect my love life — "You should ask guys at bars if you can go home and sleep in their beds, because you don't have one" — so I put the no-bed thing in my OkCupid profile. I decided it conveyed a Zooey Deschanel-like bohemian vibe, rather than outing me as a person who put her comforter on the floor.
"My friends are curious about this girl I'm going out with who lives without a bed," a cute film student I met online told me over drinks. I was thrilled. He laughed at all my jokes, also loved Murakami, and also lived alone.
My apartment had room for just two of everything, so I splurged on what I got.
One night we cooked dinner together in my kitchen, two steps from my new dining table, four steps from my new couch, and five steps from the patch of rug where most people would put a coffee table, but which I kept clear to lay my bedroll down at night. We ate salad off the two dinner plates I had just bought at an Asian import store. They were heavy ceramic, with a beautiful deep teal glaze that faded to a lighter aqua towards the edges. I ladled soup into blue-and-white Japanese bowls and placed two cloth napkins next to them, inky blue with a hot pink, green, and yellow block print. It was like Noah's ark. My apartment had room for just two of everything, so I splurged on what I got.
We sat on the couch, drank red wine, and talked for hours, that I-like-you energy crackling in the air. Then he kissed me. "This is the embarrassing part," I said, and got up to open the closet door. I pulled the mattress down from its shelf, unrolled it onto the floor next to the couch, covered it with the top sheet, and put down the pillows and the comforter, trying to act like this was the most natural thing in the world. Except the mattress was sort of heavy, and I was a little drunk.
"Ta-da!" I said. "Totally normal." He laughed and kissed me again, and in that moment, I was.

Friends and acquaintances who knew about my bed situation asked me how it actually felt to pass the night with four inches of futon mattress between my back and the hard floor. It wasn't exactly sleeping on a cloud, but I wasn't physically uncomfortable. I had read that it was really good for your back, like the sleep equivalent of going Paleo, which boosted my morale.

More problematic was the daily chore of rolling the mattress into a four-and-a-half-foot-wide cylinder and hoisting it onto its dedicated shelf when I was already running late for work. So was keeping the floor to Japanese standards of cleanliness. Most ground-floor apartments see their fair share of bugs, and mine was no exception. After a few months, the mattress often stayed in the closet and I crashed on my couch, the way you would after a party at a friend's house: no sheets, curled up under a blanket, resting my head on a throw pillow.
Living alone was supposed to show the world I was a real adult, but on bad days it magnified all the ways I wasn't.
That's when my no-bed existence started to feel less quirky-cool and more like a dark secret that symbolized everything that was wrong with my life. On the outside, I had my shit together: a good job where I met my deadlines, said smart things in meetings, and had my own office. At first glance, my apartment seemed the same. "Your place looks like something out of Dwell!" an acquaintance said, assuming the door on the left opened into a bedroom, not a closet where my actual bed lay rolled up and stuffed onto a shelf.
The guy I'd cooked dinner with had cooled things off after a few weeks, over email. I missed the spontaneous movie nights and beers on the couch I'd had with my old housemates. I smarted when social media showed they were continuing without me — not because I wasn't loved, but just because I wasn't there. Perhaps worst of all, having my own apartment didn't magically transform me into the grown-up I wanted so badly to become.
Dishes lingered in the sink. Dust stuck to the bottom of the shikibuton, when I bothered to roll it out. Streaks of pink mildew formed in my mint-green bathroom. When you live with others, you can blame a certain level of chaos on them. Living alone was supposed to show the world I was a real adult, but on bad days it magnified all the ways I wasn't.
A girl without a bed was mysterious and sexy. A grown woman who slept on her couch was sad.
After a year and a half of enduring my minimalist bed experiment, I quit my job, rolled the shikibuton into a giant plastic bag, and loaded it into a U-Haul. I had just turned 30 and was about to start graduate school, turning the clock back on growing up. I sold most of the furniture from my studio and moved into a rented bedroom in a Brooklyn brownstone. I went to Ikea and bought a bed.

The couple I moved in with were two years younger than me, but they were bona fide adults in a way that wasn't about having nice things, but more about knowing what to do with the things they had. They could put up floor-to-ceiling shelves on a wall, host Thanksgiving for a dozen people, and throw together a quick, nutritious dinner from the contents of their well-stocked pantry. When I walked through the door, exhausted after hours of class, Rebecca would offer me a plate and Dan would mix me a drink. When our apartment developed a mouse problem, they set and emptied all the traps. I made dessert, kept the clutter limited to my bedroom, took out the trash, and paid my rent on time. We made a home together by filling it with the right people, not the right stuff.
Last year Dan and Rebecca had a baby boy, and I moved out of our shared apartment and into the kind of real one-bedroom I coveted years ago. I still wash my dishes by hand and do my laundry down the street, but I have high ceilings, large windows, and lots of natural light. The apartment has an actual hallway I pad down each morning to put the water on for coffee, and in my New York life, that feels like making it.
I'm coming to terms with the realization that no matter what I have, I may never feel like I've really grown up.
In this expensive city, I know it's an incredible privilege to have a space of my own, but it's still one that feels relative and tenuous. On Facebook, my high school and college friends are buying condos or houses in the suburbs. They have dogs, babies, even kindergarteners. I don't want all the things they have, at least not right now, but sometimes they make me question my own measures of adulthood.
My once-treasured expressions of grown-up good taste, the Anthropologie oven mitt and the vintage German dishrag, are faded and stained. I still use them, but I find new talismans of adulting. I pour flour and sugar into clear glass jars and put them on a little turquoise cart. I hang ivy and philodendron plants in my windows and google how not to kill them. I fall in love with a blue ceramic bundt pan made in Portugal that will make my life better in some indescribable way. But I buy it on sale, fully aware that after I bring a beautiful coffee cake to brunch, that pan will probably sit full of crumbs on my counter for days.
There's a big box in my closet stuffed with old CDs, assorted Ikea parts, grad school notebooks, and keys to houses I haven't lived in for years. There's a giant blank white wall over my couch I haven't yet figured out how to fill. I still don't clean the bathroom as much as I should. I'm 33, and I'm coming to terms with the realization that no matter what I have, I may never feel like I've really grown up.
At night I lie down on my old shikibuton, which now sits on a Hemnes bed frame, under two featherbeds that keep the wooden slats from digging into my back. It's a slightly lumpy arrangement, but for now, it feels OK.

You might also enjoy reading: