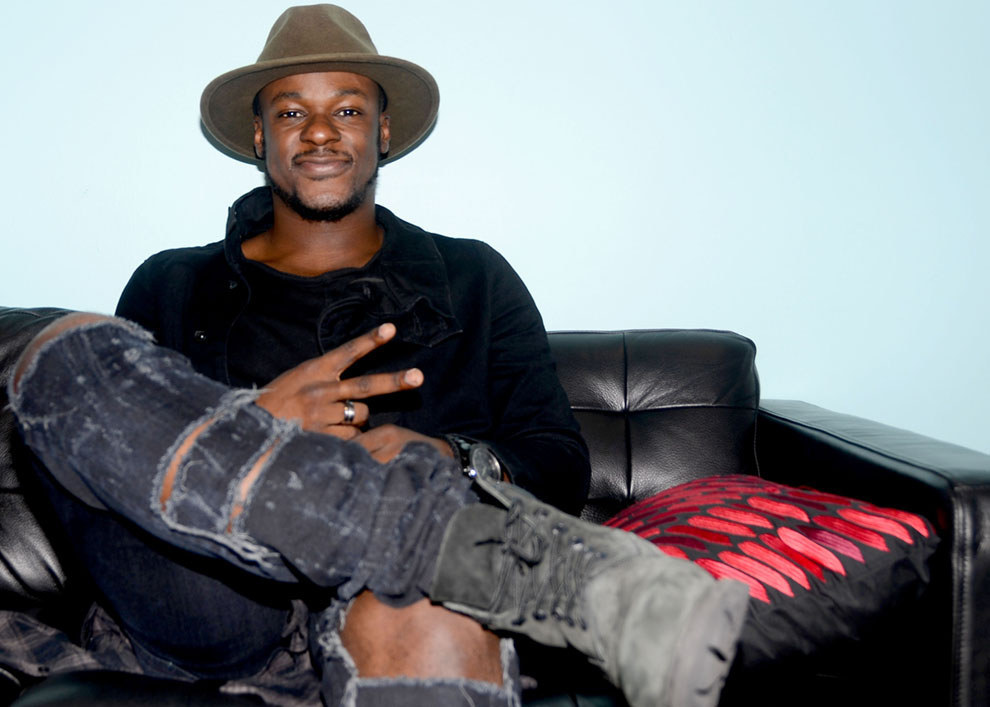 "I've technically been Timomatic for 10 years," Tim says, stating that the name originated with his dance background when he was a teenager and stuck. "In the last 12 to 18 months, though, I felt a shift artistically and creatively. With the music I was producing and creating, I felt like 'Timomatic' only captured a portion of that, but not the whole thing."
Tim refers to his decision to go back to his real name as "phase two", a "more intimate" form of musical expression. Tim also joked about keeping the Timomatic moniker for another decade, saying "I'll be 37. Like, can I still be a robot?! Can I still pull it off?!" If I had the Daft Punk mask? Maybe. But I told the guys, I was like 'I can't do it!' (laughs)."
Since Tim knows a thing or two about reinvention, we asked him to give us his ~definitive~ ranking of other artists who have undergone name changes and/or drastic image overhauls. Here's how it went...
"OK. I get BIG into this stuff!" Tim said as he began ranking our reinvented artists.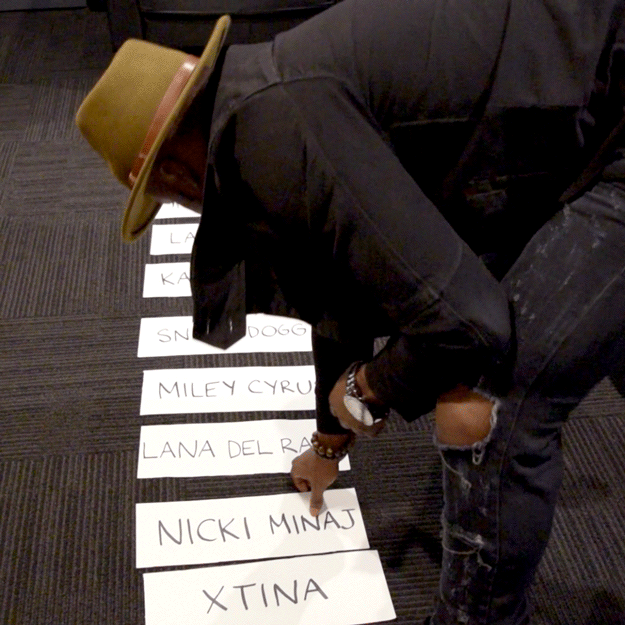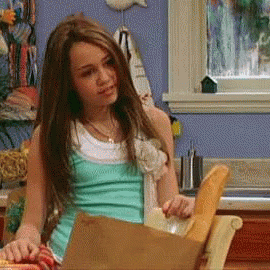 "Miley! Miley would've been a lot higher on the list last year, but I feel like she's burned too bright and she can't sustain it. Like, trying to be like, the kinda retro gal who smokes and does all this weird stuff, it's not sustainable, I don't think. I'll be really interested to see where she goes from here, because I thought her album was dope."
"She kinda fell off! She was goin' strong for awhile, I like the whole 'Candyman' thing, the whole retro throwback, and to come from the whole 'Genie in a Bottle' thing, she's created a really cool thing for herself. But I think since The Voice she's kinda phoned it in a little bit as an artist."
"Katy Perry is dope, she's just here because... I mean, if you're on a list with Prince, you're good, you know? I think the whole confectionary thing for me, it's a bit much... and I don't think she's evolved it that much. It's just been like, bright colours and confection. I'm eager to see what she does next!"
"Lana Del Rey, I mean, her ability to be one thing and it didn't really work out, to go 'okay, well, let's keep it moving' and to reinvent herself, I think the cool thing about Lana is she not only reinvented herself, but she created her own lane at the same time. It's indie, but made really digestible to the pop world."
"Snoop DOGG! Snoop LION! Snoop Doggy Dogg! I mean, he's a veteran in the game. I don't know. I mean, I think his name-changing and everything is moreso... drug induced (laughs)... than anything, which is why he's not at the top [of the list]... but Snoop is Snoop. Snoop's the kinda guy you think is gonna live forever, he is bigger than music. He's a pop staple."
"I kinda based this list on - to an extent - seniority in the music industry, because evolving as an artist is one thing, but evolving over decades is a whole other thing."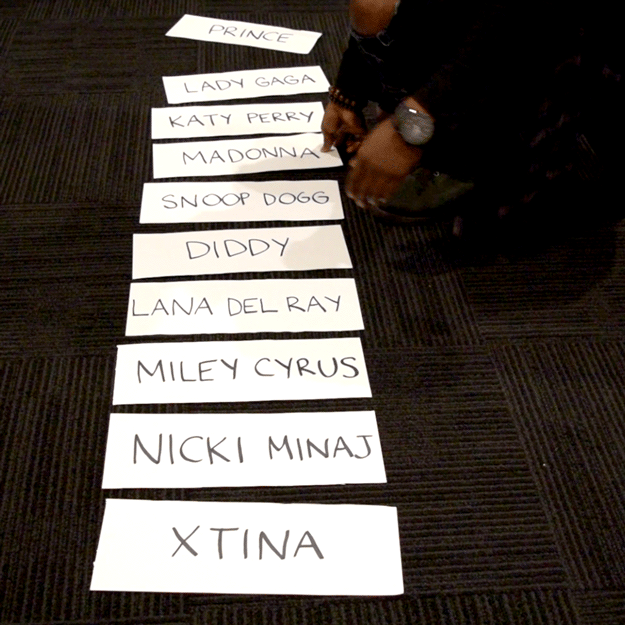 "Her ability to still have a strong hip-hop following and a really strong pop following and to put them together, it's incredible. She's the queen of hip-hop, she's great."
"When you have greats like Madonna, you don't think people will ever come close. Lady Gaga came in the game really strong and was able to keep it switchin'. I really like the Artpop album, I got what she was trying to do."
"I mean, she's probably been doing this for three decades now. She started as a dancer, so to grow to what she's become is huge. And I think also, she's a statement artist. She made risky statements and stuck by them and she's just a workhorse. She was risky, and she worked really hard. She's a queen."
"To be able to change your name that many times and for it to be like, a gimmick, to an extent, but then to have a career that is so solid in terms of what he's done for hip-hop, I think it's really good. Diddy reminds me that age is a mindset, he keeps it fresh! He's just continuously evolving and moving quickly and I think he... he understood the internet age before a lot of people did."
"Real artistic people can't stay the same, you know? Art is living your experiences everyday, it changes you, so you kind of have to evolve, in some way, shape or form."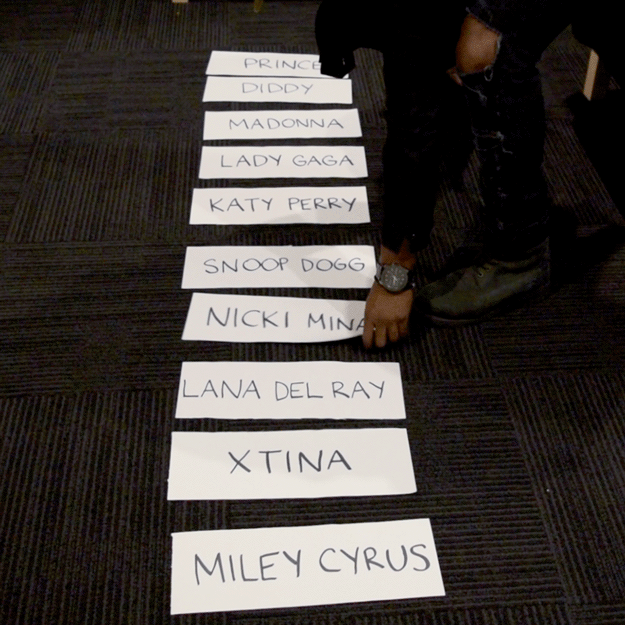 "Prince, I mean, it's been four decades that he's been doing this, now. Prince was so ahead of the curve, even in the beginning. His ability to change with the times - not even with the times - with his OWN times, and for it to work?! That's why he's number one."
Looks like there are no comments yet.
Be the first to comment!