1.
The Pink Stuff, a TikTok-famous cleaning product you can use to restore so many things (both indoors and outdoors) back to practically new condition. It's so good, you may just be tempted to part ways with every other cleaning product you own. 
This awesome stuff can be used to clean like, a bajillion and one things, but note that it shouldn't be used on plastic or acrylic surfaces, highly polished stainless steel, or hot/warm surfaces, so of course, you can use it on cooktops and grills, just be sure to do so once they've cooled down! Plus, this is vegan!
Promising review: "Oh my gosh — this stuff is a life-changer! Used it to get my fiberglass shower totally clean. Nothing else would get it done and this stuff brought my shower back to near-new in one use. We've since cleaned a weird chalky film off our garage door, removed wall markings, and cleaned my storm door. We'll never be without a jar (or three) of this stuff. Worth every penny." —Nancy F.
Get it from Amazon for $5.97.
2.
Teeth-whitening pens for brightening up those pearly whites with a quick swipe. No yucky gel, bright lights, or dentist trips required!

Promising review: "I have only used the two original pens that I purchased and can already see an improvement. I am older than 60 and drink coffee daily and red wine weekly." —vicki houska

Get a pack of two from Amazon for $13.59.
3.
Dishwasher cleaning tablets so the machine you rely on to clean the things you use to eat isn't gunking them up even more.
These tablets remove odor-causing residue and help get rid of lime and mineral build-up that naturally occurs inside dishwashers. The tablet is designed to last throughout the entire wash cycle, and is recommended for use about once a month. These are safe to use in stainless-steel tub and plastic tub dishwashers.
Promising review: "After using this product, I am happy to report that my $5 investment saved me over $500. I was ready to replace my dishwasher due to super cloudy glasses, residue, and just not getting clean. Then, I became aware that the water softener no longer was doing its job, so I had the rental company replace it. Dishwasher performance improved somewhat. I decided to do two more loads before deciding to purchase a new one. Then I saw a product test review for Affresh in a magazine. I was ordering some stuff from Amazon anyway, so I added that to my order. When it came, I tossed one of the tablets into the bottom of the full machine, and ran the regular cycle. I did not expect the results I got! My glassware that I thought was permanently etched and ruined came out like new. Same with cutlery. The difference is unbelievable. I will use this faithfully on a monthly basis, as recommended. I can even put it on my subscribe and save order, so I will get a new pack every six months. I am amazed!" —Sheila
Get a pack of six from Amazon for $8.99.
4.
A curl spray leave-in conditioner great for both kiddos and adults! Simply spray it on damp or dry hair (best recommended for use before bedtime, but it works great anytime!) and bask in the glory of soft, bouncy, defined curls. 
This spray is ideal for all hair types and has tons of reviews from folks with 2a–4c curls who absolutely swear by it!

Promising review: "Amazing!! I had NO idea that my frizzy-haired little girl had beautiful curls. I went down an Instagram rabbit hole and saw a similar girl show how her frizz was curls. I ordered this!! My mind has been blown!! This has changed our lives. It smells so good! It is easy to use and air dry. Before my daughter woke up with terrible bed head that looked like this! Now it is gorgeous soft curls. We will definitely buy again and tell everyone about this product!!" —Amazon Customer
Get it from Amazon for $9.58.
5.
Wet & Forget, a super simple cleaner you just spray in your shower/tub once a week. The best part? You don't have to scrub...like...at all. Just rinse it the next day and you're good to go. I know, I know, I'm crying tears of joy, too.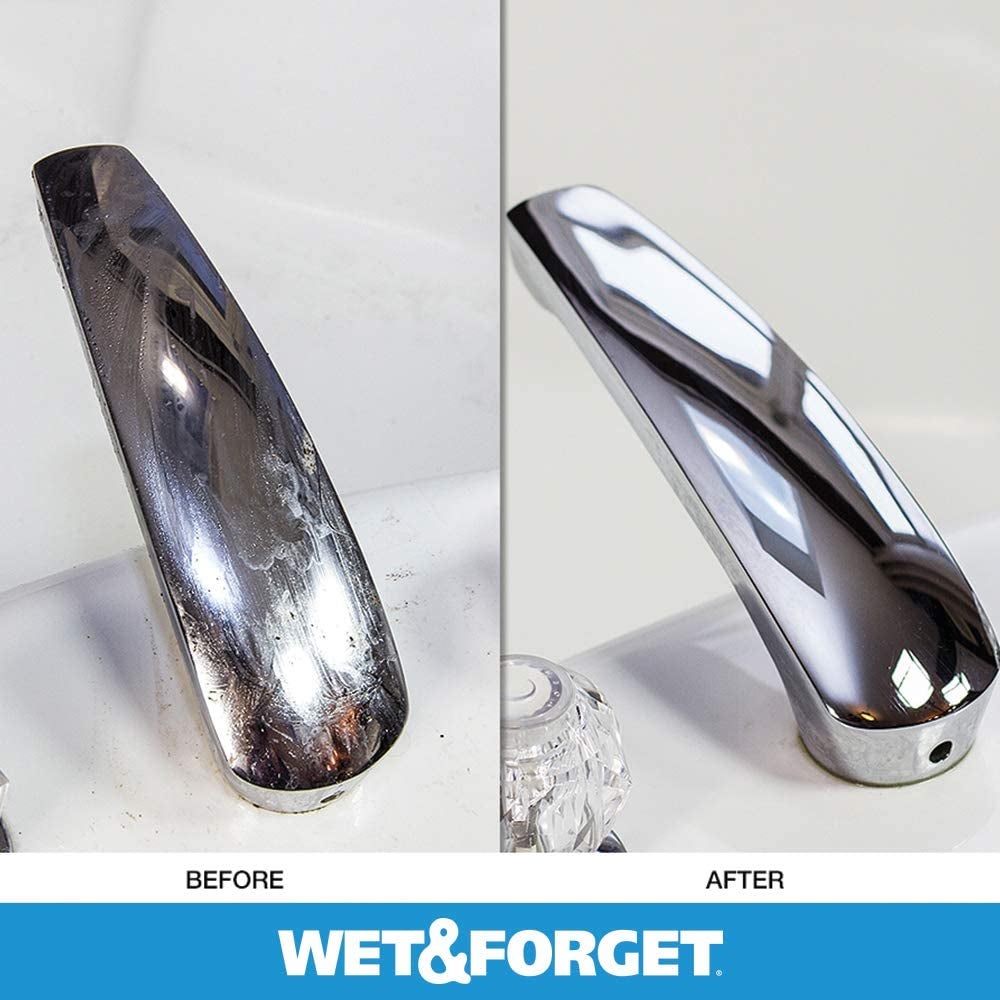 Promising review: "We cannot BEGIN to tell you what a lifesaver this is! We have two old fiberglass tubs with vinyl shower enclosures that no matter what amount of scrubbing we have done with everything from bleach to cleanser to vinegar and baking soda would NOT come clean. After I took my shower last night, I sprayed down the tub and walls. Within minutes, all the built-up water deposits and dirt and grime began to melt away in front of my eyes. I left it on overnight, and when I got up this morning, it did not look like the same tub and shower. This product is a godsend, especially for old folks like us who have difficulty getting down on our hands and knees and scrubbing anything. More importantly, it performs as advertised. This is truly an overnight sensation!" —Amazon Customer

Get it from Amazon for $20.98 (available in two scents).
6.
A nail and cuticle care solution for helping your nails look fresh and healthy. Use it consistently for results that'll wow you!
Promising review: "OMG this is the real deal. I applied it to my nails and cuticles. It worked and now my awful cuticles are gone. Before they looked dry and no matter what I did, lotion several times a day, it didn't work. But with one application of this oil and my nails look so fresh, clean, and not flaky at all!! Love!!" —W. Mills
Get it from Amazon for $9.90.
7.
A pet hair roller you simply swipe over surfaces covered in hair from your furry bestie. 
Promising review: "Where has this been all my cat-loving life? Sticky rollers work fine for clothes, but this is the only product that has ever COMPLETELY removed all the cat hair from my bed. I have a long-haired, 20-pound tabby, and if you run your hands up his back a few times and fling the hair everywhere, it looks like it's snowing — he never stops shedding no matter what I do. After using the ChomChom, I can put on a black dress and roll around on my bed and not get a single hair on me. It's absolutely amazing. Everyone is getting one for Christmas, even if they don't have a pet. I don't care; it's THAT good." —Stephanie
Get it from Amazon for $20.45 (clip the $5 off coupon for this price!).
8.
And a pet hair-removal broom and squeegee that'll help you get rid of the furry mess your fluffy friend leaves behind on your carpet. It might not be visible to the naked eye, but you just KNOW it's living in there...and TBH...it's quite gross.
Promising review: "This thing just plain works. We got a mature golden retriever last year and were told he didn't shed. Then in the spring, he started shedding badly. We were tired of hair everywhere, and somehow I realized that dragging my shoe across the carpet balled the hair up. I found this product on a whim one day and knew it had to be better than my shoe! I ordered it and it was tough at first. The bristles pulled the hair up but then caught the tufts and spread them around. I found that using short, quick strokes with the rake turned upside-down got the best results. The backside is more like a squeegee and helps pull the hair up in long rolls and keeps the hair in one big pile." —Nick V.
Get it from Amazon for $16.99+.
Check out our FURemover Evriholder broom review to learn more!

9.
A carpet spot remover spray to clean stains so fast and easy, Stanley Steemer is going to start plugging YOUR phone number in their catchy jingles.
Good for removing spots and stains from colorfast carpet, rugs, upholstery, and clothing without leaving a sticky residue or needing to rinse or vacuum. To use, apply to the stain, gently agitate with your fingers, and blot with absorbent cloth. This is non-toxic and should be non-irritating on the skin!
Promising review: "I had terrible rust and oil stains all over the seats of my car when I bought it. I tried other cleaners to get it out, but they actually made the stains darker. I took it to the dealership to see if they could get it out and they flat out told me no, so I gave up and lived with it for almost five years. I tried this after it was recommended by a friend. I sprayed it on and literally watched the stain run right off my seat. It was amazing! I thought I was going to have to pay hundreds of dollars to replace the seats in my car because nothing else would work. This stuff really is awesome!" —Brittany
Get it from Amazon for $6.65.
10.
A laundry stain remover so you can say adios to messes on clothes, furniture, linens, and more with ease AND with plant-derived ingredients you'll feel good about.

Puracy is a family-owned small business based in Texas that sells plant-based cleaning products!

Check out the Puracy laundry stain remover on TikTok!
Promising review: "For whatever reason, I am ALWAYS spilling things on my shirts and I cook every night (sometimes I remember the apron, sometimes I don't). My clothes are a mess by the end of the day. I'm not proud of it, but there it is. I have tried EVERYTHING there is to remove stains and this is the absolute BEST thing out there. (There is simply not a major stain remover that I have not tried.) The only thing close is a long pre-soak (I mean like six hours) in Oxyclean. With Puracy, you get the best result by doing it well in advance, but for me that is another plus because I would far rather spray them when I put them in the hamper than do it all at once just before I do the laundry. It seems to get everything out and I've never had any trouble with damaged fabric. I don't really review very much, but this is seriously outstanding." —NYC Buyer

Get it from Amazon for $7.99+ (available in three sizes and two styles).
11.
A set of acne patches you can apply over areas where you're breaking out. Simply put the patch over a zit, let it sit overnight or throughout the day, peel it off, and watch it take all the pore-clogging gunk with it.

Read our Hero Cosmetics Mighty Patch review!
Promising review: "OMG! It actually works! My son gets really large acne breakouts that are really hard to heal. He put these on before bed and woke up to his large white pimples being gone! Like, completely gone. I usually pay $50 a visit to the dermatologist for 30 minutes for him to get extractions, which is pretty painful for him. We will be ordering more of these and using these instead!! If I could give more stars I would!" —Amazon Customer

Get a pack of 36 from Amazon for $11.97+.
12.
Water bottle cleaning tablets to get your beloved drinking bottle back to the condition it was in when you first fell in love with it at the store. I, for one, don't feel like taking a brush and soap and scrubbing away, and I'm going to make the assumption that you don't want to either.

Tablets are biodegradable, chlorine-free, all-natural, and environmentally safe. They're individually packaged, and don't require any additional brushing or scrubbing. Good for use on stainless-steel bottles, mugs, hydration reservoirs, coolers, dishes, and hard-to-clean plastic containers and bottles.
Promising review: "I seriously can't believe how well these little tablets work. I had the most disgusting Hydro Flask coffee mug — I tried everything. A bottle brush, different kinds of soap, vinegar, EVERYTHING, and there was still a seemingly impenetrable layer of black sludge inside. I let a tablet sit in each of my mugs for an hour or two, and the black sludge rinsed out COMPLETELY, without even scrubbing. They look brand new. What a magical product. No weird smell or taste afterward, either. I liked it so much I used it on another Hydro Flask I use primarily to hold my Bloody Mary mix in the fridge. I couldn't put anything else in it because it would always taste like spicy tomato juice. Bottle Bright to the rescue! No residual smell or taste anymore. AMAZING AMAZING AMAZING." —Amazon Customer

Get a pack of 12 from Amazon for $8.
13.
Cleaning tablets that'll make you realize the important task of sanitizing your retainer, dentures, night guard, or any other dental appliances you may use can be quick and easy. Simply drop a tablet along with your dental appliance into warm water and let it soak! 

Promising review: "I really loved this product. I am currently waiting for a new Invisalign set. My old Invisalign needed to be cleaned. I read the reviews and decided to purchase. OMG it worked! There was a fresh taste and they were clean. I wished I had found this product sooner. I did let them soak overnight only because I had been wearing them for the last four months. Nothing happened to Invisalign; there was no weakness or anything. Just very clean and fresh. If I could have given the product 10 stars I would have." —Lisa R.
Get 120 tablets from Amazon for $17.19+.
14.
A body scrub for buffing away red bumps. Use it one to two times a week for smoother skin — it's like a microdermabrasion treatment at a fraction of the cost and without having to leave the house. 

Promising review: "I saw this on TikTok and Instagram. I decided to try it and it really works. I used it on my thighs and upper arms. I noticed a difference the first time and even more the second time!!! Fabulous product. Worth every penny." —Launa
Get it from Amazon for $12+ (available in four sizes).
15.
A jewelry cleaning pen so you don't have to spend too much time or energy on giving your beloved treasures the shine they deserve.
Promising review: "Don't get me wrong — my wedding ring was gorgeous before. It did sparkle and still made me smile every day. However...after using this Diamond Dazzle Stik...*oh my goodness*! After one use my ring is absolutely breathtaking! I knew my ring got dirty now and then, simply from sweating and being outside in the elements. However, I never realized just how much dinge and schmutz marred my diamond until I cleaned it. It literally took my breath away with its fiery, dazzling brilliance!" —liltreeclimber
Get a pack of two from Amazon for $14.20.